We use affiliate links and may receive a small commission on purchases.
Manufacturers will gradually abandon mountain bikes that are affordable while still providing good value for money.
However, as a cycling enthusiast, you are always looking for a mountain bike that fits you and is suitable for daily use.
With this comprehensive review of the Trek 6000 mountain bike, welcome to the Best Bike Select blog.
What are the Trek 6000 mountain bike's features, as well as its advantages and disadvantages? We have detailed instructions on how to purchase a it.
Are you in a hurry? Let's get this party started.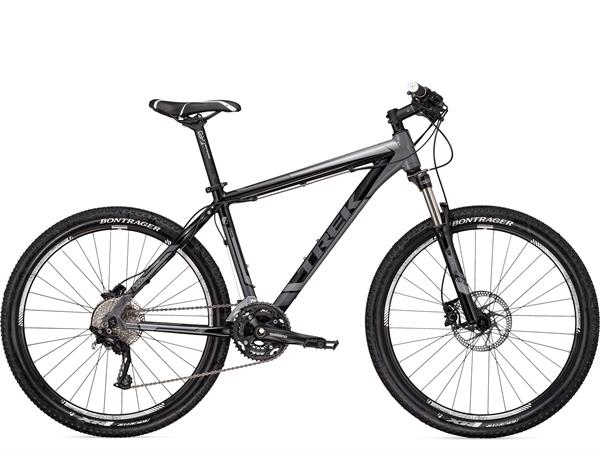 Features of Trek 6000 mountain bike
Stylish appearance (4.0/5)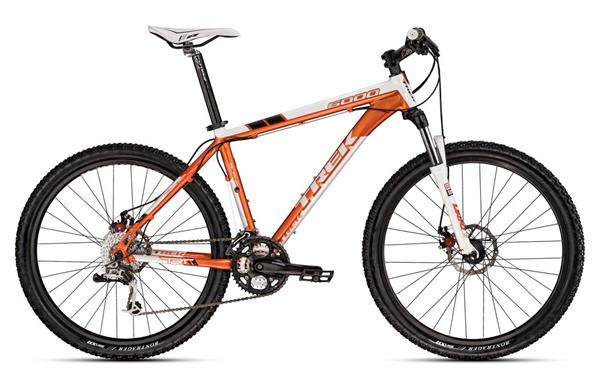 The Trek 6000, like most men's mountain bikes, has a dark paint job. The mystery and premium feel of Mount Grey/Gloss Black are palpable.
Gray is one of the most versatile colors, and Mount Grey is one of the few attractive grays. The frame's exterior design is similar to that of Trek mountain bikes.
The stylish appearance of men's mountain bikes reflects the rider's taste.
Alpha Gold Aluminium Frame (4.0/5)
Frame composition: Alpha Gold Aluminum w/semi-integrated head tube, formed down tube w/integrated gusset, formed top tube, monostay seatstay, forged dropouts w/ rack & fender mounts. Smooth welded joints and sturdy special frame construction.
Can accompany the rider for quite a long time. Comfortable headtube angle, perfect for casual riders.
30 speed (4.5/5)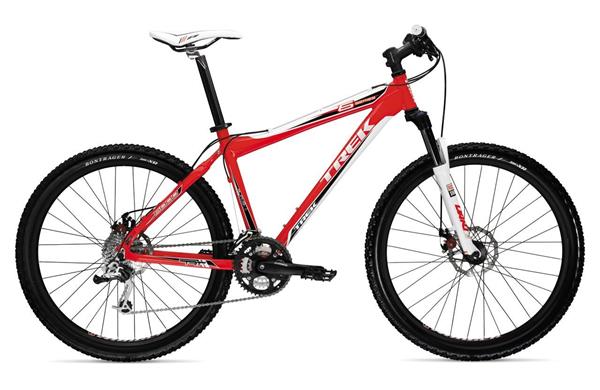 That's right, the Trek 6000's 2012-style 3 X10 gear configuration combines to create 30 different speeds.
Despite the fact that 1X mountain bikes are currently popular. An exaggerated 30 different speeds, on the other hand, is a very rare presence in any brand of mountain bike.
It increases the adaptation and learning curve, but this does not deter riders who enjoy multi-speed mountain bikes. Of course, the Trek 6000 is still a 27-speed mountain bike in 2009.
A comfortable ride is impossible to achieve without a good speed mix. You have 30 speeds at your disposal; learn the hard way.
Shock front fork (4.0/5)
The 2009 model had a RockShox Dart 3 shock fork, but the latest 6000 has an SR Suntour XCR-RL shock fork with 100mm of travel.
This is the bare minimum for trail riding, and it's difficult to match the Trek in terms of shock absorption when compared to the 70-90mm shock forks on cheap mountain bikes.
The shock fork has enough damping effect for riding on rocky roads, but it cannot be ridden intensely for long periods of time, making it unsuitable for intermediate riders.
When the road is flat, the spring knob can be used to suspend the work of the shock fork, allowing the rider to convert the power to maximum and increase the speed of the ride.
26×2.2″ tires (4.0/5)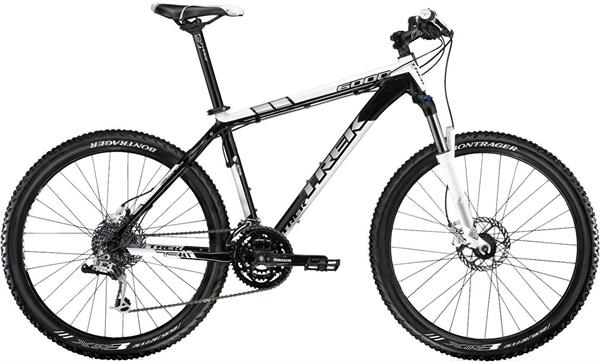 The Trek 6000 rides on Bontrager 26×2.2″ tires, which are narrow mountain tires with more limitations for riding in difficult terrain. It can ride smoothly and without skidding on muddy trails.
On rough surfaces, it also effectively converts riding power into tire grip.
Hydraulic disc brakes (5/5)
The brakes on the new 6000 mountain bike have been improved. The 2009 Trek 6000 still used Avid BB 5 mechanical brakes, but the new model uses advanced and popular hydraulic disc brakes that require less maintenance or are maintenance-free.
A sharp descending downhill section requires very little force to stop. More drifting maneuvers are also possible. (Because of the danger, newcomers should practice on flat roads first, then move on to mountain roads.)
Adjustable handlebar and seat height (5/5)
When riders select a suitable mountain bike, one of the more debatable points is how well the frame size and height match.
There are a lot of mountain bikes on the market that don't have much adjustability. The Trek 6000 mountain bike has a handlebar height adjustment with a 15mm rise.
In addition, there is a 9 degree rear sweep. Adjusting the seat height necessitates the use of a tool.
Quick release front and rear wheels
Both the front and rear wheels have quick-release mechanisms for simple maintenance and adjustment at any time.
The installation will also be quite simple; if you want to update some accessories manually, you will only need basic tools to complete them.
Learn more: Is The Trek 6500 A Good Mountain Bike? [Review]
Advantages and disadvantages
Advantages
Stylish aluminum frame
30 speed
100mm travel shock fork
Off-road friendly tires
Hydraulic disc brakes
Adjustable handlebar and seat height
Affordable price
Disadvantages
Trek 6000 mountain bike Full Specifications(2012)
| | |
| --- | --- |
| Projects | Parameters |
| Frame | Alpha Gold Aluminum |
| Fork | SR Suntour XCR-RL w/coil spring, preload, remote lockout, 100mm travel |
| Wheels | Shimano M435 alloy hubs; Bontrager AT-850 disc 32-hole rims |
| Tires | Bontrager XR1, wire bead, 26×2.2″ |
| Shifters | Shimano Deore M591, 10 speed |
| Front derailleur | Shimano Deore |
| Rear derailleur | Shimano Deore XT M780 Shadow |
| Crank | Shimano M552, 42/32/24 |
| Cassette | Shimano HG62-10 11-36, 10 speed |
| Pedals | Wellgo alloy platform |
| Saddle | Bontrager Evoke 1 |
| Seatpost | Bontrager SSR, 31.6mm, 20mm offset |
| Handlebar | Bontrager Low Riser OS, 31.8mm, 15mm rise, 9-degree sweep |
| Grips | Bontrager Race Lite |
| Stem | Bontrager Race Lite, 31.8mm |
| Headset | 1-1/8″ threadless, semi-integrated, semi-cartridge bearings |
| Brakeset | Shimano M446 hydraulic disc brakes |
FAQ
What frame sizes are available for the Trek 6000?
15.5″, 17.5″,18.5″,19.5″,21.5″.
How much does the Trek 6000 body weigh?
Approximately 26.6 lbs.
What body colors are available for the Trek 6000?
Trek 6000 mountain bike red is the 2009 model. The latest Trek 6000 bicycle is Paramount Grey/Gloss Black.
Trek 6000 mountain bike price?
There are still some 2012 Trek 6000 mountain bikes available for purchase offline. The price is expected to be around $800. Depending on whether some of the features have been upgraded.
If you own a used Trek 6000 it will be valued based on the condition of the bike. 2009 Trek 6000 bicycle trade-in price is estimated to be $80.
Is the Trek 6000 mountain bike worth buying?
The configuration, the 30-speed number, and the hydraulic disc brakes are appealing to beginners.
The integration of these components into a high-quality cross-country mountain bike. It is well worth the money if you are looking to purchase your first mountain bike.
With a comfortable ride, an off-road configuration, and the ability to use it as a commuter bike, this is not a particularly good choice for an intermediate rider.
After all, you want better technical advancements, and woodland adventures necessitate better gear. So whether it's worthwhile to buy depends on whether you're a casual rider.
Bicycle Comparison
Trek 820 mountain bike VS Trek 6000
Trek 820 has two types of frames, if you are a female rider, you can consider Trek 820 WSD, a frame suitable for female riding, and the Sky Blue paint is very bright.
There aren't many differences between the Trek 820 and Trek 6000 in terms of configuration. The Trek 820 is a low-cost mountain bike that can meet the needs of commuting and low-difficulty mountain riding at a low cost.
However, if you enjoy mountain riding, the Trek 6000 is ideal. 30 speeds almost completely outperform the 21-speed configuration, and while 10 and 11 speeds are popular now, I still prefer the 30-speed Trek 6000.
Excellent maneuverability is provided by hydraulic disc brakes. There are also wider tires, which add to the difficulty of mountain riding. The 6000 is an excellent choice for improved mountain riding.
The Trek 820 is currently the hot newbie mountain bike. We have also done a full review of it, if you want to know more you can click more.
Learn more: Is The Trek 820 Mountain Bike Really Suitable For Newbies?
Trek Marlin 5 mountain bike vs Trek 6000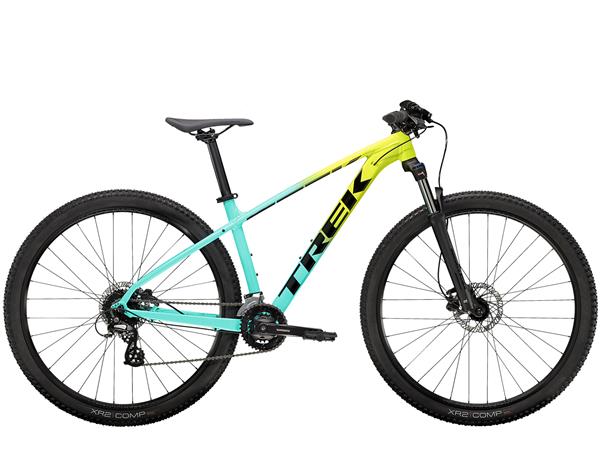 The Trek Marlin 5 is very similar to the Trek 6000, and it is not very expensive.
More details, such as the internal alignment, which is cleaner than the Trek 6000 and protects the cables from damage, have been optimized. The same hydraulic disc brakes, no discernible difference in braking effect.
The Trek Marlin 5's style is enhanced by the gorgeous paint color.
Young people may dislike the dull black, and the bright colors make for a more visually appealing commuter ride.
However, the speed is limited to a 2X8 configuration, which is slightly slower than the Trek 6000. The Trek Marlin 5 is an excellent choice for anyone new to trail riding or looking for a comfortable, stable commuter with the ruggedness of a true mountain bike.
The Trek Marlin 5 is also an excellent replacement for the Trek 6000.
Schwinn High Timber VS Trek 6000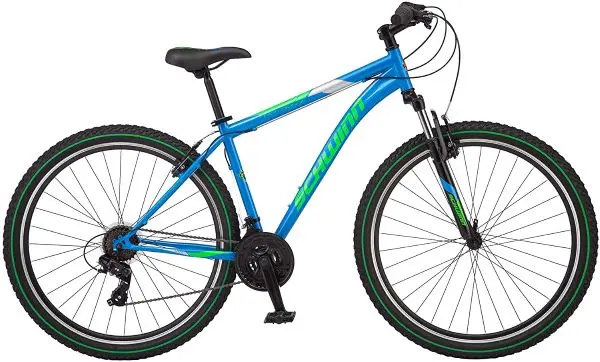 The Schwinn High Timber is one of the best options for those on a tight budget who want to get their hands on one right away, and it also comes with a good warranty.
The Schwinn High Timber is reasonably priced, but it lacks the features of the Trek 6000. 27.5-inch medium size tires are also an inexpensive tire size to replace.
The Schwinn High Timber has mechanical disc brakes front and rear, without the ease of braking with hydraulic brakes, but compared to The Schwinn High Timber is more for the casual rider, and at an affordable price, many entry-level riders like them.
For those who want to know more, we have also done a detailed review specifically for the Schwinn High Timber.
Final rating (4.5/5)
The Trek 6000 is a high-quality mountain bike from Trek that is perfect for entry-level mountain riders. If you are a new mountain rider, you are not familiar with it, but you can get a good impression of the Trek 6000 with this review. Most of the mid-range accessories combined into the Trek 6000 can be ridden in more mountainous areas. Woodlands, trails, and gravel roads all perform well. All in all the Trek 6000 is a good mountain bike and worth buying.
Related Videos
Related Reading
Is The Trek 4900 Disc A Good Mountain Bike? [Trek 4900 Review]
Is Trek 3900 Mountain Bike A Good Bike? [Trek 3900 Review]