We use affiliate links and may receive a small commission on purchases.
Schwinn high timber mountain bike is an XC bike that can be adapted to different styles of height for entry-level novice and experienced mountain bikers.
It has won the hearts of many consumers with good quality and affordable prices.
Today, let's review the advantages and disadvantages of the Schwinn high timber mountain bike.
When choosing this mountain bike, what do we need to pay attention to?
Schwinn High Timber mountain bike Specs
| | |
| --- | --- |
| Bike Type | Mountain Bike |
| Gear | 21 |
| Frame material | aluminum alloy/steel alloy |
| Gender | unisex |
| Size | 20″, 24″, 26″, 27.5″, 29″ |
| Weight | Approx. 34 lbs |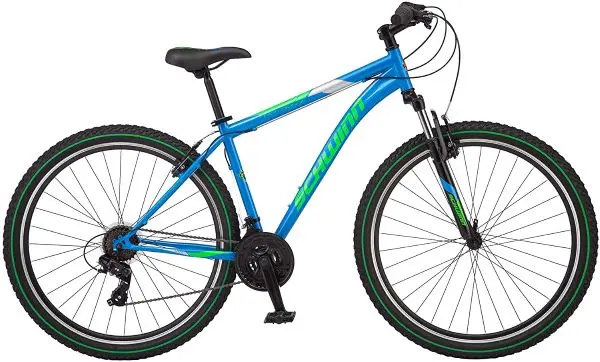 Schwinn high timber mountain bike features
Durable mountain bike designed for trails and neighborhood rides
Alloy crank provides steady gearing and less maintenance
Twist shifters with rear derailleur for quick gear changes on the trail
All-terrain, wide knobby mountain tires sit on light and durable alloy wheels for added stability
Quick release seat post makes for easy height adjustment
Easy to assemble
You need to study how to assemble a mountain bike after purchasing it. Schwinn high timber assembles the hard-to-assemble components in advance, and you can follow the instructions after purchase and simply assemble the front wheel, handlebars, seat and pedals as needed, and you are ready for use.
Frame
If you choose enough, there are two types of material frames to choose from, aluminum and steel alloy.
Here you need to know the difference between the two, in terms of strength, the steel alloy frame in rugged terrain will be more robust, more durable, but will be heavier.
Aluminum alloy frame, light quality, it is recommended to choose aluminum alloy if you ride more on the city roads. Although not as strong as steel alloy, but entry-level riders can master the abilities of mountain bike riding faster and make more moves.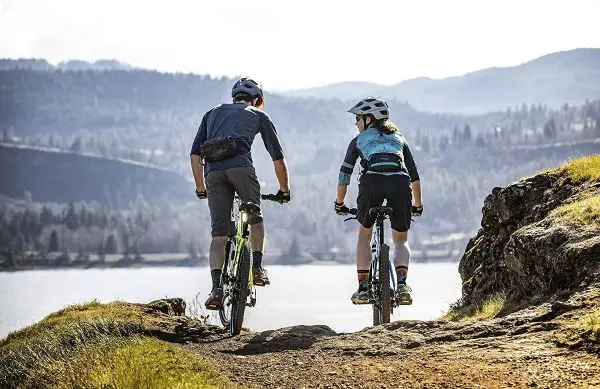 Moderate suspension stiffness
The Schwinn high timber suspension for mountain bikes is moderately rigid. When you are just sitting on it, there is a slight sink in the front suspension, but it does not bottom out.
The front suspension can dampen the shock very well when you encounter a bumpy road and enhance the feeling of handling.
Sensitive drivetrain
All about the riding experience and the quality of that mountain bike is the drivetrain of a mountain bike.
There is a 21-speed Shimano drivetrain for the Schwinn high timber, which makes it easy to change gears when needed. No skipping of gears occurred.
This seamless feeling is also something that can not be provided by many cheap mountain bikes. The shifter has a strong bump grip, and you can easily shift gears through the left and right handlebar shifters even when driving in the rain.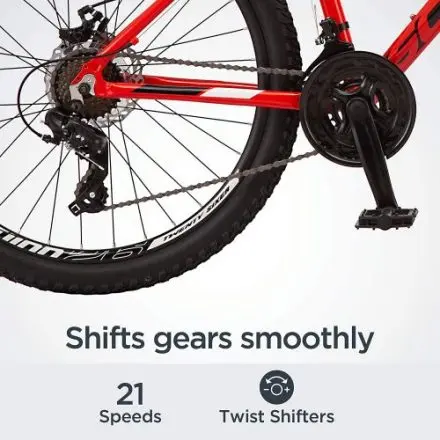 Good braking effect
In emergency braking, the V-brake is somewhat less effective than the disc brake, but the braking effect of the high timber Schwinn in actual use is still excellent.
The braking effect of the front disc and the rear V-brake may be achieved with both emergency braking and slow braking.
You can also, of course, upgrade it when shopping. For a longer life, both the front and rear can be used with disc brakes.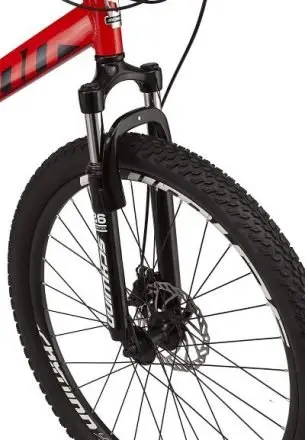 All-terrain, wide knobby mountain tires
Schwinn high timber All-terrain, wide knobby mountain tires are perfect for mountain riding and have excellent grip.
Grippy tires for city riding enable your power to translate well into traction.
It is possible to choose the height of the wheels according to your height. Wheel sizes: 20″, 24″, 26″, 27.5″, 29″.
Most women choose 26″ Schwinn high timber. Usually, men choose 29″ or 27.5″.
The following table can be used as a reference in order to make it easy for you to choose the correct mountain bike size for your height.
| | |
| --- | --- |
| Tires size | height |
| 24" | 4'6"and UP |
| 26" | 5'2' and UP |
| 27.5" | 5'6" and UP |
| 29" | 6' 0" and UP |
Easy to ride
For individuals of different heights, especially for growing adolescents, the fast-adjustable seat is easy to ride.
And with the hex included, there is a height adjustment on the handlebars.
This mountain bike will be very easy to ride when adjusted to the correct height, with a good drivetrain and comfortable suspension.
Good price
You can buy a mountain bike with excellent performance for less than $500 and all the data can be described as good. A bike can be selected more selectively, in the 4′-6′ height range.
Schwinn high timber mountain bike advantages and disadvantages
| | |
| --- | --- |
| Advantages | Disadvantages |
| Easy to assemble | Seats are hard |
| Rugged and durable | The pedals are made of plastic |
| All-terrain adapts to different heights | |
| Alloy crank provides stable gearing and reduces maintenance | |
| Upgradeable accessories | |
User Report
I selected this Schwinn High Timber 27.5 with the confidence that it will be the best bike for me. Ready to go out of the box correct, not much assembly is required.
Only the front wheel, bench, brakes, and handlebars were added. Three allen wrenches, an open-end or adjustable wrench, a screwdriver and a bike pump were all the instruments required.
I double-tested all the nuts and bolts until installed to ensure that all components were tightened at the factory. The standardized Schwinn manuals (big red book) failed to note that to place on the fast release front tyre, the front brake had to be loosened.
Gears work from the box right away. It appears that the front shock has mild stiffness. The weight, which is the norm for a steel frame, is around 40 pounds.
The smooth paint finish fits well, and their website does not even mention Schwinn (made by Pacific). It is offered with a white 18-inch frame, 21-speed and 27.5-inch Knobby tires (LxWxH= 68 x 23 x 41 inches).
I am 6 feet tall (200 lbs) and the most important factor for me is health. This bike, if the handlebars were closer together, would be too tight for me. I lifted the handlebars a bit (but not all the way).
To keep the legs straight, I also raised the seat a bit. Instead of bending over, you sit up on the bike. Now, on paved streets and bike lanes, I'm riding my bike.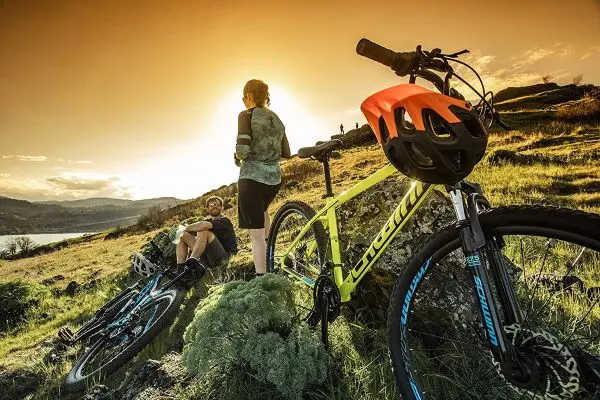 Related Questions
Is Schwinn a good brand?
If you compare Schwinn mountain bikes' quality and sales with other brands of mountain bikes in the same price range, then Schwinn mountain bikes are at the top of the list.
And in the inexpensive entry-level mountain bike segment, their brand is well known. Their brand has become synonymous with inexpensive entry-level bikes of good quality.
Their top of the line bikes are their punching bag as well. If the audience needs it, we will review other models of the brand's mountain bikes in a later article.
Is Trek better than Schwinn?
The hybrid Schwinn bike is cheaper than the hybrid Trek bike.
Schwinn mountain bikes have a V-brake system that can be upgraded, while there is a straight disc brake system for Trek hybrid bikes, so they are a bit more costly.
They are cheaper and lighter than Schwinn mountain bikes.
Are Schwinn or Huffy bikes better?
Schwinn is a little better than Huffy, in our opinion. On the price side, it is a bit more of a consideration.
And when you don't need it, the Schwinn maintains its value better and can change hands at a good price.
Huffy, of course, also produces some nice bikes and the quality of the components is reliable.
Which is better mongoose or Schwinn?
The prices of Mongoose bikes are more affordable than those of Schwinn bikes. Schwinn offers a lot more choices than Mongoose.
Schwinn bikes are usually much lighter than Mongoose bikes because Schwinn makes use of aluminum or alloy frames and not steel.
FAQ
What is the maximum weight this bike can hold?
300 pounds
What is the actual weight of this bike?
About 32-35 pounds.
Does it come with a kickstand?
Yes, it has a kickstand.
Are the handles height adjustable? Can they be adjusted upwards?
Because there is a screw at the top to adjust the height of the handle.
Summary
When we need to purchase and have a limited budget for a mountain bike. In this price range, just read the reviews of bikes, and you will find many bikes with problems. Primarily inexpensive parts, poor mechanics, or poor factory assembly. Customer reviews must be read!
The Schwinn high-timber mountain bike is well worth getting for buyers on a budget of 500 or less. It can be used for daily city riding or for mountain riding, both of which favor the novice.
Video