We use affiliate links and may receive a small commission on purchases.
Trek 820 Mountain Bike
Looking for a good mountain bike? A user who had never purchased a mountain bike before opened Google and was overwhelmed by the number of options.
Of course, as a novice, I have many questions about purchasing a mountain bike. So, is this article about the Trek 820 mountain bike comprehensive enough for newcomers?
What are the Trek 820's specifications? What are the benefits and drawbacks? Are there any bike recommendations that are relevant?
Welcome to the Best Bike Select blog, and let's jump right into the reviews.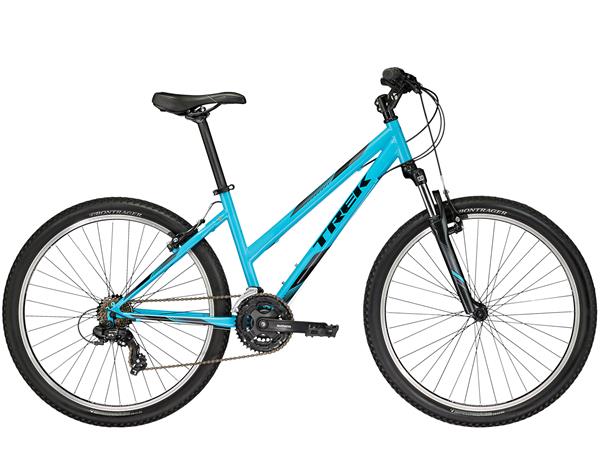 Features of 820
Frames for men and women (4.0/5)
Steel frames are more likely to be found on mountain bikes that cost less than $500. When compared to an aluminum frame, this adds some weight (about 3 pounds heavier overall).
However, in the middle to late stages of use, aluminum frame bikes, in general, will experience material weakness, resulting in a less durable bike. The Trek 820 Men's Style has a step-Over frame, which is ideal for male riders' ergonomics, and a generous 70.5° head tube angle for a more versatile ride.
Even though it's under $500, Trek's high-quality approach to mountain biking includes smooth welds and a no-fuzz build.
75mm shock front fork (3.5/5)
The Trek 820 is outfitted with a shock fork with a relatively short travel, the SR Suntour M-3030. Nonetheless, it includes a coil spring, which is required for the positioning of this bike for casual riders, so there is no need to over-adjust to the maximum travel when riding on flat roads.
However, on casual weekends or other breaks, when riding on rough roads or rocky trails in hilly areas, it can also be sufficient to absorb road impact. Accessories in the low to mid-range price range, but strong and durable enough to last for many years.
21-speed drivetrain (4.0/5)
Trek 8 series 820 mountain bike comes with a full Shimano Tourney drivetrain to ensure the bike's transmission remains consistent. It is the same as determining the best possible drivetrain.
The 3X7 configuration, on the other hand, is not one of the most popular 1X configurations for high-end bikes, but for a beginner mountain biker, this is a good option for practice. With up to 21 gears to choose from, it can be ridden in a variety of terrain.
Brakes (3.0/5)
When compared to disc brakes, a V-brake with an alloy pull cable is not the best option. If you want to improve the performance of your Trek 820, disc brakes are a good option.
The longer braking travel is not ideal for intense mountain riding, but as a beginner on an occasional mountain bike, the V-brake is unquestionably the most cost-effective option (a disc brake adds about $100 to your budget). Simple and appropriate for easy mountain riding.
26-inch tires (3.0/5)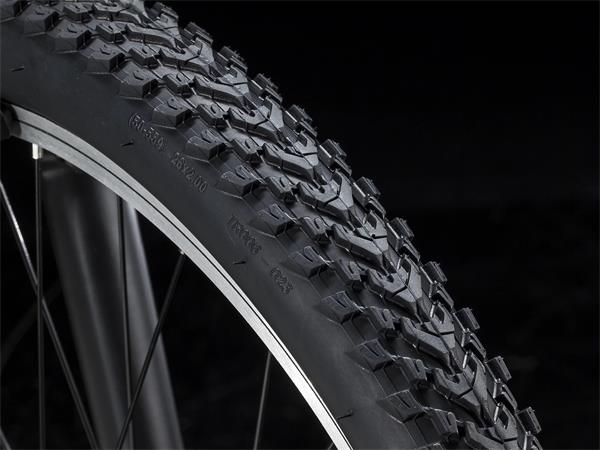 Although this tire size is a step back from the current popular 27.5″ or 29″ sizes. However, as once-popular tire size, it has excellent performance grip and is appropriate for medium-height riders.
The inner seam is not as difficult. v2.0 "For both commuting and general mountain riding, wide tires are required. If you require better mountain riding, you can increase the tire width to 2.4 inches ".
Stem for handlebar (4.5/5)
Not to brag, but when it comes to men's and women's style, men's shoulder width is wider than women's, so there will be a 100mm length configuration in the XL frame size, but the widest stem for women is only 100mm length and there is no XL frame option.
If you are very tall, you can choose the men's model or other similarly configured mountain bikes instead of the women's style. Of course, this segment of the population is small.
Nice after-sales service (4.5/5)
After-sales service for the Trek 820 is also excellent. I went through all of the reviews and found very few instances of missing or missing parts. Of course, this is due to the fact that they have a large number of offline stores. Some customers order online and then pick up the bike at a local store.
Other configurations suitable for commuting
There are mounting holes for the rear rack, as well as devices for the front and rear fenders. All of these are for commuters. As occasional mountain bikers who primarily use the bike for commuting, the roadside dust, which can interfere with the ride, can be purchased on Amazon or Trek's website for the necessary components. There is also the installation of the rear rack, with a certain amount of storage space, shake it up, and ride it.
2015 Trek 820
The 2015 Trek 820 is an older bicycle model, but during our research, we found that it's very suitable for daily riding and light off-road use. If you're interested in it, we recommend thoroughly checking the condition of the bike to ensure safety and performance.
Advantages and disadvantages of Trek 820 mountain bike
Advantages
Affordable price
Great mountain bike for beginners
Both male and female frame types
Sturdy and durable suspension
21-speed
Reserved for rear rack and fender mounting holes
Disadvantages
Not a wide tire size
Non-disc brakes
Not suitable for long-legged riders
The trek 820 weight is heavier
Is the Trek 820 worth every penny you spend?
1. Quality of accessories
When comparing the features mentioned above, including the pros and cons, the Trek 820 mostly uses low to mid-range accessories, which is related to its price; if you are willing to spend more money, you should be able to get better accessories. However, based on the value of the accessories and the price, that will be well worth it. Both the shock fork and the Trek Custom Steel Frame are designed for beginners.
2. Riding Experience
As an entry-level mountain bike, it is mostly used on commuter roads, so we only mention mountain riding here; rough mountain riding is not recommended. However, riding on easy mountain terrains, such as forest roads, trails, or gravel sections, provides a pleasant experience.
If you give a pro-level woodland hardtail mountain bike on woodland trails a 5 out of 5, the Trek 820 gets a 3.8. This is a very objective rating as well.
3. Commuting Performance
The design is similar to commercially available mountain bikes, but the standout feature is the loosehead tube angle, which allows commuter riders to be more relaxed while riding on the road.
FAQ
What is the body weight of the Trek 820?
The ML size frame weight is 15.28 kg/ 33.68 lbs (with tubes).
What is the Trek 820 mountain bike Weight limit?
This bike has a maximum total weight limit (combined weight of bicycle, rider, and cargo) of 300 pounds (136 kg).
What body colors does the Trek 820 come in?
The body color of the men's Trek 820 mountain bike is Matte Trek Black. girls Trek 820 mountain bike California Sky Blue
What is the Trek 820 mountain bike price?
The official guide price for 2022 is $489.99.
Trek 820 Specs
Frameset
| | |
| --- | --- |
| Frame | Trek Custom Steel, rack mounts, 135x5mm QR |
| Fork | SR Suntour M-3030, coil spring, 100x5mm QR, 75mm travel |
| Max compatible fork travel | 75mm |
Wheels
| | |
| --- | --- |
| Hub front | Formula FM21 alloy, 100x5mm QR |
| Hub rear | Formula FM31 alloy, 7sp freewheel, 135x5mm QR |
| Rim | Bontrager AT-550, alloy, 36-hole, schrader valve |
| Max tire size | Frame: 26×2.00″ Fork: See manufacturer |
Drivetrain
| | |
| --- | --- |
| Shifter | Shimano Tourney EF41, 7 speed |
| Front Derailleur | Shimano Tourney TY500, 31.8mm clamp, top swing, dual pull |
| Rear Derailleur | Shimano Tourney TY300, long cage, 34T max cog |
| Crank | Shimano Tourney TY301, 42/34/24, 170mm length |
| Cassette | Shimano TZ500, 14-28, 7 speed |
| Chain | KMC Z7, 7 speed |
| Pedal | VP-536 nylon platform |
Components
Saddle
Bontrager Sport
Seatpost
Size: XS, S
Bontrager alloy, 29.2mm, 12mm offset, 300mm length
Size: M/L, L
Bontrager alloy, 29.2mm, 12mm offset, 330mm length
Size: XL
Bontrager alloy, 29.2mm, 12mm offset, 400mm length
Handlebar
Size: XS, S
Bontrager alloy, 31.8mm, 15mm rise, 660mm width
Size: M/L, L, XL
Bontrager alloy, 31.8mm, 15mm rise, 690mm width
Grips
Bontrager SSR
Stem
Size: XS
Bontrager alloy, 31.8mm, Blendr compatible, 7 degree, 60mm length
Size: S
Bontrager alloy, 31.8mm, Blendr compatible, 7 degree, 80mm length
Size: M/L, L
Bontrager alloy, 31.8mm, Blendr compatible, 7 degree, 90mm length
Size: XL
Bontrager alloy, 31.8mm clamp, Blendr compatible, 7 degree, 100mm length
Headset
1-1/8" threadless
Brake
Tektro alloy linear-pull
Weight
| | |
| --- | --- |
| Weight | ML – 15.28 kg / 33.68 lbs (with tubes) |
| Weight limit | This bike has a maximum total weight limit (combined weight of bicycle, rider, and cargo) of 300 pounds (136 kg). |
Bicycle Comparison
Compare
Trek Marlin 5 mountain bike vs Trek 820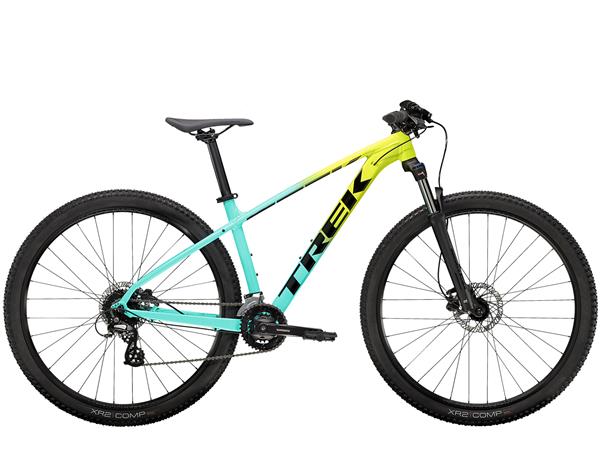 First of all, I have to say that the Trek Marlin 5 is the closest hardtail mountain bike to the Trek 820 in terms of price.
The Trek Marlin 5's frame is made of aluminum, making it slightly lighter. However, the strength remains unchanged, as does the maximum weight limit of 300 pounds. In addition, there are two frame types for men and women.
This expands the options available to mountain riders who prefer a lighter aluminum frame. Fork travel has also been increased, with the same M/L frame, for example, the fork travel is 100mm, such a change will be to adapt to more difficult mountain riding, in the intense rocky road also has a good performance, which the Trek 820 does not have, of course.
The 68.6° head tube angle is slightly narrower than the Trek 820s 70.5°, but it's worth the difference for intermediate riders to upgrade to an entry-level mountain bike.
Front and rear mechanical disc brakes have been added for relatively precise braking. The Trek Marlin 5 is also available in a XXS frame size, which is ideal for junior riders. If you prefer the higher configuration of the Trek Marlin 5, simply add a little budget to the Trek 820 and you're good to go.
Learn more: Is Trek Marlin 5 Worth Buying? [Trek Marlin 5 Review]-2022
Schwinn S29 Mountain Bike VS Trek 820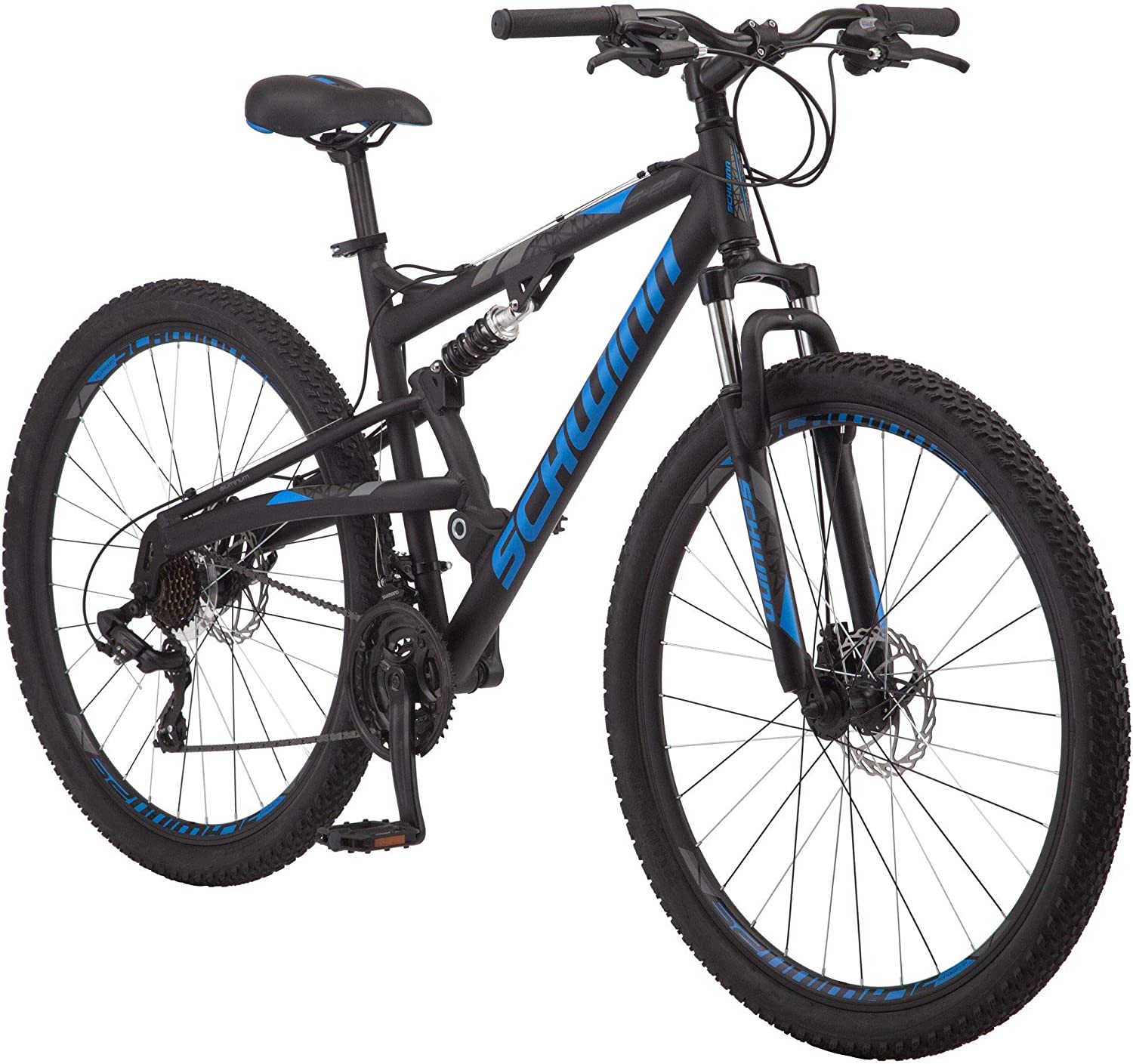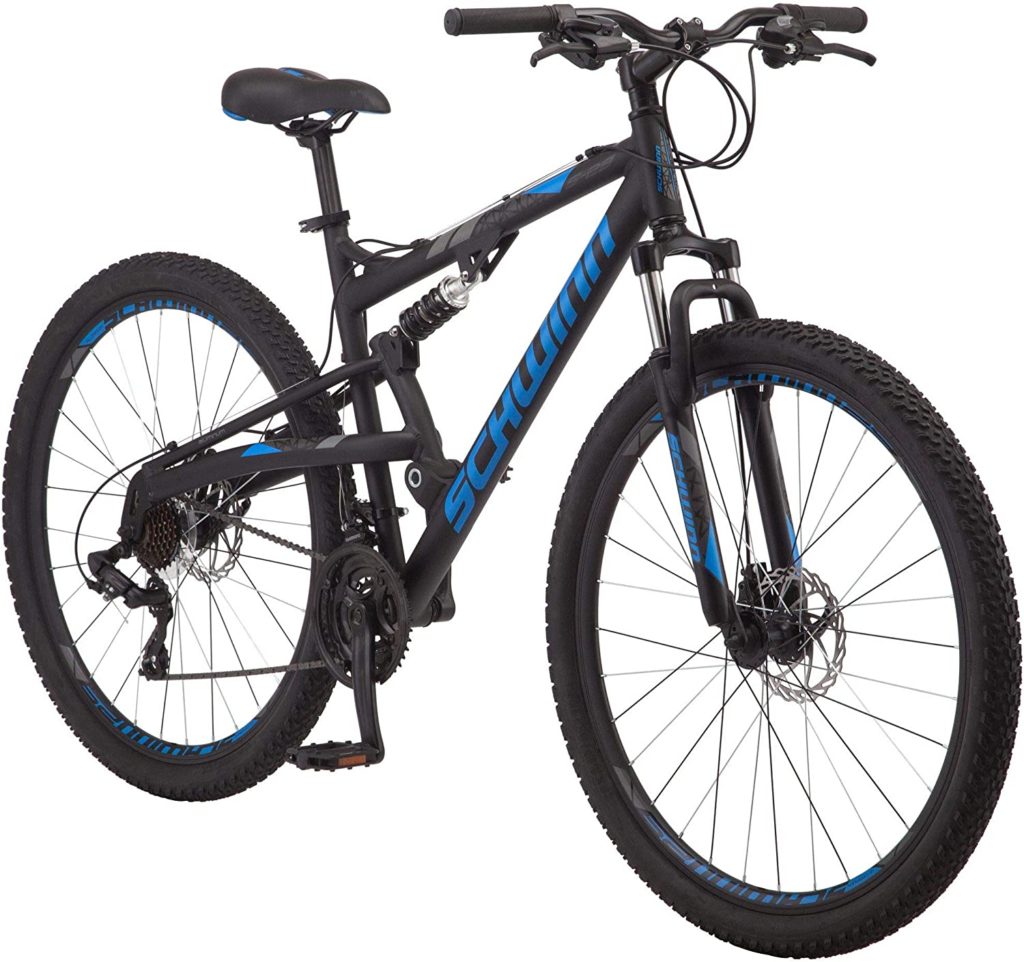 With the popular 29″*2.1″ wide knobby mountain tires and Dual-Suspension for intense mountain riding, it is undeniably a poison for beginners to get started, with elevated riding difficulty, but better damping performance on rugged trails and easy riding on rocky roads, a tall mountain bike.
The same 21-speed configuration, all aluminum frame. However, when compared to the lighter Trek 820, it necessitates more climbing ability. If you prefer soft-tail mountain bikes, the Schwinn S29 Mountain Bike is an excellent choice.
Learn more: Schwinn S29 Mens Mountain Bike Reviews-In-Depth Assessment
Conclusion (Overall rating 3.9/5)
In terms of price and performance, the Trek 820 is ideal for new riders. The cross-country bike that necessitates the least amount of riding skill. If you're not planning a formal introduction, it's a good option with a budget of less than $500.
While most prices are rising, purchasing a mountain bike that fits and will be with you for at least ten years is unquestionably a good value investment. With a rear rack and fenders, you can use it as a commuter bike for city rides, work or school rides, and the occasional mountain ride. You can enjoy the adventure with a few friends.
Despite the fact that it is not suitable for intense mountain riding, we gave this entry-level mountain bike a rating of 3.9. It's an excellent mountain bike for the price.
Related Videos
Read more: Trek 3700 Mountain Bike Review
Reference
https://www.Trekbikes.com/us/en_US/bikes/mountain-bikes/cross-country-mountain-bikes/820/820/p/17027/