We use affiliate links and may receive a small commission on purchases.
The Trek 4900 is a hard model to find in Trek stores these days, but it debuted in 2003 as a former mid-range mountain bike that many riders who like to ride rough really like. (This is the most up-to-date information I could find on this bike.)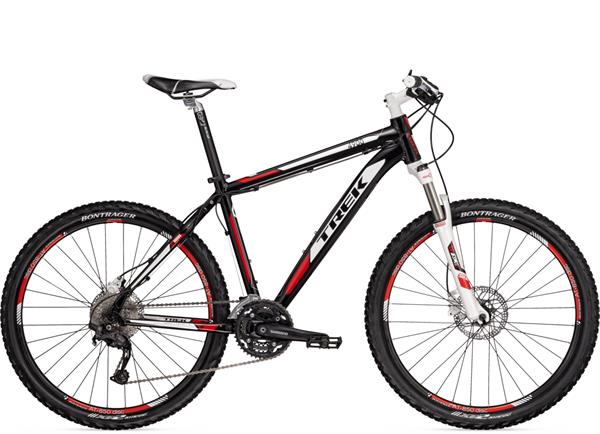 It was upgraded to the most recent version in 2013, and then gradually phased out. This is a comprehensive review of the Trek 4900 Disc, which was released in 2012.
The 2012 Trek 4900 Disc's descent and climbing performance, key features, components, and specifications, as well as other versions in the series, are all broken down below.
So, welcome to the Best Bike Select blog, and let's get started right away.
Descending
The Trek 4900 disc is a mid-range mountain bike, so there are more possibilities when it comes to mountain riding, and it has more upgrades than the 2003 low-end version of the Trek 4900. If you're a rider familiar with mountain riding, then you'll love its configuration.
The biggest source of hardtail mountain bike damping on a descending road is the shock fork. Obviously, the Trek 4900 disc fits the bill with the Suntour SF9- XCR, 100mm travel.
Despite being an entry-level trail shock fork, the SR Suntour fork performs admirably on rough trails and is extremely difficult to bottom out. When descending quickly over constantly undulating terrain, it also doesn't feel like there are too many bumps.
On top of that, the Trek 4900 disc has nimble handling, even with the stopping hydraulic brakes, which can stop quickly on large rocky slabs that you don't feel confident passing. Of course, my complaint is that the tires, which are only 2.1″ wide, respond quickly to the ride, but the descent speed is significantly slower on loose ground.
Climbing
For every happy descent, there is always a strenuous climb. the Trek 4900 disc has a 3X10 drivetrain and there are not too many obstacles when riding comfortably on climbs, but of course you want fast climbs to be very hard.
The 26 "x2.1" tires provide amazing traction when we are riding on hills that are not steep. the 3X10 drivetrain provides a wide range of gearing without straining to climb. If you're on city streets, or mountain parks, in manicured terrain, the Trek 4900 disc will have a lot of room to play with, a feature that mid-range mountain bikes basically have.
However, I prefer the Trek 4900 disc's ability to provide a remote locking fork that translates well to the power of your pedaling when climbing pavement, despite the fact that it is not as easily accessible.
However, it is a fairly uncommon setup among mountain bikes costing more than $1000. The somewhat aggressive geometry angle is also a great climbing tool, and while I personally believe that when climbing fast, it is more dependent on body weight and tire grip, the impact of the body geometry still allows you to climb steep uphill climbs. (On dry land.) So I don't have much to complain about when it comes to the Trek 4900 disc's climbing ability.
General Road Riding
The Trek 4900 disc's versatility allows it to perform even better on rough trails. To accommodate more difficult terrain, a variety of gears are available. Smaller 26″ tires with very flexible steering are also available.
Because of the short downhill surface, it can dance comfortably in the winding trails once more. Fast braking and dexterity are not limited to impactful terrain, but are more enjoyable for the rider when riding on boring flat roads.
The rear seat is reserved for rack and fender mounting holes, and with them installed, it can be transformed into a commuter bike in an instant. Perhaps the adventurer, a mountain bike that many commuter riders enjoy, is the resting daily.
Main Features
Alpha Gold Aluminum Frame (4.5/5)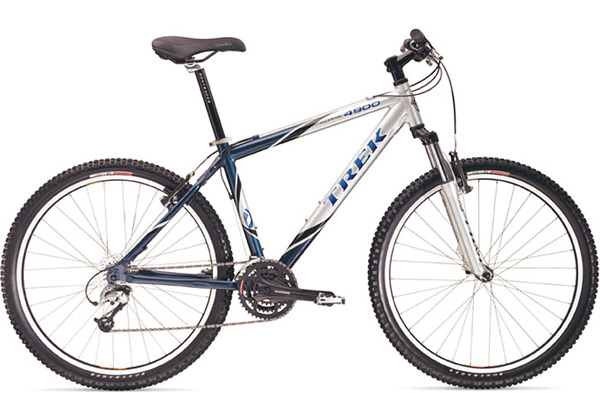 The Trek 4900 disc is built with an Alpha Gold aluminum frame and Trek's semi-integrated head tube, which is used in almost all of the company's mid-to high-end models. The typical mountain bike frame design is still conservative. The color scheme of black, white, and red is more dynamic.
A young mountain biker would prefer a paint color with some personality. The body weight is low due to the lightweight and welded flat aluminum body. It is strong and durable, as well as easy to maintain, and was the most commonly used frame material in mid-range models at the time.
The Trek 4900's head tube angle of 70.5 degrees balances comfort and aggressive riding, making it even more versatile.
Front Fork (4.5/5)
Fork travel on the Suntour SF9- XCR is 100mm. With this setup, they are more than adequate for riding on flat roads. On strenuous mountain rides, it is also extremely difficult to bottom out.
It also has a remote lockout, which means the fork can be removed for flat road riding, allowing you to get to your destination much faster. The not-too-soft, not-too-hard shock fork also provides a lot of fun on long rides. The fork can also be manually adjusted for the number of strokes, allowing riders with varying riding styles to adapt to more difficult terrain.
Shimano 3X10 drivetrain (4.0/5)
The Shimano HG62-10, a 10-speed configuration in the mid-range, is now more commonly used in bikes with 1X drivetrains. There is no shortage of mountain bikes over $2,000 in various configurations in this area.
The Shimano M522 is the most commonly used, with a minimum of 24 gears and a 32-tooth flywheel in the middle. The change in terrain is given more thought. As a result, the rear chainstay offers a wide range of gears. As a result, the Trek 4900 drivetrain is not suitable for a beginner's mountain bike.
Bontrager XR2 Tires (3.5/5)
The tires will almost always be Bontrager, as with the Trek 4 series of mountain bikes released in 2012. It's not of high quality, but the narrow tires make technical mountain riding difficult.
However, the Trek 4900 disc can accommodate tires up to 2.3 inches in diameter "large 26 "Tires may appear dated now, but they are more common on low-cost mountain bikes or youth mountain bikes these days. For a more enjoyable ride in the mountains, I prefer 27.5″ or 29" mountain tires.
Hydraulic disc brakes (4.5/5)
The Hydraulic disc brakes on the Trek 4900 disc are one of the best buys. Hydraulic disc brakes mean less maintenance and greater longevity as a daily commuter. It is not an exaggeration to say that you can have all of your body parts replaced and still have your brakes work. I have nothing but praise for the Trek 4900 disc's Hydraulic disc brakes.
Slightly ascendable handlebars (4.0/5)
The Bontrager Low Riser OS handlebars have a 9-degree sweep, which allows riders to ride in a more comfortable position. It also compensates for the steeper head tube angle. The handlebar can be raised by 15mm to accommodate riders of varying proportional heights.
Other versions of the Trek 4900
The 2003 Trek 4900 has many of the same features as the Trek 4900 disc 2012. But the Trek 4900 disc has some features that put it in the mid-range mountain bike category. The Trek 4900, on the other hand, is relatively spartan with alloy cable pull brakes, a 3X9 drivetrain, and a RockShox Pilot C fork with 80mm of travel. No more remote lockout. Only suitable for normal mountain terrain.
Benefits of the Trek 4900
Lightweight aluminum frame with head tube angle for mid-range riders
Suntour SF9- XCR fork for trail riding
3X10 drivetrain with a wide range of gears
Hydraulic disc brakes are not present for precise braking and easy maintenance
Slightly ascendable handlebars for a more comfortable riding position
What we don't like about it
2.1″ tires are flexible enough, but reduce some of the grip
Trek 4900 Specs
Frame
Alpha Gold Aluminum w/semi-integrated head tube, formed down tube w/integrated gusset, formed top tube, monostay seatstay, forged dropouts w/rack & fender mounts, replaceable derailleur hanger
Sizes
13, 16, 18, 19.5, 21, 22.5″
Wheels
Shimano RM66 center-lock alloy hubs; Bontrager AT-850 disc 32-hole rims
Tires
Bontrager XR2, wire bead, 26×2.1″
Shifters
Shimano Deore M591, 10 speed
Front derailleur
Shimano Deore
Rear derailleur
Shimano SLX M663 Shadow
Crank
Shimano M522, 42/32/24
Cassette
Shimano HG62-10 11-36, 10 speed
Pedals
Wellgo alloy platform
Saddle
Bontrager Evoke 1
Seatpost
Bontrager SSR, 31.6mm, 20mm offset
Handlebar
Bontrager Low Riser OS, 31.8mm, 15mm rise, 9-degree sweep
Stem
Bontrager Race Lite, 31.8mm
Headset
1-1/8″ threadless, semi-integrated, semi-cartridge bearings
Brakeset
Shimano M446 hydraulic disc brakes
Colors
Gloss Metallic Black
Crystal Pearl White
FAQ
What is the body weight of the Trek 4900?
The overall body weight is approximately 31.5 lbs.
What frame sizes are available for the Trek 4900 disc?
13, 16, 18, 19.5, 21, 22.5″
What is the Trek Alpha 4900 mountain bike price?
The 2003 Trek 4900 is estimated to be worth $50, while the 2012 Trek 4900 disc is estimated to be worth $130. If you are willing to wait and the bike is in good condition, you can increase the bid on the used trading platform by 50% and wait for a buyer.
Learn more: Is The Trek 4300 A Good Mountain Bike? [Trek 4300 Review]
Comparison table
Comparison
Trek Roscoe 7 mountain bike vs Trek 4900 disc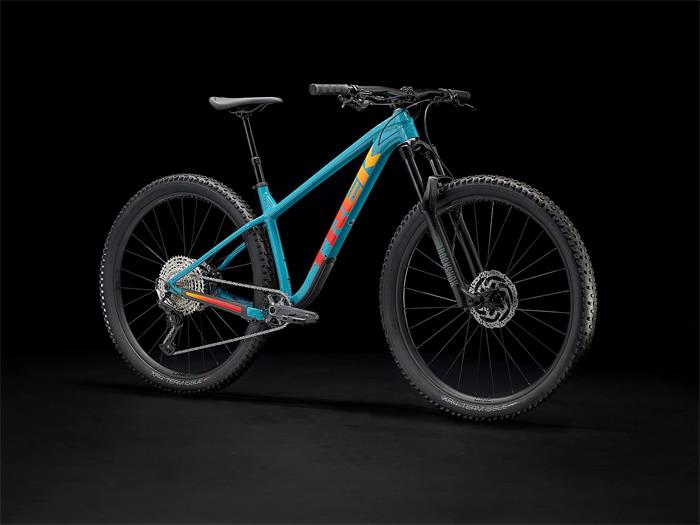 The Trek Roscoe 7 mountain bike, which is also part of Trek's mid-range mountain bikes, has a lot of upgrades compared to the Trek 4900 disc. You get clean internal alignment, 29″ fast-rolling tires (27.5″ tires on the XS frame), 2.6″ extra-wide tires for more grip, 1X12 race-grade drivetrain, 140mm RockShox Recon Silver RL shock fork, and a lighter bodyweight.
The Trek Roscoe 7 mountain bike is a great fit if you want an affordable, entry-level trail racing mountain bike. The price is $500 more than the Trek 4900 disc, but the experience is enhanced with the Trek Roscoe 7 mountain bike's performance on both climbs and descents.
29″ big tires for fast rolling over roots and gravel. The somewhat exaggerated 2.6″ wide tires provide a strong grip on mountain turns and steep mountain climbs.
Last but not least are its vacuum tires, which are lighter on the wheels without the binding of an inner tube, and increase responsiveness by at least 15%. It has the same Alpha Gold aluminum frame as the Trek 4900 disc. But the drivetrain, while less than the Trek 4900 disc, is much less difficult to ride. So the Trek Roscoe 7 mountain bike is the mountain bike that can rough it up off-road.
Learn more: Is Trek Roscoe 7 Worth Buying? [Trek Roscoe 7 Review]
Trek Marlin 8 mountain bike VS Trek 4900 disc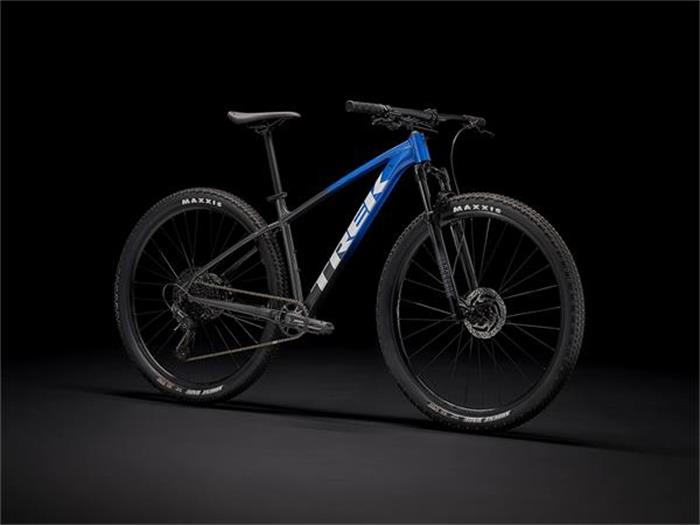 The price of the Trek Marlin 8 is almost the same as Trek 4900 disc. The Trek Marlin 8 is equipped with a 1X12 drivetrain with a wide range of gearing that won't overwhelm newbies. The Trek Marlin 8 is a great value for money mountain bike at a great price, but maintains many of the same accessories as a high-end race bike. It retains a minimum 26″ responsive small tire (XXS frame).
Also available in 27.5-29″ tire sizes, it's the mountain bike of choice for youth or adults who like to ride. It also has the Trek Marlin 8 WSD women's style mountain bike. If you are a devoted Trek fan, then this is a great choice for a mountain bike that can fit the vast majority of people.
YETI SB140 Mountain Bike vs Trek 4900 disc
First of all the YETI SB140 Mountain Bike is a high-end race mountain bike, then it's more about how they compare and whether riders are willing to take on harder mountain rides. If you're more adventurous, then the YETI SB140 C2 is the best mountain bike in the YETI SB140 series for the money.
With the YETI SB140 Carbon C2 GX Eagle AXS Mountain Bike, you get: a C-series carbon frame, a 150mm Front Travel Fox Performance 36 Fork, a 140mm Rear Travel Fox Performance Float DPS Rear Shock, SRAM GX Eagle AXS Shifters, and many more high-end features. The super-loose 65.4-degree head tube angle allows for a comfortable ride throughout the mountain ride.
Whether you're climbing steep hills or taking long descents. Or if you're meeting up with a group of friends for a morning ride on a rest day, the YETI SB140 is a perfect choice. If you want to know more about them, you can click on the button.
Learn more about the YETI SB140 Mountain Bike
Schwinn Bonafide Mens Mountain Bike vs Trek 4900 Disc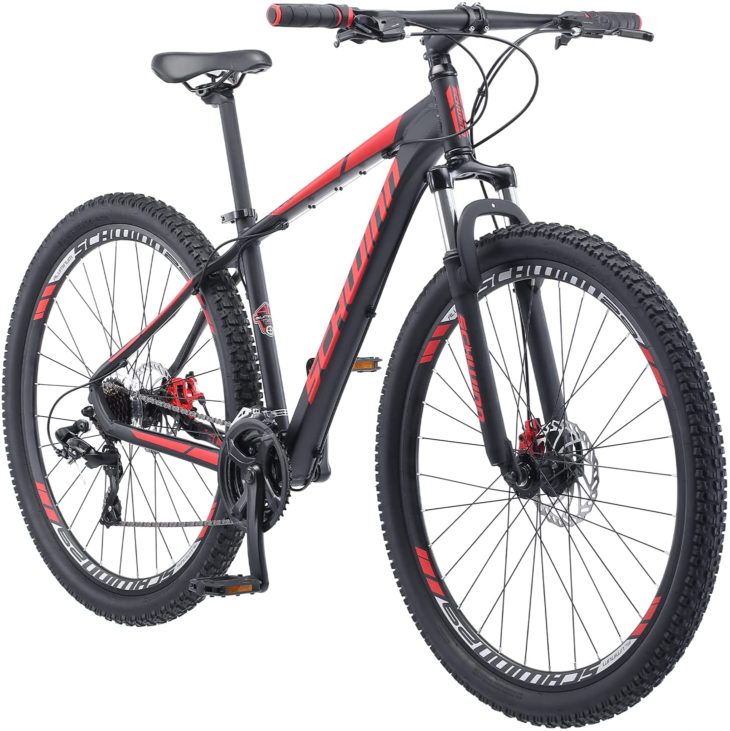 Simple mountain riding can meet your daily riding needs if you are a casual rider. Large 29*2.25″ tires, 3X8 drivetrain, fast and accurate mechanical disc brakes, and a lightweight aluminum frame are included.
Although the configuration is not as high as the Trek 4900 disc take sample, at such a low price point, getting such a slew of accessories is reasonable, and adapts to the needs of commuter riders, who occasionally go to the hills of the ride, or in the less difficult mountain cross-country, are very enjoyable riding experiences.
With a great price and a low to mid-range package that meets the needs of the everyday commuter rider, the Schwinn Bonafide makes mountain biking more enjoyable for riders on a budget. It's a mountain bike to think about.
Learn more: Schwinn Bonafide Mountain Bike Review
Final Verdict (4.2/5)
The Trek 4900 disc has a lightweight frame and a large number of gears. Many riders who have ridden this mountain bike have been impressed, but when viewed through today's eyes, there are a lot of backward accessories that don't fit our needs. However, it is a good mid-range mountain bike. This bike receives a final rating of (4.2/5) from us.
Related Videos
Related content
Is Trek 4500 Mountain Bike A Good Bike? [Trek 4500 Review]
Is The Trek 4300 A Good Mountain Bike? [Trek 4300 Review]
References
https://archive.trekbikes.com/us/en/2003/trek/4900#/us/en/2003/trek/4900/details
https://archive.trekbikes.com/us/en/2012/Trek/4900_disc#/us/en/2012/Trek/4900_disc/details
http://www.bikeroar.com/products/trek/4900-2014/specs