We use affiliate links and may receive a small commission on purchases.
2023 Top 10 Best Kids Bike Bells
"Jingle Bells! Jingle Bells!" It's a signal that tells nearby passersby that "I" am coming.
For children's bicycles, the installation of the bell is something that many parents will notice. Because a children's bicycle bell, does not need to be too expensive and has enough interesting and cute appearance with a crisp and pleasant bell, it will be your baby's interest.
As an adult, you may not be able to understand how much pure joy these noisy bells will bring to the kids on their rides.
During the ride, the accompaniment of the bell will not only bring more interesting sounds to the children's riding trip, but it is also an essential accessory for you to find out where your children are in time and to ensure their safety.
In our test bunch of bike bells, we will elaborate on the 10 children's bike bells with the highest number of votes in this article. If it helps you to choose a bell, you can share it with your friends.
Learn More: 2023 Top 10 City Bike Bell – Super Value-For-Money
Recommended List
1. KSdeal Bike Bell for Kids Boys
The household name Spider-Man motif will be a favorite of most boys.
$8.99 (as tested)
Aluminum
Suitable for 1-6 years old boys.
Suitable for handlebar tube outer diameter of 20 mm to 25 mm.
First of all, the pattern design of this bike bell caters to the interest of children. The Spider-Man pattern is among the many bike bells, so that little fans can notice it at once.
Secondly, it is made of aluminum, which is durable. And it can always make a crisp bell so that the kids' ride will not be too monotonous.
In addition, the cheap price will not make parents hesitate.
Kids Bike Bells Product Links
2. KSdeal Bike Bell for Kids Girls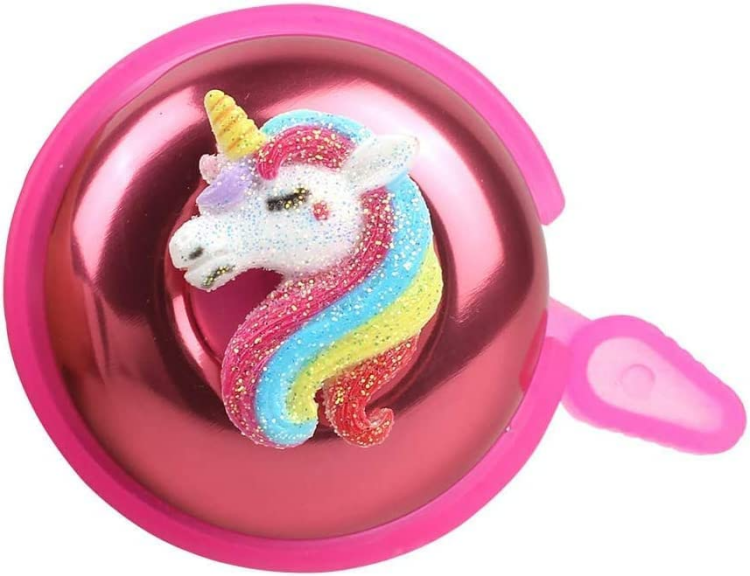 A cute unicorn shape will be a gift for little girls like
$6.99 (as tested)
Aluminum
Suitable for 1-6 years old girls.
Suitable for handlebar tube OD 19 mm – 22 mm.
The aluminum bicycle bell can be used for a long time. Coupled with the cute pink design, not only can make a crisp sound, and will be a toy that little girls love to play with.
Easy to install, all you need is a screwdriver and you can install it for your child. Thereafter, when she rides, she can alert passersby that she is coming by the crisp bike bell.
However, the unicorn set pattern is vulnerable to damage. So please tell the children to try not to let it get a big shock.
Kids Bike Bells Product Links
3. Paliston Kid's Bike Bell
Beautiful floral design with a crisp, clean sound when in use.
$6.99 (as tested)
16 kinds of color matching options.
Easy to install.
Suitable for bicycle handlebars with a diameter of 22 mm.
Richer color choices can meet children who have different color requirements. What's more, durable materials are used at a low price.
In addition, the flower design is very cute. And a light touch can make a crisp and clean sound to ensure the safety of children driving.
Plus easy installation and no trouble for you, and it is easy to operate, so your children will adore you more.
Kids Bike Bells Product Links
4. 360 ° Rotatable cartoon Cycling Bell for Girls Boys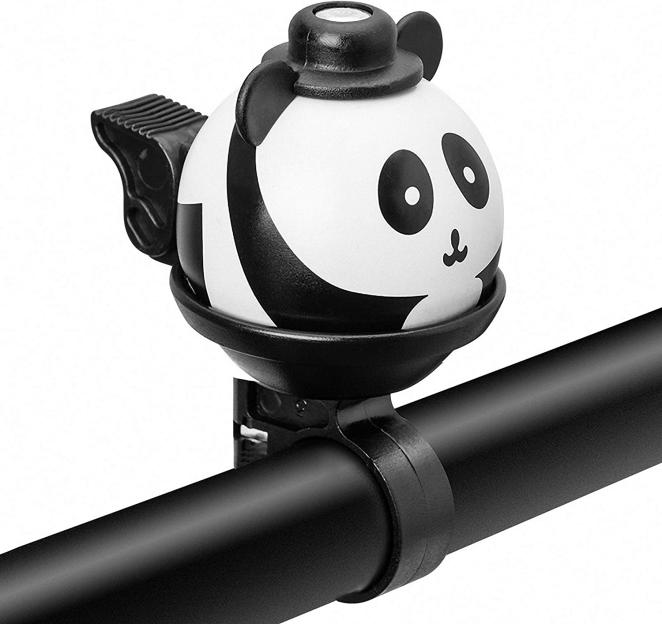 Cute bear design, so that your children reap more eyes.
$10.99 (as tested)
Aluminum and ultra-tough engineering plastic materials.
Fits most handlebar diameters ≤ 22.2 mm.
Not only for children but also adults.
This bell mounted on the bike is not only a "tool" that can remind passers-by but also a cute toy that children can play with when they remove it alone. Both tool and playfulness are worth the cost of their highlights.
In addition to the bear design, there are more round and cute kinds of dolls, you can have more choices.
Undoubtedly, underneath the cute exterior, it also has a loud and clear bell. So kids can announce "I'm coming!" to other riders and pedestrians from further away.
In addition, with high-quality aluminum and ultra-tough engineering plastic, you don't need to worry that it won't stay with your child for longer.
Of course, it can also be a parent-child bike bell for you and your baby. In short, it is a bike bell worth trying.
Kids Bike Bells Product Links
5. NEKRASH Duck Bike Bell
The head air screw design of the bike bell stands out among the children's toys.
$9.99 (as tested)
The design of the removable helmet to meet more preferences.
High-quality rubber setting makes it more durable.
Easier installation without any tools.
It is hard to imagine that the cute little yellow duck, which often appears in the children's bathtub, can also become a "safety guard" on the bicycle. It not only has a cute appearance but also only needs to press or pinch the tail of the duck, it can be issued 45 decibels to alert pedestrians.
It's hard not to notice the propeller on the little yellow duck's head, which turns with the wind while riding. Of course, you can also take the helmet off and enjoy the full view of the little yellow duck.
It is worth mentioning that when riding at night, children can light it up and pedestrians will notice it more easily and avoid it in time. However, can only replace the button battery design, I feel less convenient, if you can charge it would be better.
Kids Bike Bells Product Links
6. Loud Crisp Clear Sound Bicycle Bike Bell
The cool superhero look makes a crisp, reliable sound to ensure safer riding for your child.
$9.99 (as tested)
Made of high-quality aluminum and ultra-tough ABS.
Fits any standard straight-line bike or stunt scooter handlebar.
Would be the perfect gift for a boy.
Yes, the design of superheroes is a great tool to attract boys.
However, the high-quality aluminum and tough ABS make it more durable as well. At the same time, gently toggle the button to make a crisp sound so that children can report their location more loudly.
This bike bell, both in shape and color design, is one of the best choices as a gift for boys.
There is also one, which is a bike bell with Iron Man printed on it. I think you may also be interested in it.
Kids Bike Bells Product Links
7. Nutcase Bicycle Bell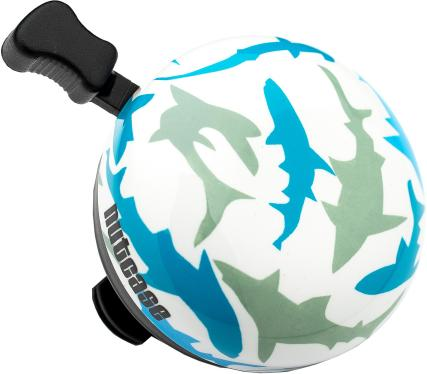 Cute and fresh small shark shape, whether it is a good choice for adults or children.
$10.93 (as tested)
2 screw mounts for standard handlebars.
Easy Installation.
Lightweight.
This bell offers 5 designs of bell patterns, but this pattern was the one that got the most votes from us in the test. The fresh color combination and the lightweight will be a fun match for you and your child to enjoy riding time together.
With the classic ring of the Nutcase bike bell, this bell lets anyone within earshot know you're coming. And with the ergonomic thumb arm, even kids can ring the bell comfortably.
Kids Bike Bells Product Links
8. MitasQ child Ladybug Bike Bell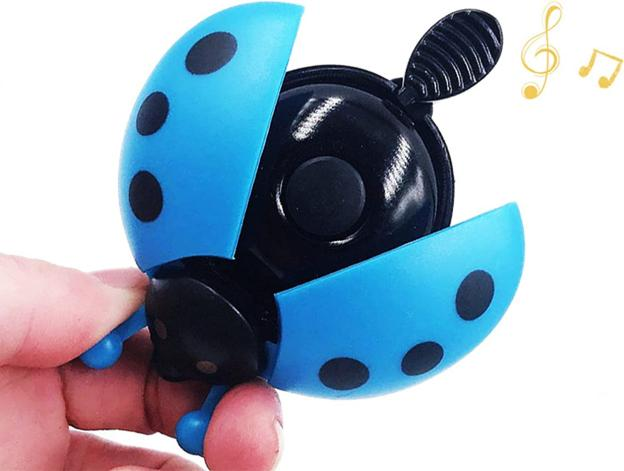 The cute and fashionable insect appearance makes your children's bicycle more interesting.
$8.49 (as tested)
High-quality aluminum alloy.
Perfect after-sales service.
Suitable for bikes with 21-23 mm handlebars.
The cute insect shape design of the bell makes us want to collect it. Yes, the cartoon's fashionable appearance also brings more eyes to the child's bike, adding fun and beauty to the children's bike.
Coupled with the high-quality aluminum alloy design, not only has enough durability, just a light push of the button, the children can get a crisp bell. This not only brings more fun to the children's riding trip, but the clear sound also ensures the safety of the children.
Not only that, but it also provides excellent service. Any problem can go to its after-sales and they will provide the best solution.
Kids Bike Bells Product Links
9. Diidmo Classic Aluminum Bike Bell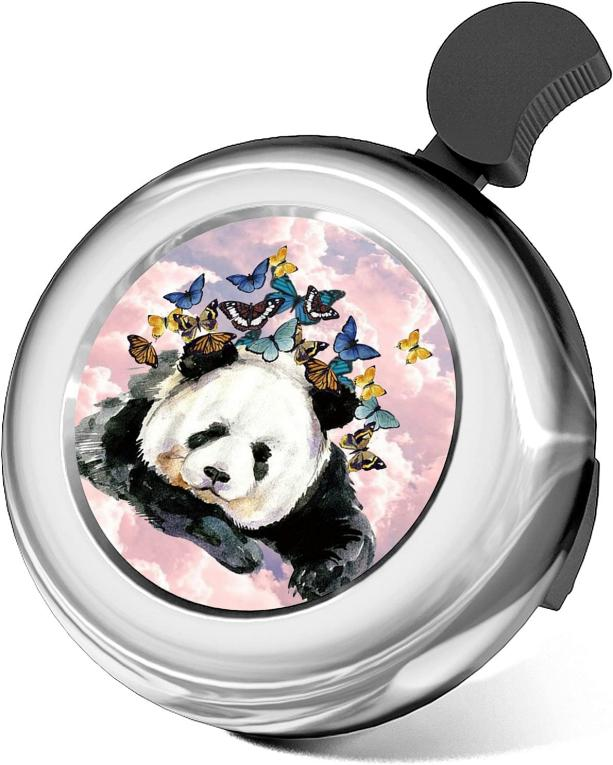 Diidmo classic aluminum bike bell, not only for children.
$3.99 (as tested)
Aluminum
19 different styles of design, not only for children.
Very strong practicality.
Unlike many of the styles on the market, it can be customized with your favorite pattern. So if your children have their favorite patterns, this can satisfy them.
This bike bell requires only a simple toggle to make a crisp sound so that pedestrians are alert and timely to avoid.
The cheap price and easy installation are one of the reasons we are willing to buy.
Kids Bike Bells Product Links
10. DRBIKE Kids Bike Bell for Girls
The flowers "grow" on the bike bell, which is the favorite bike bell of most little girls.
$8.8 (as tested)
Steel body of the flower is made of plastic.
Weight only 0.2Ibs.
Fits any bike with handlebars of approx. 22.2 mm.
The classic RING-RING bike bell perfectly matches the girl's bike. As you can see, the floral design is always more attractive to little girls and makes the child's bike stand out.
In the actual review, the child can easily toggle the button and it can alert passersby to avoid it when it makes an obvious and loud sound. At the same time, it is also the best accompaniment for children to ride all the way.
In addition, it supports a 30-day refund, so you can choose with confidence.
Kids Bike Bells Product Links
Summary
Teaching kids to ride bikes is not easy (if you want to teach your child to ride a bike, see our "How do I teach my child to ride a bike?"). . If you add these cute and chic accessories to your child's bike, you will be able to better stimulate your child's interest in riding and may make learning to ride more fun.
Not only that, bike bells are a necessary component in many places of regulations. Moreover, the bell rings so that you can determine the location of your child and also alert pedestrians or other cyclists to avoid it.
In short, an inexpensive and childlike children's bicycle bell will not only bring more joy to the children but also a reliable guarantee for their safety.