We use affiliate links and may receive a small commission on purchases.
We've selected the 13 best mountain bike stems for your reference.
At first glance, the stem may seem like a rather mundane component, but it is essential. It connects the fork steering to the handlebars. If you're a professional mountain biker, I'm sure you're also eager to upgrade to a mountain bike stem that fits your needs. The right stem has a major impact on the geometry of the bike, and therefore on handling and riding position.
With all of the above in mind, I've found you 13 of the best mountain stems that are perfect for off-roading and shuttling between mountains.
If you still don't know how to choose a mountain bike stem, you can take a look at the bottom of our list of common questions about choosing a stem for you, which we believe can help you answer. If you like our article, welcome to follow our website, we will launch more contents that you are interested in subsequently.
2023 Best Mountain Bike Stems List
Race Face Chester
Pace RC46
Race Face Turbine R 35
E*Thirteen Base 35
Wake MTB Stem 31.8 Adjustable
1. Race Face Chester ($54.99)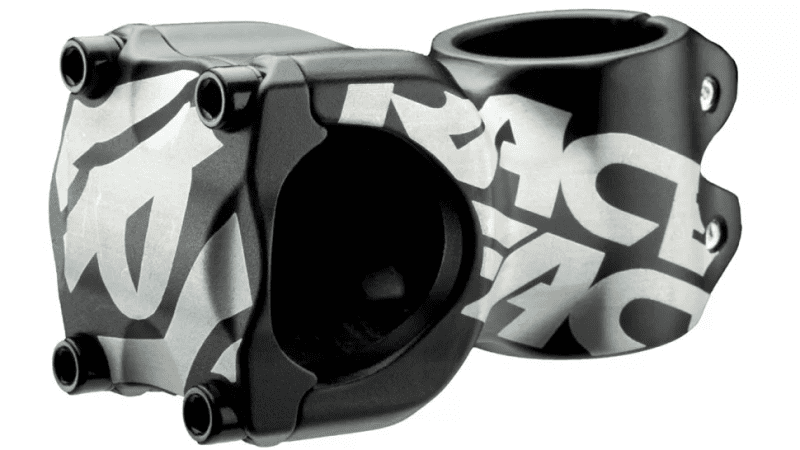 Weight: 171g
Length: 50/70mm
Material: 2014 aluminum
Stacking: 40mm
Ascending: 8°
What we like about it: Shorter and easier to control, sturdy and durable.
What we don't like about it: No torque data can be found on the stem's screws.
The shortened stems allow for more responsive control than traditional mountain bike stems and the wide handlebars allow for faster access to the intended track in the mountains. 171g is a moderate weight, but the strong enough aluminum makes it very sturdy.
For those professional riders, they claim that they can't find torque data on the screws of the stem. This also means that you cannot provide the right torque to apply on the stem. In such a case, we suggest you use a non-torque wrench to tighten it through the feel of your hand. Other than that, I can't find many other flaws. The good finish and cool design make it perfect for mounting on an intense mountain bike.
2. Syntace MegaForce 2 ($85-$99)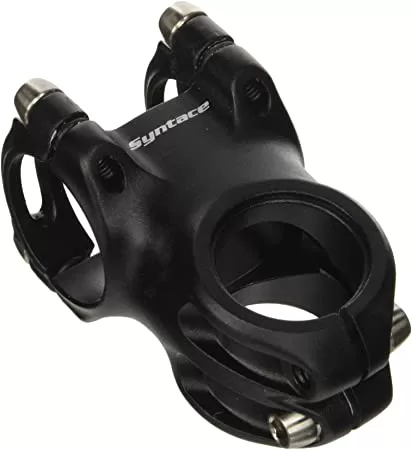 Weight: 70g
Length: 40/50/60/70mm
Material: Aluminum
Stacking: 40mm
Rise: 6°
What we like about it: Plenty of length options.
What we don't like about it: Not good value for money.
Mountain bike stems are moving shorter and shorter, but short stems create torque, especially when used with traditional handlebars. So Syntace has introduced four lengths for you to choose for the right stem. The high-strength forged aluminum alloy makes it very strong and does a good job of reducing weight. The 6° rise height is very traditional and provides a relatively neutral seating position.
There is not much value for money at this price, and it would be more appropriate to lower the price a bit. At this price, we would recommend the Pace RC46, but its toughness and permanent warranty are impressive. You'll be hard-pressed to find a stem that is tough enough and light enough, and this is one of them.
3. Pace RC46 (£80)
Weight: 130g
Length: 32mm
Material: Aluminum
Stacking: 40mm
Rise: 6°
What we like about it: Solid, sharp shape.
What we don't like about it: There is only one length to choose from.
The CNC cutting process has resulted in a four-square-looking RC46 that I can only describe as solid as a rock and can pound the trails like crazy. The ultra-short stems (which are almost as short as they can be) provide extremely agile steering speed for quick response. The premise is that you have to pair it with a longer handlebar, otherwise the whole thing will be very difficult to handle.
However, it only comes in one super short length and you can't choose any other length. If you need another length, take a look at the Syntace MegaForce 2. Although it looks very aggressive, I felt it was very solid and stable to use after some time on a full trail.
4. Truvativ Hussefelt ($42-43)
Weight: 210g
Length: 40/60mm
Material: 6061 aluminum
Stacking:/
Ascent: 0°
What we like about it: It maintains strength while still having some length.
What we don't like about it: There are only two lengths to choose from.
If you don't want any movement in your handlebars, it will keep your handlebars stable whether you are hitting hard or turning. It's always been the strongest stem, providing a rock-solid, shock-resistant connection between your handlebars and fork. And with both black and white colors to choose from, the M5 bolt also makes torque an easier option.
Only 40/60mm lengths are available and there is no shortest option of 35mm. Might be a hindrance for those most extreme mountain riders. If you need a shorter length, take a look at the Pace RC46, but for most riders, the 40/60mm option is the perfect length. It can accompany you on your mountain quest and the high intensity also allows you to not have to worry about any mistakes.
5. Race Face Turbine R 35 ($109.99)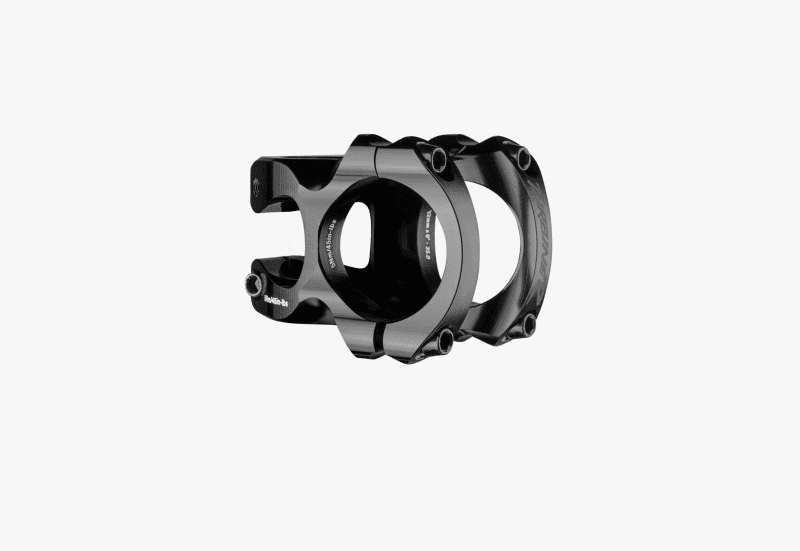 Weight: 138g
Length: 32/40/50/60/70mm
Material: 7075 aluminum
Stacking: 42mm
Ascent: 0°
What we like about it: A wide selection of colors and a wide selection of lengths.
What we don't like about it: It's relatively expensive.
Needless to say, color options are plentiful, with a whopping nine plating colors to indulge your creativity. Whether you choose mild or wild, the rugged forged CNC is strong enough for the widest handlebars and the roughest use. If you're looking for the most direct steering response, try the shortest length of 32mm. One thing that's not easy to spot is the patented tightening clamps, with the top clamp fully clamped and the bottom two locking to reduce clearance. This system eliminates uneven clamping and creates a stiffer joint between the rod and stem.
To be honest, the price is relatively expensive. If you just need a short but powerful black stem, try the Pace RC46, but you definitely can't go for any other length and super-rich anodized colors. Who wouldn't want a shiny accessory on their mountain bike?
6. E*Thirteen Base 35 ($49.95)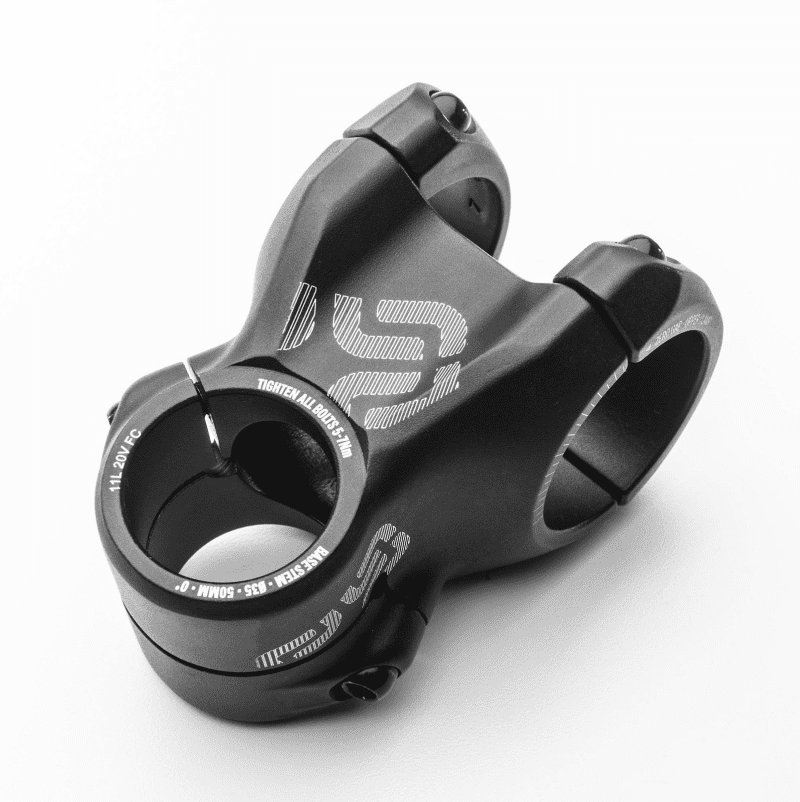 Weight: 138g
Length: 40/50mm
Material: 6061 aluminum
Stacking: 20/35mm
Ascent: 0°
What we like about it: Oversized handlebars, rounded shape.
What we don't like about it: Only one color option.
The sturdy, simple and beautiful stem offers the highest value, and the oversized bore corresponds to a stout 35mm handlebar. The locking end at the rear is relatively long and can be mounted without cutting too much into the fork. And the bolts are hidden so that they can be nicely recessed to keep them away from the knees, and T25 bolts are used to reduce the chance of rounding backward.
Having just one color option may not be enough to match. Most mountain bikers like to choose a cool stem that matches the color of the frame. the Race Face Turbine R 35 may be worth your time to take a look at. In short, the gapless panels and hidden bolt design make it stand out from the rest.
7. DMR Defy 35 ($73)

Weight: 138g
Length: 35mm
Material: 6061 aluminum
Stacking: 27mm
Rise: 5mm
What we like about it: Lifted handlebars with smoothed edges.
What we don't like about it: Just one caliber option.
The raised handlebars are perfect for riders who accidentally saw their forks short, and the slight lift keeps the handlebars in a high position. The edges are all sanded smooth, so they don't cut your hands like traditional CNC-cut parts, while not damaging the handlebars. I hate that the clamping area is very wide, which allows for a longer lever area and easier handling.
Some people claim the 35mm diameter is too stiff for them, but this stem only supports a 35mm diameter. If you need a 31.8 or 27.2 in other diameters, take a look at the Truvativ Hussefelt, but if you can live with the stiffness of a large-diameter handlebar, or if you're concerned about feedback on bumpy roads, then this is a great choice. It's a very good choice.
8. Deity Copperhead ($104.99)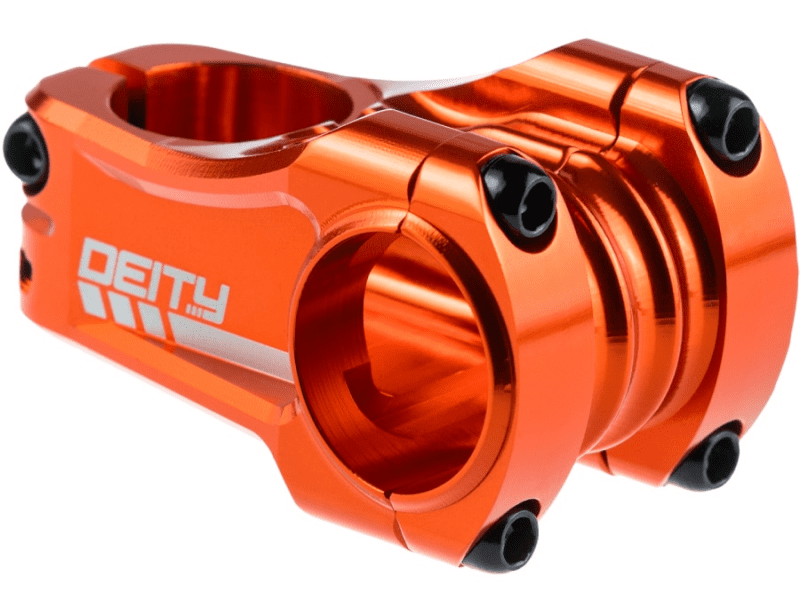 Weight: 161g
Length: 35/50mm
Material: 6061 aluminum
Stacking: 30mm
Rise: 0mm
What we like about it: The color is rich, and the strength and weight make a good trade-off.
What we didn't like about it: The traditional shape and exposed tail bolts.
The sweeping center channel wraps around the entire handlebar, providing the strongest steering mountain handlebar on the market while minimizing material usage. deity is known for our focus on durability and confidence in the rider. This handlebar is the ultimate trade-off between strength and weight. One final note, the full set of nine colors is amazing. If you are a color lover, I think it must have captured your heart.
The shape design is more traditional, and the bolt protrusion design at the end put my knee at risk of knocking on it. If you have a smaller frame reach, you can try E*Thirteen Base 35 This is a hidden design of stem bolts. Other than that, it's really practical and sturdy, and the variety of distinctive colors makes your stems instantly recognizable.
9. Renthal Apex ($114.97)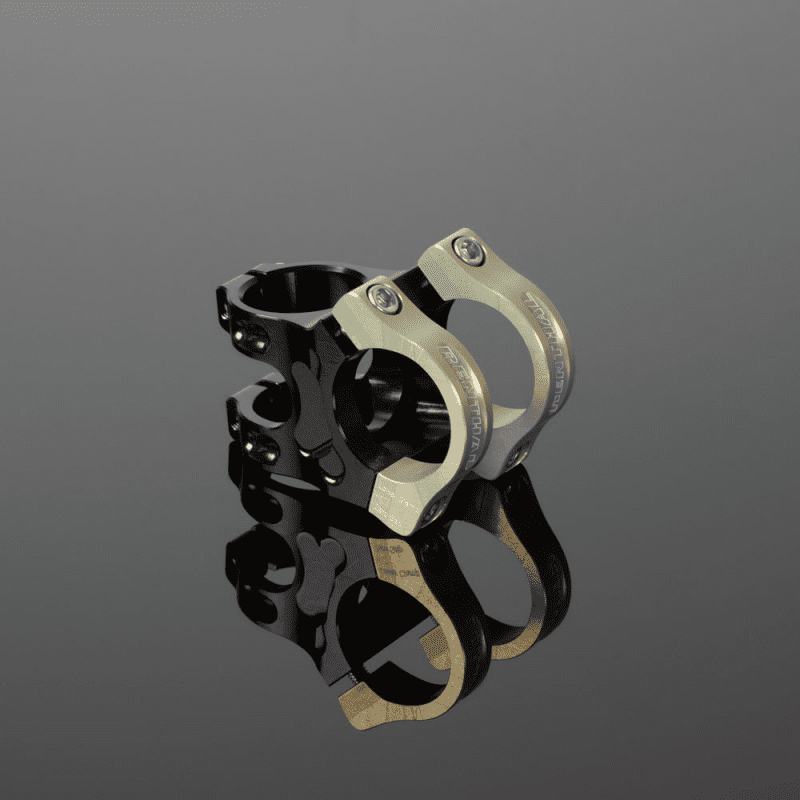 Weight: 118g
Length: 33/40/80/60mm
Material: 6061 aluminum
Stacking: 40mm
Rise: 6°
What we like about it: The 240° locking angle allows it to reduce weight while increasing locking strength.
What we don't like about it: The clamp caliber is not very precise.
Perfect for use on AM mountain bikes and even as a lightweight option in some enduro and XC. All CNC machined, with an oversized center hole, extensive 3D machining, and polished exterior for a very refined look. 240° handlebar clamp for maximum structural rigidity and strength, and maximum weight reduction.
The clamps don't seem to be very accurate. The 35mm with the same brand matches very well, but some riders responded that it doesn't seem to match well with the 35mm handlebars of other brands. This brand's stem and handlebars are smaller compared to other brands' 35mm. If you need an accurate stem, take a look at the DMR Defy 35 or E*Thirteen Base 35, but if you buy a complete handlebar stem, it's excellent.
10. Burgtec Enduro MK3 ($125.39)
Weight: 160g
Length: 35/42.5/50mm
Material: 6061 aluminum
Stacking: 0mm
Ascent: 0°
What we like about it: Good for precision riding and flexible steering.
What we don't like about it: Stem is overly rigid to use.
This is the perfect mountain bike stem for DH racers, the MK3 stem gives you everything you need to hit the trails with precision. Burgtec created this stem for the rider's need for precision, a stem that allows you to choose the exact angle of cut when you're in the air and landing in a DH race, allowing you to quickly choose the best path to approach you in the air.
Accuracy brings a drawback, some riders claim that these stems are too stiff and feel very stiff and uncomfortable in the hands while descending. I recommend the Renthal Apex for riders who need hand cushioning. But this is at odds with precise steering, which has very precise and responsive steering control. I'm happy to recommend it.
11. Fomtor 7 Degree ($17.49)
Weight: 115g
Length: 60mm
Material: 6061 aluminum
Stacking: 0mm
Ascent: 0°
What we like about it: Versatility as well as ultra-lightweight.
What we don't like about it: It's not very stiff for those extreme mountain bikers.
UNO has always been known for its ultra-light aluminum stems, and this mountain bike stem is no exception. 60mm stems to achieve a weight comparable to other 30mm stems. And this stem is also very suitable for a wide range of road bikes, mountain bikes, folding bikes, and small-wheeled bikes can see its figure. Who can not refuse a very light handlebar?
The stiffness isn't very strong, but for those pro mountain bikers, it may feel off-loaded. If you need a stiff and responsive stem, take a look at the Burgtec Enduro MK3 above, but if you need a lighter-weight handlebar that can handle normal trail riding, this is the way to go. I didn't even change the stem when I switched from a road bike to a mountain bike.
12. One Up EDC Stem ($89.5)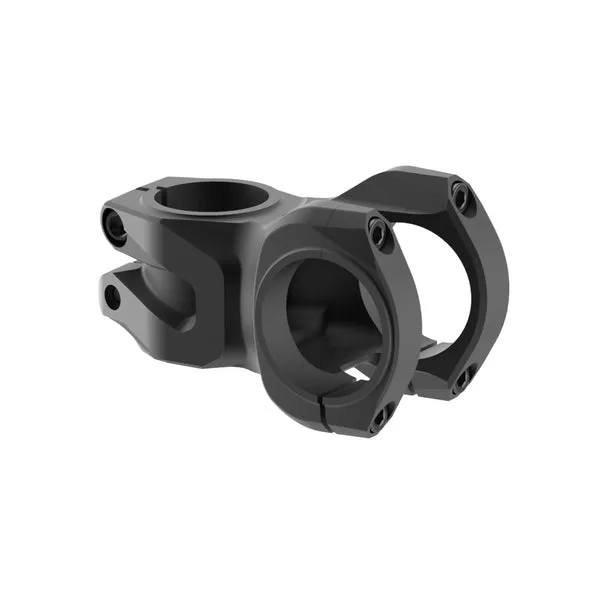 Weight: 115g
Length: 35/50mm
Material: 6061 aluminum
Stacking: 38.5mm
Ascent: 0°
What we like about it: Integrated tool storage.
What we don't like about it: The need for subsequent upgrades to implement it, the extra price.
Endurance racers and minimalist riders love it. This stem allows you to store your EDC tools on the top of the fork without any other cable tubes. It incorporates a pre-tensioning system so you don't have to worry about the fork loosening up and you can remove your tools whenever you want. This means you can have the wonderful experience of riding without a backpack. Not only that, but the integrated preload system allows you to adjust the preload of the headset without loosening the stem. I think this will make the adjustment and access to tools very convenient.
Unfortunately, this requires a subsequent upgrade, including the addition of tools to the top of the fork and the top cap. You need to pay more to integrate the stems, or you can choose to use the regular stems and buy a better set of tools to carry in your pocket or backpack for the price of the upgrade. But I like the integrated design better, it makes my bike look more simple.
13. Wake MTB Stem 31.8 Adjustable ($19.99)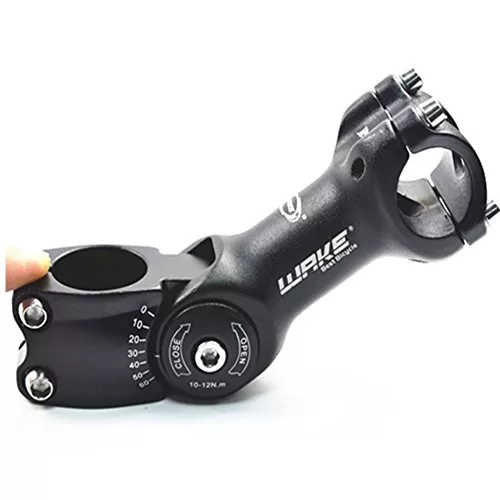 Weight: 290g
Length: 110mm
Material: 6061 aluminum
Stacking: Adjustable
Up: Adjustable
What we like about it: Adjustable height at an affordable price.
What we don't like about it: The structure is not very sturdy and difficult to handle on the roughest roads.
This is a height-adjustable stem, and the corresponding length and stack have been changed, so you can adjust it according to your needs. Easy to install by simply linking the original fork. The sturdy 6061 aluminum alloy with polished anodized finish looks very advanced, sturdy, safe, and durable. The key is that at only $19.99, it's a great value for your money!
The bolt-on construction makes it not very strong, if you are the most extreme mountain biker then I wouldn't recommend it, take a look at the rugged Burgtec Enduro MK3. But if you're a trail rider or a rider who's still struggling with how long to choose a stem, I think it's a good choice for transition, so give it a try.
Learn More: Top 15 Best Mountain Bikes Handlebars [2023]
How to choose a mountain bike stem?
What is a stem?
Role of stem
Stem geometry
Length
Rise
Diameter
How to adjust the stem?
Stem material
Carbon fiber and aluminum alloy
What is a stem?
At the most basic level, the stem has one of the most basic jobs: it's to link your handlebars to the fork and the frame. And use it to link the rest of the bike.
At the end near the rider, there is a hole from top to bottom for the locking bolt to secure it to the fork to become the bike's steerer tube, which will eventually be secured to the headset. And at the other end, there is a hole across from left to right for going through the handlebar and securing it to it, with four bolts to keep it at the most balanced fixing value.
Role of stem
The length of the stem can have a huge impact on the reach of the bike, and overall handling. If and when it provides a certain amount of handlebar lift, it can provide a slight reach and stack adjustment with the right frame, but never a significant one.
Mountain bike stems are usually very short. As modern mountain bike geometries become longer and slacker, mountain bike stems are becoming shorter to maintain the agility needed for quick turns on the trails. At the same time longer new mountain frames with shorter stems allow the rider to ride further back thus increasing stability.
Stem Geometry
1)Length
If you are considering replacing a stem, length is the first element you need to consider. MTB stems are typically 50-80mm in length, but there are growing indications that shorter MTB stems offer more agile handling. Today, most mountain bike stems use a 50mm length, but people still want to upgrade to a shorter 32mm.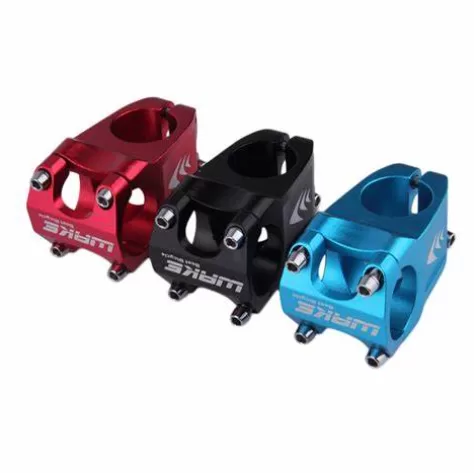 In general, shorter stems will result in faster response times and more responsive steering. Whereas a longer stem will result in slower, and more predictable handling. So fine-tuning the length is one way to improve the handling of your mountain bike. But remember that handlebars don't stand alone, changing the length of the stem will also allow you to change your overall riding position on the bike.
2)Rise
Up is the steering angle of the stem relative to the horizontal, usually between 0° and 20°. Although most bikes use the common 0° to 6°. However, having a more extreme angle of the stem means you get more options for handlebar adjustment position.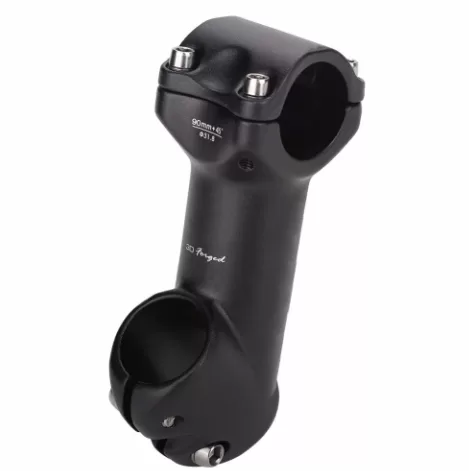 And the stem is flip-mountable. Depending on the amount of rise you can lower the stems to the same height. To get a more aerodynamic position, or to tilt it upwards to get a more upright position. One thing you need to know is that the handlebars can also be made by adding or subtracting washers under the stems.
3)Diameter
There are two diameters to note when choosing a handlebar, the steerer tube section and the handlebar section. Both have their standards, and the headache is that the diameter of the fork section is usually expressed in inches, while the diameter of the handlebar section is expressed in millimeters.
Thankfully, most forks are 1-1/8 inches in caliber, and only a very small percentage use 1-1/4 inches. You just need to pay attention to it when buying. However, there are more choices in handlebar selection, and each caliber occupies an equal proportion, so your handlebar diameter needs to match the diameter of the stems. Most modern mountain bikes have a 31.8mm caliber, but a few older and cheaper bikes still use 25.4mm handlebars.
In the latest products of the last few years, mountain handlebars have been introduced with a thicker diameter of 35mm. This is designed to increase the rigidity of the ride, to cope with the bumpiest routes without worrying about more leverage due to the thin handlebars.
How to adjust the stem?
There are multiple ways to adjust the stems to adjust the overall setup, mounting, or handling of the bike.
Just loosen the corresponding bolts on the stems and adjust them to the right position to complete the adjustment. You can also remove the washers under the stems and install them on top of the stems, which can lower the height of the stems a little bit. After the adjustment, retighten all the bolts and start a new riding experience.
It is worth mentioning that if you are using a carbon stem or carbon fork, please make sure to read the torque on it. Tighten to the minimum torque. For example, if the torque of the stem is 6Nm, and the torque of the fork is 4Nm, please make sure to tighten the stem to 4Nm, otherwise, your fork may be cracked or even unusable.
Stem Material
Carbon fiber and aluminum alloy
Almost all bicycle stems are made of aluminum or carbon fiber, just like the material used for bicycle frames. Aluminum is durable, lightweight, and easy to manufacture, and in almost all cases it is relatively inexpensive.
Carbon fiber, on the other hand, will be relatively lightweight, but at a cost. And by using carbon fiber for very short MTB stems, these weight savings are almost negligible. So this list I do not recommend any of the MTB carbon stems. if it is a road bike, you can not hesitate to choose it, under the premise that you have enough budget.
Conclusion
These are the 13 best mountain bike steems we've found for 2023, and as mountain bike frame shapes change and handlebars grow, so do the steems, which are getting shorter to accommodate nimble handling. Of course, if you prefer a more stable and precise entry angle, you can also choose a longer stem.
In this list we have selected for you a wide range of mountain bike stems in different shapes and prices, including low price points as well as a wide range of colors and even lengths. We also have some suggestions for you to help you choose the right mountain bike stem for your bike, as long as you decide on the length and angle and you like one of them, they will be perfect for your bike. By the way, if you want to go riding in well-known terrain or special terrain, you can book your accommodation on IHG Hotels & Resorts. It is not only rich in variety but also easy to operate.
Finally, if you use a road bike, you can take a look at our launch of the 2023 best road bike stems, which can help you pick the right road bike stems for you.
If you like our content, feel free to share it with your friends! If our content is helpful to you, you can click the email subscribe button below!