We use affiliate links and may receive a small commission on purchases.
We compare the 27.5 vs 29er mountain bikes and provide more detailed advice on the pros and cons of each, and which size to choose when selecting.
The popularity of speed bikes from the last century has made 26-inch tires the standard for racing. As time went on, the difficulty of the track escalated, while the work put into the wheelsets by the major brands never stopped.
The 27.5-inch tire set became a new track favorite. At the same time, some changes have taken place, with the 29-inch classic influencing the majority of the car lineup. So in the face of such a wide range of choices, what's best for you?
To help simplify the buying process for you, we've broken down the 27.5-inch and 29-inch tires below, including the differences in riding experience and performance, as well as specific bike recommendations for both sizes. For more information, please subscribe to my channel.
The Difference Between 27.5 In And 29er Mountain Bikes—27.5 vs 29er Mountain Bikes
27.5 vs 29er Mountain Bikes -The Difference In Icceleration?
27.5-inch: Compared to 29-inch tires, 27.5-inch tires roll faster and the rider's output is more responsive. So the faster acceleration of the 27.5-inch tire provides the bike with the agile and flexible response that many riders crave.
29 inches: slower acceleration compared to 27.5-inch tires, requiring greater output power on the pedals. It may cause inconvenience to novice riders. But as long as you can reach the top speed, it will be more suitable for endurance racing than the smaller 27.5-inch.
27.5 vs 29er Mountain Bikes The Difference In Traction?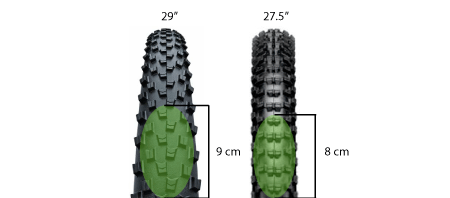 The 29-inch tires have better traction due to their larger surface area (also known as "contact surface").
29 inches: Has a large contact area.
If you're riding slicker rocky surfaces or muddy forest roads, the larger 29-inch may be an essential choice for you.
27.5 vs 29er Mountain Bikes The Difference In The Attackangle?
The attack angle is the angle formed when a round tire touches a square object. Shorter angles are better because the tire can roll over the object more easily.
27.5 inches: Just because it doesn't go over objects as easily as 29ers doesn't mean it only yields in the face of obstacles. In terms of riding preference, it's plenty rideable as long as it's not facing some rock garden in an enduro.
29″: The slightly shallower angle of attack than the 27.5″ tire makes it easier to go over obstacles on the road adding more confidence to the ride. It will also be more efficient in absorbing vibrations.
27.5 vs 29er Mountain Bikes Difference In Weight
The 27.5-inch tires are lighter.
It is an indisputable fact that a larger wheelset with more tire rubber will weigh more heavily on the body. But that doesn't mean there's no solution.
If you're a race rider or doing long trail rides, the higher-end carbon fiber body and the direction of the vacuum tires can reduce weight. And also allows for fast acceleration and more traction.
27.5 vs 29er 27.5 vs 29er Mountain Bikes The Difference In Mobility
The 27.5-inch bike is more maneuverable.
If you ride a lot on narrow, twisty trails, you may prefer the feel of the 27.5-inch bike. It's more prominent in terms of steering agility. And the ability to traverse trails with ease.
The 29-inch wheelset will be easily capable in the face of obstacles and the process is smooth enough.
27.5 vs 29er Mountain Bikes—How To Choose?
29 Inches – Classic Or Old-Fashioned?
With the popularity of the 29″, we can see that both full suspension and hardtail and road bikes are invariably showing a preference for larger wheelsets. This has become commonplace.
When designers tried to convince the industry of the superior performance of 29-inch tires, the emphasis was on the fact that they were better over obstacles and more stable over fast and rough terrain than smaller tires.
The 29-inch tire does not get stuck easily when we encounter obstacles such as winding roots, raised rocks, and broken logs in the forest road, and it has a greater angle of attack.
But as more and more 29-inch tires appear frequently, many riders are beginning to complain about its tedium. Specifically, in some conservative geometries, the 29-inch wheelset can be awkward and slow to ride in tight, twisty terrain. This is also an indisputable fact.
27.5 Inches – Does Flexible Mean Unstable?
For riders who have gotten bored riding 29-inch in recent years, the smaller 27.5-inch also stands out. In contrast, for some twisty forest roads facing some steering, it will feel more responsive in terms of body control. And if you have a 27.5-inch rear tire, you can also easily do some bouncing. It's a much more fun experience.
Unable to match the grip of a 29-inch wheelset, many manufacturers have quickly come back with 27.5+ bikes with wider tires. When we drove this 27.5+ lineup, the lower tire pressure gained a lot of grips, resulting in a more stable ride.
Because of the 27.5-inch inclusivity, we can ride on any terrain. But you'll also notice some tracks where the 27.5-inch wheelset hangs out on rough sections. This is because this type of wheelset creates a steeper angle of attack.
29 Inches Or 27.5 Inches Of Riding Experience
29 inches of riding feeling
With the bike's geometry tweaked, the 29-inch is also better suited than the 27.5-inch line for riders who favor speed and want to manage multiple riding styles.
The Maxxis Aspen, at 29 "x2.4", provides more friction with the ground to increase traction. Also, the 1 x 12 Electronic drivetrain on the bodywork gives better riding inertia to maintain speed for longer periods and get over obstacles more easily.
Compared to the smaller 27.5-inch, the taller 29-inch wheelset tends to mean a steeper seat tube angle. That's why it's also ideal for entry riders, most mountain trail riding, and cross-country or enduro racing.
But I have to say that compared to the smaller 27.5-inch model, I had a more challenging time with narrow and twisty trails. It doesn't give the tires as much priority to touch the ground as the 27.5-inch if you encounter a quicker turn. In addition, I rarely see a 29-inch wheelset chosen on any bike where weight is an advantage. It's hard to have both weight and size. And the limitations of the rider's size are also a consideration
27.5 inches of riding feeling
The best trails for 27.5-inch mountain bikes are winding, flowing trails and trails that require fast, sharp turns and are full of jumps, and I've been riding the typical 27.5-inch bike, the trek remedy, with a feeling in the back of my mind – fun. Trails.
With a smaller diameter, the 27.5-inch tire is more responsive to the rider's pedaling output. If you're a smaller rider who has trouble handling 29 inches, the 27.5 would be a good place to start. We can find out through a lot of comparisons that the 27.5-inch model will be more aggressive in terms of head tube angle. For speed descending, it can effectively make up for the trouble of not being able to reach the rolling efficiency of the 29-inch wheelset.
This, of course, comes with a high probability of rollover, and the greater head-on angle (the angle at which the tire intersects the track profile) makes it easier to get hung up on rough roads than 29-inch tires. To solve this problem, many car models are not optimized for body weight. This is because the increase in dead weight will greatly improve stability performance.
27.5 vs 29er Mountain Bikes— I would Recommend The 29-Inch Or 27.5-Inch Models
27.5 vs 29er Mountain Bikes
29-Inch Trim Recommendation
Santa Cruz Hightower Series
It's not easy to recommend a 29er bike to some riders who have been riding for years. But as a popular Santa Cruz product, the HIGHTOWER series is something you don't want to miss.
The exclusive VPP suspension assists the Maxxis Minion DHR II 29 "x2.4" for accurate tracking and superior performance. In addition, the longer 145mm rear, and 150mm front travel maximizes the shock absorption capacity of the larger tires.
Being a big tire line, the chain length and seat angle match the frame size. So every rider, regardless of height, gets the same balanced geometry. So we have the answer to our size problem in shopping for a 29″.
The cc carbon fiber body further compresses the weight of the body, reducing the anti-squat in the first 40% of travel, and improving suspension sensitivity in both climbing and descending scenarios. So it also further adds responsiveness to the 29-inch tires.
learn more:2022 Santa Cruz HIGHBALL X01 Review – How A World-Class XC Is Made?
Trek Procaliber Series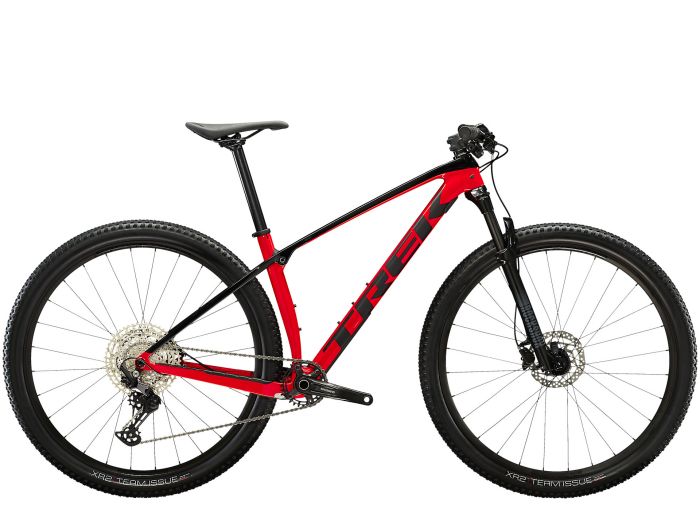 The Trek Procaliber series is a hardtail mountain bike built to bring fast, efficient handling and quick riding to the trail, perfect for riding as fast as possible on a wide range of trails.
The tall 29×2.20" tires will allow you to save on effort, giving you more energy to focus on unknown turns and some obstacles. The classically efficient head tube angle allows for stiff and responsive handling without adding weight. This effectively compensates for the flexibility of the 29-inch tires.
The Solo air spring assembly, not only does not add weight to the body but is also more effective in absorbing the force of bumps. The ability to absorb vibrations magnifies the advantages of the 29-inch tires.
learn more:2023 Trek Procaliber 9.5 Review – Great Value Carbon Hardtail Bike
Specialized Stumpjumper Series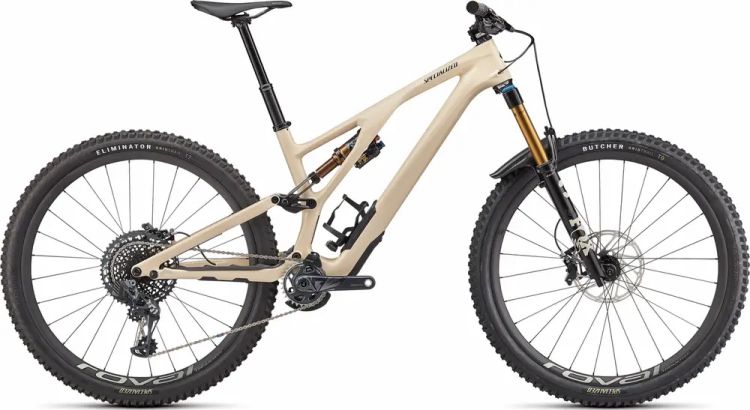 The specialized Stumpjumper series is known as the best combination of performance and value. 29×2.3″ wheelsets are capable of standing out on any type of trail.
Unlike the traditional 29-inch light responsive chassis brought to life, the combination 130mm travel creates an exquisite midway ripper that is capable of climbing as efficiently as a motor!
Thanks to the longer, lower, slacker geometry of the Big wheelset line, combined with a steeper seat tube angle, your ride is more stable and your climbing more comfortable.
Using size-specific riding characteristics ensures baseline handling and perfect performance, getting rid of some of the sizes concerns smaller riders have about the 29″ line. No matter what the frame or rider sizes. You will experience the same riding characteristics at the lightest weight.
27.5 Bike series recommendation
Trek Remedy Series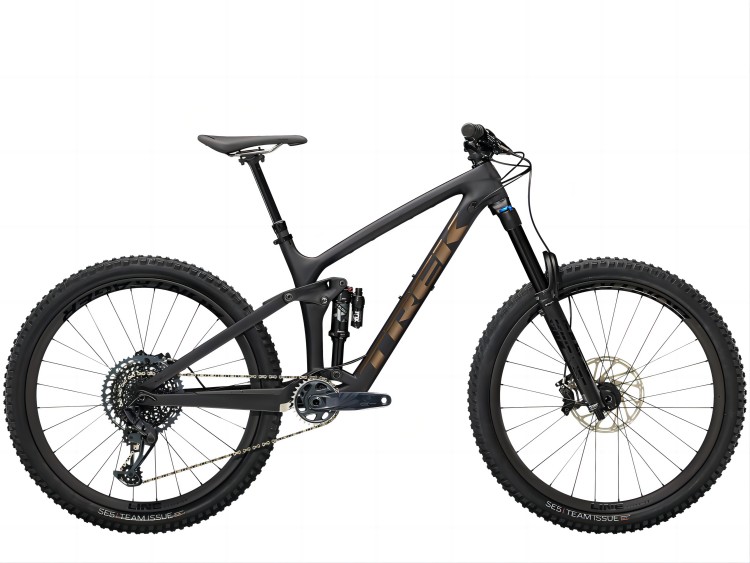 When I ride trek's star product, the remedy series, the slightly smaller 27.5″ Bontrager Line Elite 30 tires allow for a faster rolling ride compared to the 29″ wheelset.
The efficient Fox Performance 38, 160mm fork's longer telescoping distance when climbing means he can quickly absorb pressure from the ground. Combined with the SRAM GX Eagle 1×12 drivetrain, you can get more traction power comparable to a 29-inch wheelset.
When we traverse the course in a hurry, we sometimes take to the air. This is easier to do juggling tricks compared to a 29-inch bike. In addition, the EVOL air spring and the headset's one-piece shock block are designed to absorb the maximum amount of vibration from the body. The remedy is designed to reduce the shock absorption of small tires, and in addition to the efforts made in body folding, thanks to the straight shot downtube, the remedy can remain stable and more stable.
learn more: Trek Remedy 9.8 Review-Nimble Suspension Mountain Bike
Santa Cruz 5010
If you first look at the Santa Cruz 5010, you'll be surprised at how small and nimble it is thanks to its Maxxis Minion DHR II 27.5 "x2.4" rear tire.
The full carbon fiber body is equipped with 130mm rear, and 140mm front travel, even for harsh endurance riding. This is an unbeatable choice for a small 27.5-inch trail bike. The 27.5-inch rear tire combined with the 123mm trail length will react and steer before I do, a process that is very smooth and does not lose control of the body.
learn more:2022 Santa Cruz 5010 X01 Review – Napoleon's Heroism
The Mullet:Can 27.5 And 29er Co-exist?
As riders become more experienced, there is a clear perception of the advantages and disadvantages of both types of tires. So in some companies designs have tried to mix these two worlds in one model. And it has been proven that Elite World Cup and Enduro World Series riders have started winning races on bikes with big tires up front and small tires in the back.
The taller 29-inch front tire mixes enough power to maintain a larger rate on the pedal, supporting you in quick acceleration. The 27.5-inch rear tire, on the other hand, will more than allow you to make fast toward sudden bounces. If you're a restless rider, nothing could be more appropriate for this mix of personalities. The uneven tire size also results in a slacker geometry and more folded body clearance, perfect for steeper descents and bigger obstacles.
But do not ignore some disadvantages highlighted. For example, for a novice, this design will make it difficult for him to control. And because of the innovation of the frame, it naturally increases the weight of the body. Also for long climbs on less technical terrain, a dual 29-inch setup may be more effective.
Is Height The Only Criterion That Determines 27.5″ vs 29″?
There is never a clear answer as to whether 29″ or 27.5″ is only affected by height. Unless you are the size especially those riders less than 5 feet, then finding a suitable 29-inch bike is more difficult. Or if you are a rider over 6 feet tall, a 27.5-inch trim will make your ride more confined.
The choice of tire size should depend on your riding preferences and the way you feel best. For example, 29-inch is more favored by relatively straight single-track courses, while riders who like to venture out on narrow, twisty trails may prefer 27.5-inch tires.
Of course, I know that for riders who have a more difficult choice, Mullet may be the ultimate answer. In the face of so many great products on the market, I sincerely hope you'll try them out for yourself.
Which Is Better, 27.5 Or 29er MTB Tires?
For the 29-inch bikes, which currently account for the largest percentage, the buyer is often given the benefit of the doubt: "Is 29 inches the only thing that's best?" The answer is obviously no.
If you've been following the trends of recent years, 27.5-inch bikes seem to be springing up. More and more people are seeking fresh, fun rides. The more agile nature creates a more responsive bike, perfect for freeride mountain riders who put maneuverability first. In addition, smaller tires result in optimized geometry, such as smaller trail values or more aggressive head tube angles. This allows for even greater acceleration and agility.
Of course, for trail riding, I'm always partial to recommending the 29″. It maintains a high degree of stability at an efficient rolling rate. If we face variable overlapping terrain in endurance ridings, such as rock gardens, or wooded trails with raised roots winding through the trees. It may make the body's vibration absorption more adequate.
Should You Buy The Tires Separately?
I know that the wheelset has always been an important subject of concern for riders, but is this the only place we are focusing our attention? Tire size is just another parameter to consider when choosing the bike that best suits your riding style and expectations.
The components of a bike and the geometry data will always work with each other, so don't rigidly assemble it on your bike just because you see which tire size appeals to you the most.
For example, from a material point of view.
Simple physics tells us that the increased spoke triangulation and reduced leverage of a smaller tire are always stronger than a larger tire. To compensate for the reduced strength-to-weight ratio, 29-inch tires need to be heavier or made of more expensive materials (such as carbon fiber).
Final Thoughts On Choosing The Right Tire Size—27.5 vs 29er Mountain Bikes
What Type Of 29 Inches Is More Suitable?
Perennial XC racer riding technical sections.
Riders who need endurance racing requirements.
Serious DH/bike park rider.
Accept the stability that comes with less flexible steering.
The acceleration is more demanding.
Riders who can handle heavier bodies.
What Type Of 27.5 Inches Is More Suitable?
Likes to ride flowing trails.
No overly strict competition requirements, fun-oriented.
Occasional DH/bike park rider.
Fast acceleration and a high degree of flexibility.
Aimed at novices to start riding more easily.
Can accept that less traction requires more output.
More energy needs to be injected into the control of high speed.