We use affiliate links and may receive a small commission on purchases.
The Trek 7100 is a hybrid bike that builds on the Trek 7000. The Trek 7100, which debuted almost 20 years ago in 2002, is an affordable, versatile bike that many commuters adore.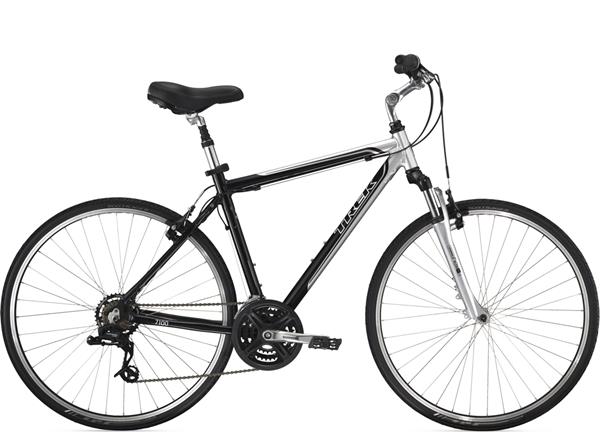 The price is reasonable, and because the hybrid bike is a cross between a mountain bike and a regular bike, the comfort and all other aspects of the bike are of high quality.
Welcome to the Best Bike Select blog. Below, we break down the Trek 7100's mountain and general commuting performance, components and specs, and comparisons with several other versions, as well as some comparison tables to help you choose a suitable hybrid bike.
If you want to learn more, check out our list of the Top 12 Best Hybrid Bikes Under $500 For Men And Women In 2021.
Mountain Performance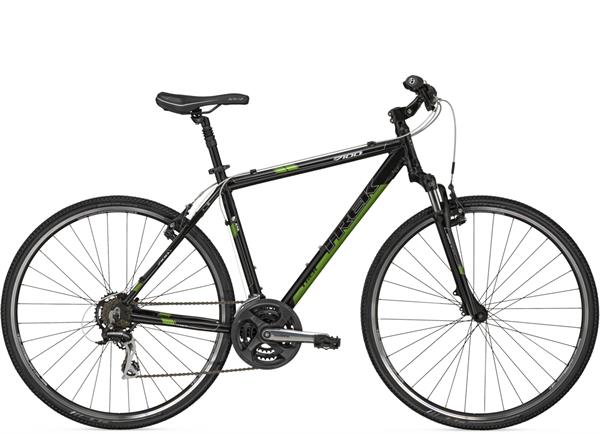 Given that the Trek 7100 is a hybrid bike, it's reasonable to expect it to outperform a professional mountain bike in the mountains.
However, when it comes to general mountain riding, there aren't many complaints if you ride the Trek 7100.
To begin with, climbs, particularly fast climbs on trails, are popular among mountain bikers, and the Trek 7100 hybrid performs admirably on such terrain.
It can accelerate quickly on flat trails thanks to the 3X7 drivetrain, and the medium 700*35C hybrid tires provide some power for fast climbs.
However, one of the trek 7100's riding limitations is that it is not suitable for steep climbs.
The descending performance is also comparable to that of a standard bike.
The steep head tube angle allows for good performance on smooth forest road singletrack, but it is slightly lacking on rough ground and does not allow for too fancy moves, so this is a hybrid bike that can be ridden in the mountains and is ideal for simple mountain riding.
Commuting Performance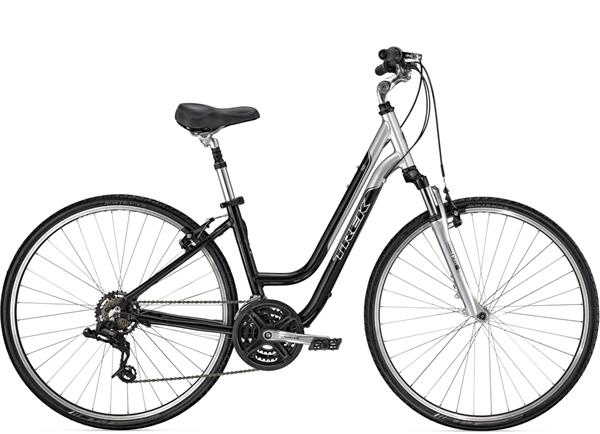 The trek 7100 excels at road riding.
When it comes to sidewalk handling, the trek 7100 can handle it with ease, whether it's a slightly potholed surface or a brick-lined sidewalk.
Although not as fast as a road bike, the 7100 is more comfortable to ride than road bikes in the same price range.
Park trails or woodland trails by the street will be very easy with only 50 mm of fork travel, and loose branches will have almost no effect on it. Fenders and a rear rack are optional extras.
It is now more suitable for commuting.
When compared to other hybrid bikes, the Trek 7100 rides slightly faster due to its steep head tube angle, which allows it to be faster on both uphill and downhill commuting roads.
I prefer the Trek 7100 for riding on park trails because the sit-to-stand riding position, soft seat, and subtle chain sound make it easier to get to your destination.
Components
Aluminum Frame (4.0/5)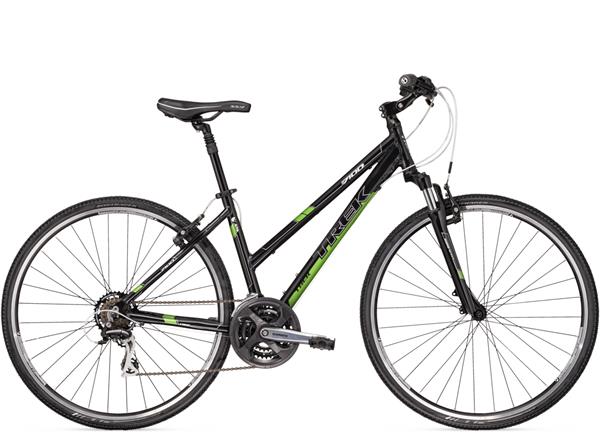 Most hybrid bikes are built with both men's and women's frames. And the Trek 7100 is no different.
The Trek 7100 women's bike has a straddle style frame that makes riding easier for women. The men's frame is more akin to a woodland mountain bike.
The homogenized frame makes it difficult for riders to choose, but the frame of the Trek 7100 retains the Trek 7000 model, so there are no overly complicated changes when riding in the mountains.
Front Fork (3.5/5)
The 7100 in 2002 used a less expensive steel fork, so the body weight was lighter, but it was less comfortable for mountain trail riding.
The 7100, on the other hand, has since adopted an aluminum suspension with only 50 mm of travel, but for a hybrid bike that focuses on commuting and comfortable riding, the cost is low on the one hand, and the performance of other components must be considered on the other.
As a result, it is an acceptable type of suspension. When riding in a normal mountain, the fork does not have a soft or hard damping effect, making it more difficult to bottom out. Trek's fork performs better in all of the effects observed.
3X7 drivetrain (4.0/5)
Shimano's drivetrain has the same configuration as the drivetrain of many cheap mountain bikes nowadays, and it performs well in terms of sturdiness and riding efficiency, as well as responsiveness.
Commuter riding is less likely to encounter intense riding riders, but dealing with the terrain of commuting is one of its strengths, with 21-speed combinations that provide a wide range of shifts.
SRAM Shift Levers (4.2/5)
Despite being a low-end SRAM twist shifter, there isn't much to complain about when shifting given the performance of SRAM in this component. The shifts are quick and easy.
Crisp shifting sounds, as well as violent shifting, enable simultaneous front and rear gear changes. Durable shifter that has been in use for over 5 years.
Bontrager Webspring Saddle (4.5/5)
The Trek 7100 multitrack comes standard with a Bontrager seat that hasn't received too many complaints about its comfort.
The benefits of a comfortable bike were transferred to a hybrid bike, which appeared to be more advanced at the time.
The mesh saddle is very breathable, but it is more difficult to clean. The lower part of the Saddle has shock-absorbing springs for added comfort. When riding, there is also some shock absorption.
The seat height can be adjusted at any time to accommodate different riding positions. As a result, the 7100 hybrid is an extremely comfortable hybrid bike.
Slightly swept back handlebar (3.8/5)
This is a middle option between mountain riding and comfortable riding. Not only can it be ridden sitting up, but it can also be adapted to general mountain climbing riding.
Accommodates a wide variety of riding positions on a wide variety of terrain.
700 x 35c tires (4.0/5)
The tires on the Trek 7100 bike are those of a road bike. The standard tire size without the multi-section mountain bike tread is 700 x 35c.
Commuter road riding is more concerned with speed and comfort. The double-walled alloy rims ensure that they will last a long time and will not deform.
With the inner tube configuration, no specific parameters for how much air pressure were discovered, which has no effect on your daily riding.
It can roll very smoothly on smooth roads, and it can also provide a strong grip on brick roads. The tread is softer and offers more traction in turns.
Benefits of the trek 7100
Affordable price, the selling price has never exceeded $500
Lightweight aluminum frame with relatively low overall weight
3×7 drivetrain that offers a wide range of shifts
Soft seat for a comfortable ride
Standard tires for a fast ride
Equipped with a simple fork with shock absorption in commuter roads
What we don't like about it
Alloy cable pull brakes that limit mountain riding
The travel is relatively short, only 50 mm
The pedals are of average quality and easily damaged
trek 7100 hybrid Specs
| | |
| --- | --- |
| Component Group | Commuter Mix |
| Pedals | Nylon platform |
| Extensions | Not included |
| Hubs | Alloy |
| Rims | Bontrager 550, 36-hole |
| Tires | 700 x 35c Bontrager H4 |
| Frame Construction | TIG-welded |
| Fork Brand & Model | SR Suntour NEX, 50mm travel |
| Cassette | 7-speed, 14 – 34 teeth |
| Crankset | Shimano M131, 28/38/48 teeth |
| Handlebar | Bontrager Approved |
| Handlebar Stem | Alloy |
| Headset | Sealed |
| Saddle | Bontrager Boulevard |
| Seatpost | Alloy |
| Brakeset | Tektro V brakes, Tektro alloy levers |
| Fork Material | Single |
| Frame Tubing Material | Alloy |
| Shift Levers | SRAM X.3 Trigger |
FAQ
What is the body weight of trek 7100?
About 29.1(13KG) pounds. Some reviews point out that it is similar to the Trek 3700.
How much is the trek 7100 worth?
Depending on the condition of the bike, it is expected to be $66-$130. The better the condition of the bike, the higher the value.
Other versions
2002 Trek 7100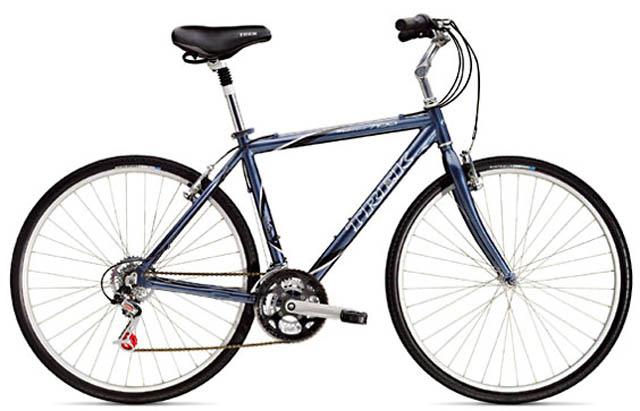 The older 2002 Trek 7100 has no shock fork, the rigid alloy fork is very comfortable and lighter for normal road riding, but the steel handlebar will rust if not carefully maintained. But overall it is still very strong.
2005 Trek 7100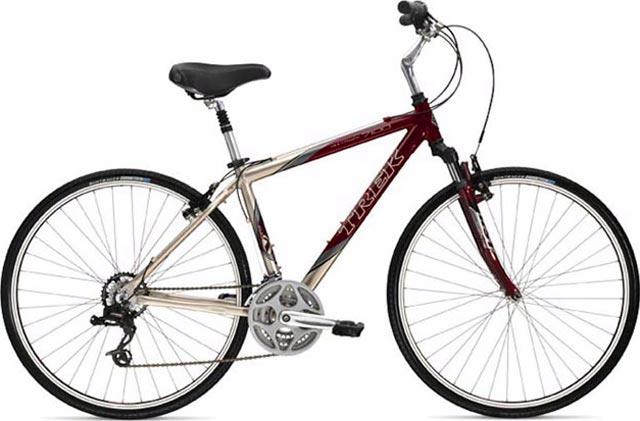 For the first time, a shock-front fork is used. Other components are not too different from the 2002 Trek 7100, but the whole bike is made of more aluminum components, so it is easier to maintain.
2011 Trek 7100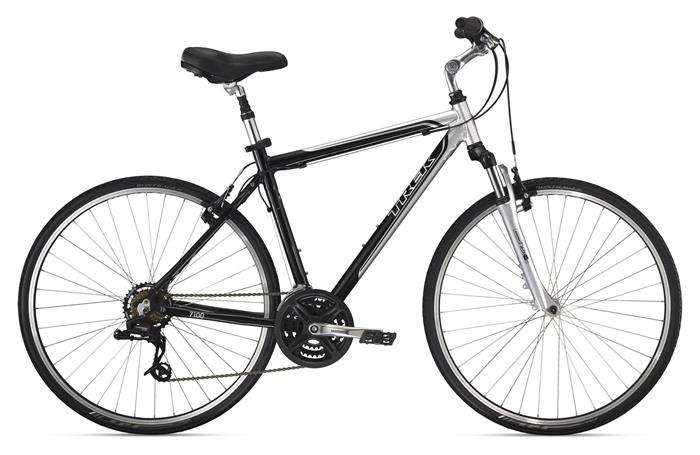 Commuting comfort has been improved with the Bontrager Boulevard saddle, which is tougher and softer. Longer commutes require them more, and the handlebar swept back a bit to allow for faster riding.
2012 Trek 7100
The closest 2012 Trek 7100, the more common hybrid bike on the used bike platform. Not much different from the 2011 Trek 7100, but the paint color is a bit more stylish.
Compare Tables
Comparison
Trek FX 2 Disc vs 7100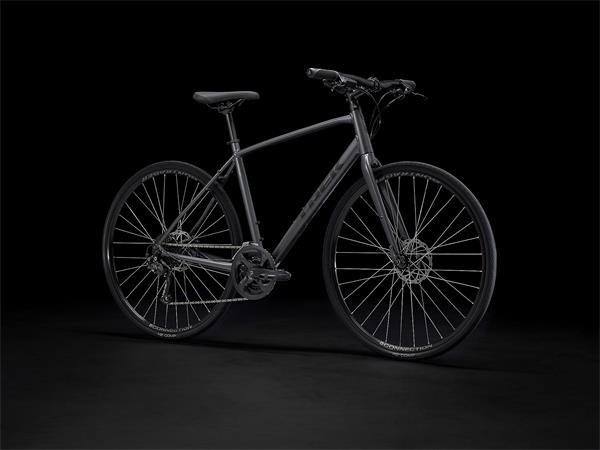 The Trek FX 2 Disc is a hybrid bike that resembles a road bike.
If you live in the neighborhood and need to get to your destination faster. The Trek FX 2 Disc is better suited to your requirements.
Alpha Gold Aluminum frame, 700x35c tires, 2X9 drivetrain, and Tektro HD-R280 hydraulic disc brake are included. Internal alignment that is neat and stylish.
There's also the popular 2X9 drivetrain, which is easier to ride and has a wider gear range.
There's also a chainguard on the Crank, so whether you're riding to the gym, commuting, or shopping at the farmer's market, these Trek FX 2 Discs are an excellent choice.
They are a great alternative to hybrid bikes because they are priced similarly to the Trek 7100.
Learn more: Is The Trek FX1 Worth Buying?
Trek Dual Sport 1 vs 7100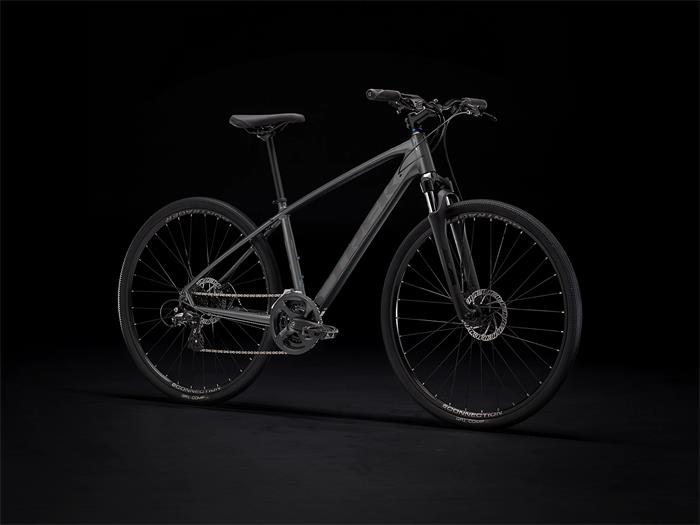 The Trek Dual Sport 1 is the same as the Trek 7100, a hybrid bike that is both efficient on the sidewalk and comfortable on rough terrain and even light trails.
You like casual riding on all kinds of terrain, or the occasional rough patch in your commute.
The Trek Dual Sport 1 is an excellent choice.
A lightweight aluminum frame, a shock fork with enough travel to excel in rough terrain, a dependable 16-speed drivetrain with multiple gearing so you never pedal too hard or too soft, all-terrain tires that grip but roll fast, and disc brakes for all-weather braking power are all included.
It has mechanical disc brakes, as opposed to the Trek 7100, for better braking and less maintenance. The fork travel has been increased to 63mm, which is more than adequate.
While it is not designed for strenuous mountain riding, it is ideal for less crowded forest trails or small bumps in the hilly wilderness. 45c tires have more traction, making it easier to ride in rough terrain.
Learn more: Trek Dual Sport 2 Reviews- The Super Cost-Effective Bike
Schwinn Discover Hybrid Bike vs Trek 7100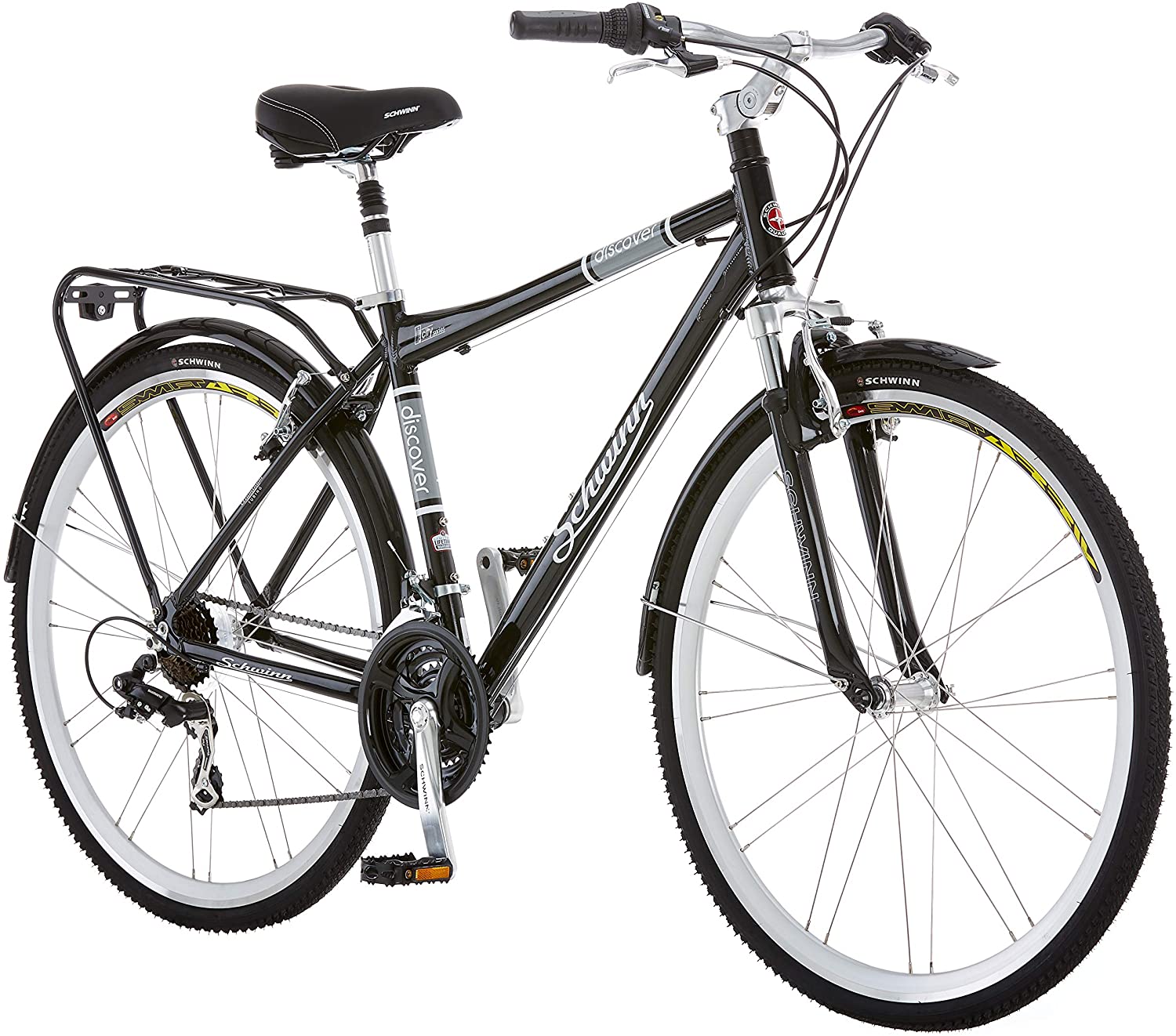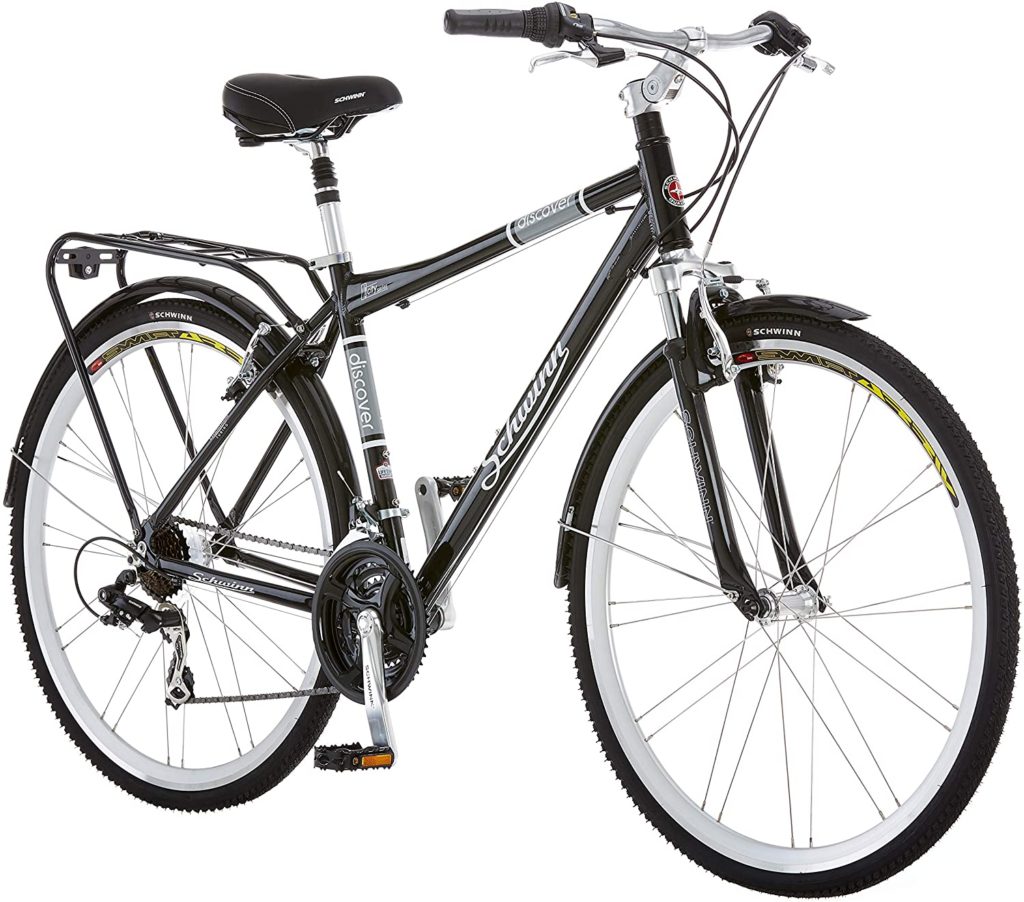 The Schwinn Discover Hybrid Bike is a popular Schwinn hybrid bike.
The Schwinn Discover is known for its comfortable ride, and it has an aluminum frame similar to the Trek 7100, as well as a 3X7 drivetrain.
And the MSRP is very close to the Trek 7100, with more paint color options for a more stylish commuter ride than the Trek 7100. The configuration is not as advanced as the other models mentioned previously.
It is a hybrid mountain bike that can also be used for basic mountain riding. If you prefer a more comfortable bike, the Schwinn Discover is a good option.
Learn more: 2021 Schwinn Discover Hybrid Bike Review – Best 21-Speed Hybrid Bike
Schwinn Cabo Cruiser Women's Bike vs Trek 7100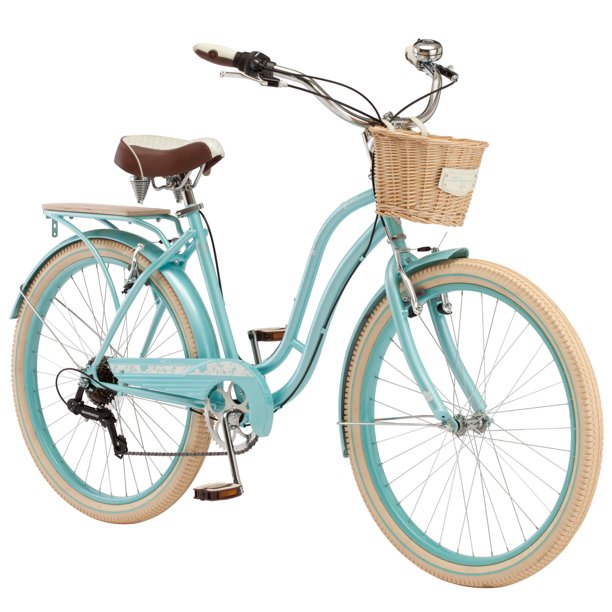 For the ladies, we've got a comparison of the Schwinn Cabo and Trek 7100.
The Schwinn Cabo is not as well equipped as the Trek 7100, but it is a simpler and more practical bike that many women prefer for commuting.
For starters, its lovely color scheme and large swept-back handlebars make it easier for ladies to see the scenery as they ride.
The original model also includes a basket and a rear rack, as well as mudguards and a chain guard.
The Schwinn Cabo is the ideal hybrid bike for urban women, with more storage space for casual holiday trips and more items to bring along.
Learn more: Schwinn Cabo Cruiser Women's Bike Review – 2021
Final Verdict (4.0/5)
The Trek 7100 is just the right configuration at an affordable price. A hybrid bike that can accommodate commuting and rugged trail riding. The lack of heavyweight and wide gear range makes the Trek 7100 a good hybrid bike. We ended up giving Trek 7100 a rating of 4.5 out of 5.
Learn more: Is The Trek 7200 A Good Hybrid Bike?
Is The Trek 7.2 A Good Hybrid Bike? [Trek 7.2 FX Review]
References
https://www.bicyclebluebook.com/value-guide/product/1000466/