We use affiliate links and may receive a small commission on purchases.
The FX1 and Trek FX1 Disc , the most affordable of the Trek fx series, is also a popular hybrid bike for many commuter riders.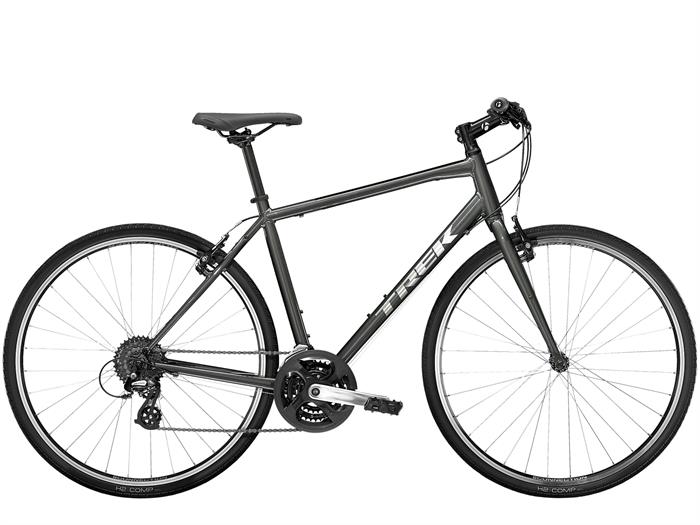 This bike combines the features of a road bike and a cruiser bike, and the components are all relatively high quality stacked. Welcome to the Best Bike Select blog.
This is a review of the Trek FX1. We'll break down the FX1 features step-by-step, as well as what we like about it and what we don't like about it, and discuss whether the Trek FX1 is worth buying by comparing several bikes in the second half of the article. let go!
Features of Trek FX1
Alpha Gold Aluminum frame (4.5/5)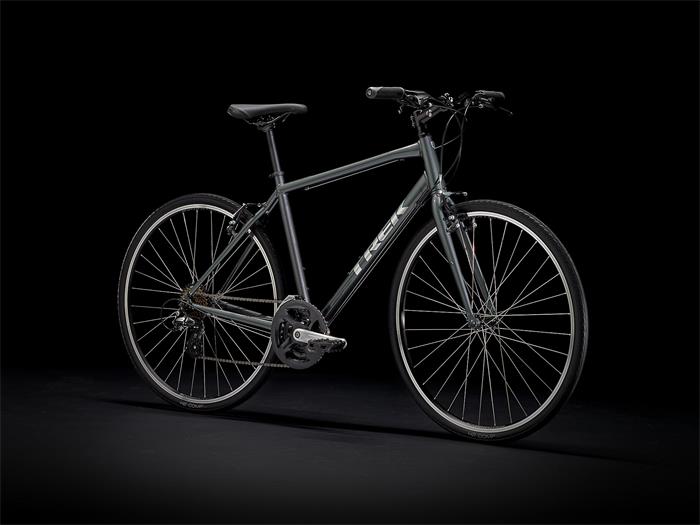 First of all, it must be admitted that the design of this frame is relatively traditional. It has been used since Trek 800. However, FX1 has been optimized from the previous one. This relatively specialized area, there is not much to say.
But the ruggedness of the frame will make your investment more than worthwhile, as the Trek Alpha Gold Aluminum frame has stood the test of time, and we have often praised the durability of this frame in our past Reviews.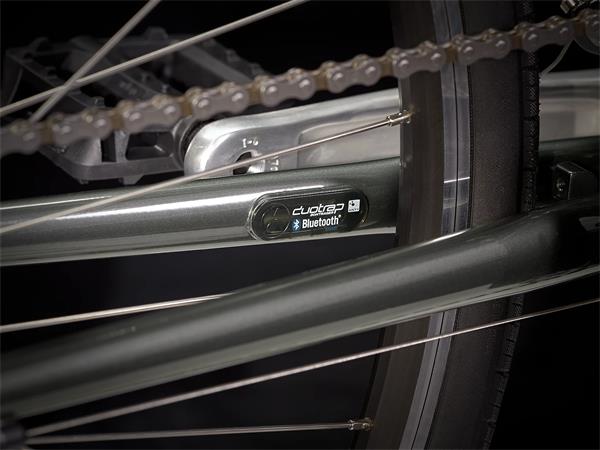 The Trek FX1 2022 is the latest Trek FX1 model, with a lighter weight frame and reserved rack and fender mounts, as well as DuoTrap S compatibility. 2 water bottle cage mounts make it more suitable for fitness or commuting riders.
FX Steel Fork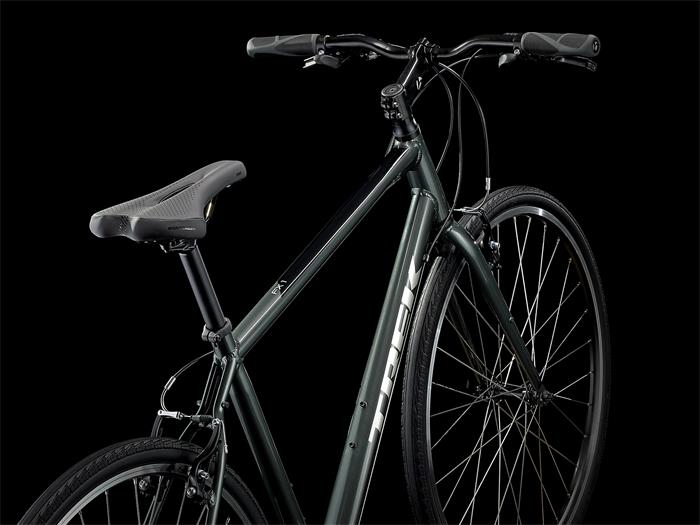 Honestly, the Trek FX1 fork is relatively cheap. But it is very sturdy and slightly heavier than the alloy fork. It's a fork that doesn't easily deform when riding on gravel.
On the one hand, it is the price, on the other hand, it is the performance. We can still accept such fork configuration.
3X7 Drivetrain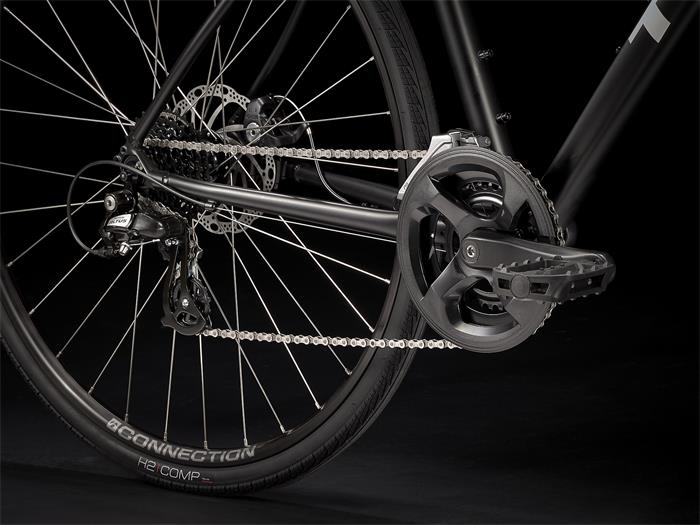 The 3×7 drivetrain offers riders a lot of sizes when riding. While this is not one of the most popular drivetrain configurations, the most frequently used rear derailleur is the Shimano Altus.
The shifter of the same brand is not a cheap twist-shift either, with a gentle toggle to change gears and a clear digital display of the gears. This is a very friendly component for newbies.
Bontrager H2 Comp Tires
The Trek FX1 uses 700x35c hybrid tires that provide excellent traction on city streets. And the 35c width of the tire is a width that will ensure riding speed and riding stability.
The 30tpi tires also have a soft casing that will absorb vibrations a little better.
Tektro alloy linear-pull brakes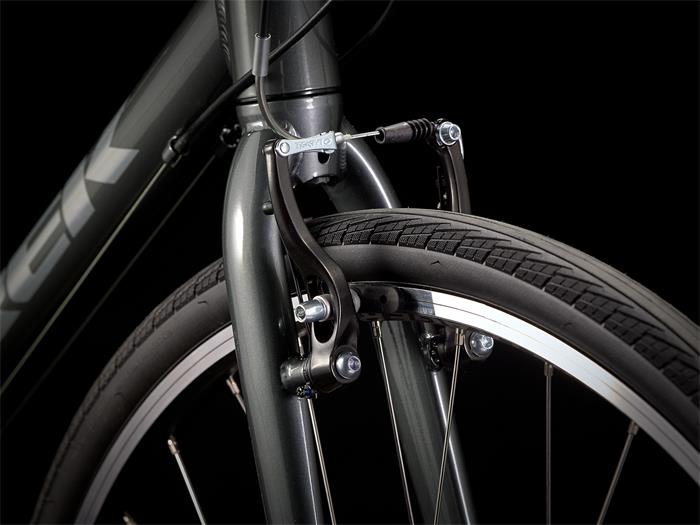 Alloy linear-pull brakes are a low-priced accessory, but also a component that will impress commuter riders in terms of braking effectiveness.
If you live in the middle of the country, give proper consideration to the FX 1 Disc and get a hybrid bike with mechanical disc brakes for just $40 more of your budget.
Nice Aftermarket
Even if you buy on line, you can still get it installed in Trek. That's why they rarely have bikes under $500.
Trek has tremendous confidence in the bikes they produce, and the FX1 comes with a lifetime warranty.
Other versions
Trek FX1 stagger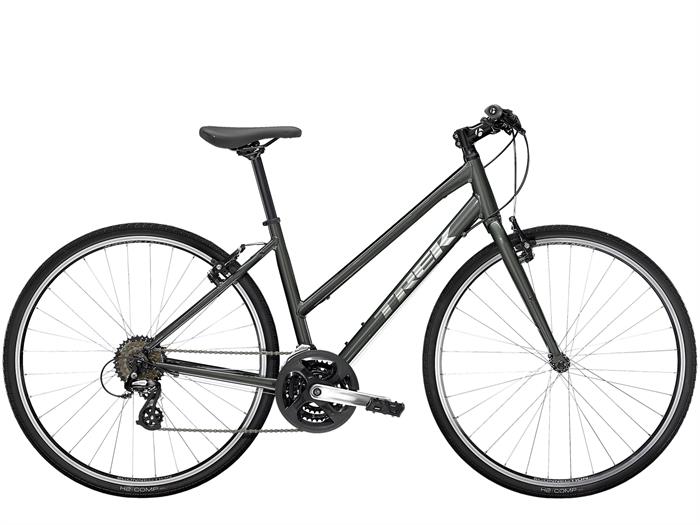 The Trek FX1 stagger frame is designed to be more suitable for female riders, while the Lowstep frame is also suitable for older riders with limited mobility.
The price remains the same as the FX1, with no difference in components.
Trek FX1 Disc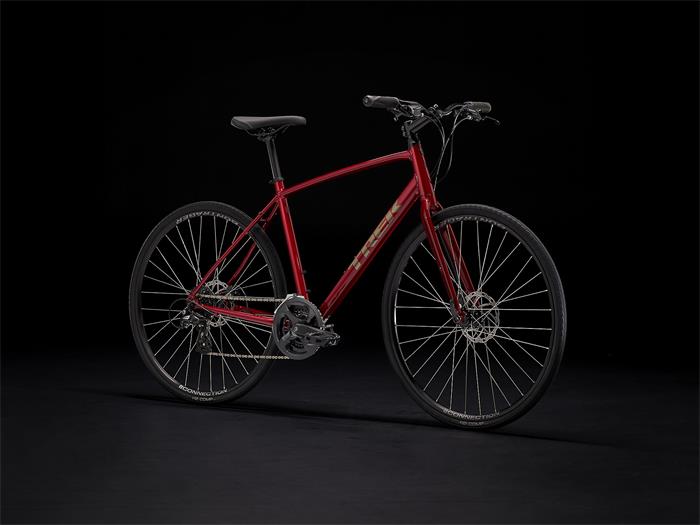 The main difference between these two models, as also mentioned when it comes to brake components, is the upgrade of the alloy cable pull brakes to Tektro MD-U310 mechanical Disc, and it's only a $40 budget increase.
This is a very cost effective upgrade, if you buy this part separately expect to pay $50 for it and also the cost of getting it replaced properly by hand.
If you prefer a sturdier, more durable, less maintenance mechanical disc brake, the Trek FX1 Disc is well worth considering.
Benefits of the Trek FX1
Affordable price, the most affordable hybrid bike in the FX series
The 3X7 Shimano drivetrain offers plenty of gearing
Bontrager H2 Comp ensures a comfortable ride while also increasing the speed of the ride and increasing commuting efficiency
Leave the rack and fender mounts in place
Compatible with DuoTrap S, allowing fitness riders to clearly schedule their workouts
Great value after-sales service
What we don't like about it
Pedal quality is relatively poor
The 3X7 drivetrain is a bit outdated
Seat is a bit hard
Trek FX 1 Specs
Frameset
| | |
| --- | --- |
| Frame | Alpha Gold Aluminum, rack & fender mounts, DuoTrap S compatible, cantilever brake mount, 135x5mm QR |
| Fork | FX Steel, threadless steel steerer, rack mounts, cantilever brake mount, 405mm axle-to-crown, 5x100mm QR |
Wheels
| | |
| --- | --- |
| Hub front | Formula FM21 alloy, 100x5mm QR |
| Skewer front | Formula QR22 |
| Hub rear | Formula FM31 alloy, 135x5mm QR |
| Rim | Bontrager Connection, alloy, double-wall, 32-hole, schrader valve |
| Tire | Bontrager H2 Comp, wire bead, 30tpi, 700x35c |
| Max tire size | 38c without fenders, 35c with fenders |
Drivetrain
| | |
| --- | --- |
| Shifter | Shimano Altus EF500, 7 speed |
| Front derailleur | Shimano Tourney TY510, 34.9mm clamp, top swing, dual pull |
| Rear derailleur | Shimano Altus M310 |
| Crank | Forged alloy, 48/38/28, chainguard, 170mm length |
| Bottom bracket | Sealed cartridge, 68mm |
| Cassette | 14-34, 7 speed freewheel |
| Chain | KMC Z7 |
| Pedal | Wellgo nylon platform |
Components
Saddle
Bontrager Sport
Seatpost
Bontrager alloy, 27.2mm, 12mm offset, 330mm length
*Handlebar
Size: S, M, L
Bontrager Riser, steel, 25.4mm, 30mm rise, 600mm width
Size: XL
Bontrager Riser, steel, 25.4mm, 30mm rise, 620mm width
Grips
Bontrager Satellite
*Stem
Size: S, M
Bontrager alloy, 25.4mm clamp, 10 degree, 90mm length
Size: L, XL
Bontrager alloy, 25.4mm clamp, 10 degree, 110mm length
Headset
1 1/8" steel threadless
Brake
Tektro alloy linear-pull
Weight
| | |
| --- | --- |
| Weight | M – 12.57 kg / 27.72 lbs |
| Weight limit | This bike has a maximum total weight limit (combined weight of bicycle, rider, and cargo) of 300 pounds (136 kg). |
FAQ
What is the body weight of the Trek FX1?
M – 12.57 kg/27.72 lbs
What is the weight limit for the Trek FX1?
This bike has a maximum total weight limit (combined weight of bicycle, rider, and cargo) of 300 pounds (136 kg).
Trek FX1 size chart
S
M
L
XL
XL
Rider Height
155.0 – 165.0 cm
5'1.0″ – 5'5.0″
165.0 – 175.0 cm
5'5.0″ – 5'8.9″
175.0 – 186.0 cm
5'8.9″ – 6'1.2″
186.0 – 197.0 cm
6'1.2″ – 6'5.6″
197.0-203.0 cm
6'5.6″ – 6'7.9″
Inseam
72.0 -78.0 cm
28.3″ – 30.7″
77.0 -83.0 cm
30.3″ – 32.7″
72.0 -78.0 cm
32.3″ – 34.6″
87.0 -93.0 cm
34.3″ – 36.6″
92.0 -95.0 cm
36.2″ – 37.4″
What are the paint colors for the Trek FX1?
The FX1 is only available in Lithium Grey paint, and the FX 1 Disc is available in Solid Charcoal.
Comparison Table
Comparison
Trek Verve 1 Disc vs Trek FX1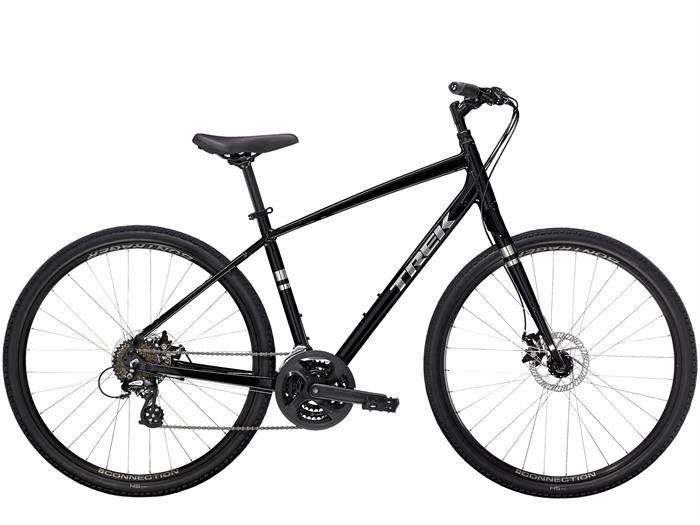 The Trek Verve 1 Disc is one of the most affordable hybrid bikes in the Trek Verve lineup.
If we look at the braking system, it is the same mechanical disc brakes as the Trek FX1 Disc, but it is slightly more configurable and not a very noticeable difference.
Next, we look at the comparison of the drivetrain components, which are also the same configuration. The geometry design is also the same except for the frame shape.
We finally see the difference in tires, with the Trek Verve 1 Disc using the more comfortable 700x45c tires. The Trek FX1, on the other hand, uses the finer 700x35c tires considering the speed of the ride.
The difference between these two models is very small. If you need to ride a faster bike, go for the Trek FX1. If you are more into comfortable riding, the Trek Verve 1 Disc is a good choice.
Learn more: Is The Trek Verve 1 Disc Worth Buying? [Trek Verve 1 Disc Review]
Trek FX 2 Disc vs Trek FX1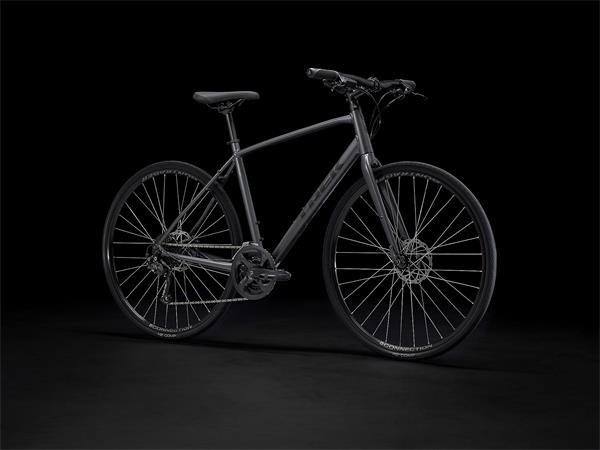 The new model of Trek fx 2 starts with only the Trek fx 2 Disc brake.
For the comparison of these two models, let's leave the brake system comparison aside for now. The Trek fx 2 Disc uses a flywheel with more gears, which also increases the cost of purchase, so it is still more expensive in terms of price. And the service life and shifting experience have been improved.
The Trek FX1 pedals were upgraded with the more durable Bontrager City pedals. Not much else has been done to the other components.
Lastly, the paint colors, Satin Lithium Grey and Satin Viper Red, are both great looking pop colors. If you're looking for a better riding experience, you might want to consider the Trek FX 2 Disc with a slight upgrade.
Trek FX 3 Disc vs Trek FX1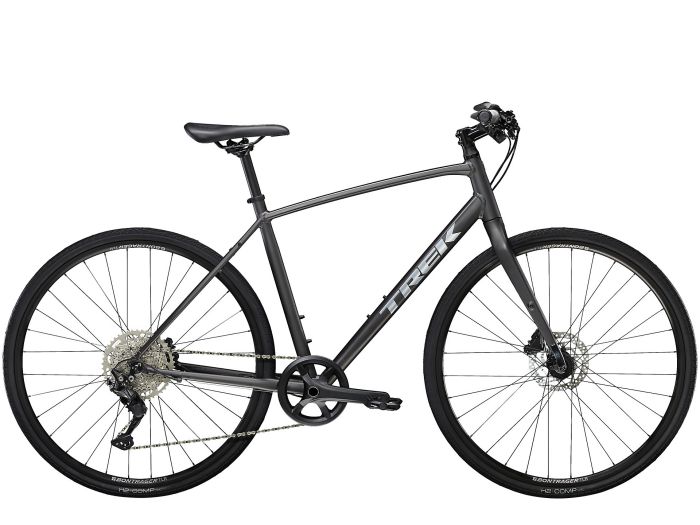 The top of the FX series, the Trek fx 3 Disc, features a carbon fiber fork that reduces weight and 700x32c tires that are closer to a road bike configuration.
But what's a bit odd is the drivetrain, which uses the most popular Shimano Deore 1X10.
This is what makes it touch the threshold of a competitive bike. But the bottom plate is still maintained and FX1 frame. The lighter-weight Trek FX 3 Disc is the higher end hybrid bike. It is also well worth buying.
Schwinn Discover Hybrid Bike vs Trek FX1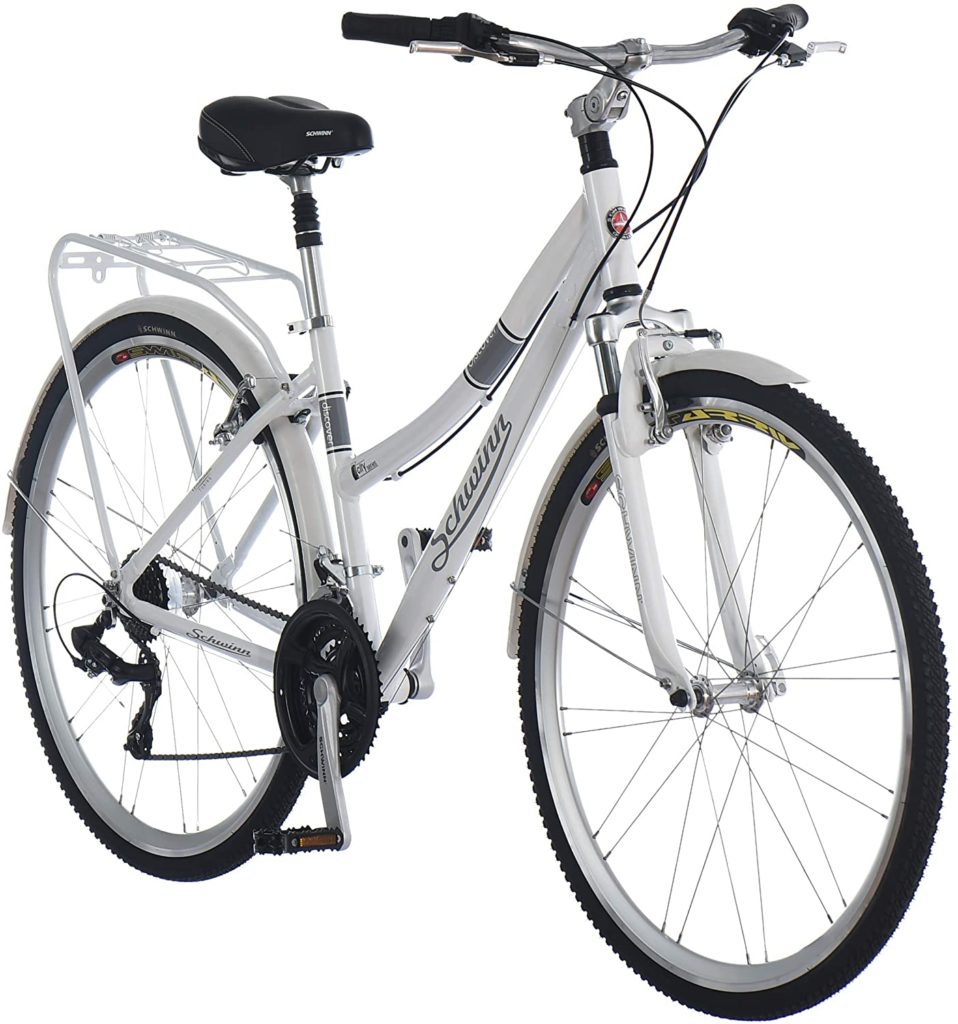 Priced even lower, the Schwinn Discover is for the commuter rider on a budget.
The aluminum frame and 3X7 drivetrain with shock fork are better suited for trail riding than the Trek FX1.
The performance on gravel surfaces is just as good. Also equipped with small 38c tires, the skills ensure speed and also allow the bike to challenge more terrain.
The Schwinn Discover Hybrid Bike is the hybrid bike to try.
Final Verdict (4.0/5)
The Trek FX1 maintains a quality frame design with a good balance of price and performance. A quality bike that will allow you to ride better for exercise or commuting cruising. So the Trek FX1 is the bike to buy.
In my view, this is cheap bikes, but for beginners, it could be the best fitness bike. This is because the investment is small, but it is durable enough.
We gave it a final rating of 4.0.
Related Videos
Learn more
Is Trek Verve 2 Disc Worth Buying? Replaceable Models-Review
Is The Trek 7.2 A Good Hybrid Bike? [Trek 7.2 FX Review]