We use affiliate links and may receive a small commission on purchases.
Trek Dual Sport 2 Stagger
Price: $789
Travel: 63mm front
Tire: 700x40c
Drivetrain: 2×9
What we like about it: Trek Dual Sport 2 Gen 4 has the super cost-effective all-around riding performance. And you can freely aspire to ride outside the city.
What don't we like about it: Facing more demanding challenges will be more strenuous than professional racing bikes.
Rating(4.6/5)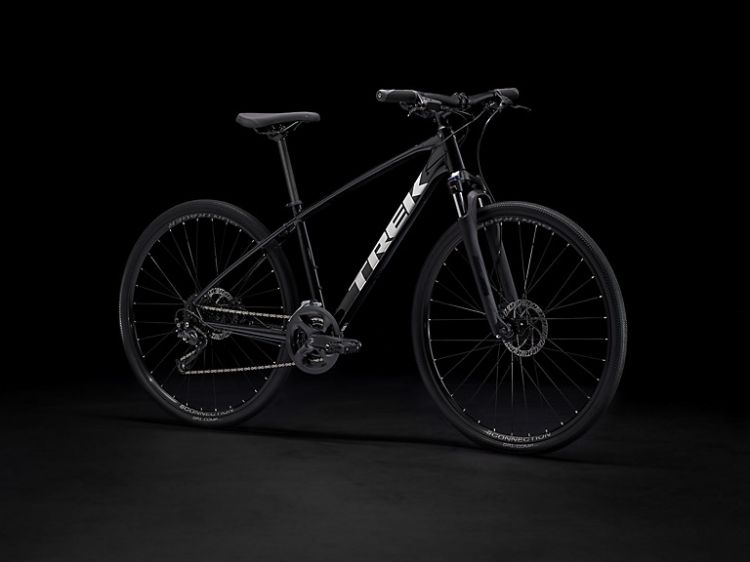 Introduction
If you're tired of too many categories of bike options and don't know much about component expertise. Then the Trek Dual Sport 2 Gen 4 is perfect for you. It's more inclusive when it comes to the terrain he rides on. Whether it's on city commutes, or gravel roads or even some woodland riding, it's a good ride.
In terms of component performance, the Trek Dual Sport 2 Gen 4 is equipped with a longer front shock fork with 63mm of travel and a 2×9 drivetrain. While the 700x40c tires are capable of powerfully crushing the ground and bringing more traction to the body. The overall high component specification can make the ride superior.
Why do you have to be torn between a road bike and a mountain bike? I think the Trek Dual Sport 2 Gen 4 provides a great answer, offering versatility, stability, and comfort above all else, no matter where you go.
Learn More: 2023 Trek Dual Sport+ 2 Review-Powerful hybrid e-bike
Trek Dual Sport 2 Gen 4 Road Performance
For the vast majority of users who choose the Trek Dual Sport 2 Gen 4, the most attractive aspect of the Trek Dual Sport 2 lies in its more accommodating components and less difficult riding. With the bigger Bontrager GR1 Comp 700x40c tires, Shimano HG200 2×9 drivetrain and excellent brake components It can adapt well to the city shuttle, and in a near upright riding position. It can be more relaxed and comfortable in the face of city congestion.
At nine o'clock in the morning on a working day, the city streets were already swarming with huge traffic and crowds. Thanks to the big 700x40c wheels and the 13.2kg weight. I rode not at all behind the bikes and crowds and very easily weaved faster to give a better answer to the congestion problem.
These days when single disc drives are more popular. The double disc Shimano HG200 2×9 drivetrain may make you feel that you can't cater to the current trend of 1x drivetrain. But it is undeniable that the 1x single-disc is greater than the double-disc in terms of the risk of chain drop. Although it would be simpler in operation.
Further, the Tektro HD-M275's liquid discs mean that you'll have enough confidence to generate strong braking power in the face of unexpected conditions. If you're commuting to and from work all year round and will face multiple riding stresses. For example, facing some corners, park trails after rain, and some brick-laying roads. These uneven conditions often test the rider's reflexes. Without better brakes, you may not be able to move an inch.
Trek Dual Sport 2 Gen 4 General Riding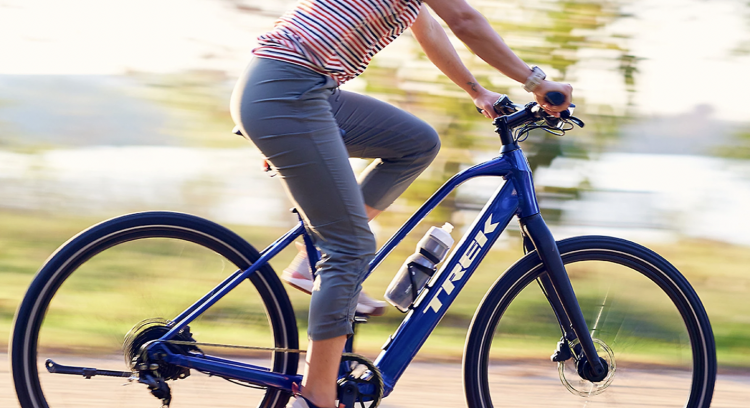 If you're not satisfied with urban riding needs, the Trek Dual Sport 2 Gen 4 is also a solid performer for outdoor riding abilities. For example, the gravel road riding that has been a big hit in recent years. Thanks to the friendly geometry design and wide tire performance, performs very efficiently and is easily controlled in the freer gravel. However, if you have higher and more professional riding requirements and like to push some limits, you can upgrade the vacuum tires.
Although it can't be as efficient as a more professional race hardtail, with an effective front damping, it can absorb some of the smallest bumps well enough to sense them. Since there is no rear gut design so you don't have the sense of soft tail letdown when sprinting upwards either, greatly improving efficiency.
On some rough mountain roads, the 63mm of travel can be a good way to improve our riding comfort level. If you are challenging a section of rough mountainous terrain, albeit uneven and slightly bumpy, you can keep the gears at the highest level. Of course, if you are trying to accelerate on smooth and boring roads, you can add some boost to your speed by simply locking the forks.
Considering the very free model, it will not give you the constraints of the rules and regulations, and no need to calculate the power. Also do not have to consider the road conditions, think of where to go, and have powerful expandability. Even if you want to have a small long-distance loaded on the shelf or backpack, immediately you can say go.
Main Features
Frame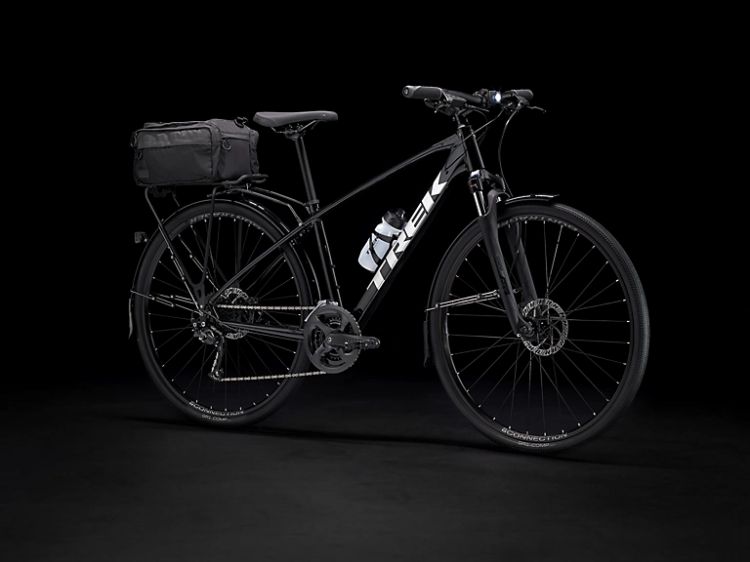 For a hybrid model, the Trek Dual Sport 2 Gen 4 has a freer geometry frame and is very expandable. If you are facing road riding needs, you can assemble the mudguard. It can effectively reduce mud and water on the road after the rain. If you are trying to have a short camping trip, you can match up the rear rack to give some support to your equipment.
The Trek Dual Sport 2 Gen 4 also has a very fine paint job, with smooth bodywork and a very positive paint color. I like the red one the most, it is very eye-catching during our high-speed ride. and it is attention-grabbing with a very high sense of design. For the selection of the body material, the aluminum frame material is more flexible and will be more adaptable to the roughness of the external environment. Although the full carbon material is the mainstream of the moment, the price of the alloy is much lower than the carbon material.
You can't tell that this excellent model only costs $789, very economical! The Bontrager alloy handlebars are ergonomic and very comfortable to hold in your hands. I don't think you'll get tired on longer rides.
Compatible with the DuoTrap S stem, it can support the installation of wireless drivetrain devices to make your fitness ride smarter. You have full control of your cycling route and real-time health monitoring, and the operation is very simple. The wiring is still set up with a more simple and more efficient internal wiring technology with a higher production process. It will not be distracted by the tugging and pulling of the wiring when you are riding fast.
Geometry
The more upright 73.5°seat tube angle will be friendly to newbies and make the riding position more upright. If you are just starting to ride for a short time, I do recommend you to start riding from an easier position. This will be good for the maintenance of your muscles.
For some very professional racing models where the rider's posture is more tightly grounded with a parallel tendency, the Trek Dual Sport 2 Gen 4 will be more relaxed. So just choose this one whenever you want to start riding.
The 110cm wheelbase makes the body more stretchy and easier at the moment you make power. At the same, time you feel more spacious and comfortable while driving this bike. The ease you feel is necessary to develop the joy of riding, so that's what I've repeatedly stressed. The Trek Dual Sport 2 Gen 4 is far more novice-friendly than its price.
Because it is closer to the rate of the hardtail, the 70.5° head tube angle allows the Trek Dual Sport 2 Gen 4 to be very stable. And it still easy to maneuver in the face of increased speed, as well as on some adventure-loving rappelling terrain.
Components and Specifications
SR Suntour NEX Fork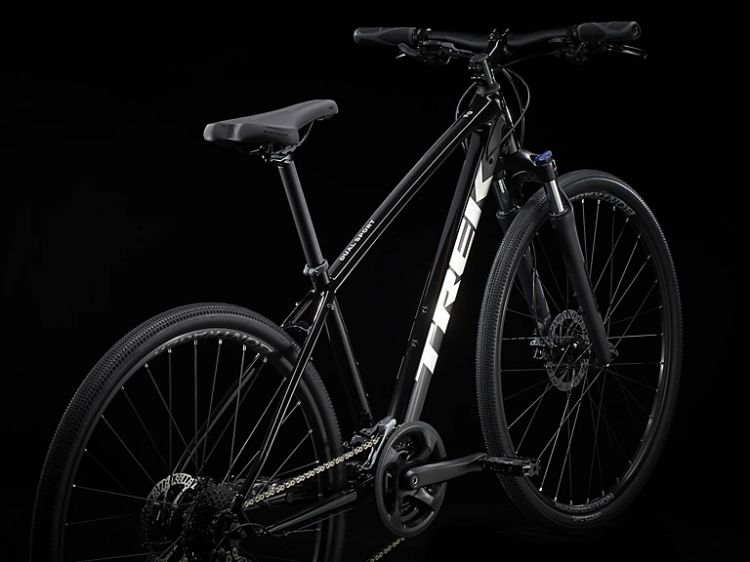 In the outdoor test, I took the Trek Dual Sport 2 Gen 4 to a not-so-smooth mountain section with some continuous uphill terrain that tested the vehicle's damping.
The Trek Dual Sport 2 performed better than I expected in terms of absorbing vibrations from the ground. Under the pressure of continuous bumps, the Trek Dual Sport 2 Gen 4 was still smooth and I could still control the bike well without affecting my sustained power.
Bontrager GR1 Comp Tires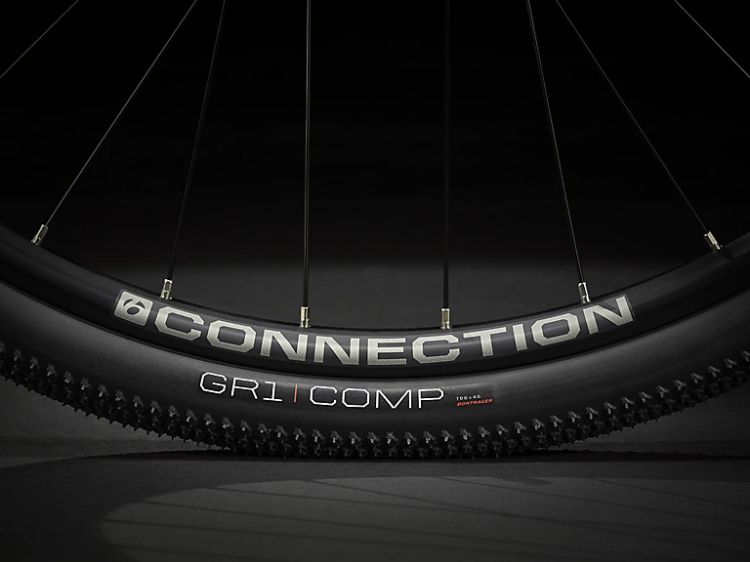 In the face of a lot of uncertain terrains, you do not need to do more and more aggressive mountain bikes in recent years. While the ordinary road bike's thin narrow tires do not give you enough security, Bontrager GR1 Comp700x40c can solve your problems.
It has a beautiful tread pattern, and in the post-rain ride test, the tires raised regular drainage arcs as they rotated quickly. This shows that it drains effectively even on slippery roads. I did not cause some drifting sensation when doing some lower difficulty climbs outdoors. This proves that the tires are actively coping in terms of grip.
Shimano Altus M2010 2×9
Without a good hydraulic disc brake, we would lose a lot of fun when riding. For example, I'm not satisfied with simply riding on flat roads, but want to challenge some terrain with an upward trend, or rapid crossing on gravel roads, which can not be done without braking ability.
As I mentioned earlier, there are little peaks of continuous rise in the sections I tested. And if I can't be smooth and natural between shifts, then it's hard for me to do it by skill alone; it has to be augmented by hardware.
At the same time, for this cost-effective model, perhaps the dual-disc brakes, which have not been very popular in recent years, would be more appropriate. Although it is not as simple and convenient as the single-disc 1x brakes, it also reduces the risk of dropping the chain in terms of maintenance. While keeping the cost just right for the more complex single-disc process.
Trek Dual Sport 2 Tektro HD-M275 Hydraulic Disc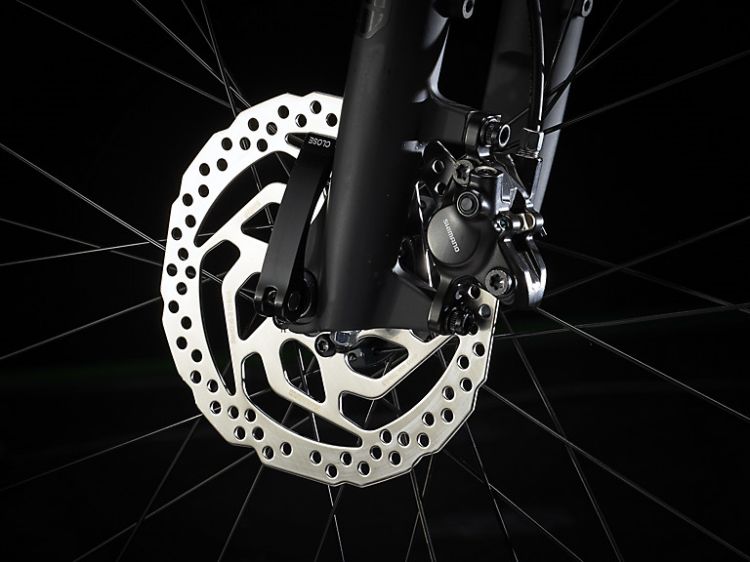 I have to say in terms of cost-effectiveness, it is very advantageous. Keep in mind that part of the all-around hybrid models under $1000 is made with old mechanical discs. For the weight of the body, this is a great added burden, but also will have the possibility of weakening the ability to climb.
Also in terms of sensory experience, I am more partial to hydraulic disc brakes. Without a better braking system, it will be less confident for you to challenge some difficult terrain.
Other Versions Of Trek Dual Sport
Compared to the more expensive 2021 Trek Dual Sport 4, the 2022 Trek Dual Sport 2 Gen 4 has some key performance differences. In terms of power selection, the traditional 2x drivetrain is abandoned in favor of the more popular 1×11 drivetrain. The trek uses a positive and negative tooth design, effectively reducing the risk of losing the 1x chain. But the speed selection range is also less than the 2022 Trek Dual Sport 2 Gen 4, followed by 1x operation will be easier, this is also indisputable.
In the choice of tires, the Bontrager GR1 Expertise, 700x40c, also did not choose vacuum tires. Although the strength of all belongs to the strong 60 tpi range, the loss of vacuum tires at this point, for a considerable part of consumers is a regret.
The body weight of the 2021 Trek Dual Sport 4 is 12.5kg. It lighter than the 13.2kg of the 2022 Trek Dual Sport 2 Gen 4. It means it will be easier for him to accelerate. The lack of weight suppression will have some drifting power for some climbing and descending terrain.
If you're looking at the 2022 Trek Dual Sport 2 Gen 4 you'll certainly be looking at the 2022 Trek Dual Sport 3 as a comparison. The Dual Sport 3 doesn't improve much in price and remains a friendly model for under $1,000.
It still has an all-around feel to it in terms of riding positioning. But I have to admit, some key components, are made to upgrade. For example, I have always valued the brake on the use of further Shimano MT200 hydraulic disc brake. It means that the response will be more agile. A more convenient Shimano Deore M4100 1×10 was also chosen for the drivetrain, although this means a reduced range of options for speed. Tire data is not much change as well as fine, for cost control, or no vacuum tires. So for some consumers to follow the upgrade, will increase the economic expenditure.
What we like about it
A budget-friendly all-rounder that lets you start exploring outside the city.
The alloy body is more resistant to friction from a rough environment
Wide tires are very beneficial for riding control
No rear shock absorber burden means less weight and more friendly for adventurers who want to race
A longer shock absorber fork can effectively solve the trouble of bumpy road
Free geometric frame adapted to fenders and racks, becoming more practical
Cleaner and more efficient internal wiring
What don't we like about it
Unable to handle the harsh environment of professional competition models with ease
The color selection is not pretty
FAQ
What are the Trek Dual Sport 2 Gen 4 tire sizes?
Trek Dual Sport 2 tire size is 700x40c.
What is the Trek Dual Sport 2 Gen 4 drivetrain?
The Trek Dual Sport 2 drivetrain is Shimano HG200 2×9 drivetrain.
What is the suspension travel of the Trek Dual Sport 2 Gen 4?
Trek Dual Sport 2 front suspension travel is 63mm.
2023 Marin San Anselmo DS2 vs Trek Dual Sport 2 Gen 4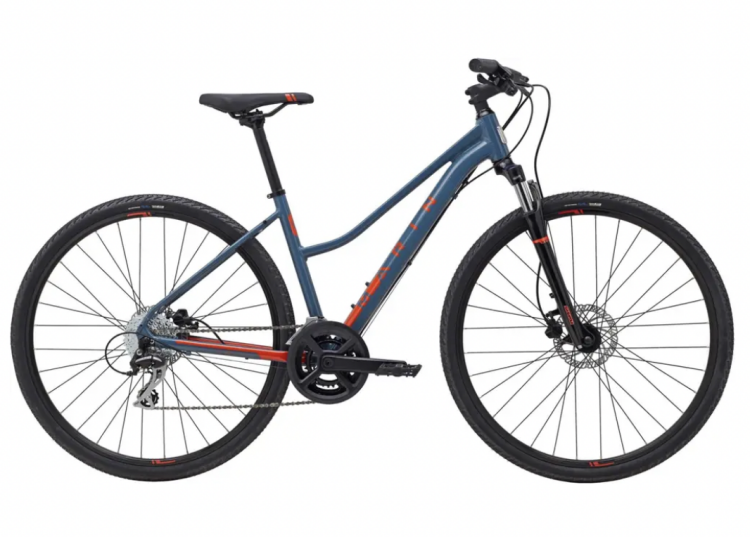 Compared to the Trek Dual Sport 2 Gen 4, the 2023 Marin San Anselmo DS2 has a smaller range of speed options for the drivetrain, with only 16. The same big 700x40c tires are chosen for the tires. For riding speed, and for traction on bumpy terrain, bigger tires are beneficial. Although they are both equally nimble in the corners do not have the same advantages as the smaller tires.
They both choose hydraulic discs brakes. Although the price is under $ 1000 models, did not choose more economical mechanical disc brakes. So for high-speed driving or the challenge of some more difficult terrain, there is a guarantee of confidence. And both reflect a longer 63mm of travel in the suspension. If you are driving either of these two across a bumpy ascent, the effective fork damping will increase your handling.
Learn More: 2023 Marin San Anselmo DS2 Review- Unconventional Hybrid Bike
2022 Schwinn Sierra Step-Thru vs Trek Dual
Sport 2 Gen 4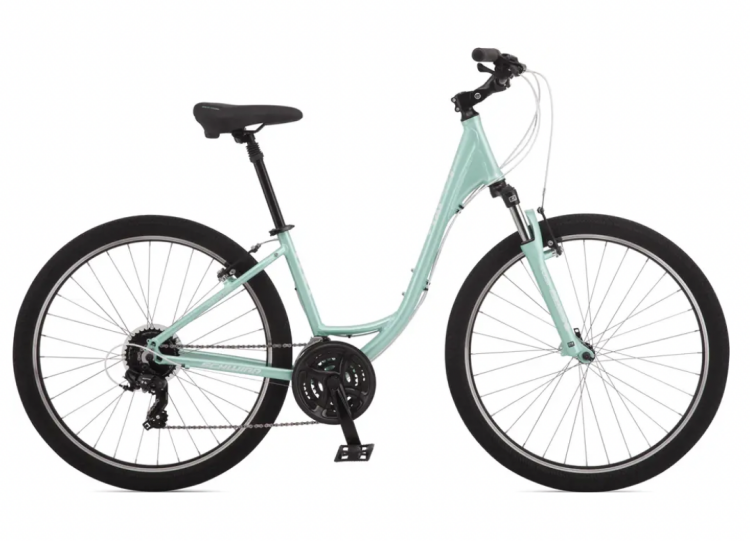 The 2022 Schwinn Sierra Step-Thru, which is also a hardtail-biased model, has an even longer 80mm of front travel, despite a steeper riding position on the geometry frame. But if you're going through a relatively big bumpy climb. 80mm of efficient travel is effective.
Likewise, both use the bigger 700c tires in the tire selection. Essential for the speed advantage, the 2022 Schwinn Sierra Step-Thru has a broader range of drivetrains. On the brakes are Radius V993, linear-pull, which is slightly inferior to liquid disc brakes. But it will be favored by long-distance travelers, and if you're traveling long distances through high altitudes, you'll probably like this design even more.
learn more:2022 Schwinn Sierra Review – A Hybrid Bike Loved by Youth
2022 Liv Rove 3 Disc vs Trek Dual Sport 2 Gen 4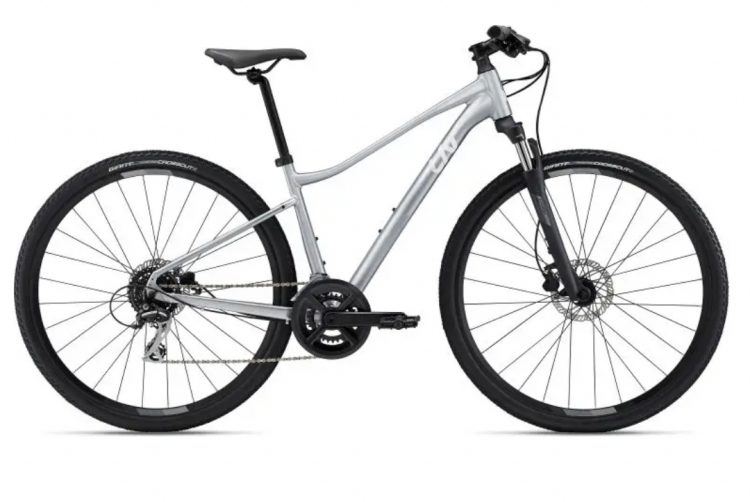 For the almost identically priced 2022 Liv Rove 3 Disc, the Shimano FD-M315 2×8 drivetrain is narrower in terms of options and the Liv Rove 3 has wider 700x42c wheels. For wheel size, the wider wheels perform better on slippery ground or soft woodland. Although the increase in this value is not much.
Moreover, in terms of braking capacity with liquid discs and the 63mm of front travel, there is not much difference between the two. However, after a survey, some consumers will prefer the silver paint of Liv Rove 3, which will look a little more expensive and simple. However, if judged together, both are excellent hybrid bikes that are both economical.
learn more:Liv Rove 4 Disc Review [2022]- Do You Want To Experience The Fun Of Hybrid Riding?
2022 GT Transeo Elite vs Trek Dual Sport 2 Gen 4
Compared to the Trek Dual Sport 2 Gen 4, the 2022 GT Transeo Elite is equipped with a Tektro M275 Hydro Disc in the drivetrain, and the 2×8 drivetrain options are a little less. It is necessary to have sensitive and efficient braking power in high-speed driving or commuting.
In terms of wheel choice, both use big 700x40c tires, and the two are tied in terms of speed of riding or comparison of crushing forces.
However, the GT Transeo Elite has a longer trip for climbing bumpier uphill and some brick and cobblestone terrain that tests the rider's control. This is very beneficial. If you're riding in more uncertain terrain, I think this model might help. Of course, when you look at the rest of the performance, the two are similar in every way.
In case, the above comments are helpful to you, please remember to share the subscription. Have a great day!
Learn More: 2022 GT Transeo Elite Review-Expert In City Shuttle