We use affiliate links and may receive a small commission on purchases.
We were looking for a mountain bike that was mountain (rough) capable, with good damping, and that could also be used for commuting. When we saw the Schwinn Discover Hybrid Bike, it just clicked. This is exactly the type of mountain bike we've been dreaming of. The Hybrid Bike combines the best of mountain biking and commuting, and today we'll be reviewing the Schwinn Discover Hybrid Bike with our audience.
Overall evaluation—————– 4/5 star
Quality———————————- 4/5 star
Comfortable——————————— 5/5 star
Cost————————————— 4/5 star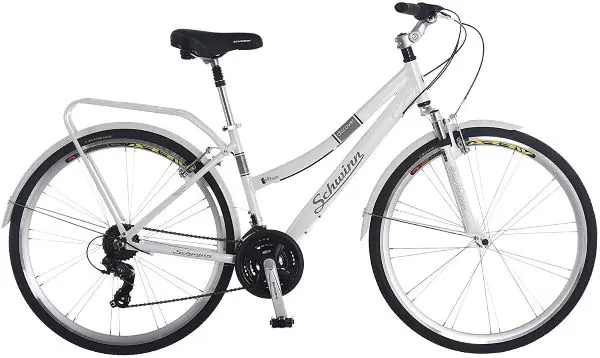 Price range (at the time of writing)
$ 600-$ 800
If the purchase of the bike does not allow us to have a good experience, even for $100, it is a pile of scrap metal. And it will make you feel bad. But Schwinn Discover in this price point of the bike, has no less than the $1000 or more mountain bike ride experience, also more uses. Not only can you use it for daily commuting, but you can also drive it in rugged mountain terrain, and the shock absorbing effect is obvious to all.
Is the Schwinn Discover Hybrid Bike really right for us? (Who is it for?)
First of all, there are two models of this bike, namely Schwinn Discover Hybrid Bike with Small/16-Inch Step-Through Frame in White and Schwinn Discover Hybrid Bike with Medium/18-Inch Step-Over Frame Black.
White is a classic color that brings out a good complexion, and if you put some thought into your outfit, you will be the center of attention on the road. The other one is 18-Inch on the larger side, the color theme is glossy black, the senior gray pattern printed on the Discover, commuting ride more elegant. If worn with poise, is that not a scene from an old movie reenactment?
Is Schwinn best bicycle brands?
There are many great bicycle brands on the market, and it is difficult to definitively say which one is the "best."
Schwinn has received widespread praise for its excellent value, and in my own experience, it certainly lives up to the hype. However, if budget is not a concern and you're looking for even better performance, there are other great brands to consider, such as Trek, Giant, and Cannondale, among others.
So, while Schwinn is a great choice for those seeking quality at an affordable price, for those willing to invest more, there are even more options available.
Height Requirements
According to user reports, the 16-Inch Step-Through Frame in White is suitable for those of you who are 5'5″ or taller. However, each user's preference/comfort level is different. So we are also suggesting that the height, if it is 5'2″ users want to discover a new world, it is okay to try to have it.
And 18-Inch Step-Over Frame Black, for men who are 5'7″ tall. Of course there is also a part of 5'5″ performance is very suitable. Riding experience is the most important, height requirements are used as a reference.
Application
The Schwinn Discover Hybrid Bike is primarily used for commuting to and from work on city roads, but it has the strength of components that make it equally suitable for any road. That's because this bike has the best genes of both a commuter and a mountain bike. Here's our test of the Schwinn Discover's commuting performance and rugged roads.
Commuting Performance
As a hybrid bike with a focus on commuting, the Schwinn Discover Hybrid Bike has excellent commuting road performance.
And it focuses on the corresponding features, with a seat that is not as narrow as a mountain bike and a padded seat. This is something that many users who have purchased mountain bikes have been saying in feedback about the softness of the seat. There is also a seat above the fender, which makes it easy to carry small items and facilitate travel. The City and Trails has a flatter road surface and a 21-speed powertrain, making it easier to ride, especially on uphill sections, where adjusting the gears makes going uphill a breeze. All in all, it's ideal for commuting to work or driving along leisurely bike paths.
Off-road Performance
Although the Schwinn Discover Hybrid Bike allows us to ride comfortably on city roads, as a hybrid bike, we don't just use it for normal commuting, it's also a great experience to go off-road on weekends or in our free time. Of course, we also have to talk about the seat, which is wide and soft, which is a plus in riding comfort, especially on rough roads, such as gravel, cobblestone and mountainous roads. The off-road capability also depends on the cooperation between the suspension and the powertrain. In the test, we found that its suspension is soft, easy to bottom out on big bumps, and has reached the off-road capability of ordinary mountain bikes. In short, the off-road capability is mediocre.
Schwinn Discover Specification
| | |
| --- | --- |
| Brand | Schwinn |
| Size | 16-inch Frame |
| Color | White |
| Frame Material | Aluminum |
| Wheel Size | 28 inches |
| Brake Style | Rim Brakes |
| Number of Speeds | 21 |
| Suspension | Front |
| Item Weight | 35.5 Pounds |
Components
Frame
The all-aluminum frame material makes the Schwinn Discover weigh only 35.5 pounds. One of the benefits of an aluminum frame is that it's lighter than the equivalent steel construction, which can weigh up to 50 pounds at the very least. Aluminum is more expensive than steel, so steel frames are used for mountain bikes under $500.
21-Speed SRAM Drivetrain
SRAM drivetrains are commonly found on models over $1000, and the Schwinn Discover shows that it's worth every penny when it features this component. Besides, SRAM performed well in our real-world experience, shifting quickly and easily with the Shimano TZ-31 rear chainstay. The alloy torque converter when shifting the handle, a crisp dialing sound can be heard when shifting gears. There are no missed shots when shifting, and the simple and durable shifter makes it easier to master shifting skills. In our opinion the powertrain of this bike is labeled as mountain rideable, but most of the users who buy it use it as a road bike.
Schwinn suspension fork
The Schwinn Discover Hybrid Bike has only one suspension fork, and in the previous test, we also felt that its stiffness was soft and not suitable for larger bumps in the road. The front shock fork spring would bottom out when I hit it hard. But with its main commuting function, it can occasionally be ridden in the mountains.
Tires and wheels
The frame height is 18 inches and the tires are 27 inches, not the standard 27.5 inches. The tire model number for both versions is 700C,
The tires are normal mountain bike tires with inner tubes. Although it has the function of off-road, it is much worse than the special mountain bike for off-road. The wheel material is aluminum alloy, which is light enough but strong.
The ride of the tire can only be described as comfortable, and it provides enough traction on city roads.
Promax alloy linear brake
The Schwinn Discover Hybrid Bike features Promax alloy linear brakes on the front and rear. Many people may prefer disc brakes, thinking that disc brakes are more robust and durable, but linear brakes also have unique advantages.
Low maintenance cost, compared to disc brakes, the maintenance cost of linear brakes is relatively low.
Braking effect, because the brake of the linear brake is on the hub, so the braking stroke is shorter, which can make us brake faster.
Low replacement cost, for consumables, this brake brake is also commonly used.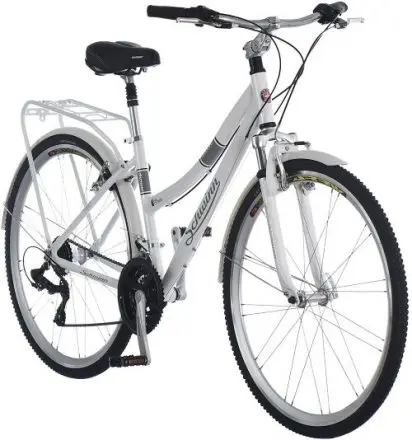 Swept-back upright handlebars
The handlebars of Schwinn Discover Hybrid Bike are adjustable by tightening the screws on the handlebars. It is not only limited to the height of the handlebars, but also the tilt angle of the handlebars can be adjusted, which allows us to have a more comfortable riding position. This includes an upright riding position. If when riding for a long time, a comfortable riding position is good for our body. And Schwinn Discover Hybrid Bike can be exactly the purpose of long-distance riding without getting tired.
Stand
This bike has its own stand, which can be supported independently. It is convenient for resting or parking use.
Rear seat
Men's and women's models are able to install the rear seat, easy to carry belongings, riding can get rid of the comfort of the backpack, if when leisure and friends to go riding together next to the mountains. The advantage of the rear seat is obvious. If you are the mother of a child, the rear seat can also be retrofitted with a child's seat to make it easier for you to take your baby out. Of course the weight limit has to be noted, usually the overall load weight is 280 pounds, it is best not to exceed such weight and damage the life of the bike.
Pros and Cons
Pros
Aluminum body, strong and durable
Comfortable seat, easy to ride
Adjustable handlebars for upright riding and body protection
Mudguard prevents cyclists from getting dirty
Self-supporting, easy to park
Rear seat, carry items
Classic black and white color, not easy to eliminate
Cons
The fender is plastic, in use, if you are not careful, easy to damage
The pedal is also made of plastic, which is fragile
The contact material between the pull gate and the wheel will wear out with frequent use
Frequently Asked Questions
I am a man who is only 52 inches tall. Would this bike be too tall to ride?
Although I don't own this bike, I don't think it would work for a 52″ man. You need a bike with a smaller frame (15″ or less). Some 700C bikes use this smaller frame, but some research is needed. You may be able to ride this bike, but for safety reasons it is best to go with a smaller bike. The key is the height of the top tube. You should be able to straddle the bike without your pants WITHOUT hitting the top tube. For ladies bikes this is not an issue as the top tube is shaped differently.
The weight of Schwinn Discover Hybrid Bike
It is about 35 pounds.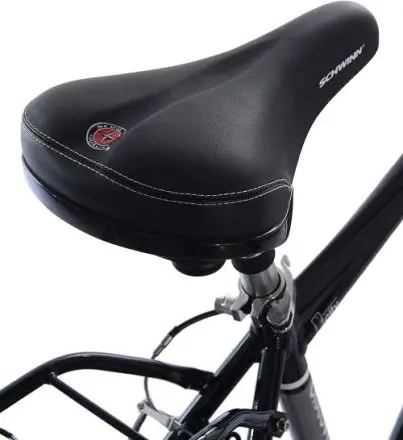 Can you sit straight up like a cruiser? How are the handle bars swept back?
No, you can't sit straight like a cruiser bike. You can adjust the handlebars, but they don't allow you to get into position without bending over. It can be tiring at times, but not enough to give you back pain. I just loosen the side of the handlebars and sit up straight to stretch my back. I also replaced the seat with one that allows for comfortable turning and riding. You are sitting with a slight bend. It's a nice smooth riding bike. No problems with shifting or braking. I really enjoy riding it. Hope this helps everyone.
Has anyone used this bike with a child rear seat in the back? I have a 37 lb preschooler and I want a bike that can support a reclining seat
Yes – I just got my bike this weekend and installed a rear child seat for my son who weighs 35 lbs. It works great. We purchased the Schwinn Deluxe child carrier. The only problem with the carrier is that its footstool is 4 inches too short for my older son, so sometimes his feet hit mine when we pedal.
Summary
In a word, we can tell you that this bicycle is very meaningful for city commuting. While cross-country is not very good, but sometimes cross-country is better than ordinary bicycles. Our favorite function is to Schwinn Discover Hybrid combine the advantages of commuter bike and mountain bike.
There is also a Schwinn Discover hybrid bike, the color and shape are also very fashionable, you can ride in the city, the appearance is good, durable, or it is worth investing in buying quality products.