We use affiliate links and may receive a small commission on purchases.
The Trek 7.2 FX is a comfortable hybrid bike with a rigid fork that debuted in 2006 and was discontinued in 2016.
It's a Trek bike from five years ago. More people are riding the Trek 7.2 FX hybrid bike today. What distinguishes it?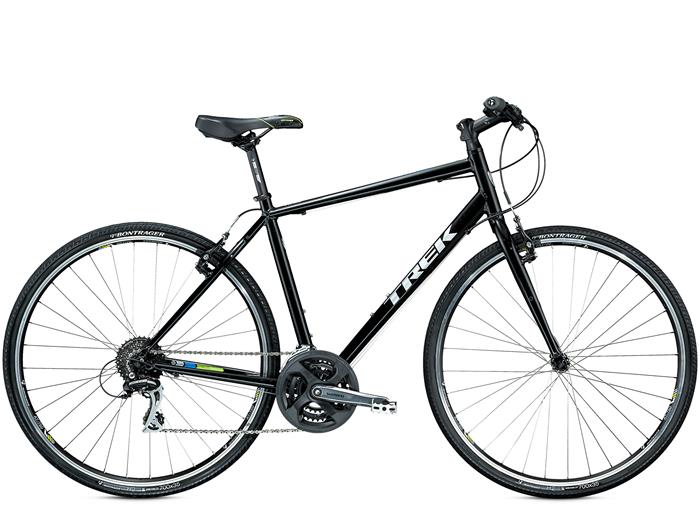 Below, we will go over the Trek 7.2 FX hybrid bike's pros and cons one by one, as well as the differences between the last three versions, its performance in gravel riding and commuting, components, and specifications.
If you're looking to buy the best hybrid bike, we've included some hybrid bike comparisons so you can spend less time deciding.
Alternatively, check out our Top 10 Best Hybrid Bikes Under $500-1000 [Review] in 2021.
Gravel Roads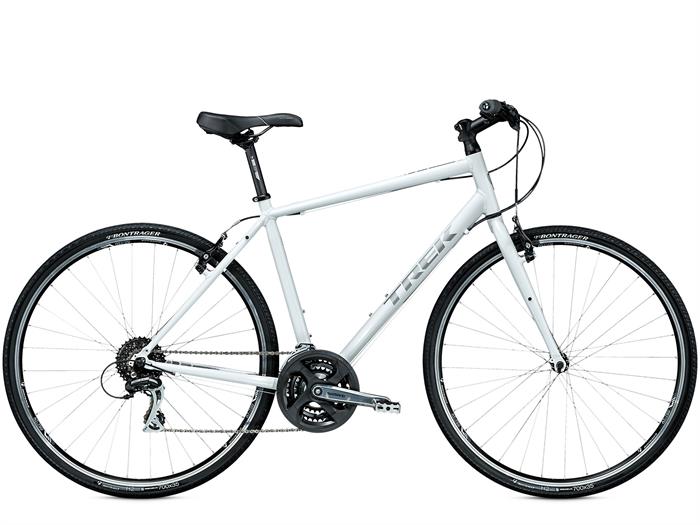 The rigid fork on the Trek 7.2 FX provides a responsive ride. The 7.2 FX 2016 has a high-strength steel fork that is both strong and resistant to deformation.
And the 7.2 FX excels at riding on small gravel. For sit-to-stand riding, the head tube angle is relatively loose.
A quick-ride barrel axle and a slightly swept-back handlebar provide stability and control on fast descents. The puncture-resistant tires settle into angular rock crevices and, surprisingly, have excellent traction when riding over rough gravel terrain.
Off-road, the Trek 7.2 FX isn't as comfortable as a mountain bike, but the excellent climbing performance, lightning-fast response time, and wide 3×8 gear range make for an enjoyable ride.
Overall, it is easy to ride on gravel roads.
Commuting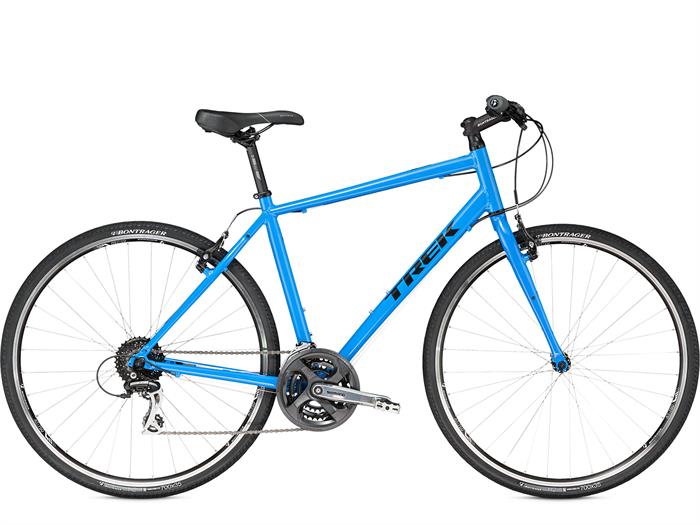 Whether you look at the Trek 7.2 FX from a frame design or comfort standpoint, it's ideal for commuting on the road.
On-road surfaces, the 35c tires are very easy to handle.
However, because its tread is mid-width, it does not ride as fast as the 25c tires. However, it will be superior to a road bike for commuting in wet weather.
There are also mounting holes for fender brackets to keep mud and water off your clothes. The tires on the hybrid bike are less abrasive, making the commuter ride more comfortable.
Components and Specifications
FX Alpha Silver Aluminum Frame (4.7/5)
This bike is one of the more popular Trek hybrid bike frames under $1000 these days, and it's also one of my favorite body frames.
It's both light and strong. It's also compatible with the DuoTrap S, which is great for workouts or commuting rides because you can connect it to an app on your phone to see where you're going or how far you've ridden.
Because of the relatively steep head tube angle, it is very easy to encounter slopes greater than 30° and has a quick response time. The bike also has a water bottle holder mounting position and rack mounting holes. T
he rack's maximum load capacity is 55 pounds. More than your average low-cost hybrid bike.
3X8 drivetrain (4.2/5)
The Trek 7.2 FX comes standard with a Shimano Altus front derailleur and a Shimano Acera M360 rear derailleur, both of which are not high-end components but have lasted well over 2000 miles of riding.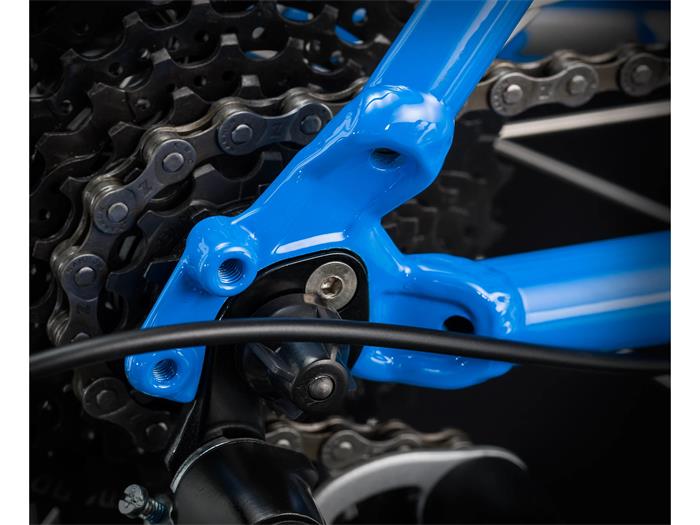 The Wellgo nylon body with alloy cage pedals also leaves us with little to complain about, so the drivetrain on this 7.2 FX is very solid.
Brakes (4.0/5)
The use of mechanical disc brakes or not distinguishes the Trek 7.2 FX and 7.2 FX Disc.
Although I prefer disc brakes, alloy pull line brakes are adequate for commuters. In terms of the braking effect, there isn't much of a difference if the terrain isn't unusual.
The Tektro alloy linear-pull on the Trek 7.2 FX is slightly less effective on long downhill roads, but not on another terrain.
Bontrager Comp Stem (4.5/5)
The Trek 7.2 FX has a slimmer stem, with a 31.8 mm stem commonly used today. The 7.2 FX is 25.4mm, with a 10-degree back sweep.
The handlebar is also equipped with a fixed collection bracket, which makes it easier for casual riders to navigate and connect headphones to hear the music they want to listen to.
Wheels (4.5/5)
It is equipped with 700x35c tires, which are the largest tire size that this bike can accommodate.
If you want to ride at a faster pace. You can replace it with a slim 25c tire, but it comes with an inner tube, so you must also replace the corresponding inner tube when you replace the smaller size.
The Bontrager AT-750 double-wall alloy rims, the foundation of a smooth gravel ride, are resistant to mutation and hard enough to be scratched by gravel.
As a result, it will last you more than ten years.
Benefits of the Trek 7.2 FX
Affordable price
Versatile and lightweight frame
Handlebars for comfortable riding
Tough and durable tires and rims
3X8 drivetrain for a wider gear range
Very fast ride response for smooth riding on gravel
Sturdy and durable pedals
What we don't like about it
A bit stiff seat
Chain is a little noisy
Trek 7.2 FX Specs
| | |
| --- | --- |
| Frame | FX Alpha Silver Aluminum, DuoTrap S compatible, rack & fender mounts |
| Fork | High-tensile steel w/lowrider mounts, CLIX dropouts |
| Wheels | Formula alloy hubs, Bontrager AT-750 alloy rims |
| Front hub | Formula FM21 alloy |
| Rear hub | Formula FM32 alloy |
| Rims | Bontrager AT-750 double-walled alloy |
| Tires | Bontrager H2 Hard-Case Lite w/puncture resistant belt, 700x35c |
| Shifters | Shimano Altus EF51, 8 speed |
| Front derailleur | Shimano Altus |
| Rear derailleur | Shimano Acera M360 |
| Crank | Shimano M131, 48/38/28 w/chainguard |
| Bottom bracket | Sealed cartridge |
| Cassette | Shimano HG31, 11-32, 8 speed |
| Chain | KMC Z7 |
| Pedals | Wellgo nylon body w/alloy cage |
| Saddle | Bontrager SSR |
| Seatpost | Bontrager SSR, 2-bolt head, 27.2mm, 12mm offset |
| Handlebar | Bontrager Low Riser alloy, 25.4mm, 15mm rise |
| Grips | Bontrager Satellite, ergonomic |
| Stem | Bontrager Comp, 25.4mm, 10 degree |
| Headset | VP Slimstak, semi-cartridge bearings, sealed |
| Brakeset | Tektro alloy linear-pull, Shimano Altus levers |
| Weight | 20″ – 11.95 kg / 26.35 lbs |
| Weight limit | This bike has a maximum total weight limit (combined weight of bicycle, rider, and cargo) of 300 pounds (136 kg) |
FAQ
What is Trek 7.2 fx weight?
The body weight of the Trek 7.2 FX with a 20″ frame is 11.95 kg / 26.35 lbs.
What frame sizes are available for the Trek 7.2 FX?
15, 17.5, 20, 22.5, and 25 foot frames.
What body colors are available for the Trek 7.2 FX?
Starry Night Black/Volt Green, Chi Red, Waterloo Blue.
What is the price of the Trek 7.2 FX?
The MSRP was $489.99 back in 2016.
How much is Trek 7.2 FX used price?
As of today most used Trek 7.2 FX's are worth around $150. It will depend on the condition of the bike.
Does the Trek 7.2 FX come in a women's version?
The women's version of the Trek 7.2 FX is the 7.2 FX Women's.
Comparison table
Trek FX 1 Disc vs 7.2 FX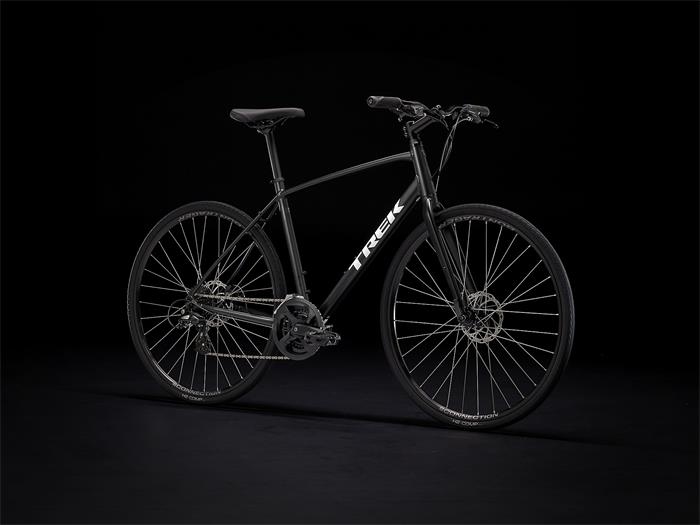 There are many similarities between the Trek 7.2 FX and the Trek FX 1 Disc components. And, as a result, the prices are very similar.
The Alpha Gold Aluminum, 700x35c Bontrager H2 Comp Tire, 3X7 drivetrain, and Tektro MD-U310 mechanical disc Brake come standard with the Trek FX 1 Disc.
The tires are the same size, and both have aluminum frames, but the drivetrain has been shortened, and it now has mechanical disc brakes. This is just a tad less than the Trek 7.2 FX Disc.
However, as a hybrid bike, the Trek FX 1 Disc is the best alternative to the 7.2 FX. On the plus side, the Trek FX 1 Disc has a more streamlined appearance and better internal alignment.
If you're a Trek fan, the Trek FX 1 Disc is a bike you should look into.
Trek Dual Sport 2 vs Trek 7.2 FX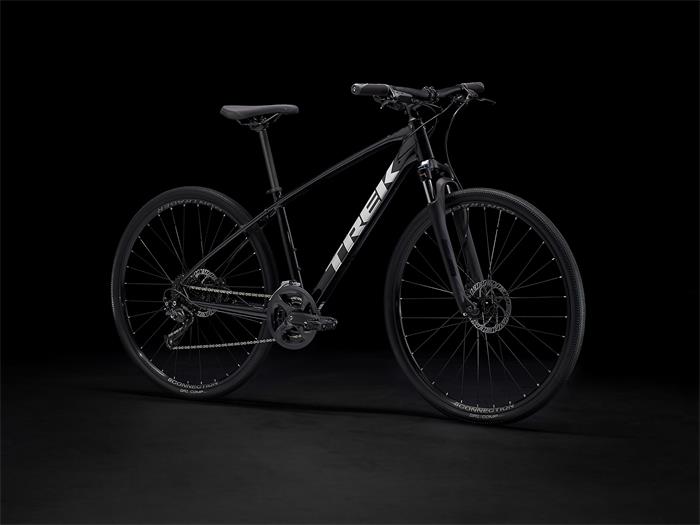 With a sturdy frame and 63mm travel shock fork with a locking feature that allows you to switch freely between flat and rough roads when combined with a mountain bike, the Trek Dual Sport 2 provides a more immersive riding experience.
On rough roads, the ride is more comfortable, and it is identical to the Trek 7.2 FX in that it can be outfitted with fenders, water bottle cages, racks, and phone mounts.
The popular 2X9 drivetrain makes it easy for beginners to shift. It's the superior hybrid bike.
If you live in a hilly area, the Trek Dual Sport 2 hybrid bike is the one to try to make your commute more enjoyable.
Schwinn GTX vs Trek 7.2 FX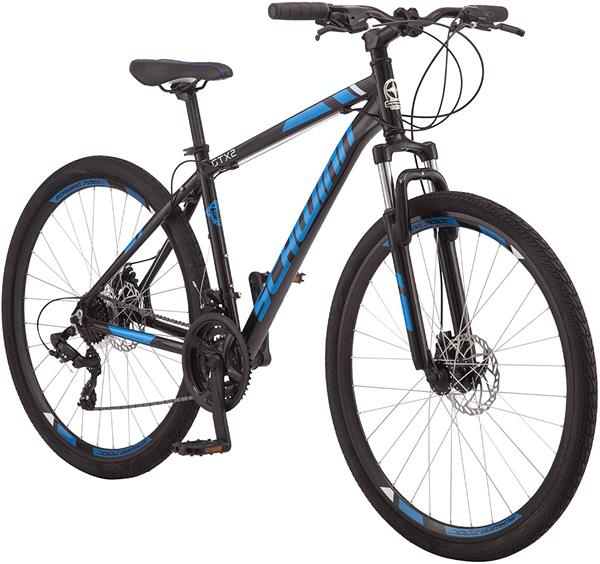 The Schwinn GTX is a hybrid bike that is very comfortable to ride.
Similar in configuration to the Trek 7.2 FX, the Schwinn GTX features an aluminum dual sport frame, versatile riding style, and mechanical disc brakes for mountain riding and easy handling in the face of complex gravel roads.
With a very wide range of colors and wider frame size options, the Schwinn GTX is one of the very best choices if you need a suitable commuter bike for your child.
Learn more: Schwinn GTX Comfort Adult Hybrid Bike Review
Final Verdict (4.5/5)
The Trek 7.2 FX has more early versions, with the most recent model, the 7.2 FX 2016, featuring many modern features. The drivetrain is 3X8 and the body is light. Its lightweight and 3X8 drivetrain make it ideal for commuting or gravel riding. As a result, the Trek 7.2 FX is an excellent hybrid bike. We gave it a final score of 4.5 out of 5 stars.