We use affiliate links and may receive a small commission on purchases.
For those of you who like to challenge yourself and live life with a very positive attitude, we have prepared the TOP 11 Best mountain bikes under $1500, so that you can learn about the best mountain bikes you wish to get in the shortest possible time.
At the beginning of every new year, we always make a lot of good wishes. There are definitely some of you who wish to get the new mountain biking equipment you've always dreamed of in the new year.
Although 2021 is still spent between epidemics, going to crowded places are required to be safe. But going to sparsely populated mountain biking has become safe instead.
There are plenty of best mountain bikes under $1500 to choose from in 2022, but also at the end of the year in 2021, a big wave of mountain bikes went up in price by about 10%, which made our budget of only $1500, quite tight.
That said, the Best Bike Select staff are strict budget controllers, and we helped weed out the options that were over $1500. to pick out the best fit, most durable, and most cost effective bikes.
Learn more best mountain bike under 500 : Top 10 Best Mountain Bike Under $500-[Updated December 2022]
Let's have a quick preview of the TOP 11 best mountain bikes under $1500
No.1 SAVADECK Carbon Fiber Mountain Bike
Best mountain bikes for the money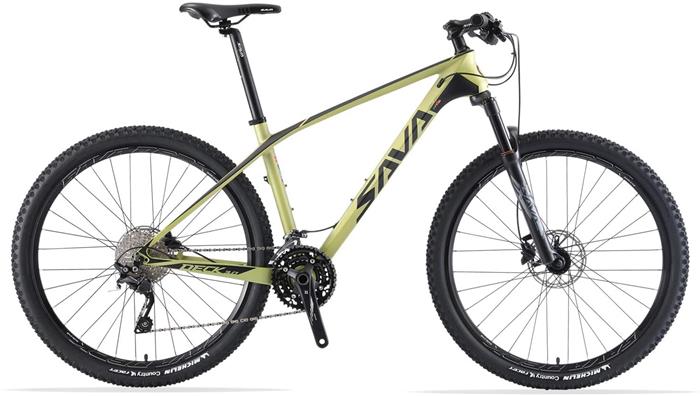 The SAVADECK Carbon Fiber Mountain Bike is the price butcher of this list. The main components will be configured beyond what is imaginable at this price point. A trail mountain bike that has avid trail riders exclaiming that it's worth buying.
First of all, the brand SAVADECK is not well known, maybe because they started very late, the brand created in 2004. But we can call it a good value for money when we look at its configuration.
The SAVADECK Carbon Fiber Mountain Bike has a carbon fiber frame and is light enough to be compared to a race bike. It is also the only carbon fiber frame bike on our list.
In addition to its 3X10 drivetrain, the Shimano M6000 drivetrain is generally used for mid- to high-end road bikes, perhaps because 1X drivetrains are so popular on mountain bikes these days, and there are mixed reviews of such a configuration.
It sounds like a somewhat cumbersome front derailleur that adds weight, but if you're not a race-oriented mountain biker, you'll really like the super-geared configuration that makes this bike versatile.
On top of that are the hydraulic disc brakes and Continental tires, which don't make for a worse riding experience than big brand mountain bikes on tough uphill trails thanks to the excellent performance of the bodywork and drivetrain.
The SAVADECK Carbon Fiber Mountain Bike is for the entry-level rider or cyclist who wants a pro-level bike. Also, the best mountain bike to buy under $1500
Advantages
Disadvantages
Affordable price
Carbon Fiber Frame
3X10 drivetrain
Hydraulic disc shock absorbers
Continental mountain bike tires
Easy to assemble
Cost-effective online service
Harder seat
Weak pedals
No.2 Cannondale Trail 4 SE 29(2021)
Best improved race level mountain bikes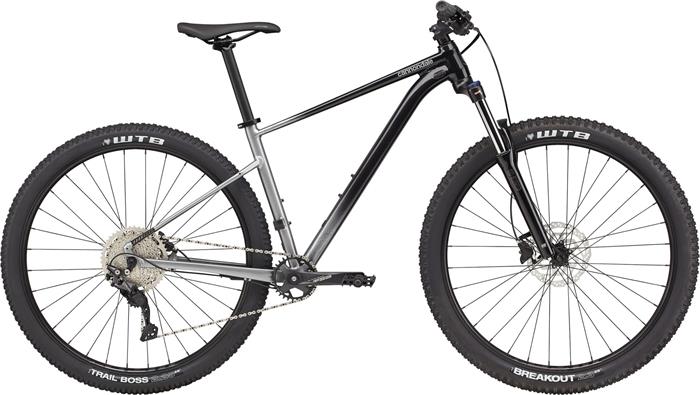 As we all know Cannondale has always been a brand dedicated to producing mid to high end bikes. Among the more competitive best mountain bikes under $1500, the Cannondale Trail 4 SE 29 stands out for its low price and excellent equipment.
The Cannondale Trail 4 is a mountain bike that will raise your game. the Cannondale Trail 4 features a Smartform C2 alloy frame, a full Shimano Deore1X10 drivetrain, hydraulic disc brakes, and a 120mm SR Suntour XCR shock fork.
During endurance races, it's not only the skill of riding on the mountain that is competed, but also the physical arrangement of different terrains. As it will be the size of the front and rear tires designed to allow you to ride fast on smooth and rugged trails kind of.
In the muddy road 2.3 inch front tires, also will not quickly lose traction. Finally on steep hills, the loose head tube angle and soft, tough WTB Trail Boss tires provide reliable traction. These are the tricks that allow you to become proficient in the race lot terrain.
That said, the Cannondale Trail is a little weak on the long sections of hills. Overall, the Cannondale Trail 4 will ignite your passion for cross-country racing and is the perfect mountain bike for the race-ready rider.
No.3 Trek X-Caliber 8
Best Single-Track Mountain Bike
The Trek X-Caliber 8 is a mountain bike designed for long distance riding.
Simple singletrack or technical singletrack are the most common terrain for mountain adventures. More of the models on this list are perfect for singletrack riding.
But what makes the Trek X-Caliber 8 win such a prestigious award is that it is very much optimized for comfort. The 69.5° head tube angle, for example, gives an advantage in slightly sloping singletrack, but it's not particularly steep, so it can be ridden very easily.
The biggest highlight of the Trek X-Caliber 8 is its Shimano Deore 1×12 drivetrain. It is able to provide a very wide range of gears in a rounded single track. And are 29×2.35" (or 27.5×2.35") vacuum tire wheels. The wheels are lighter in weight and riding in technical singletrack will give you a different kind of fast and easy ride that will allow you to ride longer and farther.
Yet it also retains the rack and fender mounts, and the Trek X-Caliber 8 can be transformed into a luxury commuter bike.
Based on the features of the Trek X-Caliber 8, the Trek X-Caliber 8 is suitable for riders who are ready to ride touring or long distance single track rides.
Learn more: Is The Trek X-Caliber 8 Worth Buying? [Trek X-Caliber 8 Review]
No.4 Giant Fathom 2
Best Technical Terrain Mountain Bike
An excellent cross-country mountain bike, the Giant Fathom 2 is a well-made bike.
It's not just for technical singletrack and performs well on steep hills and fast descents.
With its ALUXX SL aluminum frame, Shimano Deore 1X12 drivetrain, fast handling 27.5 wheels, and high capacity tires, the Giant Fathom 2 reduces the difficulty of riding in technical singletrack. It gives the rider more confidence to ride through rough terrain.
Using a frame designed with off-road friendly geometry, and equipped with 2.6″ wide tires, you won't have to worry about the trials of steep hills. The Giant Fathom 2 won't be deterred by soft ground with a little ice in the winter.
If you prefer to descend steep hills quickly, the 130mm shock fork will help you with this task, and while the Giant Crest 34 RCL isn't exactly high-end, it still ranks up there in terms of performance for its price point.
While the 27.5″ tires add to the handling, the design leaves the Giant Fathom 2 with the potential for chain slip on steep climbs. This is a minus point that makes it weaker than a 29″ mountain bike.
On the whole the Giant Fathom 2 is a blend of classic hardtail features and is suitable for riders who love trail riding.
No.5 Boardman MHT 8.9
Best mountain bike for off-road and forest trail riding
This Boardman MHT 8.9 is a mountain bike for woodland trails and cross-country mountain riding.
It allows riders to experience different terrain riding fun in and your price range. The lightweight aluminum frame and very loose head tube angle allow the rider to cruise the trails and rugged trail paths. The surrounding terrain that can be explored is the Boardman MHT 8.9's forte.
The Boardman MHT 8.9 ditches the coil shock fork of the base model for a higher performance 120mm air spring fork that provides excellent stability and traction. Paired with SRAM's full range of 1X 12 drivetrains, this means climbing isn't a chore either.
When you compare the features of the Boardman MHT 8.9 to our other best mountain bikes under $1500, it's a bit sparse. But when you combine that with its $1100 price tag, the Boardman MHT 8.9 is a model well worth considering.
No.6 Salsa Rangefinder SX Eagle 27.5+
Best Track Training Mountain Bike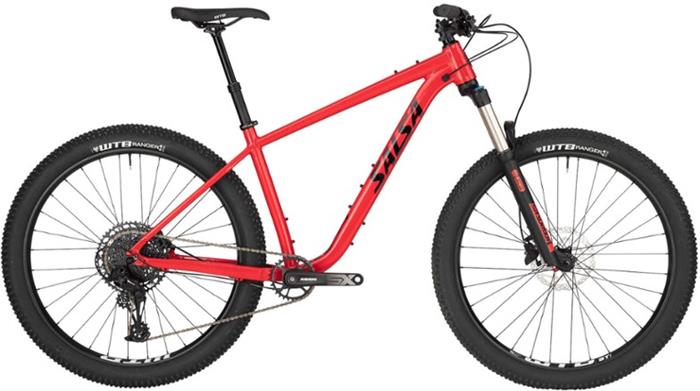 The Salsa Rangefinder SX Eagle 27.5+ is the perfect mountain bike for local singletrack and daily training.
Although the frame design geometry is referenced from race mountain bikes. However, it is still made of 6061 aluminum alloy.
In addition to the trail geometry frame, 120mm shock fork, 27.5 x 2.8 inch tires and a full wide range SRAM SX Eagle 1X12 drivetrain, the Rangefinder is a great bike for the local mountain bike scene.
Despite preferring SRAM's high-end components, we were impressed by the Salsa Rangefinder's drivetrain. 2.8-inch wide tires are built for thrill-seeking in the dirt.
A seatpost that automatically lifts and a shock fork that can be remotely locked in for the fastest possible way to get through the entire ride on fast-changing trail rides.
To train with a high-end race mountain bike is a luxury, but the Salsa Rangefinder allows you to find the best training mountain bike for off-road racing at an affordable price.
No.7 Kona Kahuna
Best Rugged Mountain Bike
The Kona Kahuna is a mountain bike that will be with you for longer. Although its configuration is not particularly outstanding, it has a lot of detailing in the frame design and in the parts that are prone to damage, making the Kona Kahuna more sturdy.
This is due to its 6061 aluminum frame with progressive geometry, a design more suitable for beginners and novices. Also, its Feimen HP-H868B INTERNAL HEADSET, which is easy to disassemble for maintenance, reduces stack height, and the height can be adjusted to provide the rider with the best riding fit.
Also, the tapered headtube design effectively reduces the impact of the ground on the frame when riding off-road, disperses impact, extends the life of the headset bearings, and eliminates brake judder, which helps improve steering performance and better balance.
If drivetrain is your priority, the Kona Kahuna comes with a mid-range 12-speed drivetrain and powerful hydraulic disc brakes. But the 100mm-travel RockShox shock fork is the shortcoming of all the configurations.
All in all the Kona Kahuna is one of the best choices for singletrack or mountain park roads.
No.8 Trek Marlin 8
Best XC Race Mountain Bikes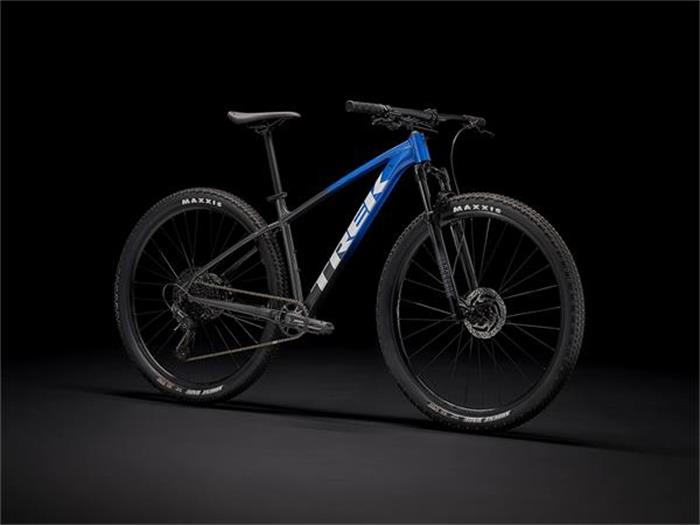 As a well-known and big brand, Trek has a very wide range of classic mountain bikes under its belt. For the Trek Marlin 8, we think it has the component configuration and performance to compete in regional trail races.
The Trek Marlin 8 still features an Alpha Silver Aluminium frame with clean internal alignment and a steeper head tube angle. And the popular 1X12 speed wide range drivetrain.
In addition, the smooth, lightweight RockShox air fork, while only 100mm travel, is perfectly adequate for XC terrain filled with gravel and roots. And the tubeless tires help make for fast riding on rough trails. Of course the more aggressive off-road terrain is somewhat dwarfed.
Remarkably, the Trek Marlin 8 is also a stylish commuter bike, as it has a sleek paint look and The Bontrager handlebar allows you to easily put in a phone mount or searchlight.
All of these features make the Trek Marlin 8 the perfect choice for new riders who want a fast off-road hardtail.
No.9 Diamondback Sync'r 27.5
Best Downhill Cross Country Mountain Bike
It"s the Diamondback Sync'r 27.5 is a mountain bike for aggressive trail riding. That's due to its 6061-T6 aluminum hardtail frame with progressive geometry and a precision-enhanced Boost barrel axle for versatile trail riding performance.
We really like this barrel axle for charging down steep hills without worrying about dropping a wheel. With its SRAM SX Eagle 1×12 drivetrain, it's a commonplace setup at this price point.
However, the Diamondback Sync'r 27.5 is equipped with a 40mm travel RockShox Recon RL shock fork that can handle medium to high impact. And there are SRAM Level T hydraulic brakes to provide powerful braking power within reach.
As you know it's a 27.5-inch tire, which is a very friendly tire size for medium or small riders, and with its 2.8-inch wide tires, it'll get you up steep and loose uphill without a hitch.
That said, we still have some opinions about its tires, Vee's tires, which aren't as tough and durable as the WTB. And the bike is not a vacuum tire, which adds weight to the body.
All in all, the Diamondback Sync'r 27.5 will have some luxuries if you are a beginner who is just getting into trail riding. Because, the Diamondback Sync'r 27.5 is for the aggressive trail rider.
No.10 GT Avalanche Elite Hardtail Bike (2021)
Best Affordable Mountain Bike
The GT Avalanche is a great mountain bike for cross-country fitness classes, fast trail rides, and riding at your local bike park.
Considering its asking price, it's also quite understandable that it has some downgrades in components compared to the aforementioned mountain bikes. For example, it uses a Shimano Deore 1×11 speed drivetrain. This configuration is more suitable for beginners.
The 120mm travel SR Suntour coil shock fork is a great tool for taming trails, with hydraulic lockout and automatic rebound adjustment for a more confident rider.
Other components include GT's Triple Triangle aluminum frame, hydraulic disc brakes and Vittoria Barzo tires. 27.5/29×2.25″ narrower tires aren't ideal for serious trail riding, but technical singletrack and bike park riding is still smooth.
All in all the GT Avalanche is suitable for mountain biking on trails or technically simple trail riding. If you're on a budget, the GT Avalanche is your most affordable option.
No.11 Cube Analog Hardtail Bike (2022)
Best Off-Road Adventure Hardtail Mountain Bike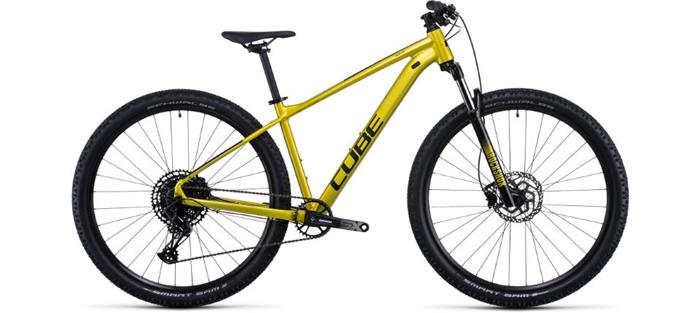 The Cube Analog is a strong competitor to the GT Avalanche, to be exact. But the Cube Analog has been upgraded accordingly in the drivetrain, making it $129 more expensive.
However, the Cube Analog uses the more effective RockShox suspension on the shock fork, which has 20mm less travel. But the damping effect is similar.
When it comes to the Cube Analog for adventure off-road, it doesn't make you feel particularly aggressive when riding in the mountains in the location. And it's a SRAM Eagle 1×12 speed drivetrain, which allows the rider to ride in any terrain without feeling the lack of a wide enough gear range.
It has a modern enduro geometry aluminum frame that can support technical singletrack and rugged trail riding.
Although the Cube Analog doesn't have a lot of standout features, this modern hardtail mountain bike is ready for off-road adventures, epic all-mountain adventures, and adrenaline-pumping trail rides in your local forest or trail center.
If you still want to know the best hardtail mtb under 1500 review, please leave us a message, we will bring more content.