We use affiliate links and may receive a small commission on purchases.
We've selected 15 best road cycling shoes for your reference.
Cycling shoes come in a variety of styles, and each pair has different features that are used to cope with different types of riding. And a pair of suitable riding shoes is the key to bringing quality riding experience and fun.
If you are now worried about how to choose the right road cycling shoes, then congratulations. Here we have listed some of the best cycling shoes on the market today, they come in a variety of prices and styles, and there is always one for you. If our article is helpful to you, please follow our website.
Recommended List
1. Fizik VENTO INFINITO CARBON 2
Price: $369.89
Weight: 227 grams (42 yards – 1/2 pair)
Size: 36-48 (37 to 47 also available in half sizes)
What we like about it: The impressive carbon fiber design.
What we don't like about it: It can get stuck when tying your shoes.
Fizik's products always get a lot of attention and this VENTO INFINITO CARBON 2 is impressive upon its release. The new carbon fiber sole effectively reduces overall weight and improves stiffness. The Microtex upper is soft and sturdy, so you'll always be comfortable while wearing it. This pair of shoes provide the precise, locked-in feel that racers need.
While the updated VENTO INFINITO CARBON 2 is in the top tier of performance, one thing that surprised us is the way it has been redesigned to fold the upper. This can make it so that sometimes when you try to lace up the shoes, it gets stuck. Of course, you just have to be aware of it when putting the shoes on. This little issue didn't stop me from taking it on track.
2. Shimano SH-RC9 S-Phyre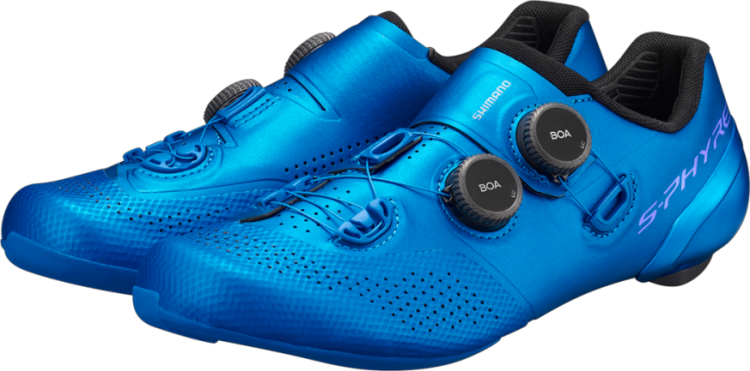 Price: $430
Weight: 497g
Sole: carbon fiber
What we like about it: The cool look and colors.
What we don't like about it: People who are not used to hard shoes need to adapt.
We're sure everyone who sees this Shimano SH-RC9 S-Phyre can't resist its cool look. 360° wraparound upper creates a perfect fit for all riders. And the heel cup with anti-torsional stability ensures optimal foot positioning for intense acceleration and fast-paced riding.
In terms of materials, the same carbon fiber sole is used, with enough stiffness to allow it to handle more aggressive riding. And the one-piece seamless sole structure takes the fit and stability to a new level.
These different features construct this pair of top-of-the-line road shoes, and while it has great performance, it also gives up a few things. That is, for riders who are not used to hard shoes, long rides can make your feet a bit sore. Of course, it will only take you a little time to get used to it, and it will give you better results.
3. Specialized S-Works Ares
Price: $425
Weight: 220 grams (1/2 pair, 42 yards)
Size: 36-49
What we like about it: Ergonomic design with stability.
What we didn't like about it: It was a little difficult to slide on.
While this Specialized S-Works Ares is no lighter or more breathable than its counterpart, it is the most solid of all the shoes we tested. It is more comfortable and has a higher output frequency, thanks to the ergonomic design. The longitudinal arch, inner flip, wedge, and personalized insole with metatarsal buttons ensure good circulation of the toes, allowing you to be more efficient in your output.
In addition, it has excellent great slip resistance. The heel pedal is replaceable and internally recessed screws can ensure your riding safety.
The only complaint we had though was that we found it harder than usual to slide them on, which made it a bit of a struggle to wear them. But compared to the rest of the performance, it's an excellent pair of cycling shoes.
4. DMT KR3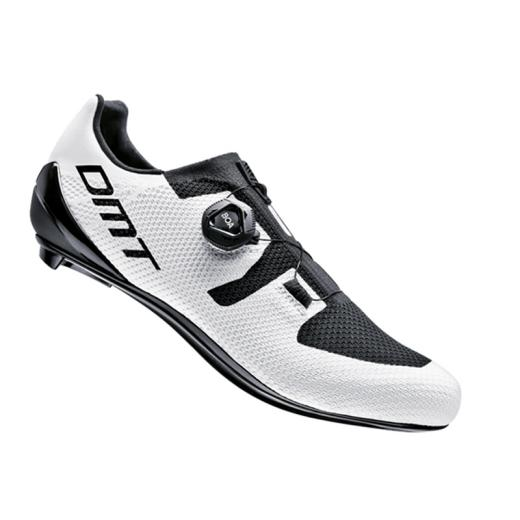 Price: $278.99
Weight: 225g
Size: 34-44
What we like about it: excellent elasticity, and incredible comfort.
What we don't like about it: It doesn't perform very well in humid environments.
If you know anything about cycling shoes, then you'll be praising DMT for their technical innovations. An innovator in fully knitted uppers, the DMT KR3 combines it with the BOA® Fit System and an inflatable carbon fiber outsole for a very lightweight experience. In addition to having the ultimate comfort, it also has excellent flexibility, and every rider who has worn it has had to admire the fit.
While focusing on comfort, the carbon fiber sole also provides excellent stability. The stiff sole allows it to withstand more aggressive riding.
It is worth mentioning that it is a pair of good shoes for summer riding, with excellent breathability that allows it to be well-ventilated and keeps the inside of the shoes dry at all times. However, since it is a fully knitted upper, it does not perform well in wet conditions. Therefore we don't recommend using it in rain or snow.
5. Sidi Wire 2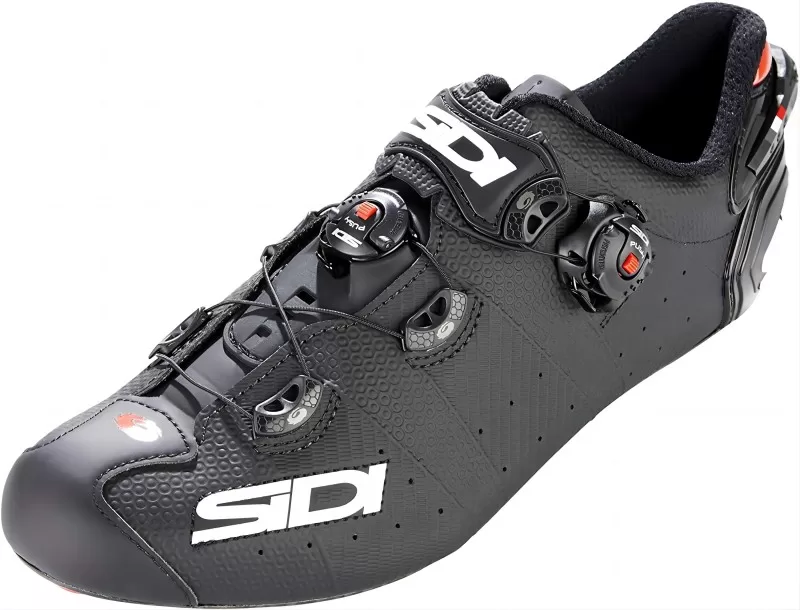 Price: $549.99
Weight: 330g (1/2 pair, 45.5 yards)
Size: 38-48
What we like about it: You can see Sidi's classic design in it.
What we don't like about it: There is still room for improvement in terms of weight.
The Sidi has been designed to stick with its soft instep closure system, which does a great job of eliminating the need for high instep extenders. Combined with the soft EVA padding, it allows you to evenly distribute pressure across the instep area. And, it has an adjustable heel mount that improves your foot's fit by adjusting it so that it won't slip out even on steep climbs or sprints.
In addition, this pair of Sidi Wire 2 also offers a large number of interchangeable parts, so you can completely choose according to your needs.
Of course, the excellent setup gives it excellent performance in addition to the same weight implications. If you are looking for the ultimate speed, then these configurations will become a liability to your ride. But in everyday riding, these will bring a more comfortable ride.
6. Giro Imperial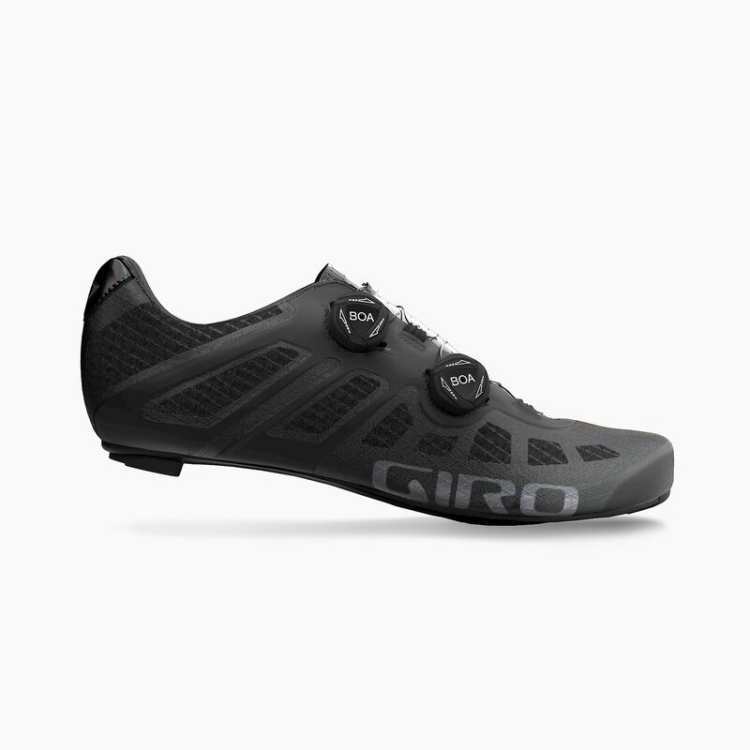 Price: $425
Weight: 215g (1/2 pair, 42 yards)
Size: 39-48
What we like about it: Minimalist design of fully functional cycling shoes.
What we don't like about it: Maybe it will not fit with the heel lift.
The minimalist design is the biggest highlight of the Giro Imperial. Unlike the previous Sidi Wire 2, which was able to change a lot of parts, the Giro Imperial features a one-piece upper with a streamlined design that allows you to see almost no other settings on the surface. The light weight makes it easier for you to ride, and the structural design that conforms to the airflow is a comfortable ride.
The Giro Imperial also comes with an adjustable arch support that you can adjust to increase the fit of the foot and reduce numbness and cramping while riding.
One thing to keep in mind is that riders expect a more comfortable pair of riding shoes, but the slightly higher heel is not something that all riders can adjust to. All you need to be prepared for when you choose it and take the time to get used to it.
7. Giro Regime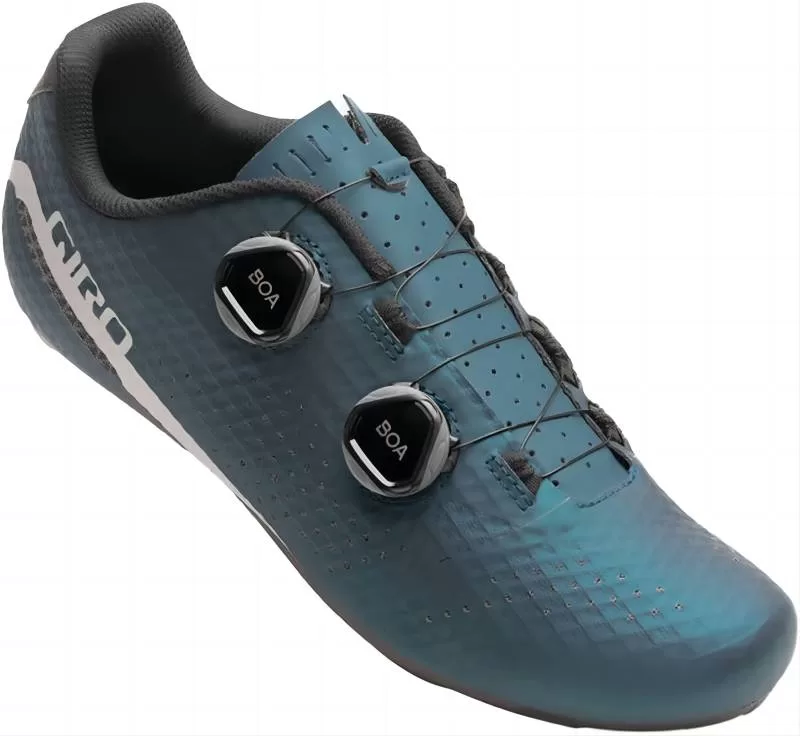 Price: $239.95
Weight: 265g (1/2 pair, 42 yards)
Size: 39-50
What we like about it: It's versatile and can handle long distances and rough roads.
What we don't like about it: The front side of the shoe is a little narrow.
A big part of what we love about the Giro is that it delivers the ultimate in comfort. Designed with the same ultra-light monofilament mesh Synchwire upper as the previous model, it has a fit that exceeds your expectations, allowing you to feel even pressure distribution as soon as you put it on, bringing efficiency to your pedaling.
What's more, the advanced carbon fiber composite plate ensures efficient power transmission, allowing you to cope well even in the face of long rides.
However, in our actual tests, we found that the front side of these riding shoes is a bit narrower than other shoes. This isn't good news for some riders with larger feet. Of course, you don't have to worry too much, because we have other options.
8. Lake CX403
Price: $549.99
Weight: 340g (1/2 pair, 44.5 yards)
Size: 39-50 (half size available)
What we like about it: The use of high-tech technology.
What we don't like about it: The high price.
It may be hard to imagine that so much technology could be applied to a pair of cycling shoes, but the Lake CX403 does. First of all, it is designed with a narrower last than race shoes, slimming the fit while specifically dealing with high cadence riding. Secondly, it offers a 3-hole or custom cleats pattern to increase your pedaling efficiency.
Moreover, the Klite Kangaroo leather and Carbitex OmniFlex carbon stabilizer are used to help keep the foot stable, control stretch, and increase power transfer. These combine in a way that makes it more like custom riding shoes.
Of course, with great performance, you need to pay more. The high price makes many riders hesitate, but we think it's all worth it when you enjoy the ultimate experience it brings.
9. Bont Vaypor S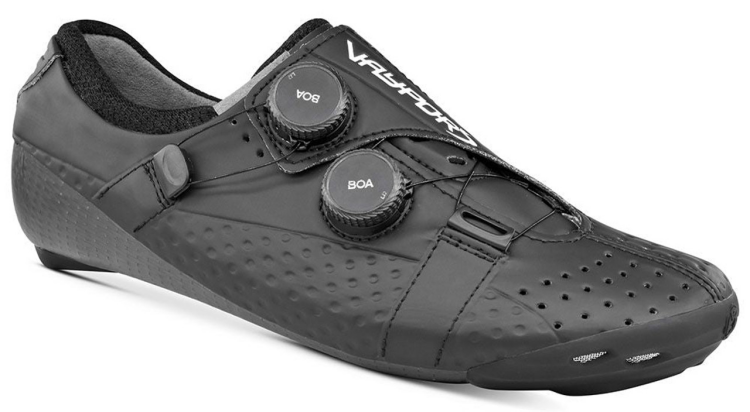 Price: $415
Weight: 230g (1/2 pair, 42 yards)
Size: 36-43
What we like about it: Thermoplastic construction.
What we don't like about it: Slow logistics time.
The new Bont Vaypor S is designed to deliver better riding performance. It fits your foot like it was custom-made for you, with an unbeatable fit. Thanks to its proprietary thermoforming technology, you can simply pop the shoes into your home oven and get custom-fit shoes.
In addition, the comfortable faux suede lining with lightweight padding makes it very breathable. It is well-ventilated in all conditions to keep your feet dry.
Whenever we praise the excellent performance of Bont Vaypor S, we have to complain that their delivery logistics are slow. From order to delivery it even takes 10 to 12 weeks. All good things indeed need to wait, but I guess they are worth it.
10. Liv Macha Comp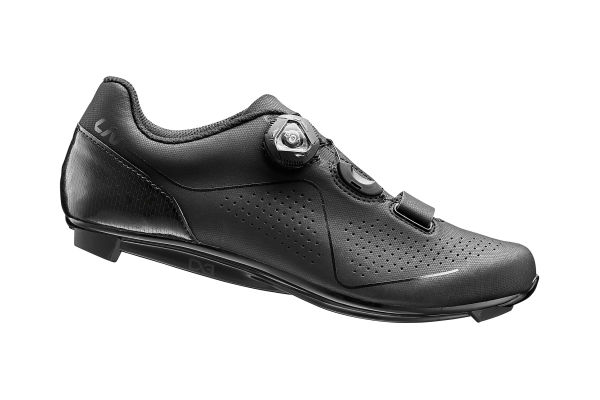 Price: $244.95
Material: 30% glass fiber, 70% nylon
Size: 37-43
What we like about it: A narrow fit with women in mind.
What we don't like about it: It's too understated in color as a female style.
As a brand dedicated to women, Liv has always had great reviews, and this pair of Liv Macha Comp cycling shoes fully reflect its consideration for women. A narrower midfoot and smaller heel are used in the shape. The design of these narrow shoes not only takes care of the small feet of women but is also more beautiful.
At the same time, the Liv Macha Comp combines a stiff pedal platform with torsional flex to keep you comfortable enough to ride and make full use of your power to increase speed.
In terms of design, it is undoubtedly successful. But for female riders, the single black style does not satisfy their needs. The female riders around me tell me that they want more beautiful colors.
11. Fizik Vento Stabilita Carbon
Price: €400
Weight: 227 grams (42 yards 1/2 pair)
Size: 36-48
What we like about it: Dynamic Arch Support 2.0.
What we don't like about it: It's not suitable for winter riding.
These Vento Stabilita Carbon cycling shoes are also produced by Fizik and use the same carbon fiber in their materials. Combined with the comfortable mesh construction, the shoe's weight is greatly reduced. At the same time, the wide vents and deep internal channels provide cooling airflow and subtly increase temperature control.
The most important thing is its dynamic arch support 2.0 design. Adjustable arch support allows different riders to get enough support for efficient power transfer and enough comfort.
The clever design allows the Vento Stabilita Carbon to handle different environments. One thing to note, however, is that it doesn't keep you warm during the winter months. The excellent breathability makes it lack a certain amount of insulation, so it is more suitable for riding to your heart's content in the summer.
12. Sidi Shot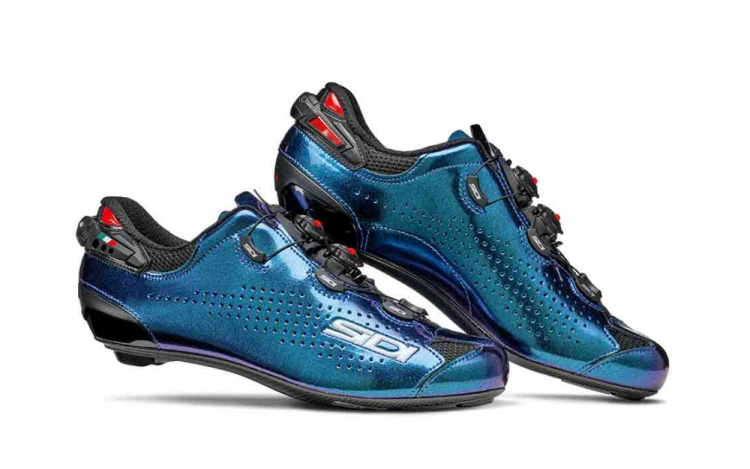 Price: $549
Material: carbon fiber
Size: 38-48
What we like about it: The classic Italian style.
What we don't like about it: The high-end configuration brings weight pressure.
As a well-known brand, the appeal of the Sidi Shot is undeniable. You can see the classic Italian style on these cycling shoes. The fit remains the same with the adjustable heel fixings, each side can be adjusted independently for a perfect fit.
Of course, to eliminate the pressure zone on the back of the foot, it uses the TECNO-3 PUSH FLEX design. Even if you ride with different body types, it will not create an overpressure area, making your ride easier.
It's worth mentioning that this Sidi Shot has the same problem of weight pressure from these subtle designs. This is not good news for those who like lightweight cycling shoes. Of course, if you don't have too many requirements for weight, then it's an excellent pair of riding shoes.
13. Sidi Alba 2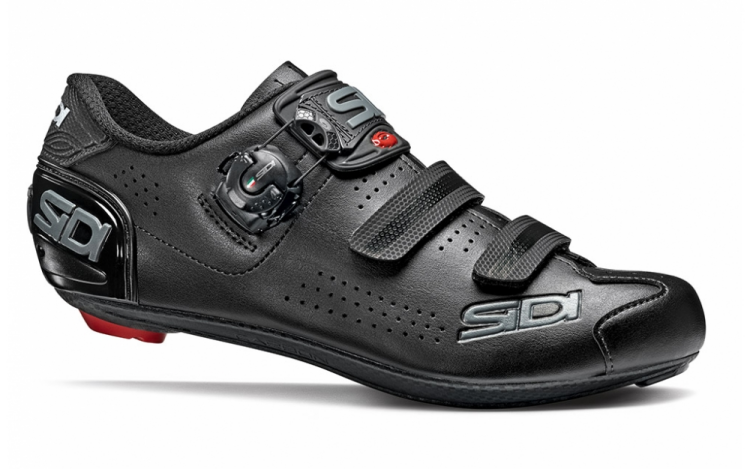 Price: $240
Material: carbon fiber
Size: 36-50
What we like about it: Cheap price paired with great performance.
What we don't like about it: The use of Velcro is not as strong as the dial.
This pair of cycling shoes are also made by Sidi, and the Sidi Alba 2 manages to stand out from the crowd with its excellent Italian craftsmanship and fairly inexpensive price. Like the two shoes above, it also has a soft instep closure system that evenly distributes pressure in the instep area, allowing you to have a more comfortable ride.
What surprised us was the use of a carbon fiber sole, which is far more than expected for this price point. It also has extra resistance to wear and tear, so you can use it for a longer time without worrying about damage. As long as you do not deliberately damage it.
But what makes us complain is that this pair of cycling shoes are fixed using Velcro. Unlike the first two dial fixings, it is slightly less effective. But this is also for this price comprehensive consideration, after all, you can no longer ask it more.
14. Louis Garneau Course Air Lite XZ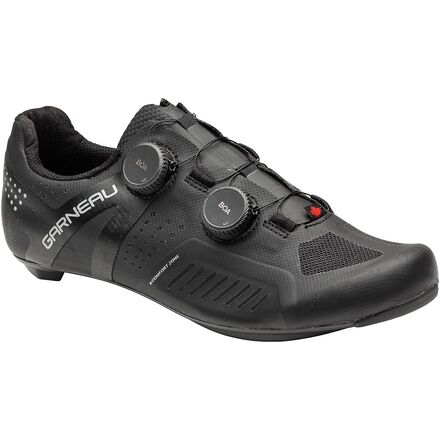 Price: $300
Material: carbon fiber
Size: 41-48
What we like about it: Excellent comfort.
What we don't like about it: The shape is designed to be narrow.
This Louis Garneau Course Air Lite XZ is an improved version of the Course Air Lite II. It has been designed with the choice of more comfortable performance and increased arch support, making it adjustable and adaptable. Also, the use of high-density microfiber improves breathability and allows you to keep your feet dry at all times while riding.
Of course, the stiff sole is also an upgrade for it. The higher stiffness brings more efficient pedaling and makes your ride faster.
The excellent quality and excellent performance became the reason we chose it, but there is one thing you need to pay attention to. In terms of fit, men's cycling shoes, it is a bit on the narrow side, which makes them not suitable for all feet. If you have large feet, then you need to be aware that it may cause you discomfort. But there is no denying that it is a great pair of cycling shoes.
15. Shimano RC3 Wide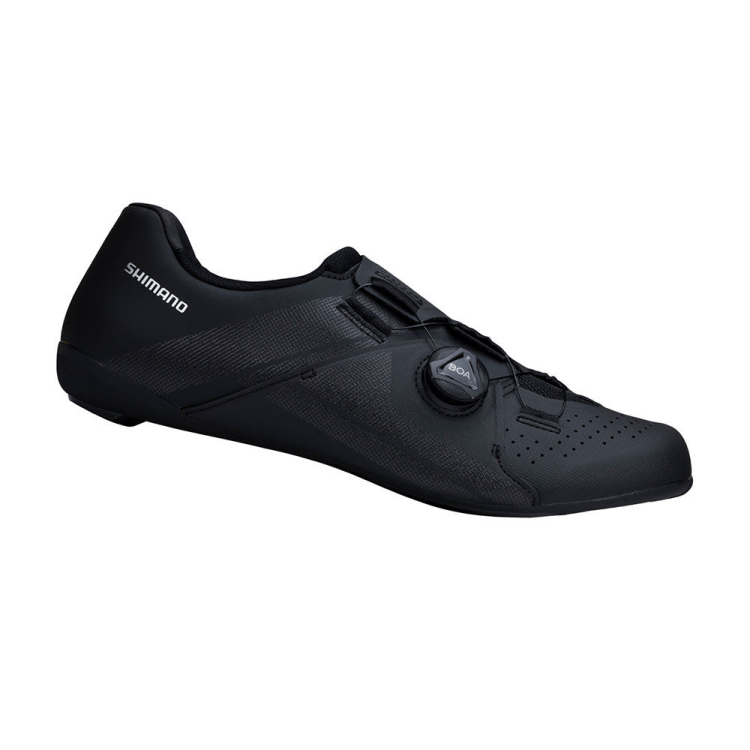 Price: $125
Size: 40-48
Weight: 476g (41 yards 1/2 pair)
What we like about it: Wider design at a mind-blowing price.
What we don't like about it: the soles are not stiff enough.
As the name suggests, the Shimano RC3 Wide is one of the few wide versions of low-cost cycling shoes on our list. It's also the reason we chose it for its mind-blowing price. The wider shape means a more comfortable experience, and with an integrated seamless midsole and glass-reinforced nylon sole, you get a great fit and comfort as soon as you put it on. Durability is also an advantage, as the perforated upper design gives it long-lasting breathability and longer service life.
Of course, the cheap price must be sacrificed in some aspects, and the lack of stiffness of the sole is its shortcoming. Although it ensures enough comfort, let your pedaling is not as efficient as the carbon fiber sole. If it is willing to make an upgrade for this, I am willing to pay more money even.
Road cycling shoes buying guide
Road cycling shoes
There are a few things you must know about road cycling shoes. First of all the soles of road shoes are usually much stiffer. This is why you see that most soles are made of carbon fiber. This is to maximize pedaling efficiency and increase the experience on speed. It is also important to be smoother at the sole, again to reduce weight as much as possible.
Apart from that, the uppers are mostly made of soft leather or comfortable synthetic materials. This is to provide a better fit and make you feel more comfortable when you wear them. Of course, you also see knitted uppers in the list, which are becoming popular due to their excellent breathability.
In terms of configuration, most use triangle or three-bolt cleat mounting patterns. This is compatible with common road pedal systems, so you don't have to worry about buying one that doesn't match your bike.
Materials for cycling shoes
If you are careful enough, then you will find that most of the cycling shoes on the list are made of carbon fiber. This material is usually only found in high-end cycling shoes. It is popular for its ability to reduce overall weight in addition to being stiff enough. It is an ideal material for making the soles of cycling shoes, but the disadvantage is the high cost.
Of course, considering the cost factor, some entry-level cycling shoes are generally made of nylon or fiberglass composite. While the price is cheap enough, it is more flexible and comfortable. However, in the process of using it, you will feel that it is not as efficient in pedaling as the carbon fiber sole. Therefore, when your budget is not very high, the nylon material sole is also a good choice.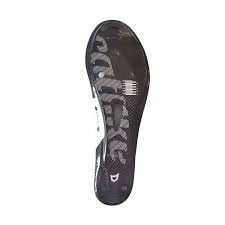 Men's cycling shoes and women's cycling shoes
Although sometimes we divide cycling shoes into different styles for men and women, most of the time there is not much difference between the two. Generally speaking, men's cycling shoes are more on the larger side of the scale, while women's cycling shoes are relatively smaller, which takes into account the different body configurations of men and women.
At the same time in the shape design, women's cycling shoes are more narrow, which is to take care of the characteristics of most women's small feet, when wearing a more snug foot. The men's cycling shoes are wider and more comfortable to wear.
And in terms of color selection, manufacturers usually design women's cycling shoes to be more beautiful and more in line with women's aesthetics. Men's cycling shoes, on the other hand, don't think too much about it, hell, they only focus on performance.
Dials
If you are a novice rider, you may be wondering what the disc on the surface of your riding shoes is for. I'll tell you it's a system with a hub that tightens a cable when you rotate it. It's the equivalent of your shoelaces, making the shoes fit your foot better. Unlike the shoes you wear every day, it doesn't have exposed laces, but rather a dial to loosen and tighten. This is to prevent the exposed laces from suddenly loosening while riding and then winding up in the gears, posing a safety hazard.
The dial system is a good solution to this problem. They are easy to use and quick to adjust and ensure that they do not loosen when tightened. But they also have the risk of jamming but do not worry, it is easy to repair or replace.
FAQs
Is the harder sole better?
A stiff sole will indeed bring more efficient pedaling, but that doesn't mean that a stiffer sole is the best. When the sole is too stiff, it will bring enough power transmission, but will correspondingly reduce riding comfort. Too hard material will make it inflexible and bring soreness when in contact with your feet for long rides.
Of course, that doesn't mean you need to deliberately choose a soft sole either. A balance of stiffness and comfort is what's needed. Stiffness is important, but it's not everything.
How to choose the right-fitting cycling shoes?
In addition to being used exclusively for cycling, cycling shoes need to focus on suitability as well as shoes worn daily. So how do you choose a pair of cycling shoes that fit well?
First off, you need to know the shapes of the shoes lasts of different brands. Based on their design philosophy, it is very important to find the shape that meets your requirements. Secondly, and most importantly, you'd better try them on for real. This is because you will only know if the fit is right after you try it on yourself. In addition, you need to find out if the item has a good return service because you can still return it if it doesn't fit, instead of just taking it.
Should the toes touch the front of the shoe?
Yes, when you are wearing cycling shoes, you need to get your toes in contact with the front of the shoe as much as possible. You want to make sure that you stretch your feet as much as you can without pressure on your toes, which will allow you to be more comfortable while riding.
Of course, this doesn't mean you need to buy a larger size of riding shoes, just make sure your foot doesn't slide up and down in the shoes.
Do I need to wear cycling socks after wearing cycling shoes?
The answer is yes. Even the most comfortable riding shoes can't guarantee that long rides won't damage your feet. And that's where cycling socks can be a good solution to the problem. A thick enough cycling sock not only prevents blisters from friction but also plays a role in keeping your feet warm.
When you are riding, the presence of cycling socks can effectively reduce friction and keep your feet warm. It is also sweat-absorbing, so you don't have to worry about sweating when riding in summer.
Conclusion
In this test, we have listed the best road cycling shoes currently available. Whether it's the price, material, or even the qualities, we have done a serious review and detailed introduction, hope it will help you. By the way, if you want to go riding in well-known terrain or special terrain, you can book your accommodation on IHG Hotels & Resorts. It is not only rich in variety but also easy to operate.
Finally, if you like our content, feel free to share it with your friends! If our content is helpful to you, you can click the email subscribe button below! Thanks for your support!