We use affiliate links and may receive a small commission on purchases.
When we start pedaling a bike, we all know that we need to put our feet on the pedals. The force of the pedal is used to give the bike forward momentum.
However, we know that many original bikes will not be equipped with pedals. So we have to choose to buy the right bike pedals ourselves.
So, what do we consider when choosing bike pedals?
First, you need to consider the type of riding you do. Are you more focused on road riding, or do you prefer mountain riding? Secondly, what type of pedals do you want?
If you prefer to take on the rough and tumble of mountain biking, then in this article you'll learn "how to choose the right mountain bike pedals". We'll give you some advice on how to choose pedals for your mountain bike.
Why should I go for the right bike pedals?
Many novice cyclists know that when choosing a mountain bike, they are going to pay attention to its braking system, drivetrain, tires, shock absorption, etc. So they don't pay much attention to the other components of the bike.
As a mature and seasoned rider, I must say that bike pedals have a tough job to do, especially for beginners. They are one of the three points of contact between the body and the bike (hip and saddle, hand and handlebar, foot and pedal), so for the feet, the pedals need to provide the right contact surface.
The bottom line is that many bikes don't come with pedals for you.
In short, if we want to achieve satisfactory results in cycling, we need to make the bike fit our riding habits, and the pedals of the bike are the main focus of our attention.
At this moment, we start with pedals and analyze how to go about choosing the right mountain bike pedals for you.
To learn more about component selection, stay tuned with us.
What do we need to do to choose the right pedals for our mountain bikes?
Understanding the classification of bike pedals
1. Flat pedal
2. Clipless pedal
What is a flat pedal?
It will have a more stable, wider surface to support your feet and won't pick at your shoes.
Practices and perceptions.
In my riding experience, I have seen more flat pedals. These pedals are used a lot on bikes, so I would be a little more familiar with them. And my first bike had these flat pedals, and they helped me get the hang of riding faster. So it's easier maneuverability and freedom of movement for both feet will be more friendly to newbies.
What is a clipless pedal?
The name of this type of pedal may confuse you a bit, but it is a snap area that snaps into the sole of the shoe and holds your foot in a place that way. Usually, clipless pedals have either a 3-hole or 2-hole design of non-slip spikes.
Practices and Perceptions.
When I get bored while riding on the road, I want to challenge the steep and rugged off-road trails and experience the thrill of the mountains. So while I climbed and descended on my flat pedals as always, they strained me a bit and would even let my feet fall out.
However, when I switched to this clipless pedal, it not only improved my pedaling efficiency but also locked my foot firmly on the pedal. Even in the face of a more exaggerated drop, you don't have to worry about your foot leaving the pedal.
So when it comes to challenging technical routes, maybe this clipless pedal will be more suitable.
However, please make sure that the pedal and the shoe can be locked together in a good fit before choosing the pedal.
Flat pedal and clipless pedal advantages and disadvantages
Advantages of choosing a flat pedal
Newcomers can adapt more easily and quickly
Allow your feet to move more freely on the pedals
In the case of unavoidable situations, you can flexibly correct through the foot to avoid collisions
You won't feel tied down by being locked up, which generally improves not only your riding pleasure but also your riding confidence
Makes it easier to stop your bike and drop your feet, making it faster and easier to get off
On the platform pedals, so you get a more comfortable body position, with a more free range of motion and angle
Disadvantages of flat pedals
No clipless pedal can have more efficient pedaling
Your feet may bounce over rough terrain
Advantages of choosing clipless pedals
The foot is directly connected to the pedal, so you can pull up and down with your foot, thus increasing your pedaling efficiency
In rough and bumpy terrain, the anti-slip spikes are set to keep your feet firmly and consistently in place, so you don't have to worry about your feet "flying" off the pedals
They can be helpful when you encounter some obstacles while riding
Simple and stylish design looks cool
Lighter than ordinary pedals
The optimized connection between your foot and pedal, so that your pedaling, more efficiently, gets transformed to make a big difference in climbing, acceleration, and long-distance riding.
Disadvantages of clipless pedals
When your foot is stuck in the carabiner, you may not be able to reposition your foot on the pedal when the crank starts to turn
Be more careful to set up to protect your knees
The rush to get stuck in can be a little tricky
Tips for selecting mountain bike pedals
About the price of mountain bike pedals
We can see that there are often high and low prices for the better mountain bike pedals for sale, so you don't need to pay special attention to the expensive ones when choosing pedals. What you need to consider more than anything else is what kind of ride you want to get out of your pedals. After all, what suits you is the best.
If you are more interested in getting more efficient pedaling, then you can choose a clipless pedal. A clipless pedal like the SHIMANO SPD is not only light enough but the sole can be easily attached to the pedal. Whether you're descending or climbing in the mountains, it keeps your foot firmly planted on the pedal without worrying about separating from it.
About the production material of mountain bike pedals
The quality of the materials used to make it will not only give you a lighter experience but will also give your bike a more substantial feel.
There are many different materials used to make bicycles today, and there are many materials that can be used in the production of pedals. The common ones are aluminum alloy (a more affordable and widely available material), nylon fiber (lighter), stainless steel (better corrosion resistance), and various other assorted production materials. So how do you go about choosing among the pedals made of these materials? The truth is that they all have various features and benefits.
If you want something a little stronger, the alloy is better and will wear well. If you prefer a lighter weight, nylon fiber composite is a good choice.
Anyway, there are various materials for making, and if you want to see more, please leave us a message and we will continue to update you.
About the support of mountain bike pedals
We won't be sitting in the saddle all the time. When you need more power, you need to stand up on the pedals. Good pedal support will allow you to apply force with greater confidence.
Mountain bikes have more climbing-oriented hardtails, and a relatively lightweight hardtail will give you more power on the climbs. At this point, clipless pedals with enough support to improve efficiency would be a good choice.
The more comprehensive full suspension bikes have the option of freer flat pedals compared to hardtail bikes. This will give you more freedom of movement on the pedals, more support, and a more powerful ride.
Regardless of the type of pedal, if there is not enough support, it can cause injury while riding.
The 5 pedals we reviewed
Whether it's clipless pedals or platform pedals, we've reviewed the following mountain bike pedals for you to have a more intuitive choice.
SHIMANO SPD Clipless Pedal
Price: $65
Material: Chromoly
Weight: 0.22Ibs
Before we reviewed the SHIMANO PD-M520 clipless pedal, I was impressed with its compact shape. When I got in the saddle and stepped on it, I was pleasantly surprised by the crisp "click" and the very crisp lock. The perfect fit of the shoes and this pedal made me feel more confident when I was climbing. Whether I lift or pedal down, there is a powerful efficiency that allows me to ride more quickly.
In addition, after several of our testers of different weights stepped on it, we had full confidence in its support.
In addition, it uses a sturdy chrome-plated spindle, which makes it more durable. There is also its sealed bearing box, which will also allow you to maintain it without too much hassle.
However, some people think it can be a little heavy, but I think these people may not have bought the genuine article.
ROCKBROS Advanced 4 Bearing Mountain Bike Pedals Platform Bicycle Flat Alloy Pedals 9/16″
Price: $30.59
Material: Aluminum
Weight: 0.82Ibs
When performing the installation, our reviewer easily installed it. And after seeing its advanced 4-lubricated sealed bearings and anti-slip stud design, we have some confidence in its grip.
Indeed, it did not disappoint on real rides. Even on downhills, it kept my foot from falling off when I needed to keep it firmly on the pedal, and it performed well in terms of actual pedaling efficiency.
Bontrager Comp MTB Pedal Set
Price: $114.99
Material: Aluminum
Weight: 0.66Ibs
The colors of this set of pedals are really attractive. The sturdy and lightweight material can also boost your riding confidence.
During our review period, this set of pedals fit the shoes with the same system as no other. It took my riding to the next level when I was doing cycling competitions.
In addition, in real-world riding, the pedals give my feet a stronger link to the bike. It made my climbing more efficient as I climbed upwards, and the sturdy Chromoly spindle was more durable.
Notably, the double-sided SPD-compatible engagement pedal allows you to lock your shoe more freely.
However, my biggest complaint, like many others, is that its paint peels rather easily. Of course, this is not a problem with the Bontrager Comp MTB Pedal Set, many pedals have this problem. After all, your shoes are constantly exerting external forces on the pedal.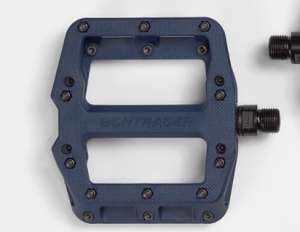 Bontrager Line Elite MTB Pedal Set
Price: $51.99
Material: Resin
Weight: 0.78Ibs
I was a bit worried about the support of this relatively slim pedal set when I saw it. But in actual riding, its durable material and relatively sturdy platform design made me somewhat pleased.
In addition, replaceable traction pins, allows you to keep your feet in the original position every time you put them on. Some people think it will not have enough support for the body, but in the actual ride, it has enough support.
Moreover, the platform design also allows your feet to move more freely and it is more convenient to get on and off the car.
SHIMANO PD-M8100 Cross Country Race SPD Bike Pedal
Price: $127.20
Material: Aluminum
Weight: 0.75Ibs
I have to say that it has allowed me to experience what stability is all about. When I'm riding in the mountains, even climbing on steep trails, this clipless pedal that improves riding efficiency gives me more power when I'm pedaling. And the wider edge allows me to firmly lock my feet to the pedals.
Also, the sturdy and lightweight design has a more positive impact on my riding. However, it is worth mentioning that it will fit better with Shimano XC series shoes, and the 1mm anti-slip spacer can form a better interface with the different outsole designs.
Summary
There are many kinds of bicycle pedals, just look at the material in addition to nylon and aluminum and chrome, and other mixed materials. There are even more variations in color and prices are high and low. However, you just need to remember one thing, besides the right size, you also need to consider your riding route and your ultimate preference for these two types of pedals. And be aware that more expensive is not better, what suits you is the best.