We use affiliate links and may receive a small commission on purchases.
We've selected 15 best women's cycling shoes for your reference.
As cycling continues to grow in popularity, the selection of cycling shoes is becoming more and more popular. And for female riders, a proper pair of cycling shoes can provide a different experience. If you find that a unisex shoe doesn't bring the comfort you need, then consider a women's specific shoe.
For this reason, we have listed the best 15 women's cycling shoes, they contain road shoes and mountain shoes, and also some frequently asked questions for you at the bottom of the article. If our article is helpful to you, welcome your attention and support.
Best Women's Cycling Shoes List
1. Lake MX 332 Women's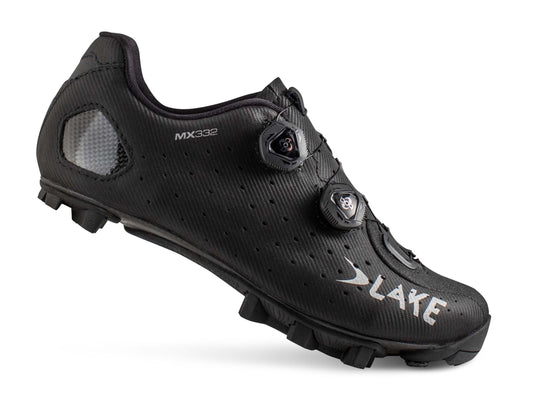 Price: $449.99
Lacing system: BOA
Size: 36-43
What we like about it: It doesn't make your toes go numb.
What we don't like about it: Size disconnect.
Comfort is the most important feature of Lake's products, and this cycling shoe takes full advantage of that feature: the Helcor leather conforms to your instep, the double-sided BOA lacing system holds it firmly in place, and the 100% carbon fiber sole makes your pedaling more efficient.
And it is designed with the higher arch of women's feet in mind. Whether you are riding off-road on rugged mountain trails or going fast on the track, the Lake MX 332 Women's is well suited to your needs.
Unfortunately, however, it is because of its excellent performance that the current size has been bought out. This is certainly bad news for some riders. Of course, you don't have to worry, if the size that happens to fit you is sold out, we have other options.
2. Liv Macha Pro
Price: $399
Type: Road shoes
Size: 36-43
What we like about it: The cool colors.
What we don't like about it: The sizing is relatively small.
As a Liv brand that creates products exclusively for women, the Liv Macha Pro's appearance attracts us at first sight. We believe no one can resist the cool color. What's more, it also has excellent performance. The ExoBeam technology reduces the pressure on the knee and ankle joints, and the new structure design provides adequate foot support and fit. At the same time, the upper laser-cut holes are set to provide good breathability. All of these fully help you to carry out every ride.
It is worth mentioning that the narrower women-specific design at the toe of the Macha Pro makes it a bit smaller in size compared to similar shoes. So you need to be careful when buying, please buy a size larger.
3. GIRO WOMEN'S EMPIRE SHOE
Price: $238
Weight: 215g (39 yards)
Size: 36-43
What we love about it: The perfect fit for your feet.
What we don't like about it: The inability to adjust to the move.
The GIRO WOMEN'S EMPIRE SHOE continues the classic design of the past with a lace-up style that offers unparalleled adjustability for a perfect fit. This is complemented by a perforated microfiber upper that softly wraps around your foot. Meanwhile, the carbon fiber sole provides the lightness and stiffness you need, and the ultra-low stack height of 6.5mm cleverly connects to the pedal for even better performance without sacrificing comfort.
Of course, choosing a classic lacing system improves the fit, but you'll have a hard time making adjustments on the move. That means you need to be ready before the ride starts. If it suddenly comes loose during the ride, that's something you don't want to see.
4. Specialized S-Works 7 Road Shoes
Price: $249.95
Weight: 224 grams (1/2 pair, 42 yards)
Size: 36-49
What we like about it: A trusted brand.
What we don't like about it: It takes some time to break in.
There's no denying that with the S-Works 7 Road Shoes, you'll get a shoe that doesn't compromise on quality, and the Specialized brand is its greatest guarantee of quality. We were impressed by its sole, which is, yes, very stiff and lightweight, which maximizes your power transfer. And in the realm of comfort, the familiar geometric design is retained, with soft lines and a contoured fit to the foot for slipper-like comfort. It will be your secret weapon to victory as you accelerate to the finish line.
Being a racing shoe, it is necessary to sacrifice the softness of the sole for better power transfer. This also makes it too stiff for most riders and you have to spend more time getting used to it. If you happen to like this, then it will be a great choice for you.
5. Giro Rincon
Price: $280
Weight: 340 grams (42 yards)
Size: 39-50
What we like about it: A versatile design that meets the needs of gravel riding.
What we don't like about it: the lack of arch support.
If you're a dedicated gravel rider, congratulations on the Giro Rincon, which was designed specifically for this purpose. It combines a soft, breathable Synchwire upper with a nylon composite sole that provides excellent grip. The double-injected rubber outsole makes it less likely to break and plays a vital role on wooded trails and rough gravel roads.
In addition to this, Giro Rincon has been designed with some reflective details. When you ride at night or in low visibility conditions, it can alert other vehicles on the road and keep you safe.
What made us complain, though, was that the quest for maximum efficiency and comfort made the sole of the shoe very soft and lacking sufficient arch support. This affects your pedaling efficiency to some extent, but we agree that these sacrifices are worth it.
6. Bontrager Velocis Women's
Price: $137.99
Weight: 231g
Size: 36-43
What we like about it: The thin sole delivers a responsive riding feel.
What we don't like about it: It needs to be cleaned with care.
If you ride a lot, then you are no stranger to the Trek brand. The Bontrager Velocis is one of Trek's road cycling shoes for women riders. It combines the BOA lacing system with velcro, and the just-in-time micro-adjustment feature fits your foot perfectly, providing a glove-like fit. It has a more relaxed front compared to other cycling shoes. You won't feel sore and swollen even after long rides. The most important thing is the innovation of the carbon fiber glass composite sole, which is light and thin to bring a sensitive riding feeling, so you can enjoy riding to the fullest.
Of course, the solid-colored upper makes it not dirt-resistant, and it may get dirty every time you go out. You should know that cleaning shoes are a very boring thing, so you need to pay special attention to muddy sections when riding, or you will be bothered by cleaning them.
7. Scott Road Comp Boa Lady Shoes
Price: $129.99
Weight: 245 grams
Size: 36-42
What we like about it: Design with women in mind.
What we don't like about it: It's not suitable for winter use.
The Scott Road Comp Boa Lady Shoe is a women's specific road shoe that is arguably ideal for cyclists and amateur racers alike. It is fully considered for female riders, with an articulated design that best suits the shape of a girl's foot, paired with an ergonomic lower-fit strap that provides an excellent fit. In addition to that it uses an Index Class 6 outsole that effectively transfers power to the pedals, allowing you to do all-day rides.
It is worth mentioning that this is an uncompromising pair of summer riding shoes. The abundant ventilation holes in the upper also herald its excellent ventilation, which also makes it not warm enough for winter riding. This makes us very sad, and for this reason, we have to wear thicker socks to keep our feet warm.
8. Scott MTB Elite Boa Lady
Price: $139.99
Weight: 310 grams
Size: 36-42
What we like about it: Meeting your off-road needs.
What we don't like about it: the lack of side protection.
This Scott MTB Elite Boa Lady is one of the few mountain biking shoes on the list that has excellent performance that makes it not look like a shoe at this price point. It is based on an athletic last and features a BOA lacing system for a fast and comfortable foot fit. Although it uses a nylon sole, the power transmission is more efficient compared to the Scott Road Comp Boa Lady Shoe, which fully satisfies the need for trail riding. Also, to cope with rough roads, velcro straps are set up, as well as welded armor protection for high durability.
However, in our actual riding, we found that it did not provide as much protection as other professional men's cycling shoes, especially on the sides. This is probably in consideration of the fact that female riders' styles will not be as aggressive as men's. Certainly a good choice for riders looking for good power transfer and fit.
9. SHIMANO IC5 WOMEN'S CYCLING SHOES
Price: $130
Weight: 292 grams (40 yards)
Size: 36-44
What we like about it: Impressive breathability.
What we don't like about it: higher flex than traditional road shoes.
The SHIMANO IC5 is the only women's indoor cycling shoe on the list, and it managed to get rave reviews for its top-notch breathability. The use of breathable mesh construction keeps your feet cool at all times. And the use of recessed anti-slip spikes and rubber soles allows you to walk with ease even when bending. It also features the BOA lacing system, which provides a quick and precise fit adjustment to hold your feet firmly in place. The key is the use of the reinforcement plate, which allows you to maintain efficient power transmission during all-out training.
Of course, as an indoor cycling shoe, it differs from outdoor cycling shoes in some ways. First of all, it has a higher flex than traditional road shoes, which took us some time to get used to when we tested it. And it can only be used on indoor exercise bikes, so if you wear it for the outdoor trails, it may increase the burden on your feet.
10. Ride Concepts Women's Hellion Clip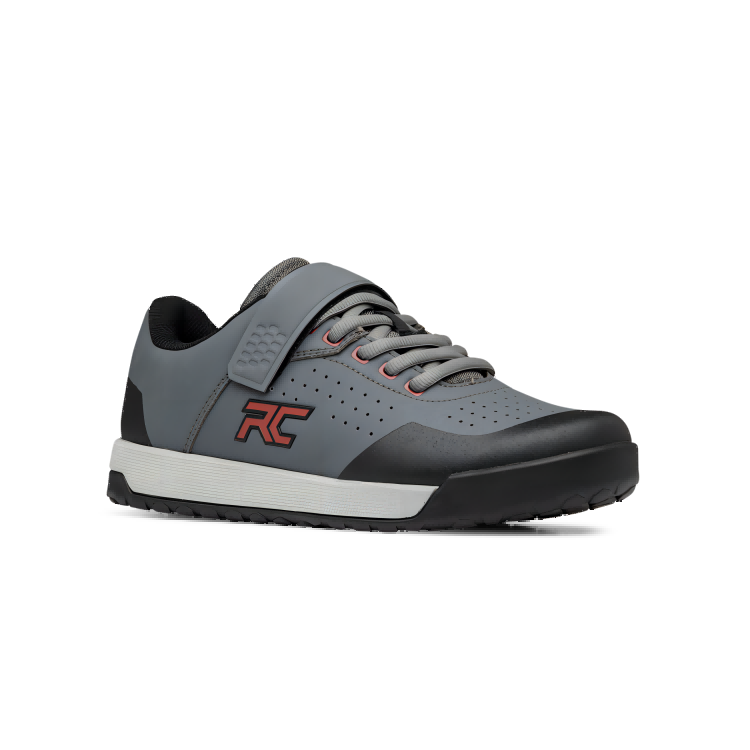 Price: $150
Weight: 420g
Type: Mountain shoes
What we like about it: Excellent durability.
What we didn't like about it: the not-so-impressive breathability.
What made an impact on us was how comfortable the Ride Concepts Hellion Clip was on long rides, which made it stand out on trail rides. The dual-density EVA insole provides extra support for excellent shock absorption, allowing you to focus more on the road ahead on descents. The stiff nylon sole achieves good power transfer and greatly increases your riding time. Excellent wear resistance is the main reason we chose it, thickened tongue is very wear-resistant, but also prevents the entry of dust and debris.
If there is anything that makes us dissatisfied, it is not outstanding breathability. After a high-intensity ride, you can't blow dry your sweat at first. This is a sacrifice that had to be made to balance its durability, so we finally placed it in this ranking after weighing its overall performance.
11. Ride Concepts Women's Traverse
Price: $160
Weight: 450g
Type: Mountain shoes
What we like about it: Excellent off-road impact absorption.
What we don't like about it: The heavier weight.
While this Concepts Women's Traverse is also made by Ride, it differs from the previous shoe in that it is more focused on technical riding. Whether it's an all-day ride or a speed track, the superior trail impact absorption handles it all perfectly. The nylon heel provides extra stability and support, while the custom protection equips you to handle more challenging conditions. What we like even more is that it has a women-specific fit and flexibility, giving female riders excellent comfort on descents.
But it has to be said that the Traverse is the heaviest shoe on our list. This is because it has to deal with more intense riding and the extra support and protection make it heavier. We felt a little uncomfortable when we first put it on, but after a period of technical terrain riding, we fell in love with the unparalleled performance.
12. DHB DORICA CARBON CYCLING SHOES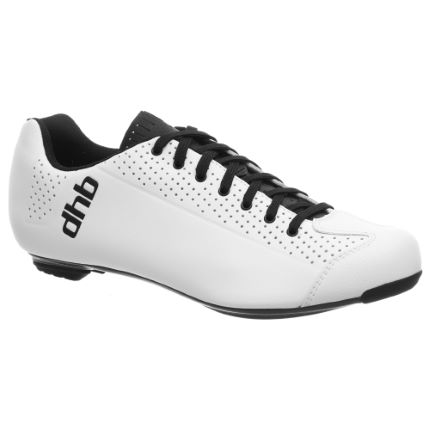 Price: $145
Weight: 237 grams (42 yards)
Size: 39-48
What we like about it: The carbon fiber sole.
What we don't like about it: The sizing is on the smaller side than other cycling shoes.
You'd be hard-pressed to imagine seeing a cycling shoe with a carbon fiber sole in this price range. But the DHB DORICA CARBON shows you the fact that it does. With a stiff sole, it allowed me to have more efficient pedaling efficiency during the test. Like the GIRO WOMEN'S EMPIRE SHOE above, with the lace closure system, I was able to tighten it perfectly. It also has an adjustable lace closure height, which was a big surprise to us. And as you can see, there are dense perforations designed on the top of the shoe that help increase the air circulation and fully keep you dry while riding.
It should be noted that in terms of size selection, DHB DORICA CARBON CYCLING SHOES are usually smaller than other cycling shoes or triathlon shoes. So we recommend that you try to choose shoes that are one size larger than your usual size when you buy them, so they will fit better.
13. Shimano AM7 Women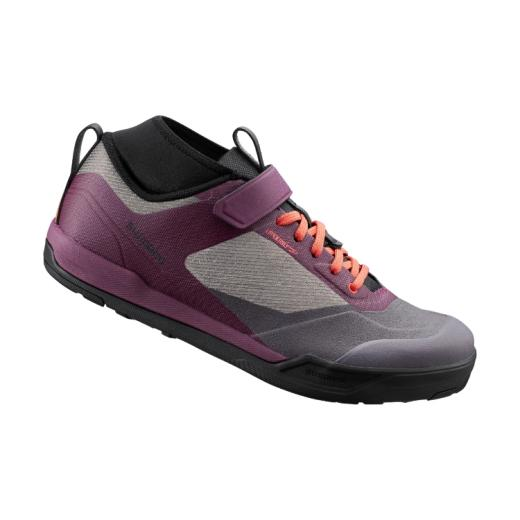 Price: $130
Weight: 382 grams
Size: 36-44
What we like about it: Speed riding shoes with excellent performance.
What we didn't like about it: It was a little difficult to walk on the rocks.
The AM7 is a women's mountain shoe that surprises us all the time. It is the favorite of speedsters. The use of composite materials with the sole pattern maximizes durability and grip. The sturdy toe and raised liner even give you extra protection in the descent. Most importantly, it is easy to face even in hot and humid conditions. the TPU upper can quickly absorb moisture and achieve a quick drying effect.
While it performs well off-road, we found it a bit tricky to walk on rocks in our tests. The stiff sole puts more load on your feet, especially on exposed rocky roads. So you need to be mentally prepared before riding.
14. Fizik Terra X5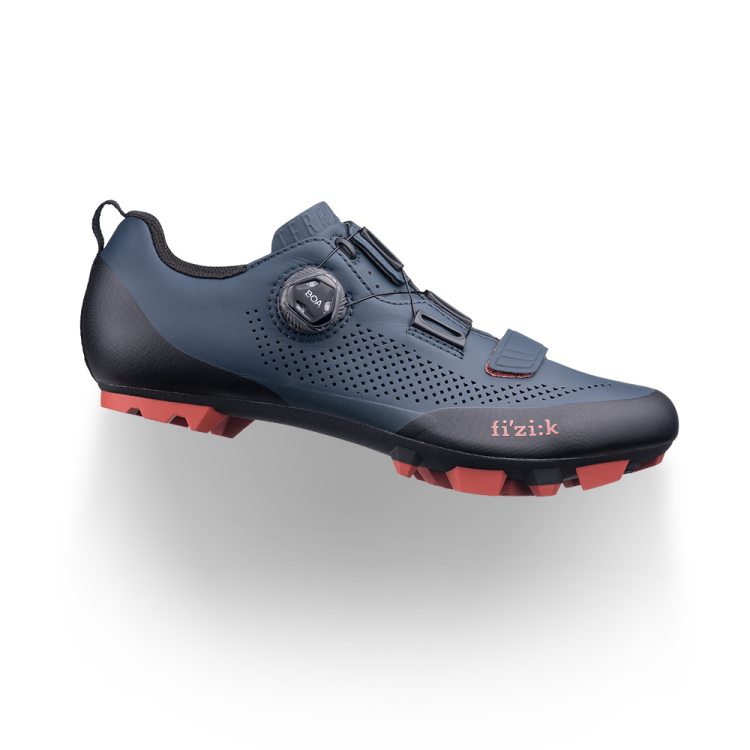 Price: $150
Weight: 288 grams (42 yards – 1/2 pair)
Size: 36-48
What we like about it: The cheap price.
What we don't like about it: It's narrower than you'd think.
Luckily you can experience what Fizik has to offer for just $150, and this Terra X5 has an even more impressive performance. The asymmetrical opening is held in place by a BOA lacing system that, combined with the microfiber velcro, means it will fit any foot shape, and the tight fit represents excellent comfort. On top of that, it inspires confidence on the trail with the grip it brings with its rubber sole. Whether you're hiking or off-roading in the mountains, the Terra X5 will keep you firmly on the ground.
It has an overall narrower profile for the consideration of female riders. But what you need to know is that it is a bit narrower than you think. You'd better have a real-life fitting experience before you choose, or you'll struggle with it.
15. Pearl Izumi Women's Race V5 Shoes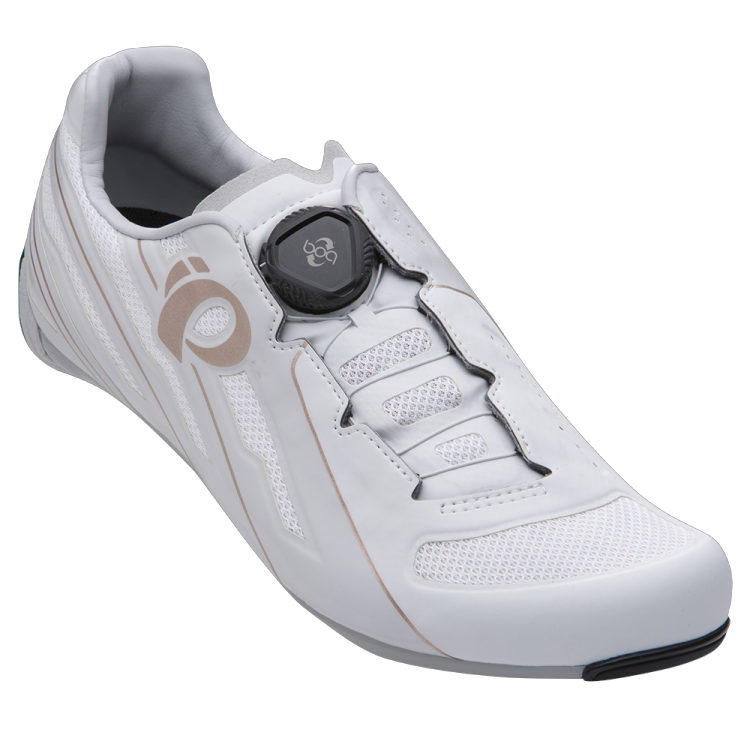 Price: $160
Type: Road shoes
Size: 36-43
What we like about it: Very neat upper.
What we don't like about it: Please avoid extreme direct sunlight.
We always have a special obsession with clean and tidy uppers, and the Pearl Izumi Women's Race V5 is one such shoe. With a unique BOA lacing system, you can barely see the cables. It also ensures that the instep has enough tension for you to enjoy a snug fit.
The advanced 3-layer seamless composite upper provides superior breathability, adapts to different foot shapes, and eliminates hot spots. And the stiff carbon fiber midsole has rigid stiffness, allowing you to fully transfer power to the pedals while riding.
The one thing you need to take care of is the maintenance of your shoes. If you don't want to experience it only once, then please don't throw it directly into the washing machine. And you need to avoid long periods of direct sunlight, which can cause the material to dry out and crack, reducing the service life.
Women's Cycling Shoes Buying Guide
Stability and control
If you are still worried about how to choose the right cycling shoes, then you need to know about stability and control. Stability and control are important factors in determining the performance of a cycling shoe, and we judge this by the non-slip spikes.
Considering that different shoes have different levels of front-to-back adjustment for cleats, as well as different riders' riding styles, most of what we look for are adjustable cleat shoes. This way you don't have to spend more time getting used to them. The right cleats provide excellent stability when riding, which is especially important in undulating technical terrain.
During descents and turns, we are concerned about its lateral support. Soft lateral support can make your feet move and feel unstable when riding. So the right arch support can give you better control.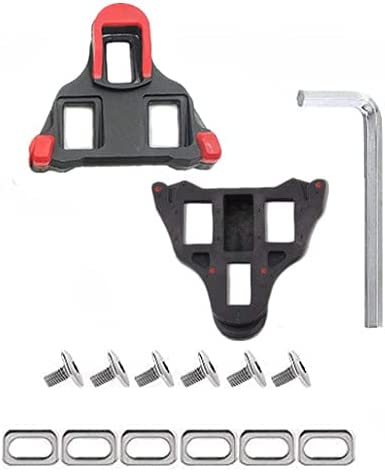 Stiffness
Stiffness is equally important for cycling shoes, and a stiff enough sole can lead to efficient power transfer, a feature that is valued the more professional riders. However, we do not recommend that newcomers to the sport choose a shoe with a stiff sole, as it is too stiff for you. Very soft shoes are also not recommended, as they are no different from regular sneakers. If you sometimes stop walking, then you will know how important it is to have the right hardness of shoes.
Breathability
Breathability is also a point that you need to focus on. If you don't want the soles of your shoes to be covered in sweat before you have completed a full ride, then make sure you choose more breathable shoes. Riding in warmer weather, in addition to sweat will also carry an odor. The cycling shoes on the list come with breathable holes, just to meet the full flow of air and keep your feet dry. Of course, excellent breathability also means that you need to keep warm when riding in winter.
Closure system
The closure system is the way to fix the shoes, generally divided into these: BOA lacing system, velcro, and laces. The BOA lacing, which is a must for high-end riding shoes, will give you a more solid experience, while the simple cable construction will give it a cleaner and more beautiful look. But when they break, you'll know how costly they are to replace.
Laces and velcro are often found in cost-effective cycling shoes in general. They may not be as tight as BOA laces, but they are lower maintenance and can bring enough security and stability. The retro design also satisfies the needs of some people, and for me, I prefer the ritual of lacing up my shoes before riding.

FAQs
What is the difference between women's cycling shoes and unisex cycling shoes?
Generally speaking, women's cycling shoes are designed with a narrower fit, which takes into account the small body structure of women. However, some unisex riding shoes also have this feature. In addition, the color design may be more feminine, and there are more options available.
Of course, both are not too strictly limited and even female riders are not necessarily required to wear women's cycling shoes. If you are careful enough you will find a small number of unisex riding shoes on the list because, in the testing process, it is also suitable for female riders. So you don't have to get hung up on the men's and women's models, as long as it's the right one for you, it's the best.
Can I use my mountain shoes as road shoes?
Of course, you can, my friend. Riding is a joyful thing to do, so if you only have a pair of mountain shoes, then don't obsess too much, just have fun riding. Likewise, you can use road shoes as mountain shoes. But for professional riders, this will make you lose some of your power while riding because they are not that stiff. If you are looking for a better experience, then you still need to choose the right shoes.
Do I need arch support for my cycling shoes?
Some female riders have small feet, and this is where arch support plays a key role. Proper arch support means less friction, which will make your riding shoes fit better and be more comfortable. Even if the shoe is the right size, the presence of arch support can reduce the pressure on the forefoot, giving you better control during the ride. So, riding shoes need arch support.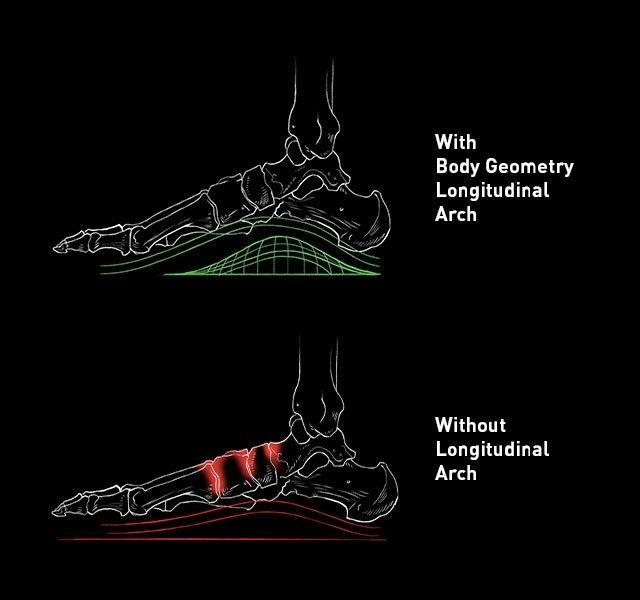 Conclusion
Different cycling shoes can give you different feelings, and in this test, we have selected 15 of the best women's cycling shoes. Of course, they also include some unisex models, and they all prove themselves with excellent performance. We introduce you in detail from different angles and hope you have a more comprehensive understanding of this. By the way, if you want to go riding in well-known terrain or special terrain, you can book your accommodation on IHG Hotels & Resorts. It is not only rich in variety but also easy to operate.
Of course, if you have high requirements for the shoes' functions, you can take a look at our best road riding shoes and you might find what you need.
Finally, if you like our content, feel free to share it with your friends! If our content is helpful to you, you can click the email subscribe button below!