We use affiliate links and may receive a small commission on purchases.
We've selected 10 best electric scooters for your reference.
Electric scooters, these miniature mobility machines with electric motors and simple controls, are becoming increasingly popular as a means of getting around for short distances. It is the perfect solution for the last mile (subway or bus home). Fast, small, and flexible, they can transport you home quickly. And you won't have to carry and sweat like a bicycle, you can easily go upstairs, under a table, or in a closet.
I also really like this kind of transportation. Going through all the latest scooters, we found 15 of the best electric scooters for you from there. If you're older or need more stability, you can read this article.
I believe you want to get an awesome electric scooter, and in the second half of the article, we have listed common selection questions for you that may help you answer. If you like our article, welcome to follow our website, we will launch more questions you are interested in subsequently.
2023 Best Electric Scooters List
NIU KQi3 Pro ($799)
TurboAnt M10 ($359.98)
TurboAnt V8 ($649.98)
Segway Ninebot Max ( $899.99)
Segway Ninebot F30 ($498.99)
Unagi Model One ($590)
Razor E100 ($187.99)
GoTrax XR Ultra ($449)
GoTrax GLX V2 ($389.99)
Apollo City ($1399)
1. NIU KQi3 Pro ($799)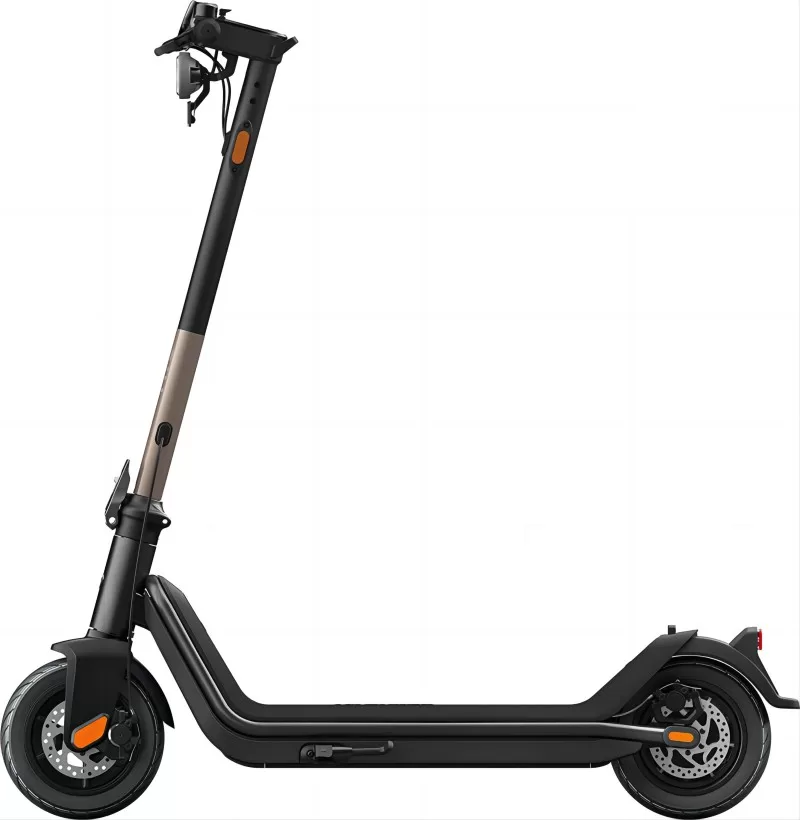 Battery: 486 watt-hours
Charging time: 6 hours
Cycling distance: 50 km (31 miles)
Maximum speed: 32 km/h (20 mph)
Weight: 20.3kg
Maximum load capacity: 120kg
What we like about it: It can handle a wide variety of terrain, and the higher maximum speed provides extra excitement.
What we don't like about it: The heavier weight.
The SUV of scooters, competent over multiple terrains, offers everything you want. Up to 20 mph highway speed allows you to commute up to 31 miles on a single charge. the KQi3 allows advanced safety features to provide maximum comfort, as well as greater stability and reliability through wide tires and extended handlebars. The extra speed of the adult scooter provides the ideal option for thrill seekers.
The weight is not as light as it should be, with the high range bringing 20.3kg of weight not as light as other scooters. If you don't have an elevator installed at your place, you can look at the lighter TurboAnt M10 in the back, but not many scooters offer a range of up to 31 miles. If your commuting needs are far away, it would be a good choice.
2. TurboAnt M10 ($359.98)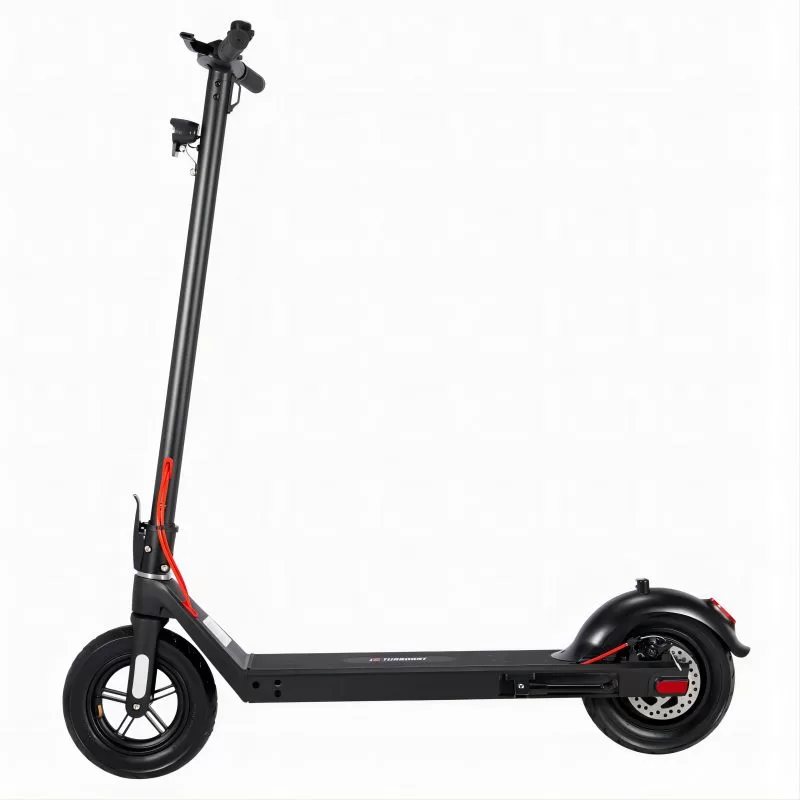 Battery: 270 watt-hours
Charging time: 5 hours
Cycling distance: 29 km (18 miles)
Maximum speed: 32 km/h (20 mph)
Weight: 29.8 lbs (13.5 kg)
Maximum load capacity: 220 lbs (100 kg)
What we like about it: The cost-effective choice.
What we don't like about it: Less power and less climbing ability.
Considering the price, you'll be surprised at the level of refinement that goes into it when you see it. It's the best bang for the buck in my opinion, and to make it even cheaper, TurboAnt as well removed almost all the frills. I don't care about these things, they don't cut into the performance in any way, and they also reduce the weight quite a bit, so I can easily carry it up the stairs.
Just a little hindrance, the low power makes it impossible to climb hills larger than 15%, but my usual commute doesn't have an uphill section. If you need it, check out the Segway Ninebot Max. Other than that, I like it for its superior shock absorption and is very lightweight. And the 1″ tires keep me running smoothly in potholes.
3. TurboAnt V8 ($649.98)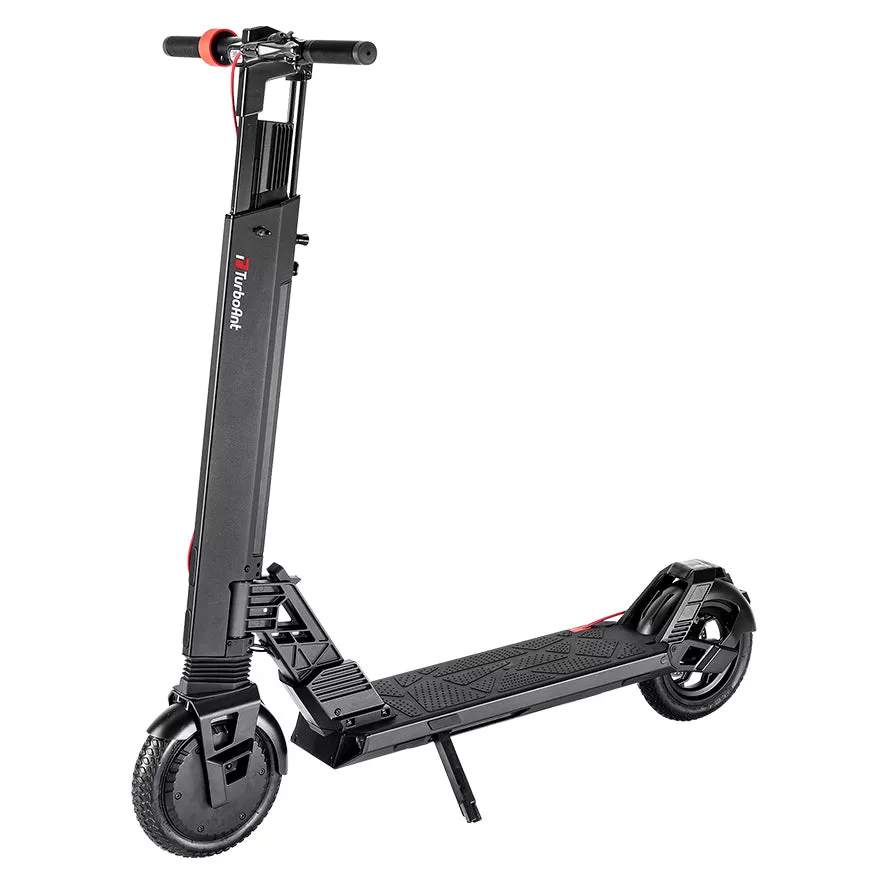 Battery: 7.5 Ah x 2
Charging time: /
Riding distance: 50 miles
Maximum speed: 20 mph
Weight: 47.62 lbs
Maximum load capacity: 275 lbs
What we like about it: Super long battery life for those long-distance users, two batteries removable for simultaneous charging.
What we don't like about it: It's heavy and heavy.
The long battery life electric scooter is for those with long commutes and charging difficulties. Two removable batteries deliver up to 50 miles of range and can be charged simultaneously. There are also mechanical disc brakes with electronic brakes for all-weather safety. I like the abundance of lights designed not only on the top of the handlebars but also on the front and rear of the pedal area to make it easier for bikes to see you on the road.
It's big and heavy. Yes, at 47.62 pounds it weighs as much as the usual two electric scooters, and riders who need a lighter weight should check out the TurboAnt M10. In short, if you need to ride super long distances, or if you have just one place to charge in both places of your commute, the long battery life TurboAnt V8 is the perfect scooter for you.
4. Segway Ninebot Max ( $899.99)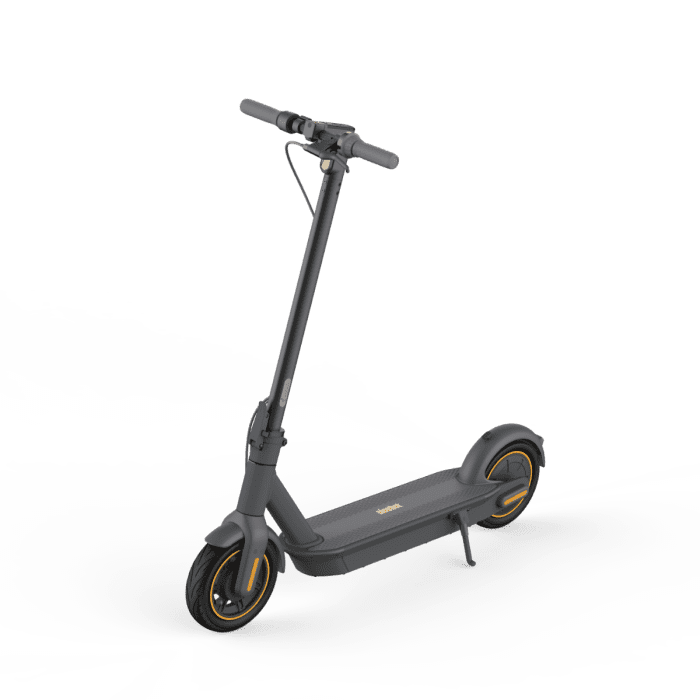 Battery: 551 watt-hours
Charging time: 6 hours
Riding distance: 40.4 miles
Maximum speed: 18.6 mph
Weight: 18.7 kg (41.2 lbs)
Maximum load: 100.0kg (220.5lbs)
What we like about it: Sturdy and stable versatile, well made in every way.
What we don't like about it: It's bigger and heavier than a traditional short-lined scooter.
A fantastic and smart versatile ride that is perfect for those who want a reasonable range to provide a larger size and comfortable ride. With its powerful rear-wheel drive 350-watts and large ten-inch pneumatic tires, which are not often found on scooters, the pneumatic tire can easily handle small bumps and cracks without causing any discomfort to the rider. And it can also easily climb inclines of less than 20%.
The only downside is that it's bigger and heavier than shorter-range scooters, but in return, it's more stable. If you need a lightweight scooter that you can carry up and down the stairs, check out the TurboAnt M10, but it's important to remember that this increase in weight comes with an increase in range.
5. Segway Ninebot F30 ($498.99)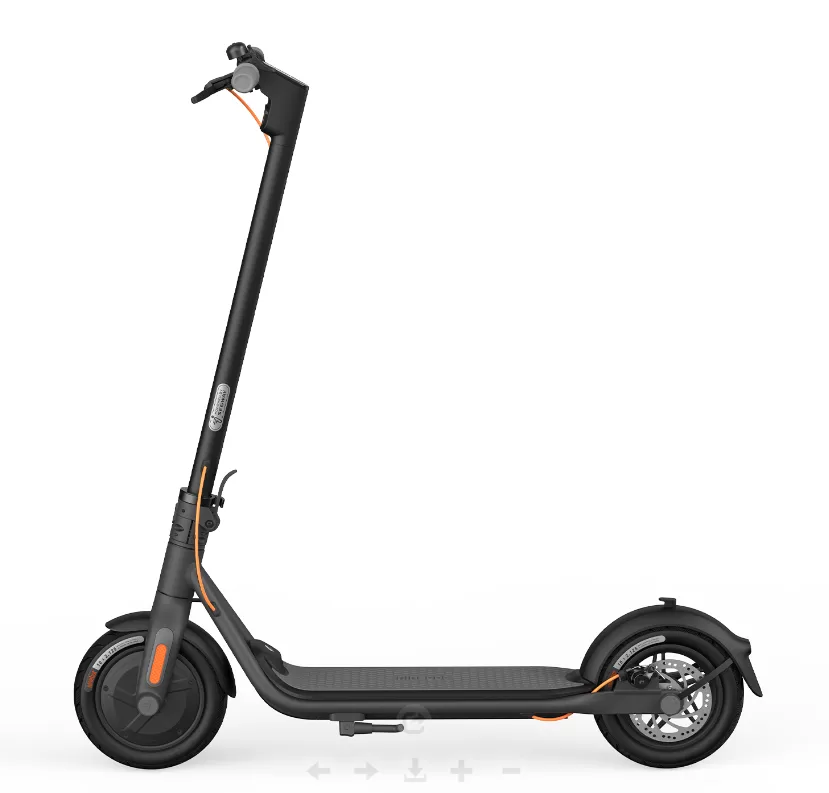 Battery: 275 watt-hours
Charging time: 5 hours
Riding distance: 30 km
Maximum speed: 25 km/h
Weight: 15.1kg
Maximum load capacity: 120kg
What we like about it: The smaller Ninebot Max, the same quality at a cheaper price.
What we don't like about it: The short range.
This is the smaller "brother" of the Ninebot Max, with the same high-quality overall construction and straightforward control as the previous model. Although the power and range are relatively low, the price is also much lower. And you get the same benefits of the Segway mobile program, such as roadmap and Bluetooth locking features and power percentages.
What comes with the lighter weight is a shorter range, compared to the larger Ninebot Max range, which is reduced by about ten kilometers. If it's relatively easy for you to charge, I range may not be much of a drawback. The light weight allows you to carry it up the stairs with ease and without complaint.
Product link:
6. Unagi Model One ($589.99)
Battery: 72000mAh
Charging time: 4 hours
Cycling distance: 8.5 km
Maximum speed: 17 mph
Weight: 28.5 lbs
Maximum load capacity: 280 lbs
What we like about it: gorgeous design, great climbing ability, and premium carbon fiber.
What we don't like about it: The integrated design has higher maintenance costs.
High-end carbon fiber products have been applied to an electric bike to make it look high-end and gorgeous. the E500 version with dual 250W motors is very fast and can reach 15mph in no time. It's faster than almost all the 26lb-ish pedals, including the Xiaomi M365 (6.3S), and M365 Pro (5.3S), and takes just 4.4s.
The integrated design and the carbon fiber material may make you need to take care of it twice. Because the cost of repair is huge, especially with the built-in computer and electronic speakers and headlights, repairs are very expensive. If you need a simple and durable design, take a look at the TurboAnt V8. But the high-tech integrated look makes it look very premium and not like an electric scooter that you can buy for $599.
Product link:
7. Razor E100 ($187.99)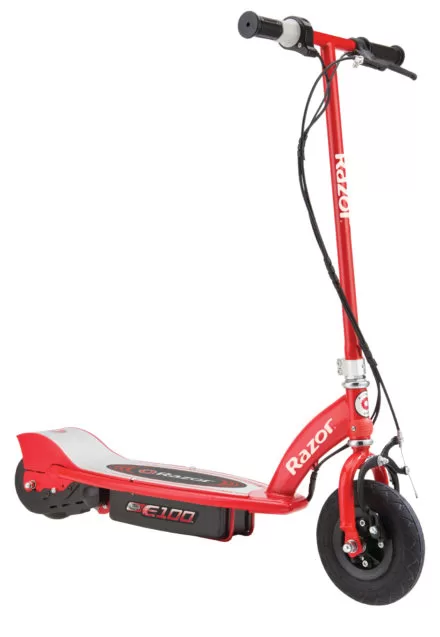 Battery: \Watt-hour
Charging time: hours
Riding distance: 11 miles
Top speed: 11 mph (17.7 km/h)
Weight: 24.64 lbs (11 kg)
Maximum load capacity: 120 lbs
What we like about it: Safe and durable, with plenty of power.
What we didn't like about it: The chain drive was a little rattly.
This is the best electric scooter for kids that meets the expectations of parents who want their kids to ride safely in the city. The color options are plentiful and the top speed of 10 mph will keep kids from getting into accidents too fast. But plenty of torque to conquer steep uphill climbs. 40minutes of the range is enough to get them to and from school.
The chain drive setup does get a little old, which is probably noisier than a hub motor and requires some maintenance. But this is the setup used on almost all kids' scooters. Overall, it's still a very reliable piece of equipment, and you simply need to install bells and a couple of reflective devices and it's ready to be used immediately.
8. GoTrax XR Ultra ($449)
Battery: 252Wh watt-hour
Charging time: 4-5 hours
Riding distance: 16 miles
Maximum speed: 15.5 mph
Weight: 26 lbs
Maximum load capacity: 220 lbs
What we like about it: Comfortable riding experience and easy climbing.
What we don't like about it: There is no taillight design.
You won't get any speed racing on the GoTrax XR Ultra, but it will take you anywhere you want to go. 8.5-inch pneumatic tires provide a comfortable ride, even without the extra cushioned suspension. Meanwhile, the 300-watt motor can climb hills with ease. The weight is relatively light and most people can easily pick them up with just one hand.
I wish it could come with a taillight, the fact is that it doesn't, so I'm skeptical about the safety. If you also need to ride at night, I recommend the TurboAnt V8. Because of the headlight and the front and rear taillights, it makes riding at night extra safe. But all in all, it is a reasonably priced and very practical electric scooter.
9. GoTrax GXL V2 ($389.99)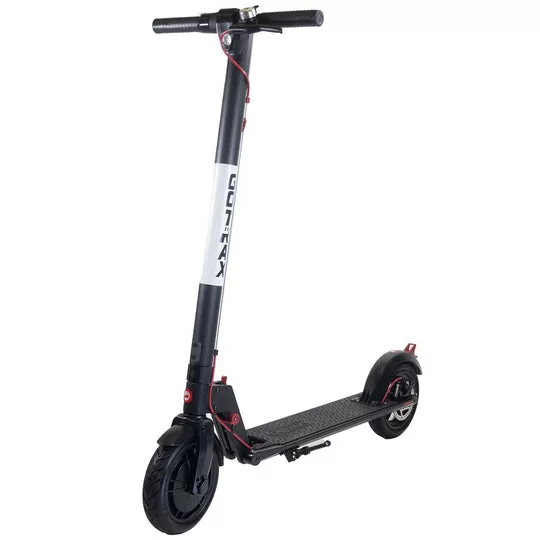 Battery: 250 watt-hours
Charging time: 4-5 hours
Riding distance: 12 miles
Maximum speed: 15.5 mph
Weight: 26.4 lbs
Maximum load capacity: 220 lbs
What we like about it: Best value for money at an affordable price.
What we don't like about it: The performance isn't powerful.
The GoTrax GXL V2 performs quite well for the price and is arguably the best electric scooter under $300. There's a reason for that, it has everything a beginner needs. The sturdy build, decent top speed, and all-around comfort offered to the rider are designed to take the stress out of short-range mobility trips. If you want something for professional mobility, it's it.
No very powerful performance is the feeling it gives people. And it's not very fast, nor does it have a super-long battery life. If you need all that, take a look at the TurboAnt V8. But if you just need an affordable scooter to get you around the neighborhood, then this scooter would be the best choice.
10. Apollo City ($1399)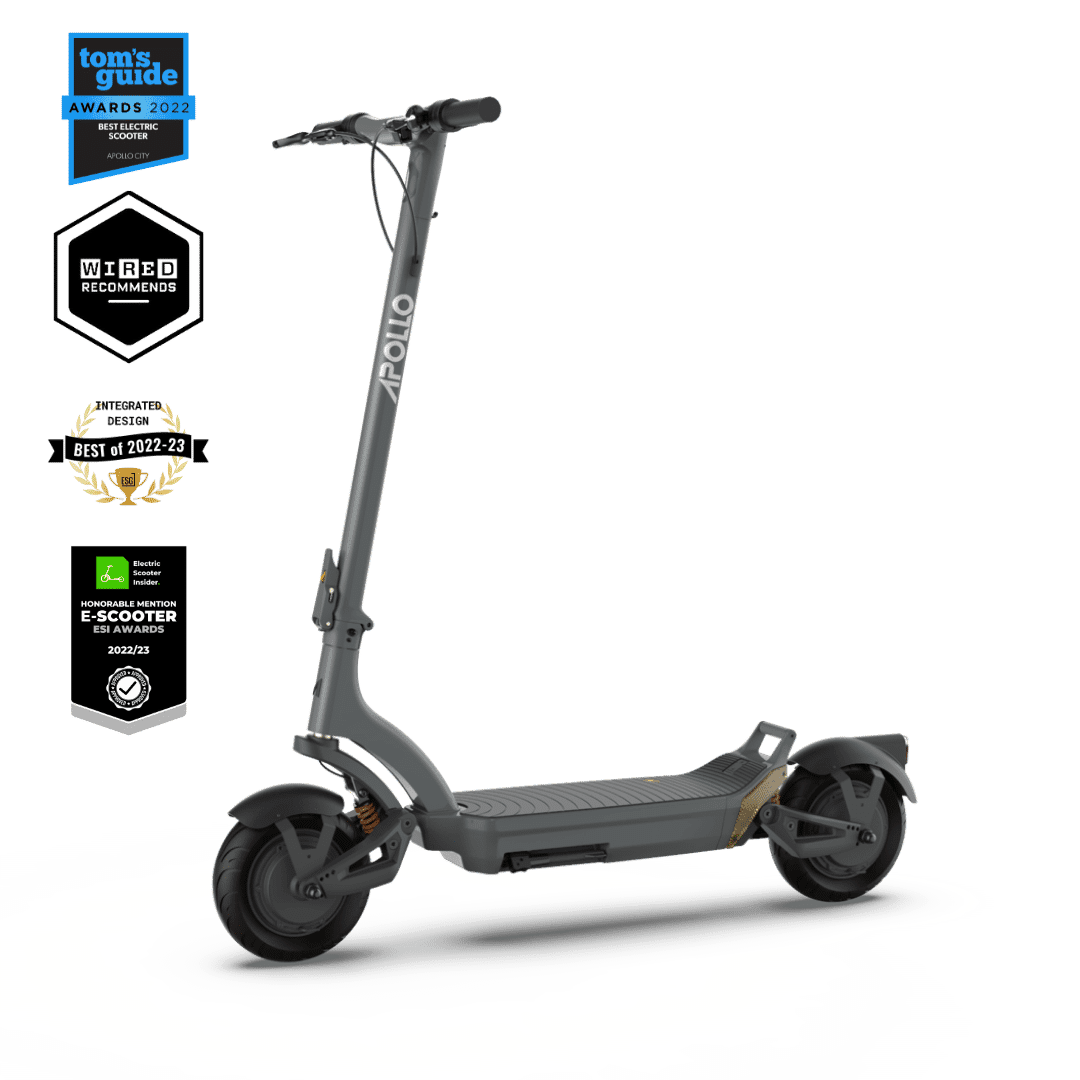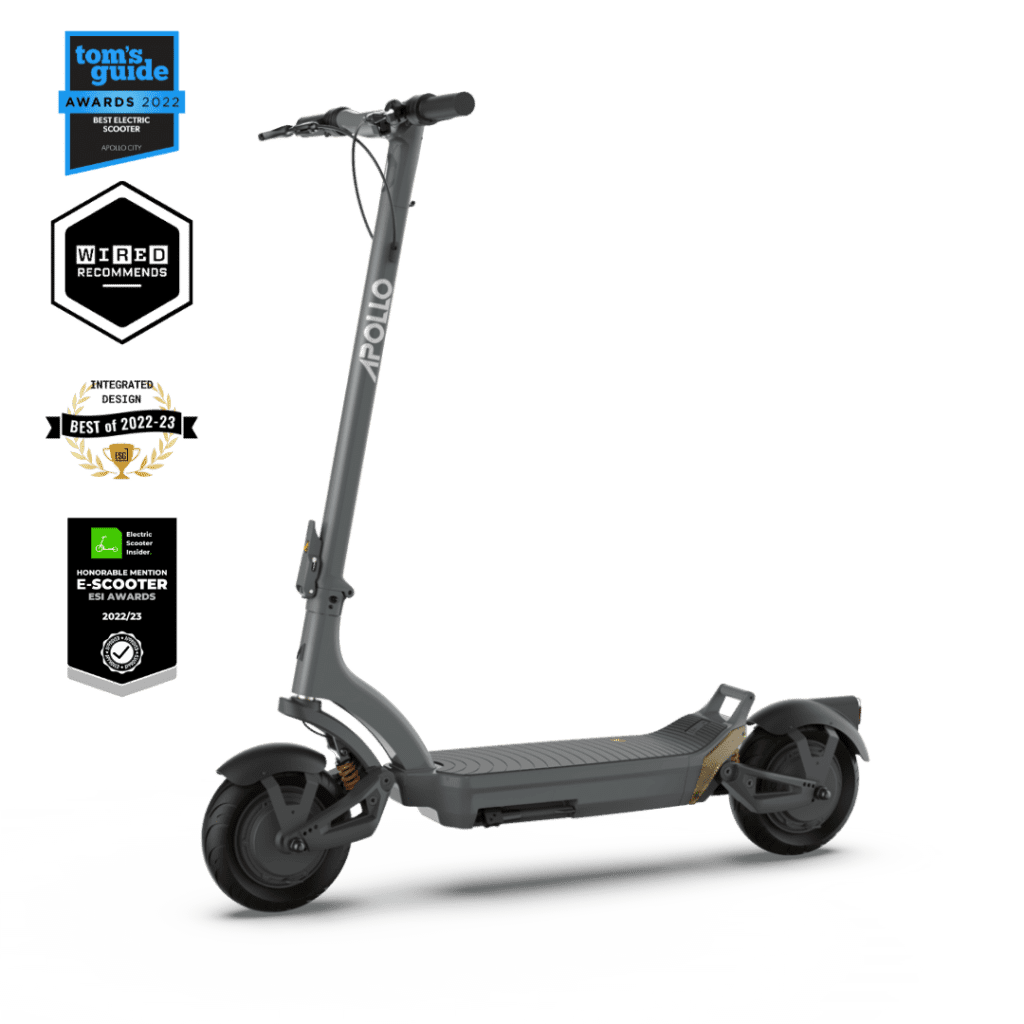 Battery: 21700 lithium battery
Charging time: /hour
Riding distance: 31 miles
Maximum speed: 32 mph
Weight: 57 lbs
Maximum load capacity: 220 lbs
What we like about it: High-end integrated design, turn signals.
What we don't like about it: It's expensive and heavy.
If you've ever ridden an electric scooter, I'm sure you know what a hassle it is to free up a hand at an intersection to alert the bike behind you that it's about to turn. And Apollo City's rear-mounted turn signals solve that problem for you. The triple suspension system is well hidden out of sight of the frame for an incredibly comfortable ride. A series of integrated designs also give it a very sophisticated look.
Nevertheless, it is still a very heavy electric scooter, with a whopping 57 pounds. If you have to carry it upstairs, it will be a very bad experience. But other than that, I really can't find any other drawbacks to this excellent integrated scooter. It's a fast and fun electric scooter with good safety features built in.
How to choose an electric scooter?
How to choose the best electric scooter?
Price
$100-$300
$300-$600
$600 and above
Battery life
Speed
Tires / Suspension
Which brand of electric scooter is the best?
Can I ride my electric scooter in the rain?
Can I ride an electric scooter on the road?
How to choose the best electric scooter?
The "last mile" commute has always been a frustration for people. People often need to walk a distance home and waste a lot of time, and in the workplace may also be late as a result. In recent years, priority has been given to small, lightweight electric scooters, usually weighing between 20 and 30 pounds.
You also need a scooter that can be folded quickly and easily, and there's nothing worse than when it's hard to fold up the bike when you're in a hurry.
Price
For most users, price is the decisive factor in purchasing such things, and the following is a brief description of each price point.
$100-$300
This price point tends to be in the low-budget category. Equipped with a smaller motor and a very short range, which means you will have to recharge after each ride.
Although they don't require much maintenance and are relatively cheap to maintain, I still don't highly recommend buying an electric scooter at this price point. But an electric scooter for kids at this price point would be a good choice.
$300-$600
These scooters can be considered mid-range products or entry-level commuting vehicles. They tend to come with larger wheels and a longer range, a battery that can be charged quickly or even removed, and some hill-climbing capability.
$600 and above
These are priced in the high-end range and you can expect to use longer, more comfortable rides. They have larger pneumatic tires, faster speeds, disc brakes, partial suspension, and premium features such as turn signals.
Battery life
After the price aspect, power is what people look for and no one wants to be charging their scooter all the time instead of riding it. Providing an accurate range is not easy because it depends on factors such as the rider's weight, temperature, and terrain. If you spend a lot of time riding between uphill and downhill, then you must not have as long a commute as users who spend a lot of time on flat roads.
Speed
Most electric scooters simply have a single hub-mounted motor (meaning the motor is built inside the wheel) and usually have a power rating of 250-350 watts. Again, if you live in a hilly area, or if you want to ride faster, choose that more powerful motor.
Tires / Suspension
There is nothing worse than riding on a bumpy road with no suspension. To alleviate this situation, most electric scooters are starting to come with inflatable tires, which are very helpful in cushioning bumpy terrain.
Or some electric scooters are equipped with front and rear suspensions, which makes the whole riding experience more comfortable. Bigger tires also mean a more stable riding experience.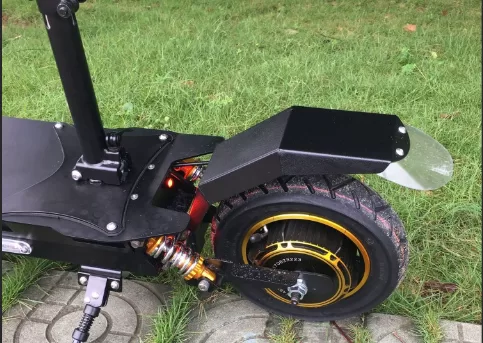 Which brand of electric scooter is the best?
There isn't one best electric scooter brand. However, after a series of tests, we found several electric scooter brands that are well-built and perform very well, such as Turboant, Segway, Gotrax, and NIU.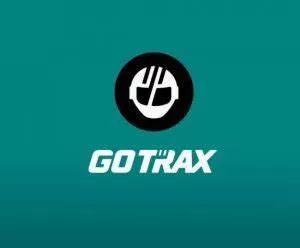 Segway may be a bit pricey, but they are great electric scooters with excellent quality and smooth product performance. The Turboant also has the art of making very rugged commuter electric scooters and the overall ride is very luxurious. Finally, you can also count on GoTrax to provide you with exclusive value.
Can I ride my electric scooter in the rain?
The ability to ride an electric scooter in the rain depends heavily on the protection rating (IP) your scooter has. In most cases, electric scooters are protected from water impacts from different directions and they have an IPX5 or IPX6 level of waterproofing. But this is still not recommended for use in the rain, especially when it rains very heavily and water in the motor may require very high repair costs.
We don't recommend riding a scooter in the rain because not only will it get your pants and shoes wet, but the scooter's petite tires can also cause accidents in situations like turns. If you need something completely safe to use in the rain, we recommend that you choose pneumatic tires with good grip and a waterproof rating of IPX7 or higher.
Can I ride an electric scooter on the road?
The answer is yes, but the exact type of street you can ride on depends on the specific regulations in your area. Electric scooters are not exactly mopeds, nor are they bicycles, so it's up to each local law to determine exactly what kind of roads they should be ridden on. Some states don't make regulations for this reason, while others use norms similar to those governing the use of electric bicycles.
For example, the California DMV states "You can only drive motorized scooters on a bicycle path, trail, or bikeway, not on a sidewalk, and you cannot exceed a speed of 15 mph." And you need to stick to the right side of the road, not in the left turn lane at a stoplight. When you need to make a left turn, you need to get out of the bike and push through the crosswalk just like a pedestrian, and you must stay no higher than 25 mph.
Based on general riding experience, whatever the law says must be very reliable and safe. I think we should stick to quiet alleys and neighborhoods, avoid weaving in and out of busy streets and fast-moving bikes, and use multiple routes when possible. No matter what city you're in, you shouldn't ride a scooter on the sidewalk. This is because not only are they dangerous to pedestrians, sidewalk obstacles and pedestrians can cause you to lose your balance. If the sidewalk is the only way you can go, get off for a push or slowly keep moving at the same speed as the flow of people.
Conclusion
These are our picks for the 10 best electric scooters of 2023. With the advent of so-called "last mile" vehicles, more and more people are choosing electric scooters as a good means of transportation, and they usually weigh between 20 and 30 pounds.
Although they look almost identical in shape, in this list we have still selected electric scooters for you for various purposes, including the cost-effective ones as well as the most comfortable and durable ones. From small scooters for children to endurance scooters for long rides, there is always one that is perfect for your travel style. We also have some suggestions for you for this purpose, which can help you choose the right excellent electric scooter for you. By the way, if you want to go riding in well-known terrain or special terrain, you can book your accommodation on IHG Hotels & Resorts. It is not only rich in variety but also easy to operate.
Finally, if you are a senior citizen or you wish to buy an electric bike for your elderly family members, I hope you can find the most suitable electric tricycle through this article.
If you like our content, feel free to share it with your friends! If our content is helpful to you, you can click the email subscribe button below!