We use affiliate links and may receive a small commission on purchases.
The Trek Verve 1 disc is the entry-level model of the Trek Verve. The price is also the most affordable Trek hybrid bike. As a commuting daily rider, the preferred comfort ride.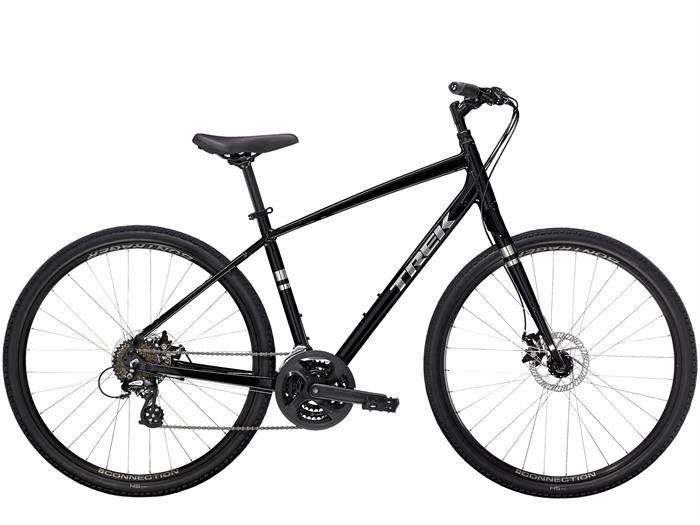 The newly released 2023 Trek Verve 1 Disc comes with an Alpha Gold Aluminum frame and Verve Steel fork, Shimano Altus drivetrain, and mechanical disc brakes, and multiple mounting positions, all for a very reasonable $679.99.
Our tester in his home state of Pennsylvania spent half a month riding to complete the test of the Trek Verve 1. Below we will pick up a breakdown of the Trek Verve 1 disc 2022's performance, components, and features for city riding and long-distance riding as well as a brief comparison between it and other versions.
In the last part, we will give some comparison options of other bikes. This will make it easier for you to choose the right bike for you.
City Riding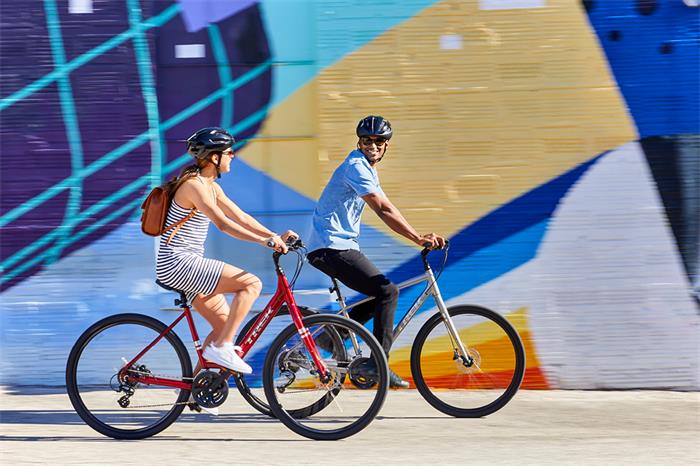 The Trek Verve 1 disc is still a hybrid bike by definition. It's not just the Trek Verve 1 disc hybrid bike for men, but also the Trek Verve 1 disc lowstep for women, making it a great choice for riders who want to take a weekend trip with their family or a couple outing together.
The Trek Verve 1 is equipped with wide 45C tires, an upright geometry frame, and mechanical disc brakes, making it very comfortable to ride on city bike paths or in neighborhoods.
From the very beginning, the ride is kept in an upright riding position, protecting the comfort of your shoulders and back without damaging your joints and muscles.
City riding is less likely to encounter steeper terrain, and to my surprise, it can be ridden more easily on the less steep uphill portion with lots of gearing and grippy wide tires.
The slow downhill section immediately afterwards also had disc brakes and ergonomic grips that made the ride easier for me to control.
The surface of the bike path along the river was slightly rough, which I didn't find hard to take. The padded seat and flexible tires absorbed most of the shock.
Of course, you can still ride fast on open ground, with the 28-tooth cassette and 14-tooth flywheel working in tandem with your high-speed pedaling to give you a quick spike in speed.
The Trek Verve 1 disc will amaze on city roads, both in terms of body performance and riding feel.
Long Distance Rides
Our testers rode a one-time ride of 32 miles. This would be a real test for the Trek Verve 1 disc.
Compared to road bikes suitable for long rides, the Verve 1 disc isn't particularly fast. But in the initial acceleration phase, it doesn't lose out to them.
The Bontrager H5 Comp tires play an important role on long rides, as they are wide enough to be especially suitable for riding on wet ground after rain, with plenty of traction.
With the mudguard installed, you won't be afraid of mud and water washing onto your clothes either. And with the mounting holes reserved for the rear rack, it's easier to ride long distances or take a package with you.
The biggest drawback of the Trek Verve 1 disc's road performance is its gear count. There are 21 gears, but road bike riders who are used to 3X9 or 3X10 will lament the low number of gears. And the tires are tubed, which makes the front wheel slightly heavier.
What we really like is the way it rides sit-to-stand, more relaxed and faster. In terms of faster speeds and more gearing, it seems unreasonable to expect that from this hybrid bike. Overall happy with the performance on long rides.
Components and Specifications
Frame (4.5/5)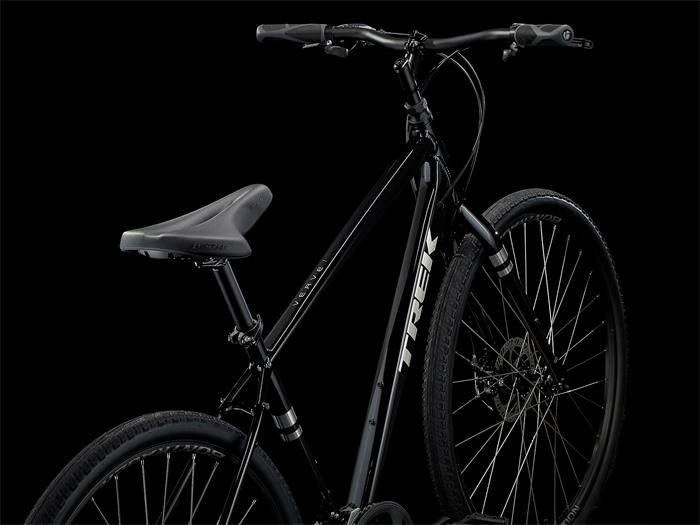 Riders who focus on riding comfortably really like the frame design of the Trek Verve 1 disc.
The upright geometry allows the rider to maintain a very comfortable upright riding position. Clean and tidy internal alignment, and soft paint colors. The minimalist TREK logo makes it more appealing to young urbanites who like the simple style.
The frame also has reserved rack and fender mounts, making it even more versatile. Two water bottle cage mounting positions allow riders who want to ride long distances to be prepared for longer trips. The frame is compatible with the DuoTrap S mount, making it not only a frame for casual riders, but also one that allows for better distance planning and rationalization of fitness programs during fitness rides.
So, we also like the Trek Verve 1 versatile frame.
Shimano drivetrain (3.5/5)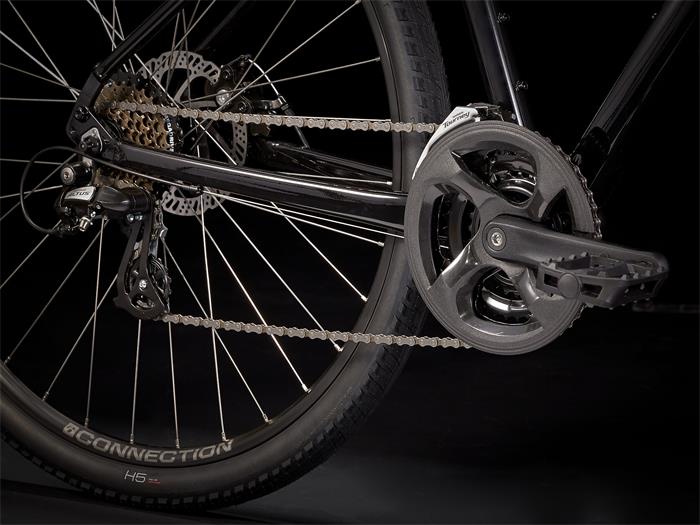 The Trek Verve 1 disc features a Shimano Tourney Front derailleur and Shimano Altus M310 Rear derailleur, as well as a Shimano Altus EF500 Shifter.
Although not particularly fond of the low-end Shimano Tourney, the front derailleur is an acceptable component considering that it has not been used much in the long run. The rear chainstay is the relatively more expensive Shimano Altus, which is more robust and durable.
The Shimano Altus EF500 Shifter doesn't find too many problems when shifting. Of course, most of these drivetrain components would be found in cheap mountain bikes, and it makes perfect sense to put them in the Trek Verve 1 disc, a hybrid bike.
Tektro MD-M280 Mechanical Discs (4.0/5)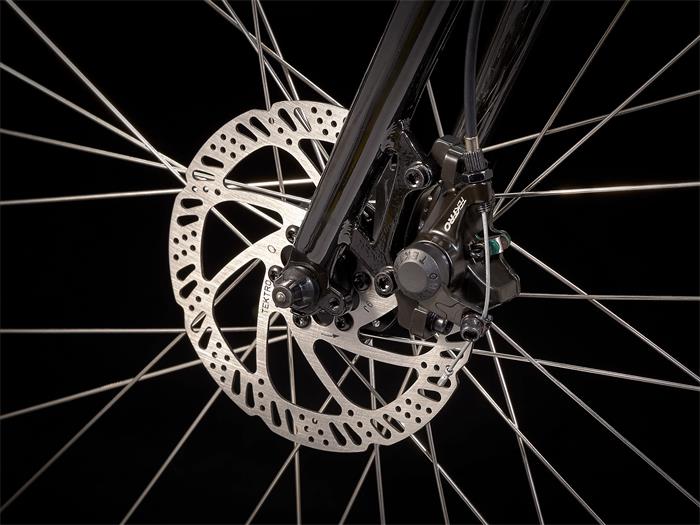 The Trek Verve 1 disc features a Tektro MD-M280 mechanical disc brake.
This is great for hybrid bikes, less maintenance. And the braking effect will be better compared to brakes with alloy cable pull.
Adapts to downhill braking in wet and muddy roads, and there is no fade-in braking power even on longer road downhill roads.
Bontrager H5 Comp Tires (4.0/5)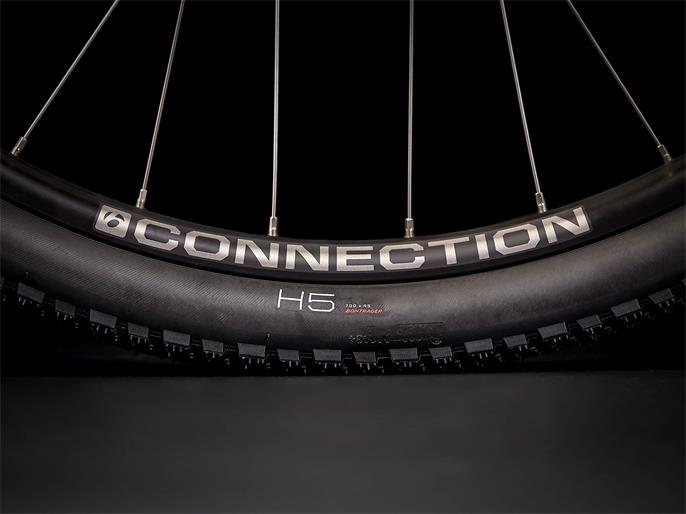 Standard 700c height, but wider 45c tires for added stability while riding.
Can roll fast on smooth bike trails, and having an inner tube makes the outer tire not so hard. 30PSI tire pressure can be easily replenished with normal inflation gear.
Trek Urban handlebar (4.5/5)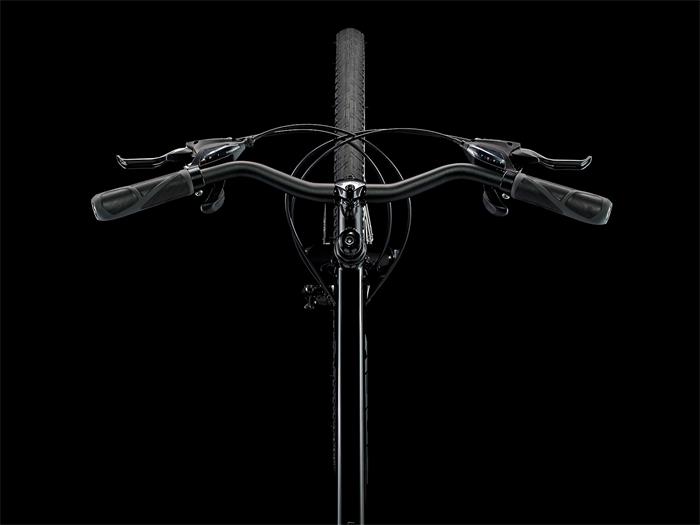 What we really like is that the Trek Urban handlebar can be raised 45mm, which makes it easy for riders of all heights to adjust to a comfortable sitting position.
Next is the Bontrager Satellite, which adds support to the palm area, a small change that increases the grip area on the handlebars and thus improves control of the bike.
Lastly, the Bontrager Quill handlebar stem, which can be adjusted for a 25° rise angle. The stacking of these components makes it very easy for the casual rider to find a comfortable ride.
Trek Verve 1 disc Specs
Frameset
| | |
| --- | --- |
| Frame | Alpha Gold Aluminum, rack & fender mounts, DuoTrap S compatible, IS disc brake mount, 135x5mm QR |
| Fork | Verve Steel, threaded steel steerer, IS disc mount, 460mm axle-to-crown, 100x5mm QR |
Wheels
| | |
| --- | --- |
| Hub front | Formula DC-20, alloy, 6-bolt, 5x100mm QR |
| Hub rear | Formula DC-31, alloy, 6-bolt, 6/7/8 speed freewheel, 135x5mm QR |
| Rim | Bontrager Connection, alloy, double-wall, 32-hole, schrader valve |
| Tire | Bontrager H5 Comp, wire bead, 30 tpi, 700x45c |
| Max tire size | 700x45c with or without fenders |
Drivetrain
| | |
| --- | --- |
| Shifter | Shimano Altus EF500, 7 speed |
| Front derailleur | Shimano Tourney TY510, 34.9mm clamp, top swing, dual pull |
| Rear derailleur | Shimano Altus M310 |
| Crank | Forged alloy, 48/38/28, chainguard, 170mm length |
| Bottom bracket | Sealed bearing, 68mm threaded |
| Cassette | SunRace MFM300 freewheel, 14-34, 7 speed |
| Chain | KMC Z7 |
| Pedal | Wellgo nylon platform |
Components
| | |
| --- | --- |
| Saddle | Bontrager Boulevard |
| Seatpost | Bontrager alloy, 27.2mm, 12mm offset, 330mm length |
| Handlebar | Trek Urban, alloy, 25.4mm, comfort sweep, 45mm rise, 620mm width |
| Grips | Bontrager Satellite |
| Stem | Bontrager Quill, 25.4mm clamp, 25-degree rise, 100mm reach |
| Headset | 1-1/8" threaded, semi-integrated, semi-cartridge bearings |
| Brake | Tektro MD-M280 mechanical disc, 160mm rotor |
Weight
| | |
| --- | --- |
| Weight | M – 14.10 kg / 31.08 lbs |
| Weight limit | This bike has a maximum total weight limit (combined weight of bicycle, rider, and cargo) of 300 pounds (136 kg). |
Other versions of Trek Verve 1
Trek Verve 1 2017-2019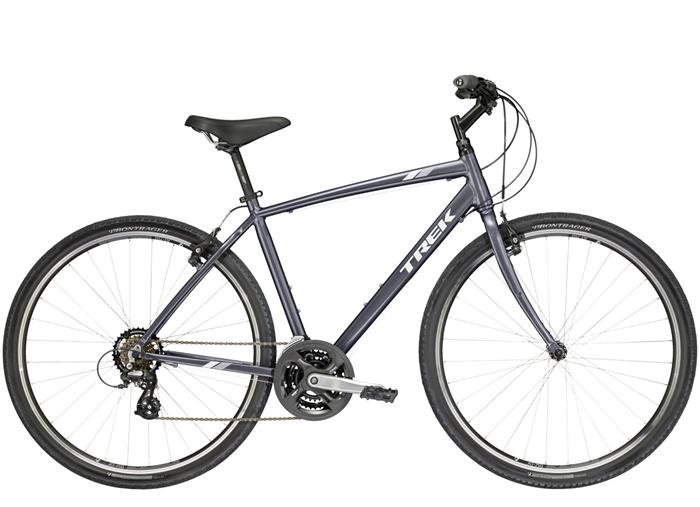 The Shimano Tourney TY51 front derailleur is used, and there are some differences in sturdiness compared to the new version.
Including in this version of the Trek Verve 1 is the absence of disc brakes. The new model also abandons the alloy cable brake in favor of a more reasonably priced, more precise mechanical disc brake.
The new Trek Verve 1 doesn't change much in terms of other components, but the weight of the bike has been increased by about 2 pounds, which doesn't affect the casual rider too much.
Trek Verve 1 Disc 2020-2021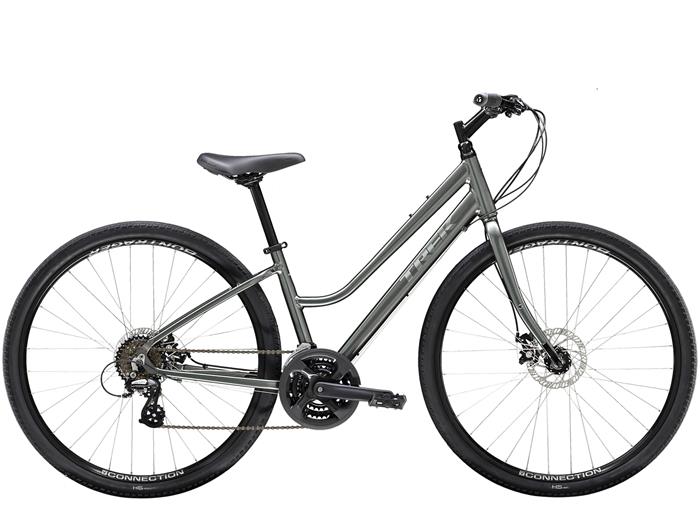 Compared to the new Verve 1 Disc, the accessories are almost identical.
But in terms of paint colors, the Verve 1 Disc 2020-2021 only comes in Anthracite and White, while the new one is a bit better looking, with Trek Black and Factory Orange.
Learn more:Is Trek Verve + 2 A Good Bike? [2023 Trek Verve + 2 Review]
Is Trek Verve 3 Disc -Is It The Best Hybrid Bike? [Trek verve 3 Reviews]
Benefits of Trek Verve 1 Disc
Affordable price
Versatile and sturdy frame
Can be ridden upright
Wide 700*45c tires for added riding stability
Mechanical disc brake for precise braking
Multiple components that can be freely adjusted
What we don't like about it
A bit hard seat
Pedals are easily damaged
FAQs
What is the body weight of the Trek Verve 1 Disc?
The body weight of the Trek Verve 1 Disc is 14.10 kg / 31.08 lbs for the M size frame.
Does the Trek Verve 1 Disc come in a women's version?
The Trek Verve 1 disc lowstep is suitable for women's riding.
What is the weight limit for the Trek Verve 1 Disc?
This bike has a maximum total weight limit (combined weight of bicycle, rider, and cargo) of 300 pounds (136 kg).
What paint colors are available for the Trek Verve 1 Disc 2022?
Factory Orange and Trek Black are the two colors. The Verve 1 Disc Lowstep is available in Dnister Black and Era White paint colors.
Comparison Table
Competition
Verve 2 Disc vs Verve 1 Disc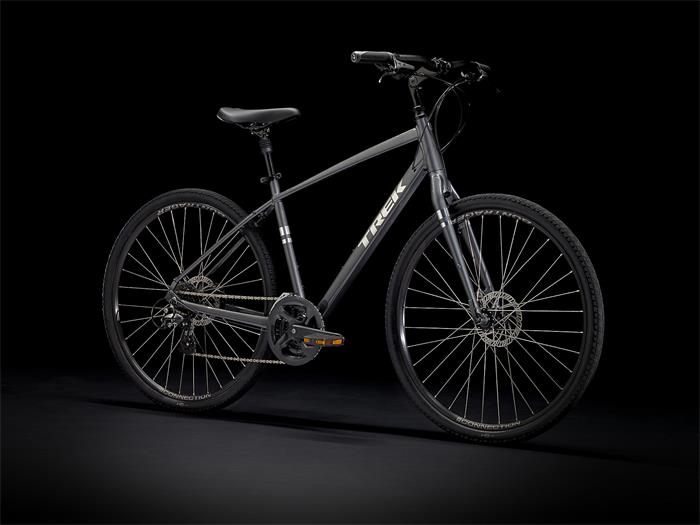 The Trek Verve 2 Disc, which has been upgraded from the Trek Verve 1 Disc, is a little more comfortable to ride. But the overall difference is not that big.
The paint colors of Trek Verve 2 Disc are Lithium Grey and Rage Red, which are very different from the paint colors of Trek Verve 1 Disc.
Other than that is the fork upgrade, the Verve alloy fork is more durable, more expensive and lighter compared to the Verve 1 Disc's steel fork.
The major upgrade between them is the drivetrain, which is what we complained earlier about the insufficient number of gears used, and the 3X8 drivetrain, which slightly alleviates this problem.
The Trek Verve 2 Disc uses the more robust Bontrager City pedal, based on the pedal's vulnerability to damage. Finally, the Verve 2 Disc uses hydraulic disc brakes for easier braking, but the braking effect is not too significantly different from the Verve 1 Disc's Tektro MD-M280 mechanical disc.
In terms of accessory stacking, the Trek Verve 2 Disc is a bit more cost-effective. And you only need to add $120 to your budget to get it.
Learn more: Is Trek Verve 2 Disc Worth Buying? Replaceable Models-Review
Trek Verve 3 Disc vs Verve 1 Disc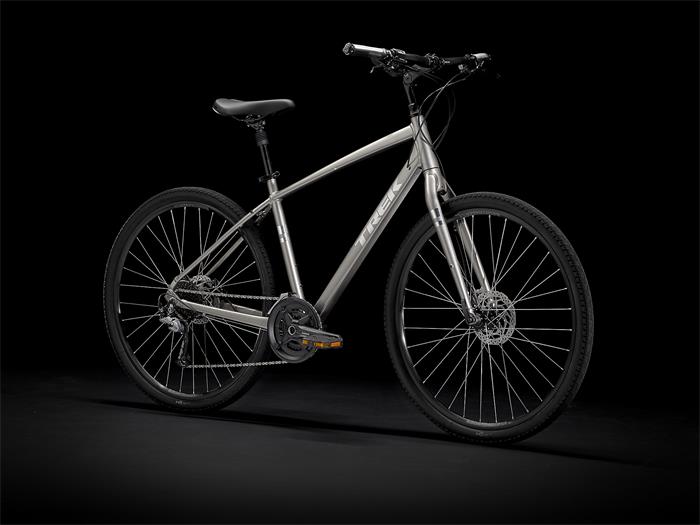 For the comparison of these two, we still start with the paint colors, Trek Verve 3 Disc Metallic Gunmetal, and Mulsanne Blue. our testers prefer the second one.
In the next part of the component upgrade, the fork remains the same as the Trek Verve 2 Disc's Verve alloy fork. Puncture-resistant Bontrager H5 Hard-Case Ultimate tires make you look forward to gravel road rides even more.
The drivetrain is further upgraded with the Shimano Acera 2X9 drivetrain, which is a bit more durable than the Shimano Altus and more slippery in shifting. The others are the KMC X9 Chain and Bontrager City pedals, both of which have been upgraded.
Finally, the braking system, Shimano MT200 hydraulic disc brakes are more precise brakes.
All in all, the Trek Verve 3 Disc is a considerable upgrade from the Trek Verve 1 Disc, making the bike more robust, ditching some of the original low-end parts, extending the bike's life, and increasing riding comfort.
Learn more: Is Trek Verve 3 Disc Worth Buying? [Review]
Trek Dual Sport 4 vs Verve 1 Disc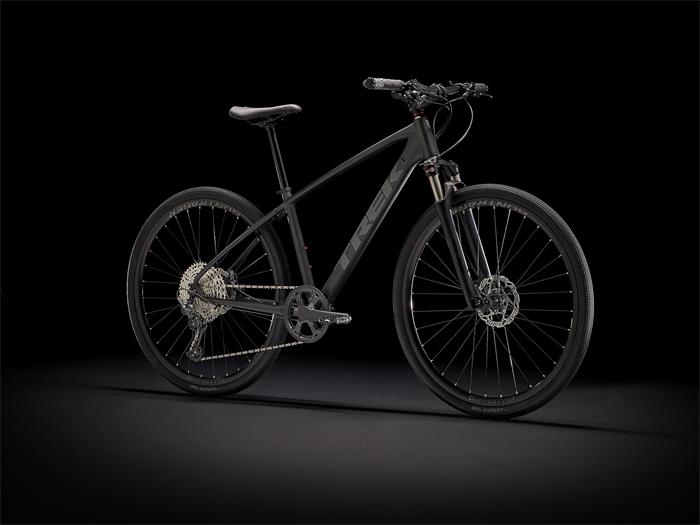 The same hybrid bike, but these are two different branches.
The Trek Verve 1 Disc is a hybrid bike that combines a road bike with a regular bike. The Trek Dual Sport 4 is a hybrid bike that combines a mountain bike with a regular bike.
If you live in a hilly area or want the occasional mountain ride, then the Trek Dual Sport 4 will be a better fit for you.
With its dual sport frame and steep head tube angle, I would mistake this for a trail mountain bike if it didn't have only a 63mm fork that is adequate for use. The configuration is almost a copy of the Trek Marlin 6.
But it also seems to have a lot of differences. the Bontrager GR1 Expert's delicate knobs are specifically gravel tires, so they provide a lot of traction on normal mountain riding and don't fade easily on dirt roads.
With the 1X11 drivetrain, you won't feel the gear range is too narrow. The last thing worth mentioning is that its shock fork has a remote locking feature that allows you to ride on flat roads, a similar experience to the Trek Verve 1 Disc.
Schwinn GTX Hybrid Bike vs Trek Verve 1 Disc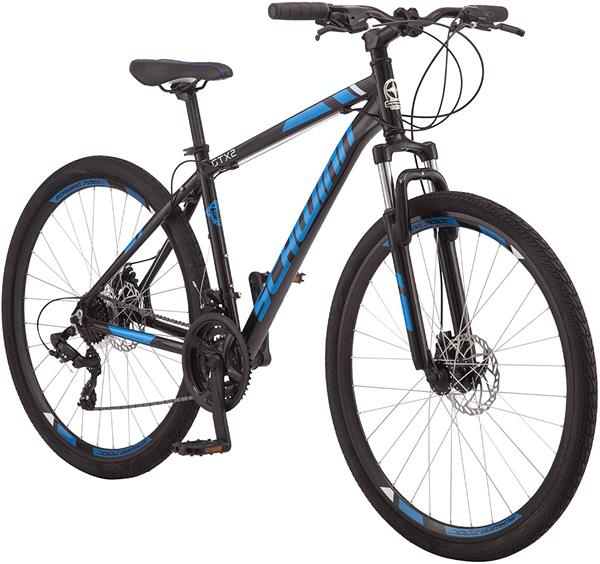 The smaller budget Schwinn GTX is the same hybrid bike for easy mountain riding. Equipped with Schwinn's aluminum frame, and 700X38c hybrid tires that can be ridden at faster speeds, and a front shock fork.
Of course, it weighs about 5 pounds more compared to the Trek Verve 1 Disc, along with its alloy cable pull brakes. The configuration is not as high as the Trek Verve 1 Disc, but it is affordable and has a good riding experience. A great bike for commuter riders.
Learn more: Schwinn GTX Comfort Adult Hybrid Bike Review – Is It Worth Buying?
Final Verdict (4.0/5)
The Verve 1 Disc offers premium comfort at an unbeatable value. The lightweight frame, impressive braking power, durable components, and comfortable avant-garde design make this bike one of the best choices for people who want to get more fun out of their casual rides. That's why it's a worthy hybrid bike to buy. The final rating we gave it was 4.0.
Learn more: Is The Trek FX1 Worth Buying? [Trek FX1 Review]
Related Videos