We use affiliate links and may receive a small commission on purchases.
A comfortable riding experience can make you love cycling more. This is a comprehensive review of the Trek Verve 3 disc, a hybrid bike with a great comfort level.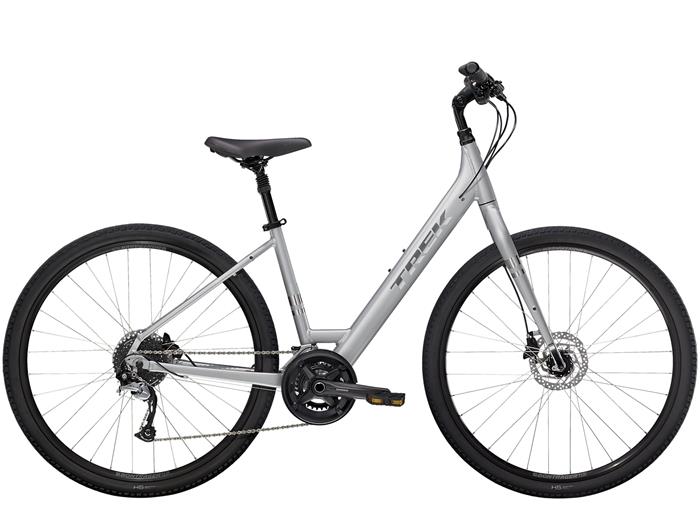 If you are looking for a suitable hybrid bike, as one of the best bike brandswe have the full content of the Trek Verve review for you.
What are the features of the Trek Verve 3 disc, which is super comfortable and retails for under $1,000? Which ones do we like? What do we not like?
At the end of the article, we have a comparison of the bikes for you, so you can better understand if this bike is worth buying?
Features of Trek Verve 3 disc
Alpha Gold Aluminum frame (4.5/5)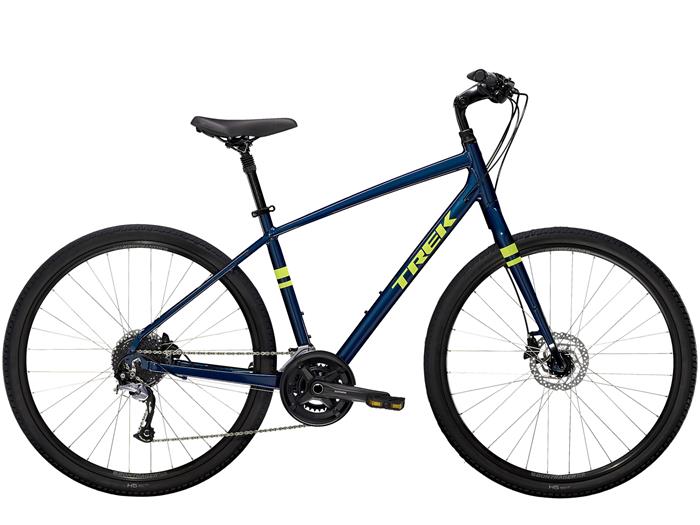 Trek Verve have always been very strong on the versatility and comfort of the Alpha Gold Aluminum frame, and that's exactly what happened.
Not only that, trek bikes designed trek verve 3 bike this bike, at the same time designed two models, respectively for men and women who commute or ride for fitness: the Verve 3 Disc and the Verve 3 Disc Lowstep, both with their own unique features.
The top tube of the Verve 3 Disc has a slight curve from front to back and tapers down near the seat post. This indirectly reduces the difficulty of straddling. It also has an upright geometry, which allows the rider to maintain an upright riding position and protects the shoulder and lumbar muscles from being strained.
In addition, the frame has racks and fender mounts, which are very easy to install and allow the bike to have more storage space.
Riders who like to work out don't have to worry about the number of water bottles that can be installed. The frame has a water bottle holder mount at the downtube and seat tube for long rides or fitness rides with plenty of hydration. Keep your body healthy.
2X9 Drivetrain (4.2/5)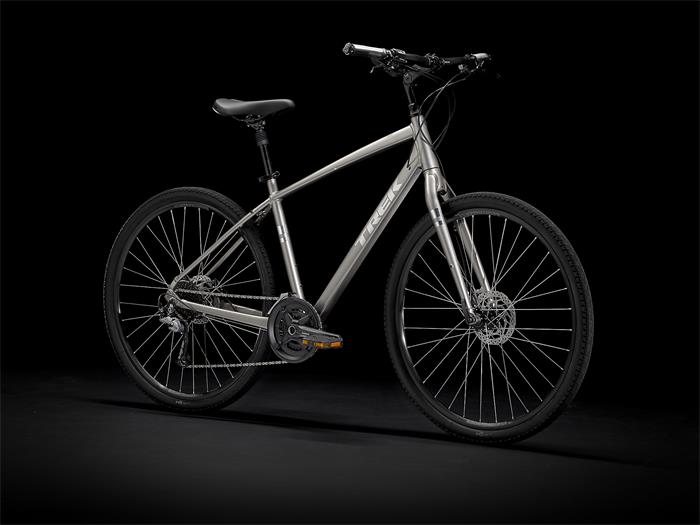 Trek Verve 3 Disc is not a complete Shimano Acera drivetrain, with superb robustness. And there is little to no jarring when shifting.
The KMC X9 Chain further enhances the drivetrain's durability. If you like to ride fast, then this paired component will allow you to ride over 5,000 miles without any problems.
Front Fork and ThruSkew (4.8/5)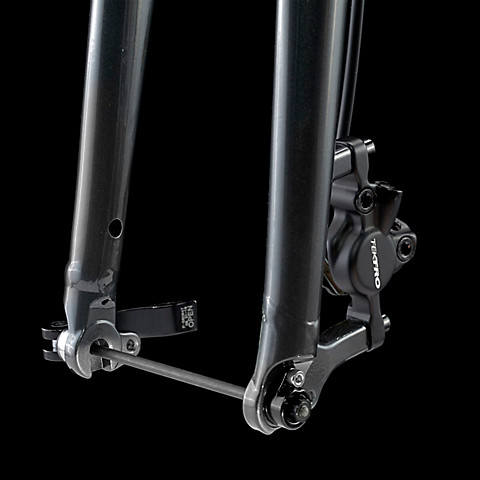 The alloy shock fork will keep you from damaging it over long rides and ensure continued riding stability.
Next is the quick release feature of the fork, which I was originally not a big fan of. The traditional barrel axle is more durable and ensures that the front wheel doesn't come off easily. But the Verve 3 disc still uses the quick release feature, and to my surprise, the ThruSkew feature.
ThruSkew captured quick release skewer ensures your front wheel will never drop out unintentionally. A simple solution for added peace of mind.
Shimano MT200 Hydraulic Disc Brakes (4.5/5)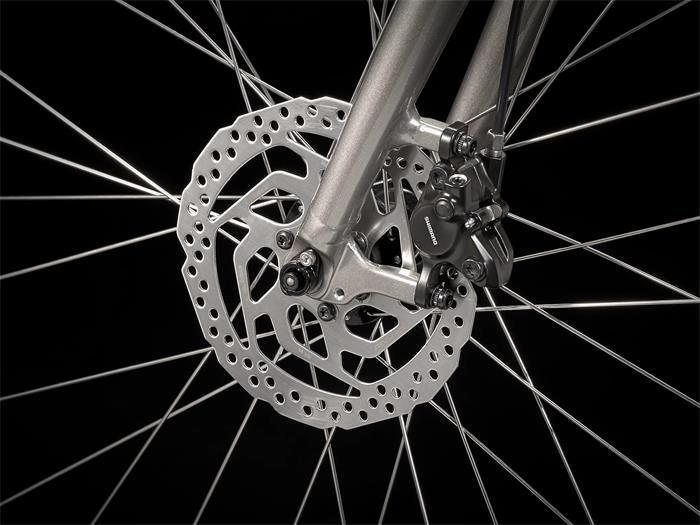 Shimano MT200 hydraulic disc brakes are a mid-range component. But the braking effect and longevity are obvious.
In our test of mechanical and hydraulic disc brakes, it was the hydraulic disc brake that braked more easily and effortlessly.
Just a light touch of the brake lever is all it takes to complete effective braking, providing superb braking power even on rainy bike paths or smooth downhill roads.
Bontrager IsoZone handlebar (4.7/5)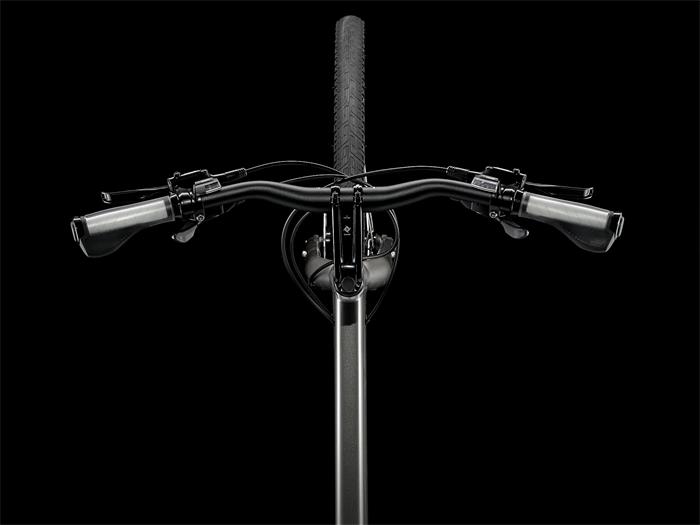 As the top model 3 of Trek Verve, it is equipped with handlebars that provide easy adjustment of handlebar height to change the riding position. Adjustable components that allow your family to ride comfortably as well.
In addition, the Bontrager IsoZone handlebars make an effort to damp the vibration, and the IsoZone material absorbs road bumps and buzzes. It puts you in a good mood to ride it.
Last but not least is the traditional item that ensures a comfortable ride, the Blendr compatible, which is great for mounting a cell phone mount or navigator, or also the searchlight that will be necessary for riding. A detailed component that maintains a clean look and the friendliness of a comfortable ride.
Shock absorbing seat post (4.8/5)
This is the same accessory as the Trek Verve 2 Disc. 27.2mm of travel. It has a very good riding experience in city roads. This serves the same purpose as the shock absorbing fork.
Bontrager H5 Hard-Case Ultimate Tires (4.5/5)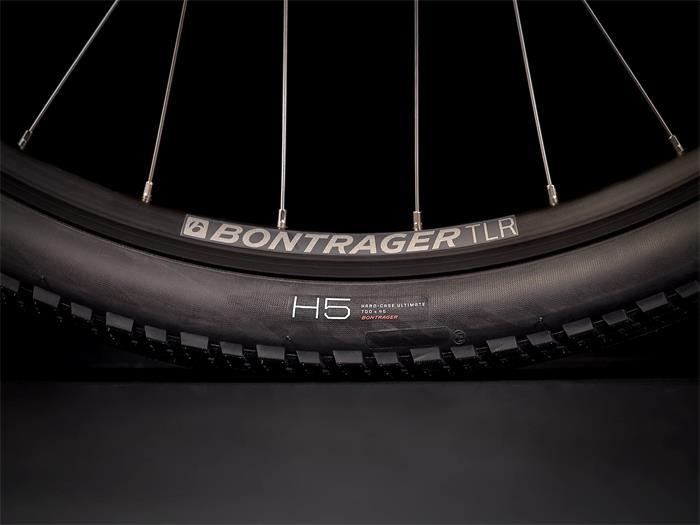 Long rides are often worried about tire durability, and for this reason, the Verve 3 Disc uses Bontrager H5 Hard-Case Ultimate tires, 700x45c wide tires that also have added puncture resistance.
The only drawback is that it is not a vacuum tire. But its Bontrager Tubeless Ready Disc Rim is supported to change to vacuum tires.
Clean internal alignment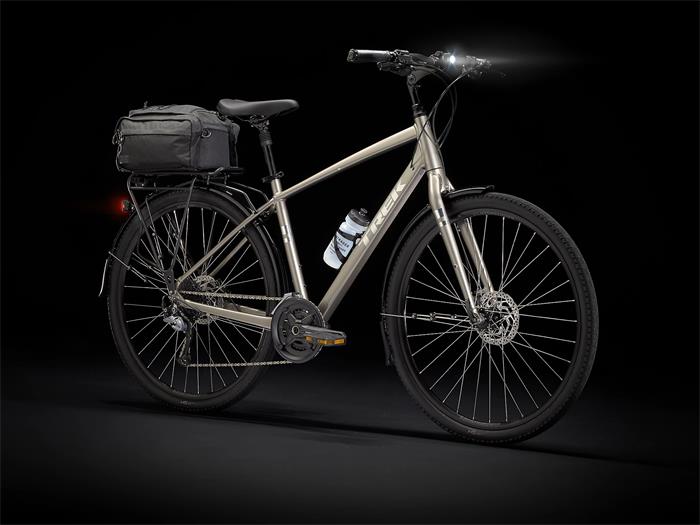 The obvious difference between a cheap hybrid bike and a mid-range hybrid bike is the presence or absence of internal alignment.
Of course, my opinion on this is arbitrary, but it's the most proven way to tell.
Internal cable routing makes the cables less prone to damage and gives a cleaner look on the body. The absence of cable snags makes the frame smoother as well.
Limited Lifetime Warranty Aftermarket
For easily damaged components, there is a clear standard warranty length in the warranty manual.
However, there is a lifetime warranty on the frame and fork. This is the reason why Trek bikes have a good reputation and their confidence in the bikes Trek produces.
Benefits of the Verve 3 Disc
Alpha Gold Aluminum frame for men and women
Clean internal alignment and stylish look
Pre-drilled mounting holes for rack and fenders
2 water bottle mounting holes
Puncture-resistant Bontrager tires
Upright riding position
Adjustable handlebar height and vibration and ride sound absorption
Limited lifetime warranty
What we don't like about it
The seat needs to be softer
Trek Verve 3 Specs
Frameset
| | |
| --- | --- |
| Frame | Alpha Gold Aluminum, rack & fender mounts, DuoTrap S compatible, IS disc brake mount, 135x5mm QR |
| Fork | Verve Alloy, threaded steel steerer, rack mounts, post mount disc, 460mm axle-to-crown, ThruSkew 5mm QR |
Wheels
| | |
| --- | --- |
| Hub front | Formula DC-20, alloy, 6-bolt, 5x100mm QR |
| Hub rear | Formula DC-22, alloy, 6-bolt, Shimano 8/9/10 freehub, 135x5mm QR |
| Rim | Bontrager Tubeless Ready Disc, 32-hole, Presta valve |
| Tire | Bontrager H5 Hard-Case Ultimate, wire bead, 60 tpi, 700x45c |
| Max tire size | 700x45c with or without fenders |
Drivetrain
Shifter
Size: S, M, L, XL
Shimano Acera M3000, 9 speed
Size: S, M, L, XL
Shimano Acera SL-M3010, 2 speed
Front derailleur
Shimano Acera T3000, 34.9mm clamp, top swing, dual pull
Rear derailleur
Shimano Alivio M3100, long cage
Crank
Size: S, M
Shimano MT210, 46/30, chainguard, 170mm length
Size: L, XL
Shimano MT210, 46/30, chainguard, 175mm length
Cassette
Shimano HG200, 11-36, 9 speed
Chain
KMC X9
Pedal
Bontrager City pedals
Components
Saddle
Bontrager Boulevard
Seatpost
Alloy, adjustable suspension, 27.2mm, 300mm length
Handlebar
Size: S, M
Bontrager IsoZone alloy, 31.8mm, comfort sweep, 620mm width
Size: L, XL
Bontrager IsoZone alloy, 31.8mm, comfort sweep, 660mm width
Grips
Bontrager Satellite IsoZone Plus, lock-on, ergonomic
Stem
Size: S, M
Bontrager alloy quill, 31.8mm clamp, adjustable rise, Blendr compatible, 85mm length
Size: L, XL
Bontrager alloy quill, 31.8mm clamp, adjustable rise, Blendr compatible, 105mm length
Headset
1-1/8" threaded, semi-integrated, semi-cartridge bearings
Brake
Shimano MT200 hydraulic disc
Brake rotor
Shimano RT26, 6-bolt,160mm
FAQ
How much does Trek Verve 3 weight?
M-frame is 14.35 kg / 31.64 lbs.
Which paint colors are available for Trek Verve 3?
Trek Verve 3 Disc is available in Metallic Gunmetal and Mulsanne Blue paint colors, which are very suitable for young men.
The Trek Verve 3 Disc Lowstep is available in Quicksilver and Purple Abyss.
Which size rider does the Trek Verve 3 Disc fit?
S
M
L
XL
Rider Height
155.0 – 165.0 cm
5'1.0″ – 5'5.0″
165.0 – 175.0 cm
5'5.0″ – 5'8.9″
175.0 – 186.0 cm
5'8.9″ – 6'1.2″
186.0 – 197.0 cm
6'1.2″ – 6'5.6″
Inseam
72.0 – 78.0 cm
28.3″ – 30.7″
77.0 – 83.0 cm
30.3″ – 32.7″
72.0 – 78.0 cm
32.3″ – 34.6″
87.0 – 93.0 cm
34.3″ – 36.6″
What is the Verve 3 Disc and Trek Verve 3 Disc Lowstep price?
$929.99
Comparison Table
Competition
Trek Verve 1 Disc vs Verve 3 Disc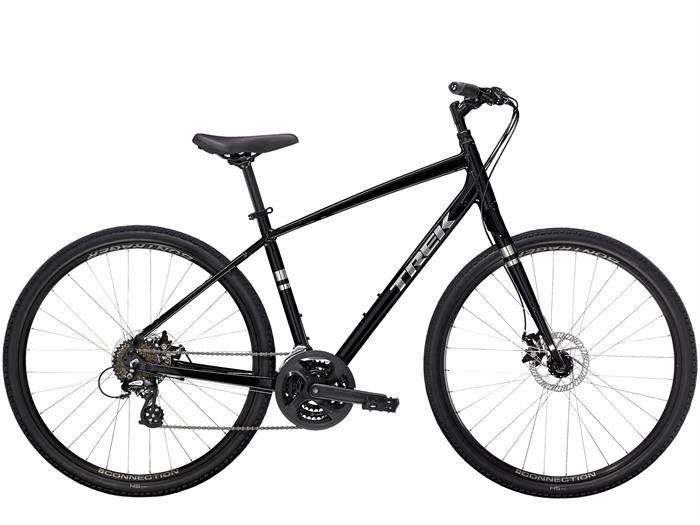 The Trek Verve 1 Disc uses a lower-end, incomplete Shimano Altus 3X7 drivetrain than the Trek Verve 3 Disc.
Among them is the Shimano Tourney front derailleur, which is slightly less sturdy and responsive than the Verve 3 Disc.
Then there is Wellgo nylon platform, which is also of poorer quality and easily damaged. Lastly, mechanical disc brakes are used. So the trek verve 1 disc is a simplification of some core components in the Verve 3 Disc, and the riding comfort of the trek Verve 3 Disc is also more comfortable.
With a lower price tag, the trek verve 1 is suitable for riders on a lower budget. It is also slightly lighter at 0.8 lbs. If you are looking for better riding comfort, the Trek Verve 3 Disc is well worth a try.
Learn more: Is The Trek Verve 1 Disc Worth Buying?
Verve 2 Disc vs 3 Disc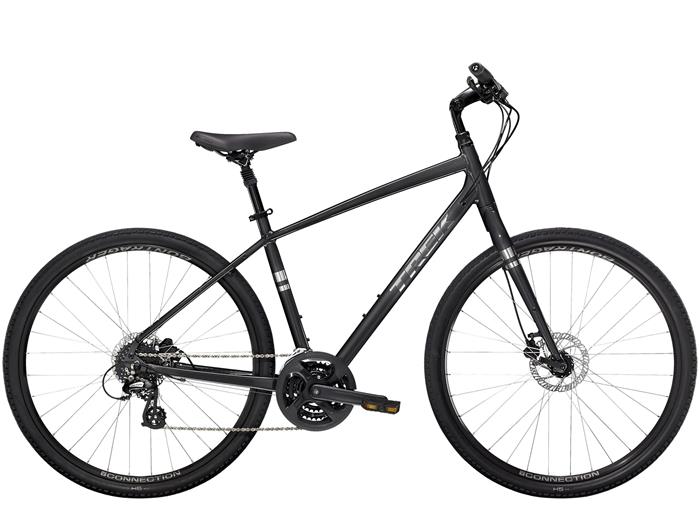 Between the Trek Verve 2 Disc and the trek Verve 3 Disc, the differences are centered on the drivetrain.
The Trek Verve 2 Disc uses an incomplete Shimano Altus 3X8 drivetrain. More gear counts are provided. The Trek Verve 3 Disc uses the Shimano Acera 2X9 drivetrain. Seems to be a little more high-end.
But the difference is not that big. The Verve 3 Disc is for riders on a bigger budget who are looking for an incredibly comfortable ride.
You get a lot of bang for your buck with the Trek Verve 2 Disc. The choice between these two is a toss-up for me as well.
Learn more: Is Trek Verve 2 Disc Worth Buying? Replaceable Models-Review
Trek Dual Sport 3 vs Trek Verve 3 Disc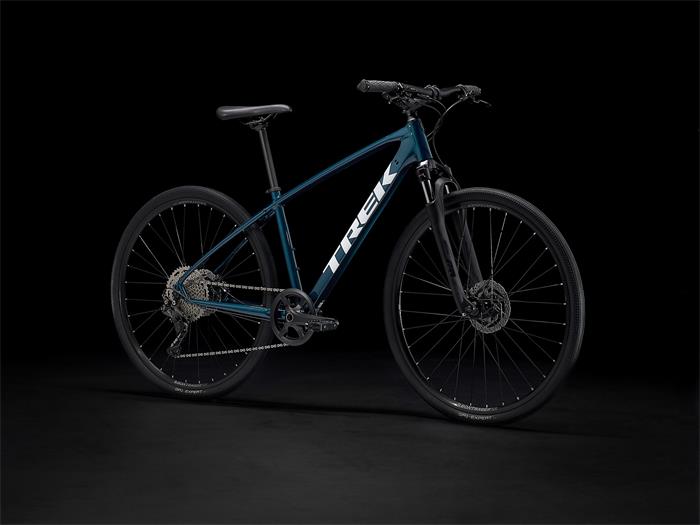 Both the Trek Dual Sport 3 and the Trek Verve 3 Disc are very close in price. The Trek Dual Sport 3 and Trek Verve 3 Disc are very similar in price, but they are two different styles of hybrid bikes. The terrain is also different.
For the Trek Dual Sport 3, there is a hydraulic locking SR Suntour NEX shock fork, Shimano Deore 1X10 drivetrain, and Bontrager GR1 Expert puncture-resistant 700x40c tires. Both of these are great bikes to buy.
In the actual riding experience, we have our own opinion about the trek dual sport 3 2022 review.If you live in the Midlands or like hilly mountain riding you'll be well suited to the Trek Dual Sport 3. The Trek Verve 3 Disc is the model that will give you comfortable neighborhood rides or the occasional gravel ride.
So for me personally, I prefer to call it city bikes.
Schwinn GTX Elite Hybrid Bike vs Trek Verve 3 Disc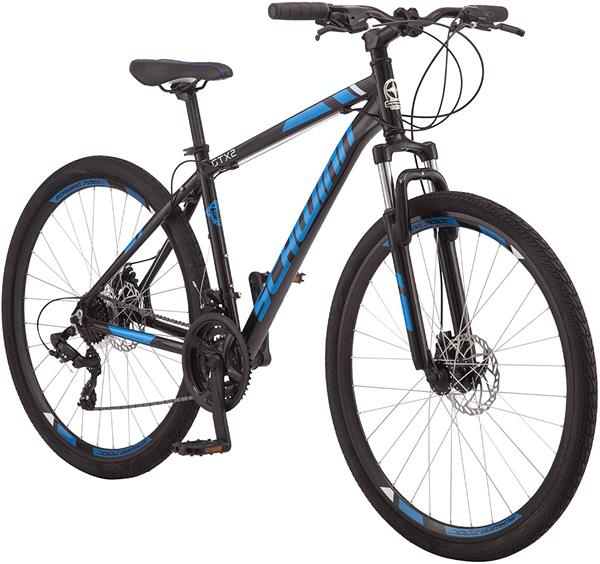 With a choice of hybrid bikes at a variety of prices, the Schwinn GTX has a decent package: 3X8 drivetrain, dual sport frame, and hard wearing tires.
Of course, this is a step down from the comfort of the Trek Verve 3 Disc.
From quick morning commutes to short trips on long weekends, the Schwinn GTX has all your riding needs covered.
With its lightweight dual-sport aluminum frame, sturdy mechanical disc brakes and multi-condition tires, the ride is always smooth. Enjoy the freedom of riding Schwinn.
That's why the Schwinn GTX Hybrid Bike is a hybrid bike worth considering.
Final Verdict (4.7/5)
With the ultimate in comfortable riding enjoyment, the Trek Verve 3 Disc is a hybrid bike designed for commuter riders and casual riders looking for a comfortable ride. Under $1000, I would call it one of the best hybrid bicycle.It is a great bike to buy. We finally gave it an overall rating of 4.7.If you are interested in Trek, you can go to Google Trek bikes sale. Then you will get the latest Trek bikes prices and other information.
Related Videos
Learn more: Is Cannondale Adventure Worth Buying? [Cannondale Adventure Review]