We use affiliate links and may receive a small commission on purchases.
If you are about to buy a Schwinn GTX Hybrid Bike when you read this review, please read it and choose. Maybe you'll like it better, or you'll select a different model of bike.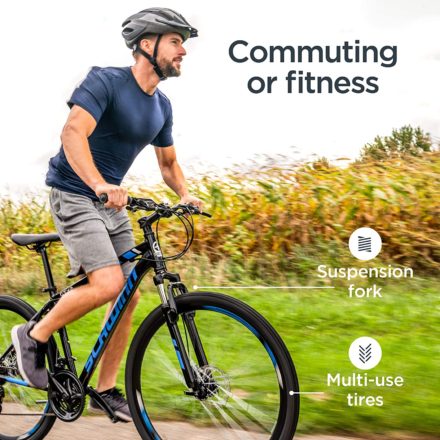 There are always many options when it comes to buying a bike of your choice. Is this the right bike for me? What kind of bike is right for my height?
What are the best mountain bike options? These are all questions that plague our buying choices.
Of course, after reading this article, you will have a new understanding of the Schwinn GTX Comfort Adult Hybrid Bike. Let Go!
When we buy a bike, the first thing we need to check is the bike's specifications.
Schwinn GTX Hybrid Bike Specs
The car is divided into two types of men's and women's models, in addition to differences in styling.
| | |
| --- | --- |
| Frame Sizes | 17",18", 20" |
| Wheel Size | 700c |
| Frame | Aluminum |
| Fork | Alloy crown, Alloy lower, 70mm travel |
| Cranks | 3 piece alloy |
| Front Derailleur | DNP Down Pull |
| Rear Derailleur | 7-speed gearing |
| Cog Set | 7-speed |
| Shifter | Twist shifters |
| Hub | Alloy |
| Rims | Alloy |
| Tires Size | Schwinn 700C x 38C |
| Brakes | Alloy Linear Pull |
| Brake Levers | Alloy Levers |
| Handlebar | Alloy |
| Stem | Alloy Quill |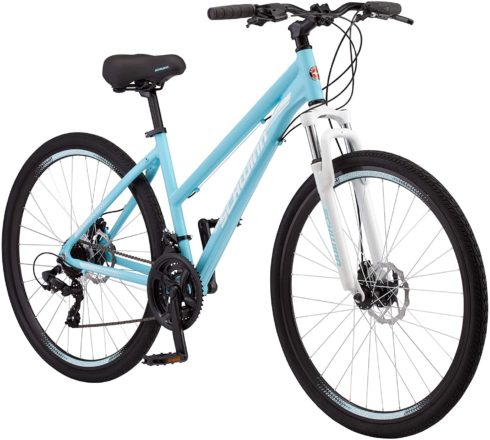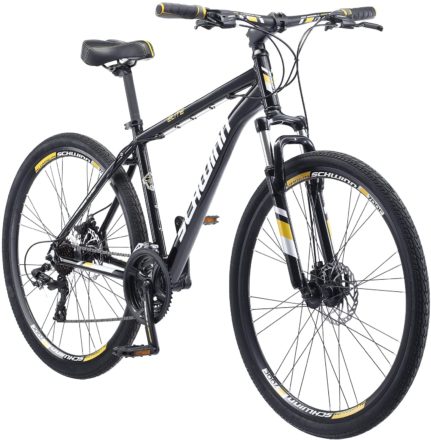 Schwinn GTX Hybrid Bike Features
Appearance
| | | | |
| --- | --- | --- | --- |
| Style | Schwinn GTX Elite | Schwinn GTX 1.0 | Schwinn GTX2.0 |
| | | | | | | |
| --- | --- | --- | --- | --- | --- | --- |
| Size | 17-Inch Frame | 18-Inch Frame | 20-Inch Frame | | | |
| Color | Black/Yellow | Black | Black/Blue | Blue | grey | Light Blue |
| Speed | 24 Speed | 21 Speed | 21 Speed | | | |
Among them, Black, Black/Blue, grey are all men's models. The Black/Yellow, Blue, and Light Blue colors are women's models. The choice is based on personal preference.
Because the body paint color is more selective, so there are more choices when selecting. Many girls focus more on appearance when buying a bike, so the advice for female riders is to buy Light Blue. This color looks better.
Men, on the other hand, are more concerned about the practical features of their bikes.
Frame
From the specs, this hybrid bike's frame material is aluminum. And for the frame choice to see, bikes above $500 and above basically use this material. Its sturdy and durable, lightweight nature is also the choice of many buying bikes.
Schwinn GTX hybrid bikes have 3 types of frames to choose from, 17-Inch Frame, 18-Inch Frame, 20-Inch Frame. The advice here is to pick according to your height, but of course, if you are used to a specific size, you can pick according to your habits.
A reasonable frame determines the sturdiness of the bike. According to the theory of ergonomics, aerodynamics, and other disciplines, the frame is constructed so that it can add points to your riding experience.
Not only that, the frame of the Schwinn GTX hybrid bike does a great job of hiding the brake lines and powertrain cables from being exposed, increasing longevity.
The frame also comes with an attached bottle holder, allowing you to have a tasty drink while taking a break from riding. Don't ever bring a Coke. That will be a disaster to open.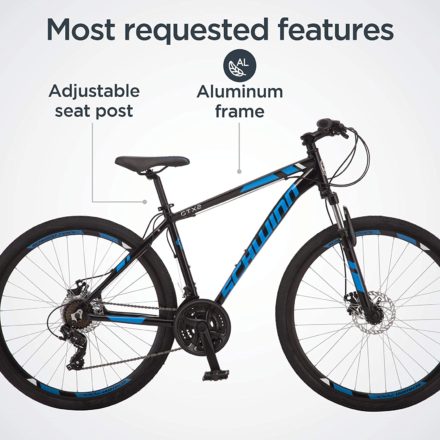 Fork
The Schwinn GTX hybrid bikes are equipped with the SR Suntour fork, which has up to 70mm of travel, and because it is defined as a hybrid bike, this travel is sufficient even on not particularly harsh mountain terrain.
It can absorb most of the vibration and shock from the road. If you use this bike mainly as a commuter, would you still like it to be ridden on mountain trails?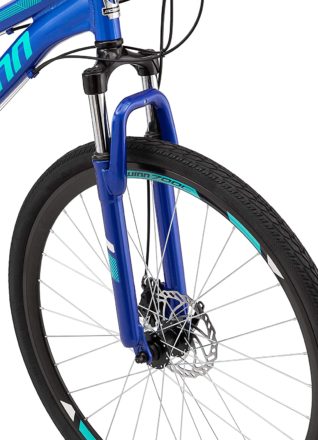 Powertrain
Like most hybrid bikes, the Schwinn GTX 1.0 and Schwinn GTX 2.0 versions feature a 21-speed power configuration with a front triple and a rear 7. Shimano 21-speed twist shifters and Shimano rear derailleurs ensure fast, crisp shifts. Although not one of Shimano's more premium accessories, the shifter is still adequate.
The Schwinn GTX Elite is a 24-speed configuration with 3 front and 8 rear. So its price is higher than the two versions above.
But I think 21-speed is enough to use. If your budget is more adequate, then you can also choose Schwinn GTX Elite.
Braking system
Here is an excellent example of the difference between these 3, each with its advantages and disadvantages of course. We will also get different results when we choose other bikes again. Then I will explain these 3 styles of braking one by one.
Schwinn GTX 1.0 takes front and rear V-brakes. If you use it for commuting to and from work, then such a braking system is enough for you.
While using it, you will also feel that the braking stroke is the shortest, the braking effect is also praiseworthy, and you can even refresh the rim to keep your circumference clean from time to time.
The Schwinn GTX 2.0 and Schwinn GTX Elite feature front and rear mechanical disc brakes that provide reliable braking power. The front and rear disc brakes work well when riding in the mountains or on bumpy roads.
However, the right-side control rear brake is usually used to ride safely. If you encounter an emergency brake, you can use the front and rear brakes simultaneously. This can be an excellent way to ensure your safety.
Rims and Wheels
The Schwinn GTX hybrid mountain bike is divided into 3 styles, but all use the same rim and wheel configuration. 700c*38c in size, but only 1.5″ wide, which is enough for the average rider. It can also provide a firm grip. But if you wish to ride on mountain roads, you have to change to special mountain tires.
Because it is narrower, it will save more effort when riding on asphalt roads. The rims are double-walled alloy and can easily carry more than 285 pounds.
Handlebars, seat
The handlebars and seat of the Schwinn GTX are designed to keep you in an upright position while riding. This not only helps to see the road but also ensures enough safety.
And many trim accessories can be added to the handlebars, such as reversing mirrors, bells, or cell phone holders. Let your ride will also become safe and fun.
The saddle is deliberately added with soft padding, and there is enough comfort for riding. The seat height can be adjusted. You need to adjust to the lowest position when you sit with your toes pointed up.

Related Recommendations
Mirrycle MTB Bar End Mountain Bicycle Mirror , Black
Roam Universal Bike Phone Mount for Motorcycle – Bike Handlebars, Adjustable
Accmor Classic Bike Bell, Aluminum Bicycle Bell, Loud Crisp Clear Sound Bicycle Bike Bell for Adults Kids
What are the pros and cons of the Schwinn GTX hybrid bike?
Advantages
Schwinn GTX is very affordable
Aluminum frame, lightweight and durable
Hybrid bike with mountain bike features
Comfortable and safe to ride in a seated position
Effective suspension for reduced vibration
21-24 speed powertrain for a fun ride
Easy to assemble
Limited lifetime warranty
Disadvantages
No larger frame available
The quality of the chain needs to be improved
Schwinn related questions and answers
After understanding its pros and cons, learn about asking questions before you buy.
What is the weight limit for the Schwinn GTX?
What height does the Schwinn GTX hybrid bike fit?
Here is a comparison table to pick from based on your height.
Frame Size and Height Recommendations
Here is a reference table for me to collect a frame size and your height. I hope it will help you when picking a mountain bike.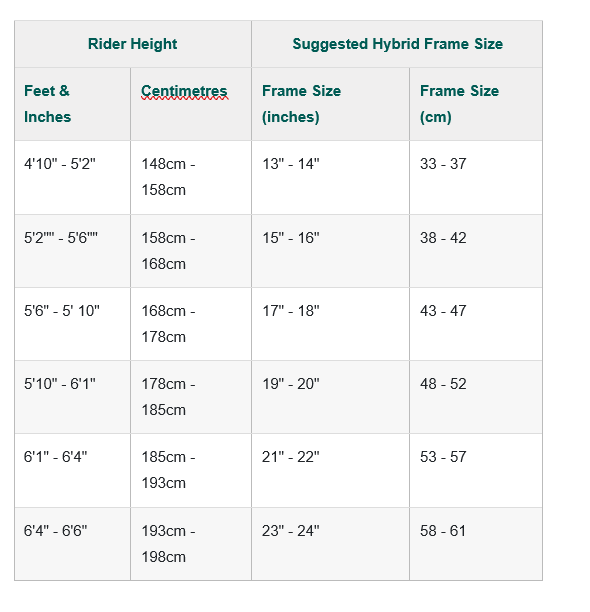 Does it come with reflectors?
Yes, this bike has reflectors on the wheels, handlebars and seat.
Does this bike have mounting holes in the frame to mount the rear rack?
How do I install the Schwinn GTX hybrid bike?
Since it was purchased without the tools needed to assemble it, I will recommend a small kit below that I have purchased and is easy to use for regular use or to use to assemble the bike after purchase. Following the instructions makes it easy to install the handlebars, seat, front wheel, and pedals. Final adjustments are still needed. Check the owner's manual for instructions. You will need a Phillips head screwdriver, a set of Allen wrenches (4mm, 5mm, 6mm, and 8mm) and an adjustable wrench (or 9mm, 10mm, 14mm and 15mm open-end and socket wrenches).
Is it possible to raise the handlebars?
Yes, you can add spacers to raise the handlebars. I raised mine about 1/2″, but you have to be careful. The minimum insertion mark of the bar (it is the horizontal ring around the bar) must not be visible outside the steering column. Otherwise, the rod is not stable enough to be safe and should be lowered.
Failure to properly tighten the two bolts on the handlebar may result in you losing control and falling. As seen below, check the tightness of the handlebar wedge bolts. Turn your hybrid around and push the front wheel into your leg. Experiment with twisting the handlebars with a lot of force. If they move, tighten the handlebar wedge bolts again.
What is the difference between the GTX Elite and the GTX 2.0?
The men's GTX Elite is a 24 speed bike and the 2.0 is a 21 speed bike.
What is the warranty policy for the Schwinn GTX Hybrid Bike?
The Schwinn Limited Lifetime Warranty will cover replacement parts for manufacturing defects for 1 year from the date of purchase (except for wearable items such as tires/tubes). The frame is covered against manufacturing defects at the time you own the bike. Sales receipts are required to verify the warranty.
Who is the Schwinn GTX Hybrid Bike for?
The Schwinn GTX hybrid bike is divided into men's and women's models and is suitable for both men and women in terms of color and performance.
But its characteristics tell us it's not for everyone because it's a hybrid, and although it has both the features of a hardtail mountain bike, it's unique, but it's more suitable for beginners or commuters. The weight of the load is 295 lbs.
However, many users have well-received it as a quality commuter bike or for simple mountain riding. The height restriction is not that big. It is suitable for riders between 5'4″-6'4″. 80% of people are within this height range.
Is it worth buying?
This bike is well worth buying. Cost-effective, taking into account a wide range of functions and a wide range of uses. A sturdy and durable bike and a designed bike to make your purchase even better value. Short trips on the Schwinn GTX hybrid bike are also a pleasure.
Is schwinn a good bike brand ?
Overall, Schwinn is considered a good bike brand.