We use affiliate links and may receive a small commission on purchases.
Kona Wo
Kona mountain bike reviews: Our real ride experience
Price: $1999
Suspension: None
Tires: 26 x 4.8 in.
Gears: 1 x 11
What we like: Super fat tires that can break through snow and sand and other special terrains, a must-see mountain bike for riders over 300 lbs.
What we don't: Not suitable for commuting
Rating: (4.6/5)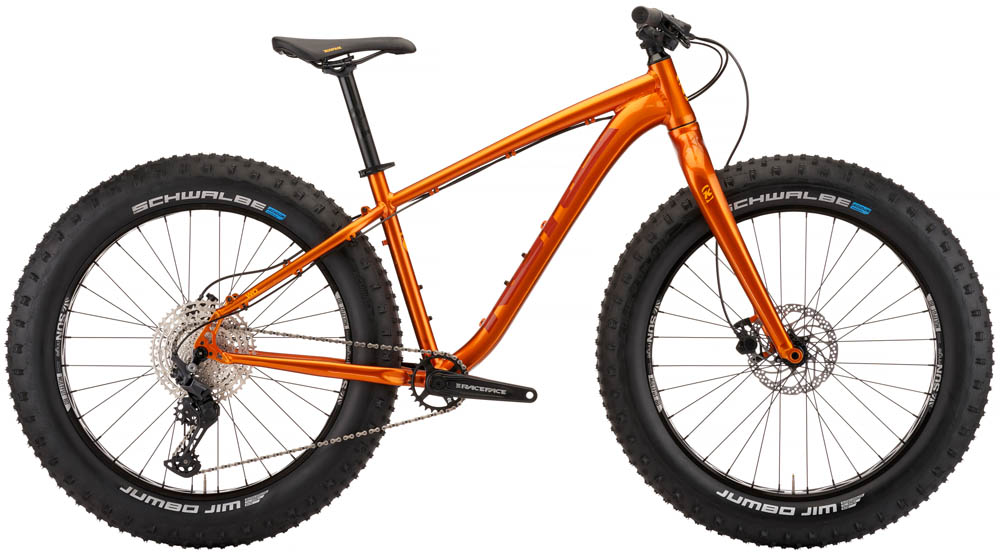 With the popularity of mountain bikes, many well-known manufacturers are also releasing fat-tire bikes. It also seems to herald an increase in the number of riders over 300 pounds.
Bicycles with fat tires are very fun to ride. So this article is our review of the latest Kona Wo 2022. We've compared its descents, climbs, key features, and comparisons to other versions, so you can see if the Kona Wo is worth buying?
If you want to know more about the best mountain bikes in the same price range, you can check out our Best Mountain Bikes Under $2000-[2022].
Kona Wo frame details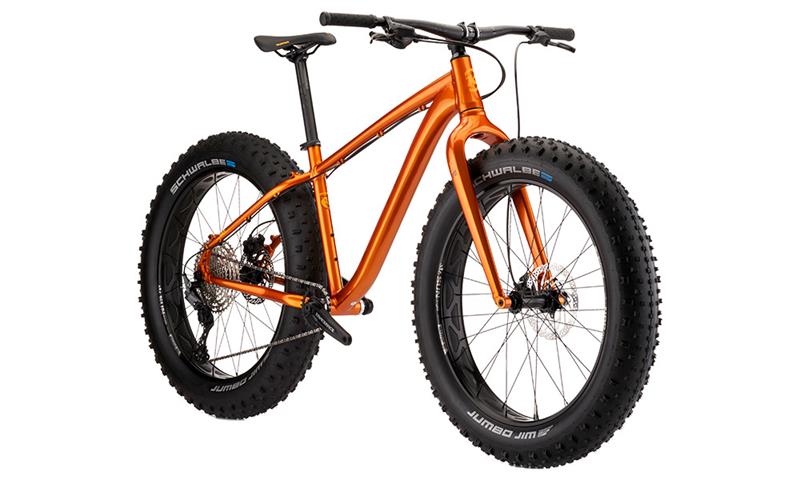 At the heart of the Kona Wo is the Kona Fat 6061 Aluminum. The aluminum structure with special craftsmanship uses a butt tube, which is similar to the models of the same price that we reviewed in the past, which can increase the strength very well and the welding is relatively simple. We noticed that Kona Wo did not use the form of internal wiring, and also avoided the structural impact of the internal wiring on the aluminum tube.
In addition, the deep orange paint is very suitable for young people, even if you are an older person.
The frame has two water bottle holders, you can carry two bottles of water when you go out.
According to the needs of special terrain, the Kona Wo does not have a front suspension, of course, this does not mean that the shock absorption is poor in gravel terrain, there will still be some gaps compared with ordinary mountain bikes.
Kona Wo 2022 Geometry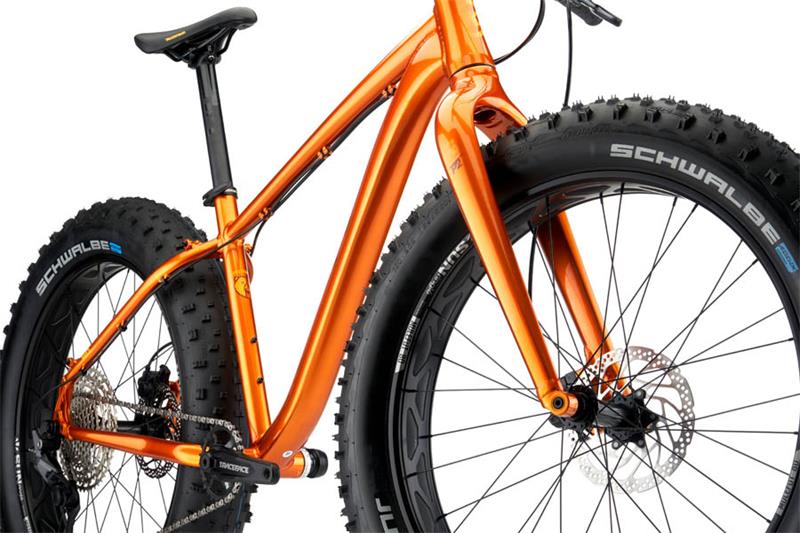 The geometry of the Kona Wo is steeper, which makes it better in snow or sand. It offers a 69° head tube angle and a 73 ° tube angle.
Seat tube angle neutralizes the adverse effects of a sharp head tube and maintains a relatively comfortable riding position.
Since riders whose weight exceeds the limit of ordinary bicycles are generally taller, Kona Wo's front extension has been partially increased, and the XL has a 485mm front extension.
Chainstays are 455mm long for all sizes. In terms of size selection, Kona Wo has 4 sizes of frames, so you can choose the appropriate frame size according to your body data or preference.
We prefer Kona Wo's stable performance on special terrain, which also stems from Kona Wo's careful polishing of frame geometry.
GEOMETRY(mm)
| | | | | | |
| --- | --- | --- | --- | --- | --- |
| | SIZE | S | M | L | XL |
| 1 | ST LENGTH | 381 | 432 | 383 | 533 |
| 2 | TT LENGTH | 591 | 619 | 647 | 679 |
| 3 | REACH | 405 | 430 | 455 | 485 |
| 4 | STACK | 608 | 617 | 627 | 636 |
| 5 | STANDOVER | 739 | 768 | 792 | 802 |
| 6 | HT ANGLE | 69 | 69 | 69 | 69 |
| 7 | HT LENGTH | 120 | 130 | 140 | 150 |
| 8 | ST ANGLE | 73 | 73 | 73 | 73 |
| 9 | CS LENGTH | 455 | 455 | 455 | 455 |
| 10 | BB DROP | 60 | 60 | 60 | 60 |
| 11 | BB HEIGHT | 324 | 324 | 324 | 324 |
| 12 | WHEELBASE | 1125 | 1154 | 1182 | 1216 |
| 13 | FRONT CENTER | 677 | 705 | 694 | 767 |
| 14 | FORK LENGTH | 485 | 485 | 485 | 485 |
| 15 | FORK OFFSET | 55 | 55 | 55 | 55 |
Kona Wo Specs
When it comes to Kona Wo, I also have to mention its specifications. I think it is not as high-end as well-known brands in terms of hardware configuration. Perhaps it is because the wide tire bikes are relatively small, so manufacturers cannot mass-produce them.
I specifically looked at over 20 wide tire bikes for this and found them more or less overpriced.
However, the Kona Wo is also surprisingly good value for money, with 4.8-inch Schwalbe Jumbo Jim TR front and rear, although only 26 inches, which is the 650b tires we often see.
But when actually riding, it doesn't feel small, I can see it as a 27.5-inch tire.
Without the restraint of the front suspension fork, the overall weight is not very heavy. The Shimano Deore's 11-speed drivetrain doesn't have the wide range of its 12-speed sibling, so only discerning mountain bikers will feel the lack of shift range.
There are also commendable braking systems, Kona Wo is equipped with Shimano RT30 hydraulic disc brakes, the front disc has 180mm, which is enough for precise braking in snow.
The standard handlebar is 31.6mm, and there is nothing to be picky about. This is also a good size to match the grip. If you don't like the slightly bent riding position, you can easily find a matching grip.
Kona Wo Climbing Performance
The Kona Wo belongs to a rather special category of mountain bikes: fat tire mountain bikes.
For riders who like to ride this type of mountain bike, the Kona Wo is still very comfortable, both in the riding position and on steep hills.
It's actually perfect for steep mountain riding, but you can't guarantee a fast pass. 4.8-inch wide tires let you climb up as if you were walking, and with no front shock fork, it's also very efficient in terms of transmission.
The 11-speed drivetrain, which also didn't come off throughout, offers a relatively wide range of gearing.
Not only that, but we got 305lb Leo, who found a longer section of slope with me, and he quickly adapted to the Wo and was able to pass through the single track slope very smoothly.
Loose sand is a tougher climbing terrain for the average mountain bike, but that happens to be the fat tire mountain bike's strength, so we really appreciated its ability to pass on this terrain.
Of course, we had no way to find snow to test it in, but that didn't stop us from judging its performance in snow riding by its advantage of passing through similar sandy terrain.
Having said that its superior performance in this terrain, it still has to be said that it is not as fast as a normal mountain bike.
Kona Wo Descent Performance
Mud-filled downhill terrain is the least favorite terrain for many riders.
Often the slightest deflection on a fast descent will force you to stop, and such terrain is very detrimental to riding efficiency.
But the Kona Wo takes full advantage of the muddy or sandy descending terrain, with its wide tires almost suspended in the muddy water-filled road.
The tires are also not prone to caking into hard-to-remove mud clumps, which can block the descent.
Even on loose sandy ground, it can switch directions smoothly in small corners.
The bike's impressive agility is constantly appreciated during the fast descents.
I could feel the tires providing a lot of resistance when braking hard, and the hydraulic disc brakes with strong clamping force didn't make it difficult to control.
The descent on gravel roads is not as ideal as one might expect, and the wide tires, while providing some shock absorption, are no match for a mountain bike with a 120mm+ shock fork.
Flat Terrain
For daily exercise or non-aggressive mountain riders, the vast majority of the terrain is undulating mountain terrain.
It doesn't reflect the strengths of the Kona Wo, but it's easy to relax on a soothing ride. This is especially true for many overweight riders, who also can't manage to ride all the way through technically difficult mountain terrain.
That's why our tester, Leo, was very relaxed when passing over gravel or watery beaches.
The sandy terrain seemed to be the best terrain for the Kona Wo, and we found a 1000 meter river beach with coarser grains that didn't let it get bogged down and provided a good workout.
The sand particles that were raised, also did not affect the operation of the drivetrain, which was not particularly fast, but still managed to pass smoothly.
Like a big toy, the Kona Wo can't be a cross-country mountain bike in the strictest sense of the word, and it will still surprise riders who like it with its performance on loose terrain.
F&Q
What are the improvements between the 2022 version of the Kona Wo and the 2021?
The Kona Wo 2022 has a major change in paint color, from the original champagne color to a dark orange.
Other than that, there are not many improvements.
What is the front chainring of the Kona Wo?
The Kona Wo's chainring is not a 30 or 32 tooth configuration like other brands of mountain bikes, but a 28t configuration. This is also the idiosyncratic chainring configuration, and of course if anything the benefit of this is that it increases transmission efficiency very well.
The body weight of the Kona Wo?
33lbs(size small)
Kona Wo Specs
| | |
| --- | --- |
| FRAME MATERIAL | Kona Fat 6061 Aluminum Butted |
| SIZES | S, M, L, XL |
| REAR SHOCK | n/a |
| FORK | Kona Wo Fat Disc |
| CRANKARMS | Race Face Ride Fat |
| CHAINRINGS | 28t Wide/Narrow |
| B/B | Race Face 100mm |
| PEDALS | n/a |
| CHAIN | KMC X11 |
| CASSETTE | Shimano Deore 11-51t 11spd |
| CHAINGUIDE | n/a |
| F/D | n/a |
| R/D | Shimano Deore 11spd |
| SHIFTERS | Shimano Deore 11spd |
| BRAKE CALIPERS | Shimano MT201 Hydraulic |
| FRONT BRAKE ROTOR | Shimano RT30 180mm (centerlock) |
| REAR BRAKE ROTOR | Shimano RT30 160mm (centerlock) |
| BRAKE LEVERS | Shimano MT201 Hydraulic |
| HEADSET | Feimin FP-H863 |
| HANDLEBAR | Kona XC/BC 35 |
| STEM | Kona XC/BC 35 |
| SEATPOST | Kona XC/BC 31.6mm |
| SEAT CLAMP | Kona QR |
| GRIPS | Kona Key Grip |
| SADDLE | Kona Fat |
| FRONT HUB | KT 150x15mm |
| REAR HUB | KT 197x12mm |
| SPOKES | Stainless Black 14g |
| RIMS | Sun Ringle Mulefut 80 Tubeless Ready |
| FRONT TIRE | Schwalbe Jumbo Jim TR or Vee Tire Snow Avalanche TL Ready 26×4.8″ |
| REAR TIRE | Schwalbe Jumbo Jim TR or Vee Tire Snowshoe XL TL Ready 26×4.8″ |
| PAINT COLOR | Gloss Metallic Oxy Fire w/ Dark Orange & Orange Decals |
| EXTRAS | n/a |
Comparison Table
BIKE
TRAVEL
WHEEL SIZE
DRIVETRAIN
PRICE
OFFERS
Canyon Stoic 4
140mm
29×2.35"
SRAM NX, 12 speed
$1999.99
CLICK
VIEW
Trek Farley 5
/
27.5×4.50"
Shimano Deore, 10 speed
$1999
CLICK
VIEW
Minnesota LTD Fat Bike 27.5″
/
27.5″ x 4″
Shimano SLX, 12 speed
$1,349.95
CLICK
VIEW
Alaskan Carbon GX Eagle
/
27.5″ x 4″
SRAM GX,12 speed
$2,899.95
CLICK
VIEW
Competition
Canyon Stoic 4 vs Kona Wo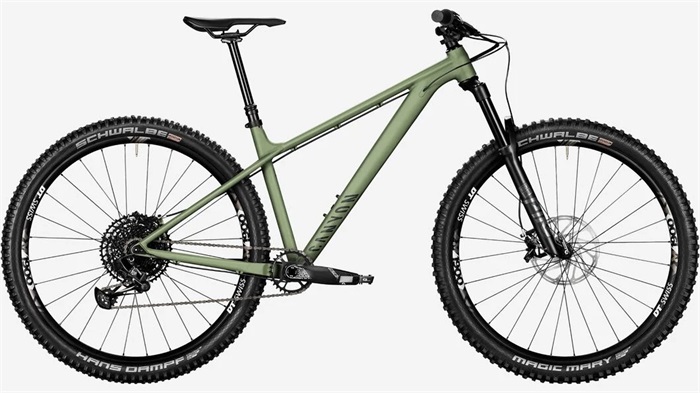 Selling for almost the same price, the Canyon Stoic 4 is a very cost effective cross country mountain bike.
Although it's not a fat bike, it has a very high level of relevant features. When you choose a non-fat tire bike, you'll get a 140mm shock fork, SRAM NX 12-speed drivetrain, SRAM Guide T hydraulic brakes, and Iridium Dropper, which are relatively high-end features.
If you ride the Canyon Stoic 4 and the Kona Wo together in sand or snow, the Kona Wo pretty much crushes the Canyon Stoic 4 in these terrains due to its 4.8-inch wide tires.
But on hard-packed uphill or downhill terrain, the Canyon Stoic 4 has very good hardware, so it is very fast and light on both climbs and descents.
The Canyon Stoic 4 is also equipped with droppers for a very comfortable ride, making it a great choice if you're looking for a fast cross-country mountain bike.
Learn more: Is Canyon Stoic 4 Worth Buying? [Canyon Stoic 4 Review]
Trek Farley 5 vs Kona Wo
The Trek Farley 5, which is still priced the same, has both compromises and upgrades in its configuration, and I personally believe that the two are in the middle.
Although the Trek Farley 5 and Kona Wo head tube angles are the same, the Trek Farley 5's effective seat tube angle is 1.5° looser, at 71.5 degrees.
While the Trek Farley 5 is equipped with a Shimano Deore 10-speed drivetrain, the Kona Wo is equipped with an 11-speed drivetrain that will more easily meet your needs if you have a requirement for gear range.
The Kona Wo, on the other hand, has no dropper, which can be bumpy for gravel terrain, and is a configuration you'll look forward to upgrading when you're looking to tackle some technical terrain.
The Trek Farley 5, however, comes with TranzX droppers that reach a maximum of 130mm of travel, enough for riding on a lot of terrain.
Finally, let's compare their tires. The Kona Wo has wider tires, 26×4.8″, while the Trek Farley 5 comes with larger 27.5×4.5″ tires (S, M, and 3.8″ widths are available). Wo will be more advantageous.
We think the Trek Farley 5 is relatively average and needs fewer upgraded parts. The Kona Wo, on the other hand, has outstandingly large tires, and good performance. If you prefer snow or sand riding, both of these mountain bikes are good choices.
Learn more: 2022 Trek Farley 5 Review – Does It Qualify To Be Your Fat-Tire Bike?
Minnesota LTD Fat Bike 27.5″ vs Kona Wo
The Minnesota LTD Fat Bike is one of the more cost effective mountain bikes I could find, it doesn't have the brand premium so it's a bit more affordable.
The head tube angle and seat tube angle are the same on this model, but the Minnesota LTD Fat Bike has a 21mm shorter rear fork, which gives it more climbing power, but requires a bit of finesse when descending. And you can ride in a more upright manner.
I have to say the Minnesota LTD Fat Bike has the most noticeable improvement in the drivetrain, the Shimano SLX 12 Speed gives you more gear range and it also comes with the original pedals so you don't have to spend more money to buy them separately.
The Minnesota LTD Fat Bike's tires are a bit narrower at 27.5″ x 4″, but it comes with a composed barrel axle for a faster ride and more confidence when jumping.
Since the Minnesota LT D Fat Bike is more affordable, you need to accept the fact that it has a body weight of 35 pounds.
The Minnesota LTD Fat Bike is also a good choice if you are looking to buy a more cost effective fat tire bike.
Alaskan Carbon GX Eagle vs Kona Wo
The Alaskan Carbon GX Eagle is a good choice when you have a little more budget.
Instead of an alloy fork, it has a lighter carbon fiber front fork and carbon fiber wheels.
This reduces the overall body weight by about 2 pounds.
The SRAM GX drivetrain, too, is a nice powertrain upgrade.
The 27.5×4″ Maxxis tires can carry higher and faster riders who want to ride faster and are equally agile in the face of snow and sand.
And with a budget of just $900 higher, riders on a budget can get a nice fat tire bike.
Final Verdict (4.6/5)
The Kona Wo is a fat tire mountain bike worth buying. The super fat tires are a big draw for many riders.
The 26″ tire size has a big impact on the lower height limit, especially for riders who are around 5'0′ tall and can ride it quickly.
If you want to be able to ride a mountain bike all year round, the Kona Wo will impress you with a nice design and a good setup.
Our final rating is 4.6.