We use affiliate links and may receive a small commission on purchases.
Ragley Mmmbop Hardtail Bike (2021)
Price: $1199.99
Suspension: 150mm (front)
Tires: 29×2.5″(Front)29×2.4″(Rear)
Gears: 1 x 12
What we like: Nice price, 150mm suspension fork, cross-country mountain bike that allows you to compete in endurance races
What we don't: Paint is not strong enough, easy to be scratched
Rating:(4.6/5)
Among the mountain bikes under $2,000, we were surprised to find this Ragley Mmmbop Hardtail Bike with a 150mm shock front fork.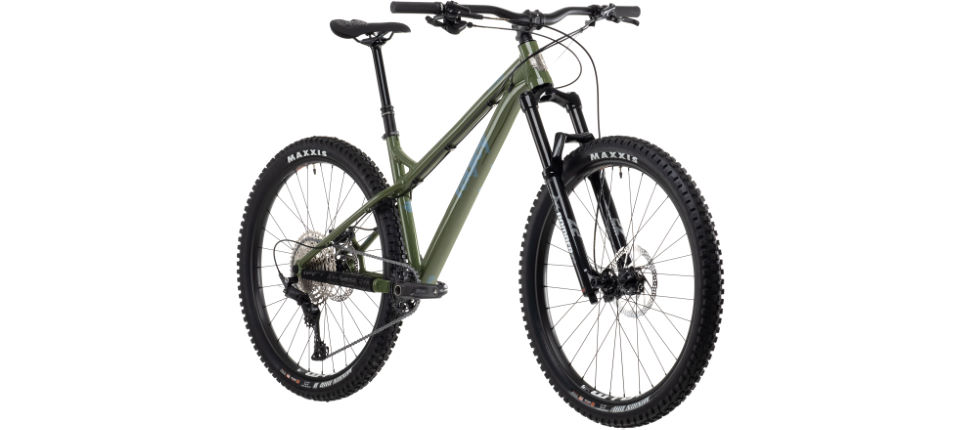 Our testers were overflowing with praise for this bike, but of course, as a rider shopping for the right mountain bike, you usually consider the big, well-known brands, which have a 30% brand premium and also relatively lower quality components in exchange for higher profits.
In our testers rode it for over 4 weeks and really liked it for long trail rides and aggressive trail riding performance.
Below we break down the Ragley Mmmbop's descending and climbing performance, key features, components, and specs and compare it to its competitor's mountain bikes in order to see if the Ragley Mmmbop Hardtail Bike is worth buying.
If you wish to get Best Mountain Bikes Under $2000, you can see our related article.
Descending
When we got the Ragley Mmmbop, we were very excited to see how it would perform on the descent. This is the terrain where it shows off its strengths the most. 150mm shock forks and fast and stable 2.5-inch tires don't have too many bumps on short descents over gravel and root-laden terrain.
It's plenty for even serious trail riders. And it has a very soft front tire with added puncture resistance, driving over the edge of gravel without a blowout.
When we ride at will in the technical double track, the chain is noiseless, but of course, it is slightly tight, which is to prevent the chain from falling off during violent impacts. Jumping to the rear lower fork, you will see a fully wrapped protection device that prevents the chain from ticking against the rear lower fork and also effectively extends the life of the chainring.
We rode the MD-sized Ragley Mmmbop, which has 150mm of travel in the dropper, and after jumping over gravel, there weren't too many bumps, enough to counteract the performance of the rear shock fork.
There's not much to complain about regarding descent braking, the Shimano Deore M6100 has superb braking power and even when I hit the gravel in the most demanding succession, I was able to stop smoothly when the tires touched the ground. It's a great component to practice descending for fast turns.
Happy descents always make me almost forget about hard climbs. Two keywords about the descending performance of the Ragley Mmmbop: have confidence and become easier.
Climbing
The Ragley Mmmbop has a quick response time and doesn't get too fatigued climbing on steep pitches.
Although this is the hardtail's strength, we marveled at how well equipped the Ragley Mmmbop is. The not-so-heavy body weight is similar compared to similarly priced mountain bikes.
The 27.5-inch tubeless wheels provide superb grip. The fork is a bit cumbersome at this point in terms of softness, and I need to lock it in manually, but there is also a slight kickback, which, nonetheless, is a fact that has to be accepted while enjoying an easy descent.
In addition, we liked the fact that it would accelerate quickly on gentle terrain when preparing to climb slopes.
Honestly, the super loosehead tube angle allowed the vast majority of my pedal power to be converted into fast climbing power. The slightly dry grass in the winter had relatively little effect on the Ragley Mmmbop.
We used it for fast climbs in technical singletrack and enjoyed the short climbs and jumps of the ride.
General Terrain
The reasonably priced Ragley Mmmbop is simply a pleasure to ride on gentle trails. It's an all-mountain versatile ride that climbs general terrain on low grades quickly and doesn't bottom out its forks when hitting big gravel on the flats.
Lots of fine gravel requires me to stand up and ride if it doesn't come with a dropper. But the Ragley Mmmbop's high-efficiency dampening components pinned me to the seat and didn't require much more movement.
It's an all-mountain combo package with a slimmer 31.8mm handlebar that's also easy to grip. It's offset a lot down the top tube section near the seatpost, which is a pretty good design, perhaps because I'm not very tall (65″), so I always gravitate toward mountain bikes designed this way. Taller riders don't have to worry about that.
The Ragley Mmmbop is quite comfortable on rough trails, and the loose head tube angle helps, but I would have liked to see the seat post angle reduced by 1-2° for a better fit.
The water bottle holder can only be fitted with one, but the top tube can be purchased with a suitable water bottle wrap, which can also be used as a water bottle holder.
The Ragley Mmmbop, which can be used in endurance events, will not disappoint riders in general terrain of moderate technical difficulty, even if it is only a 27.5 tire, so the ride will be very interesting and maneuverable, and you can also do more difficult riding actions.
Main Features
Frame
The aluminum frame of the Ragley Mmmbop looks very compact, with the top tube and rear upper fork in a line, so the whole is an obtusely angled triangle.
At the weld where the seat post is attached, the aluminum tube is added to ensure that it will not break during intense riding. Very good extension, when riding fast and hitting the ground, there is a slight sinkage, note that it is very slight, which is somewhat similar to the carbon fiber frame.
Although the frame is internally aligned, there is still a portion of the wire in the lower half of the top tube, which is not a happy place to be. There is also the solidity of the paint, which we found in the buyer's comments that the paint was falling off when someone bumped it. Of course this is not a big problem.
The rear lower fork is wrapped with a protector that absorbs noise to protect the chain, and the soft vacuum tires, which are low-pressure tires, so they don't look hard and the tires are less noisy.
So Ragley Mmmbop's frame is relatively sturdy and compact, a frame design suitable for long cross-country and packing trips.
Geometry
The geometry of the Ragley Mmmbop is also perfect, with modern geometry that almost always has a slacker head tube angle. the Ragley Mmmbop does the same. But it also has a seat tube angle of 74°. The top tube is not too long and fits the rider very well. Especially on rough trails.
The head tube is higher, but offset down near the seat post, making it easier to pedal without hitting your vulnerable crotch when you stop forward in front of huge rocks, which of course are very extreme.
Other than that, I was impressed with the larger Trail, which can be a little sluggish on climbs but very comfortable on descents, allowing the rider to enjoy the best descents. The design is not perfect as the climbing can seem a bit strenuous, but it allows for a more enjoyable ride.
The climbing mentioned here is the effect of long distance climbing and does not reflect this problem in short climbs.
Components and specifications
Shimano Deore 1X11 speed
The Ragley Mmmbop uses the Shimano Deore M5100 drivetrain. The gearing range is 11-51T. This is not an unacceptable drivetrain, and perhaps to the majority of riders, it is not too different from the Shimano Deore 12-speed drivetrain. It also doesn't feel too lacking in gearing when climbing.
Nonetheless, the 11-speed drivetrain is only slightly underwhelming in moderately technically challenging mountains.
For serious trail riders, an upgrade is still desired.
Marzocchi Bomber Z2 Fork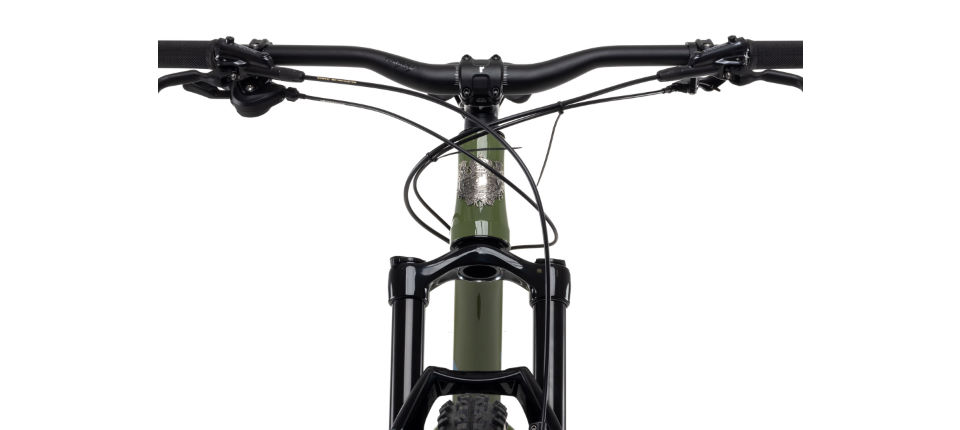 This is Ragley Mmmbop's most eye-catching component, and one that is very hard to find in the same price range of mountain biking.
He is a little softer on the drop than many brands of suspension. And I was surprised when I checked the price of this component, it was $519.
It was almost hard to bottom out with 150mm of fork travel. This is what allows me to ride in singletrack unimpeded. The fork is strong enough to survive several big jumps and still bounce back well. Not only does it have a quick response time, but it can easily lock down the fork and allow the Ragley Mmmbop to haul you on long climbs.
If there is one complaint about the Marzocchi Bomber Z2, it's that it doesn't lock remotely. But I still really like the fork, and it's a very logical mix of components.
Shimano Deore M6100 brakes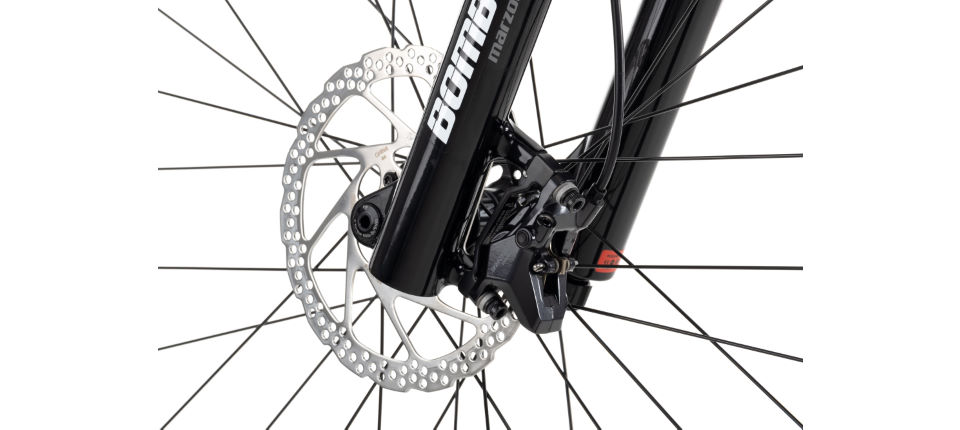 I was still pleasantly surprised by the braking performance of the Ragley Mmmbop, which doesn't compromise on such a key component.
Instead, it uses the more mid-to high-end Shimano Deore M6100 hydraulic disc brakes and has 180mm Rotor front and rear.
This not only allows riders who like off-road riding to cross gravel stalls with greater peace of mind but also in mountainous terrain where there are many curves, they will not be afraid to take on the challenge due to insufficient braking power.
The sharp downhill roads, with the 2.5-inch model tires, allow for quick braking. You can't compare it to the high-end brakes of a racing mountain bike, but it's still worthy of praise for a mountain bike under $2,000.
Brand-X Dropper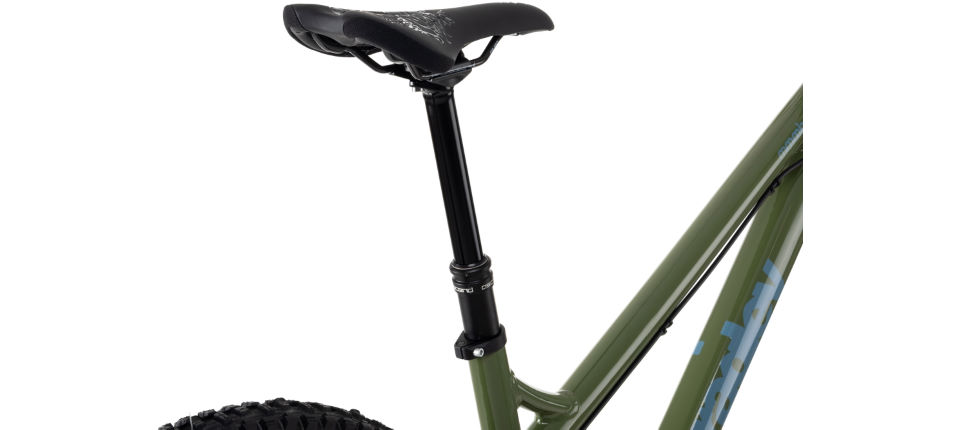 The standard seat tube diameter is one of the very best upgraded components, but the Ragley Mmmbop comes with a Brand-X dropper that has a maximum of 170mm of travel. That's more than we've ever reviewed on a mountain bike in its price range.
Riding the Ragley Mmmbop, we also found the Brand-X dropper to be responsive enough to use, but after all, it's not very expensive, so will it still be responsive enough for heavy riding? I can't be sure about this.
However, during our testing phase, we enjoyed the small jumps and the Brand-X dropper responded well to each jump.
Maxxis Tires
The 27.5″ bike is a very maneuverable mountain bike, and the Ragley Mmmbop comes with 27.5X2.5″ front tires and a Maxxis 27.5X2.40 rear wheel, which is certainly hoping to score points for maneuverability.
The low pressure Maxxis vacuum tire is one of the mainstream tires for 2022. It's very consistent in its performance. And we were impressed with its great traction and wear resistance during the constant climbs and descents.
Able to enhance the speed of the rear tire, the width is narrower, but can better respond to the pedaling power. With stability 2.5-inch front tires, will not let you just experience is after the board, and lose part of the handling.
All this is due to the high performance of Maxxis tires.
What do we like about it?
Sturdy aluminum frame with modern geometry
150mm shock front fork for good damping
Nice Brand-X dropper
Maxxis tires front and rear
Comfortable descender
What we don't like about it?
11-speed drivetrain, not the best choice for serious off-roaders
Front forks do not lock remotely
Paint is easily scratched
Ragley Mmmbop 2.0 weight is not indicated
Ragley Mmmbop Specs
Frame
Ragley Mmmbop – Alloy Boost 27.5
Fork
Marzocchi Bomber Z2, 150mm Travel, RAIL, Gloss Black, Kabolt:15×110, 1.5 Tapered steerer, 44mm offset
Headset
Nukeproof Neutron ZS44/28.6
ZS56/40 Headset with Ragley Top Cap
Handlebar
Ragley Alloy Handlebar, Black, 25mm Rise, 31.8mm Clamp
(Width – S780mm, M780mm, L800mm, XL800mm)
Stem
Ragley 31.8mm clamp, 50mm length, +3° rise
Grips
Ragley A20 Compound
Front Wheel
Nukeproof Neutron 15mm Boost Front Hub, WTB ST i30 TCS 2.0 27.5″ 32h rim
Rear Wheel
Nukeproof Neutron 148mm x 12mm Rear Hub, 36 points of engagement, HG Freehub, Sealed bearings, WTB ST i30 TCS 2.0 27.5″ 32h rim
Thru Axle
Length: 175mm, Pitch: M12*1.5, Thread length: 18mm
Front Tyre
Maxxis 27.5X2.50 WT MINION DHF 3C MaxxTerra/EXO+/TR
Rear Tyre
Maxxis 27.5X2.40 WT MINION DHR II 3C MaxxTerra/EXO+/TR
Rim Tape & Valves
32mm Tubeless Tape & Tubeless tape supplied
Chain
KMC 11SPEED
Crankset
Shimano Deore FC-M5100-1, 170MM, 32T
Bottom Bracket
Shimano Deore Hollowtech II 73mm BSA
Front Brake
Shimano Deore M6100, 180mm Rotor, Resin Pads
Rear Brake
Shimano Deore M6100, 180mm Rotor, Resin Pads
Rear Derailleur
Shimano Deore RD-M5100 SGS 11-SPEED, SHADOW PLUS DESIGN
Rear Shifter
Shimano Deore SL-M5100, 11-SPEED RAPIDFIRE, Direct attach to brake using iSpec EV
Drivetrain Cables
Shimano
Cassette
11 speed – 11-51t or 11-46t
Saddle
Ragley Tracker Saddle
Seat post
Brand-X Ascend Internal Route Post – 31.6mm; SM – 125mm Drop; MD, 150mm Drop; LG, XL – 170mm Drop
Seat Clamp
34.9mm Alloy
Also included
Ragley Chainstay protector, 5 Year Warranty and lifetime crash replacement; ISO 4210 Certified
Comparison Table
Marin Rift Zone 27.5 1 vs Ragley Mmmbop
The comparison between the Marin Rift Zone 27.5 1 and the Ragley Mmmbop seems to be a matter of choosing a full suspension or a hardtail mountain bike.
I'm not going to go into depth on that here.
Certainly, we compare component-wise the Marin Rift Zone 27.5 1 comes with a 130mm front suspension and 120mm rear suspension that helps us get better damping on the trail, the soft RockShox Recon Silver RL is half the price of the Marzocchi Bomber Z2, and the performance difference is not just 20mm of travel, but rather the ability to ride in more difficult mountain terrain.
On top of that, the Marin Rift Zone 27.5 1 doesn't come with droppers as a component, so you'll need to upgrade them yourself.
The Marin Rift Zone 27.5 1 is equipped with the weaker Shimano MT200 brakes.
When we tested the Marin Rift Zone 27.5 1, we couldn't deny that it performed well on fast climbs and soft descents. But if you like full-suspension mountain bikes, you'll have to live with its downgraded fork and brakes to get a 120mm-travel rear fork and a great descender.
Learn more: Is Marin Rift Zone 27.5 1 Worth Buying? [Marin Rift Zone 1 Review]
Trek Roscoe 7 vs Ragley Mmmbop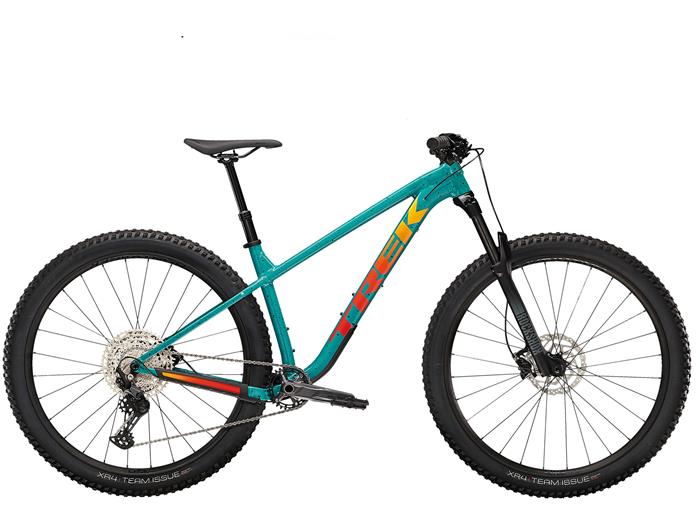 The Trek Roscoe 7, the most desirable of Trek's hardtail mountain bikes, also has very good performance and costs just $30 more than the Ragley Mmmbop, but has a more reliable after-sales service.
In terms of riding performance, we like both the Trek Roscoe 7 and the Ragley Mmmbop very much.
The Trek Roscoe 7 comes with a 140mm RockShox Recon Silver RL fork, which has 10mm less travel than the Ragley Mmmbop. When it comes to big jumps, the Ragley Mmmbop performs a little better.
But the Trek Roscoe 7 has an improved drivetrain, the Shimano Deore M6100, a 12-speed drivetrain that is more adapted to climbing, and if you prefer short or long climbs, the Trek Roscoe 7 will impress you.
Naturally in two mountain bikes very close in price, the Ragley Mmmbop has more balanced performance, and the comparison of components between them is nothing more than one downgrading some and the other doing the upgrade. Such a trade-off is, more than anything else, the manufacturers' consideration of profit.
Whether you choose the Trek Roscoe 7 or the Ragley Mmmbop, it's a good choice.
Learn more: 2022 Trek Roscoe 7 Review
Ragley Big AL 1.0 vs Ragley Mmmbop
The Ragley Big AL 1.0, the sibling version of the Ragley Mmmbop, is almost identical in terms of components, but when we rode both bikes, we found that if your preference is for a fast descent the Ragley Mmmbop would be a bit more suitable.
If you choose a less rapid descent, more suited to climbing the Ragley Big AL 1.0 then helps you make some adjustments in the geometric angle of the frame.
This is because the Ragley Big AL 1.0 has a head tube angle that is 1.7 degrees steeper than the Ragley Mmmbop.
If you're not a professional rider, it's almost hard to notice the difference between the two off-road.
Learn more: Is Ragley Big AL 1.0 Worth Buying? [Ragley Big AL 1.0 Review]
DIAMONDBACK Sync'R 29 vs Ragley Mmmbop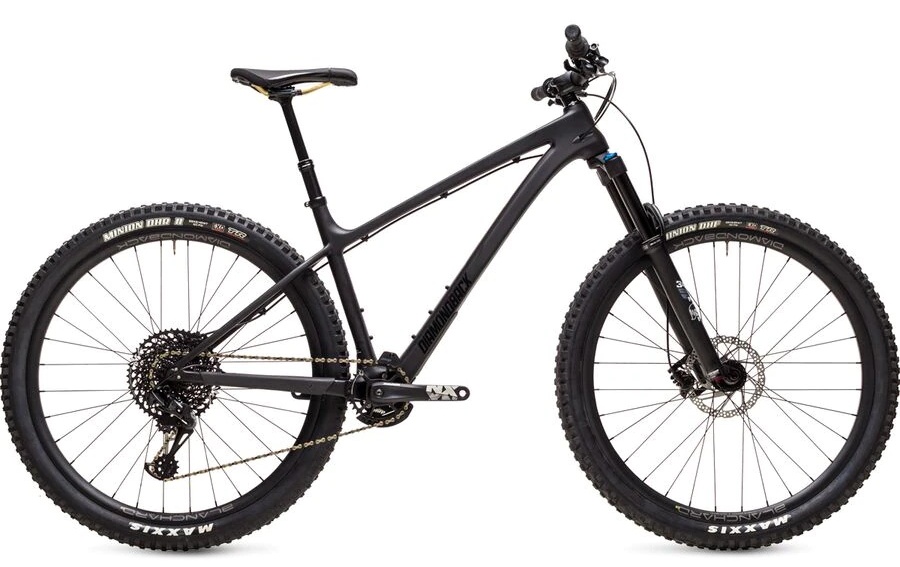 The DIAMONDBACK Sync'R 29, with its higher-end components, is a promising climber.
Let's take a look at what the DIAMONDBACK Sync'R 29 has that is more high-end than the Ragley Mmmbop.
The first is the carbon fiber frame, which reduces the weight of the body, but you need to ride more carefully. Here's a note for newbies, it's best to go with an aluminum-framed hardtail that costs around $2,000, and I wish it was the Ragley Mmmbop.
Next is the Fox 34 Performance Float, which only has 140mm of travel, but if you compare their damping performance and responsiveness, I don't feel much difference from the 150mm Marzocchi Bomber Z2 that the Ragley Mmmbop comes with.
The SRAM GX Eagle, with its 12-speed drivetrain, newer weight, and more robust construction, is a nice high-end component.
Of course, the Ragley Mmmbop is a better component than the DIAMONDBACK Sync'R 29 is its brakes.
We prefer the DIAMONDBACK Sync'R 29 for climbing, the lightweight of the body and the constant stacking of high-end components create a powerful DIAMONDBACK Sync'R 29. The same is true for rugged trails and remote areas of trails.
And the Ragley Mmmbop is more affordable and is a novice-friendly hardtail mountain bike that is more cost effective and requires less maintenance.
When on a budget, of course, choosing the DIAMONDBACK Sync'R 29 would be very wise.
Final Verdict (4.7/5)
Ragley Mmmbop rated the excellent descent performance and outstanding 150mm shock fork as crazy praise from riders who love hardtail mountain bikes.
Also as a hardtail mountain bike lover, I think the Ragley Mmmbop is well worth buying a hardtail mountain bike. So we finally gave it a rating of 4.7/5. Worth buying index: 4.5 stars.
Video