We use affiliate links and may receive a small commission on purchases.
Canyon Stoic 4
Price: £1,799.00
Suspension: 140mm (front)
Tires: 27.5or29 x 2.35 in.
Gears: 1 x 12
What we like: A mountain bike with a lot of expensive components stacked up to race bike standards at a very affordable price
What we don't: Pre-orders are a bit long and require a wait; non-vacuum tires
Rating: (4.9/5)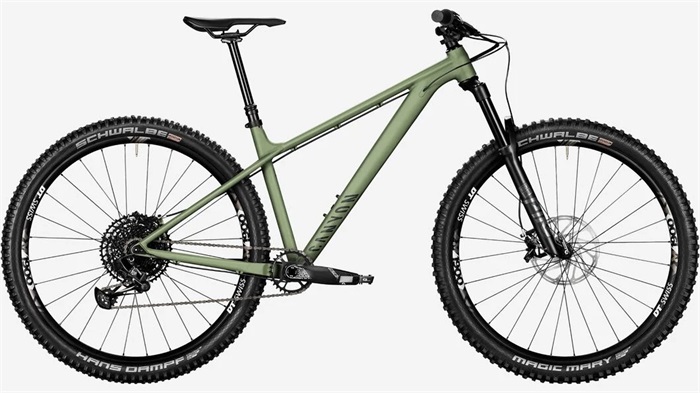 If there's one trail mountain bike to look forward to in 2022, it's the Canyon Stoic 4.
Because at the time of writing this blog, our testers are also waiting, but we'll take a look at it from component composition and other mountain bikes in comparison, and together we'll explore if the Canyon Stoic 4 is worth buying.
Learn more: Best Mountain Bikes Under $2000-[2022]
Canyon Stoic 4 Geometry
While the Canyon Stoic 4 doesn't purposely advertise that they are a race mountain bike, we've learned about its component composition and geometry design, and with a few modifications, it is ready for trail racing.
The Canyon Stoic has a very modern geometry with a full-size 65° head tube angle and the latest 75° seat tube angle.
This is the most popular geometry of the day, and the latest Trek Roscoe 7 has a similar geometry.
The shorter rear lower fork length, only 418mm full size, is another 10mm shorter than the Canyon Stoic 3's length above M, which will be an increase in climbing performance.
The top tube length is 539-678mm, which will become reachable, so the overall geometry is relatively compact.
What do these geometries change for us when choosing this bike?
Assuming you like a more agile mountain bike, we would more than recommend you choose a smaller size. If you prefer a more comfortable mountain bike, you can choose the size that fits you best or a larger size that will help you be very comfortable off-road.
Canyon Stoic 4 Component Specifications
Aluminum Frame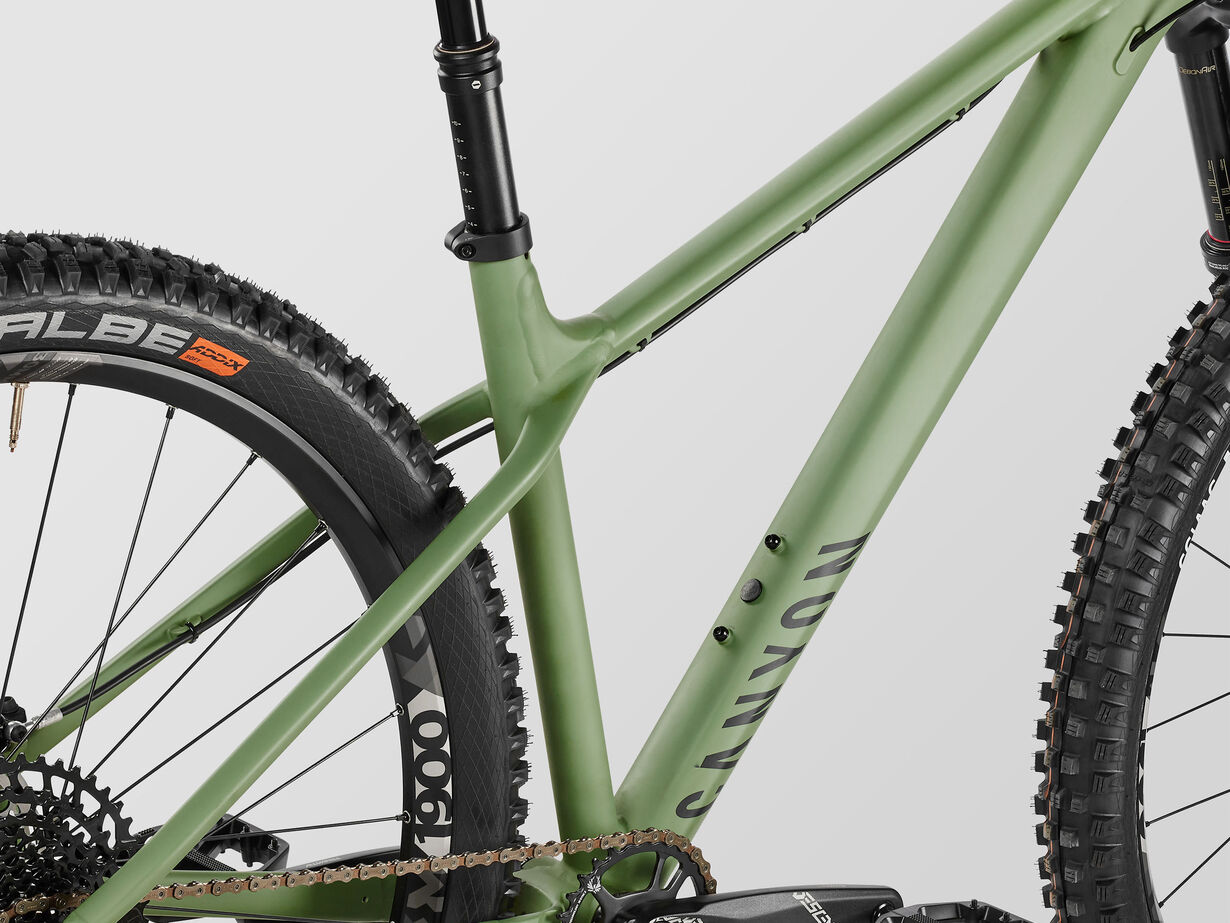 The Canyon Stoic 4 comes in a Flat Green paint color, perhaps because it's officially on the market in the spring of 2022, so it fits the woodland color of the season and blends better into the mountains.
It also redefines the internal alignment, which they achieved by adding easy-access entry holes in the head tube and exit holes under the bottom bracket, as well as external routing along the rear lower fork. And they made the rear chainstay and lift stem cables simple.
Built on a 6061-T6 aluminum frame, the Stoic 4 is not as light as one might expect, weighing in at 31.6 pounds.
The sturdy frame allows for throwing around on bumpy terrain and climbing up steep hills, which is what makes its very slack head tube angle destined for the Canyon Stoic 4's excellent off-road performance.
The Stoic 4 is a hardtail mountain bike with a progressive frame and powerful features. Its design is derived from more expensive full-suspension mountain bikes.
Similar to hardtail mountain bikes that have to contend with full shock mountain bikes on steep downhill terrain when the rear shock is removed. Allows you to go from trail and trail riding to the occasional jump training, it does it. Very well done!
SRAM NX Eagle Drivetrain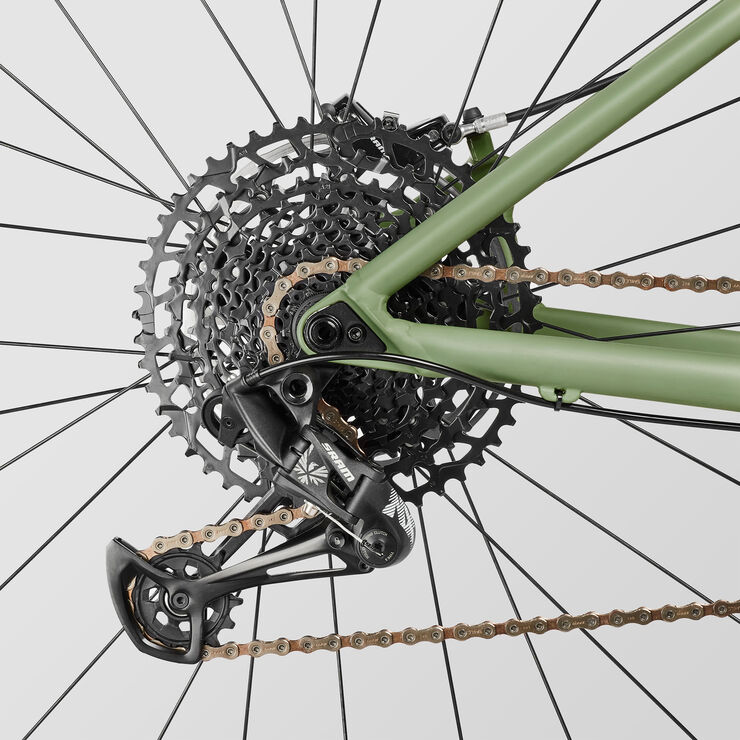 The Canyon Stoic 4 is a well-made trail mountain bike with a drivetrain that still amazes me.
Its complete SRAM NX Eagle 12-speed drivetrain provides consistent gear changes. The enhanced transmission efficiency allows you to not underperform when the terrain gets bad because you don't have enough gears. Of course this is also based on their rugged aluminum chassis.
This is at least 2 steps up from current drivetrains in the same price range. The SRAM NX Eagle has been tested by countless riders in both ruggedness and harsh conditions, and we see this component in some of the $4000+ race mountain bikes.
The skeletonized design is lighter in weight, about a pound lighter than the lower version of the SX Eagle. Clean looking and adaptable to fast gear changes, it's a mid to high end drivetrain for fast trails.
Rock Shox Pike Select Suspension Fork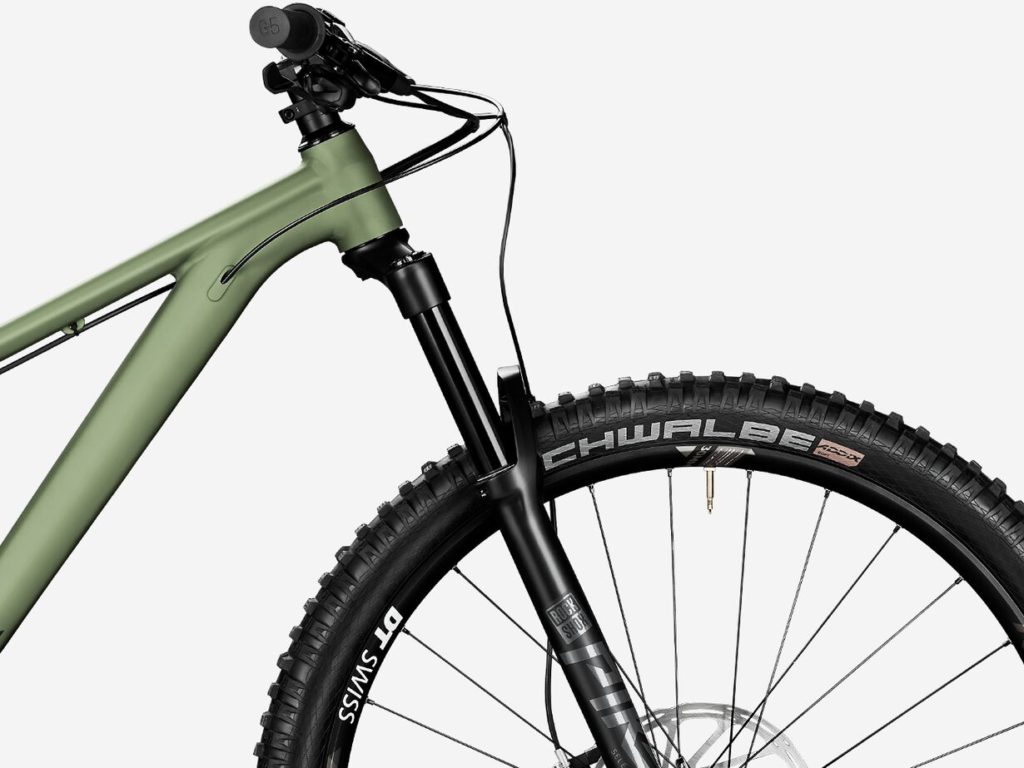 The front shock fork is also no downgrade at all, with the Rock Shox Pike Select Suspension Fork, which has 140mm of travel. It has excellent sensitivity and performance, and is a favorite component for many trail riders.
Adjustable features allow you to set low cheesy compression and rebound when on flatter terrain, or even pause this feature when you wish to mention climbing efficiency.
Pike Select allows you to take full control, allowing the rider to regulate its working conditions according to their needs, which is very helpful to improve your skills. It helps you to improve your skills.
This makes the Canyon Stoic 4 much more novice-friendly, meaning it's the mountain bike of choice for newbies.
Iridium Dropper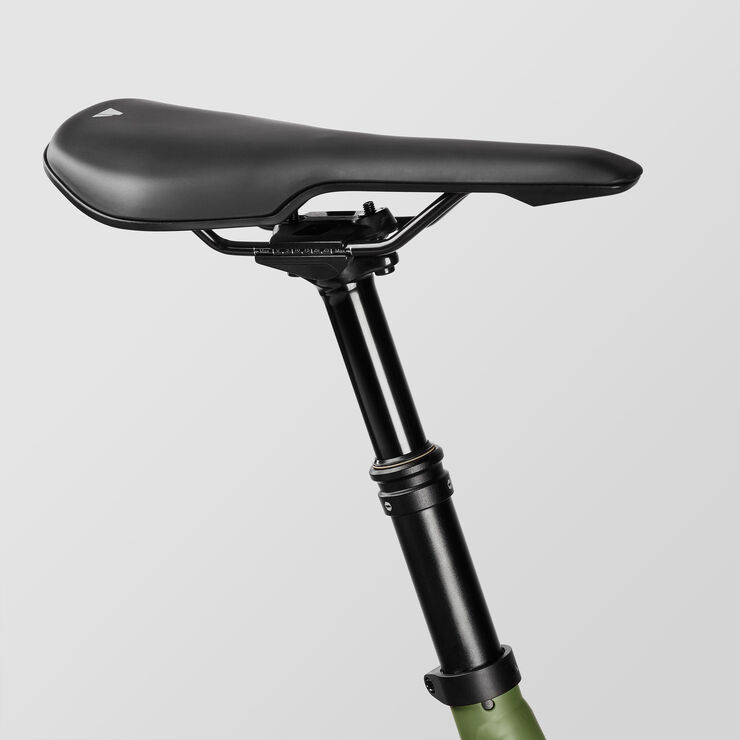 This is a high-end bike configuration, with a 170mm travel Iridium Dropper that is readily adjustable in height. And it maintains uniform travel at full size.
For serious trail riding, this is a more than essential component and is very easy to operate.
At the same time, such high travel is a counterbalance to the damping effect of a full-suspension mountain bike's rear shock fork. If you like more freedom and stability for woodland or trail riding, the Iridium Dropper will impress you with its performance.
SRAM Guide T Disc Brake
This is a hydraulic disc brake that surpasses its price point.
The Guide T's 4-piston caliper provides plenty of braking power.
It has 200mm discs on the front rotor of the frame above M, and 180mm on the rear. (The 2XS, XS, and S have 180mm discs on the front and rear of the frame, because of the small wheel size, it is a waste to use a large size for the front rotor.)
This is a component that needs no upgrade, and if the Canyon Stoic 4 wishes to increase its profitability, it is perfectly capable of 180mm front, 160mm rear, so that the rider who chooses it cannot say anything about its weaker braking performance.
But in terms of braking, I still like the super force that the SRAM Guide T Disc Brake can provide, allowing riders to charge down steep hills with excitement, not worry.
DT Swiss M1900 Tires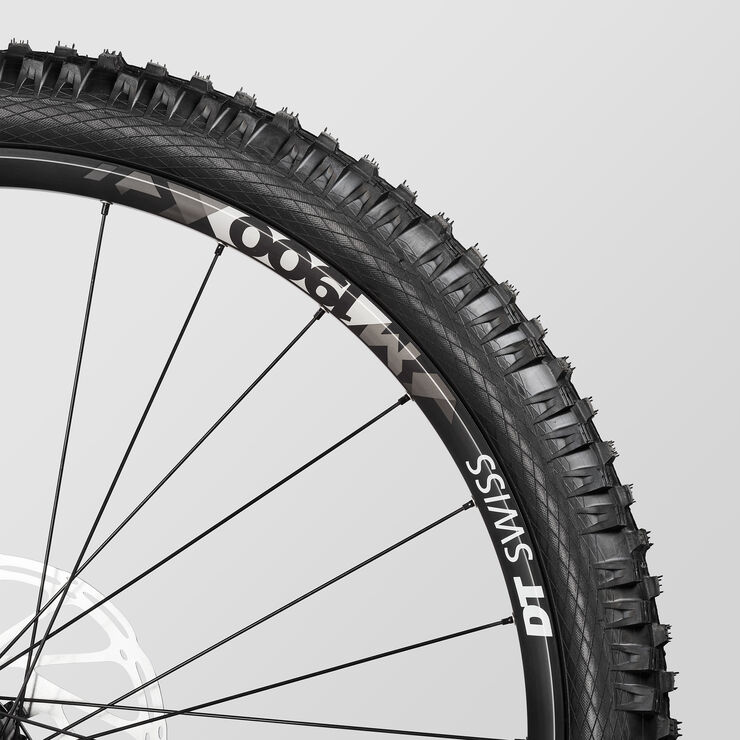 While many riders debate between the two types of components – quick release or barrel axle – I, as a rider who loves mountain riding, I prefer the more stable barrel axle. And the Canyon Stoic 4 comes with a Canyon Thru Axle, Boost 148.
The Canyon Quixle combines the stiffness of a through-axle with the ease of a quick release. It's a very detailed innovation. It unifies two groups of people who have had arguments. This is why the Stoic 4 has a very good reputation when it wasn't launched.
The Canyon Stoic 4 uses Schwalbe Magic Mary Evo Super Trail tires with a Schwalbe Hans Dampf 2.35″ inner tube.
While being a discerning trail rider, one may still complain about the non-vacuum tire configuration, this configuration also has the unique benefit of improved puncture resistance and softness.
This is also in line with the fact that when riding on slicker surfaces on forest roads, it is less likely to slip sideways.
How can the Canyon Stoic 4 be modified for off-road use?
We didn't mention the word upgrade in the components above, but the tires are indeed an upgradeable component, and the stock Canyon Stoic 4 is a 29×2.35″ configuration, which is suitable for fast off-road or moderately technical woodland terrain.
If you're more into off-roading, then you can install tires up to 2.8″ (27.5 wheels) or 2.6″ (29 wheels) wide, depending on the frame size.
This will greatly enhance the performance of off-road riding.
Canyon Stoic 4 Specs
Frame
Canyon Stoic Aluminium Frame
Suspension Fork
Rock Shox Pike Select,140mm
Drivetrain
Rear Derailleur
SRAM NX Eagle
Shift Lever
SRAM NX Eagle Trigger 12s
Cassette
SRAM PG-1210 Eagle 11-50 12s
Crank
SRAM DESCENDANT 6K EAGLE BOOST
Bottom bracket
SRAM BSA DUB
Chain
SRAM SX Eagle 12s
Brakes
Disc Brake
SRAM Guide T
Brake Rotor (Rear)
SRAM Centerline, 180mm
Brake Rotor (Front)
SRAM Centerline, 200mm
Wheels
Wheel
DT Swiss M1900(front)
DT Swiss M1900 XD(rear)
Tyre
Schwalbe Hans Dampf 2.35″
Schwalbe Magic Mary Evo Super Trail
Thru Axle
Canyon Thru Axle, Boost 148
Cockpit
Stem
Canyon G5
Handlebar
Canyon G5 Riser Bar
Grips
Canyon G5 Grips
Seat
Saddle
VELO VL-5120
Seatpost
Iridium Dropper
Accessories
Pedals
None included
Manuals and Accessories
Content: Manual, Torque Wrench incl. Bit Set, Shock Pump, Assembly Paste
FAQ
How many is Canyon Stoic 4 weight?
The weight of Canyon Stoic 4 is 14.22kg / 31.55lbs.
What is the body color of Canyon Stoic 4?
Flat Green
What frame sizes does the Canyon Stoic 4 come in and what rider heights does it fit?
| | | | | | | |
| --- | --- | --- | --- | --- | --- | --- |
| Frame size | 2XS | XS | S | M | L | XL |
| BODY HEIGHT IN CM | < 158 | 158 – 166 | 166 – 175 | 175 – 183 | 183 – 192 | 192 |
Their sales page also has tools to use if you want to know more about the right frame size. And you can also switch between CM and IN units.
Click to measure the most suitable frame size
Comparison Table
Note: We didn't ride the Canyon Stoic 4, so we're doing a component comparison here and doing some riding speculation.
Competition
Marin Rift Zone 27.5 1 vs Canyon Stoic 4
We compared the Marin Rift Zone 27.5 1, a full-suspension mountain bike with the Canyon Stoic 4, which costs about the same.
Of course, the main advantage of the full-suspension Marin Rift Zone 27.5 1 is its 120mm rear shock fork.
The Marin Rift Zone 27.5 1 does not have a dropper, while the Canyon Stoic 4 has an Iridium Dropper with 170mm of travel, so I didn't feel that the Stoic 4 would perform any worse on steep downhill rides.
Let's go back to the transmission components, the Marin Rift Zone 1 is equipped with Shimano Deore, 11 speed, which is different from the SRAM NX Eagle 12speed that the Stoic 4 has, not only in terms of gear count, but also in terms of component quality and weight.
The same goes for the fork travel, and I have full confidence in the Canyon Stoic 4's fork.
There is no denying that the Marin Rift Zone 27.5 1 performs well on moderately technical terrain, but there are still some gaps in comparison to the Canyon Stoic components.
For older riders, consider the Marin Rift Zone 27.5 1 for a comfortable and fast full-suspension cross-country mountain bike.
If you're more willing to wait a bit longer, the Canyon Stoic 4, with its better component performance, won't disappoint.
Learn more: Is Marin Rift Zone 27.5 1 Worth Buying? [Marin Rift Zone 1 Review]
Trek Roscoe 7 vs Canyon Stoic 4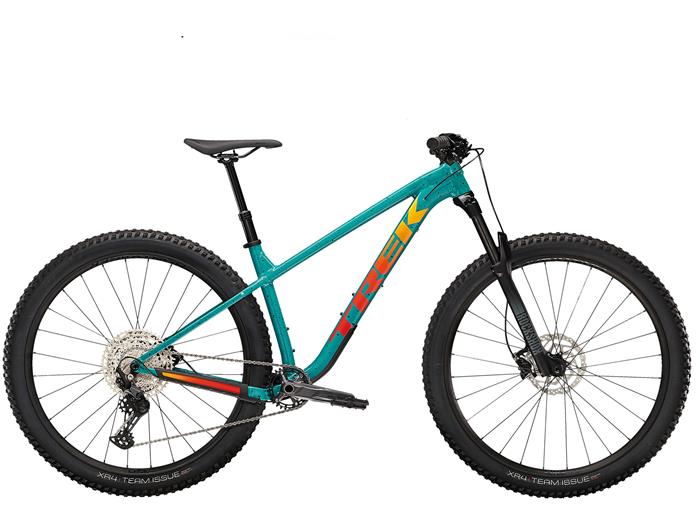 We've done a detailed review on the Trek Roscoe 7. It doesn't require a wait to get your hands on it. Priced at $300 cheaper, the Trek Roscoe 7 will rightfully be lowered in components.
First or the drivetrain, the Shimano Deore, 12-speed gear count is consistent and it's not that much different from the Stoic 4 SRAM NX Eagle 12speed and it can also be used as a race trail bike.
The Trek Roscoe 7's tires are 27.5 or 29×2.6″ inch vacuum tires, which are suitable for aggressive trail riders and don't require much modification.
Of course, we still think the Trek Roscoe 7 has weak brakes, which are too far removed from the SRAM Guide T Disc Brake on the Canyon Stoic 4. This also suggests that it will perform worse than the Stoic 4 on rough descents.
Overall the Trek Roscoe 7 and Canyon Stoic 4 are both great mountain bikes for the money, the Trek Roscoe 7 is better equipped for rougher trail riding and is still at the comfortable end of the spectrum.
The Canyon Stoic 4, on the other hand, is fast off-road and more focused on efficiency and performance. Better suited for riders who live close to areas with lots of mountains.
Learn more: Is Trek Roscoe 7 Worth Buying? [Trek Roscoe 7 Review]
Ragley Mmmbop vs Canyon Stoic 4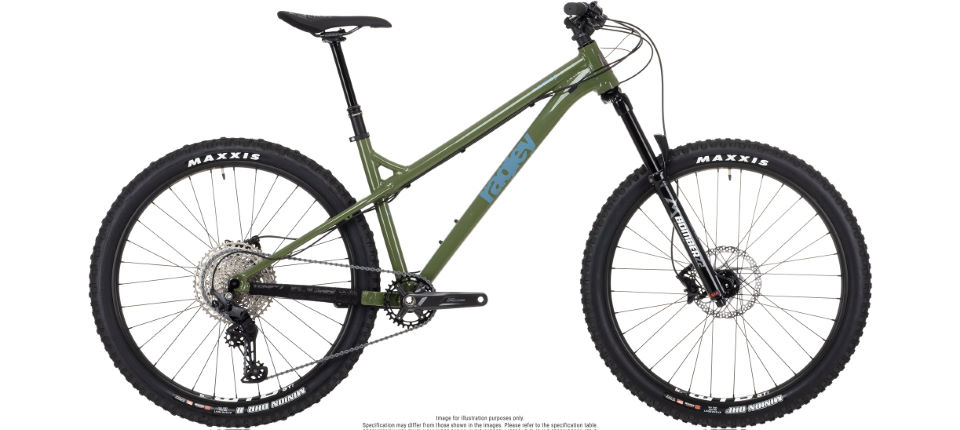 The more affordable Ragley Mmmbop has a decent amount of fork travel. But it still compromises on the drivetrain, using a Shimano Deore, 11-speed drivetrain. Not too bad, but for the discerning trail rider will feel a little worse.
Besides, I think Ragley Mmmbop deserves praise for the dropper, using the Brand-X Ascend dropper, the stroke is 125mm (S), 150mm (M), 170mm (LG/XL). The large strokes are as large as those of the Canyon Stoic 4.
The Ragley Mmmbop has a more relaxed head tube angle, 1.2° wider than the Canyon Stoic 4, meaning it was designed with the trail rider in mind when climbing hard.
The tires are also medium in size, 27.5×2.5″ for moderate technical trail riding, but also very suitable for forest road riding. It is suitable for aggressive off-road and exploring a backcountry epic.
It's a great mountain bike for the money, as is the Canyon Stoic 4. But the Ragley Mmmbop is similar to a downgraded version of the Stoic 4.
DIAMONDBACK Sync'R 29 vs Canyon Stoic 4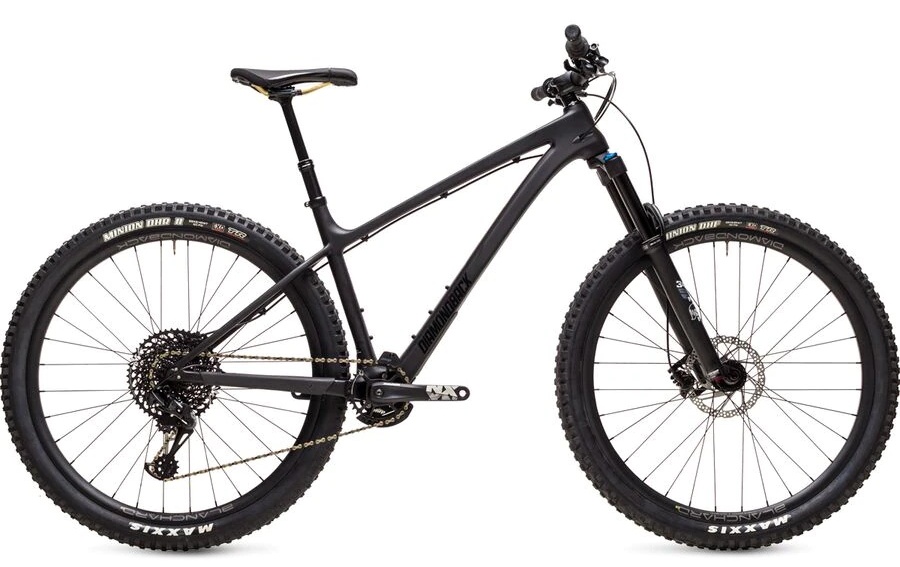 Now that we're talking about the downgraded version of the Canyon Stoic 4, we managed to find a similar upgrade to the Canyon Stoic 4.
The DIAMONDBACK Sync'R 29 has a carbon fiber frame and is lighter and more race-ready.
More than that, the DIAMONDBACK Sync'R 29 is equipped with a high-end SRAM GX Eagle, 12-speed drivetrain, extremely responsive Fox 34 Performance Float with 140mm travel, Shimano MT501 hydraulic disc brakes, X-Fusion Manic Dropper Post, [small – medium] 125mm, [large – x-large] 150mm.
All of the above components are upgraded versions of the Canyon Stoic 4 except for the Seatpost. Of course, we don't intend to make a very detailed comparison here.
If you want to do something fancier, both the DIAMONDBACK Sync'R 29 and the Canyon Stoic 4 will fit the bill, but the DIAMONDBACK Sync'R 29 will perform better. But the affordable Canyon Stoic 4 will also strike a chord with some riders.
Learn more : Is Diamondback Syncr Worth Buying? [2022 Diamondback Syncr Review]
Final Verdict (4.9/5)
The mid-to high-end component stacked Canyon Stoic 4 strives for excellence, and even though it also has some minor flaws, they're not unacceptable. I'm sure on the eve of the upcoming launch, there are a lot of riders holding back their excitement and frantically comparing similar mountain bikes.
And so did I!
We finally gave the Canyon Stoic 4 a rating of:4.9/5. It's a very worthy mountain bike to buy.