We use affiliate links and may receive a small commission on purchases.
Salsa Rangefinder 27.5+/29
Price: $1,699.
Suspension: 120mm (front).
Tires: 29×2.6"/27.5 x 2.8".
Gears: 1 x 12.
What we like: Great value for money, suitable for singletrack, doubletrack and even bikepacking trips.
What we don't: Not for aggressive trail riders.
Rating: (4.6/5).
When many riders struggle with buying a 29-inch or 27.5-inch mountain bike, the Salsa Rangefinder solves the problem.
They have two versions of their Salsa Rangefinder: Salsa Rangefinder 29, and 27.5+.
This has some similarities to their Salsa Timberjack.
On the one hand, we need strict control over the budget, and on the other hand, we want to get better mountain bikes. But the superposition of the Salsa Rangefinder components is the very average one, with a whole mountain bike above the entry level.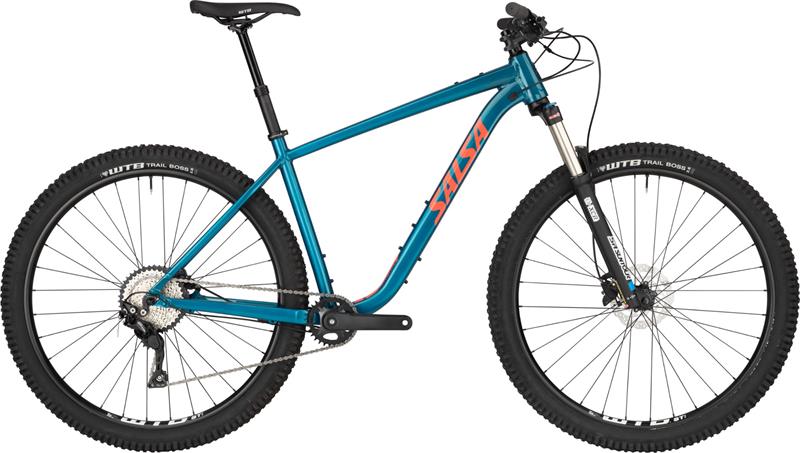 We tested the Salsa Rangefinder mountain bike of different tire sizes, which is a great mountain bike for beginners, as well as wonderful on rugged trails, growth riding tips.
Below we break down the Salsa Rangefinder's descent and climbing performance, key features, components, and specifications, and the differences between the two versions of the series.
If you want to learn more about mountain bikes at the same price point, we have prepared for you the Best Mountain Bikes Under $2,000- [2022].
Salsa Rangefinder Descending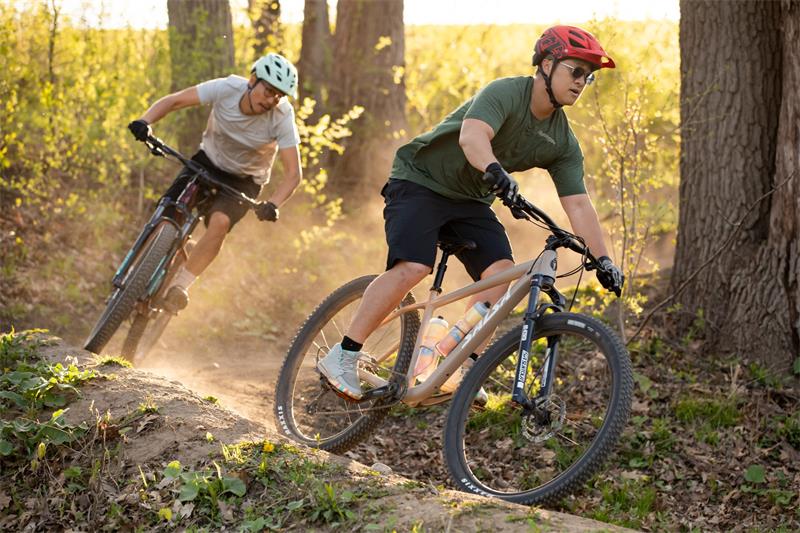 There are two versions of the Salsa Rangefinder, so we chose the Salsa Rangefinder 29 for our downhill testing as a good choice when we wanted to descend quickly.
Steep descents are a tougher challenge for the Salsa Rangefinde. Because of the SR Suntour XCR34 Boost air fork, which is a better fork than the spring suspension, the damping effect is not too disappointing.
But there was a bit of bottoming out on short, steep downhills, which didn't make us too comfortable. But on a slightly gentle downhill around 65° and without a lot of gravel or roots, the fork performed well, and although it occasionally bottomed out, it worked fine.
After all, 120mm of travel is not a lot of travel.
Rugged singletrack, or downhills with muddy trails, is where the Rangefinde 29 shines very well, with the wide 2.6-inch tires going down smoothly.
Plus we found the 27.5-inch version to be a good fit for this kind of terrain, with very nimble steering and wide 2.8-inch tires that easily chop up trails like this.
Sure the Salsa Rangefinder is an entry-level favorite mountain bike, and the descents on moderately technical terrain work fine, but can't give it a very good rating.
And we have a little complaint about its compromise in the braking system. Either the Shimano MT200 or the Tektro M520 can provide enough stopping power, but it is just enough, and it will feel soft on long or fast descents.
The dropper has a stroke of 130mm, which can work very well. It can also work continuously when descending, reducing vibration. After experiencing high-end products with 150mm stroke, I also think that the TranzX has enough travel. Of course, all this does not have these concerns for the rider who chooses a high-end entry-level mountain bike.
Salsa Rangefinder Climbing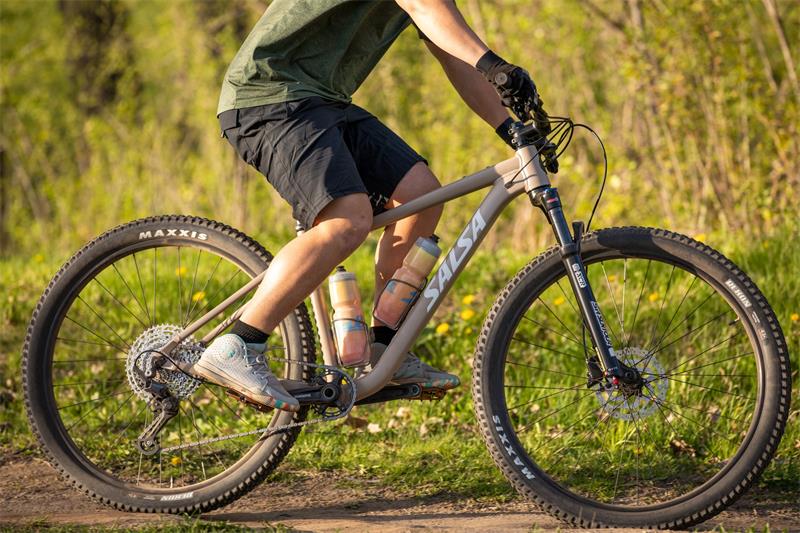 With the Salsa Rangefinder configuration and geometry, it's not hard to see that it is a great hard-tailed mountain bike for climbing.
Stesteep head and seat pipe angles provide less obstacles from short climbing.
Also important is its very comfortable mountain bike on long climbs, which is an important reason why we are choosing it.
The Rangefinder 29 has 2.6-inch wide tires that provide very good grip.If you trade it for a 27.5×2.8 " tire, your feeling will be even more obvious.
Its Shimano Deore 1×12 drivetrain provides ample gear even on very steep and impact sections.
The front fork with a lock function takes the rider to the top of the slope. If you are worried about the uphill gravel or the tree roots, the Maxxis Rekon tires are very soft and can reduce the small vibration to some extent.
There is also a TranzX dropper, which is a more comfortable climbing experience.
Even if we love the Salsa Rangefinder climbing performance, our complaints about it come from the fact that its tires are not vacuum tires and the wheels weigh a little bigger. We expect the Rangefinder to climb quickly, but the wheel weight becomes a fast-rolling burden.
That said, this mountain bike is a rare climber and is highly competitive with mountain bikes at the same price point.
General Terrain
It's the Salsa Rangefinder's comprehensiveness that really appealed to us, and while we had some complaints on descents, we liked how well it performed on most single- and dual-track terrain when it came to the minor flaws.
The more flat hills or trails, the trail is a good model for its riding comfort and more average components.
Bright accessories always come with the compromise of other components, which will make you have to upgrade it after purchase. Of course, when you want to ride difficult off-road terrain or trails, you will also upgrade the Salsa Rangefinder.
The Salsa Rangefinder is also a great bike for short to medium trips, it has two water bottle mounts, Expand your off-road repertoire and carry what you need for bikepacking with the rear rack mounts, integrated top tube bag mount, and accessory mount under the down tube .
The wide tires aren't quite as fast as the 2.35-inch ones, but you'll enjoy them on exercise rides or your daily ride, on gravel trails, or on rough trails around the countryside.
With a dropper post configuration, it won't make your mountain bike look shabby, and the 120mm travel air fork can also be used for a 15-mile off-road riding competition with friends.
We don't think a well-rounded mountain bike loses its woodland or off-road soul, but that's where the enjoyment of riding begins.
Learn more: Is The Salsa Timberjack SLX 27.5+ A Good Mountain Bike? [Review]
Main Features
Frame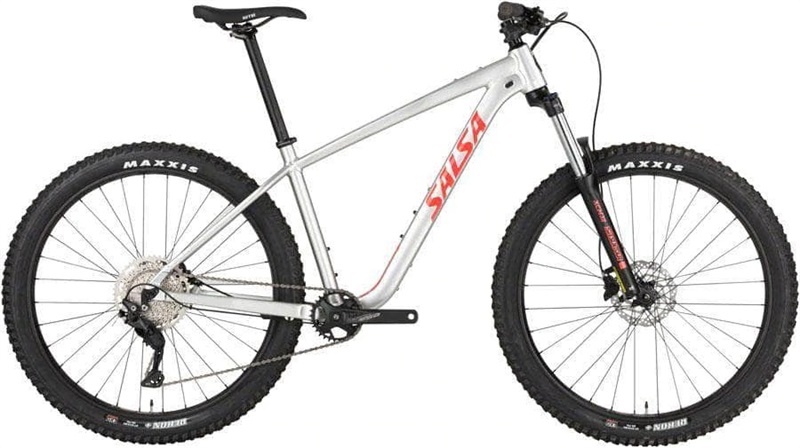 At first glance, the Salsa Rangefinder looks a bit like the Trek Roscoe 7, but it has a more rounded shape.
The frame material of the Salsa Rangefinder is 6061-T6 aluminum alloy, which ensures that the bike is lightweight and durable.
And we also really like the more calm colors of the Rangefinder, which may not fit the wild character of some young people.
Clean internal wiring without too much clutter.
There's a water bottle holder under the seatpost and in the downtube, which is great for refreshing a dry body with a sports drink during a ride break.
The composition of the rear of the frame is very simple, but it is precisely this composition that makes it easier to let go of the urge to sit down and experience the intimate contact between gravel and dirt when you see the Salsa Rangefinder.
Geometry
Both the 29-inch and 27.5-inch versions of the Salsa Rangefinder use the same frame size.
The 68-degree head tube angle is biased towards the steep end, which is very beneficial for climbing, which is why it is a small climber. The 74-degree seat tube angle is also the seat tube angle that is often used by most mid-to-high-end hardtail models. Allows you to maintain a relatively seated riding position for long-distance riding.
In addition, its stack is 614.9mm, which is not a short length, and can adapt to the body proportion of most riders, and the length of the rear fork of 439mm is relatively long, which is why it can maintain comfortable long-distance riding. one.
Components and Specifications
Shimano Deore 1×12 Drivetrain
This component is usually downgraded to a 1×11 or 1×10 configuration in similarly priced hardtail mountain bikes, but we're very happy with the Rangefinder's 1×12 system.
This was proven in testing, too, and the trail-focused Rangefinder didn't leave us feeling that the gear range wasn't enough for the terrain it excelled at.
When considering an upgrade, a drivetrain that is almost adequate is the best option.
If there's one complaint about the Rangefinder's drivetrain, it's that it doesn't have chainstay protection at the frame, which makes it a little noisy when riding fast.
SR Suntour XCR34 Fork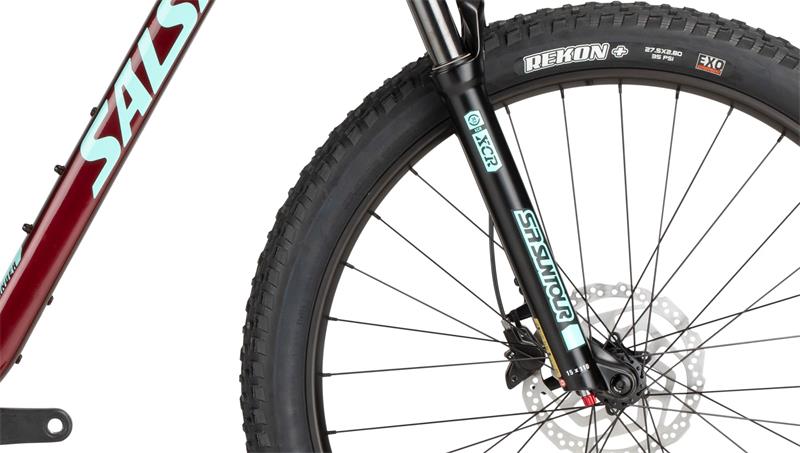 Air suspensions are generally more expensive than spring suspensions, but for a lot of mountain bike riders, we all love the shock that air forks provide.
With 120mm of travel, it's not an option for a lot of travel.
In the eyes of aggressive trail riders, it needs to be increased to at least 130mm to be usable, and we also found it to have some bottoming on steep descents.
It comes with a locking function, but it is not a remote lock. When there is no sufficient speed support on steep climbs, we also need to stop and lock it manually, which is conducive to fast climbing.
Although the SR Suntour XCR34 is a mid-range product, we were very pleased with how well it performed on mountain biking.
Shimano MT200 or Tektro M520 or Promax DSK-925 Brakes
The Salsa Rangefinder is one of the three brake systems above. We tested it with the Shimano MT200, but all brakes at the same price point will have the same problem.
It's good enough most of the time, but you'll feel a little soft on your fast descent, and it's not just a Rangefinder problem.
But there's no denying that it's suitable for milder trail riding, and if you're an aggressive trail rider, we'd like you to upgrade this part after your purchase.
Maxxis Rekon Tires
The soft-textured Maxxis Rekon provides plenty of grip on any terrain, and even muddy country trails don't get in the way.
Dense tire knobs and wide tires also work well with riders to provide ample traction on gravel roads.
The sturdy thru-axle is a component that some riders have criticized for, but in the long run, it's more durable.
TranzX Dropper
The TranzX dropper on the Salsa Rangefinder 27.5+ has only 100mm of travel, while the Salsa Rangefinder 29 has 130mm of dropper travel for uninterrupted work on rough trails.
It performed very well throughout the test, whether it was downhill or climbing, or rough trails.
Even the Rangefinder 27.5+ only has 100mm of travel.
We think the Salsa Rangefinder, with its relatively balanced component specs, will please us even though some well-known brands don't have this component installed.
What Is The Difference Between The Salsa Rangefinder 27.5+ And The Salsa Rangefinder 29?
Both versions of the Salsa Rangefinder use a single frame, so their components can be mounted on each other.
That means the 27.5-inch version can fit 29-inch tires, and the Salsa Rangefinder 29 supports wheels up to 29×3.0″.
On top of that is their TranzX dropper post, which we also mentioned above has different stroke counts. Slight difference in handlebar length (29r bikes vary in style and length). Plus, both bikes' frames, BBs, and drivetrains are compatible with both wheel sizes, so you can swap out 29r wheels for a 27.5+ tire setup.
What do we like?
Shimano Deore 1×12 drivetrain with ample gear range.
120mm air suspension, absorbs the vibration of the woodland off-road very well.
The steady work of the TranzX dropper makes the descent more confident.
2 water bottle holders can be installed, as well as a rear rack, it is a packable touring hardtail mountain bike.
There are two versions of the wheel size to choose from, and you can call it arbitrarily.
Great for long rides.
What don't we like about it?
Soft brake system
Not a vacuum tire
Specs
FRAMESET
Frame
Rangefinder Aluminum
Fork
SR Suntour XCM32 Boost, Coil, NLO, DS, 120 mm
Color
Black(29")
Silver(27.5")
Rear Shock
N/A
DRIVETRAIN
| | | |
| --- | --- | --- |
| Front Derailleur | N/A | |
| Rear Derailleur | microSHIFT Advent X M6205 | |
| Cassette | microSHIFT Advent X H104 11–48t, 10-speed | |
| Chain | Shimano HG54 | |
| Crankset | FSA Alpha Drive, 30t, FSA 124.5 mm bottom bracket | |
| Shifter | microSHIFT Advent X M9605 | |
| Brakes | Shimano MT200 OR Tektro M520 | |
| Rotors | Shimano RT10 Center Lock rotors (160 mm) | |
COMPONENTS
| | |
| --- | --- |
| Headset | FSA Orbit NO.57B 1.5 ZS |
| Stem | Salsa Guide 31.8, 60 mm, 6d |
| Handlebar | Salsa Salt Flat 31.8, 750 mm width XS–SM; Salsa Rustler 31.8, 800 mm width M–XL |
| Grips | Salsa File Tread |
| Seatpost | Salsa Guide 30.9, 0 offset |
| Saddle | WTB Volt Medium, Steel, 142 x 265 mm |
WHEELS
| | |
| --- | --- |
| Front Wheel | Shimano MT400 Center Lock 15 x 110 mm TA hub, WTB ST i30 32h 29″ rim |
| Rear Wheel | Shimano MT200 Center Lock 10 x 141 mm QR hub, WTB ST i30 32h 29″ rim |
| Tires | Maxxis Rekon 29 x 2.6″, EXO, Wire Bead (not tubeless compatible) |
WEIGHT
| | |
| --- | --- |
| Complete Bike Weight | 32 lb 8 oz (with tubes, no pedals) for Medium |
FAQ
What is the best mountain bike brands in the world?
Personally, salsa bicycles can be called one of the best mountain bike brands. This hardtail bike has performed satisfactorily on my rides.
Comparison Table
Competition
GIANT FATHOM 1 vs Salsa Rangefinder
The GIANT FATHOM 1 is $150 more expensive than the Salsa Rangefinder, but its overall accessory quality will get a big boost.
We really liked the Rangefinder's frame, including how well it was suited for climbing terrain, especially steep technical climbs.
And in the climbing terrain it excels at, the GIANT FATHOM 1 is a hardtail mountain bike to contend with.
The GIANT FATHOM 1 uses lighter Giant AM 27.5 tubeless tires, and the weight of the tires has been reduced. And with the SRAM SX 1×12 drivetrain, the weight has also gotten lighter.
When we are still worried that the braking power of the Salsa Rangefinder is not enough, the Shimano BR-MT420/410 is equipped on the GIANT FATHOM 1, with 180mm front and rear rotors, can provide sufficient braking power.
In addition, when they descend, they are all 130mm air suspensions in the same environment. Although their components are different, the performance when descending is not very different.
We seem to like the GIANT FATHOM 1 a bit more, but getting it adds a bit to the budget.
Trek Roscoe 7 2022 vs Salsa Rangefinder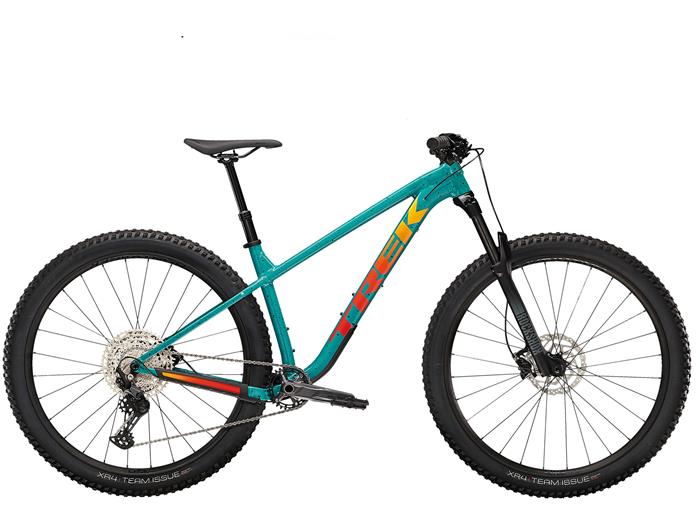 Just add a $40 budget to Trek Roscoe 7 2022 to make our stars in mountain bikes under $2000.
Of course, it is a more comfortable end, and the climbing performance is not as good as the Salsa Rangefinder. But its excellent performance on the steep slopes will also win over by many mountain drivers.
We tested Trek Roscoe 7 2022 and also found its quiet and details of the design.
The two mountain bike frames have some similar profiles, but the Trek Roscoe 7 2022's headpipe angle of 65° is 3° loose than the Salsa Rangefinder.
In addition, the Trek Roscoe 7 uses the RockShox Recon 140 mm stroke front fork for better shock absorption.
The Trek Roscoe 7's advantageous components are the Bontrager XR4 vacuum tires, the same tire size, pressure vacuum tires are less prone to puncture. You can feel more secure over the roadside stone steps.
But the same problem is that their brakes are soft.
But from the cost performance point of view, I prefer the Trek Roscoe 7 2022, but the Trek Roscoe 7 needs to wait for a long time, which is also a worry.
Ragley Mmmbop vs Salsa Rangefinder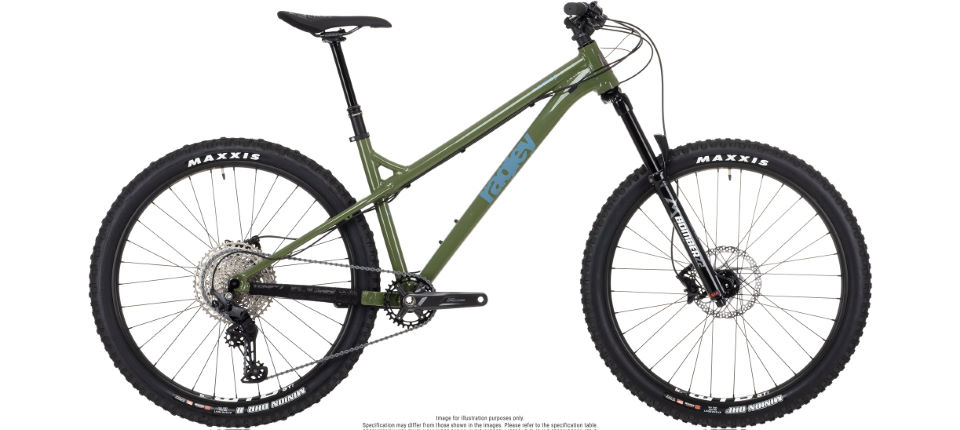 These two hardtail mountain bikes for the same price have good off-road performance.
We think their value for money is the same.
The Ragley Mmmbop's standout feature is its 150mm of suspension travel, suitable for aggressive trail riders. But Ragley Mmmbop compromised on the drivetrain and went with a less expensive Shimano Deore 1×11.
The very slack head angle makes for a comfortable ride, but it also hinders climbing a bit.
In addition, the Ragley Mmmbop has a larger stroke Brand-X dropper, the largest is 170mm, which is undoubtedly the killer of technical descending terrain.
Compared to the Salsa Rangefinder, it is more suitable for climbing, so these are two different styles of mountain bikes.
If you prefer fast descents, the Ragley Mmmbop is a great choice.
Learn more: Is Ragley Mmmbop Worth Buying? [Ragley Mmmbop Review]
SANTA CRUZ CHAMELEON AL D 29 vs Salsa Rangefinder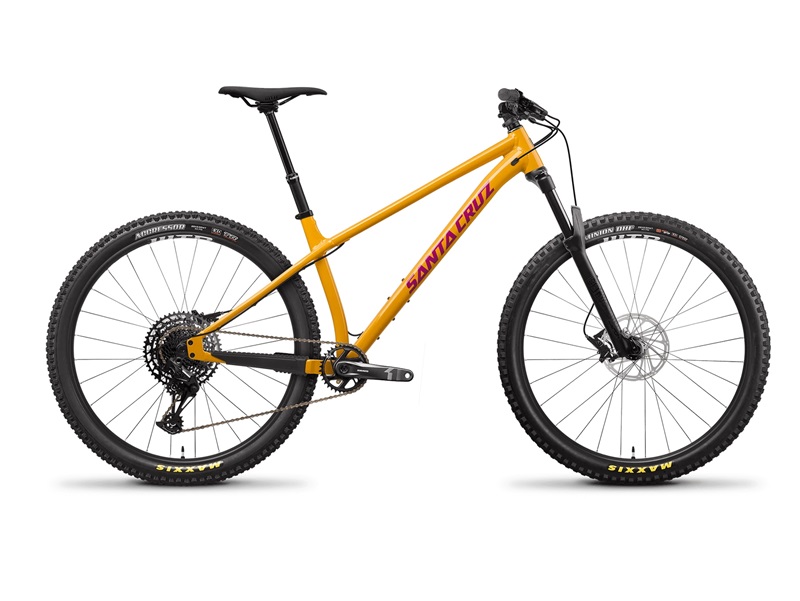 The SANTA CRUZ CHAMELEON AL D 29 is a very affordable version of its model in the same series, and the price is very reasonable.
We also really liked the handling flexibility of the SANTA CRUZ CHAMELEON AL D 29 during our ride tests.
The competition standard SANTA CRUZ CHAMELEON AL D 29 has many advantages over the Salsa Rangefinder. The SANTA CRUZ CHAMELEON AL D 29 has a SRAM SX 1×12 drivetrain (some of which are upgraded SRAM NX components), RockShox Recon RL 130mm fork, Maxxis Aggressor 29″x2.5 tires, SRAM Level hydraulic disc brakes, SDG Tellis Dropper, 31.6mm Seatpost.
It almost makes us wish it was an upgrade, and it's like a full-blown fast off-road chameleon. Whether you want comfortable off-road or fast off-road SANTA CRUZ CHAMELEON AL D 29 can help you achieve your goals.
The Salsa Rangefinder is like the entry-level CHAMELEON AL D 29, and The Santa Cruz Chameleon is ready to adapt to its local environment, whatever direction your imagination takes you.
Final Evaluation (4.5/5)
The climbing Salsa Rangefinder has a unique charm that appeals to trail riders who like rough climbs.
It has good results in the 2021 mountain bike comparison, but with the updated iterations of the mountain bike, its excellence has also become ordinary.
In our opinion, the Salsa Rangefinder is a high-end entry-level model with a novice friendliness that many distinctive mountain bikes can't match. The Salsa Rangefinder is a confidence-building hardtail.
We ended up with a 4.5 rating, and it's a bike worth buying.