We use affiliate links and may receive a small commission on purchases.
Giant ATX
Price: US$530
Category: Off-road bicycle
Frame: Aluminum
Gear: 3×7 speed
Tires: 26″/650b
What we like about it: The high-quality aluminum alloy body gives all kinds of people a stable mountain riding experience.
What we don't like about it: The rarer color options.
Rating (4.7/5)
Introduction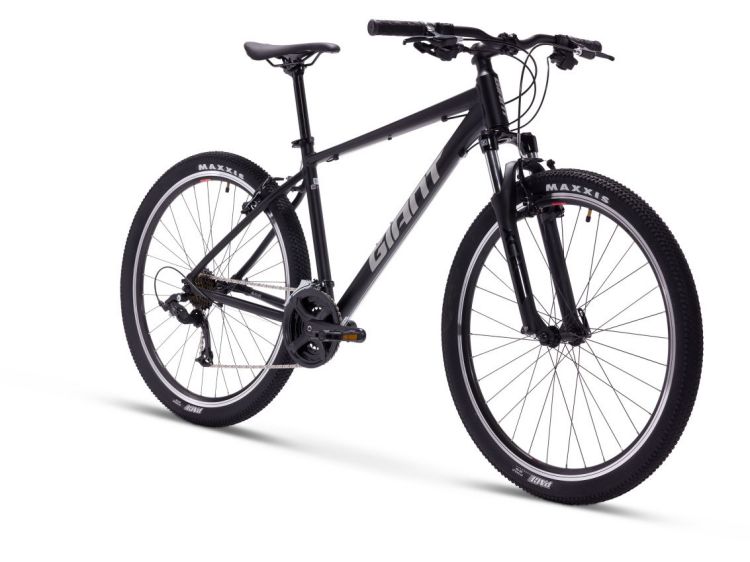 Suffice it to say that the Giant ATX is a great inspiration to every cyclist who loves sprinting downhill, and it is undoubtedly excellent as a mountain cross-country bike.
It has a rugged appearance and looks like a swift beast. But once you master it, it can be used for you to conquer every jagged descent for you.
Surprisingly, with the aluminum frame configuration of ALUXX, it is not as heavy as you might expect. At the same time, an 80mm suspension fork at the same time can keep your body stable, reduce the vibration caused by body collision and eliminate that annoying soreness.
As I descended the gravelly, winding trail, I could feel one with the Giant ATX and enjoy the extreme thrill of the final sprint.
To make the results more informative for you, we'll elaborate on the Giant ATX's performance while riding, key features, components, specifications, and other versions of the series. If you would like to learn more about other versions of the Giant ATX series, please refer to our review below.
Climbing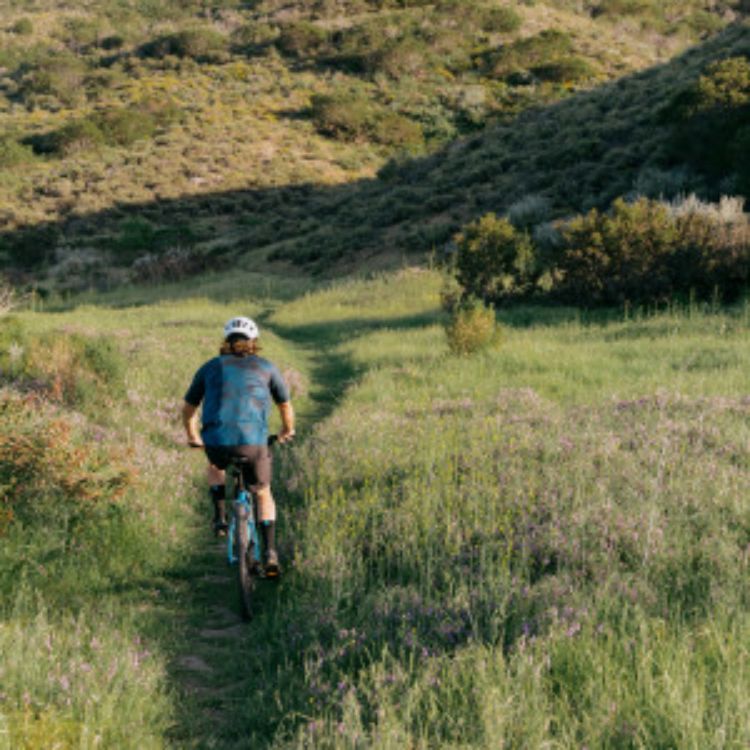 To judge a mountain cross-country bike good or bad, the performance between climbing and descending can explain the existence of everything.
After all, you will encounter countless ascents and descents in the pro circuit. And if the bike doesn't have the capabilities of a better climber, it must be a huge disaster.
It's worth saying that the Giant ATX doesn't give you trouble on climbs. That's not what the components it boasts tell me, but rather what I've learned over two long months.
We chose a world-class multi-purpose recreational sports facility, Stromlo Forest Park, it can be considered a paradise for mountain bikers to practice their skills. This is because there is a 1.2km road cycling track and a 2.5km grass cross-country running track.
The slope we chose is about 43°, which still looks very steep. And there are all kinds of weeds spreading around.
I was trying to get a quicker acceleration before going uphill, so I was up for a sprint on the sprint course. However, the Giant ATX's platform pedals did not give me any backlash but rather allowed me to go up easily.
The steep seat tube angle (73.5°) also helped me a lot in the ascent. The weight was evenly distributed, thus keeping the Giant ATX relatively stable and not giving me extra trouble on the climbs.
Of course, the tires played a major role in the ride, and the smaller Giant Quickcross (650b) tire size allowed me to accelerate more quickly. Even when I hit a bump in the dirt I was able to lift the front end over the obstacle and reach the end of the hill with no trouble.
Descending
As a descending powerhouse, the Giant ATX's ability on its home turf – the downhill – is unquestionable. Suffice it to say, it's quick enough to satisfy all downhill fantasies.
As the flat handlebar is equipped, not only for it has a value improvement but also provides a suitable handlebar length. So I don't feel any discomfort in spreading both arms. A suitable stretch angle makes me more inclined to this "flying" movement.
As the saying goes, "it's easy to get up the mountain, but hard to get down". But with the Giant ATX, I liked the bumpy and turbulent feeling. The raised rocks that blocked my way up the hill became the main source of vibration on my descent.
However, the SR Suntour XCE 28 helps a lot. This is because it has a great effect on absorbing ground and body impact vibrations, while the 80mm of travel that the fork is equipped with can provide better damping than similar models. This was especially strong on the comparison ride.
In addition, the Giant Quickcross is equipped with the popular Bontrager series tires. It is small and light but has a strong grip, clinging to the ground without any slippage during travel. Happily, the cackling sound of the ground as it descends the hill is more like a battle cry for the final sprint.
Main Frame
frame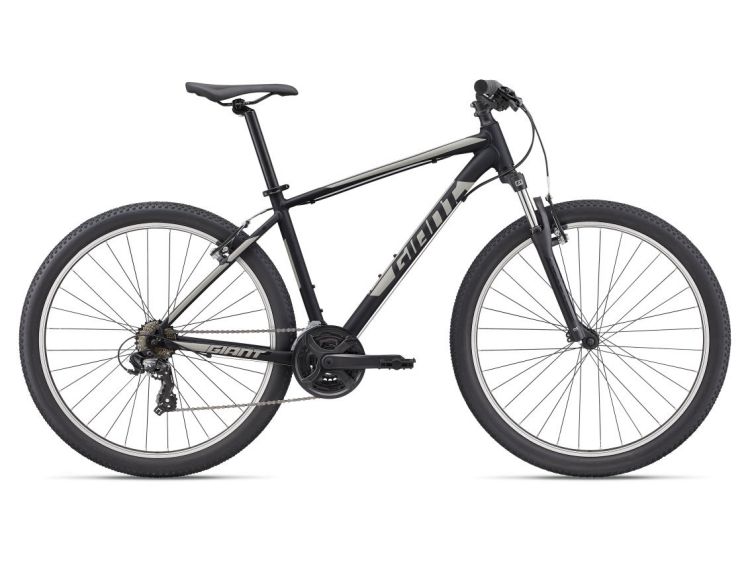 In terms of bodywork, the Giant ATX still takes the traditional aluminum material. Premium ALUXX might not be good news for riders who love carbon, and some worry that it doesn't meet their daily riding needs. But in two months of riding, I didn't feel that aluminum gave me trouble. On the contrary, it takes good care of my riding feeling.
Not only that, but the Giant ATX has a flat and comfortable handlebar. This provides the rider with the right amount of arm room to stretch out. In addition, the suspension has 100mm of travel, which also provides the right amount of damping to dampen the bumps on the trail.
The tires are smaller in size, with a maximum size of just 27.5 inches. This is a philosophy Giant has always adhered to. This design allows you to get more responsive steering in sharp turns.
Of course, the essential thing is to have a bracket. You can install a bracket at the downtube for your water bottle if you wish to solve water problems on long trips. The integrated mount makes it easy to add racks or fenders for your riding adventures.
Geometry
Geometrically the Giant ATX doesn't go off the beaten path and uses extreme construction to deliberately cater to the needs of veteran mountain bikers for climbing and descending. It's more of a smooth angle to satisfy the novice or skilled mountain biker.
Taking the m model as the standard, the steeper angle chosen for the Giant ATX in terms of head tube angle is also in line with the standard for mountain bikes. This is because such a setup can shift the rider's center of gravity forward when going uphill and increase the weight of the predecessor. So there will be no rollover accidents because the hill is too steep.
Meanwhile, the Giant ATX has a 43-inch wheelbase, which is considered a relatively short kind. This is suitable for those riders who prefer to make sharp turns. I'm sure you'll love the responsive handling.
Components and Specifications
Shimano EF41 3×7 Drivetrain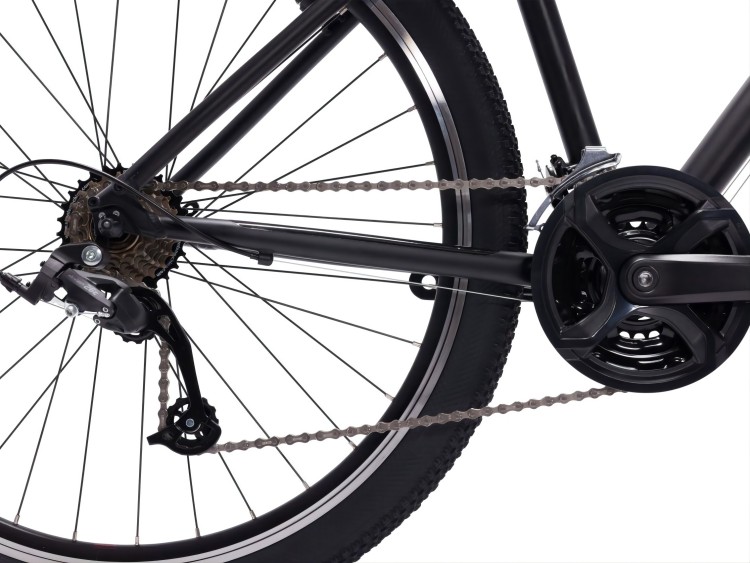 I have to admit that the Shimano brand has always been one that I trust. At the moment, it is probably one of my criteria for choosing a bike.
The more durable and lightweight shifting performance makes it easy to make quick gear changes during the ride and choose the right speed for various trails. A simple, intuitive appearance can be quickly operated on even by novices. And each number on the gears of the drivetrain can be read at a glance, it is still very friendly to newcomers.
Not only that, but the Giant ATX has 3 cassettes and 7 freewheels, with a 3×7 speed configuration that allows for a wider range of speed options. If you are demanding speed, then Giant ATX may meet all your expectations.
Hydraulic Disc Brakes
I like hydraulic disc brakes a lot. Because it has a more stable and more sensitive operation experience.
For every rider, braking performance is crucial, after all, it is an important factor for safety. Compared to mechanical braking, it has better braking performance. Disc brakes will not cause brake fade, but also will dissipate some heat in time so that the brake quickly recovers.
Even when it meets rainy weather, it still has excellent performance. On the 3rd of last month, it was raining heavily and there was mud and debris piled up on the road on my way home from the park. I chose the Giant ATX, which was able to brake perfectly while holding the handbrake tightly, without any stalling.
SR Suntour XCE 28 Fork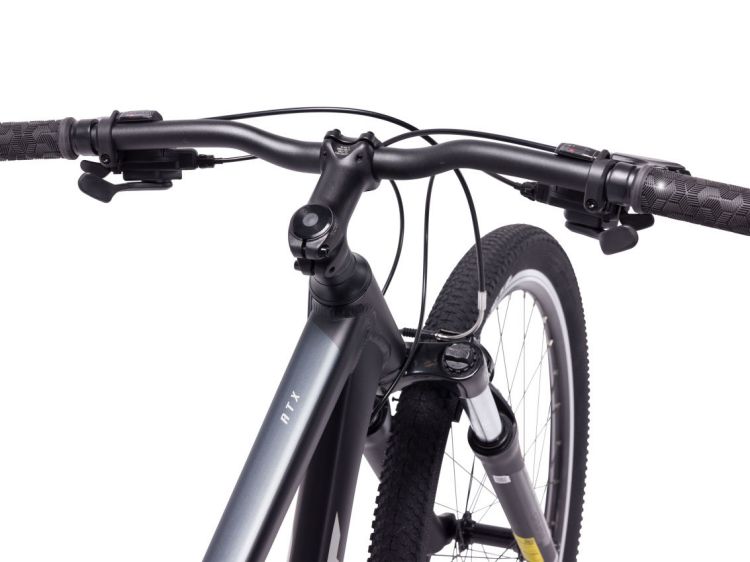 As a mountain bike, suspension is also a point of importance to many riders. After all, as we travel through the rocky forest and the devil's track with sharp turns, we always encounter various kinds of bumpy road sections.
The fork exists to cope with this kind of road surface. Compared to other types of mountain bikes, the Giant ATX has a relatively short travel of 80mm, and some may wonder if this specification will not work. But such worries are unnecessary. In two months of mountain riding, I didn't feel it created too many bumps, and I was able to pedal every downhill. I thought my arms would develop excessive swelling and soreness, but I'm fine.
Overall, if you're new to cycling, the Giant ATX is sure to meet your needs for climbing and descending.
Giant Quickcross 27.5×2.1″ / 26×2.1″ Tires
The Giant ATX has adopted a "small" model for its tire configuration, perhaps in consideration of the countless roadblocks and obstacles that will be encountered on the race course.
The original tire 26×2.1″ is tiny for a bike of its type. Even the largest size (27.5×2.1″) is unique as it is a relatively small presence among other models.
Sure, the small size has its benefits. At the last race with friends at Stromlo Forest Park, the 26-inch tires made it easy for me to navigate the narrow and tricky trails. And the nimble steering allowed me to drive quickly around winding corners.
I was amazed at the strong grip of the Giant Quickcross. As a result, I didn't feel the tendency to lean forward even when I was traveling at a faster speed.
If you are a small tire party, then the Giant ATX is a great choice for you.
Other Versions Of Giant ATX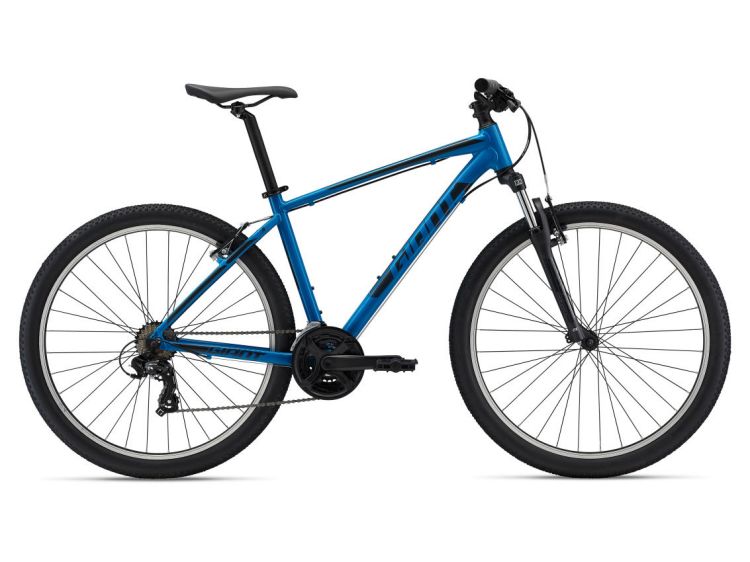 We also tested other versions of the Giant ATX for comparison purposes, including the 2020 Giant ATX 2. Also, a cross-country mountain bike, it still has the same 27.5″ tires as the ATX. There are also a variety of models to suit people of different weights. But the fork has been upgraded slightly, with 100mm of travel to give you more cushioning ability to absorb bumps on climbs and descents during touring or racing. Whether you're riding on-road or off-road, it's still very powerful. You can get a super cool riding experience in the race.
At the same time, the 2020 Giant ATX 2 is also a great deal, with a price of $487 that kills other models. If you are looking for a cost-effective vehicle you may want to take a look at the 2020 Giant ATX 2.
What we like about it
Rough and tumble personality smooth riding experience.
Comfortable seating experience under the flattened frame.
Lightweight and durable ALUXX aluminum frame.
Smaller tire options allow you to make fun passes around corners.
What we don't like about it
Fewer color options (currently only blue and gray).
Smaller tire sizes.
FAQ
What is the frame material of the 2022 Giant ATX?
The frame material of the 2022 Giant ATX is ALUXX aluminum.
What is the drivetrain of the 2022 Giant ATX?
The 2022 Giant ATX's drivetrain is a Shimano EF41, 3×7.
What sizes are available in the 2022 Giant ATX?
Size Chart for the 2022 Giant ATX
| | | | | | | |
| --- | --- | --- | --- | --- | --- | --- |
| Size | XXS | XS | SM | MD | LG | XL |
| Rider Height | 152cm – 158cm | 156cm – 163cm | 161cm – 171cm | 169cm – 176cm | 174cm – 186cm | 184cm – 193cm |
2022 Giant ATX Specs
Build
| | |
| --- | --- |
| Frame | ALUXX-Grade Aluminum Colors: Black; Satin Black; Vibrant Blue |
| Fork | SR Suntour XCE 28, coil, preload XXS: 80mm travel (26) XS: 80mm travel (26) S: 80mm travel (26) / 80mm travel (27.5) M: 80mm travel (27.5) L: 80mm travel (27.5) ) XL: 80mm travel (27.5) XXL: 80mm travel (27.5) |
| Rear Shock | N/A |
| Bottom Bracket | cartridge |
| Stem | Giant Sport, alloy, 15-degree XXS: 60mm (26) XS: 60mm (26) S: 75mm (26) / 60mm (27.5) M: 60mm (27.5) L: 75mm (27.5) XL: 75mm (27.5) XXL: 75mm (27.5) |
| Handlebar | Giant Sport, alloy, 25.4mm XXS: 600mm (26) XS: 600mm (26) S: 640mm (26) / 640mm (27.5) M: 680mm (27.5) L: 680mm (27.5) XL: 680mm (27.5) XXL: 680mm (27.5) |
| Saddle | Giant custom |
| Seatpost | Giant Sport, 30.9mm XXS: 300mm (26) XS: 300mm (26) S: 300mm (26) / 375mm (27.5) M: 375mm (27.5) L: 375mm (27.5) XL: 375mm (27.5) XXL: 375mm (27.5) |
| Pedals | platform |
| Grips | Giant Sole-O |
Groupset
| | |
| --- | --- |
| Rear Derailleur | Shimano Tourney |
| Front Derailleur | Shimano Tourney |
| Crank | ProWheel forged, 24/34/42 XXS: 165mm (26) XS: 165mm (26) S: 170mm (26) / 170mm (27.5) M: 170mm (27.5) L: 175mm (27.5) XL: 175mm (27.5) XXL: 175mm (27.5) |
| Shifters | Shimano EF41, 3×7 |
| Cassette | Shimano MF-TZ500, 14×28 |
| Chain | KMC Z7 |
| Brakes | MTB linear pull |
| Brake Levers | Shimano EF41 |
Wheels
| | |
| --- | --- |
| Rims | Giant alloy |
| Spokes | stainless, 14g |
| Front Hub | alloy, sealed bearing |
| Rear Hub | alloy, sealed bearing |
| Tires | Giant Quickcross, 27.5×2.1″ / 26×2.1″ |
Comparison Table
2022 Giant ATX vs 2022 Schwinn Voyageur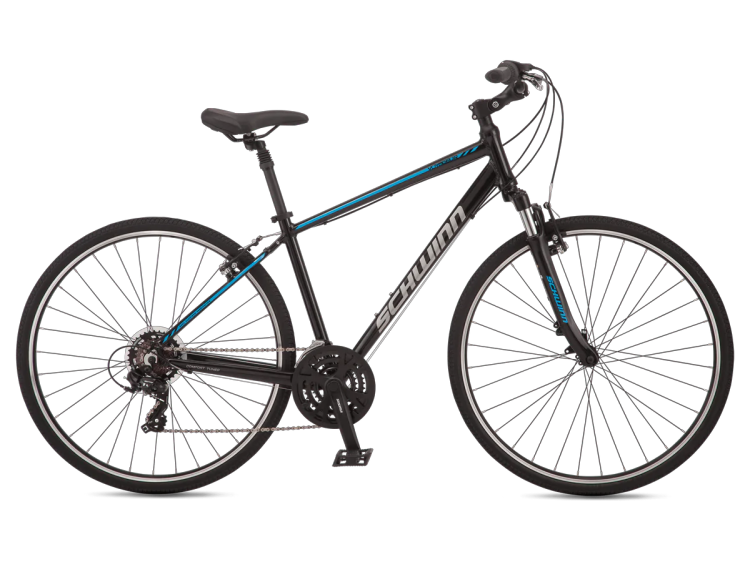 The 2022 Schwinn Voyageur is a hybrid bike. That means it can handle road riding as well as your fitness needs and enjoyable rides on rugged trails. Of course, it is also capable of meeting your commute to work.
Also, the 2022 Schwinn Voyageur 21-speed is a boon to the speed party, and the 21-speed adjustment is what I was hoping for. You know, I have a preference for the advantages of wide speed adjustment. And in terms of tires, the 700c x 38c tires are also a configuration that I am satisfied with.
However, you may be attracted to the Giant ATX if you notice that it only costs $530. Both the friendly enough price and the relatively wide range of color options are among its selling points. In addition, the wide range of speed options will be a favorite of the multi-becoming rider. If you're focused on value for money, I think you might want to try the Giant ATX.
Learn more : Is Schwinn Sierra Worth Buying?[2022 Schwinn Sierra Review ]
2022 Giant ATX vs 2023 Marin San Rafael DS1
I have to admit that the 2023 Marin San Rafael DS1 is the best of the best in the commuter bike category. Even if it has a more expensive price than the Giant ATX.
Of course, if you say it has any drawbacks, in my opinion, there are still some. First off, the speed adjustment of the 2×7 may just follow a more traditional design, perhaps without its innovation. Further, the Giant ATX 21-speed gear change might be better. Of course, this is just a personal opinion, I prefer more speed options.
Finally, as a hardtail bike, it's perhaps a little short on travel specs at 63mm. Of course, my emphasis here is on rugged trails like the Alps. If road riding alone, such parameters are sufficient for your daily needs.
learn more:Is MARIN SAN QUENTIN 2 Worth Buying?
2022 Giant ATX vs 2022 Bulls Pulsar Cross Diamond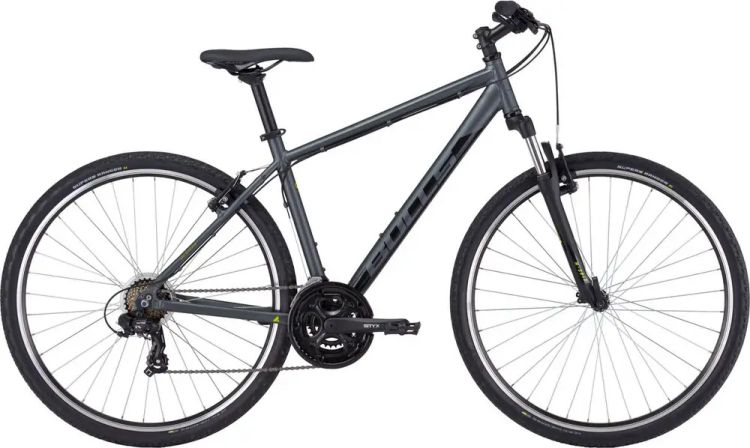 As a hybrid bike, the 2022 Bulls Pulsar Cross Diamond is certainly excellent in terms of riding performance.
The 700c tires certainly make the rider's ascent more interesting. The stronger grip allows for stable forward travel even when encountering rough and uneven surfaces. Of course, you can also choose Giant ATX small-size tires, which is also a personal favorite.
The 2022 Bulls Pulsar Cross Diamond is equipped a fork with 63mm of travel compared to the Giant ATX's specialized off-road configuration. But as a novice rider, it may be acceptable.
In terms of price, the 2022 Bulls Pulsar Cross Diamond is $30 more expensive than the Giant ATX. It is necessary to remind you of this.
2022 Giant ATX vs Dual Sport 1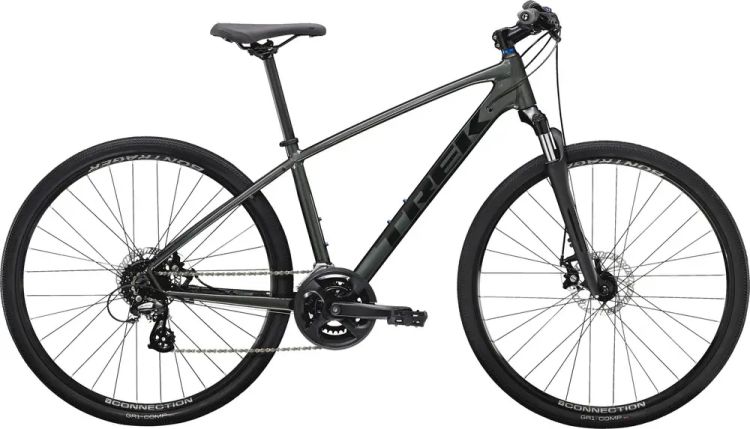 Also as a commuter bike, the Giant ATX has a definite advantage in terms of price. While the latter Dual Sport 1 is $159 more expensive. This may not be a good thing for people who value price.
When it comes to tires, the Dual Sport 1 features a larger size. This also means you are able to ride more consistently. Not only that, but in my actual riding experience, I found that it gave me a speed boost. On top of the same distance, I can get to my destination faster. This often puts me at the top of the race.
In terms of drivetrain, the Dual Sport 1 is perhaps not as extensive as the Giant ATX in terms of speed adjustment. I would prefer more speed adjustment. This is because it gives more options when facing different trails on top of each other. That's a cool thing. As a dual sport bike, the versatility of the Dual Sport 1 speaks for itself. You can use it for fitness as well as for taking on some treacherous terrain.
In case, the above comments are helpful to you, please remember to share the subscription. Have a great day!
Learn more :Is Trek Dual Sport 2 Gen 4 A Good E-bike? [2023 Trek Dual Sport 2 Gen 4 Reviews]