We use affiliate links and may receive a small commission on purchases.
Schwinn Sierra
Price: $649
Category: Hybrid bike
Frame: Aluminum
Gears: 21 speed
Tires: 27.5 x 1.95
What we like about it: Excellent commuting performance for urban leisure under a refreshing color scheme, and different body designs for other men and women.
What we don't like about it: 3×7 transmission more backward drivetrain is more complicated to operate.
Rating: (4.6/5)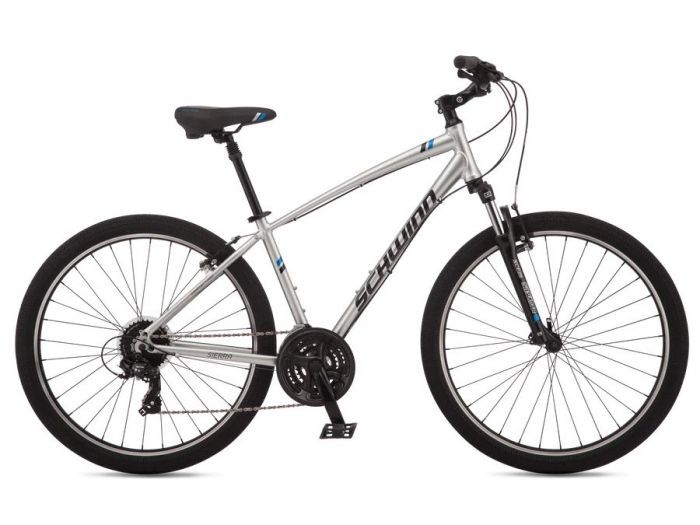 The market for today's hybrid bikes is a must-have. With the modernization of bikes and the white-hot competition, bikes that can adapt to all terrains have become standard on all bikes, not only to have the ability to conquer different surfaces, but also to provide the ultimate riding experience.
The 2022 Schwinn Sierra, our protagonist today, has a 21-speed trigger shifter that provides fast and agile shifting patterns, and 27.5-inch tires that maintain a relatively fast travel speed in the middle of the ride, so cornering is not a dream.
Not only on flat roads, but more importantly even on rolling hills and mountains, the 2022 Schwinn Sierra is extremely capable of meeting my own riding needs. It doesn't shake as much as a normal bike, but on the contrary, is smooth enough to escort me to the end of my trip.
To make the results more informative for you, here we elaborate on the performance of the 2022 Schwinn Sierra when riding, key features, components, and specifications, as well as other versions of the series. If you'd like to see more versions, please refer to our review.
Learn more: Schwinn GTX Comfort Adult Hybrid Bike Review – Is It Worth Buying?
Road Riding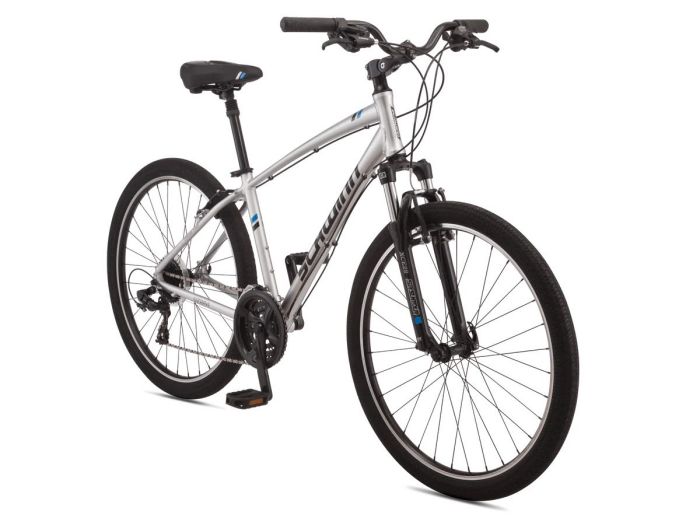 If you are currently looking for a commuter bike to meet your daily commute and enjoy riding in the wind without any discomfort, then I recommend the 2022 Schwinn Sierra, which is sure to meet all your commuting needs.
I did a lot of comparison tests during my two-month long ride and the 2022 Schwinn Sierra still feels great to me. Even after a busy day at work, it doesn't add to my extra fatigue level when I ride it home, but rather I love the feeling of being in control of it. It's more like a white horse moving forward, with a comfortable saddle that allows me to ride in the wind.
Personally, comfort is the most intuitive way to describe the 2022 Schwinn Sierra. I spend a lot of time bending over on my commute, and my arms are already sore. Yet the sensible geometry didn't cause me any discomfort, which is probably due to the excellent body construction.
The handlebars are made of high-quality steel with rubber grips to greatly absorb bumps and bumps. 620mm width is just the right configuration for a medium-sized person like me, so I can position my arms at a proper angle, which greatly reduces stiffness.
The memory foam seat was supportive and kept me in the right position for my weight, and I didn't feel any soreness even when I was standing upright. After all, seven miles of smooth road riding can be stressful, and fortunately, the Schwinn Sierra minimizes this physical ache.
Gravel Road Riding
Of course, a competent hybrid bike is only competent if it takes on all the gravel and bumps, and the 2022 Schwinn Sierra is certainly up to those challenges. That's what we've learned in our two-month-long experiment.
In terms of the frame, the 2022 Schwinn Sierra is made of aluminum, and the aluminum frame provides durability that doesn't weigh me down. Maybe you don't know much about aluminum bodywork, but believe me, it will give you an extraordinary riding experience.
Last night I rode the Schwinn Sierra to the backcountry park to explore the single-track gravel trails in the field.
I didn't feel a lot of vibration in the body. I think this is also because the Schwinn Sierra suspension fork helps absorb bumps on the trail or sidewalk for a smooth ride.
Aluminum is a popular material used in the manufacture of bicycle frames. It is lightweight and I can easily lift it when I encounter some bars that prevent the bike from traveling, which makes me look like a Hercules.
As a shock absorber, the suspension fork doesn't disappoint me with its ability to absorb shock either.
2022 Schwinn Sierra shock travel 80mm, maybe you think so insignificantly but for a veteran, a hint of difference can affect the riding experience of the day. I also had to adjust the saddle up and down more than 30 times to get a proper seat tube length until I was completely satisfied, and that was the most impactful ride I've ever been on.
Not only that, but the 2022 Schwinn Sierra's 21-speed trigger shifter provides fast, responsive shifting. When I'm sprinting over uneven gravel trails, I choose the lowest gear to handle the variety of raised rocks and dirt. Not only that, but I could enjoy a wider range of speeds to match, which seemed like a cool vibration.
The 2022 Schwinn Sierra's performance is very satisfying, and no matter what kind of ground you're facing, you can choose the right stance to face and conquer the 2022 Schwinn Sierra.
Main Features
2022 Schwinn Sierra Frame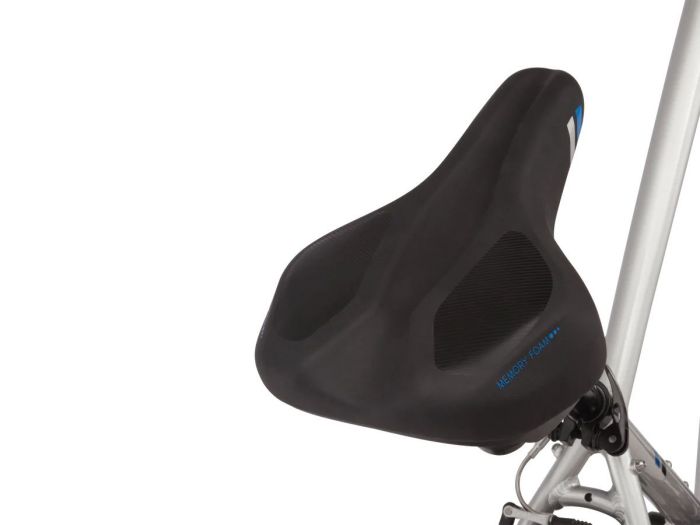 In terms of frame choice, the 2022 Schwinn Sierra still opts for a more traditional aluminum frame. Compared to the previous steel bodywork, the aluminum frame has a lighter body structure, while providing durability and not feeling any burden.
Admittedly, I have some minor suggestions for the external alignment of the Schwinn Sierra. It doesn't put all of the bike's control cables inside; instead, it has a portion of the cables straying out, which can create a certain amount of clutter. In case of carelessness, the cable will be detached from the fixing, which will cause obstruction to the bike's travel. If possible, it would be better to bundle the cables internally.
Finally, as with any hybrid bike, a good supply of water is necessary for long rides. If you need it, the 2022 Schwinn Sierra has a water bottle mount on the downtube to hold your water cups and solve the problem of lack of water due to travel.
Geometry
The 2022 Schwinn Sierra doesn't take a more extreme geometric approach, perhaps because of the wide audience for the 2022 Schwinn Sierra. The best size for the masses is what it's aiming for, and that's why it's preferred by the masses.

In terms of seat tube angle, modern bikes prefer a steeper angle, however, the 2022 Schwinn Sierra takes a more conservative value of 69° (69° for any size). It is significantly more forgiving compared to other hybrids of its type.
The most intuitive feeling of the forward lean of the gravity is that I can easily conquer the last inclined uphill section, which looks like 50° and leaves me gasping for breath on every climb.
Component Specifications
Shimano 21-speed Drivetrain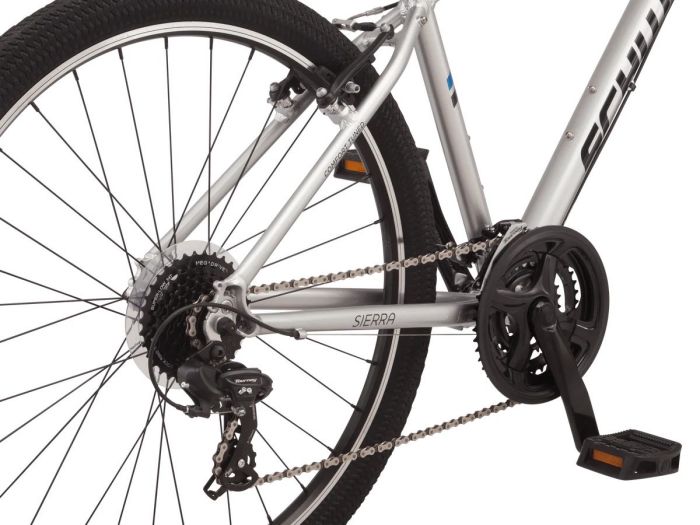 The 2022 Schwinn Sierra is still equipped with the more familiar brand Shimano. my love for Shimano started when I owned my first bike. Shimano offers fast and reliable shifting – it even smooths out the shifting.
Not only that, but the extreme trigger shifters provide fast precise shifts.
We chose just the bumpy and uneven cobblestone road, and I tuned it to be the relatively lowest gear for the sprint experiment. As you know, I'm a stickler for speed, and I enjoy the feeling of flying at top speed.
But with the 3×7 choice, I had a hard time finding the right gear, and a satisfactory speed. I managed to get the right gear for the third time, and I will adjust other gears to see how they feel on different roads, but frankly, it's too much trouble.
If I could, I would prefer to change it to a 1×7 configuration, so that I could choose the speed without such complicated operations. After all, on the way to work, it is difficult to say that all the attention is to focus on gear shifting.
SR Suntour XCE 28 P 80mm travel Fork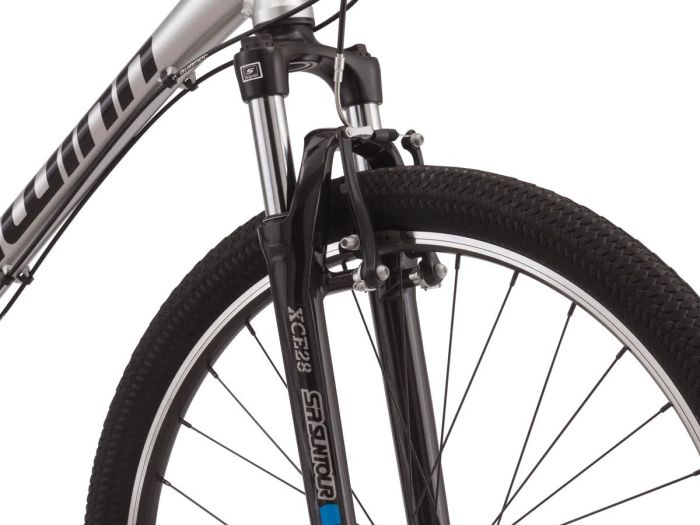 What is surprising about the design of the 2022 Schwinn Sierra in terms of shock absorption? As mentioned before, the aluminum frame is still a significant upgrade from steel, perhaps not as good as the carbon fiber we know, but given the relatively low price of the 2022 Schwinn Sierra, I still have faith in it.
Generally speaking, 63mm is the standard for hybrid bike fork travel settings, as this is the size most conducive to urban trail use. The 2022 Schwinn Sierra adds 17mm of travel to that, giving it 80mm of travel, which means it's even tougher on rough and gravelly terrain.
You may not think much of this increase, but for those who really love it and are proficient at it, it makes a significant difference to the ride. I've compared the 2022 Schwinn Sierra to other bikes in its class, and it's still the 2022 Schwinn Sierra that stands out to me.
Schwinn Comfort Tires
About the 2022 Schwinn Sierra's tire, perhaps it also has a lot of secrets that are not well known. But it's still surprising how well it performs on display in everyday riding.
Hybrid cruiser comfort bike tires with puncture resistance and Schwinn puncture resistance. This also makes 2022
Schwinn Sierra to have the capital to move forward on the sand. You don't have to worry about it slipping or blowing out mid-cycle, the performance tread pattern is built to grip the ground firmly and provide you with the ultimate in machine body stability.
But if there's one thing I'm not happy about, it's the size of the 26-inch x 1.95-inch tires. Personally, the small size of the tires means that a playful demeanor comes with some compromises, and rolling down sloping gravel trails, it can bounce erratically and quickly out of control. This is definitely something to consider if you plan on taking rugged trails on a regular basis.
Radius V993 Brake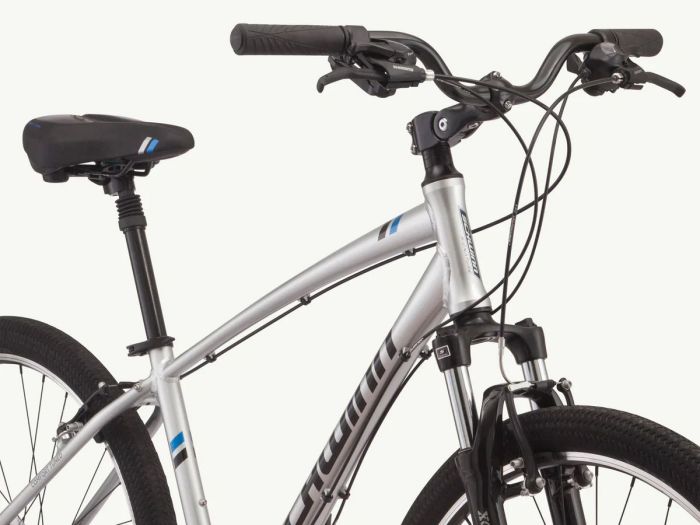 I have to admit, I'm a fan of Shimano. After all, many of my cars before this one were equipped with Shimano brand brakes, which are sensitive. Fast, agile, and an absolute voice in braking.
The Radius V993, on the other hand, is perhaps not as much of a popular brand as Shimano. Instead, it's more the object of some niche enthusiast's revelry, and yes, it always has been.
But after two months of riding, I've had a change of heart about the Radius, and it's certainly up to snuff for city commuting alone. It still doesn't bring the same wow factor and familiarity as the Shimano. But if it were up to me, I'd probably still make Shimano my first choice for 2022 Schwinn Sierra brakes.
Other Versions of 2022 Schwinn Sierra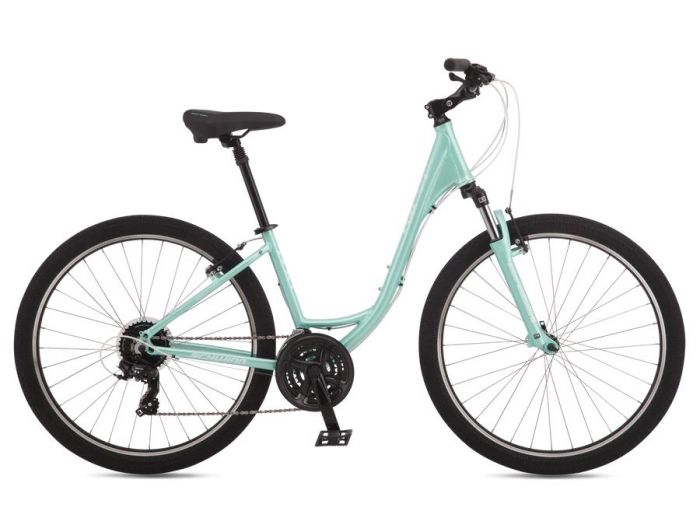 As a comparison, we also tested other versions of the Schwinn Sierra, including the 2021 Schwinn Sierra 27.5 Step-Thru, which is aimed at the female population.
In terms of body materials, they are almost identical, with the same aluminum body frame and steel. The Sierra 27.5 Step-Thru is designed to fit the female body better by reducing the length of the top tube to the crank. This way, women don't have to take big steps to get on the bike, but can easily sit on it and maintain a standing position.
My wife also likes this design, even if she is small in stature, she can still hold it securely.
Meanwhile, I am the loyal small tire party. Tire size, the 2021 Schwinn Sierra 27.5 Step-Thru is a smaller 650b size tire under the choice of tires.
If you are keen on small tires for your sensitive cycling cornering, then it must be the right choice for you. Perhaps this choice is still very friendly for slim women.
FAQs
What is the body material of 2022 Schwinn Sierra?
The body of the 2022 Schwinn Sierrash is made of aluminum.
What is the fork travel of the 2022 Schwinn Sierra?
The 2022 Schwinn Sierra has fork travel of 80mm.
What is the wheel size of the 2022 Schwinn Sierra?
The wheel size of the 2022 Schwinn Sierra is 700c.
What do we like about it?
Smooth 21-speed shifting enough to handle flat or rough terrain.
The aluminum frame ensures durability and reduces strain on the road
What we don't like about it?
Too sparse a choice of colors
Front and rear linear-pull brakes ensure reliable braking
Radius brakes should have the tendency to upgrade.
Specs
| | |
| --- | --- |
| Bike | 2022 Schwinn Sierra |
| Frame | Aluminum, 27.5″ comfort tuned geometry, 10 mm x 135 mm dropout, replaceable hanger, 1 1/8 in headtube |
| Fork | SR Suntour XCE 28 P, 27.5″, steel steerer, 9 mm x 100 mm QR, 80 mm travel |
| Bottom Bracket | VP, cartridge, square taper, 68 mm |
| Headset | Threadless, ZS44, semi-cartridge bearings |
| Stem | Schwinn, aluminum, threadless, adjustable rise, 25.4 mm clamp |
| Handlebar | Schwinn, steel, 620 mm width, 80 mm rise, 25.4 mm clamp |
| Saddle | Selle Royal Comfort, steel rails |
| Seatpost | Aluminum, 300 mm, 18 mm offset, suspension, 27.2 mm |
| Pedals | Schwinn comfort, nylon / Kraton |
| Grips | Schwinn ergo, dual density |
| Rear Derailleur | Shimano Tourney RD-TY300 |
| Front Derailleur | Shimano FD-TY500, 31.8 mm clamp |
| Crank | Schwinn aluminum, 48/38/28T |
| Shifters | Shimano EF41 EZ-FIRE, 21-speed |
| Chain | KMC Z7 |
| Brakes | Radius V993, linear pull, aluminum |
| Rims | Alex DC26, aluminum, double wall, 32H |
| Spokes | Stainless steel |
| Rear Hub | Schwinn sport, aluminum, 10 mm x 135 mm QR, 32H |
| Tires | Schwinn comfort, 27.5 in x 1.95 in, wire bead |
Comparison Table
| | | | | | |
| --- | --- | --- | --- | --- | --- |
| BIKE | TIRE | PRICE | FORK | GEAR | CLICK VIEW |
| 2023 Marin San Anselmo DS2 | Vee Tire, Rail, 700cx40mm, Wire Bead | $799 | SR Suntour NEX Disc HLO, 63mm Travel, Hydraulic Lockout, Preload Adjustment | 2×8 | Click View |
| Bulls Crossbike 1 Diamond | SUPERO Ranger Anti Puncture | $764 | SR SUNTOUR NVX30 DS | 3X8 | Click View |
| Schwinn Voyageur | Kenda Kourier, 700c x 38c, wire bead | $649 | Zoom 730 AMS, 700c, steel steerer, 9 mm x 100 mm QR, 63 mm travel | 3X7 | Click View |
| Liv Rove 4 Disc | Giant CrossCut, 700x42c, puncture protect | $650 | SR Suntour NEX 700C, 63mm, disc | 2×7 | Click View |
2022 Schwinn Sierra vs 2023 Marin San Anselmo DS2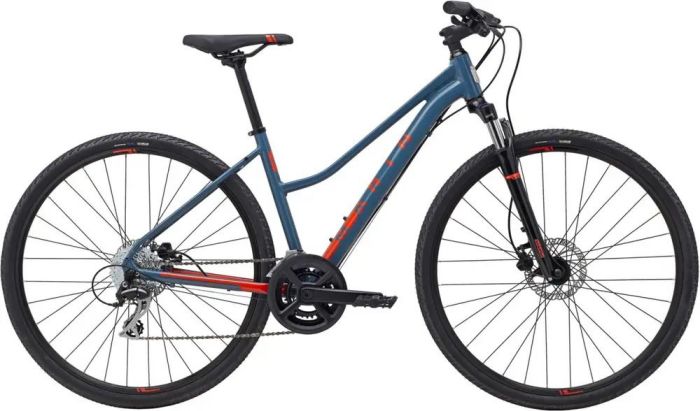 The 2022 Schwinn Sierra, also a hybrid bike, and the 2023 Marin San Anselmo DS2 are similar in many ways. With the same aluminum body and 700c tires, they share the same design considerations.
However, unlike the 2022 Schwinn Sierra, which has mechanical discs on the brakes, the Marin San Anselmo DS2 has hydraulic discs, which is surprising to me. Compared to the mechanical discs, the hydraulic discs have faster and more responsive braking, while the lighter size will also reduce the weight of the body, which is a pleasant surprise for riders who prefer a smaller size.
Of course, the price difference of nearly $150 may also be a factor to consider. If you have tougher requirements for price, then the 2022 Schwinn Sierra might be something to try.
Learn More: 2023 Marin San Anselmo DS2 Review- Unconventional Hybrid Bike
2022 Schwinn Sierra vs 2022 Bulls Crossbike 1 Diamond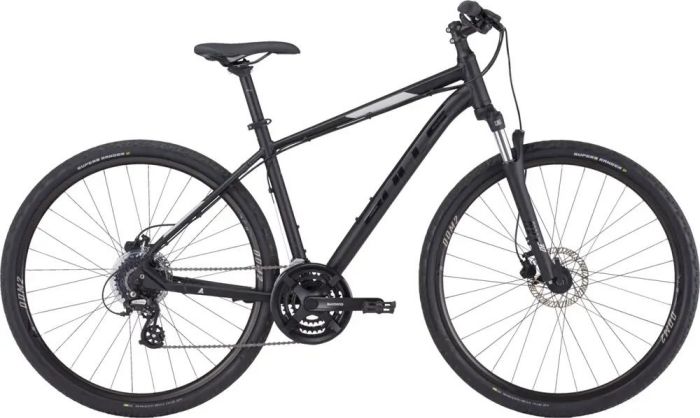 The 2022 Bulls Crossbike 1 Diamond's name gives you an idea of its extremely powerful off-road capabilities. As a hybrid bike, its off-road riding ability is also considered to be very good.
In terms of braking, the 2022 Bulls Crossbike 1 Diamond uses hydraulic disc brakes, which is perhaps the reason why it can boldly challenge rugged roads. But only if you can accept the high price of disc brakes.
We have deep feelings about the damping aspect. The 2022 Bulls Crossbike 1 Diamond doesn't come with the standard 63mm of travel, but with a small upgrade of 75mm, so the 2022 Bulls Crossbike 1 Diamond is better damped for gravel roads. The actual ride of the test was the same.
Not only that, but the 2022 Bulls Crossbike 1 Diamond's boldly steeper seat tube and head tube angle allow the rider to shift their weight forward more when climbing. Even on very steep slopes, it will be more comfortable.
If you're longing for a trail bike and looking for an entry-level bike then why not give the Bulls Crossbike 1 Diamond a try?
2022 Schwinn Sierra vs 2022 Schwinn Voyageur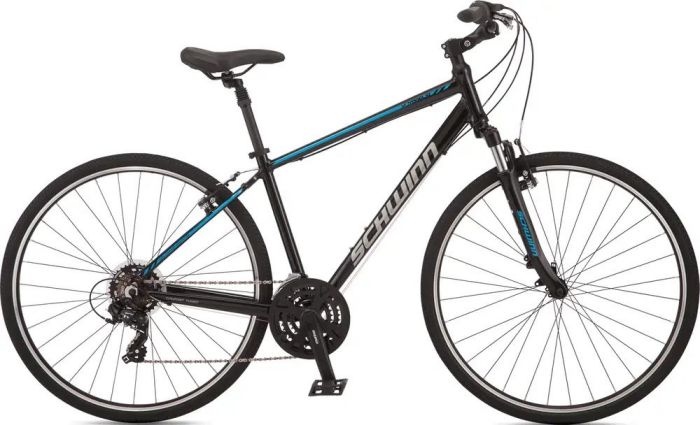 Also using 700c tires, the Schwinn Voyageur also chooses one of the more popular aluminum frames on the market, with modest components and rim brakes. This design is not unlike that of the 2022 Schwinn Sierra. Even this similarity extends to the price – also $649.
But the difference is that the 2022 Schwinn Voyageur is more road-oriented than the 2022 Schwinn Sierra. So, its designers would have designed it with 63mm of travel on it. This is probably a shame, as personally, I prefer a higher travel bike like the 2022 Schwinn Voyageur.
The Schwinn Voyageur's 1.95-inch tire width is more grippy on the ground, which is crucial to my daily riding. If you also like the security that comes with a wider tire, perhaps the Schwinn Voyageur will be more to your liking.
2022 Schwinn Sierra vs 2022 Liv Rove 4 Disc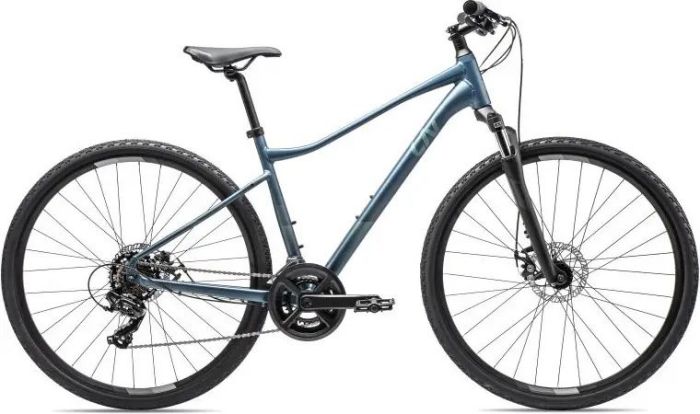 In our opinion, the 2022 Liv Rove 4 Disc is the strongest competitor of the 2022 Schwinn Sierra.
They are almost identical in price, but there are many differences in the configuration of the components. This is also a major factor in your choice.
The Schwinn Sierra gets a big boost in fork travel, up to 80mm, for gravel trails in the Midlands. In my opinion, gravel riding may have unparalleled appeal.
The Liv Rove 4 Disc's overall package is more balanced, and the 63mm will be better suited to your commute to work, so perhaps bland is the ultimate symbol for it. If I could, I would prefer my choice of car to meet the needs of different roads, especially the thrilling gravel sections, after all, I am also an adventurous person.
The price difference between the 2022 Schwinn Sierra and the 2022 Liv Rove 4 Disc is very small, a difference of one dollar. It looks interesting doesn't it, and this is probably another marketing ploy by the business.
The similarity in price also means that the 2022 Schwinn Sierra and the 2022 Liv Rove 4 Disc are similar in construction, so perhaps you won't be too torn between the two bikes to choose from.
The 2022 Liv Rove 4 Disc has some weaknesses in terms of speed adjustment, with 2×7 speeds being the standard for the bike. but only if you can live with the complexity of the speed adjustment process.
Also in terms of tire choice, the 2022 Liv Rove 4 Disc uses wider and larger 700x42c tires. What's in it for you, perhaps you've experienced riding on gravel roads and bigger tires will allow you to carry better speed. At the same time, the 2022 Liv Rove 4 Disc tires are equipped with puncture protection to better handle damage from sharp branches and small debris.
In case, the above comments are helpful to you, please remember to share the subscription. Have a great day!