We use affiliate links and may receive a small commission on purchases.
MARIN SAN QUENTIN 2
Price: $1,499.00
Suspension: 130mm (front)
Tires: 27.5×2.6″
Gears: 1 x 11
What we like: Affordable, fun hardtail mountain bikes for moderate terrain.
What we don't: It's a shorter hardtail mountain bike, and riders with legs longer than their torso will be cramped.
Rating: (4.6/5)
Many times the MARIN SAN QUENTIN 2 2022 is one of the best options for price-oriented mountain riders.
Of course, as you are looking for the right mountain bike, is it worth buying?
Our testers have been riding for half a month to answer this question for you.
At first, we were skeptical about its affordable price, but by looking at its components and how it felt to actually ride it, it was easy to fall in love with this fun hardtail mountain bike.
Below we compare its climbing and descending performance, key features, components, and specs, and how it compares to its competitors.
If you're into this mountain bike review, we've also got the Best mountain bike for You Under $2,000.
Climbing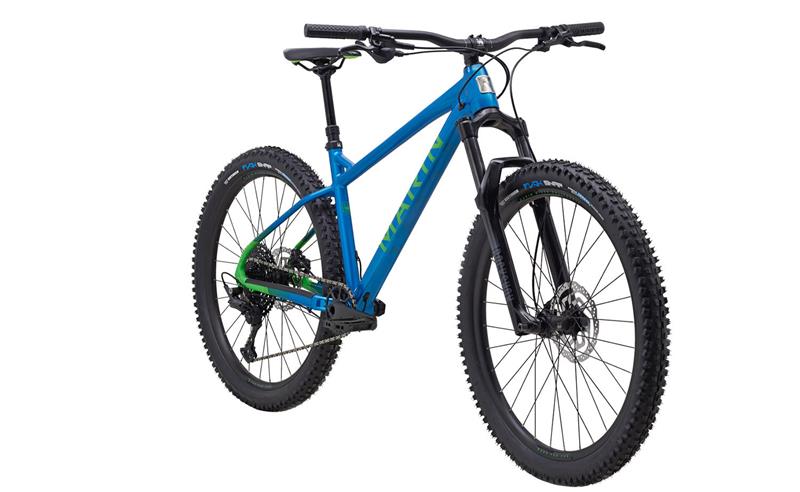 It's not hard to see that the component configuration and geometry of the MARIN SAN QUENTIN 2 is an easy-climbing hardtail mountain bike.
As it turns out, it does.
MARIN SAN QUENTIN 2 can easily climb on steeper gravel slopes. This is also thanks to its 27.5×2.6″ tires.
But it is not the vacuum tire we have talked about in the past, so the weight of the tire is relatively large.
This creates a certain obstacle for climbing, and the ultra-short-distance gravel requires you to provide more pedaling power. Otherwise, it's easy to stop.
And we love that its wide tread, 2.6 inches, is a shredder for smooth trails or loose branch roads.
It also has a Shimano Deore 11-speed drivetrain, which is more than enough to use without feeling the lack of gear range.
A 12-speed drivetrain would definitely be the first choice if riding on tougher terrain is a consideration, but for 90% of riders, it's just fine.
The climbing speed is not as fast as expected, also because the road surface is slippery in spring.
The higher tire pressure will give the fast-rolling tires some bounce, which is also a very fun riding experience.
MARIN SAN QUENTIN 2 is a good climber, but not excellent.
Descending
Descending hills with little ups and downs makes it easy for fast-rolling tires to fly.
But the MARIN SAN QUENTIN 2 has a composure thru-axle that binds the rim, and we're not worried that it will cause the wheel to loosen in the long run.
It's easy to take the bike very fast on steep hill descents, so we're also concerned that the MARIN SAN QUENTIN 2 only has a 130mm suspension fork, which isn't very short travel, but a quick descent on rocks over 50 inches, there will also be a feeling that the bottom is about to hit the bottom.
Rough downhill roads are the terrain that MARIN SAN QUENTIN 2 is good at, but also be careful not to have too much gravel, which can easily hurt.
In addition, its performance on long downhill roads can only give him a pass mark, because the Shimano BR-MT201 in the MARIN SAN QUENTIN 2 configuration is the component it compromises in all components.
The brakes are a bit soft, and there is a slight stagnation when stopping in time on a long downhill road.
Of course, we also really appreciate the handling of this "short" hardtail, and we would prefer to ride it for riders who are not very tall.
Short descents, or continuous turns, you'll be able to steer the bike more easily, and it'll give you more confidence to ride whatever you want on technical singletrack.
General Terrain
Flatter general terrain, a favorite among recreational mountain riders.
Gravel-filled roads or slick singletrack, no matter what kind of hills with little undulations, are a good place for the MARIN SAN QUENTIN 2 to show its riding skills.
The geometry of the MARIN SAN QUENTIN 2 allows riders to ride comfortably for up to 30 miles straight.
The loosehead tube angle also allows you to maintain a very comfortable riding position.
But it's still not a good commuter bike because it only has a bottle cage, and it doesn't have holes for the rear rack.
We think it's suitable for short trips, or exercise rides.
Wide tires and a short build for smaller riders.
Main Features
Frame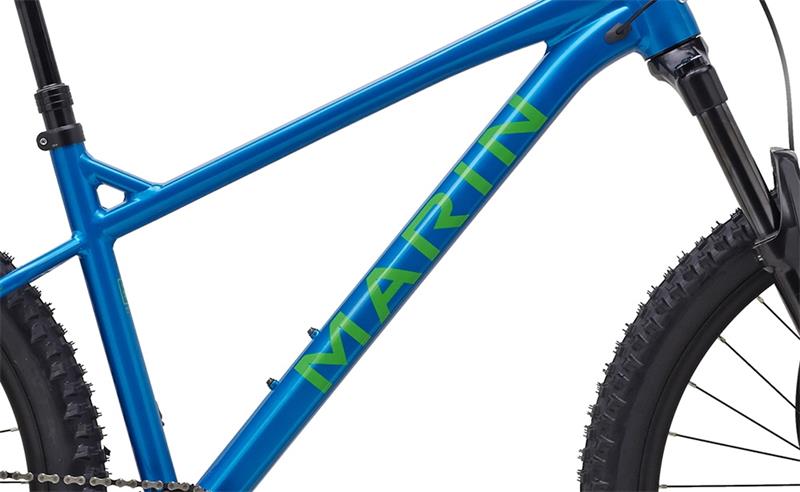 A solid frame is the soul of a bike, so the San Quentin 2 uses a Series 3 6061 Aluminum frame.
It must be said that the Marin San Quentin 2 has further upgraded the design and technology of the model, but also maintains its lightweight character, which is reflected in the Marin San Quentin 2 weight.
The glossy teal paint and the blue paint on the rear are very sexy.
The huge bracket and the more traditional way of connecting the seatpost to the top tube are very strong and durable.
However, the rear clearance of this mountain bike is relatively small and cannot accommodate 29-inch tires, so it can only be fitted with 27.5-inch tires.
Clean internal cable routing to securely lock cables into the frame without cable bumping upgrades.
In addition, a mute device is added to the upper part of the chainstay, which effectively prevents the sound of the chain hitting the frame.
Geometry
The MARIN SAN QUENTIN 2, which is inclined to fast off-road, also has a different geometric design.
More biased towards riders whose torso length is greater than their leg length.
Let's use the M size frame as an example.
It has a long stack with a medium frame of 590mm.
It also has a reach of 444mm and a 425mm chainstay.
So in the eyes of the riders who fit it, it's definitely made for them. But your riders with longer legs shouldn't be bothered, you can buy one size larger than the previous frame size.
And we also found out that it also has its own frame calculation table.
| | | | | |
| --- | --- | --- | --- | --- |
| | S | M | L | XL |
| Rider Height | 5'2″ – 5'4″ | 5'4″ – 5'7″ | 5'7″ – 5'9″ | 5'9″ – 6'2″ |
| (A) Stack | 586 | 590 | 599 | 604 |
| (B) Reach | 422 | 444 | 464 | 484 |
| (C) Head Tube Angle | 65° | 65° | 65° | 65° |
| (D) Head Tube Length | 105 | 110 | 120 | 125 |
| (E)Seat Tube Angle Effective | 75° | 75° | 75° | 75° |
| (F) Seat Tube Length | 385 | 430 | 475 | 515 |
| (G) Top Tube Effective | 579 | 602 | 624 | 645 |
| (H) Bottom Bracket Height | 317 | 317 | 317 | 317 |
| (I) Bottom Bracket Offset | 50 | 50 | 50 | 50 |
| (J) Chainstay | 425 | 425 | 425 | 425 |
| (K) Wheel Base | 1144 | 1168 | 1193 | 1215 |
| (L) Standover Height | 664 | 677 | 714 | 745 |
| (M) Fork Offset | 46 | 46 | 46 | 46 |
| (N) Seat Post Diameter | 30 | 30 | 30 | 30 |
| (O) Handlebar Width | 780 | 780 | 780 | 780 |
| (P) Stem Length | 45 | 45 | 45 | 45 |
| (Q) Crank Length | 170 | 175 | 175 | 175 |
* All lengths in mm
Components and Specifications
Shimano Deore 11-Speed ​​Drivetrain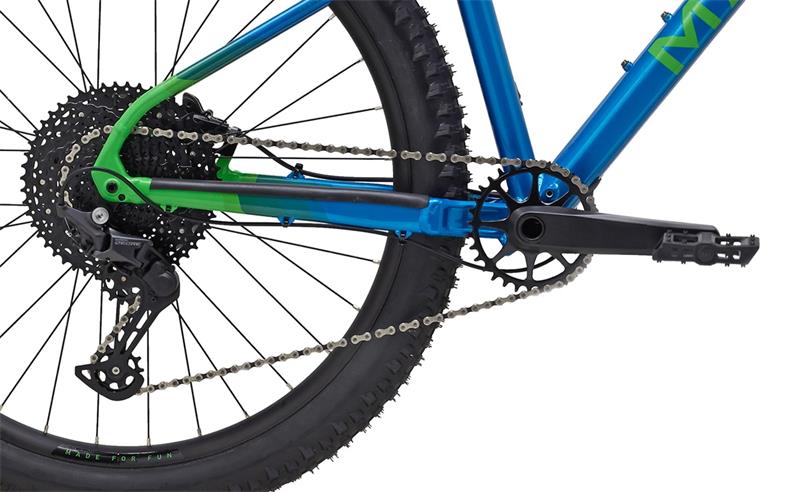 The MARIN SAN QUENTIN 2 2022 has a complete Shimano Deore 11-Speed ​​drivetrain.
This is the same configuration as its direct competitors Ragley Big AL and Ragley Mmmbop.
It made some compromises on this component, so it made it more cost-effective.
Plus our ride experience on the climbs and descents from it isn't really a bad drivetrain.
On the contrary, it is easy to debug, and considering the cheap and easy-to-find small components, it is undoubtedly the best choice in this price range.
RockShox Recon RL fork
While the RockShox Recon RL suspension is RockShox's mid-range offering, we were disappointed with it in our actual testing.
130mm of travel, the experience brought by air suspension, it can even be about equal to 140mm of other brands of suspension.
And we also found this component in the Salsa Timberjack NX Eagle 27.5+ mountain bikes that cost close to $2000.
So it's no surprise to see it in the more affordable MARIN SAN QUENTIN 2 2022.
RockShox Recon RL has been working well on rough trails or falling off rocks that aren't too high, taking hard hits, and being strong.
The RockShox Recon RL, which can be manually locked, allows you to ride long distances on long flat roads.
Overall, we're pretty happy with the RockShox Recon RL.
Shimano BR-MT201 Brakes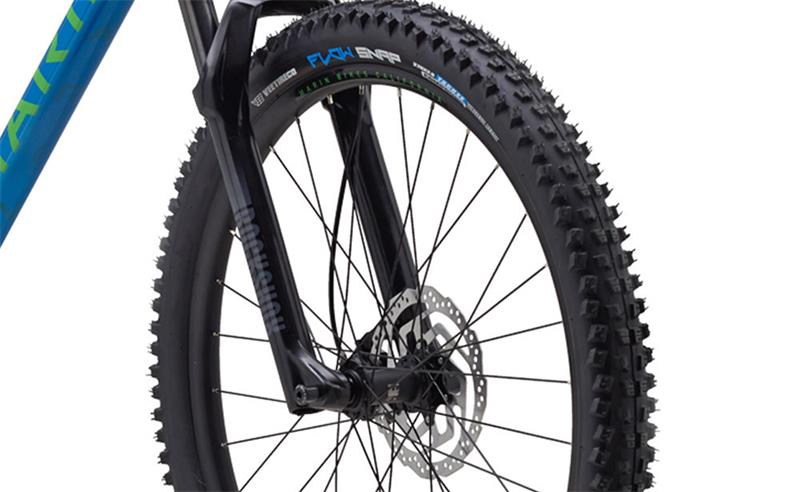 The Shimano BR-MT201 hydraulic disc brakes owned by the MARIN SAN QUENTIN 2 did not surprise me much.
Such a relatively mediocre braking system can meet the needs of general off-road terrain.
Although I had some complaints about riding on technical singletrack up front, I have to say that if you want better, you have to pay more, even if I don't like hearing that.
Steep descents are a little soft, but the 180mm rotors on the front discs save a bit of face on the brakes.
The Shimano BR-MT201, which is very easy to adjust, is also one of its few advantages.
Vee Tire Co Tires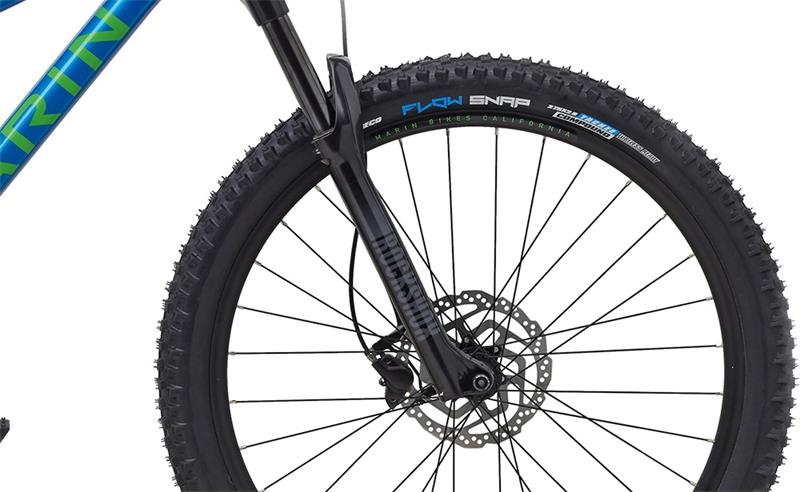 The 27.5 medium-sized tires allow the bike to maintain full flexibility, but it also sacrifices some of the fast off-road capabilities.
And the Vee tires are a little harder than the Maxxis tires, but they are also soft enough.
In addition, it is worth showing off the wide 2.6″ tires, which are easier to ride on loose dirt roads.
Such tires continue to provide traction, even when the road gets tough.
Of course, I have some complaints about it not being a tubeless tire, but I don't really care.
Wider tires are a favorite of many recreational riders and can better climb rough mountains.
TranzX Dropper
Also due to the increasing demands of riders on hardtail mountain bikes, the MARIN SAN QUENTIN 2 is still equipped with a TranzX dropper post.
The TranzX dropper did a great job of reducing the rear-wheel shock when we weren't descending or going over gravel singletrack.
Its stroke is 150mm (S, 125mm), and it performs perfectly throughout the test.
While such a dropper post doesn't cost a lot, there are plenty of manufacturers who ignore it in mountain bikes under $1500.
And we're happy with its 150mm of travel, which allows riders to ride the SAN QUENTIN 2 with more confidence in moderately technical terrain.
MARIN SAN QUENTIN 2 Specs
| | |
| --- | --- |
| MODEL NAME | 2022 Marin San Quentin 2 |
| FRAME | Series 3 6061 Aluminum, Double Butted Frame, Internal Cable Routing, 12x148mm Thru-Axle, 73mm Threaded BB |
| FORK | RockShox Recon RL, 110x15mm Boost Spacing, Fast Black Stanchions, 130mm Travel, Bolt-On Thru-Axle, 46mm Offset |
| HANDLEBAR | Marin Mini-Riser, 6061 Double Butted Aluminum, 780mm Width, 28mm Rise, 5° Up, 9° Back |
| STEM | Marin 3D Forged Alloy, 35mm |
| HEADSET | FSA No 57E, Sealed Cartridge Bearings, 11/8″x11/2″ |
| SADDLE | Marin Speed Concept |
| SEATPOST | TranzX, YSP18, 1x Remote, Size S 125mm Travel, Size M-XL 150mm Travel, 30.9mm |
| CRANKSET | Marin Forged Alloy, Integrated Steel 32T Narrow Wide Chainring, Boost Spacing, 170mm (S) / 175mm (M-XL) |
| CHAIN | KMC X-11 |
| CASSETTE SPROCKET | SunRace, 11-Speed, 11-51T, ED Black |
| REAR DERAILLEUR | Shimano Deore, 11-Speed, SGS |
| SHIFTING LEVER | Shimano Deore, 11-Speed, SL-5100R |
| BRAKES | Shimano BR-MT201 Hydraulic Disc, Rotor F/R: 180mm/160mm |
| TIRE | Vee Tire Co, Flow Snap, 27.5×2.6″, MPC Compound, Wire Bead |
| RIM | Marin Aluminum Double Wall, Disc Specific, 29mm Inner, Pinned Joint, 32H, Tubeless Compatible |
| HUB REAR | Shimano HF-MT400B, 148×12, Centerlock, Standard Freehub Body |
| HUB FRONT | Shimano HF-MT400B, 110x15mm, Centerlock |
| PEDAL | Nylon Platform |
| COLOR | Blue Green |
FAQ
How much does the Marin San Quentin 2 weigh?
30lbs
When will Marin San Quentin 2 be available?
Expected to be available in spring 2022
Can the San Quentin 2 fit 29″ tires?
No, this mountain bike is not compatible with 29-inch tires.
Comparison Table
GIANT FATHOM 27.5 2 vs Marin San Quentin 2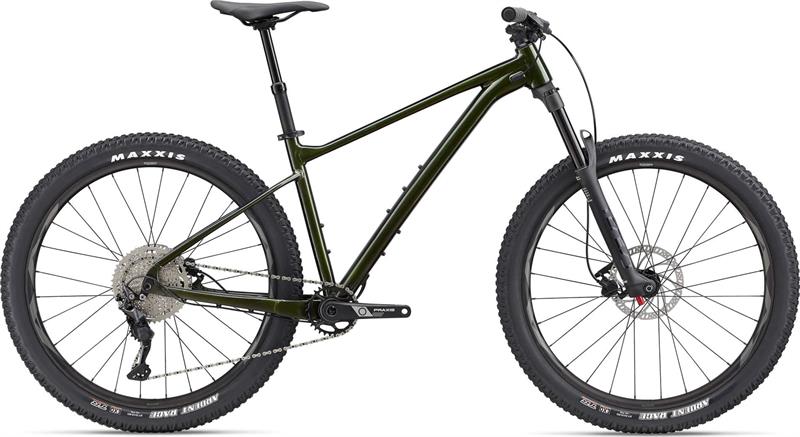 The GIANT FATHOM 27.5 2 is $100 cheaper than the Marin San Quentin 2, but we're concerned that it's expected to cost $50 for shipping.
The GIANT FATHOM 27.5 2 has a Giant Crest 34 RCL 130mm fork, and the ride feel is not very different from the RockShox Recon RL that Marin San Quentin 2 has.
However, the drivetrain of the GIANT FATHOM 27.5 2 is Shimano Deore, 10 speed, and I am not particularly satisfied with this compromise, and the number of gears will be somewhat lacking in comparison.
In addition, it is the braking system. The Tektro HDM 275 hydraulic disc brakes used by the GIANT FATHOM 27.5 2 will have higher braking accuracy, which is also due to its 180mm front and rear rotors.
Finally, there is the Giant Contact Switch dropper that comes with the GIANT FATHOM 27.5. The stroke is 125mm, which is a bit short.
Comparing these two bikes, the Marin San Quentin 2 is more expensive but more cost-effective.
If your budget is only $1500, GIANT FATHOM 27.5 2 is a secondary option.
Learn more: Is Giant Stance 29 2 Worth Buying? [Giant Stance 29 2 Review]
Marin San Quentin 3 vs San Quentin 2
The Marin San Quentin 3 from the same series is even more expensive at $2399.
So what upgrades does he have on components and San Quentin 2?
The first thing to focus on is its drivetrain, upgrading the drivetrain we've been thinking about to a Shimano Deore, 12 speed, so serious off-road riders have no complaints.
The upgrade of the front fork is small, using the higher-end RockShox Revelation RC fork, the stroke has not changed, and it is still 130mm.
To add to the sturdiness of the bike, they replaced the BOTTOM BRACKET with a Mega EXO 73mm BSA, which allows for longer rides.
The biggest change is the braking system, the soft brakes we complained about in the San Quentin 2 are almost non-existent in the Marin San Quentin 3, which uses Shimano MT420 4-Piston hydraulic disc brakes that can be used at high speeds. Encouraging stopping power in technically difficult terrain.
If your idea is to conquer more impenetrable mountains or jungles, the Marin San Quentin 3 is undoubtedly more suitable for you.
But the price paid for the San Quentin 2 would be more acceptable in terms of cost-effectiveness.
Ragley Mmmbop vs Marin San Quentin 2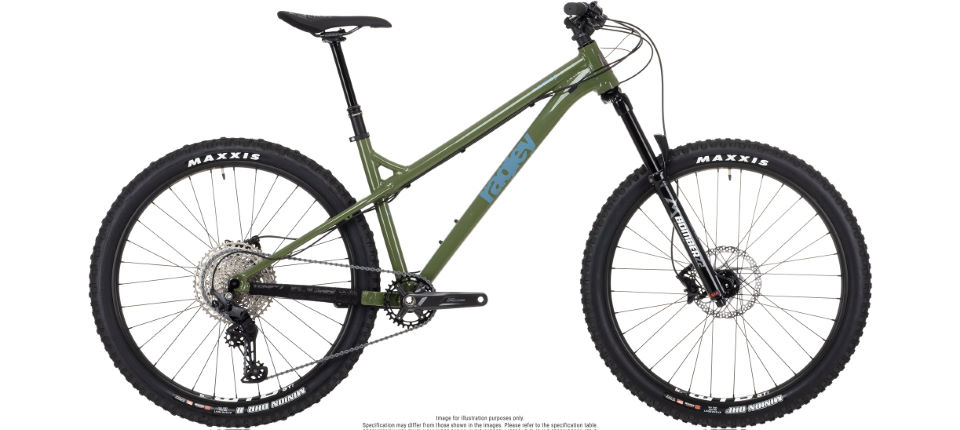 The Ragley Mmmbop is the most powerful competitor of the Marin San Quentin 2. Although its price is $100 more expensive, the riding experience it brings is also different.
Ragley Mmmbop front and rear tires use different widths, which can ensure fast off-road and also have a certain degree of flexibility.
The two bikes use the same drivetrain, but the difference in the fork section is that the Ragley Mmmbop has 150mm of fork travel for more aggressive off-road riding, and a Brand-X dropper with a maximum of 170mm. Guaranteed riding comfort.
Finally, the Shimano Deore M6100 used in the braking system Ragley Mmmbop has 180mm rotors at the front and rear, and the braking efficiency is higher.
If you're on a bigger budget, the Ragley Mmmbop is a good choice.
Learn more: Is Ragley Mmmbop Worth Buying?
SANTA CRUZ Chameleon vs Marin San Quentin 2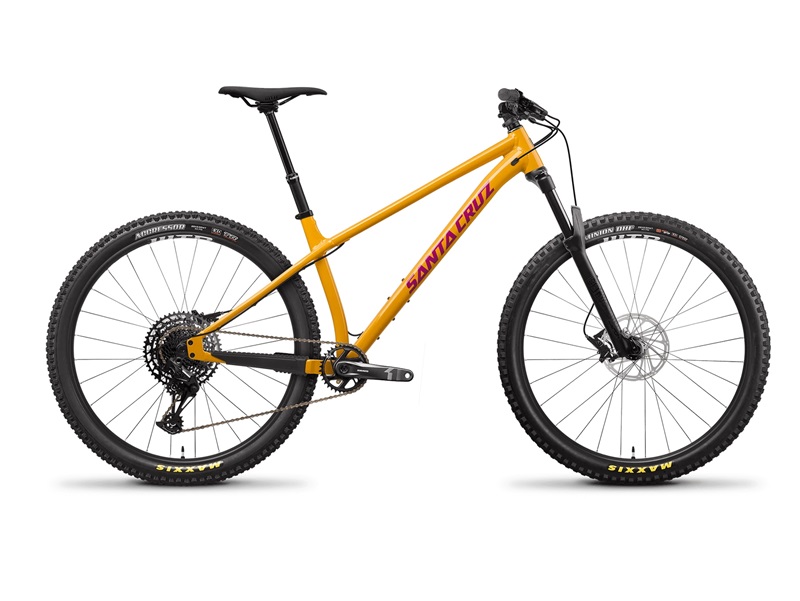 Known for its smooth handling and fun riding, the SANTA CRUZ Chameleon has always been the dream mountain bike for many hardtail mountain bike enthusiasts.
And it is better than the Marin San Quentin 2 not only in terms of components but also in terms of ride feel. But it's also more expensive.
The SANTA CRUZ Chameleon is outfitted with a FOX Rhythm 34 130mm fork, SRAM NX 12-speed drivetrain, SRAM Guide T 4-piston caliper hydraulic disc brakes, SDG Tellis dropper.
The price of these luxurious configurations is actually very favorable.
And its front and rear tire sizes are inconsistent, the front tires are 29 x 2.5in, and the rear tires are 27.5 x 2.5in. The design is so bold, the 27.5-inch rear wheel loves corners, front wheels, and jumps, while the 29-inch front wheel gives us the speed and confidence to overcome obstacles.
We think the rugged and fun SANTA CRUZ Chameleo is the pinnacle of hardtail mountain biking. If you prefer more challenging woodland trails or rugged trails, the SANTA CRUZ Chameleon is a great choice.
Final Evaluation (4.5/5)
Marin San Quentin 2 with its affordable price and competitive component accessories. Let riders who love mountain sports have a lot of desire to ride between mountains and rivers.
If you are interested in it, you can look for 'Marin San Quentin 1 for sale' online or in physical stores. Of course, you can also follow 'Marin San Quentin review' to learn more about this collection.
So we ended up giving it a rating of 4.5, which is a very good mountain bike and worth buying.
Video