We use affiliate links and may receive a small commission on purchases.
Trek Remedy 7
Price: $3,299
Frame: Aluminum
Gear: 1×12 speed
Tires: 27.5×2.60"
What we like about it: The shock absorber is second to none among vehicles of its kind, and the price concessions make it a great value for money in its class.
What we don't like about it: the components are expensive.
Rating : (4.8\5)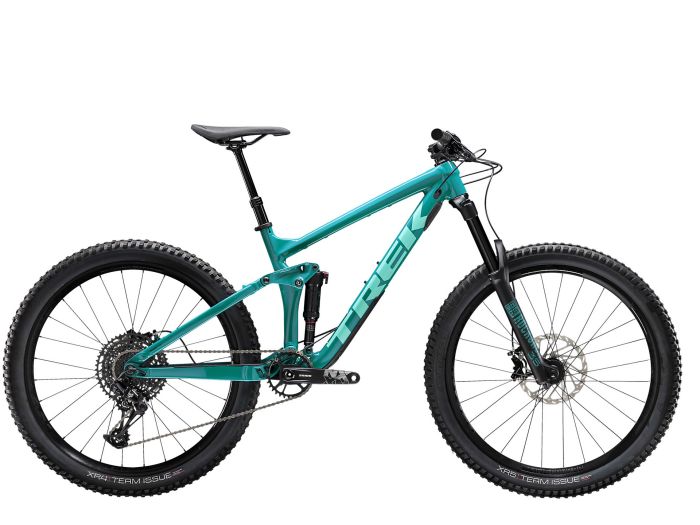 From hiking up steep hills as a child to now riding a mountain bike to untouched woodlands. A quality mountain bike is an essential companion. And the appearance of Trek Remedy 7 satisfies all our imaginations.
Although the Trek Remedy 7 has also been evaluated on the data. But when I first started, I was really surprised. I am very pleased with the light body weight. Imaginative artistic colors make you ride like a blue lightning bolt on a tree-lined mountain path.
Not only that, but for riders on rough mountain roads, the long-travel 160mm RockShox fork provides the ultimate body stability while moving at high speeds.
Below, we break down the Trek Remedy 7's descending and climbing capabilities, key features, components, and specs. and other editions of the series. If you want to see more Trek Remedy versions, check out our review.
Related reading: Is Trek Roscoe 7 Worth Buying? [Trek Roscoe 7 Review]
Descending
Part Ⅰ
I have to admit that as an off-road vehicle, the Trek Remedy 7's downhill effect is very surprising.
Our testers spent more than 2 months on the 2020 Trek Remedy 7. The downhill twists and turns full of gravel and branches. In the midst of anxiety, I was also prepared to fall. But at the end of the no-brake coasting, it all felt extra quick. When I swooped down, I tried my best to control my balance so as not to lose weight.
To my surprise, I landed on the road smoothly and safely. The combination of front and rear suspension for fast descents, and the hydraulic disc brakes of the SRAM Guide T with enough stopping power, all roar down the road full of huge gravel and misconnected roots.
Thanks to the RockShox 35 Gold with 160mm travel and the RockShox Deluxe with 150mm travel, I didn't get hurt on this stretch of road. Without Bob's reminder, I seem to have forgotten his cheers from the back. Of course, all of this is related to the RockShox Deluxe Select+ that the Trek Remedy 7 is equipped with. When I stood on the road unscathed, I couldn't help but sigh about the stability and power of the Trek Remedy 7.
Part Ⅱ
In addition, some people think that the wide tires of the Trek Remedy 7 will become a hindrance to steering. However, to verify this, we did more than 10 tests on singletrack trails and downhill sharp turns.
In my opinion, this is not a concern for entry-level riders. Of course, if you're racing in the woods, you have to have a lot of practice to get more breakthroughs in the different tracks. Having said that, after putting together all our downhill tests, we still believe that the wide 2.6-inch tires are more suitable for climbing rides than for downhill descenders.
In general, we will not force it to deliberately pursue the descent of super difficult technical terrain. But when you're riding in the woodlands around town or in the mountains up to 4,000 feet above sea level, it's downhill enough to keep you on your toes.
Of course, the Trek Remedy 7 still excels not only on bumpy roads, but even on muddy roads.
After almost four months of testing, the Bontrager XR5 Team Issue performed well on a tubeless tire (aramid bead, 120 tpi, 27.5×2.60″) on muddy fields.
I didn't feel like it was strenuous on wet and muddy roads. Singing loudly on the field in a Trek Remedy 7 feels hearty.
Climbing
The Trek Remedy 7 has a relatively steep head angle, strong tires, and a lightweight aluminum frame. Therefore, it is not difficult to understand why it has a good performance in climbing.
When I happily drove the Trek Remedy 7 up the winding mountain roads, I didn't feel the physical fatigue caused by the steepness of the road. Perhaps this should be attributed to the advantages brought by the SRAM NX Eagle drivetrain.
Meanwhile, the SRAM NX Eagle offers an ample number of gears. Although I was facing a ramp that was over 45° and I was even exhausted for it, it was surprising to get to the top of the hill with plenty of energy. Even on steep roads, I believe that the effect brought by the SRAM NX Eagle will not disappoint.
In addition, the Trek Remedy 7 has a 160mm RockShox front fork and a 150mm rear suspension dropper post, making it perhaps not the most effective match for uphill in terms of shock absorption.
But the good news is that the Trek Remedy 7 is also good enough to get you to the top of the trail with ease. The 32.36-pound body might have a weight advantage on climbs, and the 66.1 head angle gave me a good position on the climbs.
Not only that, but the slightly steeper seat tube angle (74.7) puts my foot in a proper pedaling angle, saving more effort and being more efficient.
Main Feature
Frame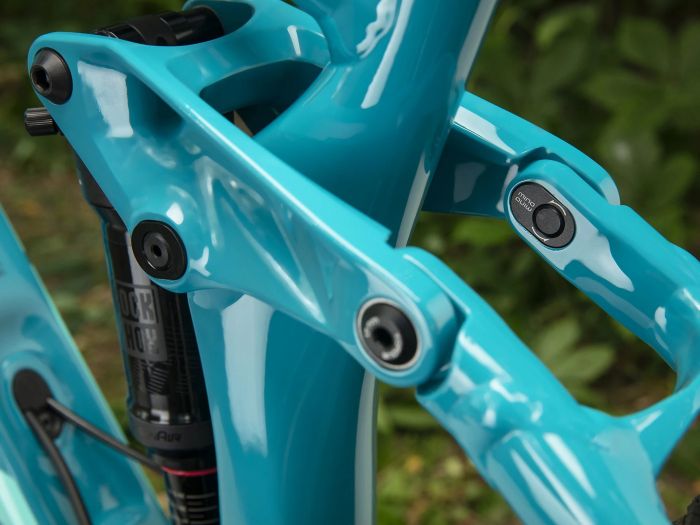 Part Ⅰ
The frame of the 2020 Trek Remedy 7 is the type of frame we often see in high-end bikes. However, the Alpha Platinum Aluminum material keeps it from being overly lightweight, but at a relatively low price, I think it's very reasonable frame material.
With its youthful paint color and flat welds, the Trek Remedy 7's detailing is also impressive. Of course, there are quite a few people who still prefer the traditional black, white, and gray tones relatively conservatively.
Clean and tidy internal wiring, and rubber protection are used at the entrance and exit of the cable to avoid accidental bumps during riding, so that your pleasant trip is interrupted.
Part Ⅱ
There is a rear suspension in the middle of the frame, which is also able to continuously absorb small vibrations from the rear wheels. The overall frame weight is still on the heavy side, and if you increase your budget by $2,000 you can get a carbon fork with the same geometry.
In addition, it also hopes to be recognized by the rider, using a silent device on the top and bottom of the down tube, or it is more appropriate to say that the top is an anti-collision protective cover.
The frame also has adjustable geometry, which we detail in the geometry below. If you're looking for a big-travel all-mountain bike, the Trek Remedy 7 is a great option if you don't have the budget to spare.
Although it is currently only available in offline stores or used bike platforms.
Geometry
Part Ⅰ
It has to be said that the Trek Remedy 7's geometric design does not feel extreme. The 66.1 head angle would feel too narrow for many, but given the actual riding experience, we don't think so.
The tighter head tube angle will allow the arms to flex to a comfortable angle, increasing riding efficiency and eliminating the fatigue of long-distance riding. But if I have one complaint about the Trek Remedy 7, it's that it's too short a reach.
Part Ⅱ
Because of commuting, I always pass the 200-meter-long uphill road with potholes, which was very difficult in the past. But Trek Remedy 7 relieved me a little from this difficulty.
The 74.7 seat tube angle makes my center of gravity lean forward involuntarily, and the tubeless tires (120 tpi, 27.5×2.60″) have a strong grip, allowing me to drive forward faster when going uphill.
Of course, good climbing also means more relatively slow descents. In the downhill comparison of the same type of off-road vehicles, the Remedy 7 may not have any advantages. However, as an entry-level off-road vehicle, it's still worthy of your consideration.
Finally, the Trek Remedy 7's shorter wheelbase allows it to have more responsive steering in circling highway form. Of course, you might worry about whether this will bring instability, however, after two days of experimental testing, this worry is not necessary.
The center of 356mm BB makes the center of gravity of the whole body very stable.
According to the above analysis, after removing the price factor, Trek Remedy 7 may be your first choice in terms of choice.
Components and Specifications
SRAM NX Eagle Drivetrain
But in my opinion, the SRAM NX Eagle is the core highlight of the Trek Remedy 7. In terms of climbing ability, the large 50-tooth sprocket allows you to get good power on the tortuous climbing road, while the heavier and larger gears will allow you to maintain a stable forward power in smooth travel.
Combined with the 150mm rear suspension, the body has very high stability, and even off-road riding in the Alps can be equally fun.
SRAM Guide T 4-Piston Hydraulic Disc
If you want to evaluate the quality of a car's braking, then I believe that moving like a rabbit and standing still like water should be the highest description. Braking is one of our most important evaluation criteria for off-road vehicles. So how does the Trek Remedy 7 brake? To this end, we also conducted a two-day evaluation.
First of all, on the rough and uneven mountain path, the road is piled with withered and yellow leaves that fell in early autumn, and there will be some difficulties in the entire road. We tested hard braking at both fast and slow speeds.
I found that at any speed, braking was done with just one finger of my left hand. I've also come to the same conclusion in my experiments on a smooth Fireroad.
Because the existence of the hydraulic disc makes the body lighter and better controls the direction of the whole car, which is really amazing.
But also realize that the SRAM Guide T's powerful braking power is made up of a relatively fragile shell. Maybe it will cause some damage to the bumpy riding on the mountain road for a long time.
At this point, we should go to the bicycle store to find a good alternative. Of course, for everyday use, the SRAM Guide T still met our braking needs.
Other Versions of Trek Remedy
The Trek Remedy line has always been sought after and loved by customers. But considering different audiences, Trek Remedy will also optimize the configuration to meet your personalized needs. Compared with Remedy 7, Remedy 9.7 has been fully upgraded.
The aluminum material bracket has been upgraded to OCLV Mountain Carbon, and the body has become lighter and smaller.
Meanwhile, the 150mm shock, dropper post and SRAM NX 11-speed drivetrain make the Remedy 9.7 a high-end carbon fiber mountain bike that costs a little more than the Remedy 7. Those with deep pockets prefer all components of carbon fiber.
All in all, you can find the best model for your needs here.
Learn more:Best Mountain Bikes Under $2000 [2023]
What do we like about it?
The steeper head tube angle gives a more powerful advantage on the climbs.
In any terrain, the SRAM NX Eagle drivetrain brakes faster and better.
RockShox Deluxe Select+ reduces vibration for less ride fatigue.
What we don't like about it?
The 2.6-inch tires slowed down descents.
Lower-quality aluminum brakes.
Specs
Frameset
| | |
| --- | --- |
| Frame | Alpha Platinum Aluminum, tapered head tube, Knock Block, Control Freak internal routing, downtube guard, ISCG 05, magnesium rocker link, Mino Link, ABP, Boost148, 150mm travel |
| Fork | RockShox 35 Gold, DebonAir spring, Motion Control damper, tapered steerer, 44mm offset, Boost110, 15mm Maxle Stealth, 160mm travel |
| Shock | RockShox Deluxe Select+, DebonAir spring, Select+ RL damper, 230×57.5mm |
| Max compatible fork travel | 170mm |
Wheels
| | |
| --- | --- |
| Wheel front | Bontrager Line Comp 30, Tubeless Ready, 6-bolt, Boost110, 15mm thru axle |
| Wheel rear | Bontrager Line Comp 30, Tubeless Ready, Rapid Drive 54, 6-bolt, Shimano 8/9/10 freehub, Boost148, 12mm thru axle |
| Hub front | Bontrager alloy, sealed bearing, alloy axle, 6-bolt, Boost110, 15mm thru axle |
| Skewer rear | Bontrager Switch thru axle, removable lever |
| Rim | Bontrager Line Comp 30, Tubeless Ready, 6-bolt, Boost110, 15mm thru axle |
| Tire | Bontrager XR5 Team Issue, Tubeless Ready, Inner Strength sidewalls, aramid bead, 120 tpi, 27.5×2.60" |
| Rim strip | Bontrager TLR |
| Max tire size | 27.5×2.80″ |
Drivetrain
Shifter
SRAM NX Eagle, 12 speed
Rear Derailleur
SRAM NX Eagle
*Crank
Size: S
SRAM NX Eagle, DUB, 32T steel ring, Boost (52mm chainline), 170mm length
Size: M, M/L, L, XL
SRAM NX Eagle, DUB, 32T steel ring, Boost (52mm chainline), 175mm length
Bottom bracket
SRAM DUB, 92mm, PressFit
Cassette
SRAM PG-1230 Eagle, 11-50, 12 speed
Chain
SRAM NX Eagle, 12 speed
Max chainring size
36T
Components
Saddle
Bontrager Arvada, steel rails, 138mm width
*Seatpost
Size: S
TranzX JD-YSP18, 100mm travel, internal routing, 31.6mm, 361mm length
Size: M, M/L, L, XL
TranzX JD-YSP18, 130mm travel, internal routing, 31.6mm, 425mm length
Handlebar
Bontrager Comp, alloy, 31.8mm, 15mm rise, 780mm width
Grips
Bontrager XR Trail Comp, nylon lock-on
Stem
Bontrager Rhythm Comp, 31.8mm, Knock Block, 0 degree, 50mm length
Brake
SRAM Guide T 4-piston hydraulic disc
*Brake rotor
Size: S, M, M/L, L, XL
Avid G2 Cleansweep, 180mm, 6-bolt
Size: S, M, M/L, L, XL
Avid G2 Cleansweep, 200mm, 6-bolt
Weight
| | |
| --- | --- |
| Weight | M – 14.68 kg / 32.36 lbs (with tubes) |
| Weight limit | This bike has a maximum total weight limit (combined weight of bicycle, rider, and cargo) of 300 pounds (136 kg). |
Comparison Chart
2023 Marin Alpine Trail 7 vs Trek Remedy 7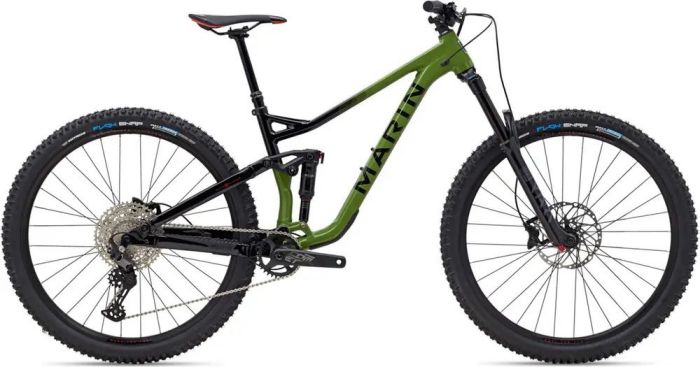 If the Trek Remedy 7 intrigues you, it's impossible not to notice the 2023 Marin Alpine Trail 7 of its kind. We also do functional tests for this, so that you can better choose the vehicle that is right for you.
If descending performance is your thing, the 2023 Marin Alpine Trail 7 might be hard to beat. SLX brakes may not meet your expectations for downhill performance.
Compared to the SRAM NX Eagle, the slx may have the rider to apply more force to start the body. Of course, you can also upgrade the rear wing by 203mm to make up for this gap.
2022 Scott Genius 950 vs Trek Remedy 7
Have to admit that the 2022 Scott Genius 950 and Trek Remedy 7 are similar in many ways. Especially on some rough ascents, the climbing skills displayed by both cars are amazing.
But at the same time, we also see that the two cars respond differently to different roads. Scott Genius has to have TwinLoc enabled or your pedals will keep shaking as you go uphill, while Trek doesn't have to do that, and the more support makes it easier to start.
In terms of comfort, the Trek is slightly better. Although the two cars are very good in rough terrain.
2022 Trek Slash 7 vs Trek Remedy 7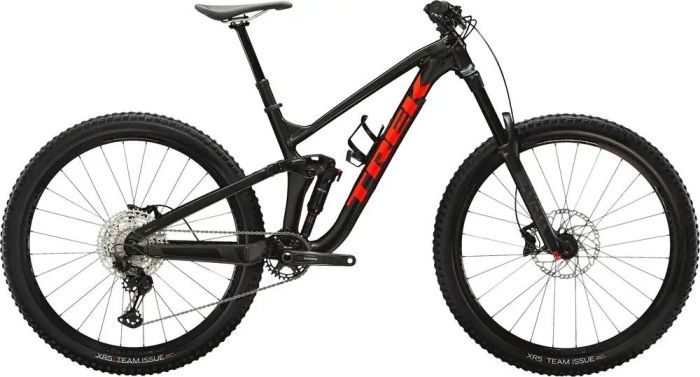 The 2022 Trek Slash 7 is highly sought after by customers for its high stability. The 29-inch tires give it a place in larger vehicles as well. So far, the combination of RockShox Yari RC and DebonAir springs can give you a great sense of security on the road.
The 170mm of fork travel avoids a lot of unwanted shocks. But the sheer size means there may be a slight lack in speed, with a steeper, slacker head tube. And the SRAM NX Eagle on the Trek Remedy 7 means you'll likely have more traction uphill than the Slash, and the 27.5-inch wheels give you the flexibility to traverse the hills.
Learn More: 2022 Trek Slash 7 –Full Suspension Endurance Race Bike
2021 GT Force 29 Expert vs Trek Remedy 7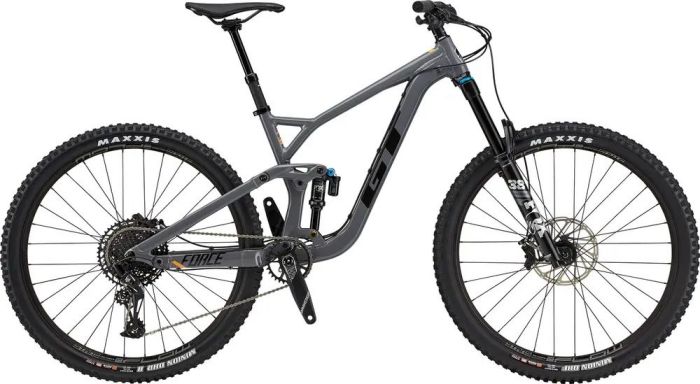 The GT is one of the few bikes with RockShox suspension, paired with the ZEB ultimate fork and the ultimate ultra-luxury shock with 170/160mm of front and rear travel, and it has a solid performance in shock absorption.
The GT is the product of choice among many customers in endurance racing. But some shortcomings are undeniable. In our months of testing, we found that the GT had a lot of chain slack on uphills, and I noticed weird noises from the cables rubbing against the frame during rides due to the messy wiring layout. This may be a big improvement.
And Trek Remedy handles the details of the body very well. Clean and tidy internal wiring, and rubber protection is used at the entrance and exit of the cable to avoid accidental bumps during riding, so that your pleasant trip will not be interrupted.
In case, the above comments are helpful to you, please remember to share the subscription. Have a great day!
Learn more: Is 2022 GT Force Sport Worth Buying? – [2022 GT Force Sport Review ]