We use affiliate links and may receive a small commission on purchases.
Trek FX Sport 6
Price: $2,799
Frame: Carbon Fiber
Gear: 1x 11
Tires: 700c x 40c
What we like about it: The OCLV carbon braided frame offers a lighter volume and the flat handlebar provides an ergonomic riding stance.
What we don't like about it: The higher price can be hard to swallow.
Rating: (4.7/5)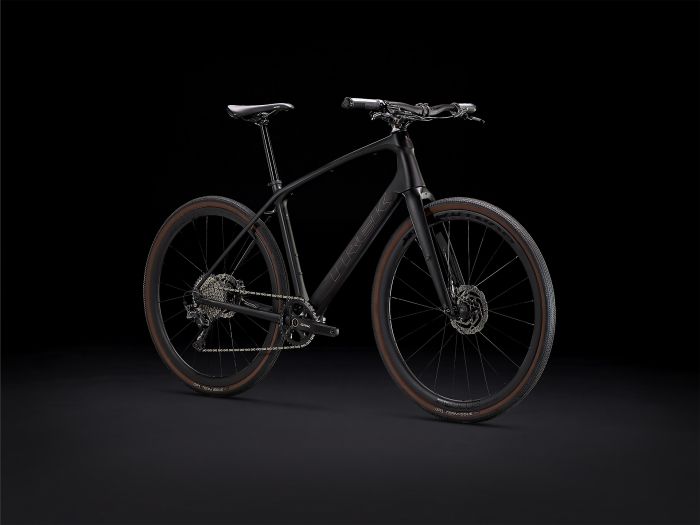 At the same time, as a high-quality fitness hybrid bike, it has the ability to adapt to various terrains. Whether it's gravel-filled sand or a daily commuter road, I'm sure it will give you a quality riding experience. That's what we've come to the conclusion of many months of riding.
If you're looking for pretty much every aspect of your bike's accessories, then the Trek FX Sport 6 might be the way to go, but of course, you still need to consider the $2,799 price tag before you pay.
To that end, our detailed review includes our gravel and commuter rides, key features, components, and specs, as well as other versions in the range. To see how it stacks up, see our article on the best mountain bikes.
Related reading:
Trek FX Sport 5 Review-Is It A Good Hybrid Bike?
Trek CrossRip 1 Review
Gravel Road Test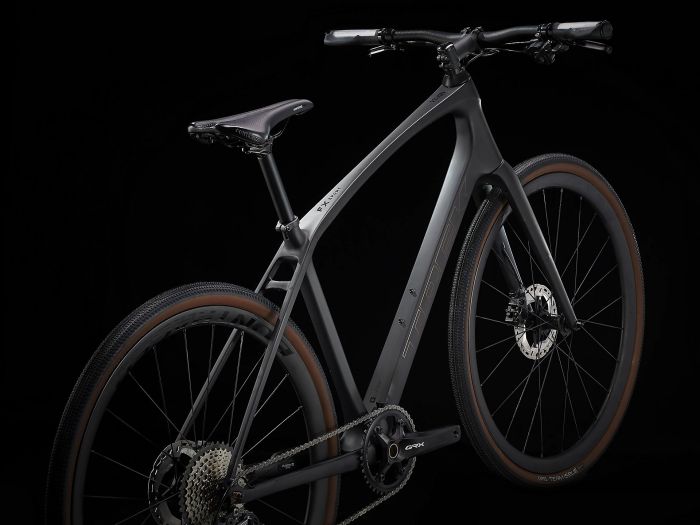 I believe that as a fitness rider, it is inevitable to deal with gravel roads, and the joy after overcoming the bumps is quite fulfilling. For nearly a month of fitness outings, I mostly chose the 2023 Trek FX Sport 6. It was indeed a novel experience for me.
The three-kilometer single track is full of fallen leaves and dead branches, and the small and sharp stones have extremely high requirements on the tires. I've had a punctured tire on more than one previous trip.
However, fortunately, the Trek FX Sport 6 didn't, which surprised me and left me with a sense of how powerful the Bontrager GR1 Team Issue is. The 40c tires gave me unprecedented stability on the road, and the tubeless tires kept the FX Sport 6 from being easily damaged by rough terrain.
I was surprised that it repaired itself even with minor damage. Of course, you can also choose 700x32c Conti Grand Prix 5000 road tires for faster speed according to your own needs!
Trek FX Sport 6 Performance doesn't stop at tires. I've also taken the Trek FX Sport 6 to the sandy park lake. The Trek FX Sport 6 still amazes me with the extreme friction of the sand, which makes the bike extremely difficult.
The 1x Shimano GRX/SLX drivetrain allows me to maintain a very high speed on the sand. Not only that, but thanks to the lightweight carbon fiber body design and the ergonomically flat handlebar construction, I was able to steer quickly even when I encountered insurmountable gaps.
Evaluation of Commuter Roads
Part Ⅰ
As we all know, you will encounter all kinds of unexpected situations on the road, and in addition to your own extremely fast reaction ability, what is more important is the emergency braking ability of the bicycle. On my commute, I ran a 3-day emergency braking review of the Trek FX Sport 6, not only on sunny days but also on rainy days.
We've found that Shimano hydraulic discs really work best. I think Shimano hydraulic discs are easier to adjust, more force is sent to the pads, and more random braking is possible.
In order to verify this conjecture, we also set the actual measurement site on a rainy day, plus the reason for the slippery road surface, we can see that the braking ability will be weakened by the naked eye. But compared to the mechanical brake, it still has a good performance.
Part Ⅱ
In terms of shock absorption, the carbon fiber front fork has stronger toughness and better shock absorption capacity. In the past, the aluminum fork has always been the standard for my mount, until I came across a vehicle with oclv carbon fiber as the fork.
On the same rough ground, I conducted a control experiment and found that the effect is very different. I can feel that the carbon fiber front fork has a lighter volume, while it still has a good shock absorption function, reducing the impact between the ground and the body.
Finally, I want to talk about the comfort that everyone who chooses a car considers. Unlike typical hybrid bikes, the Trek FX Sport 6 has a flat handlebar for a more ergonomic aesthetic.
On the Trek FX Sport 6, you can stretch your arms freely. The looser seat angle allows you to have a stable ascent even on uphills.
Main Feature
Frame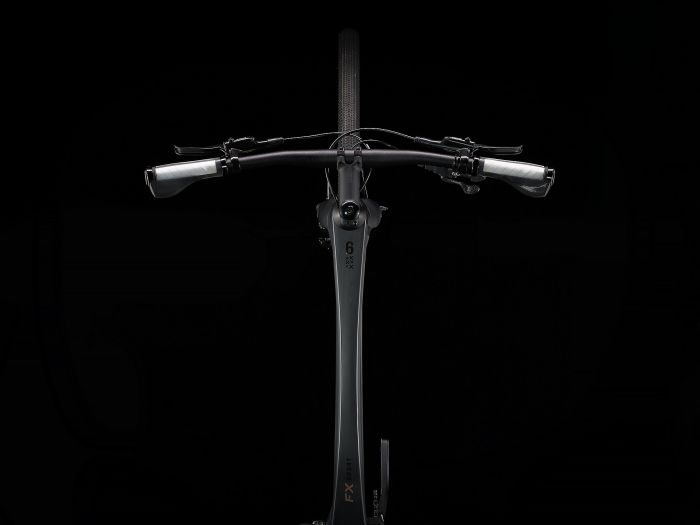 In terms of body color, the Trek FX Sport 6 did not choose an overly bright paint color, but chose a cool, calm black. This also takes into account some riding situations on the road, and the black assembly is easier to keep the body clean.
Of course, if the designer can have a little more creative color matching, I believe it will be welcomed by everyone.
The carbon fiber body frame has a lighter volume and is extremely tough. You can easily lift it when you encounter a road that the bike can't pass. Not only that, but the carbon fork setup gives you a more stable ride over gravel.
From the aspect of appearance, the designer will combine the shifting, braking and pedals artistically. The methodical routing of the interior gives the Trek FX Sport 6 a clean and simple look.
At the same time, you can also add a water bottle device on the middle surface of the down tube according to your needs.
If you think this is too small, you can also add a portable detachable bag to the bottom of the rear seat, allowing you to have more water for longer distances. We even tried a 50-mile ride in one go.
Geometry
The seat tube angle is also an important factor in our consideration of comfort. Apparently, the Trek FX Sport 6 takes that into consideration as well.
For this test, we used the M model, the Trek FX Sport 6. We took a closer look at its seat tube angle of 74°. This is a relatively upright seat tube angle that allows me to maintain an upright and comfortable riding position, which is pretty much what I want from an exercise bike.
74° is a steep angle, and certainly not extreme. The larger seat tube angle makes for a smoother sprint downhill, but not just that.
The head tube angle is also designed towards a looser angle of 70.5, which can make the bike feel more stable on flat roads, which is exactly in line with the current market demand. I am sure you will also be interested in such a design.
Compared to the previous model, the new FX Sport has slightly less reach and slightly more stacking for a more comfortable, active and fast riding position. In order to make it easier for the body to stretch out, it is important to choose the size.
Components and Specifications
Shimano GRX/SLX Drivetrain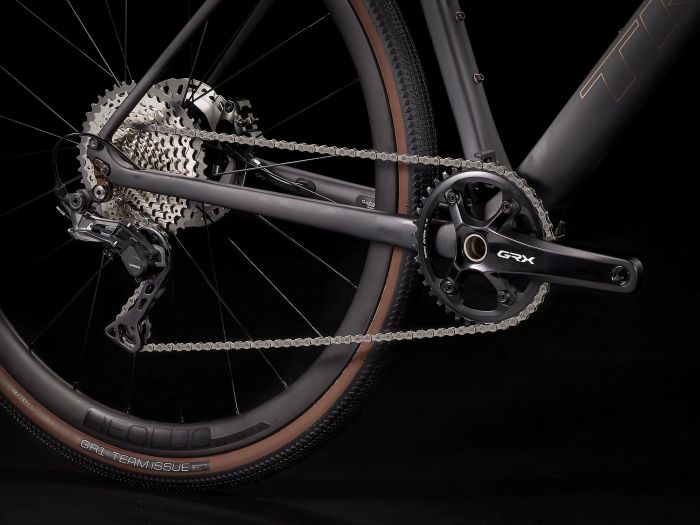 A high-performance 1x drivetrain is also one of the key features of the Trek FX Sport 6. On the same pavement, the Trek FX Sport 6 starts fast compared to other hybrid bikes. I believe this is also the advantage brought by the 1x Shimano GRX/SLX that makes it stand out from the class.
Not only that, the 1x drivetrain offers a wide range of gearing. It can adapt quickly whether it is between gravel or road, and can maintain a faster speed. In the same path, you can reach the end with less time and effort.
Finally, the Trek FX Sport 6 makes shifting things flexible without changing gear settings. You can switch gears easily and quickly by flicking your fingers.
On my daily commute, I was able to get to work quickly, thanks to the 1x drivetrain equipped. After many days of measuring, I feel that the Trek FX Sport 6 is the best choice for the fitness crowd commuting.
Tires and Wheels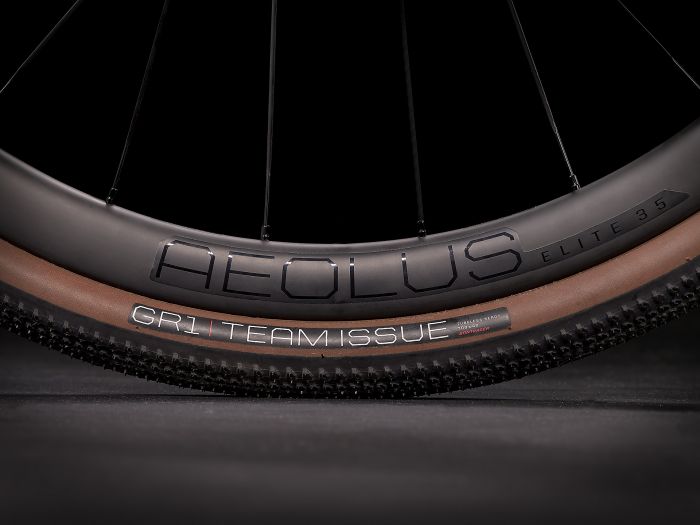 The choice of tires has always been an important indicator of our choice of bicycles. Especially for riding on gravel roads, there are more stringent requirements for this.
In terms of tires, the Trek FX Sport 6 is equipped with Bontrager Aeolus Elite 35, OCLV carbon fiber. During riding, we found that compared with general rubber tires, it has a stronger surface and will not easily puncture due to the gravel on the road.
The 40mm gravel tires on the Trek FX Sport 6 provide more grip and stability. Not only that, but in our testing we found the Bontrager Aeolus Elite 35 to be more wear-resistant than the average tire.
Its sturdy and high-performance features make me optimistic about its longevity. Of course, you can also install 42mm wide tires if you feel that the fenders will affect the view of the body. It all depends on your preferences.
Brake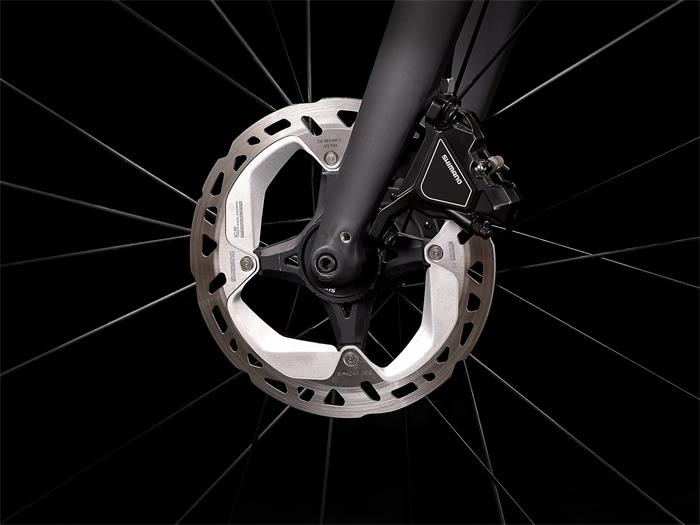 Shimano hydraulic discs seem to be a trend in the bicycle industry. Compared with mechanical brakes, it has a lighter volume and weight, which is a boon for light-weight bicycle enthusiasts.
What's more, Shimano hydraulic discs provide unrivaled braking performance. We have done a lot of testing on mechanical brakes as well as hydraulic disc brakes. In test after test, we found hydraulic discs to brake at the same travel speed.
Unsurprisingly, the performance of Shimano hydraulic discs can be expressed as excellent, and the braking distance after braking is much less than mechanical. Therefore, I wholeheartedly suggest yes, Shimano hydraulic discs as an alternative to your bike choice.
Handlebar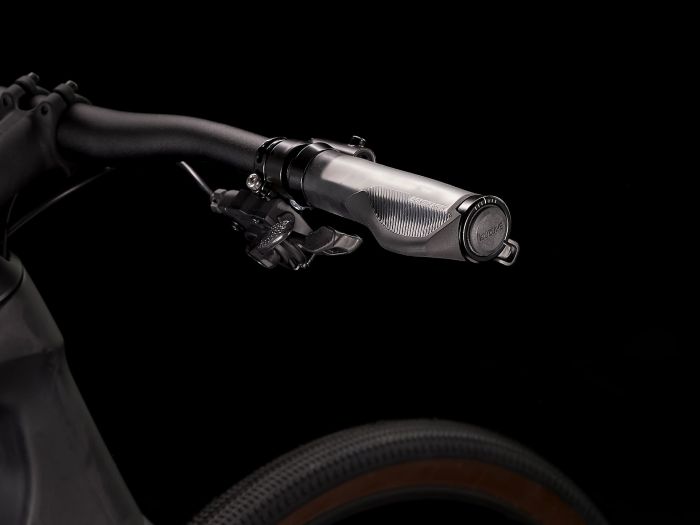 The Trek FX Sport 6 handlebar design has a certain technological element to it. It takes into account the fatigue level of our arms when riding, and is very ergonomic, allowing you to maintain a comfortable sitting position during long-distance riding.
The ISOzone handlebar can absorb most of the vibration generated during your journey, avoiding the violent vibration caused by the impact of the body and the road, providing you with a comfortable riding rhythm.
Not only that, the flat handlebar construction allows the arms to bend at a suitable angle, avoiding physical discomfort caused by the incorrect sitting position of the body.
Trek FX Sport Other Versions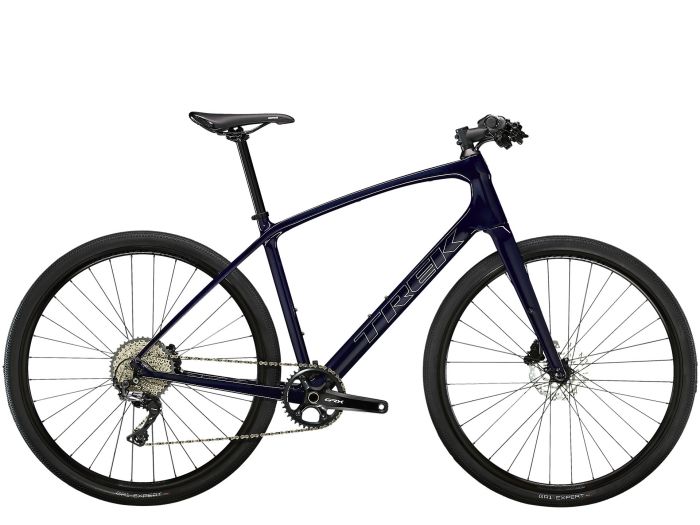 The previous version of the 2023 Trek FX Sport 5, as mentioned above, also has some of the accessories listed above.
Compared with other versions, under the same carbon fiber material, the 2023 Trek FX Sport 6 has a lighter weight (9.5 kg), which makes it lighter in the body, which meets the higher requirements for body lightness.
At the same time it has the fastest speed in the entire range, and if you had to choose a car for road racing, I think the Trek FX Sport 6 would fit your bills.
Compared to the Trek FX Sport 4, the Trek FX Sport 5 and Trek FX Sport 6 use the more popular Shimano hydraulic discs on the market, making emergency braking more complete. But it also has a higher price. Of course, if you value high-quality performance in your car, then the Trek FX Sport 6 will meet your expectations.
Learn More: Trek FX Sport 5 Review-Is It A Good Hybrid Bike?
what do we like about it?
A race bike with high performance that can meet the long-distance travel.
The 1x system provides extensive power support.
Carbon fiber fork and body material.
what we don't like about it?
The pedals with straps are a little out of date.
2023 Trek FX Sport 6 Specs
Frameset
| | |
| --- | --- |
| Fork | Carbon, hidden fender mounts, flat mount disc, 5x100mm thru-skew |
Wheels
| | |
| --- | --- |
| Wheel front | Bontrager Aeolus Elite 35, OCLV Carbon, Tubeless Ready, 100x5mm QR |
| Wheel rear | Bontrager Aeolus Elite 35, OCLV Carbon, Tubeless Ready, Shimano 11-speed freehub, 135x5mm skewer |
| Tire | Bontrager GR1 Team Issue, Tubeless Ready, Inner Strength casing, aramid bead, 120 tpi, 700x40c |
| Max tire size | 42c without fenders, 40c with fenders |
Drivetrain
Shifter
Shimano RS700, 11 speed
Rear derailleur
Shimano GRX RX812, long cage, 42T max cog
*Crank
Size: XS, S
Shimano GRX RX600, 40T ring, 170mm length
Size: M, L, XL
Shimano GRX RX600, 40T ring, 175mm length
Bottom bracket
Shimano RS500, 86mm, PressFit
Cassette
Shimano SLX M7000, 11-42, 11 speed
Chain
Shimano HG601
Pedal
VPE-993T
Max chainring size
42T
Components
Saddle
Bontrager Montrose Comp, steel rails, 138mm width
Seatpost
Bontrager Comp, 6061 alloy, 27.2mm, 8mm offset, 330mm length
*Handlebar
Size: XS, S, M
Bontrager Satellite Plus IsoZone, alloy, 31.8mm, 15mm rise, 600mm width
Size: L, XL
Bontrager Satellite Plus IsoZone, alloy, 31.8mm, 15mm rise, 660mm width
Grips
Bontrager Satellite IsoZone Plus, lock-on, ergonomic
*Stem
Size: XS
Bontrager Elite, 31.8mm, Blendr compatible, 7 degree, 90mm length
Size: S, M
Bontrager Elite, 31.8mm clamp, Blendr compatible, 7 degree, 100mm length
Size: L, XL
Bontrager Elite, 31.8mm clamp, Blendr compatible, 7 degree, 110mm length
Brake
Shimano hydraulic disc, MT201 lever, UR300 caliper
Brake rotor
Shimano RT10, centerlock, 160mm
Rotor size
Max brake rotor size: 160mm
Weight
| | |
| --- | --- |
| Weight | M – 9.47 kg / 20.88 lbs |
| Weight limit | This bike has a maximum total weight limit (combined weight of bicycle, rider, and cargo) of 300 pounds (136 kg). |
Comparison Chart
Quick Neo SL 1 vs Trek FX Sport 6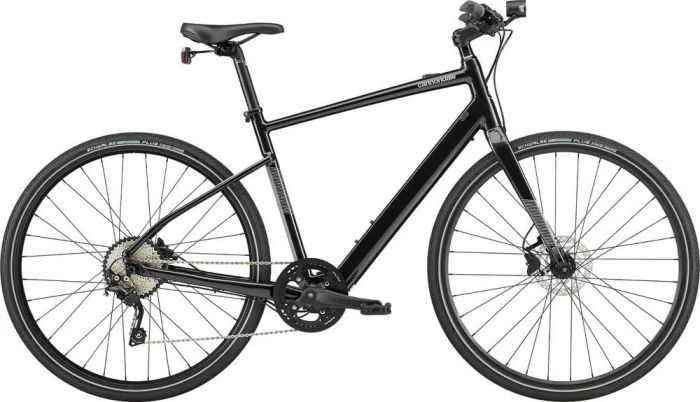 In terms of frame selection, the Quick Neo SL 1 uses aluminum materials, which gives the Trek FX Sport 6 a certain weight advantage.
At the same time, the performance of aluminum in shock absorption cannot be compared with carbon fiber. So if you are more interested in these two aspects, perhaps the Trek FX Sport 6 is a better choice.
In addition, as a hybrid bike, the Quick Neo SL 1 is equipped with a Mahle 250W 40Nm hub drive, which makes it more powerful on the road. Maybe it's a good choice if you're just looking for speed, security and efficiency. Of course you also have to pay an extra $200 for it.
learn more:Cannondale Quick 4 Review [2022]- A Fast And Free City Ride
2022 Priority 6500X ADVENTURESirrus 6.0 vs Trek FX Sport 6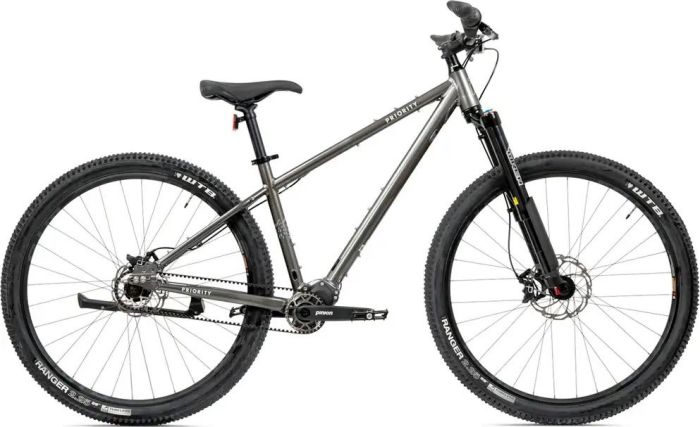 Similarly, the 2022 Priority6500X ADVENTURE is also made of aluminum. But given that it is mainly for road commuting, such a setup is acceptable. But what is unexpected is that it does not choose the popular chain drive on the market, but the belt drive, which reduces the use of lubricating oil.
Under certain circumstances, it can save resources, and at the same time, it can be better maintained.
But the use of a belt also means a higher cost, and $3,500 is indeed not cheap for some users. At the same time, once the belt is damaged, you also need to pay a high price to replace it.
2022 Specialized Sirrus 6.0 vs Trek FX Sport 6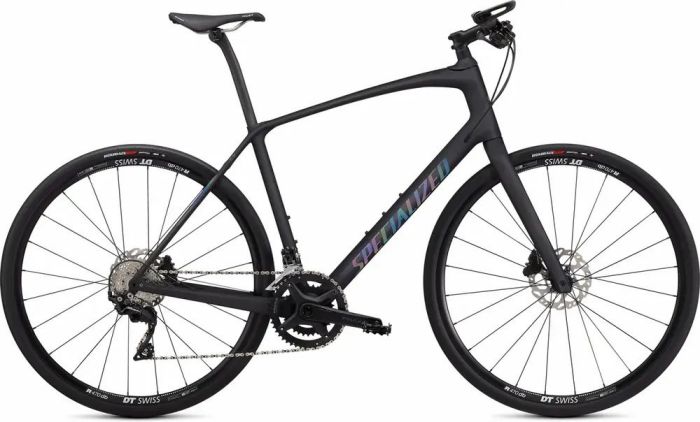 The Sirrus 6.0 comes as an exercise bike with mid-range top-range components and hydraulic disc stoppers at the high end of the Sirrus model line.
However, unlike the Trek FX Sport 6, it uses a 2×11 drivetrain, a drivetrain with multiple chainrings that allows for big, quick shifts through the front derailleur and through the rear derailleur Make fine shifts.
Suitable for those who are looking for the ultimate experience. But personally, the Trek FX Sport 6 is more than enough for my daily needs.