We use affiliate links and may receive a small commission on purchases.
Trek Roscoe 7 2023
Price: $1,899.99
Suspension: 140mm (front)
Tires: 29 x 2.6 in. (XS, 27.5 x 2.6 in)
Gears: 1 x 12
What we like: One of the best hardtail mountain bikes for technical terrain and perfect performance in the woods
What we don't: Weak brakes, discerning trail riders want better brakes
Rating: (4.8/5)
Trek, a well-known brand of cross-country mountain bikes, released the 2023 Trek Roscoe 7 some time ago. This is a huge upgrade from the 2022 model, much to the delight of riders looking forward to the new hardtail mountain bike.
Although the price has gone up quite a bit, there are more and better component configurations as well as roads suitable for riding. It still maintains the design of the cross-country race.
This is our review of trek roscoe 7. I think trek roscoe 7 review will solve your current problems and increase your understanding of it
We've compared the new trek Roscoe 7 is descents, climbs, key features, and with previous years' versions.
If you can't wait long enough to get your hands on this MTB, we've also found models with stiff competition for this purpose to help you understand what good mountain bikes you can get at this price point.
For suggestions, see our Best Mountain Bikes Under $2000-[2022].
Descending
It is well known that hardtail mountain bikes are not strong performers on the downhill. But modern hardtail mountain bikes, with various improvements and optimized component configurations, are designed to counteract the descending performance of full-suspension mountain bikes.
And the trek Roscoe 7 is doing the same thing. For example, it has a relaxed head tube angle and shorter rear fork, giving you more confidence on steep downhill roads as well, with reachable handlebars and no lack of handling on steep descents that smaller riders worry about.
The second is its 2.6-inch tires, which provide great grip on sharp roads, which of course makes your takeoff distance and descent speed a bit lower. But it provides greater downhill stability.
It was commented that a slippery woodland descent with some sideslip would be a bit worse with 2.35-inch tires for the same terrain. So I prefer 2.5-inch tires or more for riding in woodlands or downhill roads with steep trails.
The 140mm travel RockShox Recon Silver RL shock fork won't have the dampening effect of making your arms tingle when you encounter roots and gravel. Combined with the TranzX 100mm-150mm dropper, this makes it resistant to the descending effects of softtail mountain bikes in the same price range.
Gravel and roots constantly pound the fast rolling tires without making your young body, shake too much.
Is that all there is to it?
No. It's also the hardtail mountain bike that descends extremely quietly. This is also thanks to Trek's widgets designed for strong silence.
There are three widgets: the rear dropout guard, the downtube guard and the internal cable guide. It helps you not to have body noise amplified by muscles or bones when riding intensely in the mountains. Instead, it's the natural sound of shredding trails from your powerful dirt-cracking machine, the Trek Roscoe 7.
Although, having said that I love the descending experience that the trek Roscoe 7 brings to the woodlands or rough trails, my complaint about it comes from its weaker Shimano MT200 hydraulic disc brakes that provide a not so strong clamping force.
I would have preferred it to be upgraded to the two-stage higher M6000 so that I could descend in a hurry without worrying about, well, soft braking.
Climbing
While we found plenty of strong competition for the Trek Roscoe 7 among the many hardtail mountain bikes in the same price range, I still need to commend it for the many design details that are enough to please a discerning trail rider like myself.
The Roscoe 7 is an excellent climber, so why doesn't it reach excellence? I'll take my time on this one.
First I'm happy with the Trek Roscoe 7's progressive trail geometry frame design for climbing, with a loose head tube angle and long reach, as well as a steep seat angle and short rear dropout fork that will have even lazy riders climbing with confidence on the climb.
A fork with lockout can be adjusted to stop working if it's a relatively slick mountain.
The most embarrassing thing when climbing is still the chain slipping off, and the Roscoe 7 has an international standard chain guide. On top of that are the large 29-inch tires that make such situations even less likely to happen.
When the road becomes bad, the 2.6-inch vacuum tires can also provide strong traction and more efficient pedaling, as well as the Shimano Deore 12-speed drivetrain, the largest gear is 51 teeth, which will allow you to pedal less unnecessarily and increase the efficiency of climbing.
So the Trek Roscoe 7 is a great climbing tool.And the trek roscoe 7 weight is only 14.3 kg, which is relatively light.
Here's why it's not a great climber, because its fork is not remotely locked and needs to be stopped for easy adjustment, just upgrade to a remote locking shock fork and the climbing performance of the trek Roscoe 7 will never let you down.
General Terrain
To be precise, we think the Trek Roscoe 7 is very good off-road on gentle, rough trails. There isn't much to complain about in these trails.
The very light weight roscoe 7 trek is able to reach very fast speeds in the fireroad, but that's where the longer distances compare. Turns, jumps are all done with ease.
The trails of the rock park are also hard to affect your riding mood, focusing on making the rider more powerful off-road, which also its components stacked with features.
With two water bottle cages and a novice friendly frame design, the Trek Roscoe 7 will also allow you to improve your riding skills, naturally, when you own it.
Key Features
Frame (4.9/5)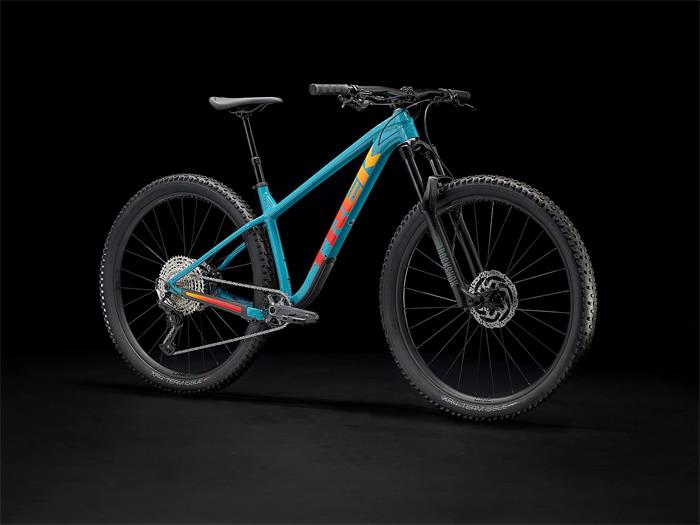 The Trek Roscoe 7 is available in three paint colors, I really like the Matte Trek Black, the other two paint colors feel like not many people will choose them. The all-black RockShox Recon fork definitely gives it a premium look and feel.
The clean internal alignment and the internal cables are placed into cassettes, which are soft and will also protect the cables from rubbing against the internal wobble of the aluminum tubes and also prevent cable runs.
Although the Trek Roscoe 7 is very light, it strives for perfection in the main welding positions. Both the top and bottom tubes have smooth welds, and the paint is wrapped so that the weld pattern cannot be seen.
From a distance, you can see that the frame's downtube and rear lower fork are protected from riding noise.
At first, I was a little confused by the black spots on the paint, but this is one of its toggle anti-fouling frame features that prevent large pieces of mud from getting on the frame during long cross-country rides, increasing the weight of the bodywork and affecting your race performance.
This is of course just one of its many design details.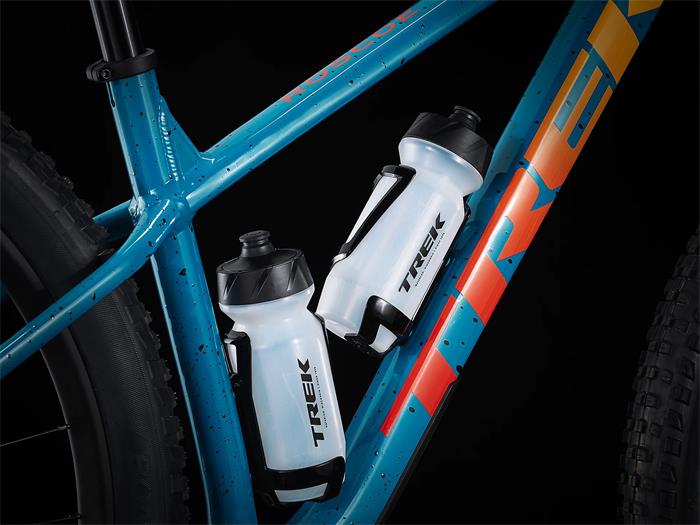 Geometry (4.9/5)
The new Trek Roscoe 7 features a more modern, progressive trail geometry.
The very generous 65° head tube angle, which is the current dominant head tube angle for race mountain bikes, and the relatively steep 73.1° will grow the reach and will result in a short lower fork. That's why it has a lower fork length of 430mm.
The medium-sized frame has a 440mm Frame reach, which allows the rider to ride off-road without being too nervous.
The geometry above looks rather uninteresting, but it does allow for more relaxation during descents or steeper climbs.
The geometry is more tailored to the rider, but I found the recommended height for this bike to be particularly noticeable, not in the way some traditional recommendations are made, but need to be on the larger side.
Components and Specs
RockShox Recon Silver RL Fork (4.6/5)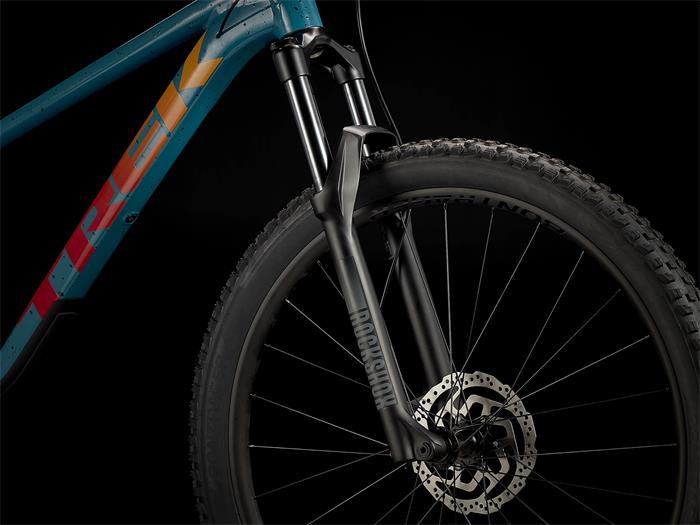 The mid to high-end RockShox Recon Silver RL fork did not disappoint or even impress me in any terrain test.
Rather than compromising the performance of this component through soft tires, the Trek Roscoe 7 is a much more solid workhorse that can take the pounding of jumps or fast drops into roots.
With its motion-controlled dampers, which provide constant solid damping in continuous gravel, and a locking feature, riding the Trek Roscoe 7 on long, flat roads will be a pleasure.
All in all, I have no complaints about the Recon RL.
Shimano Deore drivetrain (4.6/5)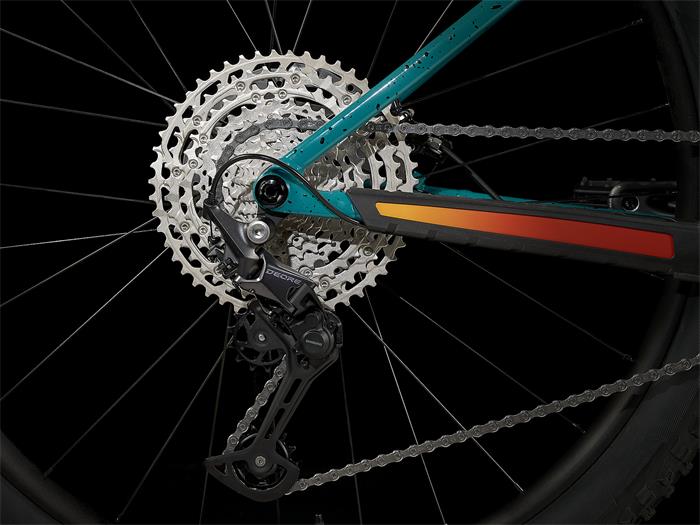 The mid-range Shimano Deore drivetrain is a common drivetrain for Trek, and indeed other brands. In my opinion, it is upgradeable to the better SRAM NX Eagle 12-speed drivetrain.
Considering its asking price and intended use, such a component could also go through tough trail riding. And it has a very wide range of gearing that won't upset the rider on steep climbs and fast descents anymore.
TranzX Seatpost (4.7/5)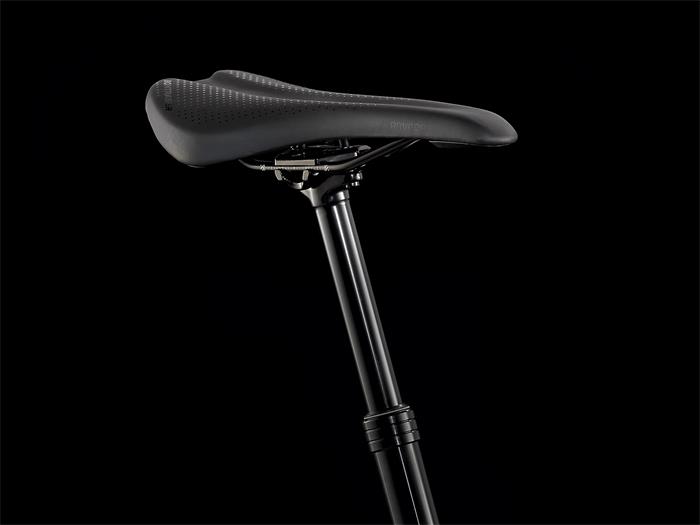 The TranzX lift Seatpost for the XS frame has only 100mm of travel, the M size frame has 130mm of travel, and all frames above M have 150mm of travel.
And the size of the frame doesn't affect the selling price of the trek rosco 7, so I don't really recommend smaller people to buy it, because it would not be a particularly good value for money shopping.
The 150mm travel TranzX also works adequately when riding without much stickiness, and even if one wishes to upgrade it, one would consider the 175mm KS Rage-i Dropper, which of course adds a lot to the budget.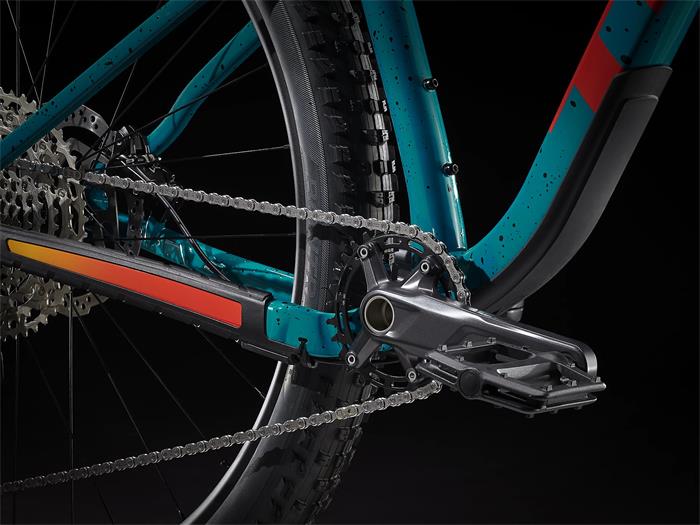 other versions OF Trek Roscoe 7 2023
Trek Roscoe 7 2023 vs 2021
Since this major change is the main reason why Trek Roscoe 7 2022 is worth waiting for.
What changes have been made to the Trek Roscoe 7 2022 from the trek roscoe7?
The first is the paint color, which has been changed significantly, eliminating the Factory Orange/Metallic Gunmetal and Dnister Black paint colors.
The wheel size is no longer the medium size 27.5-inch tires, but the width has been reduced from 2.8 inches to 2.6 inches. And to the naked eye, its frame gaps have become a little narrower.
In addition, the frame geometry has been almost overhauled, with the Trek Roscoe 7 2022's head tube angle becoming a more relaxed 65°, compared to the trek roscoe 7 2021 version's 67.1°-67.4°.
Of course, there are many more changes, and if interested, there is a reference page at the end of our article,Also you want to know about trek roscoe 7 2021 specs, we will also bring a more detailed review.
The upgrade to the shock fork also makes the Trek Roscoe 7 2022 more suitable for aggressive off-roading, with 40mm more travel and a higher level RockShox Recon RL fork as well.
Although they are only one-year iterations, they are designed almost from new. A full $700 price increase in terms of MSRP. This also gives Trek's product manager a lot of room to play with.
Trek Roscoe 8 2023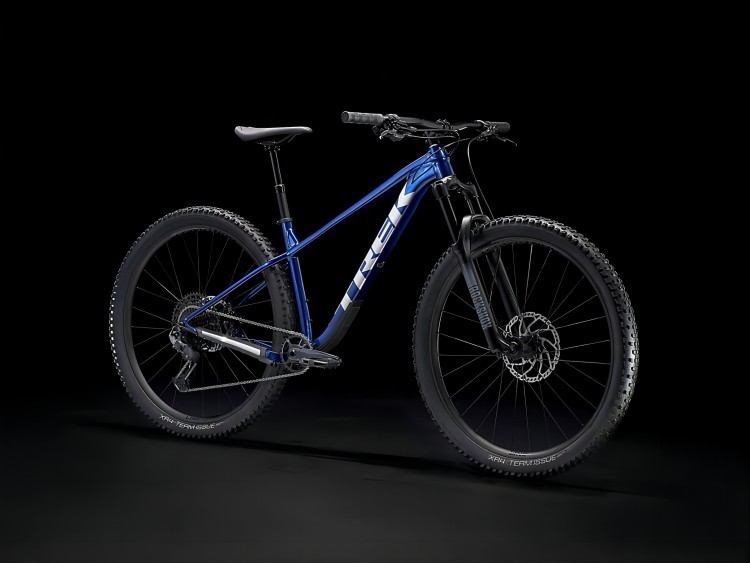 The Trek roscoe 7 and Trek roscoe 8 are both aluminum frames, but the Roscoe 8 is a bit lighter, however in my actual riding I didn't feel a significant difference.
In terms of drivetrain, both are 1×12 shifting ranges, but the Shimano Deore in the Trek Roscoe 7 is better and easier to upgrade than the SRAM GX Eagle in the Trek Roscoe 8.
Overall, the Trek Roscoe 7 Shimano Deore is great and you can expect it to be with you for many years to come.
What we like about it
Lightweight frame
Strong silent frame design
Geometric design for beginners
Clean internal alignment
Adequate Shimano Deore drivetrain
TranzX lift seatpost
Wide 2.6-inch tires for more moderately technical terrain
Comes stock with pedals
Satisfactory after-sales service
What we don't like about it
The paint color, not everyone likes it
Weaker Shimano MT200 hydraulic disc brakes
The quality of the pedals is a concern
FAQs
Is the Roscoe 7 a trail bike?
Yes,suitable for trail riders who like challenges.
How heavy is the Trek Roscoe 7?
31.53 lbs.
What heights are Trek Roscoe 7 suitable for?
Size Chart for Trek Roscoe 7:
| | | |
| --- | --- | --- |
| Size | Rider Height | Inseam |
| XS | 145 – 155 cm4'9″ – 5'1″ | 69 – 73 cm27″ – 29″ |
| S | 155 – 165 cm5'1″ – 5'5″ | 74 – 78 cm29″ – 31″ |
| M | 165 – 176 cm5'5″ – 5'9″ | 79 – 83 cm31″ – 33″ |
| M/L | 173 – 180 cm5'8″ – 5'11" | 81 – 86 cm32″ – 34″ |
| L | 177 – 188 cm5'10" – 6'2″ | 84 – 89 cm33″ – 35″ |
| XL | 188 – 195 cm6'2″ – 6'5″ | 89 – 91 cm35″ – 36″ |
Trek roscoe 7 Specs
Frameset
Frame
Alpha Gold Aluminum, tapered head tube, internal derailleur & dropper post routing, ISCG 05, threaded BB, Boost148, 12mm thru axle
*Fork
Size: XS
RockShox Recon Silver RL, SoloAir spring, Motion Control damper, lockout, tapered steerer, 37mm offset,, Boost110, Maxle Stealth, 140mm travel
Size: S, M, M/L, L, XL
RockShox Recon Silver RL, SoloAir spring, Motion Control damper, lockout, tapered steerer, 42mm offset,, Boost110, Maxle Stealth, 140mm travel
Max compatible fork travel
150mm
Wheels
Hub front
Shimano MT400, centerlock, Boost110, 15mm thru axle
Hub rear
Shimano MT510, centerlock, Boost148, 12mm thru axle
Skewer rear
Bontrager Switch thru axle, removable lever
Rim
Bontrager Line Comp 30, Tubeless Ready, 28-hole, presta valve
*Tire
Size: XS
Bontrager XR4 Team Issue, Tubeless Ready, Inner Strength sidewalls, aramid bead, 120 tpi, 27.5×2.60"
Size: S, M, M/L, L, XL
Bontrager XR4 Team Issue, Tubeless Ready, Inner Strength sidewalls, aramid bead, 120 tpi, 29×2.60"
Tire part
Bontrager TLR sealant, 6oz
Rim strip
Bontrager TLR
Max tire size
Frame: 29×2.60″ (XS – 27.5×2.60″) Fork: see manufacturer
Drivetrain
Shifter
Shimano Deore M6100, 12 speed
Rear derailleur
Shimano Deore M6100, long cage
*Crank
Size: XS, S, M, M/L, L
Shimano MT511, 30T steel ring, 52mm chainline, 170mm length
Size: XL
Shimano MT511, 30T steel ring, 52mm chainline, 175mm length
Bottom bracket
Shimano SM-BB52, 73mm, threaded external bearing
Cassette
Shimano Deore M6100, 10-51, 12 speed
Chain
Shimano Deore M6100, 12 speed
Pedal
VP-536 nylon platform
Max chainring size
52mm chainline: 32T, 55mm chainline: 34T
Components
Saddle
Bontrager Arvada, steel rails, 138mm width
*Seatpost
Size: XS, S
TranzX JD-YSP18, 100mm travel, internal routing, 31.6mm, 361mm length
Size: M
TranzX JD-YSP18, 130mm travel, internal routing, 31.6mm, 425mm length
Size: M/L, L, XL
TranzX JD-YSP18, 150mm travel, internal routing, 31.6mm, 470mm length
*Handlebar
Size: XS, S
Bontrager alloy, 31.8mm, 15mm rise, 750mm width
Size: M, M/L, L, XL
Bontrager Rhythm Comp, alloy, 31.8mm, 15mm rise, 780mm width
Grips
Bontrager XR Trail Comp, nylon lock-on
*Stem
Size: XS, S
Bontrager alloy, 31.8mm, Blendr compatible, 7 degree, 35mm length
Size: M, M/L, L, XL
Bontrager alloy, 31.8mm, Blendr compatible, 7 degree, 50mm length
Headset
FSA IS-2, 1-1/8" top, 1.5" bottom
Brake
Shimano MT200 hydraulic disc
Brake rotor
Shimano RT10, centerlock, 180mm
Weight
| | |
| --- | --- |
| Weight | M – 13.99 kg / 30.85 lbs (with TLR sealant, no tubes) |
| Weight limit | This bike has a maximum total weight limit (combined weight of bicycle, rider, and cargo) of 300 pounds (136 kg). |
Comparison Table
Competition
Marin Rift Zone 27.5 1 vs Trek Roscoe 7 2022
The Marin Rift Zone 27.5 1 is a full-suspension mountain bike for intense trail riding. It retails for $160 more than the Roscoe 7. Even though it has 120mm of travel in the rear suspension, being able to descend quickly didn't worry our testers. This is something you can't experience in a hardtail mountain bike like the Trek Roscoe 7.
Let's go back to the component comparison, the Marin Rift Zone 27.5 1 he drivetrain is powered by a Shimano Deore, 11 speed, which is a few compromises made, but within acceptable limits.
Also, their brakes are the same Shimano BR-MT200 hydraulic disc brakes, more on the soft side, there is no way to compare them which is more suitable, neither is a particularly suitable component.
As one of the Best Mountain Bikes Under $2000, the Marin Rift Zone 27.5 1 is one of the best representatives of full-suspension mountain bikes and one of the better mountain bikes we can find in this price range.
The Trek Roscoe 7 2022, on the other hand, represents hardtail mountain bikes that don't compromise too much on components and allow riders to spend about the same budget while getting a pretty good quality mountain bike.
In our opinion, the new roscoe 7 is more suitable for younger riders, if you're nearing 30 but still have trail riding goals and you don't want to spend more than your budget the Marin Rift Zone 27.5 1 will be more suitable for this age group.
Learn more: Is Marin Rift Zone 27.5 1 Worth Buying? [Marin Rift Zone 1 Review]
Canyon Stoic 4 vs Trek Roscoe 7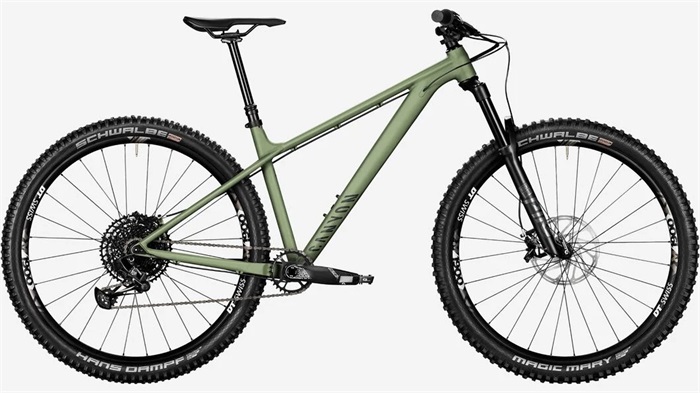 The Canyon Stoic 4 is our most direct and fierce competitor to the Trek Roscoe 7 in this comparison.
It is on pre-order and still more expensive than the Trek Roscoe 7. But its components are described as premium.
The Canyon Stoic 4 Frame reach is 10mm shorter than the Trek roscoe 7, and the rear fork is only 418-428mm long, another 2mm shorter than the medium size, which is intended for more aggressive trail riders.
By adopting the Rock Shox Pike Select, the Canyon Stoic 4 improves the sensitivity of the RockShox Recon and small vibrations are more easily detected. In addition to this is a comparison of their drivetrains, the SRAM NX Eagle drivetrain, which is still a whole notch higher.
Finally, we find that the Canyon Stoic 4 also features the Iridium Dropper Seatpost full-size frame all with 170mm of travel, without any shrinkage.
And while the Trek Roscoe 7 brakes are weak, the Canyon Stoic 4 uses SRAM Guide T with a stronger clamping force.
All you want is the above high configuration, all you need is a long wait!!!
Learn more: Is Canyon Stoic 4 Worth Buying? [Canyon Stoic 4 Review]
Cannondale Trail SE 2 vs Trek Roscoe 7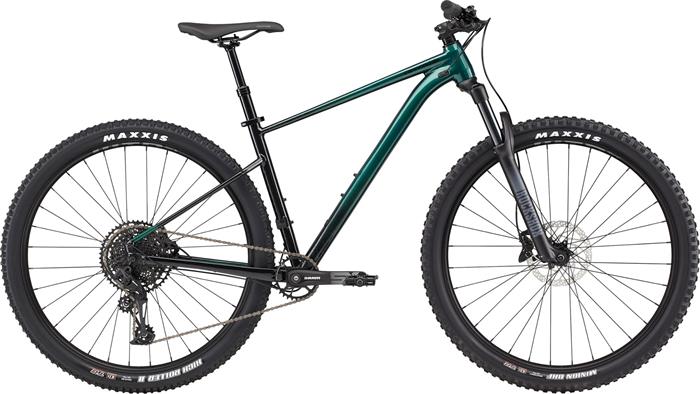 At a bit more of a premium, the Cannondale Trail SE 2 doesn't look quite as impressive as the Trek Roscoe 7. But there is something about the performance of its components that will give riders the impression that the Cannondale Trail SE 2 is a well-made hardtail mountain bike.
Combining fast trail and aggressive trail, the Cannondale Trail SE 2 is a versatile mountain bike that sits in the middle of the spectrum.
The 120mm Rock Shox 35 Silver R shock fork is no match for the RockShox Recon RL during steep descents, but its compromise in the fork gives the Cannondale Trail SE 2 a boost in the drivetrain with an SRAM SX Eagle 12-speed drivetrain.
The tire section is Maxxis Minion DHF, 29 x 2.5 inches, and the rear: Maxxis High Roller II, 29 x 2.3 inches vacuum tires. is able to achieve fast riding and can also climb on non-wet forest roads to compete with the Trek Roscoe 7.
In addition to the full-size TranzX dropper with 130 mm travel, I prefer the Cannondale Trail SE 2 over the Trek Roscoe 7 in S and M sizes, but the Trek Roscoe 7 in the M size frame and above, will better suit the needs of trail riders.
Learn more: Cannondale Trail SE 2 Review
DIAMONDBACK Sync'R 29 vs Trek Roscoe 7
It is the more expensive high-end hardtail mountain bike. But its component stack, including trail performance, is higher than the Trek Roscoe 7, and it is very much in line with the standards of a race trail bike.
The DIAMONDBACK Sync'R 29 is equipped with a carbon fiber frame, lighter weight, and smoother shifting SRAM GX Eagle 12-speed drivetrain.
Although the same 140mm travel shock fork as the Trek Roscoe 7, it uses a high-end Fox 34 Performance Float fork for more responsive and quicker damping, and Shimano MT501 hydraulic disc brakes, which can still outperform the low-end MT-200 in terms of braking power.
The X-Fusion Manic Dropper Post Seatpost does not have the stagnation of the mid-range dropper. This is certainly relative, or sensitive and fast response speed.
And of course, my impression of the DIAMONDBACK Sync'R 29 is that of a stout and playful future-oriented carbon hardtail mountain bike.
Final Verdict (4.8/5)
The Trek Roscoe 7 has won over a crowd of hardtail mountain riders with big design changes and a strong component stack. Despite its slight drawbacks, we can appreciate in comparison as well as in actual riding, how powerful and well designed it is.
So we think the Trek Roscoe 7 is a great hardtail mountain bike to buy. The final rating is 4.8/5.
Oh, by the way, there is a discount on the Trek Roscoe 7 for sale right now. If you're interested, you should check it out and don't miss this opportunity.
Here is the review video about 2022 trek roscoe 7.