We use affiliate links and may receive a small commission on purchases.
2023 Kona Hei Hei Review
Price: $3199
Frame: Aluminum
Wheels: 29″
Gear: 1×12
What we like about it: Lightweight frame and high-performance components, versatile ride.
What we don't like about it: limited adaptability to technical terrain.
Rating: (4.7/5)
Kona is a bicycle company from the United States, founded in 1988 with offices in Ferndale, Washington and Vancouver, British Columbia. It is a brand dedicated to creating high-performance mountain, road, and city bicycles. Kona bicycles are known for their excellent design and manufacturing, high-quality products, and good reputation. They have outstanding performance in various types of cycling.
The Hei Hei series, the top choice for XC bicycles, has a long history at Kona. It has won multiple 24-hour solo world championships and podiumed at sanity-testing events all over the world. However, it is not just a very fast XC bike. It is a bicycle that can help anyone improve their riding level. It makes you want to ride harder, faster, and climb higher. If you want to crush KOMs, it will help you do that too.
In this article, we will analyze the riding experience, specifications, and other versions of the Kona Hei Hei. If you want to learn more about bike reviews, you can follow us.
Riding Experience
As an off-road rider with more than a decade of experience, there is nothing more interesting to me than conquering complex terrains one after another. I am passionate about trying various types of full-suspension bikes, and this Kona Hei Hei has left a deep impression on me. If I had to describe it in one sentence, it would be fast, fun, and affordable. Another thing that needs to be prepared in advance is booking accommodation. This time, I still booked accommodation on Skyscanner, hoping for a good rest.
Off-road Riding
I took it for a ride on a challenging mountain road near my hometown. The mountain road winds down steep slopes, and the slightly complicated road includes rocky terrain, tight corners, and steep drops. But this did not stop me from moving forward. The beginning of the road did not require too much effort, but there were still some potholes. I adjusted to an appropriate gear and started pedaling. I must say that its suspension system effectively absorbed the bumps and vibrations of the rocky path beneath my feet.
The climb was very difficult, but fortunately, not all of the road was uphill. The bumpy path in the middle gave me some buffer time. But I thoroughly enjoyed this sweaty feeling, and my breathing became heavy. When I reached a particularly steep turn, I had to stop and push my bike up the mountain road. But even as I struggled, I felt a sense of excitement and joy. Because I knew I was pushing myself to the limit and conquering this road step by step. Finally, after what felt like several hours of climbing, I reached the mountaintop. The scenery at the top was breathtaking, and the surrounding forests and mountains were in full view. I knew I had succeeded once again and shouted out for freedom. It was a great challenge.
Descending Riding
However, the real surprise for me was the Kona Hei Hei descent experience. I took a short break, adjusted my helmet and gloves, double-checked my brakes, and set off on the descent. The descent was even steeper than I had expected. The previous steep slope turned into a sudden descent now, and the presence of sharp turns certainly raised the difficulty a notch. It required quick reflexes and a high level of concentration on my part. But again, I was not disappointed by the Kona Hei Hei, with its excellent full-suspension design, which helped me to navigate this mountain road with precision and control. The 120mm front travel and 100mm rear travel could effectively absorb shocks and vibrations from the road. The tough aluminum frame could also withstand more intense riding.
What struck me was a section of road so narrow that I had to ride along the edge of a steep drop. At this point, there was only a thin strip of dirt separating me from the long drops down the hillside. But even in these moments of extreme danger, I felt a sense of calm and focus. Because I knew my bike and my skills would get me through safely. The previously tough climbs became the pedals I was now jumping on as I descended quickly between the hills. I could feel a rush of adrenaline and satisfaction coursing through my veins.
Finally, I ended the ride safely and I felt deeply grateful to my Kona Hei Hei. It saw me through the climbs and descents with power and grace.
Specification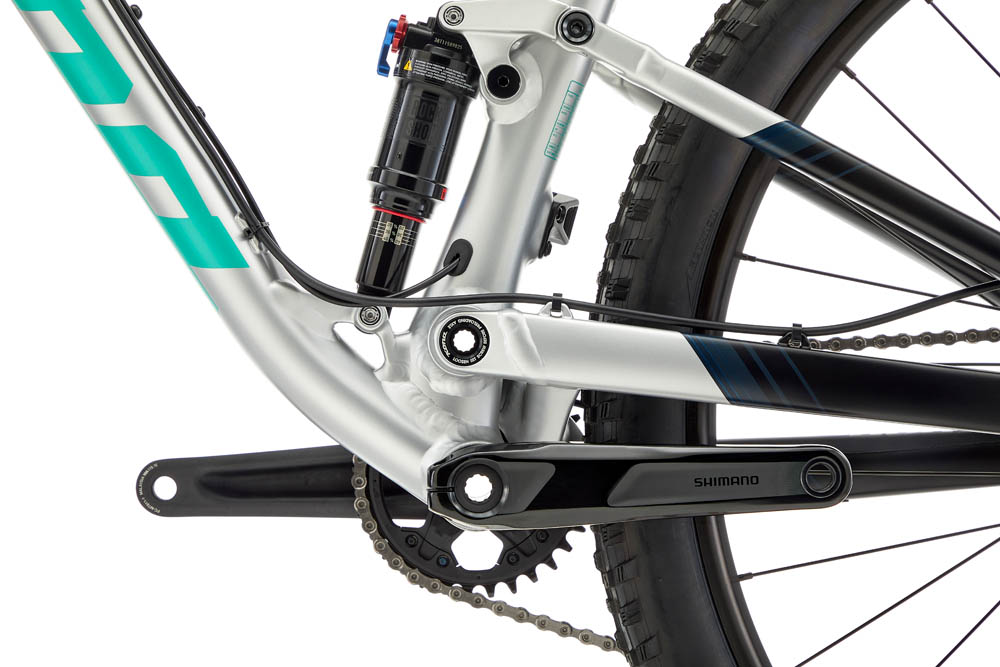 As a full-suspension off-road bike, it blurs the line between XC and trail bikes and proves that great ideas can evolve into durable bikes. With a lightweight and tough aluminum frame, it can handle more intense shocks. Paired with 29-inch Maxxis Forekaster EXO TR DUAL tires, it can cope with more complex terrains and achieve efficient pedaling and flexible handling. In terms of fork selection, the 120mm RockShox SID 35 DebonAir fork has excellent shock absorption, and the 100mm RockShox Monarch RL rear shock absorber also provides significant help during descents. Therefore, it can provide smooth and responsive riding on various terrains.
The relaxed head tube angle and steep seat tube angle combine stability with efficient pedaling posture. Paired with a Shimano Deore 12spd drivetrain and Shimano MT410 hydraulic brakes, it performs well when facing technical terrains.
Other versions
To give you more insight into the Kona Hei Hei bike, we've also tested other versions of it for you, which we hope will help you.
Kona Hei Hei CR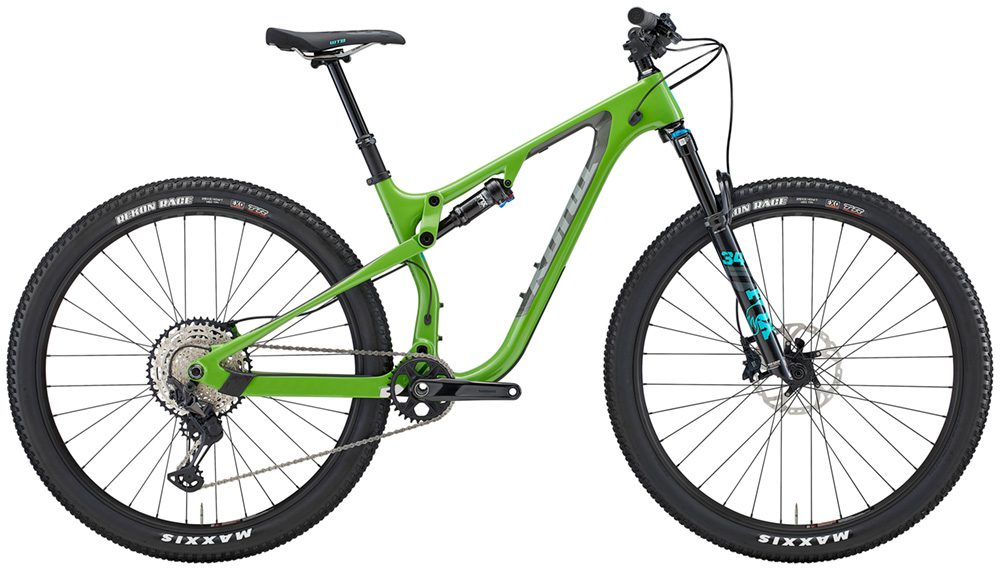 As an upgraded version of the Kona Hei Hei, the Kona Hei Hei CR has made some improvements on its basis. First of all, it abandons the classic 6061 aluminum frame and adopts carbon fiber. This makes it perform better in both weight and stiffness. The component selection has also been updated, and the Shimano SLX 12spd drivetrain has smoother shifting and excellent usability.
A better configuration of components also means you pay more in terms of price. Of course, it makes a lot more than that. If you'd like to learn more about this bike, feel free to subscribe to us and we'll keep you updated with more content.
What do we like about it?
Lightweight and efficient design: A lightweight aluminum frame is used, making it easy to maneuver and accelerate on off-road mountain trails and tackle more complex terrain.
Full Suspension Design: Kona Hei Hei's full suspension design provides excellent damping and traction, allowing the rider to maintain speed and control over rough terrain.
High-quality components: Kona Hei Hei is equipped with a range of high-quality components from top manufacturers such as Shimano and SRAM, ensuring reliable and smooth shifting and braking.
Versatility: Although designed primarily for off-road riding, the Kona Hei Hei can also be used for light trail riding and bike packing.
What don't we like about it?
Limited adaptability to technical terrain: While the Kona Hei Hei is capable of handling some technical terrain, it may not be comparable to those pro-level vehicles when faced with more aggressive or technical riding.
FAQ
What size wheels does Kona Hei Hei use?
The Kona Hei Hei uses 29-inch wheels for good traction and rolling efficiency on off-road mountain trails.
Is Kona Hei Hei suitable for the competition?
The Kona Hei Hei is, of course, a high-performance trail bike for racing. The lightweight and efficient design makes it a popular choice for competitive riders.
Can Kona Hei Hei be used for other types of mountain bikes?
It can be. While the Kona Hei Hei is designed primarily for trail riding, it can be used for other types of mountain biking as well. However, it may not be as well suited to more aggressive or technical terrain as a dedicated trail bike or enduro bike.
How to choose the right size?
Here we have provided you with a size chart. Of course, it doesn't have to be according to this standard, and the best way to find the most suitable size is to test ride.
| | |
| --- | --- |
| Rider height | SIZE |
| 156cm – 166cm | XS |
| 163cm – 174cm | SM |
| 171cm – 182cm | MD |
| 179cm – 189cm | LG |
| 185cm – 195cm | XL |
Kona Hei Hei Specs
Build
| | |
| --- | --- |
| Frame | Kona Race Light 6061 Aluminum Butted 100mm TravelBB Standard: BB86/BB92, Press FitColor: Matte Faux Raw w/ Metallic Mint & Silver Decals |
| Fork | RockShox SID 35 DebonAir 120mm Tapered 110mm Spacing |
| Rear Shock | RockShox Monarch RL Solo Air |
| Bottom Bracket | Shimano PF92 |
| Headset | FSA No.57B |
| Stem | Kona XC/BC 35 |
| Handlebar | Kona XC/BC 35 |
| Saddle | WTB Volt |
| Seatpost | TranzX Dropper +RAD Internal 31.6mm |
| Pedals | n/a |
| Grips | Kona Key Grip |
Groupset
| | |
| --- | --- |
| Rear Derailleur | Shimano SLX |
| Front Derailleur | n/a |
| Crank | Shimano 12spd, 32t |
| Shifters | Shimano Deore 12spd |
| Cassette | Shimano Deore 10-51t 12spd |
| Chain | Shimano Deore 12spd |
| Chain Guide | n/a |
| Brakes | Shimano MT410 |
| Brake Levers | Shimano MT410 |
Wheels
| | |
| --- | --- |
| Rims | WTB ST i27 TCS 2.0 |
| Spokes | Stainless Black |
| Front Hub | Shimano 110x15mm (centerlock) |
| Rear Hub | Shimano 148x12mm (centerlock) |
| Tires | Maxxis Forekaster EXO TR DUAL 29×2.35″ |
| Disk Rotors | Shimano RT30 180mm (centerlock) |
Video
Comparison Table
| | | | | |
| --- | --- | --- | --- | --- |
| Bicycles | Click View | Drivetrain | Frame material | Groupset |
| 2023 Specialized Epic EVO | Click View | 1 × 12 | Carbon | NX Eagle, SRAM |
| 2023 Canyon Lux Trail CF 6 | Click View | 1 × 12 | Carbon | Shimano SLX |
| 2023 Liv Pique 29 | Click View | 1 × 12 | Aluminum | Shimano Deore, Praxis |
| 2023 CUBE AMS ONE11 C:68X PRO 29 | Click View | 1 × 12 | Carbon | SRAM GX Eagle |
Kona Hei Hei vs 2023 Specialized Epic EVO
This 2023 Specialized Epic EVO features a new suspension design that preserves as much of Epic's standard set-up efficiency as possible. Working in tandem with the Rx XC damping ensures that you can make the most of every inch of travel. Enhanced anti-squat features are also provided to improve pedaling efficiency. The lightweight carbon frame is simply tailor-made for trail riding in general. You can enjoy intense riding in complex terrain.
The Kona Hei Hei can do the same. The difference is that the Kona Hei Hei ditches the carbon fiber frame, and with it, it has more speed. With its silky smooth shifting ability, it can handle more terrain. If you are looking for a faster and more aggressive ride, then this Kona Hei Hei will be a good choice.
Learn More: Is Specialized Epic Hardtail Bike Worth Buying? [Specialized Epic Hardtail Bike Review]
Kona Hei Hei vs 2023 Canyon Lux Trail CF 6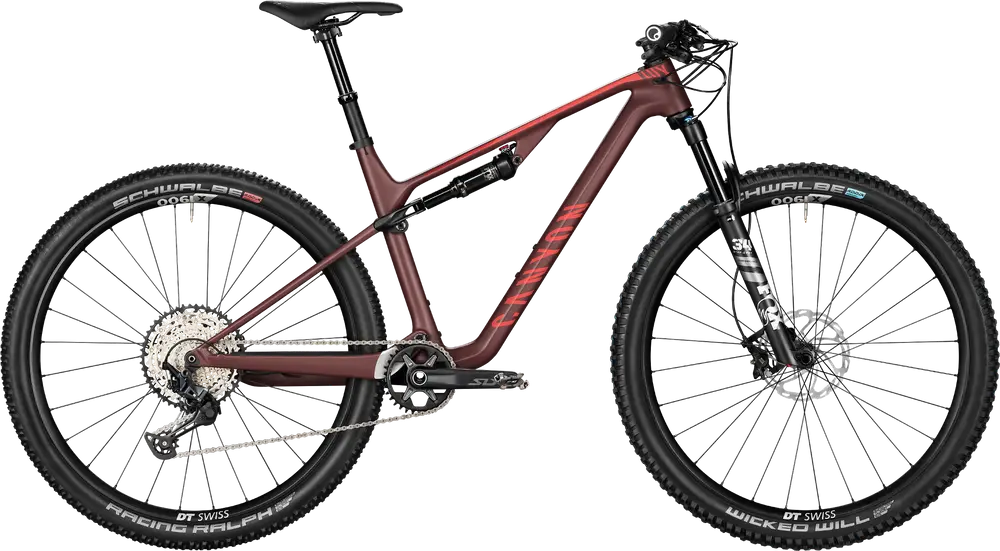 Honestly, I find it difficult to say which of these two bikes is better or to recommend one over the other. It would be unprofessional to do so. In my opinion, these two bikes are very similar in terms of geometry and component choices. The only difference is that the Canyon Lux Trail CF 6 has a lighter carbon fiber frame, while the Kona Hei Hei has a classic aluminum frame. However, I did not notice too much of a difference when riding them.
The Canyon Lux Trail CF 6 uses a RockShox Reba RL 120mm travel fork and a RockShox DELUXE Select+ 110mm travel rear shock. Kona Hei Hei, on the other hand, chose a RockShox SID 35 DebonAir 120mm travel fork and a RockShox Monarch RL Solo Air 100mm travel rear shock. In short, they are both excellent full-suspension trail bikes. If I had to make a choice, I would probably prefer the riding experience that Kona Hei Hei brings to the table.
Learn More: Is Canyon Lux Trail CF 7 Worth Buying? [2022 Canyon Lux Trail CF 7 Review]
Kona Hei Hei vs 2023 Liv Pique 29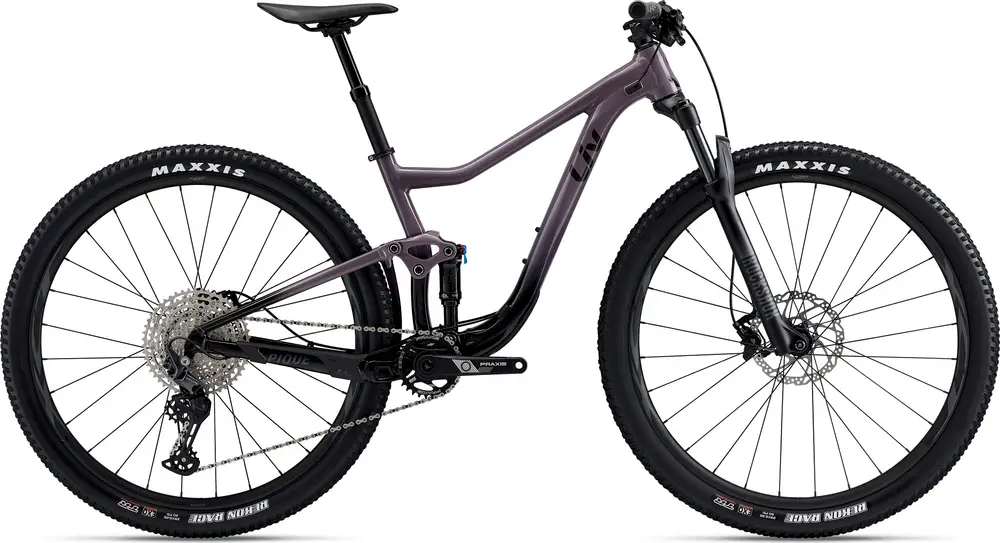 It must be said that Liv never fails to impress in terms of design. I love its geometric shape, and the 29-inch wheels make it easy to tackle small obstacles. The 100mm Maestro suspension, tuned specifically for women, helps absorb the shocks of rough roads. The stability of the ride is also outstanding, with an integrated dropper seatpost and clearance for tires up to 2.4 inches, allowing you to confidently ride on intermediate technical terrain.
If the Liv Pique 29 is a full-suspension trail bike built for women, then the Kona Hei Hei is a favorite of male riders. No unnecessary frills, everything is there and with 120mm of front travel and 100mm of rear travel you will be sure to end every ride with a smile on your face.
Kona Hei Hei vs 2023 CUBE AMS ONE11 C:68X PRO 29
No route or terrain is too tricky for the CUBE AMS ONE11 C:68X PRO 29. With its lightweight carbon fiber chassis, 110 mm of rear wheel travel and 120 mm of front wheel travel, and components carefully selected for ultimate control, the Sram GX Eagle 1×12 not only offers a wide range of drivetrain, but also shifts smoothly and quickly from one gear to another. And the hydraulic Magura MT Thir0 disc brakes give you safety and security.
If the CUBE AMS ONE11 C:68X PRO 29 is a higher-end choice, then the Kona Hei Hei is tailor-made for riders on a budget. With a more affordable price, the Kona Hei Hei delivers performance that is on par with the CUBE AMS ONE11 C:68X PRO 29. Whether it's on actual off-road riding or descending, it performs exceptionally well.
Learn More: Is CUBE REACTION HYBRID PRO 625 Worth Buying? [2023 CUBE REACTION HYBRID PRO 625 Review]
Summary
Above is our test of the Kona Hei Hei. Overall, for riders who take mountain biking seriously and want top-level performance on the trails, the Kona Hei Hei is an excellent choice. Whether you are an experienced rider seeking new challenges or a beginner looking to take your skills to the next level, the Hei Hei is worth considering.
Finally, if you like our content, feel free to share it with your friends! If our content has been helpful to you, you can click the subscribe button below to receive updates via email. Thank you for your support.