We use affiliate links and may receive a small commission on purchases.
Today, we're showing you our research for the 2023 TOP 10 Best Mountain Bikes Under $1000 report.
At the end of 2021, our research looked at over 100 mountain bikes in the $500-$1,000 range with over 200 hours.
Being strict budget controllers, our Best Mountain Bikes are all no more than $1,000 budget.
So, if you want Best Mountain Bikes Under $1000, you'll love this latest Ultimate Guide to Mountain Bike Selection.
Learn more: Top 10 Best Mountain Bike – Under $500
Let's get started!
Mountain Bike Comparison Table
Specialized Rockhopper Comp 29
Best all-around mountain bikes under $1000
Main features
90 or 100 mm (depending on frame size) fork travel
29 x 2.3 inch tires
microSHIFT 1 x 9 Speed drivetrain
68.5° loose head tube angle
Shimano BR-MT200, 180mm hydraulic disc brake
The Specialized Rockhopper Comp 29 is a very versatile mountain bike from Best Mountain Bikes Under $1000.
For the everyday adventurer who lives in a hilly area or urban neighborhood, the Specialized Rockhopper Comp 29 is a great choice.
It features a premium A1 aluminum frame with comfortable geometry. Clean and tidy internal alignment and an adequate 1X9 drivetrain with wide 29×2.35″ mountain tires allow it to be ridden on forest trails as well as technical singletrack at will.
It has a 90 or 100 mm travel shock fork that allows riders to compete with $2000-ish mountain bikes in there low-tech singletrack.
However, it is limited by its poor performance in medium-tech singletrack. As the first mountain bike in our Best Mountain Bikes Under $1000, it still surprises mountain-loving riders with its unimpressive performance.
Co-op Cycles DRT 1.2
Best potential mountain bike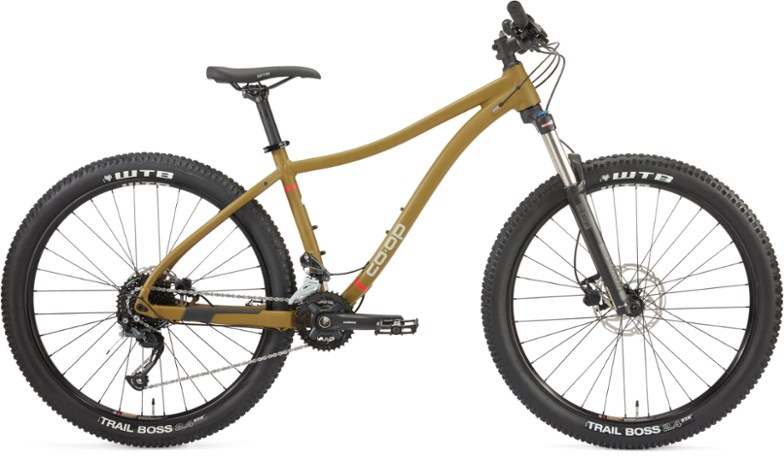 Main Features
2X9 speed
SR Suntour XCR 120mm shock front fork
Tektro hydraulic Disc Brake
27.5 x 2.4″ or 29 x 2.4″ wide size tires
Look no further than the Co-op Cycles DRT 1.2, a mountain bike that unleashes your maximum potential.
This is perfect for riding in forested singletrack or rugged sandy mountain terrain. Whether you're new to mountain riding or an experienced intermediate rider, the Co-op Cycles DRT 1.2 lets you experience the fun of mountain riding with its powerful component package.
With its 120mm shock front fork, it has a strong ability to absorb the impact from the ground. Although its 2X9 drivetrain is slightly outdated and the design adds weight to the body. But it is very friendly for first time mountain bike riders.
The 2.4-inch wide tires keep you from fearing slippery slopes. Even on commuter roads and flat trails, the Co-op Cycles DRT 1.2 comes with a hydraulic locking fork that gives you a ride that's as responsive as a rigid fork.
That said, despite its rave reviews, the Co-op Cycles DRT 1.2 is on the heavy side. Then there's the 2X9 drivetrain, which doesn't use the latest 1X's drivetrain.
If you want your riding skills to grow faster, the Co-op Cycles DRT 1.2 is well worth a try.
Giant Talon 1
Best light cross-country mountain bike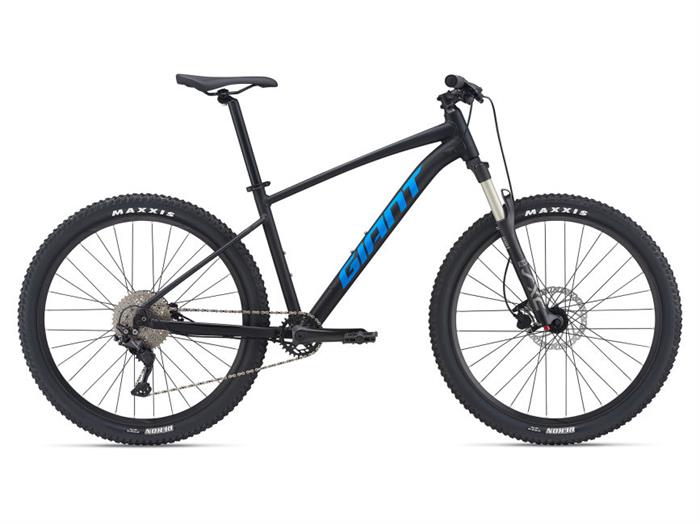 Key Features
Shimano Deore 1X10 speed
80- 100 mm travel front fork
Tektro TKD143, hydraulic (F:180mm, R:160mm) disc brakes
Maxxis Rekon 27.5 x 2.4″ or 29 x 2.4″ tires
Giant Talon 1 is a well-equipped mountain bike.
If we were to focus only on the gorgeous looks, we would be missing out on the Giant Talon 1, which has all the right components.
First, we have to mention its drivetrain. The Talon 1 is powered by a Shimano Deore 1 x 10 drivetrain, a quality component that is hard to find at this price point.
Up next is its Tektro's 80- 100 mm travel fork (27.5 XS and S size 80 mm only), just enough to get by, but it tops the list in terms of performance.
Hi-performance Maxxis Rekon tires, 2.4 inches wide, are great for XC or light trail terrain.
It's already one of the more perfect models in the Best Mountain Bikes Under $1000.
For the rider who cares more about an upgraded drivetrain, the Giant Talon 1 is a very attractive mountain bike.
Rocky Mountain Fusion 10
Best reliable mountain bike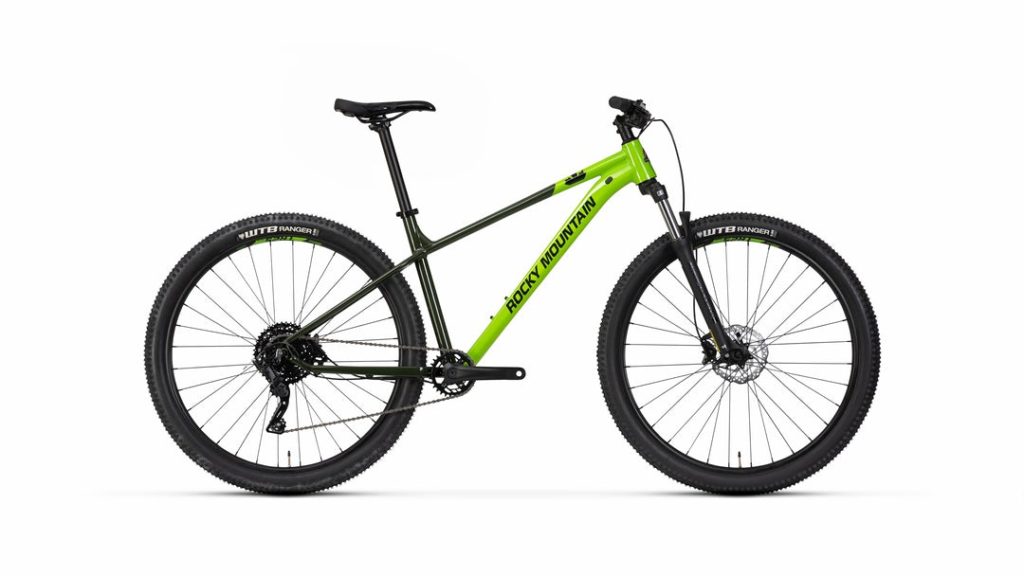 Key Features
1X9 speed
100mm shock front fork
Clarks M2 2 Piston hydraulic disc brakes
29×2.25″ tires
For the Rocky Mountain Fusion 10 is the perfect combination of efficiency, capability, and reliability in a mountain bike. The bike is largely equipped to meet our reasonable expectations in this price point.
Once again, the Fusion 10's modern geometry is optimized for comfort and a loose geometry for steep climbs up steep uphill climbs.
From its 100 mm travel fork and fast-rolling 29×2.25″ mountain tires, it will help you mix up your ride from trails, trails, and singletrack.
The WTB Ranger Comp's vacuum tires keep the front wheel from being heavy, and with hydraulic disc brakes that provide reliable braking power, you'll be able to ride more efficiently.
With the 1X9 drivetrain, it doesn't exceed our expectations, but it won't leave you feeling like you don't have enough gear range to use on XC trails or rugged trail species.
If a lighter trail mountain bike is more preferred, then the Rocky Mountain Fusion 10 would be a good choice.
Diamondback Line
Best Off-Road Mountain Bikes Under $1000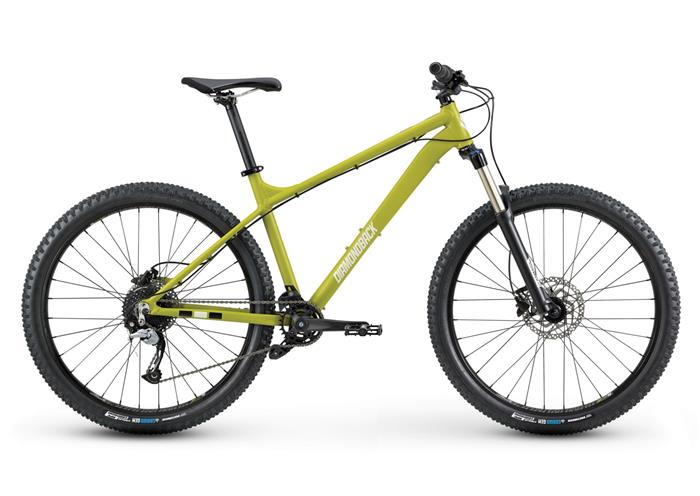 Main Features
6061-T6 Butted Alloy frame
1X9 speed
120mm shock fork, hydraulically locked
Internal cable routing
Tektro M275 hydraulic disc brakes
The Diamondback Line 27.5 is a high specification, lightweight "wild" mountain bike. If you're a rider on a budget who wants to focus on mountain biking, the Diamondback Line's component specs are a real eye-opener.
First, its 6061-T6 butt-alloy aluminum frame is stronger than the regular 6061 aluminum frame and less likely to break during rough mountain riding. Combined with a more aggressive head tube angle, you'll be able to skim over gravel and root-filled slopes with more confidence.
Other than that is the 120mm Suntour fork, the minimum standard for woodland trails, and Shimano hydraulic brakes that provide strong braking in rough terrain. Another thing is that it comes with chain rails, saving you from the embarrassment of worrying about the chain slipping off during aggressive hill riding.
Last but not least is the tires, which are 27.5″ in full size, meaning you have more maneuverability in technical intermediate terrain, but with Vee rubber it's not as soft and tough as the WTB tires we have in front of it. 1X9 drivetrain, which hasn't been upgraded much in its previous versions.
All in all, the Diamondback Line is the strongest on the list for tough mountain performance as an all-around trail mountain bike.
TREK MARLIN 6
Best Women's Mountain Bikes Under $1000
Main Features
Alpha Silver Aluminium Frame
1X10 speed
80-100mm shock fork, hydraulically locked
Internal cable routing
Tektro HD-M275 hydraulic disc
The TREK MARLIN 6 is a versatile mountain bike. Perfect for the adventurous daily commuter rider. With features such as a gorgeous paint color, and clean internal alignment and a slightly dropped top tube height. All designed for the female rider who loves the Stru-Over frame.
Similarly excellent in terms of power, it features the latest Shimano Deore 1X10, which ditches the front derailleur and adds a wide range of gears for the rear derailleur. This adds to a comfortable riding experience and reduces overall body weight.
Furthermore is its SR Suntour shock fork with 100mm of travel (XS frame 80mm). Although it's a basic shock fork, it comes with a hydraulic locking feature that allows you to smoothly transition from steep hills to flat and hilly terrain without stopping.
Still holds its own in a daily commuter bike as well, with a rear rack and fender mounts. It gives you a comfortable riding experience whether you are commuting or riding through rugged trails.
Since the TREK MARLIN 6 main component specifications are basically the new configuration of the 2022 model, this reasonably priced, and both mountain and cross-country high performance mountain bike is a great choice for the casual rider.
Giant Talon 29 2
Best single track mountain bike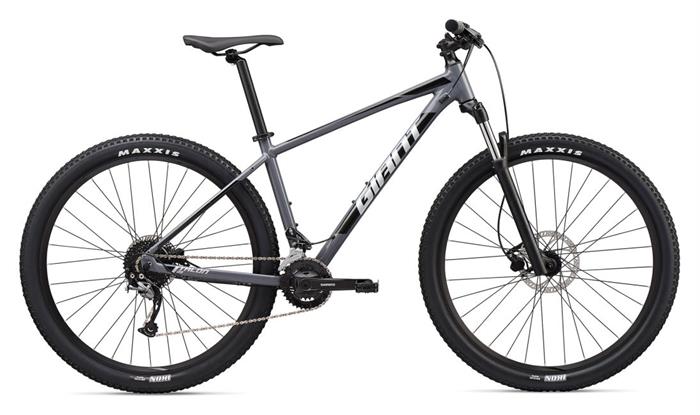 Key Features
1X9 drivetrain
RockShox XC 30 100mm shock fork, hydraulically locked
Tektro M275 hydraulic disc brakes
Maxxis Ikon 29×2.2 Tires
The Giant Talon 29 2 is a mountain bike built for aspiring singletrack riders.
In spite of the fact that it is a bike released in 2020. But the Giant Talon 29 2 is no less spec'd than the newer mountain bikes.
Monorail riders prefer a mountain bike that is light and strong. So the Giant Talon 29 2 features a lightweight ALUXX aluminum frame with trail-ready geometry that allows it to cover all XC terrain.
100mm travel RockShox XC 30 shock fork for added XC control.
Finally there is the high performance Shimano 1X9 drivetrain that means you are on the trails on the trails flawlessly. Shifts perfectly, handles everything you throw at it, and rides smoothly.
Or, if you're into light off-roading, the Giant Talon 29 is just as capable of doing so, with a slightly moody and nasty head tube angle that makes it very easy on long woodland hills.
All together, this is a mountain bike that is reasonably priced and will allow you to improve your off-road skills.
Marin Bobcat Trail 3
Best value for money cross-country mountain bike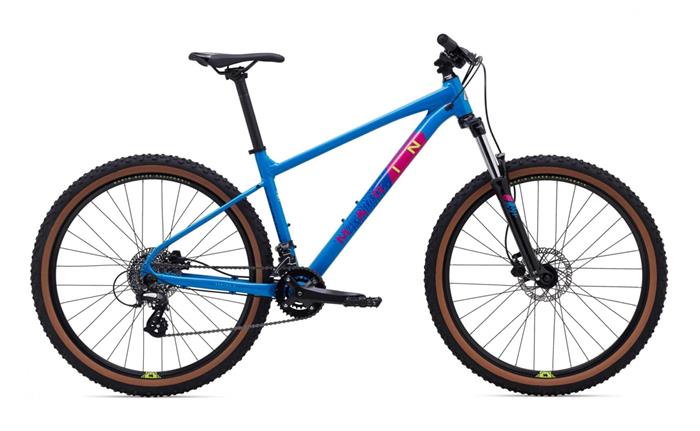 Key Features
SR Suntour XCM 120mm shock fork with hydraulic locking
Shimano Altus 2X8 drivetrain
Internal cable routing
Tektro M275 hydraulic disc brakes
The Bobcat Trail 3 is a powerful mountain bike for exploring single-track trails, as well as medium-tech XC terrain.
Due to its top-notch aluminum frame and tough 120mm hydraulic locking shock fork.
For those who prefer casual trail riding, the Marin Bobcat Trail 3 can impress you.
Its moderately wide 2.25″ tires can roll fast on steep trails. There's also a shock fork with plenty of travel that won't leave riders feeling unsure of their ride.
If your priority is its drivetrain, the Marin Bobcat Trail 3 does have a weaker 2X8 drivetrain.
Generally speaking we prefer the 1X drivetrain. But it sacrifices some of the drivetrain's performance to move it toward the comfort riding end of the spectrum.
In conclusion, the Marin Bobcat Trail 3 is inadequate for those seeking a higher performance mountain trail bike, but if you are a beginner just getting into mountain trail riding, it is ideal for a price-oriented trail rider.
Mongoose Argus Trail 26
Best wide tire mountain bike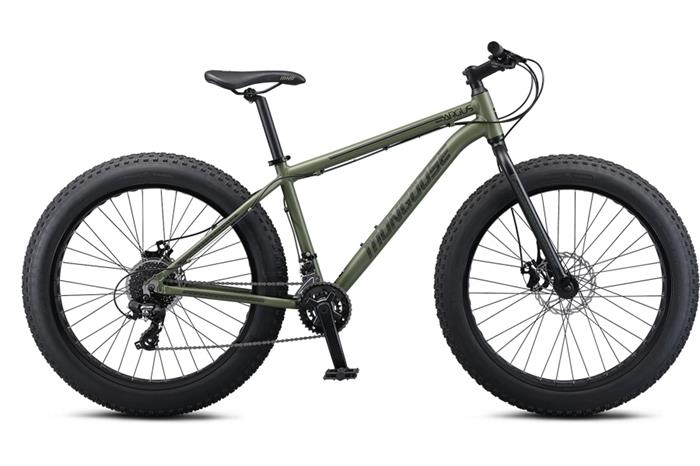 26 x 4.8 inch tires
1 x 10 Speed drivetrain
Internal cable routing
Hydraulic disc brakes
Mongoose has a notable track record in fat tire bikes. Although fat tire bikes have the stereotypical influence of being bulky and having less gear range.
But the Mongoose Argus Trail 26 is set to shatter that impression.
Affordable fat-tire bikes are usually built with a steel frame considering the greater weight limit. The Mongoose Argus Trail 26, however, has an aluminum frame that boasts extremely higher strength and lighter weight.
Obviously, its super wide tires, although only 26 inches in height, if you compare the overall height of the tires, it is no less than the height of the average 29-inch mountain tire.
To combine the 4.8-inch mountain tires with the 1X10 drivetrain, there is no limitation of the shock-absorbing fork, allowing it to have extremely strong traction in mud, sand, and even snow.
As a result, the Mongoose Argus is the perfect choice for harsh mountain riding.
Giant ATX 2022
Best affordable mountain bike
Key Features
Affordable price
75 mm fork travel
26×2.2 or 27.5×2.2 inch tires
3 x 7 Shimano drivetrain
68° loose head tube angle
The Giant ATX 2022 is the best affordable mountain bike. Perfect for beginners and casual mountain riders.
It is very friendly to short riders.
The Giant ATX 2022 comes with an aluminum frame and small size tires of 26″ or 27.5″. Meaning you have a very good riding experience in commuting roads.
With a very loose 68° head tube angle, it allows you to ride comfortably on mountain trails or gravel roads.
Because of the $525 price point, we don't expect very top-notch gear, but the Giant ATX 2021 is a good balance of price and quality.
It also has a relatively weak setup considering it's very affordable, with slightly weaker braking power V-brakes and an old 3X7 drivetrain. Making it not really suitable for intense riding.
If you're just a beginner or a newbie looking to get into mountain sports, the Giant ATX 2022, which is affordable and can be ridden on easy mountain terrain, is the best relief for a dried-up wallet.
Here's a part of our selection of mountain bikes under 1000. Naturally, there are numerous other mountain bikes of exceptional quality. If you're interested in exploring more, don't hesitate to send us an email. We'll be consistently updating on this particular series. Thank you for your support!