We use affiliate links and may receive a small commission on purchases.
Ragley Big AL 1.0
Price: £1,439.99
Suspension: 140mm (front)
Tires: 29×2.5"(Front)29×2.4"(Rear)
Gears: 1 x 12
What we like: A fun hardtail mountain bike with fast and nimble off-road abilities
What we don't: I don't like the cable arrangement
Rating: (4.6/5)
If you like mountain biking, then hardtail mountain bikes are definitely an option you can't get around.
A relatively affordable, beginner-friendly hardtail mountain bike has many advantages.
So today we'll be giving a full review of Ragley Big AL 1.0 2021.
Mentioning this mountain bike has to say its brother Ragley Mmmbop. The Ragley Big AL 1.0 uses the same frame geometry, but the tire size is changed to 29 inches.
If you ride the Ragley Big AL, you'll love this agile, simple, and durable hardtail mountain bike.
Below I will review the Ragley Big AL 1.0 2021 in detail for descending and climbing performance, key features, components, and specs, as well as a comparison with its similar mountain bikes. If you're looking to learn more, we've also put together the best mountain bikes under $2,000 for you to check out.
Descending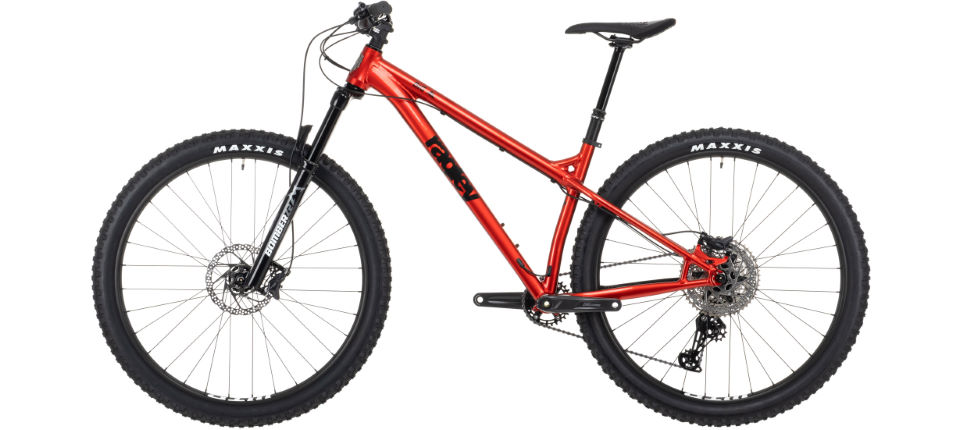 For serious mountain riders, they tend to prefer aggressive downhill trails, and the adrenaline rush in the process keeps the rider from succumbing to easy and flat roads.
So, our tester, Leo, looked for steep downhill terrain, did over 30 tests, and was very happy with the Ragley Big AL 1.0.
That's also thanks to the Ragley Big AL's slack head tube angle (65.5°), 140mm of suspension travel, and 2.5-inch front tires.
Relatively traditional thru-axle bicycles have always been considered too traditional by some bicycles, but riders who really love this sport also have different views on such a design.
On fast descents, gravel and tangled roots can be found everywhere, adding to the rider's need for agile handling on a mountain bike. Of course, the Ragley Big AL 1.0 did not disappoint Leo on steep downhill roads. The 140mm suspension continued to absorb the bumps on the road.
When it comes to rough and small slopes, it also needs flexible steering, soft tread, and lower tire pressure, so that the rider can always grasp the direction of progress.
Aside from that, we've got a Brand-X dropper post that we've had, and its 150mm-plus formation didn't make the Leo feel bumpy on fast descents, which isn't very high-end, but it's very useful.
If you're more into moderately technical descents, skidding over the edges of flagstones, and bouncing long downhill rides, then the Ragley Big AL 1.0 is sure to impress you.
The Big AL 1.0 is a decent descender that rivals mountain bikes over $500 more expensive and rivals competition mountain bikes on most terrain.
Climbing
Have to admire the design of modern mountain bikes and consider more riding scenarios.
The Ragley Big AL 1.0 is my favorite mountain bike with different front and rear tire widths. If it is comfortable enough, I am willing to give him a higher rating.
The undulating short climbs are the terrain it is best at. It has 2.5-inch front tires, so you don't need to worry about lack of grip when climbing, while the rear tires are 2.4-inches wide for faster traversing uphill terrain.
In addition, vacuum Maxxis MINION tires, soft enough, low-pressure vacuum tires, are also light enough. It's not just its geometric frame that's surprising, but its nimble handling.
The Big AL 1.0 seems to be more suitable for hard terrain than for soft terrain. While we've tested it on leaf-filled uphill terrain, it's less effective than a bike with wider tires over 2.5 inches, but that's where its brother, the Ragley Mmmbop, is better.
Of course, some people will question whether the 11-speed drivetrain is not enough, but as a strict mountain rider, you will think that it has some shortcomings, but you will not feel that way if you are only an intermediate rider.
Its looser head tube angle also provides a little resistance to climbing, but this does not prevent its other components from being supplemented. It is not a mediocre climber, but our evaluation of its climbing performance is only higher than this.
The rough climbing ground is not a hindrance to the Big AL 1.0, although it is a little tough, but good downhills always have the result of hard climbing.
General terrain
Smooth singletrack, or rough flat terrain, is the terrain that mountain bikes over $1,500 are best at, and I don't need to say much about it here.
But what impressed us about the Ragley Big AL 1.0 was its speed and flexibility.
As we evaluated at the beginning, the different widths of the front and rear tires are more than enough in such terrain.
It can also make you laugh happily. Broken stones, stone steps less than 20 inches are not an obstacle to it.
It also has 2 water bottle holders and big 29-inch tires to get you going fast.
The Brand-X dropper, also doesn't have much stickiness, and is more comparable to a full-suspension mountain bike on such rough trails.
Winding trails, or fallen leaves full of branches, can make the Ragley Big AL 1.0 the protagonist of such terrain.
But the Ragley Big AL 1.0 isn't particularly good as a commuter bike, it doesn't have a rear bracket mount, and it's all about making a mountain bike for the best price possible.
We didn't find the Ragley Big AL to complain about this terrain either.
Main features
Frame
The frame design with wild sports is also an important reason why many mountain riders like it.
Of course, I also really like the candy red paint, which is undoubtedly a rarely seen paint color, very recognizable, and you will rarely see Ragley mountain bikes on the road. So you don't have to worry about an identical bike coming towards you on the road.
There are two water bottle holders, so you don't have to worry about not having enough water for longer trips.
The top bar and the rear bracket are in a straight line, which increases the stability of the frame. The aluminum alloy material is not easy to damage and is strong. In addition, its welding point is relatively smooth, which is all the performance of a delicate mountain bike.
Since its internal wiring doesn't look very pleasant, half of the cables are exposed, but this problem doesn't particularly affect the ride.
The chainstays have a shorter length, which is one of the secrets to making climbing easier. We also saw that the chainstays have a protector that prevents sand or the chain from hitting the frame when shifting, making it quieter to enjoy fast off-road riding.
Geometry
The geometry of the Ragley Big AL 1.0 is very modern, and of course it's the same geometry that we've seen on a lot of mountain bikes in the same price range.
The 65.5-degree head angle is pretty slack, and I think it's a pretty reasonable head angle considering it's good for gravel or rough trail riding, as well as steeper slopes.
The 74-degree seat tube angle allows riders to quickly adapt to such a mountain bike. There will also be more confidence when descending.
A full-size 435mm chainstay and 622mm top tube length also allow for a better fit for riders with longer legs.
Components and Specifications
Shimano Deore 11-speed (4.5/5)
This is a decent transmission assembly.
I think hardtail mountain bikes for around $1700 use this drivetrain quite a lot, but it has the advantage of being easier to tune, and even a more remote urban mechanic would be comfortable with Shimano components.
The 30t crankset is also a universal crankset assembly. If you need to upgrade, you don't need to consider the matching of the crankset.
The 11-speed drivetrain is a little underwhelming, but upgrading it to a 12-speed version can also cost less if you think it's underwhelming.
Fast transmission efficiency and a smooth ride feel are the most appropriate evaluations of this component.
Shimano Deore M6100 Brakes (4.6/5)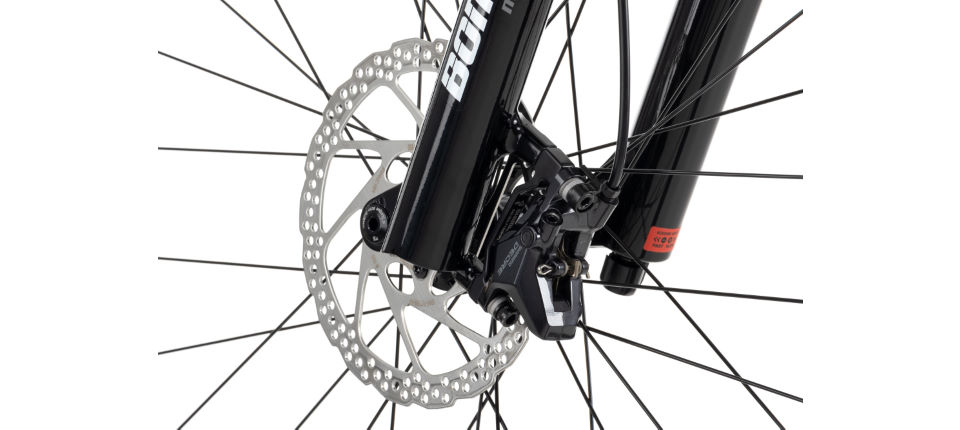 It is very easy to see this component in some well-known brands of mountain bikes, but it has to be said that Shimano Deore's M6100 hydraulic brakes are not low-end products.
On the contrary, we believe that its braking efficiency is relatively high and can provide strong clamping force. Modulation is also very simple.
The lever action feels crisp and requires less force to stop you in fast-riding downhills.
Long downhill roads aren't a hindrance either. Equipped with 180mm Rotor front and rear, this is more safe and efficient than its 160mm Rotor sibling.
Marzocchi Bomber Z2 Fork (4.7/5)
At first, I had a heavy heart for the lesser-known Marzocchi fork, but when you actually ride it, you'll be amazed at the softness of its small suspension.
Usually, when the rider is heavier or needs to challenge difficult downhill, the fork needs a lot of travel to ensure better suspension effect, but the Marzocchi Bomber Z2 fork has 140mm of travel.
Enough to challenge 40-inch jumps, and the soft tires allow you to ride rough terrain without any worries.
Although I would prefer it to have the same 150mm of travel as its Ragley Mmmbop, the 10mm compromise is acceptable in my opinion.
The 140mm of travel on flatter roads is also quite extravagant, and we have no complaints about the fork's damping, which is very difficult to bottom out even on steep descents.
Overall, the Marzocchi Bomber Z2 fork is a very cost-effective component that meets our expectations for its testing terrain.
Maxxis MINION tires (4.8/5)
We also mentioned the superior performance of Maxxis MINION many times in the whole test.
I still express my love for the different width tires in the front and rear.
Of course, there will be riders who object to such a design. As a frequent rider, they will have unique requirements for flexibility and climbing or descending performance.
This also had to let the designers take this into account, so as to extend the front and rear tires of different widths.
The front tires of the Ragley Big AL 1.0 use Maxxis MINION DHF 29×2.5″ tires, which increase the puncture resistance, which is also the front tires when riding, with a relatively quick contact with the edge of the gravel.
In addition, the width is 2.5 inches, which can ensure the passability of the bicycle and reduce the speed of riding when crossing loose leaves or mud.
The rear wheel is Maxxis MINION DHR II 29X2.40", which adds extra wear resistance. The rear tire needs to provide more friction so that the bike can ride fast, so more wear resistance will also make it less durable. easily damaged.
The characteristics mentioned above are relative and can only be said to be able to ride longer miles.
Brand-X Dropper (4.7/5)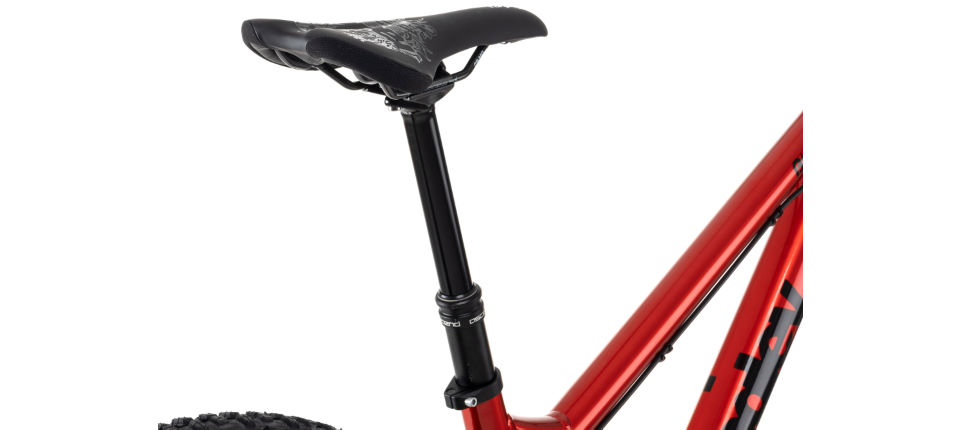 For most hardtail mountain bikes, especially sub-$1500 mountain bikes, it's rare to see such a component, and it's a component that some manufacturers often compromise on.
Brand-X dropper on Ragley Big AL 1.0, MD – 150mm drop; LG, XL – 170mm. This is also a very good improvement, and we did not feel any discomfort during the entire testing process.
The more perfect dropper travel allows the rider to sit on the saddle with peace of mind when descending quickly.
At the same time, we also think that the Ragley Big AL uses more than 150mm of travel on the dropper post, which can provide better riding comfort without having to do more upgrades on the dropper post.
Ragley Big AL 1.0 Specs
Frame
Ragley Big Al – Alloy Boost 29″
Fork
Marzocchi Bomber Z2, 140mm Travel, RAIL, Gloss Black, Kabolt:15×110, 1.5 Tapered steerers, 51mm offset
Headset
Nukeproof Neutron ZS44/28.6
ZS56/40 Headset with Ragley Top Cap
Handlebar
Ragley Alloy Handlebar, Black, 25mm Rise, 31.8mm Clamp (Width – S780mm, M780mm, L800mm, XL800mm)
Stem
Ragley 31.8mm clamp, 50mm length, +3° rise
Grips
Ragley A20 Compound
Front Wheel
Nukeproof Neutron 15mm Boost Front Hub, WTB ST i30 TCS 2.0 29″ 32h rim
Rear Wheel
Nukeproof Neutron 148mm x 12mm Rear Hub, 36 points of engagement, HG Freehub, Sealed bearings, WTB ST i30 TCS 2.0 29″ 32h rim
Thru Axle
Length: 175mm, Pitch: M12*1.5, Thread length: 18mm
Front Tyre
Maxxis MINION DHF 29×2.5 WT 3C MaxxTerra/EXO+/TR 120TPI
Rear Tyre
Maxxis MINION DHR II 29X2.40 WT 3C MaxxTerra/EXO/TR 60TPI
Rim Tape & Valves
32mm Tubeless Tape & Tubeless tape supplied
Chain
11SPEED. W/QL, 118L
Crankset
Shimano Deore FC-M5100-1, 170MM, 30T
Bottom Bracket
Shimano Deore Hollowtech II 73mm BSA
Front Brake
Shimano Deore M6100, 180mm Rotor, Resin Pads
Rear Brake
Shimano Deore M6100, 180mm Rotor, Resin Pads
Rear Derailleur
Shimano Deore RD-M5100 SGS 11-SPEED, SHADOW PLUS DESIGN
Rear Shifter
Shimano Deore SL-M5100, 11-SPEED RAPIDFIRE, Direct attach to brake using iSpec EV
Drivetrain Cables
Shimano
Cassette
11 speed – 11-51t or 11-46t
Saddle
Ragley Tracker Saddle
Seat post
Brand-X Ascend Internal Routed 31.6mm; MD – 150mm Drop; LG, XL – 170mm Drop
Seat Clamp
34.9mm Alloy
Also included
Ragley Chainstay protector, 5 Year Warranty and lifetime crash replacement, ISO 4210 Certified
FAQ
What is the color of the Ragley Big AL 1.0 paint?
Candy Red / Black
What frame sizes does the Ragley Big AL 1.0 fit?
| | | | |
| --- | --- | --- | --- |
| | Medium | Large | Extra Large |
| Height(cm) | 170 – 180cm | 180 – 190cm | 190 – 200cm |
| Height(inch) | 5′ 7″ – 5′ 11″ | 5′ 11″ – 6′ 3″ | 6′ 3″ – 6′ 7″ |
What is the actual weight of this bike? (e.g medium)
This bike is approx 14kg.
Comparison Table
Competition
GIANT FATHOM 1 vs Ragley Big AL 1.0
First of all, I have to affirm that these two mountain bikes are very cost-effective mountain bikes. Their price difference is $150, but the overall accessories combination has their own compromises.
The first GIANT FATHOM 1 we saw uses the Giant Crest 34 SL RCL fork with 130mm of travel, which is 10mm less than the Ragley Big AL 1.0.
Then there are the tires. The Maxxis tires of the same brand are used, but the Maxxis Ardent tires of the GIANT FATHOM 1 are more expensive and have a softer ride.
If there is a reason why the GIANT FATHOM 1 is more expensive, then its drivetrain is a relatively high-end SRAM SX 12 speed, and the rear derailleur is a more expensive SRAM NX Eagle. It's about 1 pound lighter and more sturdy. Therefore, we think that these two models are almost the same in terms of price/performance ratio.
In the end, we also found that their geometric angles are not much different.
The GIANT FATHOM 1 has a head tube angle of 66° and a seat tube angle of 75 degrees, which is 0.5° and 1° more than the Ragley Big AL 1.0, respectively. This difference is very small, but it is more conducive to climbing.
If you prefer steep climbs or soft terrain, the GIANT FATHOM 1 will be more suitable.
Of course, the Ragley Big AL 1.0 is more on the fast-climbing end.
Trek Roscoe 7 vs Ragley Big AL 1.0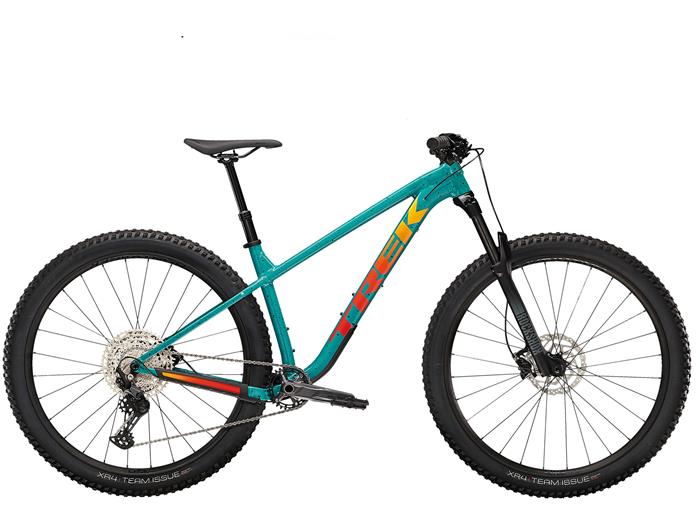 The Trek Roscoe 7 is a very strong competitor to the Ragley Big AL 1.0.
The Trek Roscoe 7 also has a 140mm suspension fork, along with its Shimano Deore 12-speed drivetrain.
But we found the Trek Roscoe 7 on the more comfortable end of the ride when we rode, which was a bit off on moderately technical terrain compared to the more aggressive Ragley Big AL 1.0.
Other than that is a comparison of their dropper posts, the Ragley Big AL 1.0 is equipped with up to 170mm of travel, while the Trek Roscoe 7 is 150mm.
Of course, the compromise of the Trek Roscoe 7 is not good. It is the brake system. It uses a Shimano MT200 hydraulic disc and does not have the clamping force of the Ragley Big AL.
So on the whole, the Trek Roscoe 7 is a bigger brand, and the riding feeling is more comfortable. And the Ragley Big AL 1.0 has more advantages in aggressive terrain.
If you are a newbie, I would recommend the Trek Roscoe 7.
Learn more: Is Trek Roscoe 7 Worth Buying? [Trek Roscoe 7 Review]
Ragley Mmmbop vs Ragley Big AL 1.0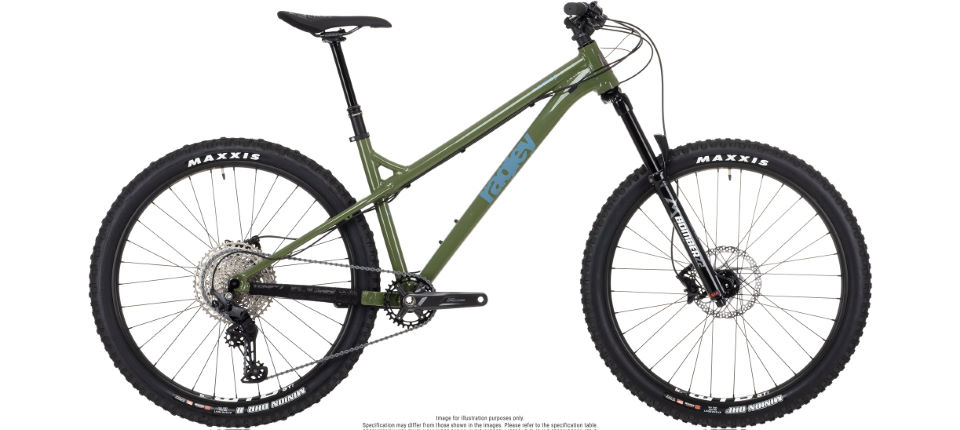 These two mountain bikes are sibling versions, so the components are very similar.
But the Ragley Mmmbop has a 150mm Travel Marzocchi Z2 Rail Suspension Fork, so the damping effect on descents is better than the Ragley Big AL 1.0.
But the Ragley Mmmbop is a 27.5-inch tire, and fast off-road performance can't compare to the Ragley Big AL 1.0.
Other than that is their geometry, the Ragley Mmmbop has a more relaxed head angle. So the climbing performance will be weaker than the Ragley Big AL, but the descending performance is enhanced.
The two mountain bikes are not very different in performance, and the price is the same.
If you are taller and go for the Ragley Big AL 1.0, it will fit better.
Learn more: Is Ragley Mmmbop Worth Buying? [Ragley Mmmbop Review]
DIAMONDBACK Sync'R 29 vs Ragley Big AL 1.0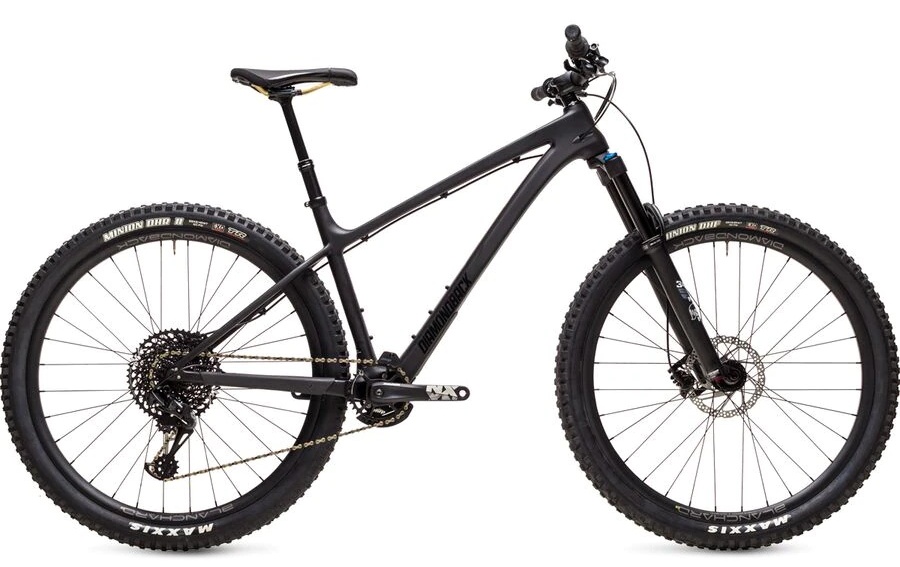 The DIAMONDBACK Sync'R 29, which is nearly twice as expensive, uses higher-end accessories.
For example, its frame material is carbon fiber, and it has a SRAM GX Eagle, 12-speed drivetrain, and the fork travel of both mountain bikes is 140mm, but the ride feels like a Fox 34 Performance Float equipped with a DIAMONDBACK Sync'R 29. It will be softer, you can feel small vibrations, and fully absorb the impact of the ground.
It can make you more enjoy the fun brought by mountain biking.
In addition, DIAMONDBACK Sync'R 29 also adopts Shimano MT501hydraulic disc, with a 180mm Rotor in the front and a 160mm Rotor in the rear, which effectively reduces the weight and ensures braking efficiency.
The size of the front and rear tires is the same between these two, so it can be roughly considered that the Ragley Big AL 1.0 is a more cost-effective version of the DIAMONDBACK Sync'R 29.
If you need more upgraded accessories, consider the DIAMONDBACK Sync'R 29.
Comprehensive Evaluation (4.7/5)
The Ragley Big AL 1.0 is a cost-effective hardtail mountain bike.
Perfect for aggressive trail and mountain riders on a budget.
And as a well-made bike, it's sure to impress the regular mountain biker with its flexibility and adaptability to terrain.
So our overall rating for it is 4.7, making it a very worthwhile hardtail mountain bike to buy.
Of course in addition to Ragley Marley 1.0, if you still want to see Ragley Marley 2.0, you can send us an email and we will bring more content.
Video