We use affiliate links and may receive a small commission on purchases.
Welcome to the Best Bike Select blog, this is about the Trek 4500, what its features are, what the Trek 4500's pros and cons are, and what alternatives to the Trek 4500 are. What models can take their place?
You need more than just skills to become an intermediate mountain biker; you also need a proper mountain bike.
The Trek 4500 mountain bike that we are discussing today is not for sale on the company's official website. It is an out-of-production mountain bike.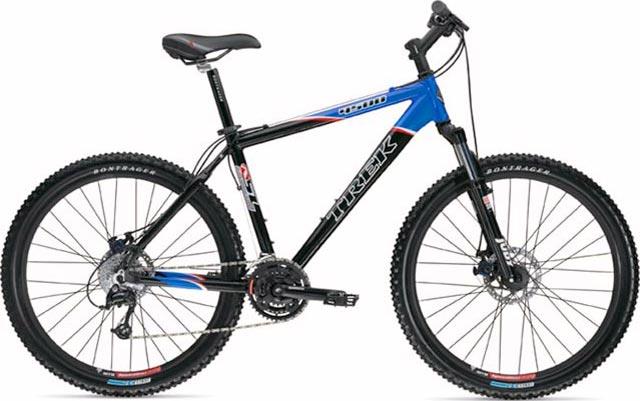 Frame: Aluminum alloy
Wheels: 26″
Gears: 3×9
What we liked about it: The 26″ size and the sturdy, stable frame for newbies.
What we don't like about it: Probably doesn't ride very fast.
Climbing Experience
Trek has a knack for producing bikes that newbies will love, which proves why your first bike always comes from Trek. This mid-range bike is designed to please most riders most of the time, and you can have more fun for less cash.
I happened to borrow this bike from an old friend close to me, and after a long ride it still performs great. As soon as I got on it I could feel the uniqueness, the newbie friendliness and the amazingly efficient ride position. I set up this test in a suburban park on a greenway. There were some very steep uphills and fast swooping descents, but none of them were very bumpy, and they were gravelly.
I found it very easy to climb those uphill climbs, probably due to the dense gear ratios and the super small gear ratio of 22:34 minimum. In fact, I didn't need to use the smallest gear ratio to get up there, and it also made me climb faster. The stiff rear end with the flexible fork allowed me to pedal better. In short, there was little to disturb my confident climbing drive.
The tires have very good grip, and I mean in all conditions. This uphill section is almost all dry and dusty, which is a nightmare for road bikes. In this case, the slick outer tires made them just skid in place. And the Trek 4500 tires' powerful grip allowed it to effortlessly convert my entire effort into forward momentum.
Descending experience
The descent is also incredible. As long as you don't race it against the real "speed stars".
The RockShox Dart 2 may seem dated today, but in my experience I have to say, "This is really a great piece of work from a famous brand". Even through the years, it doesn't lose much of its performance and even surpasses the latest offerings from some cheaper brands.
After going over the top of the park's greenway, I was faced with a winding downhill slope. The bumpy gravel road wasn't as challenging as those rock gardens in the mountains that I'd otherwise have to mitigate by installing a pair of springs in my bike seat. Still, it wasn't exactly flat. Fortunately, the fork has 100mm of cushioned travel, which allows me to handle the bumpy sections with ease.
I don't think anyone would put their butt in the saddle while going down a hill fast, right? I often lift my butt up and put all my weight on my pedals. Because that keeps the overall center of gravity lower and also makes the body more stable during the descent. So I think a hardtail bike is perfectly capable on these mildly bumpy sections and doesn't need a full suspension bike to engage. Full suspension bikes don't handle flat rides and uphill sections very well, they are "crazy" for charging down hills.
Trek 4500 Mountain Bike Specs
Frameset
| | |
| --- | --- |
| Sizes | 13", 16", 18", 19.5", 21",22.5",24" |
| Frame | Alpha Black Aluminum w/externally relieved headtube, hydroformed bi-axial down tube, monostay seat stays, forged disc ready dropouts |
| Front Suspension | RockShox Dart 2 w/preload, lockout, 100mm |
Wheels
| | |
| --- | --- |
| Wheels | Shimano M475 disc hubs; Bontrager Camino rims |
| Tyres | Bontrager Jones ACX, 26×2.1″; 27 tpi |
Drivetrain
| | |
| --- | --- |
| Shifters | Shimano Deore, 9 speed |
| Front Derailleur | Shimano Deore |
| Rear Derailleur | Shimano Deore |
| Crank | Shimano M442 Octalink 44/32/22 |
| Cassette | SRAM PG950 11-34, 9 speed |
| Pedals | Alloy platform |
Components
| | |
| --- | --- |
| Saddle | Bontrager Race Basic Lux |
| Seat Post | Bontrager Sport |
| Handlebars | Bontrager Crowbar Sport, 25mm rise |
| Stem | Bontrager Sport, 10 degree |
| Headset | Aheadset Slimstak w/semi-cartridge bearings, sealed |
| Brakeset | Avid SD-3 w/alloy levers |
Features
Alpha Aluminum Frame (5/5)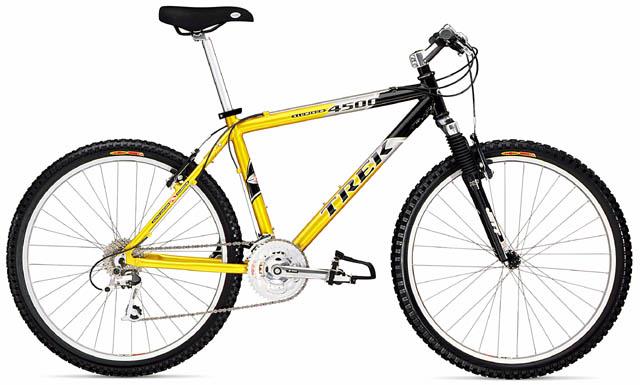 Today, this frame is mostly found in Trek's $1000-$2000 mountain bike frames. The aluminum frame of the Trek 4500 is also very user-friendly.
Because of the relatively tight head tube angle, it has some advantages when climbing. The relatively short top tube allows for more flexible handling for easy steering, and subtle offsets in different terrains in the mountains can make a difference in the riding experience.
The rear triangle is also strong enough that bumpy sections have less of an impact on the Trek 4500's frame strength.
A high-quality frame for beginning to intermediate riders.
27-speed Deore gearing (5/5)
Today, it's rare to come across a mountain bike with 27 speeds. Instead, a 1X or 2X flywheel is used to power a 7-10 speed rear gear on the back wheel.
Of course, there are numerous comments about how much easier it is to ride with a 1X drivetrain.
But you can't make such claims until you've experienced 27 speeds. 3X9 configurations are more difficult to adapt to 27 speeds, lengthening the learning curve, but there is still a segment of intermediate riders who prefer mountain bikes with more than 21 speeds.
This bike's versatility stems from more than just its ability to adapt to different terrains.
100mm travel fork (4.5/5)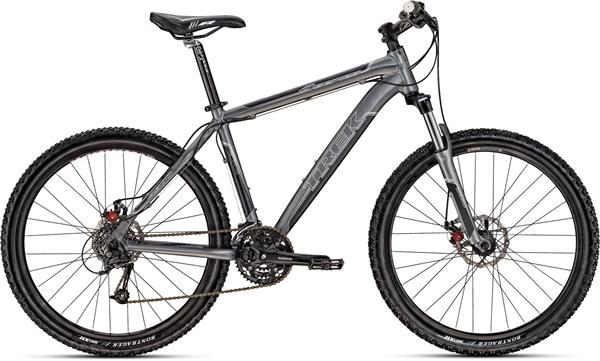 The Trek 820 2022 still has a shock fork with 75mm of travel. The Trek 4500 bicycle, on the other hand, has a RockShox Dart 2, 100mm travel suspension fork.
Of course, the 4500 retains its 80mm travel fork for the 2007 model year. The RockShox Dart 2 shock fork excels on rough trails, and the not-too-soft, not-too-hard spring damping allows for continuous trail acceleration.
Bontrager Kit (4.5/5)
This is a classic Trek mountain bike kit that includes Bontrager handlebars, grips, and a stem. The kit is also durable and ergonomically designed for mountain bikers.
The handlebar is also made of a sturdy inner ring with a soft outer sleeve that wraps around the handlebar.
V-brakes (3.0/5)
Although the front and rear V-brakes are similar to disc brakes in terms of braking accuracy on general roads, they are not suitable for rocky roads when riding in the mountains.
When you have enough money, you can replace them with mechanical disc brakes or hydraulic disc brakes.
26×2.1″ Mountain Tires (3.5/5)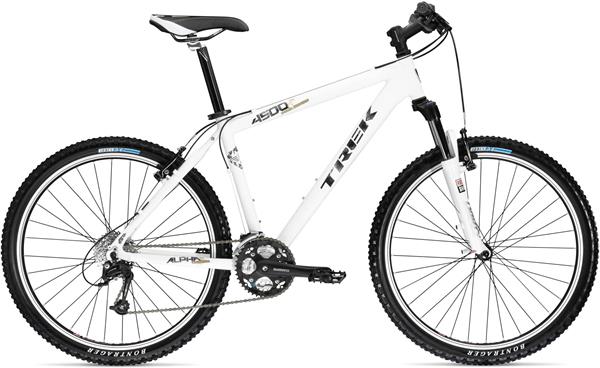 The Trek 4500 is slightly wider than the Trek 3500 or 3700, but less capable in the mountains than the popular 2.2″ or 2.4″d. It is an excellent choice for use in the woods or on trails.
The Trek 4500's flexibility is maintained by the 26*2.1″ tires, but at the expense of some grip.
Other versions of the Trek 4500
We put the Trek 4500 to the test, and it's a bike that can meet your commuting needs while still being well balanced for mountain riding. And, the durable frame is perfect for entry-level players to ride. If that's the kind of bike you need to get a workout in, or to try to get into the mountains, it's perfect for you.
In the meantime, we've found you other versions of this bike, the TREK MULTITRACK 7100. To be honest, they don't share the same niche. However, the 7100 features a very comfortable riding geometry and adjustable angle stems with cruiser-style handlebars, making the whole bike presentable to the public in an extremely comfortable position. Obviously, it is not as suitable for riding in the green forests of the mountains as the Trek 4500. The bike is designed with thinner and smoother outer tires and a wide, comfortable spring-loaded saddle so that you can enjoy every ride for pleasure rather than speed.
Overall, if your quest for a bike is to ride in the city and replace your feet, the TREK MULTITRACK 7100 would be the comfortable choice. But if you have a slight desire to ride in the mountains and want to stay fit by riding on the weekends, we suggest you choose the Trek 4500.
Pros and Cons of Trek 4500 Mountain Bike
Pros
Good maneuverability
Mid to high end Alpha aluminum frame
100mm travel fork for off-road use
Tires with plenty of grip
Cons
Non-disc brakes
Tires are not wide enough
Related Questions
What are the available frame sizes for the Trek 4500 Mountain Bike?
13 Inches 16 Inches 18 Inches 19.5 Inches 21 Inches 22.5Inches 24 Inches.
What is the Trek 4500 mountain bike price?
799 USD, the current used trade-in price is estimated at 140 USD, of course, this is if the bike is in no major damage condition.
What is the Trek alpha 4500 weight limit?
This bike has a maximum total weight limit (combined weight of bicycle, rider, and cargo) of 300 pounds (136 kg).
What is the body weight of the Trek 4500?
The 19.5″ frame of the Trek 4500 weighs around 13.6 KG (30 lbs).
Is the Trek 4500 worth every penny you spend?
It's worthwhile if you enjoy mountain biking. I'll just think about whether it's worth every penny in terms of parts prices, starting with the frame, which is currently Alpha aluminum, and the estimated value of such a frame is $500. (brand new).
What heights does the Trek 4500 fit?
Trek 4500 size guide
| Rider Height (cm) | Rider Height (in) | Frame Size |
| --- | --- | --- |
| 158cm – 168cm | 5'2″ – 5'6″ | S |
| 168cm – 178cm | 5'6″ – 5′ 10″ | M |
| 178cm – 185cm | 5'10" – 6'1″ | L |
| 185cm – 193cm | 6'1″ – 6'4″ | XL |
It is suitable for the youngest youth riders up to 170cm tall riders. However, this bike doesn't seem to fit big height riders very well. (These sizes are just a general guide, the true fit may vary from person to person and the easiest way to find your size is best to go for a test ride.)
Is The Trek 4300 A Good Mountain Bike? [Trek 4300 Review]
Is The Trek 7000 A Good Mountain Bike? [REVIEW] – 2022
Trek 4500 Specs
Comparison
Trek 820 mountain bike VS Trek 4500 mountain bike
The Trek 820 is currently popular, but it is marketed as an entry-level mountain bike. The Trek 820, has also impressed riders interested in mountain biking.
However, there are a few things that aren't particularly satisfying when compared to the Trek 4500's configuration, such as the fact that he's a steel frame rather than the mid- to the high-end Alpha aluminum frame, and that the weight is about 2 pounds heavier, but the body strength is still consistent.
The 27-speed Trek 4500 is significantly more powerful than the 21-speed Trek 820. However, budgetary considerations will help to explain why the Trek 820's configuration is relatively low. If you're new to mountain biking, the Trek 820 is an excellent choice.
Learn more: Is The Trek 820 Mountain Bike Really Suitable For Newbies?
Trek Marlin 5 mountain bike VS Trek 4500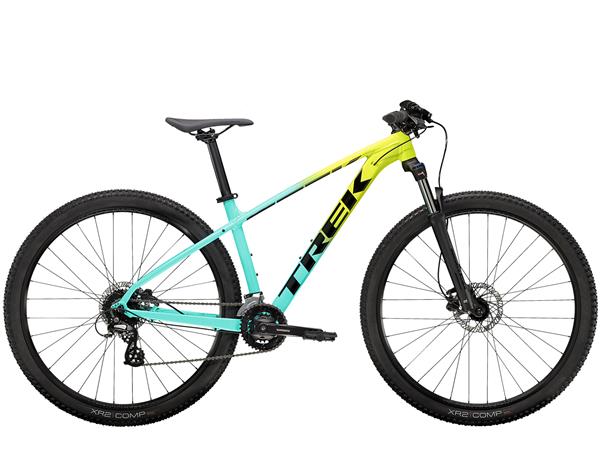 The Trek Marlin 5 mountain bike is a great alternative to the Trek4500. Frames are available in both men's and women's sizes, and the clean internal alignment protects cables while also adding to the bike's stylish appearance.
The XXS-S frame has a few minor changes, such as the top tube tilting down near the seat tube, which is very accommodating to shorter riders and makes it easier for them to ride.
For mountain riding, the 2.2-inch tires outperform the Trek 4500. Although not as versatile as the 27-speed variant, the popular 2X8 drivetrain is easier to learn and gives beginners more confidence when riding in the mountains.
As a result, the Trek Marlin 5 mountain bike is an entry-level mountain bike that is suitable for riders who enjoy mountain riding.
Learn more: Is Trek Marlin 5 Worth Buying? [Trek Marlin 5 Review]-2022
Schwinn High Timber MTB vs Trek 4500 MTB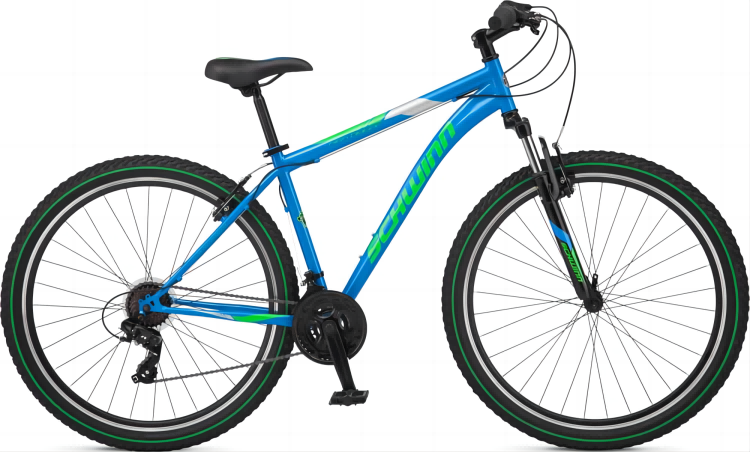 In terms of component configuration, Shimano REVOSHIFT's 21-speed shifting gives the Schwinn High Timber a more dense shifting feel. In contrast, the Trek uses the more advanced Deore components from the same Shimano company. The 27-speed shifting system not only provides a denser shifting experience, but also offers a larger 34T gear to help the rider on climbs.
For the frame, the Schwinn High Timber is made of high carbon steel. This gives the whole bike a very strong rigidity, but this will undoubtedly increase its weight significantly. The Trek 4500 is made of aluminum, which does not reduce the rigidity much, but can greatly reduce the overall weight.
It is worth mentioning that both bikes use the external alignment design. The difference is that the Trek uses a cable layout with all upper tubes, while the Schwinn High Timber uses separate upper and lower tubes, which looks very messy.
Schwinn Bonafide Mountain Bike VS Trek 4500 mountain bike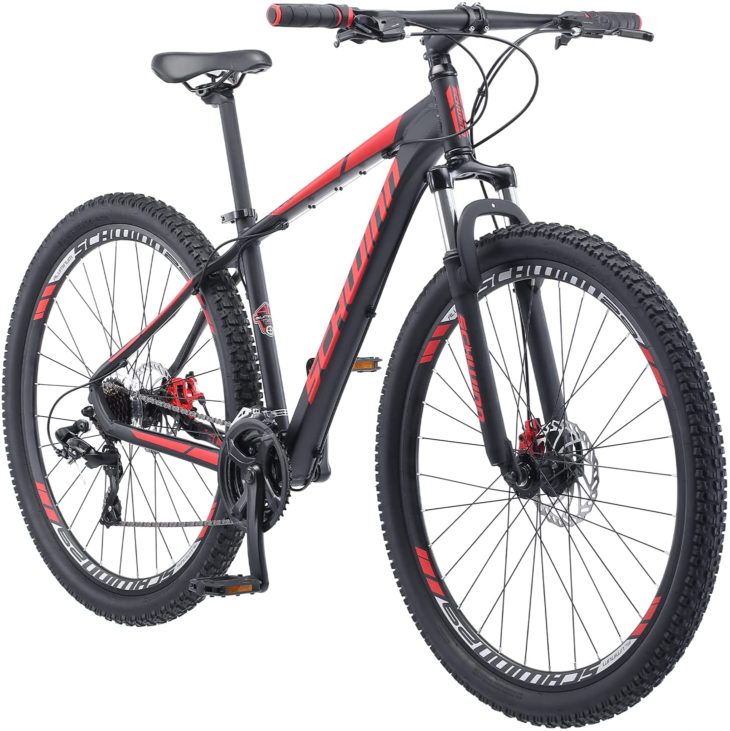 The Schwinn Bonafide Mountain Bike, like a mountain bike with larger tires, has 29-inch tires, 2. 25-inch wide knobby mountain tires for rough terrain, softer grips for added riding comfort, and a speed number that is very close to the Trek 4500 mountain bike's: 24 speeds.
Ideal for the inexperienced rider. If these two are ridden on flatter mountain terrain, the Schwinn Bonafide appears to have the advantage.
If your mountain bike is primarily used for commuting, consider the Schwinn Bonafide Mountain Bike, a mountain bike with taller tires.
Learn more: Schwinn Bonafide Mountain Bike Review
Final Verdict (4.0/5)
The Trek 4500 is no longer available, but with 27 speeds, it's a popular choice among intermediate riders.
However, the Trek 4500 will not impress riders with high mountain bike expectations, but it is well built and completes established mountain rides with a perfect fit of various components. If you prefer more exciting off-road riding, this is not the bike for you. The Trek 4500 has all of the features of a trail bike, but it doesn't stand out as a mountain bike in every category.
Ultimately, we think the Trek 4500 is a good quality, novice-friendly mountain bike that will allow the rider to grow in skill.
Related Videos
Related Reading
Is The Trek X-Caliber 8 Worth Buying? [Trek X-Caliber 8 Review]
References
https://www.bikeradar.com/reviews/bikes/mountain-bikes/trek-4500-hardtail-review/
https://www.bikeradar.com/reviews/bikes/mountain-bikes/trek-4500-review/