We use affiliate links and may receive a small commission on purchases.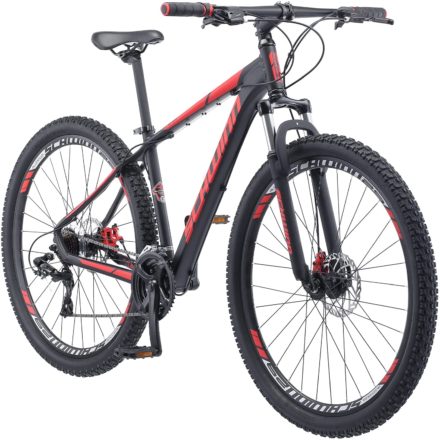 Because of its configuration, the Schwinn Bonafide mountain bike is a hardtail mountain bike that many newcomers choose. It is undoubtedly the most popular mountain bike style today.
According to Schwinn's official description, it's best for rocky terrain and bumpy highways. Of course, these reviews are in doubt before we purchase them.
In this review, I hope to provide the most relevant advice to anyone considering buying this bike or one of the numerous mountain bikes on the market.
Schwinn Bonafide Specs
| | |
| --- | --- |
| Item Package Dimensions L x W x H | 55.5 x 30 x 8.5 inches |
| Package Weight | 19.94 Kilograms |
| Item Weight | 39 Pounds |
| Brand Name | Schwinn |
| Warranty Description | Limited Lifetime Warranty |
| Model Name | Bonafied |
| Color | Matte Black/Red |
| Material | Aluminum |
| Suggested Users | men's bike and women's bike |
| Number of Items | 1 |
| Manufacturer | Pacific Cycle, Inc. |
| Part Number | S7958AZ |
| Model Year | 2019 |
| Style | Schwinn Bonafide Mountain Bike With Front Suspension, Featuring 17-inch/Medium Aluminum Frame and 24-speed Shimano Drivetrain With 29-inch Wheels and Mechanical Disc Brakes, Matte Black/Red |
| Included Components | Schwinn Bonafied Mountain Bike |
| Size | 29″ wheels |
Schwinn Bonafide Key Features
Durable aluminum frame
The entire frame of the bike is made of full aluminum alloy, which is solid and durable. There will be a weight reduction.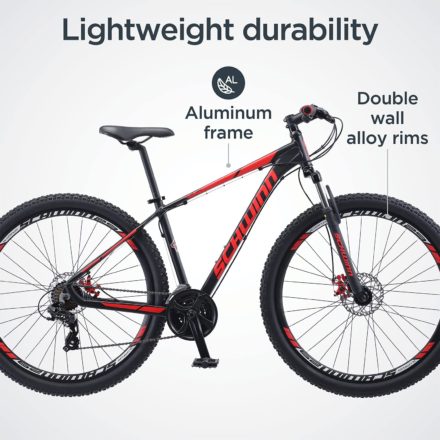 Schwinn's Own Fork
The Schwinn Bonafide is a hardtail mountain bike, so it has only one front suspension, but this is more friendly for new riders.
The travel is 100mm, and daily mountain riding is hard to bottom out on a shock fork with this kind of travel, so it also has a good damping effect.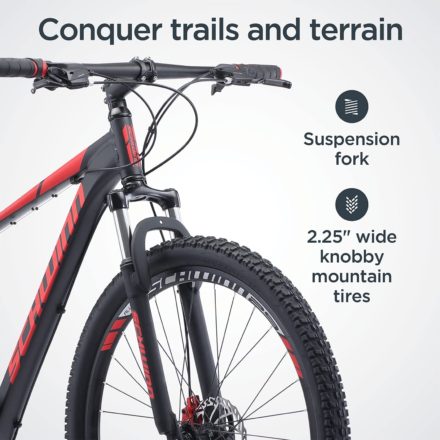 Shimano Derailleur And 24-speed Mountain Bike
Shimano is a well-known bicycle parts manufacturer that many riders are unfamiliar with. The Schwinn Bonafide mountain bike features a Shimano 24-speed powertrain for smooth shifting at high speeds.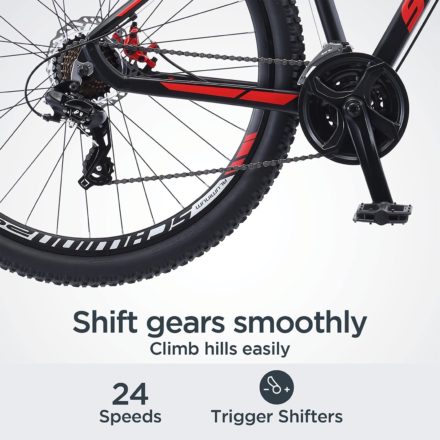 Disc Brakes
Precise and durable disc brakes are also becoming more and more popular, and it uses front and rear mechanical disc brakes with relatively good braking effect.
Alloy Rims With 2.25 Inch Wide Tires
Schwinn bonafide mountain bike 29 inch is a double high wall alloy wheel, with 2.25-inch knobby mountain tires have strong enough grip, of course, the performance in the sand will be poor.
29 Inch Wheels
29 inch high wheels, more suitable for riders over 5'4″ tall.
Easy To Assemble
Generally, mountain bikes purchased online are packed in a compact package. The Schwinn bonafide mountain bike is in a semi-assembled state when you get it.
If you are not familiar with the tools, you can easily install them according to the instructions, which are explained in detail in the video below.
Warranty Policy
For mountain bikes, the warranty has always been the advantage of Schwinn mountain bikes. Schwinn, for some parts, is a lifetime warranty.
Is Schwinn bonafide worth buying?
Schwinn's price point belongs to relatively high-cost performance. The composition of each component is relatively stable. A 24-speed configuration is enough for newbies to use, and finding the right gear to ride on the right road is a beginner's experience.
And Shimano shift Lever set can make your shift process smooth. I like this 24-speed configuration and its shock fork. It allows you to have a better riding experience on bumpy roads. So you can enjoy the whole riding journey.
The 2.25″ knobby mountain tires also have a good grip for mountain riding and are not easy to stall. It also has good performance on muddy roads. The front and rear disc brakes are also a guarantee of safety.
Mountain roads are challenging uphill, ramps where you can descend quickly, and good brakes can make you stop safely and smoothly when dropping swiftly.
The frame is made of aluminum, but it does not affect its weight in any way. Of course, we think this is reasonable.
The 29″ Schwinn bonafide mountain bike is a good choice in terms of sturdiness, powertrain, and braking system analysis.
After-sales guarantee
This is certainly something I think is of great concern, Schwinn has a lifetime warranty on the frame. And some other parts have a one-year warranty.
Of course, you have to refer to the warranty policy at the time of purchase.
So the Schwinn bonafide mountain bike is worth buying.
It is a good choice in terms of speed, riding experience, and even price.
Does it have no disadvantages? No, it does.
Disadvantages of Schwinn Bonafide
The Schwinn bonafide has continued the Schwinn mountain bike tradition of seat issues. It's stock seat has been commented on by many and is rather stiff.
This is worse for the riding experience. They are adding to the riding experience in every hardware, and the seat reduces the good feeling quite a bit.
Of course, this problem can be solved. If for riders who often ride short distances this problem can be ignored, but for longer rides, because the seat is not soft enough, it will make the ride more difficult.
How to solve the seat problem?
The one-time solution is to replace the seat with one that you like and is soft. I am here to give you a recommendation of a seat I have purchased so that you can pick.
MZYRH Mountain Bike Pedals, Ultra Strong Colorful CNC Machined 9/16″ Cycling Sealed 3 Bearing Pedals(Black 3 Bearings)
Plastic pedals
Plastic pedals are one of the more fragile parts. The plastic pedals on the Schwinn bonafide mountain bike are more prone to damage, which is why it has some of the poor reviews on amazon.
I personally buy alloy pedals online after installing my mountain bike, which are less prone to damage and easier to ride in the mountains.
If the plastic pedals are damaged while riding in the mountains, it will make you feel worse all day long.
None of these drawbacks are particularly impactful for light mountain riding. But as a rider who loves mountain biking, these still have some impact on me.
The problems are relatively easy to fix, and you can find a local mountain bike dealer to help replace them, but that comes with a fee. Parts are not always available either, but these can be bought on Amazon.
Pioneeryao Bike Seat Comfort Memory Foam Waterproof Bike Cushion with Dual Shock Absorbing Balls Bicycle Seat with Reflective Tape Universal Fit for Exercise and Outdoors (Blue)
Is Schwinn Bonafide for "me"?
First determine the purpose of the mountain bike when you buy it. A mountain bike as the name implies is mountain riding, and if you want to use it for riding in the mountains during rest time, then the Schwinn Bonafide is sufficient.
And the price of this mountain bike is medium level. Positioned for people who are beginners, or intermediate riders.
If you are an experienced and advanced rider, then you need to choose a higher priced and better equipped mountain bike.
The sturdy and durable qualities are also impressing many people, so beginners can easily get started when riding. And the 24-speed gears will allow beginners to adapt to mountain bike riding as they continue to ride. Experience the charm of mountain biking.
Intermediate riders will be more demanding for mountain bikes and usually make some modifications on this bike.
I am also considered an intermediate rider, so when I talk about its disadvantages, I also add my modification points. Of course this is so you can have more options when it comes to modifications.
For commuting use, just because it's an MTB doesn't mean it will perform poorly for commuting. And the good grip of the tires has a very good performance on flat roads.
If you want it to be a little more energy efficient, then you are advised to adjust to the right gear and the riding comfort is more guaranteed.
So the Schwinn Bonafide is suitable for most novice and intermediate riders. It has a wide range of uses, both as a mountain bike and as a commuter bike.
Summary
Suitable for the vast majority of novice riders. Excellent overall riding performance. Medium expenses, men and women can ride a quality mountain bike, whether as a gift for children, or boys or girls who want to experience mountain sports. All can be tried.
More mountain bike reviews can be viewed by clicking on our links below or on the home page.