We use affiliate links and may receive a small commission on purchases.
Trek 3500 mountain bike is no longer available. If you want to buy it, you can only find it on the used market.
However, as a nostalgic model, we have a comprehensive review of it from a current standpoint. Hello and welcome to the Best Bike Select blog.
What are the features of the Trek 3500 mountain bike? What are the pros and cons? If you own it, what is the current market value? And some alternatives are also given and a brief comparison is done. Let's get started as time is running out.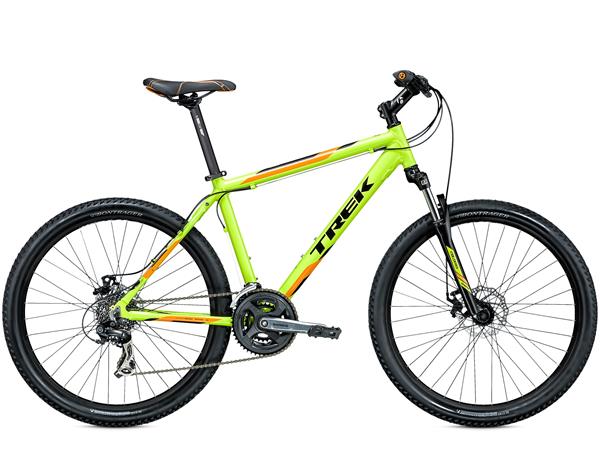 What are the features of the Trek 3500 mountain bike?
Aluminum frame
Trek 3500 3 series retains the 3 series' frame characteristics. Alpha Silver Aluminium with a semi-integrated head tube is used, as with the Trek 3700. This frame's features are appropriate for inexperienced riders. The down tube of the Trek 3500 is straight, and the top tube and seat post form a stable triangle shape.
This also improves the frame's sturdiness, but at the expense of some of its aesthetics. The aluminum frame is extremely corrosion resistant and will not rust if properly cared for.
Shimano 21-speed
Shimano Altus EF51, 7 speed, and Shimano M131 gear systems combine to form a 21-speed gear system. This is also the most common speed number right now. Shifting remains smooth even when riding on rough trails or hills with rocks and tree roots.
This mid-range gearing system doesn't appear to have much competition at this point, and it can even be found in some less expensive bikes. However, from 2012 to 2015, it was regarded as a high-value accessory.
Shock front fork
Prior to 2015, the shock forks were all made with an SR SunTour XCT coil with 80mm of travel. However, the SR Suntour M-3030, 75mm fork is used in the 2015 Trek 3500. The stroke is shortened by 5 mm, but the damping effect remains unchanged. This also clarifies the common misconception that the greater the distance traveled, the better.
Not necessarily, if the Trek 3500 other parts can adapt to the difficulty factor 4 of the road, and the shock fork can adapt to the difficulty factor 5 of the road. The Trek 3500 mountain bike is then only appropriate for difficulty factor 4. The shortcomings of the bike determine what it is appropriate for. As a result, lowering the travel is also fortifying other parts.
Bontrager LT3 Tires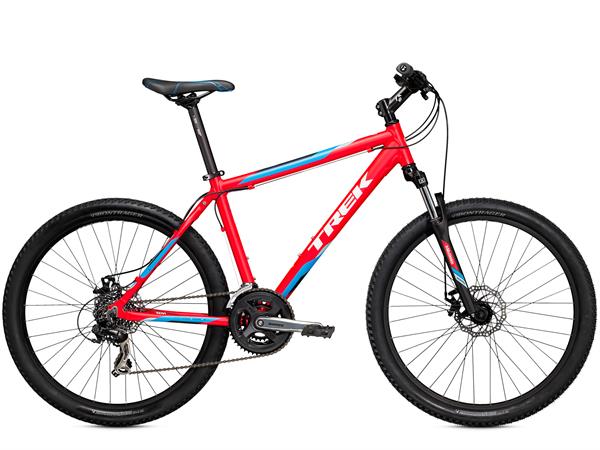 This is one of the Trek 3 series' features, 26×2.0″, which is similar to wide tires in general mountain riding. However, changing the tires to 2.4″ will make a difference when riding on muddier trails.
However, this is a beginner's mountain bike, and there's no reason to upgrade to wider tires until you've honed your riding skills to such a high level. The 2.0″ tires, of course, are more agile and provide the foundation for fast riding.
Tektro Alloy Cable Pull
A high-quality alloy cable pull is critical for precise braking. This is not a mountain bike designed for speed sports, but rather for mountain bikes with some technical mountain riding.
So, after careful consideration of the riding trail, I have a new appreciation for the V-brake on this one. This results in less travel for emergency braking and more wheel flexibility when removing mud from the rim.
However, this also implies that the brakes will need to be adjusted on a regular basis. Riders who do not want to get their hands dirty adjusting their brakes should consider switching to disc brakes.
Pros and Cons of Trek 3500
Pros
Sturdy aluminum frame
Flexible tires for beginners
SR SunTour XCT coil , coil spring, 75mm shock front fork
Excellent maneuverability
Cons
Non-disc brakes
Saddle is a bit stiff
Product Specifications
| | |
| --- | --- |
| Frame | Alpha Silver Aluminum w/semi-integrated head tube, rack & fender mounts |
| Fork | SR Suntour M-3030, coil spring, preload, 75mm travel |
| Wheels | Formula alloy hubs, Bontrager AT-550 alloy rims |
| Front hub | Formula FM21 alloy |
| Rear hub | Formula FM31 alloy |
| Rims | Bontrager AT-550 36-hole alloy |
| Tires | Bontrager LT3, 26×2.0″ |
| Shifters | Shimano Altus EF51, 7 speed |
| Front derailleur | Shimano Tourney |
| Rear derailleur | Shimano Tourney TX35 |
| Crank | Shimano M131, 42/34/24 |
| Bottom bracket | Sealed cartridge |
| Cassette | Shimano TZ31 freewheel, 14-34, 7 speed |
| Chain | KMC Z51 |
| Pedals | Wellgo nylon platform |
| Saddle | Bontrager Evoke 1 |
| Seatpost | Bontrager SSR, 2-bolt head, 31.6mm, 12mm offset |
| Handlebar | Bontrager alloy, 25.4mm, 30mm rise |
| Grips | Bontrager Satellite Plus, ergonomic |
| Stem | Bontrager alloy, 25.4mm, 25 degree |
| Headset | 1-1/8″ threadless |
| Brakeset | Tektro alloy linear-pull |
| Weight | 17.5″ – 13.68 kg / 30.16 lbs |
| Available colors | Volt Green, Black Titanite/Fastback Orange, Firebrand/Waterloo Blue |
Related Questions
What is the Trek alpha 3500 Weight limit?
This bike has a maximum total weight limit (combined weight of bicycle, rider, and cargo) of 300 pounds (136 kg).
How much is trek 3 series 3500 used price?
The price of most used bikes will be judged by the condition of the bike.
If it is 95 years old, looks new, and has no damaged parts, and is in exceptional condition, expect it to be worth $147-$151
75 new. Minor scratches, but no parts have been damaged, estimated $140-$144.
50 percent new. If there are scratches, but in repairable condition, and in warranty condition (no cost to repair), then the estimated value of such Trek 3500 mountain bike is $127-$131. 4.
3 new. A Trek 3500 with some parts in need of repair or replacement, or with major cosmetic flaws, has an estimated value of $92-$95.
Of course the above are estimates, if you meet a seller who really likes Trek 3500, you can sell them for 50% more. You will need to negotiate between you and the buyer.
What frame sizes does the Trek 3500 mountain bike come in?
There are 13″, 16″, 18″, 19.5″, 21″, 22.5″ frame sizes to choose from. This also corresponds to XS, S, M, M/L, L, XL respectively.
What is the weight of the Trek 3500 body?
The weight of the 17.5″ frame is about 13.68 kg / 30.16 lbs.
Bicycle Comparison
Compare
Trek 820 mountain bike VS Trek 3500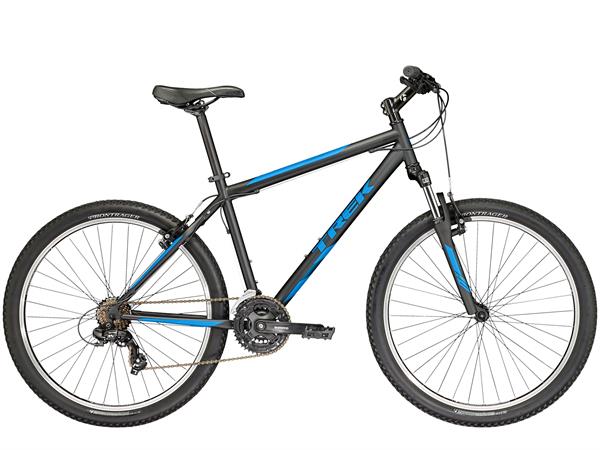 The Trek 820's steel frame appears to add to the overall weight of the bike. However, the body's strength has improved even more. It has the same 21 speeds as the Trek 3500 and the same 75mm fork travel.
As a result, the roads that are suitable for riding are also the same. With a price tag of less than $500, it is an excellent substitute for the Trek 3500.
As a rider who enjoys mountain riding, you will typically require a mountain bike for commuting. As a result, the Trek 820 mountain bike, which balances budget and commuter riding needs while using mid-range accessories, has received a lot of positive feedback from riders.
If you want to buy a Trek 3500 but can't find one in stores, consider getting a Trek 820 mountain bike instead.
Trek Marlin 5 mountain bike VS Trek 3500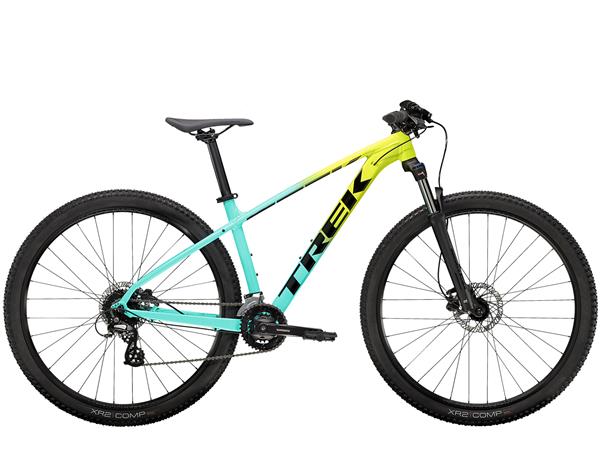 The Trek Marlin 5 mountain bike is the most popular 1X and 2X drivetrain and is suitable for casual riders.
The shock fork on the Trek Marlin 5 is significantly improved over the Trek 3500. The SR Suntour XCM 30 shock fork with coil spring, lockout, and preload is used, and the travel is 100mm. However, the S-frame shock fork is only 80mm long. The damping effect is improved.
When riding off-road, it also prevents the rider from bottoming out on rocky sections of the shock. The tire width has also been increased to 29×2.20″ (XS and S: 27.5×2.4″), making it ideal for daily adventures. It will please riders on and off the track.
Schwinn High Timber VS Trek 3500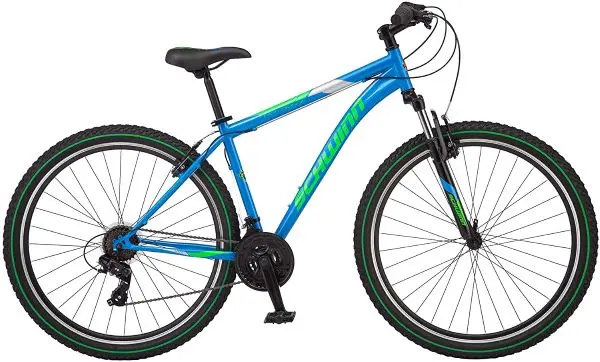 If you're not into intense mountain riding, but rather a rider who prefers general trail or community riding. Then the Schwinn High Timber is perfect for you. With a lightweight aluminum frame, a great selection of colors, and durable, maintenance-free disc brakes, it's a great choice for riders who like to commute. Similar use to the Trek 3500 for general woodland riding.
Learn more: Schwinn High Timber Mountain Bike Review
Conclusion
Trek's 3500 Disc mountain bike is a high-quality option for any adventure. A more versatile mountain bike in every way. Furthermore, the aluminum frame of the Trek 3500 Alpha is relatively lightweight. But one that does not appear as strong as a mountain bike for individual purposes.
A great mountain bike for beginners, with a lighter aluminum frame and a quick, nimble drivetrain for riding on trails and hilly woodlands. The thick, knobby tires provide traction on a wide range of terrain. If you're new to mountain biking, this is a great place to start.
Related Reading
Is the Trek 3700 Mountain Bike A Good Bike?