We use affiliate links and may receive a small commission on purchases.
They can't tell the difference between a good and a bad bike when they're 4-6 years old. The Huffy Spiderman bike is a Marvel-licensed children's bike. So, what are the characteristics of this children's bike?
What are the benefits and drawbacks? Is it safe to ride for children? What should you look for when purchasing?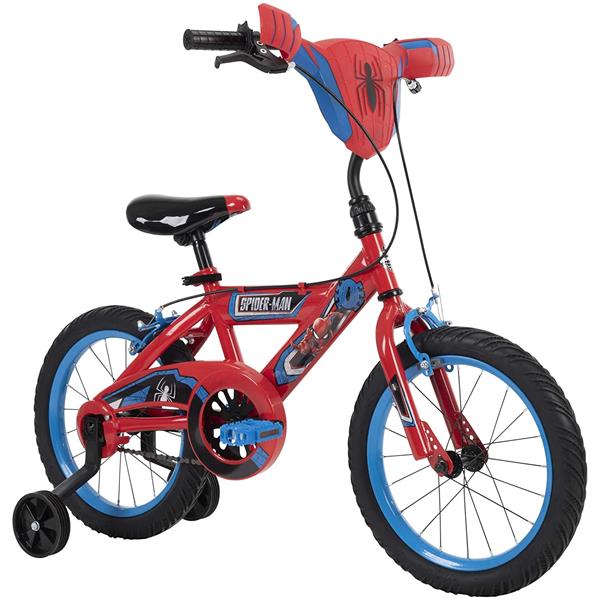 What are the features of Huffy Spiderman bike?
Quick assembly
The outer package is tightly packed and contains 85 percent of the Huffy Spiderman bike 16 pre-assembled. It employs quick connect technology, allowing parents who want to get their children on this bike as soon as possible to assemble it in 15 minutes.
Simply insert the forks and handlebars, fold down the pedals until they click into place, insert the seat, and adjust the height.
Beautiful body pattern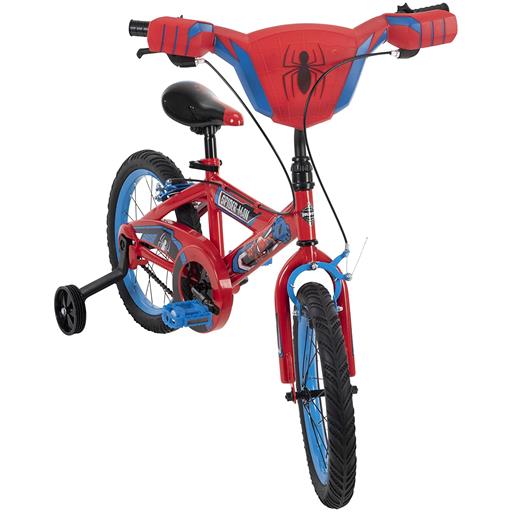 Many children's dreams include becoming Spider-Man. As a result, these little comic book fans can't help but admire the heroes in the movies. The Huffy Spiderman bike also incorporates Spider-Man elements.
The frame and chain cover have great Spider-Man graphics, and the handlebars have a 3D web feature.
Sturdy steel frame
Good-looking graphics will be popular not only with children but also with parents who buy children for their children. The Huffy Spiderman bike has a strong steel frame that is not easily damaged and will not deform when bumped into hard objects. Of course, Huffy offers a lifetime warranty on the frame, demonstrating the high quality of this bike.
Adjustable seat height
The Huffy Spiderman bike has a seat that can be adjusted to the height of the seat at any time without tools. And the seat is soft enough to last a long time even when the child is riding in the park.
Front and rear V-brake + reverse brake
In terms of braking, the design of braking with ease has left a deep impression on some parents. Front and rear hand brakes, as well as coaster brakes in two brake modes, can assist your child in learning how to ride a big kid bike.
Training Wheels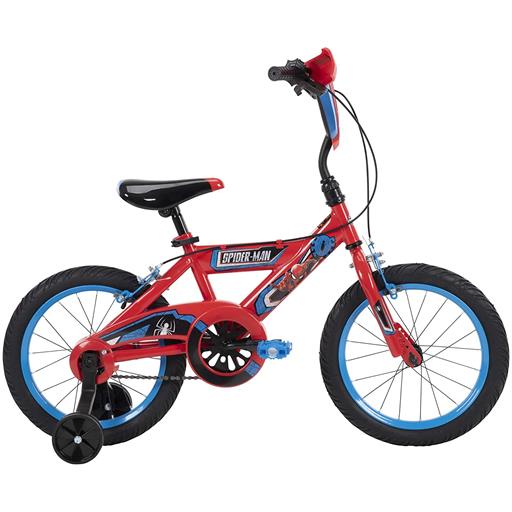 It's ideal for kids who struggle with balance because it comes with a pair of original training wheels. They can learn to ride faster with the assistance of their parents. Of course, once it has mastered riding, the training wheels can be removed.
I do not recommend removing it for children under the age of seven. Training wheels assist children in becoming more proficient at riding bicycles while also reducing their risk of falling.
Wear-resistant tires
The Huffy Spiderman bike 12 and Huffy Spiderman bike 16 have two different types of bike tires. 12th "Bikes are ideal for children aged 3 to 5 and standing 37 to 42 inches tall.
This 16th "Bike with detachable training wheels is ideal for children aged 4 to 6 with a height of 42-48 inches. The tires have been softened, the braking effect has been improved, and the thickness has been increased for increased wear resistance.
Advantages and disadvantages of Huffy Spiderman bike
Advantages
Quick assembly technology, easy to assemble
With training wheels, so children can ride safely
Beautiful body pattern
Sturdy steel frame
Multiple brakes, precise braking
Disadvantages
Bike with quick assembly requires some additional budget
Huffy Spiderman Bike Specs
| | |
| --- | --- |
| Bike Type | Kids Bike |
| Age Range (Description) | Kids |
| Brand | Huffy |
| Wheel Size | 16 Inches |
| Special Feature | Training Wheel |
| Number of Speeds | 1 |
| Size | 12-16 inch Quick Connect Assembly |
| Color | Red / Blue |
Related Questions
What is the body weight of Huffy Spiderman bike?
28.3 pounds
Do you have to use the training wheels ?
No, training wheels can be removed and still ride the bicycle
Bicycle Comparison
| | | | | |
| --- | --- | --- | --- | --- |
| Bicycle | Frame material | Wheel size | Speed Number | Price |
| Marvel Avengers 16″ Boys' EZ Build Bike | steel | 16-inch | Single-speed | Click View |
| 16″ Hello Kitty Girls' Bike | steel | 16-inch | Single-speed | Click View |
| Disney Princess Girls 16-inch Bike | steel | 16-inch | Single-speed | Click View |
Comparison
Marvel Avengers 16″ Boys' EZ Build Bike vs Huffy Spiderman bike
The Marvel Avengers 16″ Boys' EZ Build Bike features even more Marvel heroes in its graphics, and kids will love the spaceship models on the handlebars. Allow the children who enjoy it to be excited.
But it's just as lovely as the Huffy Spiderman bike. The specific choice of which bike is made is primarily determined by the child's preference for which pattern. However, these accessories can cause problems for young riders if the brake is not applied in a timely manner, as there is a risk of hitting the face.
Far more than just a protective cover with a handle that works. Of course, this accessory is removable; if the child has mastered the art of riding, you can reinstall it, allowing the child to ride safely while also making him very proud to own the bike.
16″ Hello Kitty Girls' Bike VS Huffy Spiderman bike
The Hello Kitty Girls' Bike is decked out with decorations that little girls adore. Hello Kitty's bike backpack has a pink body and handlebars mounted with a floating belt. If you ride it, you can keep the child entertained all day.
Huffy Spiderman bike is primarily intended for boys, and there isn't much to compare it to. There is no reason to reveal your preferences.
Disney Princess Girls 16-inch Bike VS Huffy Spiderman bike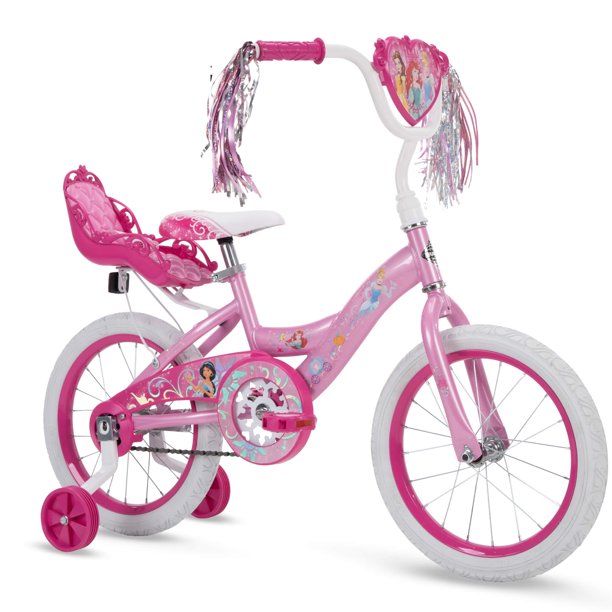 Every little girl's dream is to be a Disney Princess, so the Disney Princess Girls 16-inch Bike is an ideal gift. The frame size and tire size of the configuration and the Huffy Spiderman bike are the same.
However, the accessories are also appropriate for young girls. The back seat also includes a doll's seat. Girls who enjoy Disney Princess rides will enjoy this ride.
Learn more: Best 20-Inch Bikes For 6-13 Years Old Kids Bikes (With Gears)
Summary
The Spiderman toddler bike has a gorgeous and eye-catching design. The Huffy Spiderman bike, which has a strong reputation, is also a factor in why many parents opt for it, as Huffy is a brand with a rich history.
No matter how trustworthy this Spiderman 16-inch bike may be, it's important to remember that you should still be with your little one as they explore the world on it, ensuring their safety.
Huffy Spiderman bike to attract boys Spiderman pattern. Let the little riders who like Marvel heroes ride more happily.
In addition to this is it has a strong steel body and is easy to assemble and easy to ride. Very suitable for 4-6 years old children to ride. And there is a 12-inch version, suitable for smaller children to ride. Overall this is a good-looking, sturdy and durable quality kids bike.
Want to know more? You can click the button below.
Learn more
Is the huffy 20 Rock It Boys Bike Worth Buying? [Review]
Schwinn Ranger 24" And 26" Boys Mountain Bike Reviews
Is the Trek mt 220 A Good Kids Mountain Bike? [Trek 220 Review]