We use affiliate links and may receive a small commission on purchases.
There are times when it is difficult to resist paying attention to affordable mountain bikes. Riders who enjoy riding mountain bikes should consider finding a balance between price and bike quality, and ideally getting the best value for money when purchasing a mountain bike.
This is an in-depth examination of the Huffy Nighthawk 26″ men's mountain bike.
What are the features of the Huffy Nighthawk mountain bike? What do we like about it? And what don't we like about it? Is there an alternative model? To save riders time, let's get started quickly.
Features of Huffy Nighthawk mountain bike
Sturdy steel frame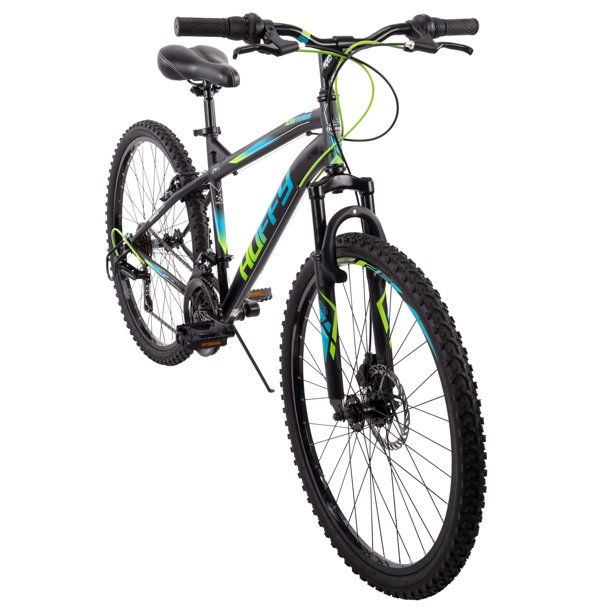 The steel frame of the Huffy 26 Nighthawk men's mountain bike is strong and durable. The head tube angle is similar to that of a hybrid bike, providing a good balance of comfort and mountain trail riding.
There is also additional reinforcement at the seat and hanging holes. Perhaps this design would be suitable for securing the rear of an SUV or hanging from a stand when not in use.
Despite the steel frame design, the overall weight is only 40.3 lbs, which is about the same as a hardtail mountain bike with an aluminum frame.
Speeds
The 18-speed is suitable for beginners or commuter riders. Furthermore, it is a low to mid-range Shimano accessory that is still good value for money when compared to the price.
The twist shifts in the front 3 and rear 6 are both smooth. It also has good performance, with different speeds for riding on different terrains.
Shock front fork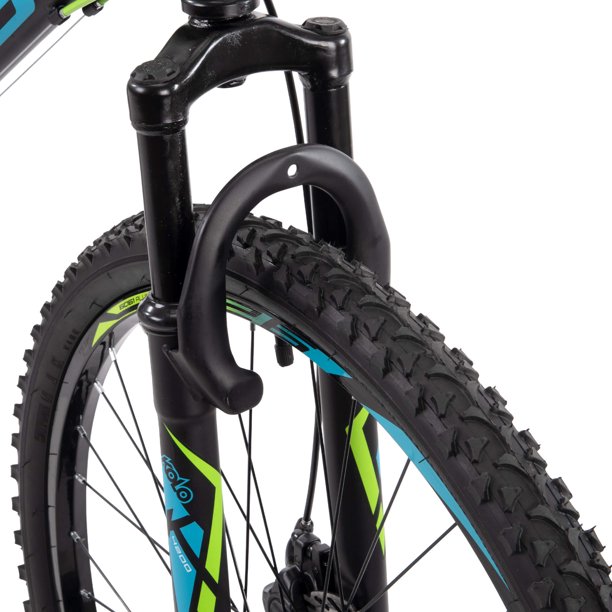 After reading several reviews, Huffy's shock fork did not have any travel data. However, there are no negative comments about the shock fork in the purchase reviews, indicating that the fork's shock effect is quite good.
There isn't much sensation when riding a bike without a shock fork. However, once you've ridden a mountain bike with a shock fork, you might like it more.
When riding on bumpy terrain, the shock fork on the Huffy Nighthawk 26 helps to reduce the impact of the road. On long rides, it also makes the rider's arms and shoulders less prone to soreness and numbness.
Brakes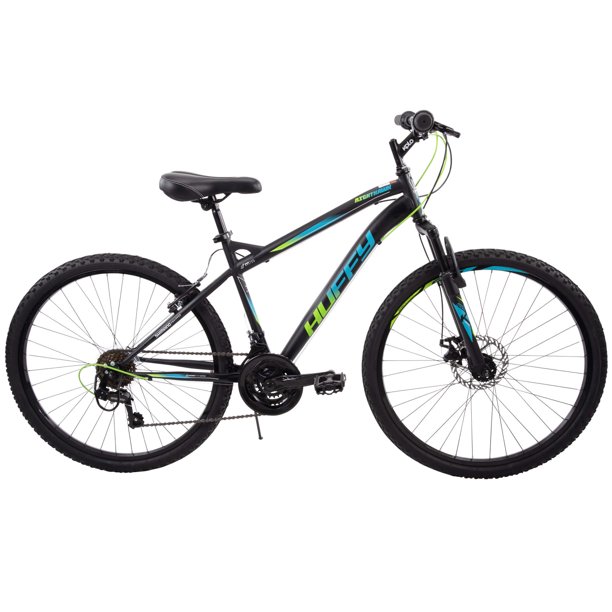 For more precise braking, the Huffy 26-inch Nighthawk men's mountain bike has front disc brakes and rear alloy linear-pull brakes.
The V-shaped brake on the rear wheel has a very short braking stroke, allowing the rider to brake quickly when traveling at high speeds, whereas the disc brake on the front wheel is more wear-resistant, sturdy, and durable. It will also be simple to brake on muddy roads.
Multi-section mountain tires
Mountain riding requires the full cooperation of each component; if only the aforementioned characteristics are present, it is impossible to have a good mountain riding experience.
However, the Huffy Nighthawk equipped with multi-section mountain tires is not suitable for raging off-road, but it provides a better riding experience in hilly terrain. Wouldn't you want to give it a shot as a commuter rider when passing over gravel roads?
The Huffy Nighthawk's tires, despite their excellent performance on wooded and gravel roads, are no match for a mountain bike costing more than twice as much.
Adjustable handlebars and seat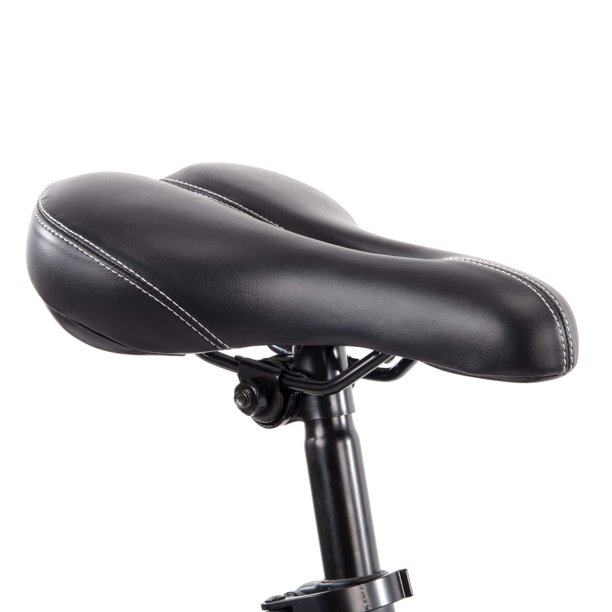 If you need to give this bike to a growing teenager who needs more height adjustment on a mountain bike, the Huffy Nighthawk 26's slightly elevated handlebars with Krayton grips add a high-performance look and comfort to his ride.
The seat can be adjusted or removed at any time thanks to a quick-release binding clip on the seat post. The padded ATB saddle and ATB handlebars are designed to make riding more comfortable.
Huffy Nighthawk Men's Mountain Bike Pros and Cons
Pros
Affordable price
Sturdy and durable steel frame
Good suspension fork for shock absorption
Multi-section mountain tires for different terrain
Responsive brakes
Adjustable Krayton handlebar and quick-adjust seatpost
Cons
Average quality rims, not suitable for rough mountain riding
Needs chain quality enhancement
Huffy 26 Nighthawk men's mountain bike Specs
| | |
| --- | --- |
| Frame | Steel |
| Speed Number | 18 |
| Tires | 26-inch multi-section mountain tires |
| Suspension | Shock front fork |
| Brakes | Front disc brake and rear alloy linear-pull brake |
| Pedals | ATB Resin Pedal |
| Weight | 40.3 lbs. |
What do we like?
The Huffy 26 Nighthawk men's mountain bike is reasonably priced and comes with a quality guarantee. This bike comes with a limited lifetime warranty from huffy. If you are a beginner mountain biker who is still in the learning process.
Then a low-cost, high-quality mountain bike is the way to go. We like its frame and 18-speed gearing, as well as the comfortable riding frame, and so on. All of this is included in a budget of less than $200, which is still very reasonable.
What we don't like?
We weren't impressed with the quality of its rims, and a few negative reviews mentioned some damage to parts while mountain biking. When used as a commuter mountain bike, the Huffy 26 Nighthawk men's mountain bike is positioned more like a cruiser-type bike with suspension.
When put through technically difficult mountain rides, it leaves a lot to be desired, and there will be riders who wonder, why not go for a better-configured mountain bike? To address this issue, some alternatives are provided in the bike comparison below.
Related Questions
What is the maximum load weight of the Huffy Nighthawk 26 mountain bike?
300 lbs. The steel frame is very friendly to heavier riders, but riders over 250 lbs. are not recommended to ride it in the mountains.
How tall of a rider does the Huffy Nighthawk fit?
Suitable for riders 55″-65″.
Huffy 26 Nighthawk men's mountain bike assembly considerations?
When assembling, you need to follow the instructions
After assembling, you need to check if the pre-assembled parts are tightened
debug the front and rear brakes, if there is a friction phenomenon, you can debug
there is a difference between L and R in the installation of the pedals, the wrong installation will damage the parts
Mountain Bike Comparison
| | | | | |
| --- | --- | --- | --- | --- |
| Bicycle | Frame material | Wheel size | Speed Number | Price |
| Mongoose Ardor mountain bike | Aluminum | 27.5-inch | 7 | Click View |
| Schwinn Sidewinder | Steel | 26-Inch | 21 | Click View |
| Schwinn High Timber Youth/Adult Mountain Bike | Aluminum | 24-29-Inch | 7-21 | Click View |
| Mongoose Status 2.2 | Aluminum | 26-Inch | 21 | Click View |
Comparison
Mongoose Ardor mountain bike
VS

Huffy 26 Nighthawk men's mountain bike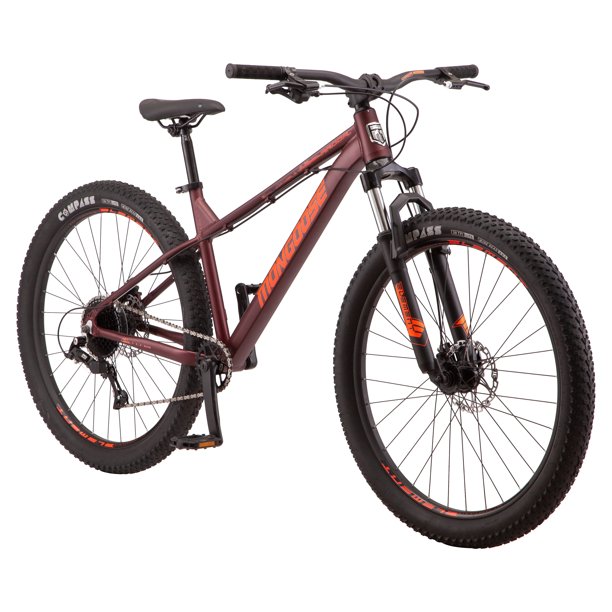 More into off-road? Why not consider increasing your budget to buy a more suitable off-road type of mountain bike?
The Mongoose Ardor mountain bike is less expensive, but it performs significantly better than the Huffy Nighthawk 26. The Mongoose Ardor mountain bike has a rust-free aluminum frame with trail bike geometry, a tapered head tube, and a built-in headset.
However, the speed range is limited to 7 speeds with 1X gearing, making it easier for beginners to master. All are designed for off-road use. However, this bike is suitable for riders ranging in height from 64 to 74 inches. Greater in height than the Huffy Nighthawk 26.
So,Huffy vs Mongoose ,it's not a matter of which one is more powerful, but rather, which one is more suitable for oneself.
Schwinn Sidewinder
VS

Huffy Nighthawk
The popular Schwinn Sidewinder is an excellent value in a mountain bike. It has the same steel frame as the Huffy Nighthawk and is great for woodlands and trails, but with 21 speeds and trigger shifters that are clearly visible when shifting, it's a great guide for beginners when learning how to master gears and work with different terrain.
It also means that the Schwinn Sidewinder is better for beginner riders, and it has mechanical disc brakes on both the front and rear without breaking the bank. Consider the Schwinn Sidewinder mountain bike if you live in a hilly area and enjoy riding in the woods in your spare time.
Learn more: Schwinn Sidewinder Mountain Bike Review-Is It Worth Buying?
Schwinn High Timber
VS

Huffy Nighthawk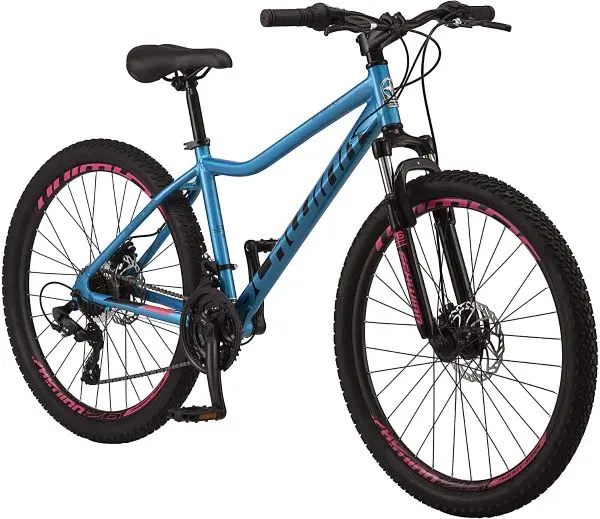 The Schwinn High Timber is a step up from the Schwinn Sidewinder, with more paint colors and a plethora of positive reviews, so you can't go wrong with it. The Schwinn High Timber comes in both male and female frame options, with a minimum height requirement of 56 inches.
Its 21-speed Shimano accessories allow it to handle more terrain, and it's a great mountain bike for kids, with wide tires and a nice paint job.
Learn more: Schwinn High Timber Mountain Bike Review
Conclusion
The Huffy Nighthawk 26″ is very affordable in terms of price. It's also more powerful, but it would be unfair to compare it to mountain bikes that are several times more expensive. There are still very many affirmations for him in the same price range of mountain bikes.
The Huffy Nighthawk, which can be ridden properly on hills and performs very well on brick-laying roads, is especially good for teenage beginners or adults who need a commuter bike.
People always ask me what the best cheap mountain bike is, and from my personal experience, there's always something cheaper, but with that comes various issues that you have to bear.
So, if you want to choose a bike that offers both quality and affordability, it's better to opt for some well-known brands, such as Huffy Bicycle.
Related Reading
Is Huffy Trail Runner Women's Mountain Bike Are Good Bike?[Review]
Is Huffy Rock Creek Mountain Bike A Good Bike?