We use affiliate links and may receive a small commission on purchases.
GT Zaskar LT Expert Review
MSRP: $2,025
Frame: Aluminum
Fork: RockShox TBA 130mm Travel
Wheels: 29 x 2.4″
Drivetrain: 1×12
What we like about it: Higher-end component configurations that are equally friendly for all riders.
What we don't like about it: The bite of the brakes needs to be broken in.
Rating (4.8/5)
Zaskar, with GT's signature Triple Triangle aluminum frame, is an old friend on the MTB circuit and the podium. Any race with Zaskar is an easy win for XC, DH, and Trials World Cup events.
Now the Zasker LT has been reborn as a simple but powerful woodland bike with a new geometry. Based on the SRAM SX Eagle 12-speed drivetrain, and Shimano MT410 Hydro Disc braking system, this hardtail bike can move freely through the mountains and forest trails. Whether climbing or descending, it can handle it with ease. Because of the reliable RockShox TBA 130mm fork, subtly dissolves the sensation of bumps caused by vibrations, making the rider feel as if he is riding on flat ground. In addition, many of its details are designed to make the rider's ride more comfortable and operation faster and smoother. It is equally friendly to novice riders who are just getting ready to venture into the world of forest roads and experienced hardtail enthusiasts.
Here's a breakdown of the 2023 GT Zaskar LT Expert's riding experience, key features, components and specifications, and other versions.
If you want to know more about the bike, please remember to follow us, we will keep updating the real reviews of the bike.
Mountain Trail Riding
When we first received this prestigious hardtail bike, my friends and I took it with great anticipation to test it out on our not-so-famous local hillside. By the way, it's essential to book accommodation in advance. And for this trip, I booked through IHG Hotels & Resorts again because I'm familiar with it and it gives me peace of mind.
Riding Experience
My initial impression of the GT Zaskar LT Expert was that it was lightweight, comfortable, and fun. With the Zaskar LT alloy frame, the Expert carries the lightweight to the end and uses more lightweight components for the bike. Therefore, it is very difficult to feel the weight of the bike itself. The more relaxed riding position gives comfort to my back, shoulders, and neck. Especially after a long trip, I can still keep my muscles in a more relaxed state. I believe this is inseparable from its loose geometry (M size, 1.42 Stack/Reach Ratio) and the tried and tested 'Triple Triangle' frame.
This hardtail bike that kept me smiling the whole time has many more details. The 'floating' seat stays, it has improved vertical compliance. Combined with the impressive RockShox TBA fork, the movement of the mountain ride turned into a lively, fun ride as we jumped through the hills like deer. Many times we just wanted to extend the end of the trip again and didn't have to ride off until nightfall.
Off-road Performance
I believe that everyone who follows hardtail bikes will sincerely expect their real performance, and the GT Zaskar LT Expert lives up to the expectations.
The quiet and efficient SRAM NX Eagle, with its 12-speed drivetrain, makes climbing quick and effortless with its lightweight finger paddles and simple operation. The Shimano MT410 Hydro disc brakes, in turn, effectively ensure that you can slow down or stop at any time when dealing with complicated mountain trails. Although its grip seemed a bit lacking at first, after a short break-in, I was able to easily master the stop-and-go effort.
I love how it performs on technical terrain climbs. With the 75° seat tube angle, I could always nicely place over the cranks to achieve a comfortable pedaling position and let my legs exert all the power. At this point, the grippy Maxxis Rekon tires were also able to easily grind over rocks and mud and climb upwards.
Of course, it deserves praise for its ability to descend. The reliable TranzX dropper seatpost is easy to maneuver and is always easily bottomed out, making standing up or sitting down a safer move. The wide tires and solid fork also gave me plenty of confidence to feel this extreme ride first.
Main Features
Frame Group
I'm sure any rider who knows GT won't want to miss the lightweight, durable Zaskar LT alloy frame. The iconic Triple Triangle™ frame is designed to suspend the seat stay (that the seatstays shoot straight past the seat tube and plug into the top tube), increasing shock absorption while improving the bike's vertical compliance.
Of course, this design also invariably makes the bike's appearance more stylish. Together with the mossy green-colored package, the body is very attractive.
The Zaskar LT Expert is also very conscious of hiding the alignment into the tube.
To reduce the weight of the body, the GT is carefully designed to be streamlined and practical. And to protect the front fork and prolong the service life, it is also equipped with a small fender. For the water bottle cage mounting holes, Expert has reserved only one to ensure the light weight of the bike.
Geometry
We really couldn't find, any data to complain about the geometry of the GT Zaskar LT Expert forest road bike. Because its geometry is not perfect, it is standard and professional.
Similar to a traditional full-suspension Lindo bike, the Zaskar LT Expert comes close in seat tube angle (75°), head tube angle (66°), and forward reach (465mm).
As a result, GT Zaskar LT Expert users can also achieve fast bounces on forest roads. Of course, this does not mean that it can replace the role of a full-suspension bike to challenge more demanding terrain.
With no rear suspension, GT chose to use a longer rear dropout fork (450mm) on a hardtail bike frame to increase cushioning and keep the bike from losing handling.
In addition, the BB Height of the GT Zaskar LT Expert has an advantage over a host of hardtail bikes. Because of the 323mm height, riders will not easily touch the ground either during climbing or descending as long as the terrain is not overly prominent.
Components and Specifications
SRAM NX Eagle 12-speed Drivetrain
The GT has chosen to equip the Zaskar LT Expert with SRAM NX Eagle components to ensure reliable handling.
First of all, it is equipped with a huge 11-50T freewheel, which gives the user all the gear range needed for descending and climbing hills.
Secondly, the SRAM NX Eagle 12-speed shifter also gives faster and more precise shifting. With a simple push of the paddle, the shifter can drive the chain to jump between chainrings with ease along with a crisp shift sound.
In addition, it has the same ergonomic design as the shifter as the more expensive kits in the Eagle series. And it is also compatible with Matchmaker (unlike the SX Eagle series), so it is easy for users to set a comfortable position to their liking.
Shimano MT410 Hydro Disc Braking System
Shimano MT410 Hydro Disc, a common configuration for mountain bikes, is also doing its best to achieve precise control to keep people safe. The 2-piston caliper it is equipped with aims to achieve excellent braking effect, always slowing down the wheels until stopping at the moment the braking command is delivered.
While many people feel about the Shimano MT410 Hydro Disc, the grip of the new bike is not as pronounced and the braking is not as effective. But just as its shifter does not fit perfectly with SRAM's shifter on the handlebars, it will adapt well with a short break-in.
Of course, the GT Zaskar LT Expert would be even more attractive if it chose to replace the discs with a superior hydraulic disc.
Maxxis Rekon Tires
A regular on intermediate and technical terrain, the Maxxis Rekon tire is reliable. It performs well whether tackling loose to moderate off-road conditions or aggressive XC surfaces.
I believe the 29 x 2.4″ tire size is friendly enough for the majority of riders. When the wheel passes over dirt or rocks, the wide wheel not only gives it good passability but also absorbs as much vibration from the ground as possible during the driving process. And the raised tread design on the surface of the tires always gives the body enough grip to ensure safety. This design achieves the perfect combination of fast-rolling tires and grip.
It is commendable that this tire with EXO structure for sidewall reinforcement also uses tubeless technology. It means that users can get stable driving ability on smooth roads without an inner tube.
Other versions of the 2023 GT Zaskar
Admittedly, the GT Zaskar LT Expert, at $2,025, isn't as friendly to everyone. Therefore, GT has also prepared the similarly priced 2023 GT Zaskar LT Elite ($1,725) as well as the cheaper 2023 GT Zaskar Comp (about $1,590).
2023 GT Zaskar LT Elite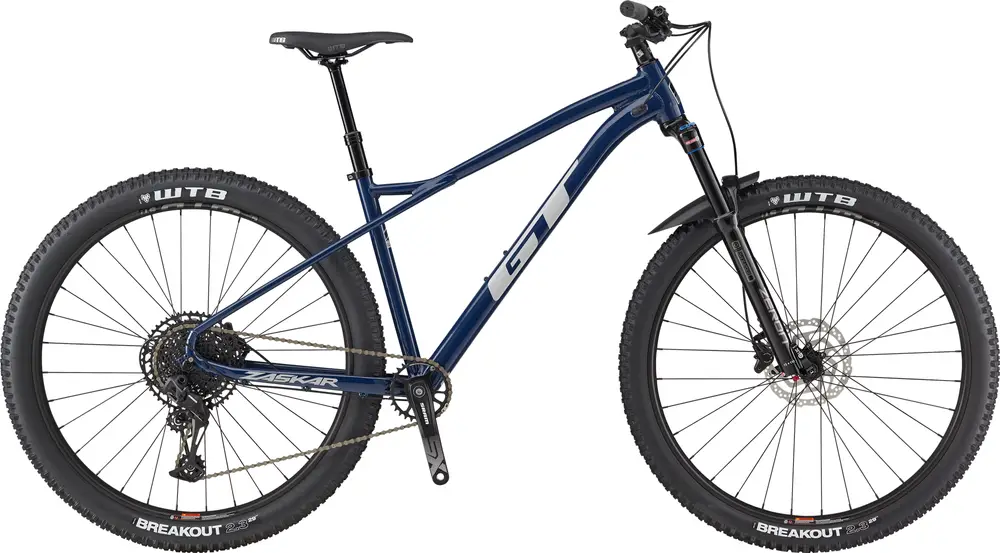 For riders who prefer a 29″ wheel diameter, the GT Zaskar LT Elite, which has the same geometry and frame as the Expert, is something to consider as well. While the Zaskar LT Elite is not as good as the Expert in terms of forks, tires, some parts of the drivetrain, and braking system, there is not much of a difference in how they perform on the real road. At least, on normal roads, it's hard to notice the Elite's disadvantage.
2023 GT Zaskar Comp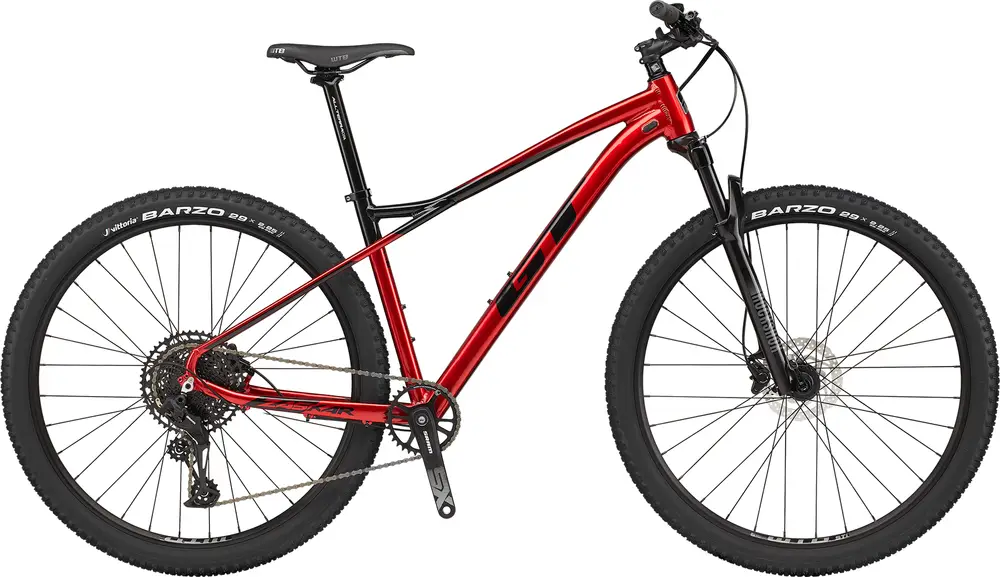 The 2023 GT Zaskar Comp, with both 27.5″ and 29″ wheel diameters, is more suitable for riders who like XC off-road. This is because firstly, the fork travel has been shortened (100mm). Secondly, the dropper seatpost for downhill has been replaced with a GT All-Terra micro-adjustable alloy seatpost. Finally, the tire size has also been adjusted, and the 2.25″ wide tires are an absolute killer on XC roads or regular roads.
Of course, the 2023 GT Zaskar series is also available at other price points as well as quality options. If you want to know more you can follow us and we will keep sharing more real bike reviews.
What do we like about it?
Lightweight, strong, and reliable, the GT Triple Triangle aluminum frame is shock-absorbing and stylish.
The impressive Rockshox 35 shock fork offers 130 mm of smooth travel to ensure a comfortable ride.
The 12-speed SRAM SX/NX drivetrain is designed to provide all the gear ranges needed for climbing and descending.
The powerful Shimano MT410 Hydro Disc braking system with TransX lift ensures the rider's safety on the downhill.
With tubeless WTB ST i30 TCS rims, the Maxxis Rekon, the perfect combination of rolling speed and grip, takes off-road to the end.
What don't we like about it?
The grip of the brakes and the control levers need to be broken in by the user to get more comfortable with them.
The $2,025 price tag is not for everyone.
FAQs
How much does a 2023 GT Zaskar LT Elite weigh?
I remember when we first weighed the bike, the measurement was 14.39kg, which is still relatively lightweight.
What are the tire sizes for the 2023 GT Zaskar LT Elite?
The tire size of this bike is 29 x 2.4″, which is suitable for XC and moderate off-road surfaces.
What is the drivetrain of this 2023 GT Zaskar LT Elite?
The bike's drivetrain is a 12-speed SRAM SX/NX, which shifts very precisely and quickly.
Are GT bikes worth it and reliable?
GT Bicycles is arguably one of the most powerful bikes on the market. Although they started as a BMX, they have been creating these two-wheeled bikes since 1972. Today GT's bikes include a variety of sizes, offer a solid warranty, and spare parts are easy to find internationally.
2023 GT Zaskar LT ExpertSpecs
Build
| | |
| --- | --- |
| Frame | Zaskar LT Alloy Frame, Triple Triangle™ Frame Construction feat. Floating Seatstays, BSA 73mm, Boost 12×148 Thru-Axle, Tapered Head TubeBB Standard: BSA, 73mm, Threaded |
| Fork | RockShox TBA 130mm, 15x110mm, 51mm offset |
| Bottom Bracket | Truvativ Power Spline |
| Headset | FSA No.42E, Integrated |
| Stem | GT Alloy Stem, 31.8mm Clamp, 45mm Length |
| Handlebar | GT Alloy, 31.8mm, 15mm Rise, 5° upSweep, 9° BackSweep, 780 wide |
| Saddle | Fabric Scoop Shallow/ Sport, Steel Rails |
| Seatpost | TranzX Dropper, Internal Routing, 31.6 |
| Pedals | Not included |
| Grips | Fabric Funguy |
Groupset
| | |
| --- | --- |
| Rear Derailleur | SRAM NX Eagle |
| Crank | SRAM NX Eagle, 32t |
| Shifters | SRAM NX Eagle, 12-speed |
| Cassette | SRAM SX Eagle, 11-50, 12-speed |
| Chain | SRAM SX Eagle, 12-speed |
| Brakes | Shimano MT410 Hydro Disc, 180/160mm RT56 Rotors |
Wheels
| | |
| --- | --- |
| Rims | WTB ST i30 TCS 2.0, 32h, Tubeless Ready |
| Spokes | Stainless Steel, 14g |
| Front Hub | Formula DC-511, 15×110 |
| Rear Hub | Formula DC-1248, 12×148 |
| Tires | Maxxis Rekon, 29 x 2.4″, Wire 60TPI Exo |
Video
Comparison Table
2023 Trek Roscoe 8 vs 2023 GT Zaskar LT Expert
For those who prefer a lighter frame, the lighter 2023 Trek Roscoe 8 (29.9 lbs) will enter the range. The same aluminum frame, SRAM 12-speed drivetrain with Shimano braking effects, and quicker 4-piston caliper hydraulic discs make the Trek Roscoe 8 look confident.
But in fact, many users tell us with their real feelings, including our review results, that they are still somewhat disappointed on the road. For some people who ride, maybe it is suitable, but for riders who are looking for refined quality, the Trek Roscoe 8's components feel a bit raw in terms of handling and always find problems when using them.
Therefore, the $2,025 price of the GT Zaskar LT Exper is much more sincere and cost-effective when compared to the $2,399 price tag.
Is Trek Roscoe 8 A Good Bike?[2023 Trek Roscoe 8 Review]
Giant Fathom 1 vs 2023 GT Zaskar LT Expert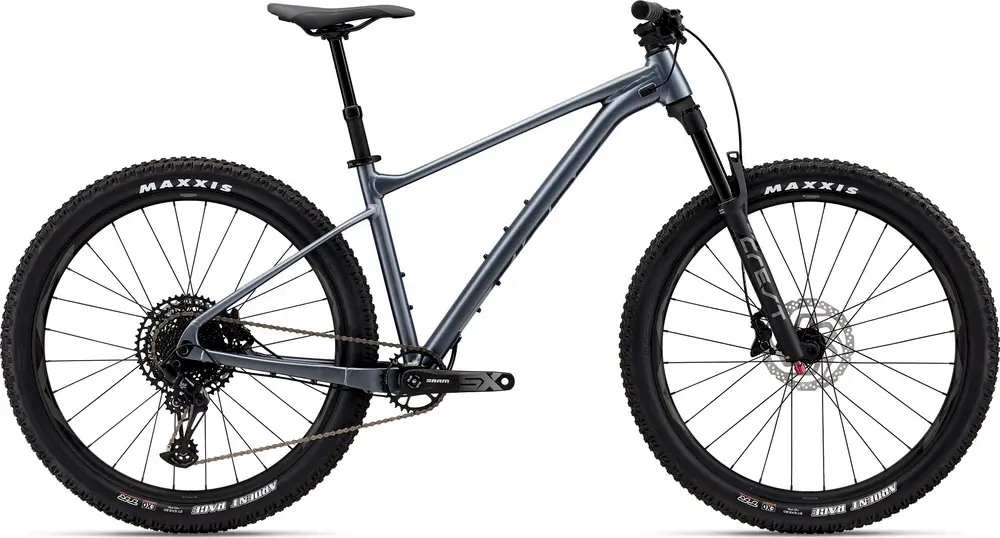 It has to be admitted that the 2022 Giant Fathom 1 outperforms the GT Zaskar LT Expert in terms of off-road capability at certain times.
With its wide 27.5 x 2.6″ tires, the Giant Fathom 1 has a higher passability on the more difficult mountain or forest roads. The wheels are always able to press through rocks and get rid of mud easily.
Although, the tires are wider and the shock-absorbing ability seems to be more prominent. However, the Giant Crest 34 SL RCL 130mm fork is still slightly inferior to the RockShox TBA 130mm of the GT Zaskar LT Expert in terms of making the rider comfortable. This is because occasionally the fork bottoming out in the face of harsh ground can cause people's palms to tingle.
In addition, the wider tires limit the Giant Fathom 1's forward progress at certain times. Therefore, in terms of speed performance, it cannot keep pace with Zaskar LT Expert players, and many times it will be left far behind.
Learn More: Is Giant Fathom 2 Worth Buying? [2022 Giant Fathom 2 Review]
Marin Team Marin 2 vs 2023 GT Zaskar LT Expert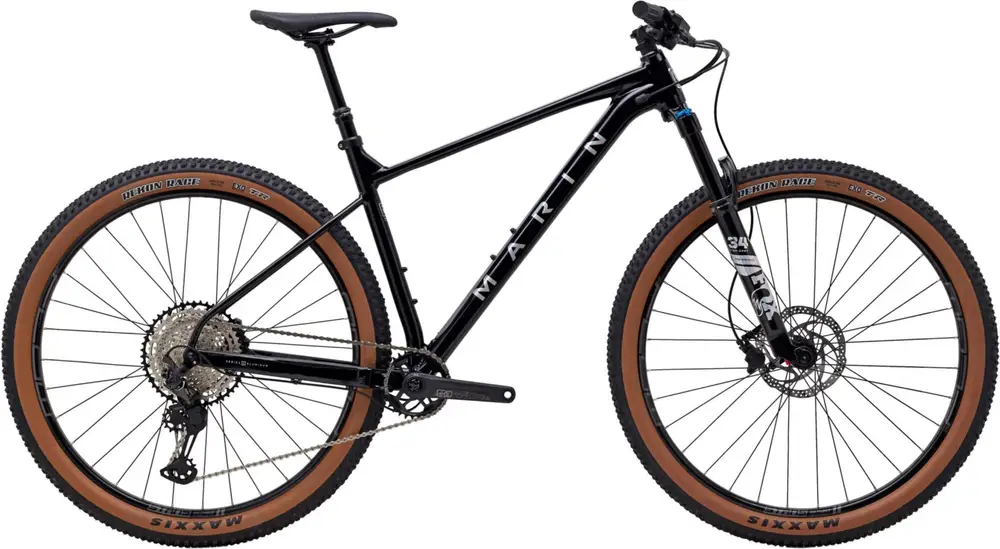 When it comes to the speed performance of hardtail bikes, the 2022 Marin Team Marin 2 is to be commended. At least it has a definite advantage in speed when facing a downhill or sprint compared to other bikes in its class.
But when considering comfort and seating position, the Marin Team Marin 2 rider may experience more vibration and discomfort than the GT Zaskar LT Expert rider on the same road surface. This is partly because it has a shorter fork travel (120mm) and a narrower 29×2.35″ tire configuration. So it may not be as noticeable in terms of vibration relief. On the other hand, the Marin Team Marin 2 has a 1.38 Stack/Reach Ratio (LG), which can make taller riders feel a sore back and neck on long rides.
So if you're on a budget and willing to sacrifice comfort for faster sprinting glory, consider the 2022 Marin Team Marin 2. Conversely, the GT Zaskar LT Expert is another good choice.
Canyon Stoic 4 vs 2023 GT Zaskar LT Expert
When it comes to hardtail bikes with a $2,000 price tag, the 2022 Canyon Stoic 4 is often brought up for comparison as well. Needless to say, at first glance, it still looks like it meets the price point criteria for price and weight.
However, our reviewers reported that the aggressiveness of the Canyon Stoic 4 tire was occasionally felt during the ride. It lacked a certain amount of grip much of the time and tended to lack a sense of security unless the rider kept the brakes dialed in at all times.
Its geometry and accessory design support it as an excellent climber, but for downhill handling, there is room for improvement.
And our protagonist today – GT Zaskar LT Expert, for climbing and descending not to say to reach the same point, but at least many times will not leave the rider in fear.
Is Canyon Stoic 4 Worth Buying? [Canyon Stoic 4 Review]
Conclusion
All in all, we think the 2023 GT Zaskar LT Expert is an excellent, quality hardtail bike. It carries on well GT Zaskar's will for mountain obsession to shine in XC and forest trails, bringing a more comfortable, safe, and fun riding experience to all those who love mountain trail riding. From its classic and stylish GT Triple Triangle aluminum frame to the strong combination of SRAM drivetrain and Shimano braking system, as well as the reliable RockShox 35 shock fork, it proves that is worth it.
Finally, if you are interested in bicycles and cycling, you can follow us! We will continue to update more practical reviews of bicycles and bike parts.