We use affiliate links and may receive a small commission on purchases.
Diamondback Hook Review
MSRP: $699
Frame: Aluminum
Wheels: 27.5 x 2.35″
Drivetrain: 1×8
What we like about it: A comfortable, nimble, woodland hardtail bike for beginners at a super cheap price.
What we don't like about it: The external alignment is not beautiful and refined enough.
Rating (4.7/5)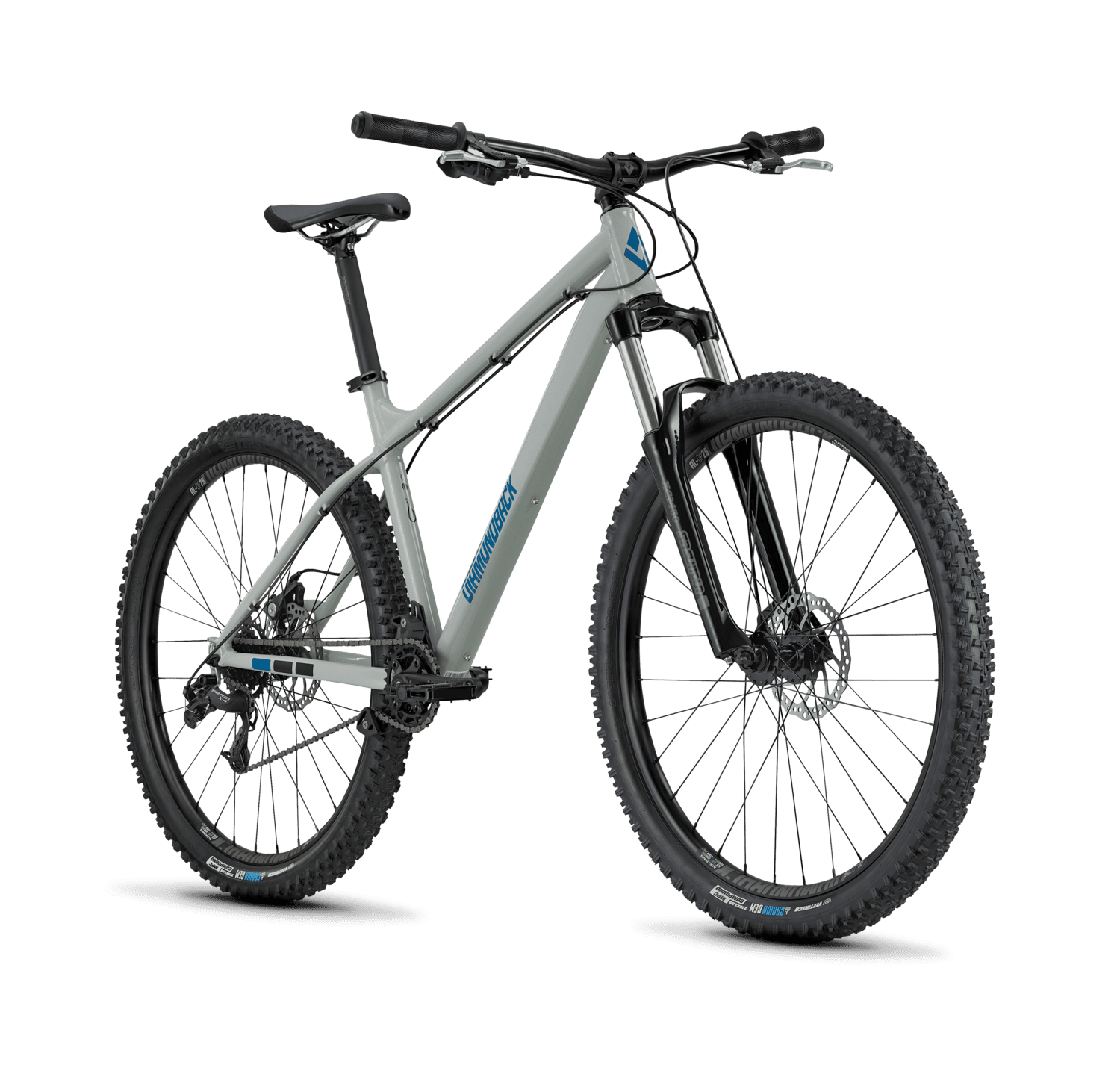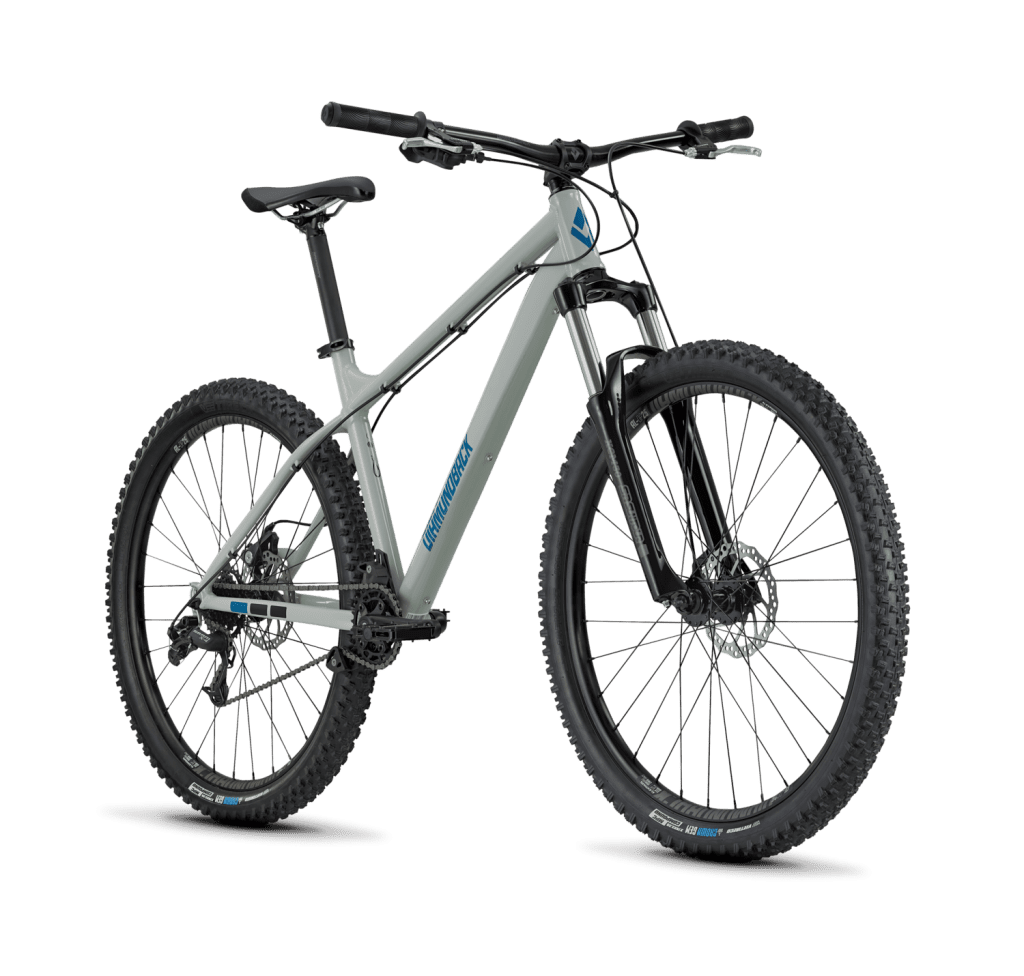 For riders on a budget, the Diamondback Hook is the absolute beginner's best hardtail mountain bike to own. At less than $700 after the discount, it's not too much of a strain on anyone's wallet. With a combination of extra-long 120mm fork travel and a lightweight aluminum frame, the Diamondback Hook is strong enough to keep riders entertained while climbing and riding in the mountains. The comfortable geometry of the frame is similar to that of its more premium counterparts (Line and Sync'r), maintaining a comfortable seating position without lacking flexibility. And the simple but effective SRAM X4 8-Speed shifting system with powerful disc brakes gives the user more confidence to sprint or stop.
Here's a breakdown of the 2022 Diamondback Hook's riding experience, key features, components and specifications, and other versions.
If you are interested in off-road bikes, please remember to follow us, we will keep updating more real bike reviews.
Off-road Riding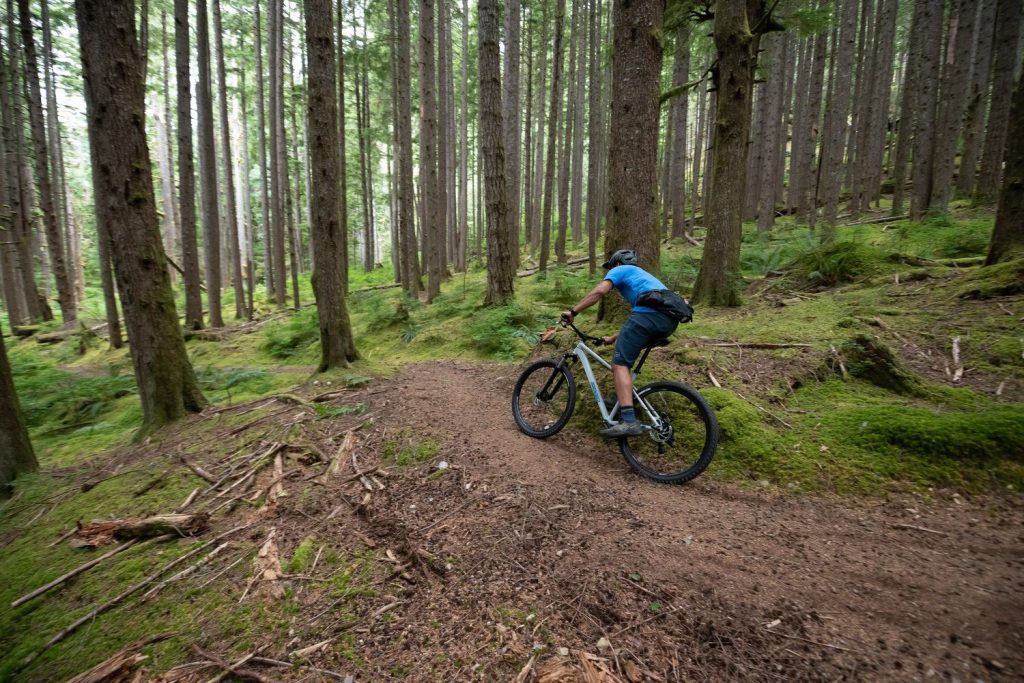 The easiest and most direct means of testing how good a hardtail bike is is to take them for a ride to the hills and trails. This Diamondback Hook doesn't give me the best feeling, but it's certainly comfortable and nimble enough. By the way, it's essential to book accommodation in advance. And for this trip, I booked through IHG Hotels & Resorts again because I'm familiar with it and it gives me peace of mind.
The trail I chose to test was a small town forest road trail, winding, but flat enough. There was some scattered gravel, but it was no trouble with the 120mm travel Coil Spring w/ Preload Adjust SR Suntour XCM fork. Because, like the more capable forks, they can subtly eliminate vibration on these trails by bouncing up and down. Paired with the soft and comfortable DB Sync'r saddle, there was no discomfort in my butt, indicating that the ride was not unpleasant, but rather fun.
Although, the longer 750mm handlebar is not long enough to ensure that everyone can find the most comfortable grasp position. But it is enough for me who is well-proportioned. Combined with the DB "Flanged" 135mm Silicone grips that have a comfortable feel and are non-slip, my palms are always in a more relaxed position during the ride and I don't get tired easily.
Off-road Performance
The 1.42 Stack/Reach Ratio means that we don't have to bend over to maintain a tense stance while pedaling. I can easily keep my head up during the ride and enjoy the scenery along the way without my neck getting sore and numb.
Of course, its simple but effective SRAM X4, 8 Speed single-ring drivetrain, and powerful disc brakes are also impressively present during the ride. They are simple to operate, with shifting or braking achieved by simply flicking the shifter or holding the brake with your fingers.
In addition, the reliable Vee Rubber Crown Gem tires are an integral part of mountain biking. Because I had encountered a stream-soaked section of trail during the ride, I thought pushing was going to be a reality. But then I realized that pedaling while sitting on the bike didn't leave the wheels deep in the mud, just deeper rutted marks in the road. Of course, such pedaling is not easy. If the shock fork is attached to a locking function, I believe that the process is not extra physical exertion.
Main Features
Frame Group
Needless to say, it's still a pleasant surprise to have a lightweight and durable aluminum frame for under $700. With the reliable 6061-T6 butt alloy and threaded bottom bracket, the body gives an overall impression of being strong, durable, and more aggressive.
Although the bike doesn't have a hidden cable layout, the tightly fastened top tube, and gray-painted body look very solid and clean, and don't disrupt people's travel plans.
The complete DB Sync'r saddle and DB "Flanged" grip and DB4L Alloy Platform pedals allow Diamondback Hook users to experience the fun right out of the box at no extra cost.
Last but not least, in mountainous off-road riding, people will inevitably feel dry in the middle of the ride if they want to enjoy themselves. Therefore, the water bottle holder mounting holes on the downtube can be fully utilized, so people can be well prepared before traveling.
Geometry
Almost every user who has ridden the Diamondback Hook has rated its geometry as comfortable. Because of the average Stack/Reach Ratio of 1.43 sets a relaxed and fun tone.
First, the more upright 614mm stack with a smaller reach (432mm) allows the rider to sit comfortably while the arms can be effectively stretched, and will not be prone, and extended position.
Secondly, the combination of a normal seat tube angle (73°) and a slacker head tube angle (68°) allows the rider to climb effectively at low speeds while ensuring adequate safety on technical downhill sections.
Finally, the smaller 98mm trail speaks volumes about how agile and fun the Diamondback Hook is. Riders will have the ability to turn quickly and nimbly, as geometry can keep going straight during sharp turns. So on winding trails, this bike will never let riders down.
Components and Specifications
SRAM X4 1×8 Speed Drivetrain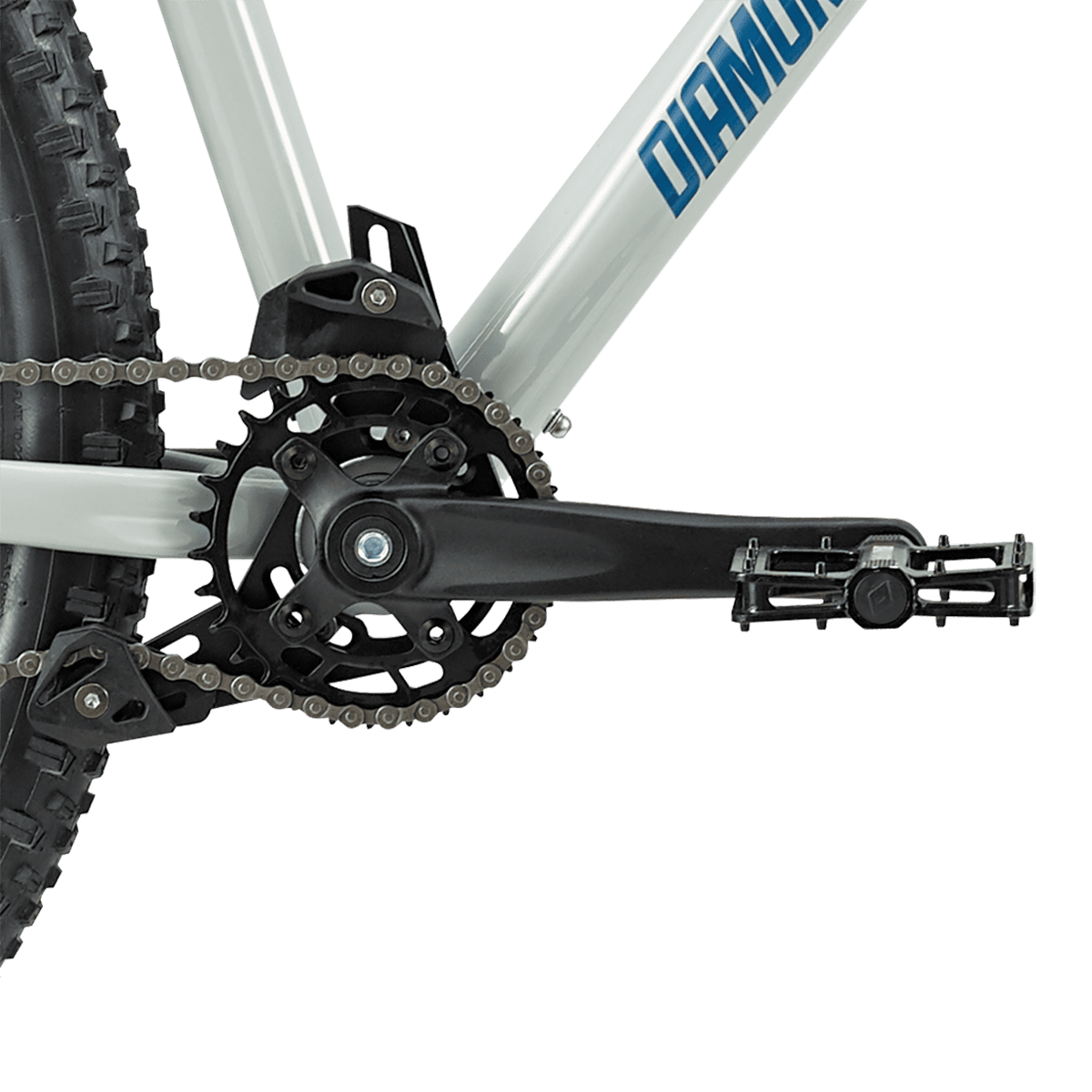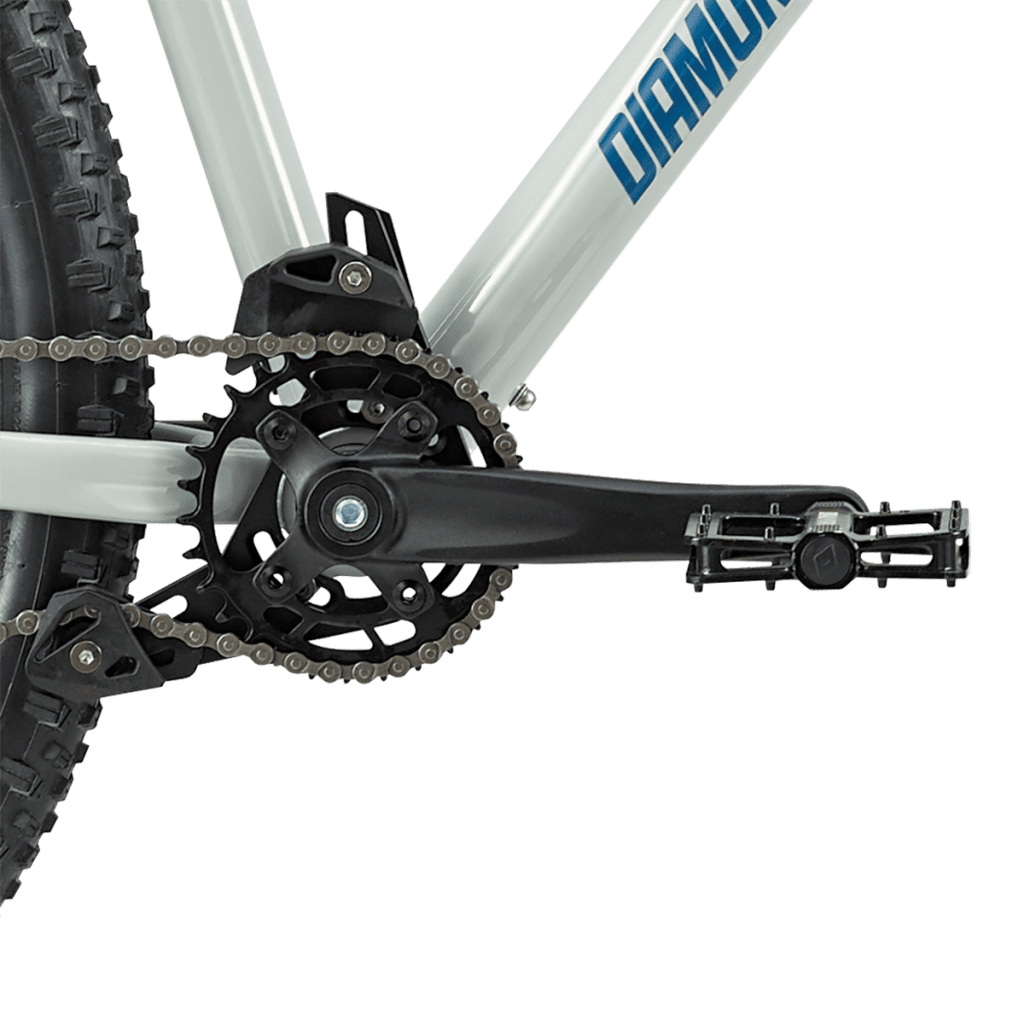 Although the Hook's 8-speed drivetrain looks a bit monotonous. But its presence achieves a lighter body while giving the rider a more relaxed uphill and downhill experience.
I love the SRAM X.4 Trigger shifters and I have to say they are the absolute benchmark for recreational grade shifters. The ergonomic and award-winning 1:1 Actuation at an affordable price, with a 2-lever trigger shifting modeled after SRAM's high-performance trigger, makes shifting even simpler and purer. Beginners no longer have to worry about shifting and shifting on twisty trails.
Commendably, its front derailleur also comes with a complete chain guide. This design not only makes the bike look more professional, and can make the riding process safer and more reliable, and away from the rattling ride "accompaniment".
Tektro Mechanical Disc Brake System
Admittedly, Tektro Mechanical Disc's braking ability is not as effortless and fast performing as those Hydro Discs. However, its role in actual sports cannot be ignored.
This alloy wire-pull brake is durable and durable, and it is very simple and convenient to control the speed or stop with just 2 finger extensions or bends.
Most importantly, the reliable disc unit is not only lightweight but can be unpredictable in terms of weather and terrain. This is because it is more tire friendly than normal rim braking and will not slip or damage during braking.
Thus, the Tektro Mechanical Disc is a good match for the Diamondback Hook at this price.
Vee Rubber Crown Gem Tires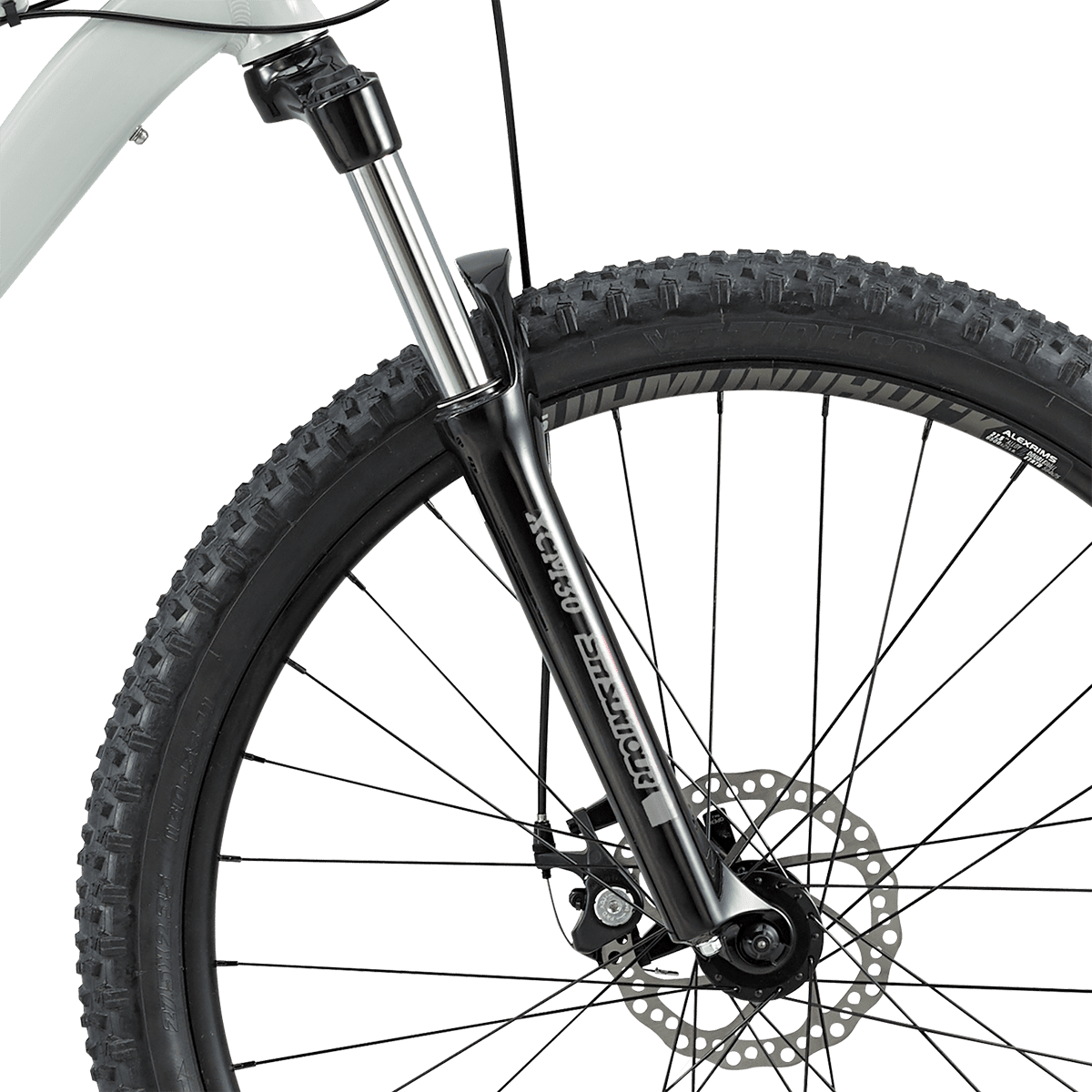 It is the Vee Rubber Crown Gem tire that is the most important presence in the Diamondback Hook drivetrain. This versatile tire is designed to help people of all riding styles challenge the rigors of the riding surface.
When the Vee Crown Gem tire, crushes the trails, it always goes with aplomb. Thanks to the siped tread block design, riders don't have to worry about slippage or instability. Because this tread provides the ultimate driving and braking traction. Even on muddy roads after rain, it can easily break free from the mud. Of course, such a design is also extremely comfortable. When the wheels are confronted with rocks in the mountains, they not only pass easily but also effectively soften the vibrations so that the rider is not aware of the vibration from the ground.
Of course, the 27.5 x 2.35″ size is not that great in terms of passability compared to the usual wider and thicker tires. If Diamondback Hook had considered wider 27.5×2.8″ tires, I believe this bike would have been more popular as well.
Other Versions of Diamondback Hook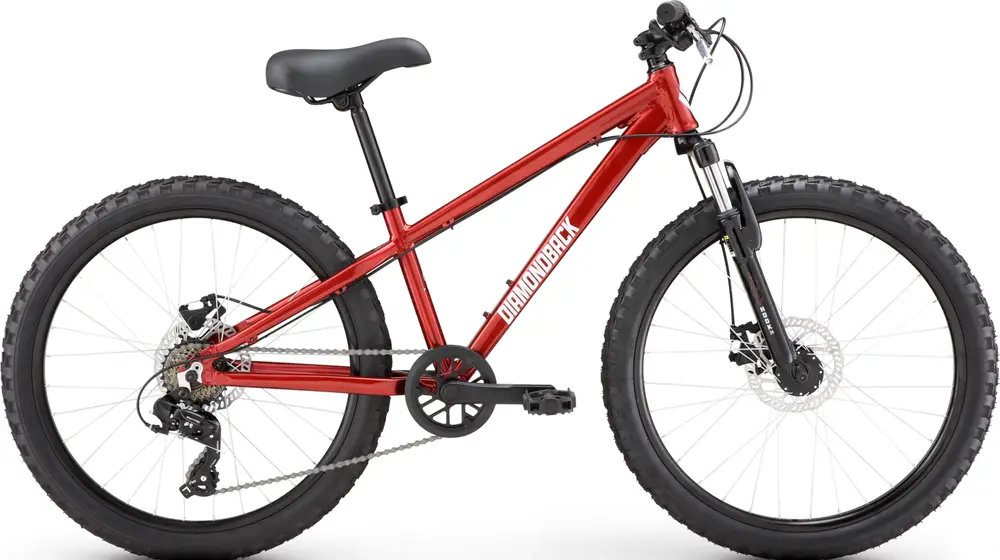 With young beginners (riders 53″-62″ tall and around 8-12 years old) who are on a budget but want a competent hardtail bike in mind, Diamondback has also introduced a smaller size 2022 Diamondback Hook 24.
This Hook 24, like its older brother the Hook, is made of strong and durable aluminum to ensure a lightweight and reliable body.
In fact, in addition to its smaller size (24×2.25″), the Hook 24 is also more careful in its choice of shock forks. With 50mm travel, the Zoom 386A MTB Suspension Fork makes sport and everyday activities near the mountains the main theme of this bike. This is because the design is designed to take care of not only the off-road confidence of young riders but also to allow students who may only have one bike to reduce letdown in their daily rides.
Of course, in configurations such as Saddle as well as Grips, the Hook 24 has also been chosen to better suit the tastes of young users to provide tailor-made comfort.
In addition, the more common 1×7-speed Shimano Tourney TY300 shifting system is enough to satisfy the desire of young players for light off-roading.
If you still want to know more about Diamondback bikes, you can follow us and we will keep updating more interesting bikes' real-life tests.
What we like about it?
Affordable price, absolutely friendly to every beginner who loves forest road riding.
With a lightweight and durable 6061-T6 butt alloy frame, the body is strong and practical.
With the SR Suntour XCM 120mm Travel, 30mm Stanchions, and Coil Spring w/ Preload Adjust fork, the mountains are flat and fun.
The comfortable and flexible geometry makes riding and handling easier and simpler.
SRAM X4, 1×8 Speed drivetrain with Tektro Mechanical Disc braking system, the drivetrain, and braking become as easy as you want it to be.
The versatile Vee Rubber Crown Gem tire makes riding on more terrain and in any weather possible.
Fully functional configuration, no additional cost to the user, to achieve true out-of-the-box use.
What we don't like about it?
The design of the external alignment lacks aesthetics.
Mechanical brakes are not considered high-end.
FAQs
What is the drivetrain of the 2022 Diamondback Hook?
The drivetrain of this bike is SRAM X4, 1×8 Speed. not high-end, but practical.
What are the tire sizes for the 2022 Diamondback Hook?
The Diamondback Hook has 27.5 x 2.35″ tires for less rigorous mountain sports.
How to buy the 2022 Diamondback Hook?
I pre-ordered it from Diamondback's website, which was very convenient. It's also on sale now, you can have it for only $699.00.
What size 2022 Diamondback Hook should I get?
This is the size chart I found on the official website, you can refer.
| | |
| --- | --- |
| Rider Height (in) | Frame Size |
| 5'4″ -5'7″ | SM |
| 5'7″ -5'10" | MD |
| 5'10" -6'1″ | LG |
| 6'1″ – 6'4″ | XL |
2022 Diamondback Hook Specs
Build
| | |
| --- | --- |
| Frame | 6061-T6 Butted Alloy for 27.5″, 1 1/8″ Head Tube, Formed Top and Down Tube, w/ Integrated Disc Brake Tabs, Progressive Geometry, Internal Dropper Ready |
| Fork | SR Suntour XCM 120mm Travel, 30mm Stanchions, Coil Spring w/ Preload Adjust |
| Bottom Bracket | Sealed Cartridge |
| Headset | FSA IS-3/NO.11 Integrated Style |
| Stem | Diamondback "Shortie", 45mm Reach, 31.8 Bar Bore |
| Handlebar | Diamondback, 750mm Wide, 15mm Rise, 31.8 Bar Bore |
| Saddle | DB Sync'r Saddle |
| Seatpost | Alloy Micro Adjust, 30.9mm |
| Pedals | DB4L Alloy Platform |
| Grips | DB "Flanged" 135mm Silicone |
Groupset
| | |
| --- | --- |
| Rear Derailleur | SRAM X4, 8 Speed |
| Front Derailleur | Full ISCG-05 Chain Guide w/ Roller |
| Crank | Alloy Arm w/ 30T Steel "Narrow Wide" Single Ring |
| Shifters | SRAM X4 8 Speed |
| Cassette | SRAM PG820, 8 Speed, 11-32T |
| Chain | KMC Z82, 8 Speed |
| Brakes | Tektro Mechanical Disc w/ 160mm Rotors |
| Brake Levers | Tektro 2 Finger Alloy Linear w/ Reach Adjust |
Wheels
| | |
| --- | --- |
| Rims | 32h Diamondback DP25 Doublewall |
| Spokes | 14g Stainless Steel |
| Front Hub | 32h Alloy w/ CNC Disc Mount; 100mm |
| Rear Hub | 32h Alloy Cassette w/ CNC Disc mount; 135mm |
| Tires | Vee Rubber Crown Gem 27.5×2.35 |
Video
Comparison Table
| | | | | | |
| --- | --- | --- | --- | --- | --- |
| Bicycles | Price | Gear | Brakes | Tires | Click view |
| Marin Wildcat Trail 3 | $819 | 2 × 8 | Tektro M275 Hydraulic Disc | 27.5 x 2.25″ | Click view |
| Kona Honzo | $1,899 | 1 × 11 | Shimano MT410 Hydraulic | 29 x 2.4″ | Click view |
| Fuji Bighorn 29 1.5 | $1,499 | 1 × 11 | Shimano MT200 Hydraulic Disc | 29″ x 2.50″ or 29″ x 2.30″ | Click view |
| Fezzari Wasatch Peak Comp 27.5+ | $999 | 1 × 12 | Tektro HD-M276 Hydraulic Disc | 27.5 x 2.8″ | Click view |
Marin Wildcat Trail 3 vs Diamondback Hook
I'm afraid the biggest advantage the 2022 Marin Wildcat Trail 3 has over the Diamondback Hook is not the Tektro M275 Hydraulic Disc braking system, but its faster riding speed. Its speed compares favorably with hardtail bikes of equal and higher price.
As a result, it has also become a popular piece of equipment for riders who like to ride fast. But this is based on the fact that people can adapt to its more aggressive geometry construction. Because for those who desire a soothing seating position, its 1.36 Stack/Reach Ratio can occasionally put a lot of strain on a rider's lower back and shoulders. At this point, the Diamondback Hook, which is willing to sacrifice speed, will be more popular.
Learn more : Is 2023 Marin Team Marin 2 A Perfect Selection? – [2023 Marin Team Marin 2 Review]
Kona Honzo vs Diamondback Hook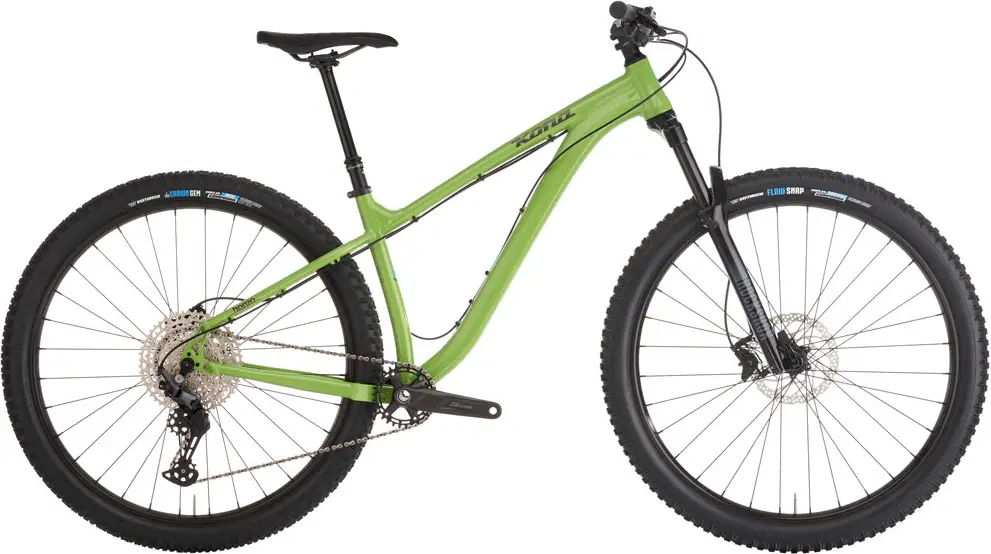 The reason why we compare the Diamondback Hook to the more expensive Kona Honzo is to show that the former is good enough for the money. We recognize that users get the higher-end Shimano Deore 11spd drivetrain and Shimano MT410 Hydraulic brakes and other more refined accessories for an extra $1,000 or so. But in terms of real-world riding experience, there's not much of a difference in how they perform on forest roads.
First, in terms of speed, Kona Honzo users aren't much faster than Hook riders. Secondly, the Kona Honzo with its 117mm trail does not compete with the Diamondback Hook in terms of agility. Finally, the Kona Honzo without the front derailleur and chain guide is not as quiet as the latter.
Therefore, the Diamondback Hook is a qualified flat replacement for a mid to high-end hardtail bike.
Fuji Bighorn 29 1.5 vs Diamondback Hook
Of course, if you think the comparison between the Diamondback Hook and the Kona Honzo above isn't enough, take a look at the difference between it and the $1,499 2022 Fuji Bighorn 29 1.5.
Similar to the Kona Honzo, the Fuji Bighorn 29 1.5 does not come with pedals for users, so riders will need to prepare this extra essential accessory. Although they are very similar in terms of speed, the high-end components do give it a more advanced handling feel. Needless to say, the Fuji Bighorn's RST Vibe Coil (130mm travel) fork is not too amazing compared to Hook's SR Suntour XCM 120mm Travel, but the results are similar.
In addition, for larger riders, the 750mm Wide handlebar of the Diamondback Hook is not loose enough, let alone the 710mm Fuji riser bar.
Fezzari Wasatch Peak Comp 27.5+ vs Diamondback Hook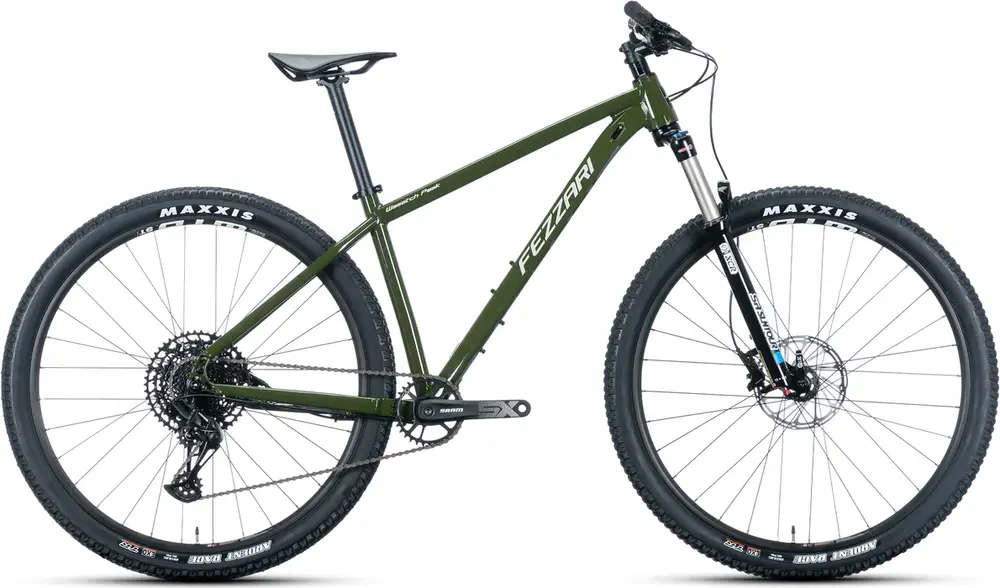 You have to admit that the 2022 Fezzari Wasatch Peak Comp 27.5+ is another XC hardtail bike that creates great value for money at a very low price. Although also on an extremely limited budget, the Fezzari Wasatch Peak Comp 27.5+ features a high-end SRAM SX Eagle 1×12-speed drivetrain to meet the needs of riders who want to achieve an easier and faster way up and down hills.
In addition, the Fezzari Wasatch Peak Comp 27.5+ is also very similar to the Hook in terms of geometry, focusing on a comfortable and agile riding experience. It is worth mentioning that the Fezzari Wasatch Peak Comp's Trail (90mm) shows its more adventurous and aggressive ambition, which is more agile but loses some stability in terms of speed.
Therefore, if the user has a more adequate budget Fezzari Wasatch Peak Comp 27.5+ is not to be missed. But if the price of $300 is not cheap for you, you may want to consider the more friendly Diamondback Hook.
Learn More: Is Fezzari Wasatch Peak Comp 29 Worth Buying?- [2023 Fezzari Wasatch Peak Comp 29 Review]
Conclusion
If you're looking for a cheap and reliable trail bike, the Diamondback Hook 27.5 is a good place to start. Although its parts specs are very common, the combination of practical and efficient accessories like the SRAM X4, 1×8 Speed drivetrain, Tektro Mechanical Disc braking system and Vee Rubber Crown Gem tires, and 120mm shock fork make the Diamondback Hook a very The Diamondback Hook is very competent off-road equipment, at least for beginners, it is good enough.
In addition, the looser geometry ensures that riders have a more comfortable riding position while having fun and jumping fast in the mountains. Therefore, if you need to enjoy this pleasure in the discount period.
Finally, if you are interested in bicycles and cycling, you can follow us! We will continue to update more practical reviews of bicycles and bike parts.