We use affiliate links and may receive a small commission on purchases.
Decathlon Triban GRVL120 Review
MSRP: $749.00
Frame: 100% Aluminum
Wheels: 700c×38c
Drivetrain: 1 × 10
What we like about it: The perfect ticket for the endurance rider's gravel tour.
What we don't like about it: The bare cable layout.
Rating (4.75/5)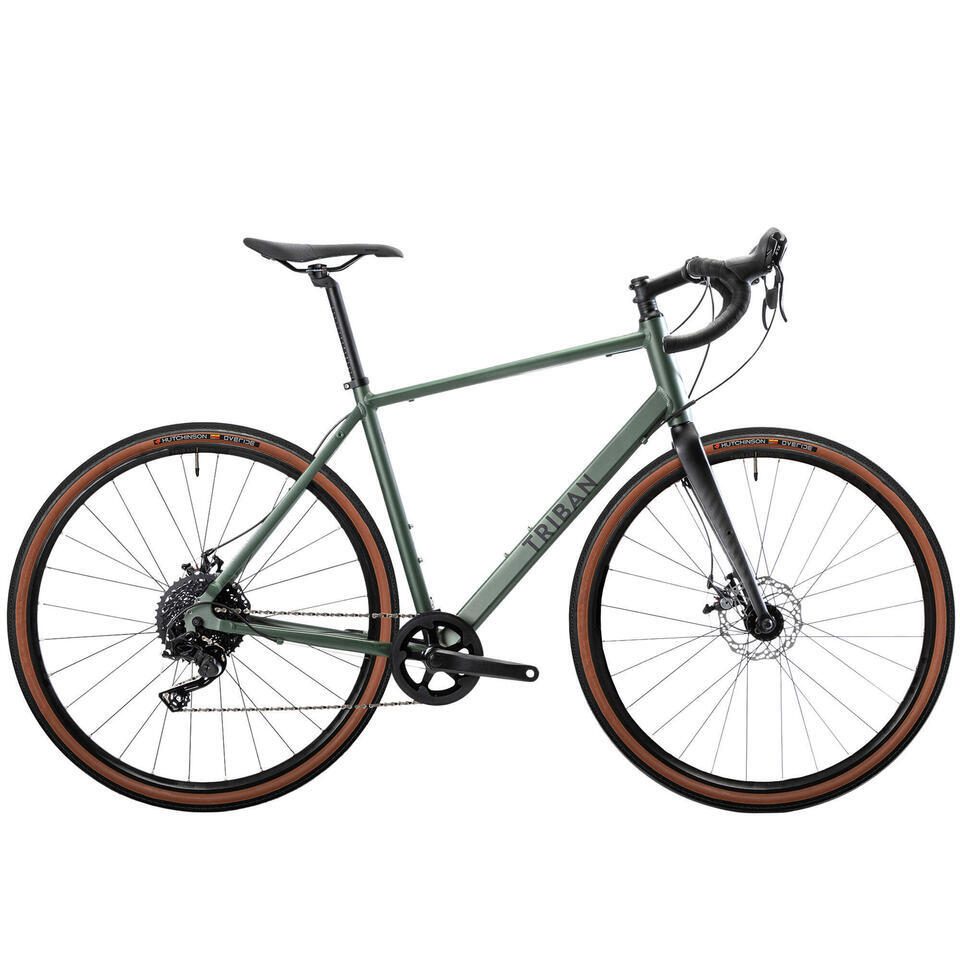 Taking care of riders who are on a budget but want to experience gravel, Decathlon has come up with the cheapest gravel road bike ever, the Triban GRVL120.
Although its construction and components are simple and ordinary, its performance is absolutely powerful and outstanding. Featuring a 100% Aluminum frame with 10-speed Microshift single drivetrain and PROMAX DSK disc brakes, the Triban GRVL120 is ready to roll quickly on ordinary gravel roads.
And the relaxed geometry and reliable carbon fork and more practical small parts work hard for the comfort of the rider.
In addition, this gravel bike with "fat tires" is also very good at running on the road and is suitable for commuting or general travel.
Therefore, the Triban GRVL120 is a very practical and interesting choice for most people.
Here we analyze the riding experience, frame features, components, and specifications of the Decathlon Triban GRVL120 and other versions.
Gravel Riding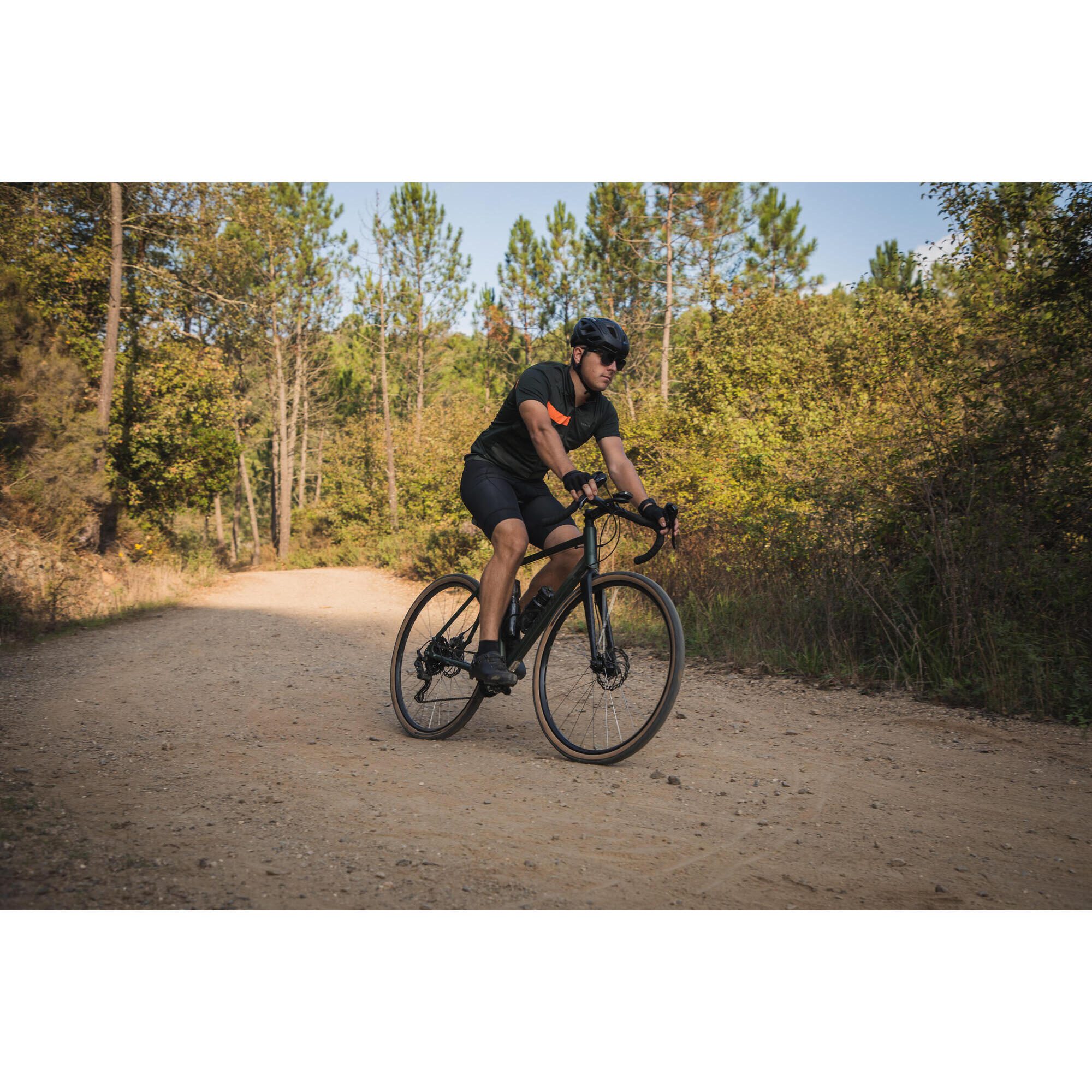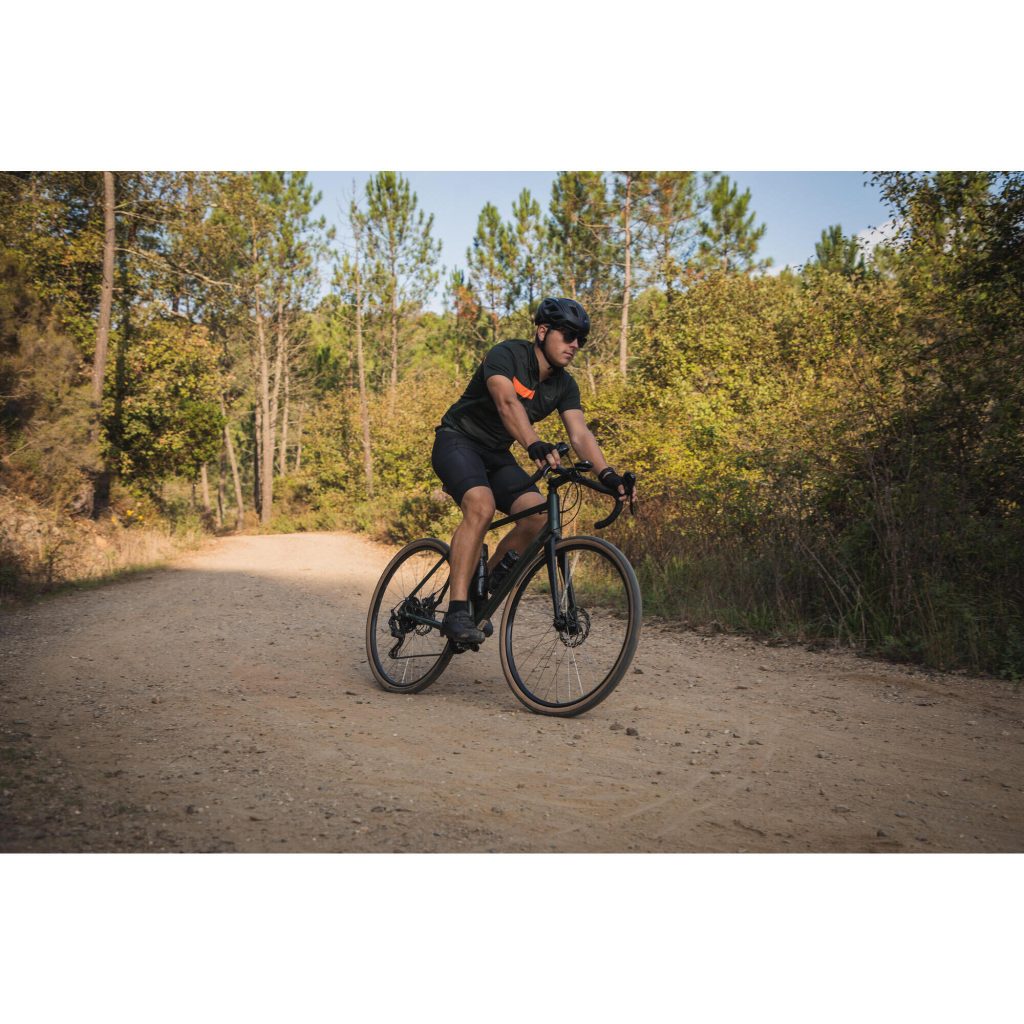 The best way to test a gravel road bike is to let them show themselves off on the unpaved roads of a small town. Before setting off, I also booked accommodation through IHG Hotels & Resorts to give myself ample space to rest and prepare.
When I first sat on the Triban ErgoFit saddle, I was drawn to it, it was very soft and comfortable. As the wheels move over the gravel, this comfort is more deeply felt. I can feel a strong grip on my butt, and my back doesn't wobble from bad road conditions because its geometry is also extremely comfortable. The near-upright riding seat is very friendly and breathes well while giving me a broader view of the ride.
I don't think any rider would be critical of the Triban GRVL120's lightweight and damp carbon fork. I can feel that it tries its best to eliminate the vibrations from the ground compared to those aluminum forks. At the same time, it also makes a great partner with the aluminum pivot, allowing precise directional control with just a gentle swing of the handle.
I must say that its aluminum gravel handlebars are also praiseworthy and very soothing to the touch. Even after long hours of driving, my palm did not feel discomfort. It also has a strong grip and does not slip because of sweaty palms.
General Riding
Like all road bikes, the Triban GRVL120 is not resistant to road riding.
I enjoyed riding it on the tarmac and the bike was very light. Although the 700×38c Tubeless Ready tires look a bit wide, it is more effective in damping the vibration. Occasionally it encounters uneven surfaces, and it has more passability than the average road bike. When riding on the road, the dual compound rubber wheels, too, can easily go over obstacles.
Most of all, the single sprocket 38-11/42 10-speed shifting system on this powerful bike is very precise and sturdy, so going uphill becomes much easier and less stressful. The Promax DSK disc brakes, which are also very easy to operate, always slow down the action the moment I want to slow down, making it safe and reliable. Even in the rain, I don't have to worry about losing control due to slippage.
In addition, to support riders like me to take it further, Decathlon's designers also reserved water bottle cages at the down tube and mid tube of Triban GRVL120 Microshift. I usually equip myself with enough water and food to enjoy a comfortable and fulfilling trip before I leave.
Main Feature
Frame Group
The lightweight, durable aluminum frame gives the bike a very refined look. It features a comfortable, relaxed geometry and a higher head tube, so it will look more upright than a typical road bike. The benefit of this is to allow the rider to have a more comfortable riding position when riding.
Perhaps the aluminum frame is standard on $800 bikes, but the carbon fork seems to be less common. Decathlon has replaced the fork with a lighter and more damped carbon fiber material to keep the Triban GRVL120 hands-free from ground vibration.
The easily adjustable aluminum Triban seat post supports the soft and comfortable Triban ErgoFit saddle, designed to provide greater comfort and flexibility for the user.
Of course, the lifetime warranty for the frame, stem and handlebars is also Decathlon's usual style. Therefore, the rights of Triban GRVL120 Microshift users will have an additional layer of protection.
While exposed cable bureaus are also common at this price point, perhaps more convenient for people's maintenance work. However, such a design loses a certain aesthetic appeal and also increases the risk of entanglement in the field environment.
Components and Specifications
Microshift XLE-hendel 10 Versnellingen Drivetrain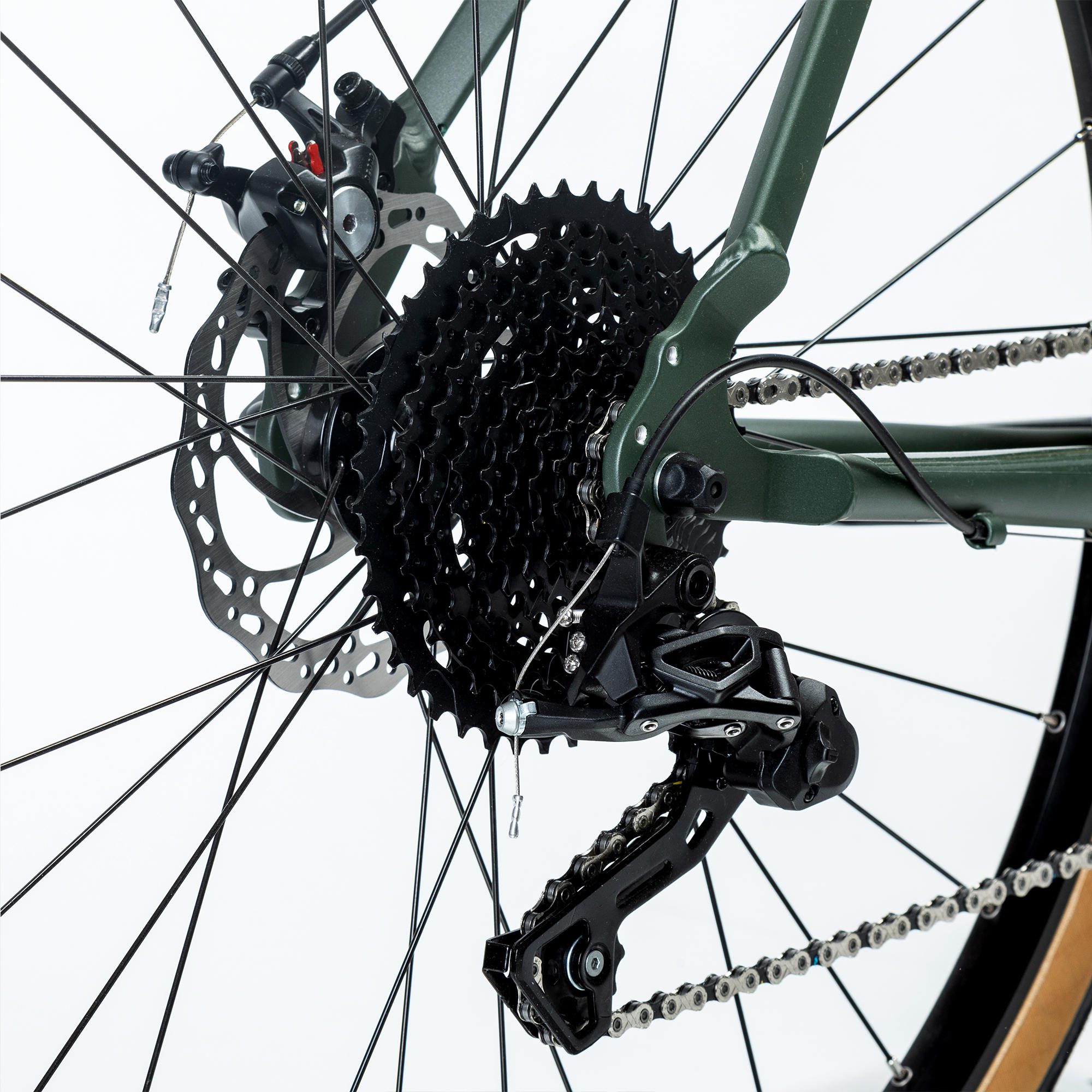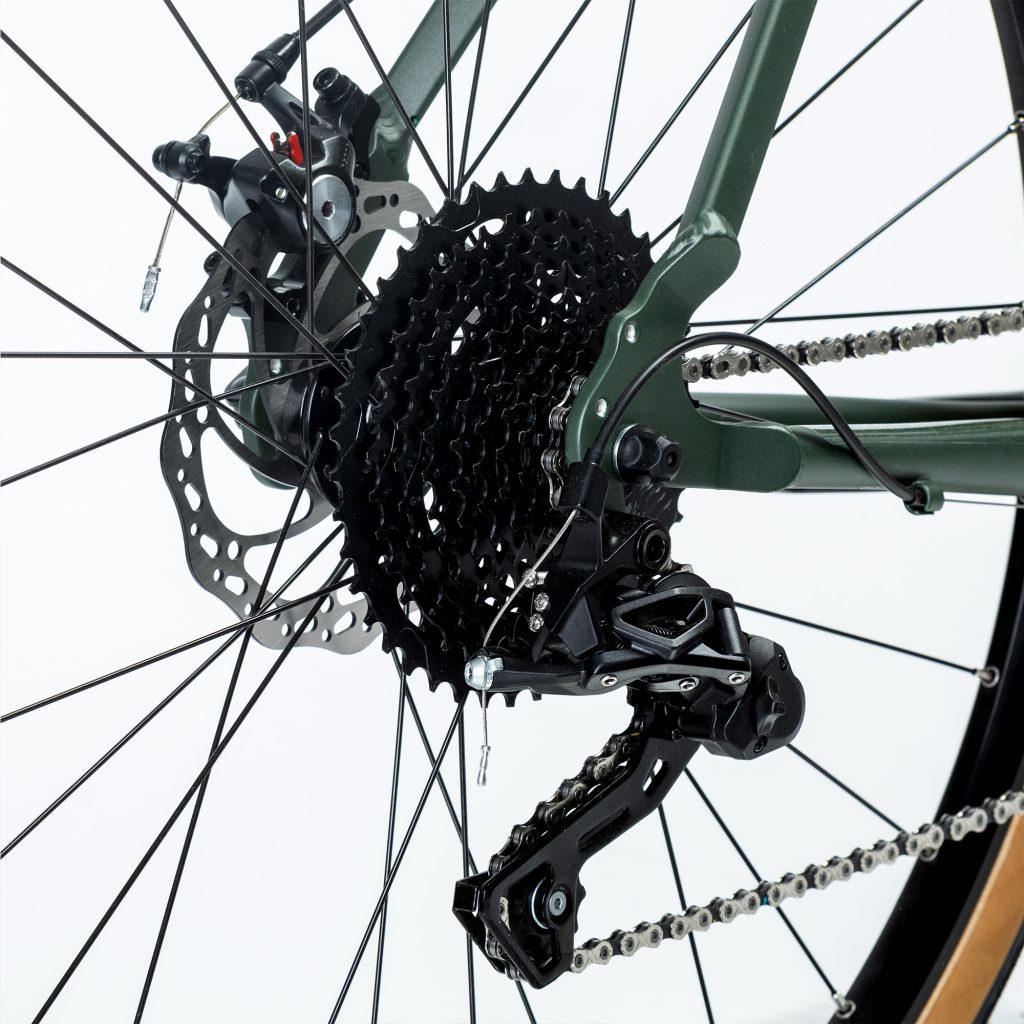 In any case, we are more than satisfied with the performance of Microshift XLE-hendel 10 versnellingen.
The Microshift XLE-hendel 10-speed shifting system was first commonly seen on mountain bike trails, with a premium rear chainstay supporting the shifting needs of people in demanding terrain conditions.
Although only a single chain design, the Microshift H100-cassette is driven by the chain with a precise and very strong Microshift XLE 10-speed shifter that steadily and orderly powers the tires. This shifter is ergonomically designed to provide intuitive and responsive shifting for the Triban GRVL120.
It is worth mentioning that, to prevent chain hopping, Decathlon detailed combined the rear derailleur with a clutch system, an anti-chain jam on the seat tube, and an external flange on the chainwheel guard. It is believed that the control effect of the 10-speed gear is enough to meet people's basic daily travel needs, including climbing and downhill on gravel or small roads, which is sufficient.
Promax DSK Disc Brakes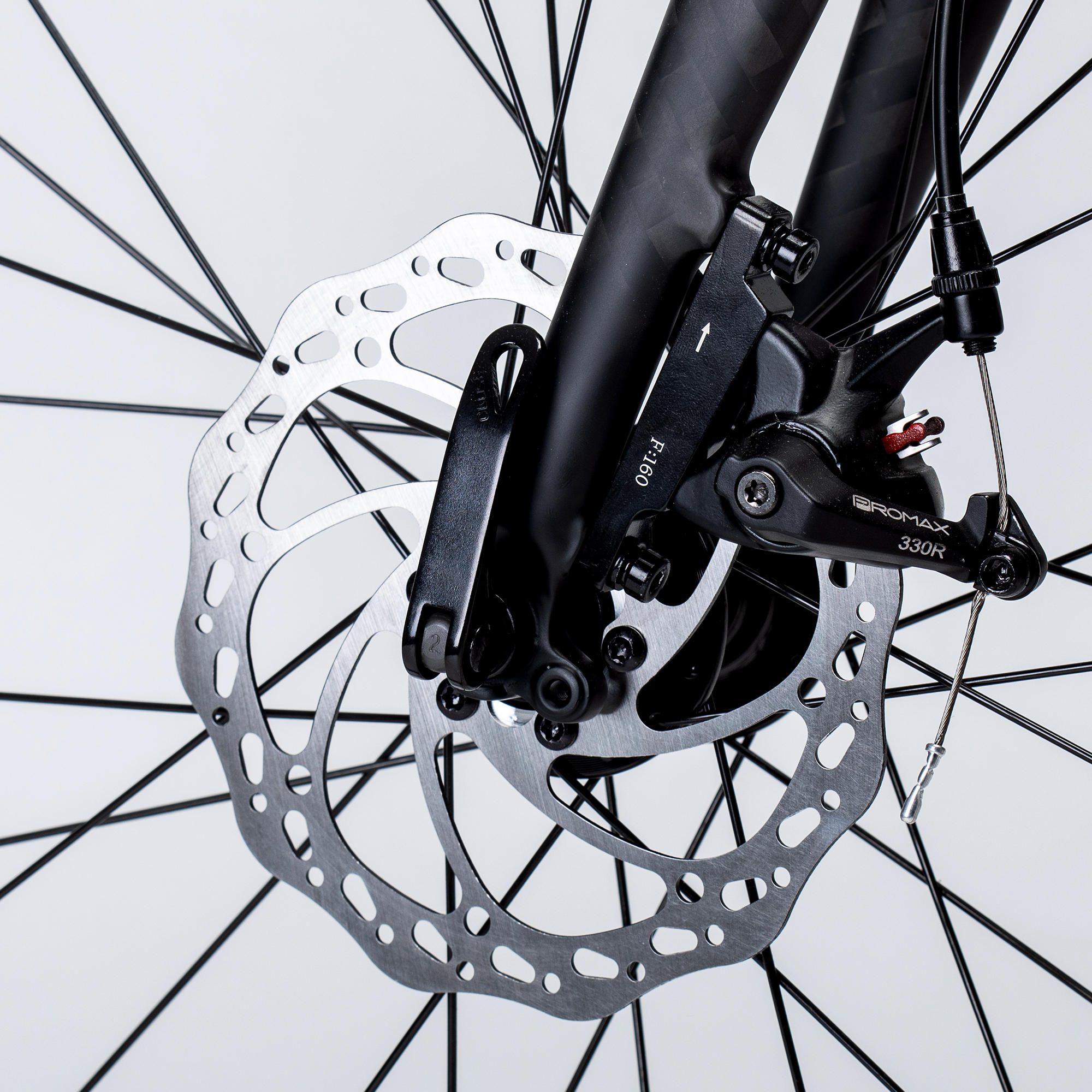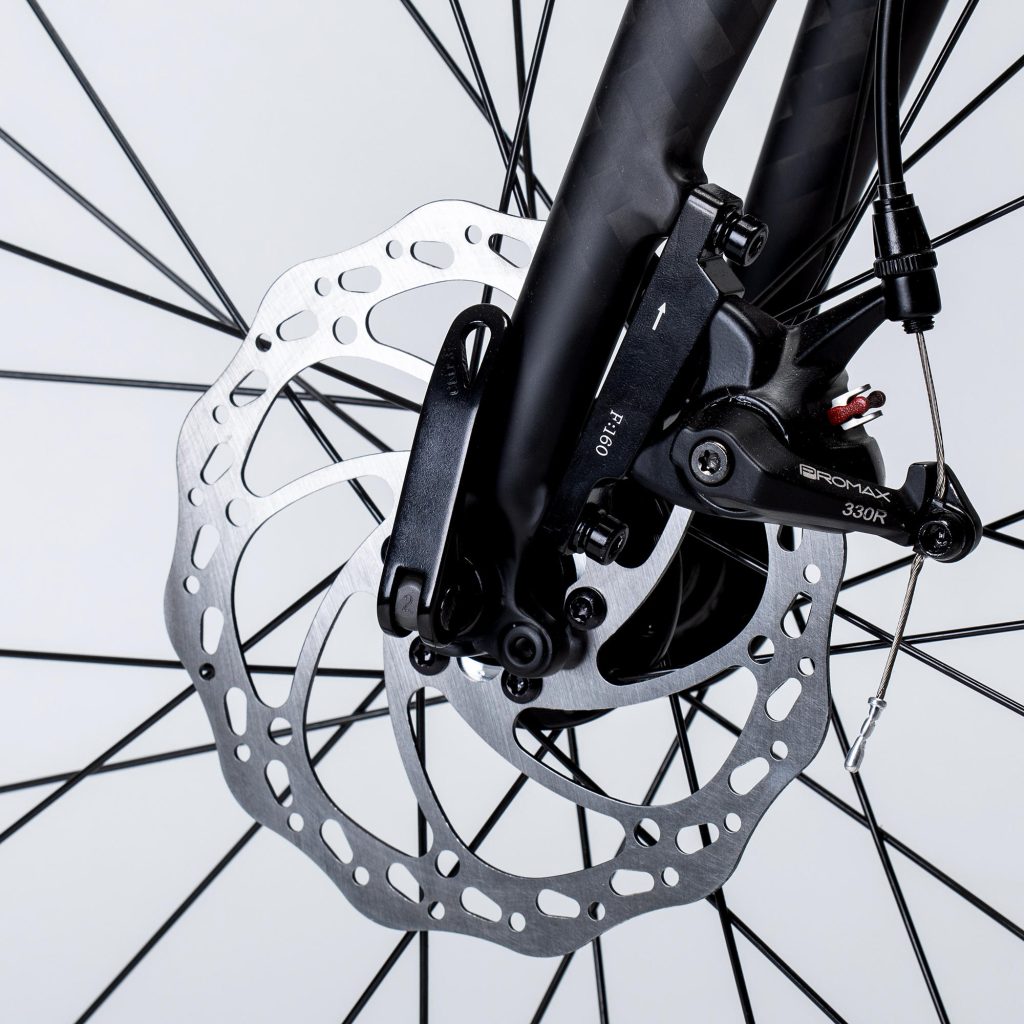 Although the Promax DSK-300R brakes are nowhere near as famous as the well-known Shimano and Tektro, they are very good value for money.
This tried-and-true lasso-driven disc brake features Jagwire's KEB-SL non-compression model on the outer layer for exceptional ruggedness and durability.
Its lightweight alloy caliper body and swingarm, with a strong grip, can slow down and position the bike the moment the user needs to press pause. Of course, if you expect more excellent braking effects, you can also choose to replace the Avid BB5 pads.
Most importantly, this disc brake can provide a good braking effect in wet or rainy weather to ensure people's safety. Together with the design of the outer body alignment, it is also very easy to maintain and take care of.
Hutchinson Overide Tubeless Ready Tires
Just as all bikes must rely on quality tires, the Triban GRVL120 relies on the Hutchinson Overide Tubeless Ready tires for its appeal.
These Hutchinson Overide tires roll fast on everything from tarmac gravel to gravel roads with impressive durability and reliable tubeless compatibility.
The low-profile treads are designed precisely for gravel surfaces, and they are very good at achieving fast rolling on dry and hard surfaces. Because of this, Hutchinson uses a REASONABLY SOFT rubber compound in the manufacturing process to ensure that it provides more traction in both dry and wet conditions.
Of course, puncture resistance and reinforcement are also essential. Even after hundreds of kilometers of continuous driving, the Triban GRVL120's tires still hardly show signs of wear.
This 700 x 38c tire is therefore a great choice for rocky paths, wet trails, and on the road.
What do we like about it?
Cheap prices help more newbies have a great gravel bike.
The reliable aluminum frame and shock-absorbing carbon fiber fork make the bike extremely comfortable.
Super comfortable upright seating position, with excellent seat posts and cushion, the riding journey becomes flatter.
The Microshift XLE-hendel 10 versnellingen drivetrain is complemented by the Promax DSK disc brakes to meet a variety of needs for running or strolling.
The quality and durability of the Hutchinson Overide Tubeless Ready tire are dedicated to accompanying the rider on every trip on rocky trails as well as on the road.
Quality assurance, Decathlon said it will provide a lifetime warranty on the frame, handlebars, and handlebars.
What don't we like about it?
The exposed exterior alignment lacks aesthetic appeal.
Lasso disc brakes are less high-end.
FAQs
What is the maximum tire width that the Decathlon Triban GRVL120 Microshift frame/fork and wheels can handle?
The bike supports a maximum of 38mm tires, and its new Hutchinson Overide 700×38 Tubeless Ready tires fit the bill. But if you need to, it also supports smaller tires. When faced with muddy soil, for example, the smaller tires will provide some protection for the fork and frame. (This is because all the mud will accumulate between the forks and the frame in this road condition and may damage the paint.)
What is the drivetrain of the Decathlon Triban GRVL120 Microshift like?
The Decathlon Triban GRVL120 has a Microshift XLE-hendel 10 versnellingen drivetrain that is very reliable and will meet most people's needs.
How much does a Triban GRVL 120 weigh?
We have measured the smallest size of the bike (without pedals or accessories.) and it weighs about 10.94 kg (24.12 lb), which is quite light.
What are the dimensions of the Decathlon Triban GRVL120 Microshift?
This is the size chart we found on Decathlon's official website, you can use it as a reference, but it may not fit everyone.
| | | |
| --- | --- | --- |
| Rider Height (in) | Rider Height (cm) | Frame Size |
| 5'1″ -5'5″ | 155-165 cm | XS |
| 5'5″ -5'8″ | 165-173 cm | S |
| 5'8″ -5'11" | 173-182 cm | M |
| 5'11" – 6'2″ | 182-190 cm | L |
| 6'2″ – 6'7″ | 190-200 cm | XL |
Decathlon Triban GRVL120 Microshift Specs
Composition
Bike Frame
100% Aluminum
Fork
Carbon fork and aluminum pivot that are more lightweight and offer more precise directional control. Inserts in the fork to fit a pannier rack. Maximum load on the fork: 20 lbs Fork weight: 1.7 lbs
Brakes
Promax DSK disc brakes. DSK 330R "flatmount" front brake DSK 300R "postmount" rear brake 160mm front and rear discs Anti-compression Jagwire KEB-SL They are reinforced with Kevlar and have a specially designed inner liner so the cables have an excellent slide Semi-metal pads, after-sales service reference: 8562868
Handlebar / stem / steering
Triban aluminum gravel handlebars with a 16 flare for better grip and excellent comfort. Handlebar width end to end: XS / S: 420 mm. M / L: 440 mm. XL: 460 mm. Stem: XS / S: 70 mm. M: 90 mm. L: 100 mm. XL: 110 mm.
Drivetrain
Single chainring 38-11/42 Precise, very sturdy Microshift XLE 10-speed shifter. Microshift M665 rear derailleurs with "Clutch" system to hold the derailleur and prevent the chain from jumping. It can be disengaged to easily remove the wheel.
Crankset / cassette
Microshift H100 10-speed 11-42 cassette (11/13/15/18/21/24/28/32/36/42) Triban 38 bottom bracket Aluminum 6061 crank and steel chainwheel guard Cranks: 170 mm for all bike sizes To prevent the chain from jumping.
Saddle / seat post
Triban ErgoFit saddle. Hammock design for greater comfort. Aluminum Triban seat post with 27.2 mm diameter for greater comfort through greater flex. Easy saddle adjustment Diameter: 27.2 mm. Length: 250 mm in XS, 300 mm in S, 350 mm in M / L / XL
Wheels
Triban Tubeless ready* wheels 6063 T6 aluminum ETRTO Dimension: 622 x 23C Rims with eyelet spoke inserts for more durability Crossed steel spokes for Improved rigidity (28 front and 28 rear) Sealed bearings Weight per pair (without cassette and QR): 5.1 lbs TESA TLR rim strip *To convert to Tubeless, add 2 tubeless valves ref:8551979 + tubeless anti-puncture liquid / sealant ref:836339
Pedals
Hybrid platform pedals.
Weight
24 lbs in size M, without pedals
Guarantee
Lifetime warranty on: frame, stem, and handlebar.
Video
Comparison Table
Schwinn Sporterra Adventure Adult Gravel Bike vs Decathlon Triban GRVL120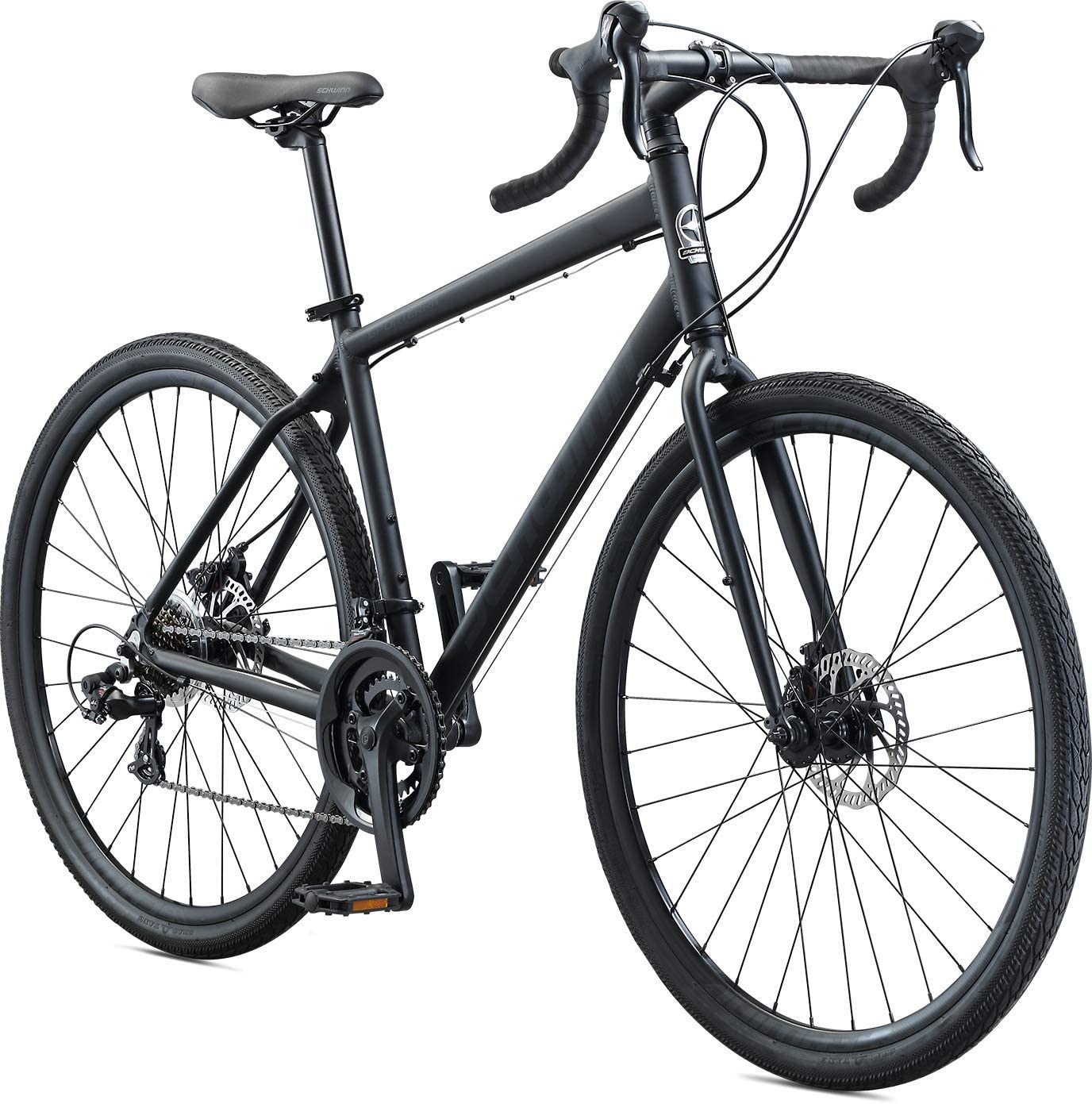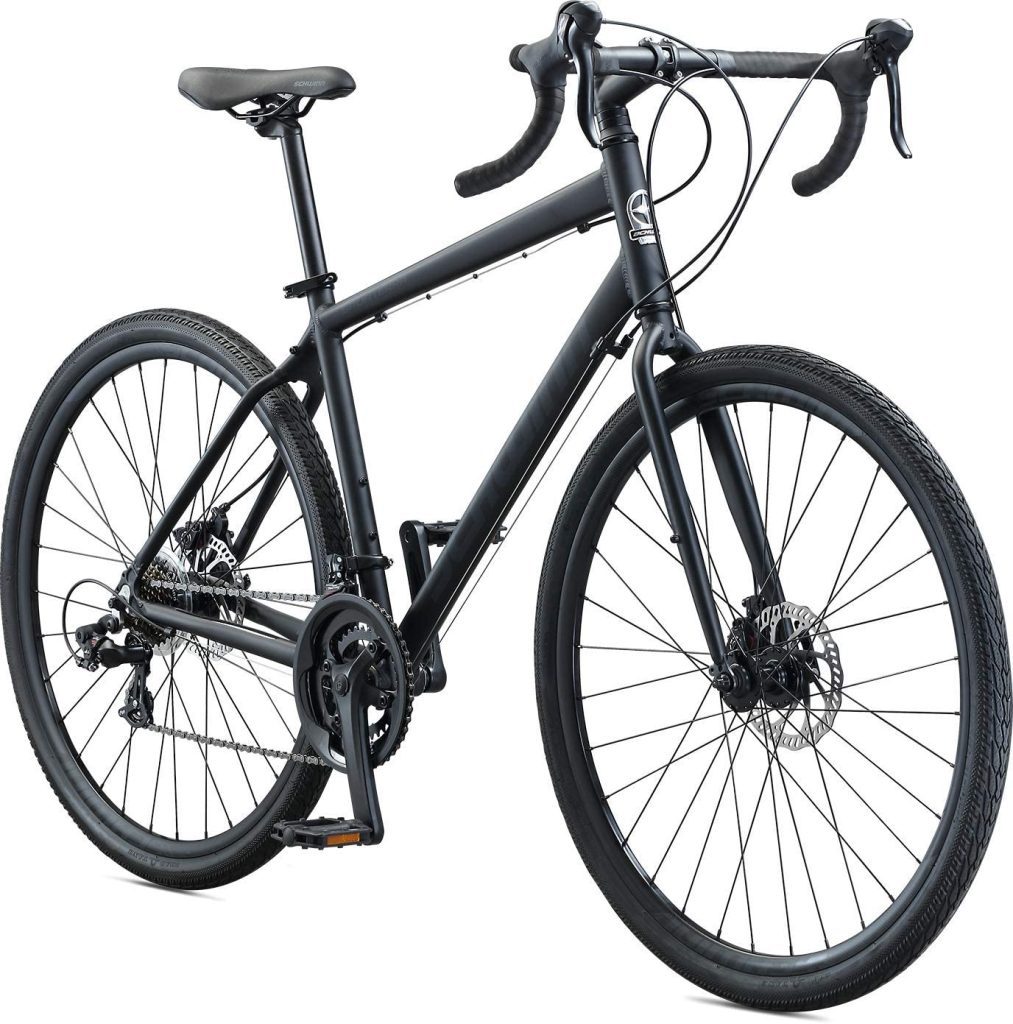 Perhaps those looking for an inexpensive and suitable gravel road bike have also considered the Schwinn Sporterra Adventure Adult Gravel Bike. Here, we also take a deeper look at why the Triban GRVL120 is more "expensive".
If you're complaining about the Decathlon Triban GRVL120 at only 10.9kg, the Schwinn Sporterra Adventure with 13.9kg is even less for you.
Again, if you're not in the 5'4″ to 6'2″ height range, this cheaper bike is definitely out of your league.
Of course, this is before we analyze the quality of the bike itself, bearing in mind that the structure and configuration of the two bikes are also very similar. But the Triban GRVL120 uses a carbon fiber fork with a more pronounced damping effect, which is more suitable for the rider than the former's rigid fork.
It has more than these advantages. I believe that how to choose, at this point you have the answer in your mind.
Tommaso Sentiero Gravel Bike vs Decathlon Triban GRVL120
There is no comparison between the more expensive Tommaso Sentiero Gravel Bike and the excellent Decathlon Triban GRVL120. But given that novice users are easily misled by its 3×8 drivetrain, we had to bring the comparison to the table.
I believe that all riders with a multi-disc drivetrain will no longer choose a bike with such a bulky device when they change their equipment. Because they are bulky and not easy to maintain, not to mention that the practicality is not outstanding. If you've ever known a used multi-disc bike, you'd be surprised that its small disc freewheel is basically brand new. Therefore, for newcomers, this unfavorable and impractical design has slowly been "eliminated".
Of course, the Tommaso Sentiero Gravel Bike is not useless, after all, they are also specifically designed to create a comfortable riding environment for riders through the design of the frame and handlebars.
ROYCE UNION RGF Gravel Bike vs Decathlon Triban GRVL120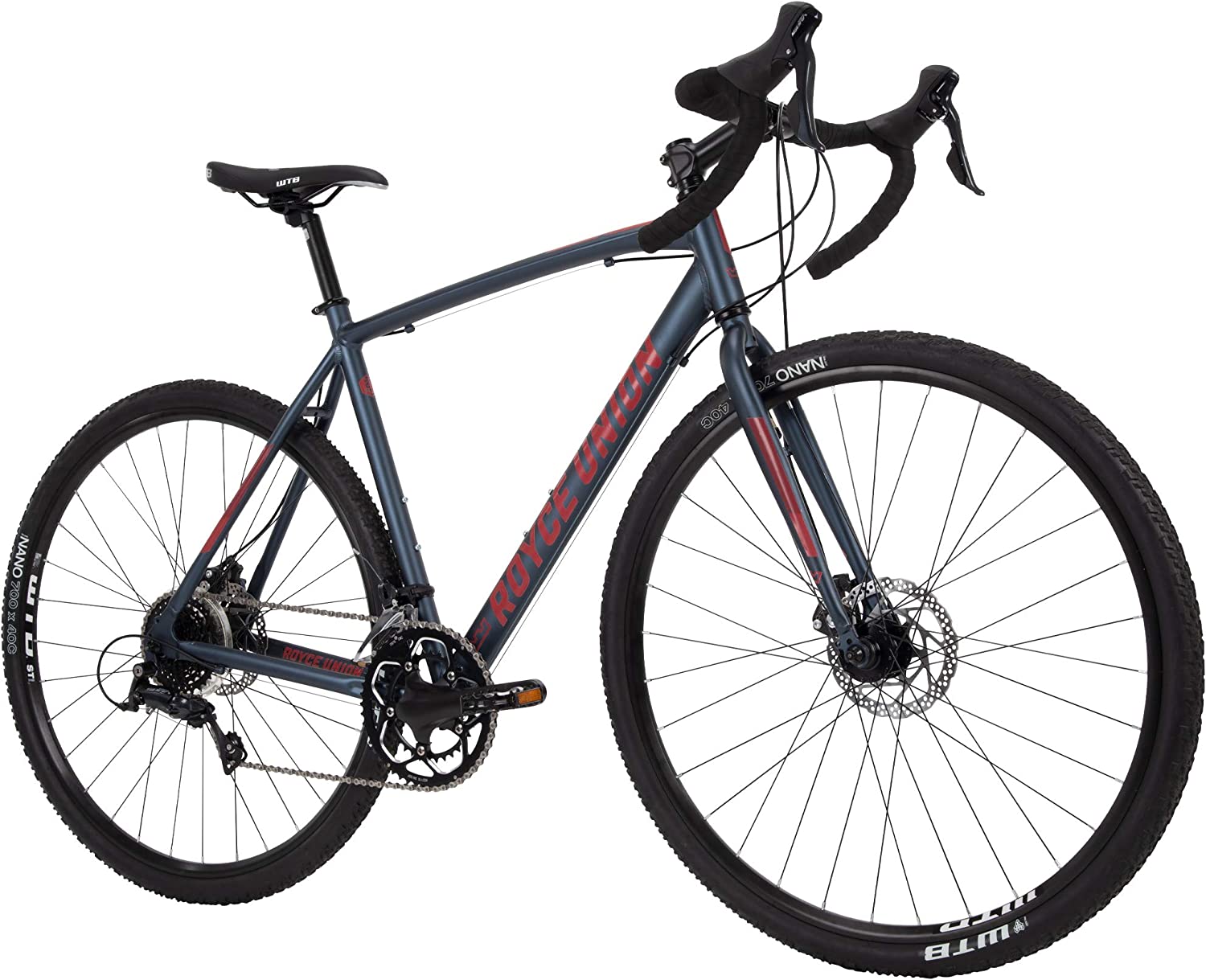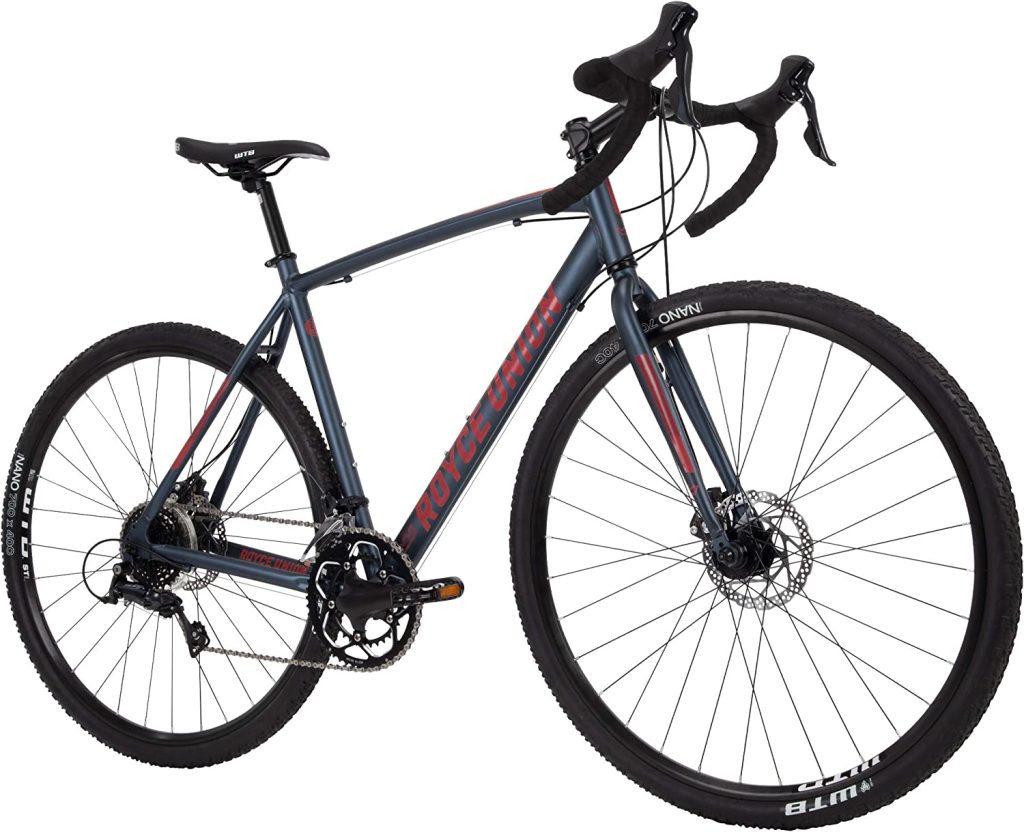 The biggest feeling I got from this ROYCE UNION RGF Gravel Bike for beginners and intermediates is that it's not good enough for the money. Although its combination seems feasible, you may be disappointed when you feel it.
We have nothing to complain about the Shimano 2×9 shifting system and the dual Shimano disc brakes on the Royce Union RGF, but the handling of other small details is less than satisfactory.
As far as the handlebar is concerned, we found it lacking in comfort in our test. When experiencing a long ride, we always felt raw and uncomfortable no matter how we adjusted the position of our palms. Its pedals, too, are not professional, with not very much grip and occasional wobble.
Most importantly, it's more of a road bike than a gravel bike. Because when its wheels start to enter the edge of the countryside, we can feel the vibration from the ground.
Therefore, if you expect a ride, the ROYCE UNION RGF Gravel Bike is not the best option.
Giordano Trieste Gravel Bike vs Decathlon Triban GRVL120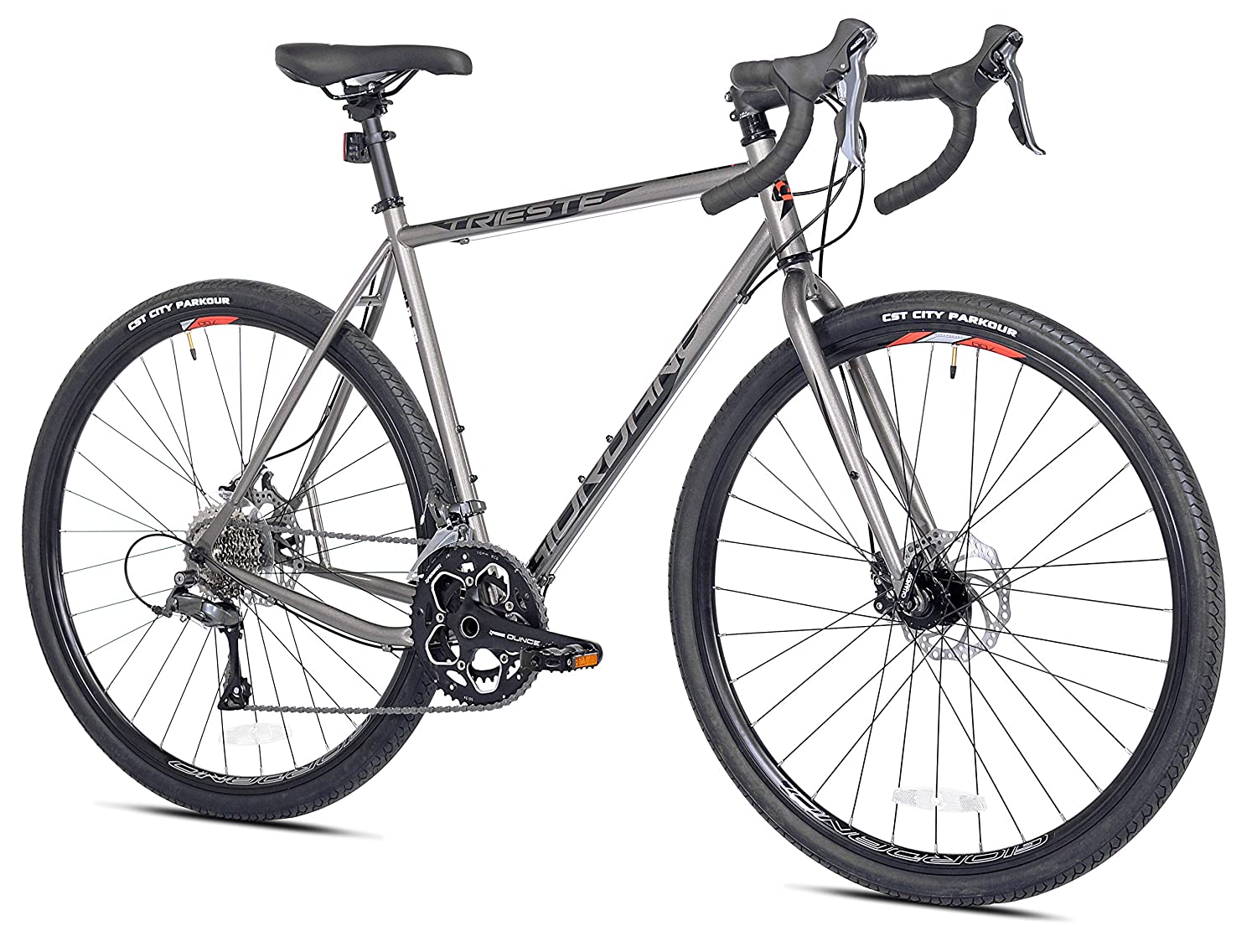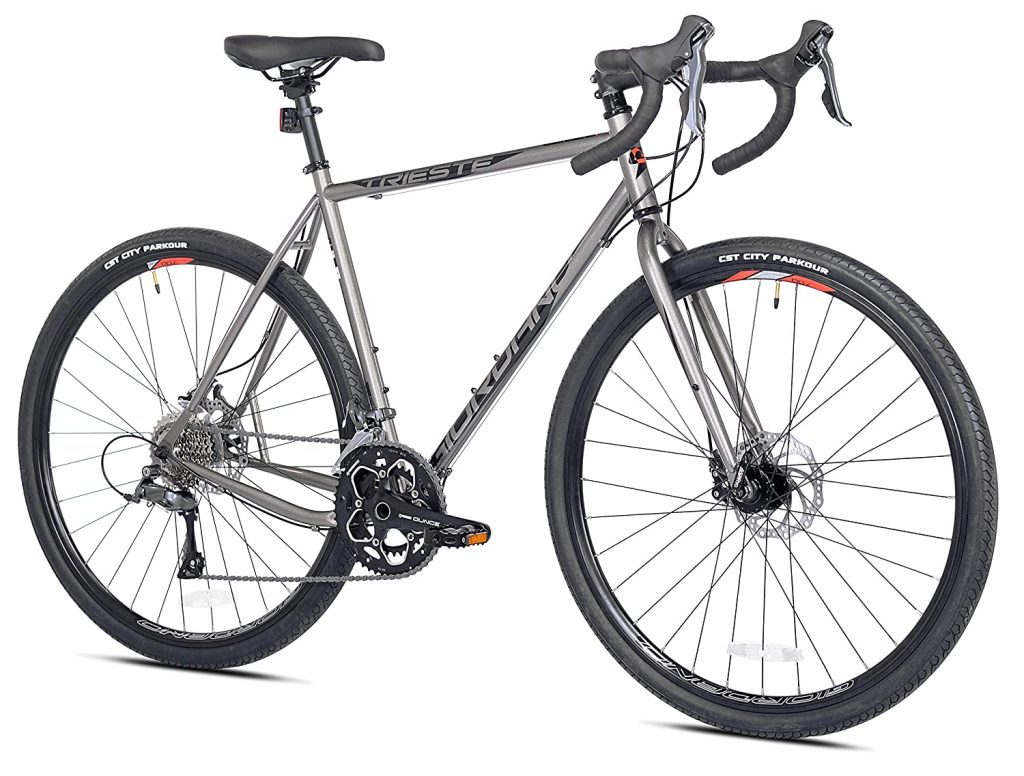 I believe that those riders who like adventure style have also felt the Giordano Bicycles. Maybe once Giordano Bicycles are suitable for beginners as well as intermediate riders, but after feeling this Giordano Trieste Gravel Bike, my impression of it is greatly changed.
This gravel road bike, made of chromoly steel, has a heavier-than-average body – 29 pounds (size M). This may not hurt, but the steel may not be as friendly to wet conditions. So its owner should always choose to prepare a dry place to house it, and when the weather is bad, it is not suitable to use it as a travel tool.
The Decathlon Triban GRVL120, on the other hand, appears to be environmentally undemanding, both in terms of material and brake components.
In addition, the Triban GRVL120 also has a more relaxed geometry, supporting the rider to output maximum pedaling efficiency in a more relaxed stance.
Conclusion
Overall, the Decathlon Triban GRVL120 is a practical, reliable gravel bike. It is also one of Decathlon's cheapest road bikes in terms of versatility and is worth getting for those budget-conscious riders.
Both the drivetrain and braking system, as well as the frame geometry, are impeccable at this price point. Of course, it also has its shortcomings. If it hid the alignment or upgraded the disc brakes a bit more, it would be more attractive.
Finally, if you are interested in gravel road bikes and cycling, you can follow us, we will continue to update more practical reviews of bikes and bike parts.