We use affiliate links and may receive a small commission on purchases.
Giant Roam Disc 2 Review
MSRP: $950
Frame: Aluminum
Travel: 63mm front
Tires: 700x42c, supports installation of tires up to 53mm wide
Drivetrain: 2×9
Brakes: Hydraulic Disc
What we like about it: The dual sport style design gives it both off-road capability for gravel trails and the rider's desire for fitness or leisure riding.
What we don't like about it: The lack of a longer travel fork makes many riders lack the courage to take it to the mountains.
Rating (4.75/5)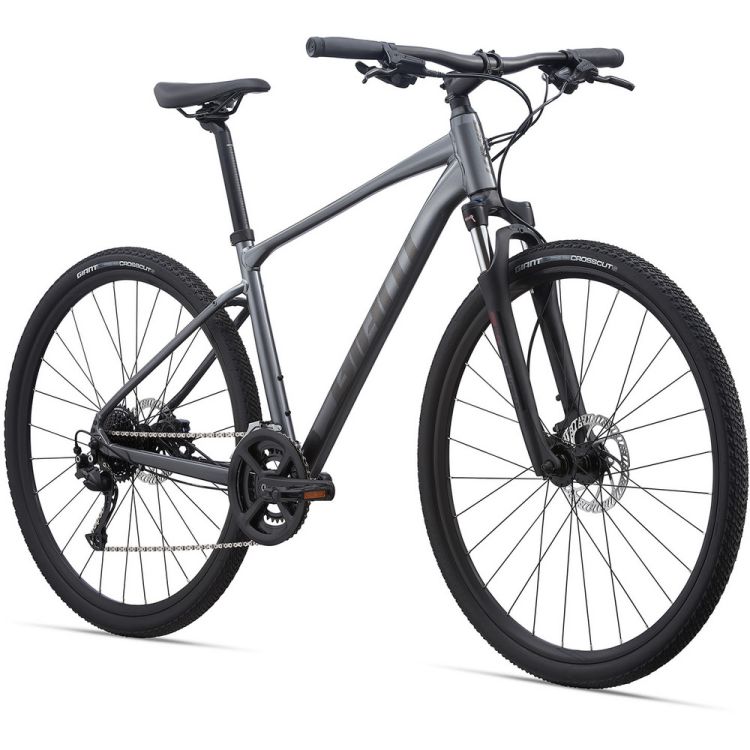 If you're looking for a bike that will allow you to enjoy the mountain trails immensely while supporting your comfortable fitness or daily commute, please take a few minutes to read through this article. Because I'm going to introduce you to a hybrid bike that can meet these requirements – the 2023 Giant Roam Disc 2.
When people see the Roam Disc 2 on the street, they are often so easily drawn to the beautiful aluminum frame that they overlook the rider's very comfortable riding grooming – a near upright riding position.
The 63mm travel fork and wide 700x42c tires are enough to meet the rider's needs on gravel trails or off-road.
If you think it's not enough to shock absorbers, don't worry, the Giant D-Fuse seatpost will take away your worries.
Thus, the hybrid sport-style design makes it not only a great vehicle but also a great playmate.
Here we analyze the riding experience, key features, components, and specifications of the 2023 Giant Roam Disc 2, as well as other versions.
If you want to know more interesting bikes, you can follow us. We will bring you more practical bicycle reviews.
Giant Roam Disc 2 Off-road Riding
Designed as a hybrid, the Giant Roam Disc 2 doesn't look as tall as your average mountain bike, but it doesn't perform any worse in the mountains than they do.
Therefore, after the holidays, I always ride to the countryside for fun.
The near-erect riding position was comfortable for me, and my shoulders and lower back were relaxed – I'm not the type of rider who can take bending over.
Also, I am quite happy with the D-fuse seat post. It is because of it that I can not only bend backward but also keep the seat firmly in place.
When I adjusted the seat, the D-shaped construction didn't give the saddle a chance to rock from side to side. It stays aligned with the top tube at all times, and I can only move it up and down, so the ride is very smooth as well.
I have to say, the feeling of Giant CrossCut tires on dirt trails is amazing, a solid experience with a bit of softness. My hips could feel so relaxed, kind of like I was getting a massage.
To be honest, I'm not sure if it's the Giant Sport saddle or the tires being wide enough.
And when it comes to gravel trails, the 63mm travel fork comes into its own. It keeps driving the handlebar up and down, and then the so-called vibrations and bumps are eliminated.
I could tell it was doing its best when I occasionally encountered a huge pothole. Because the silver fork visible to the naked eye was all hidden in the tube, at this point, my arm also felt a touch of fire.
Because of this, I also hope that the next version of the Roam Disc 2 fork gets the travel upgrade.
In addition, when long rides make my palms sweat, the ErgoContact Grips non-slip design is very comforting and allows me to grip the handlebar very securely.
Giant Roam Disc 2 City Commuter Riding
While the Roam Disc 2 is better suited for fitness, I prefer to enjoy my daily commute on it. Because it's really fast, whether it's climbing or sprinting, it always puts me in the lead.
Thanks to the SR Suntour NEX HLO 700C Fork with a locking function, it doesn't feel like you have to put in extra effort on the ride.
Of course, the Shimano 9-speed powerplant is also excellent, making both climbing and descending easier and less stressful.
Especially the gear display below the handlebar is a great comfort to me. Because I always can't remember my gear information, but after glancing at it, I know the answer. By the way, if you want to go riding in well-known terrain or special terrain, you can book your accommodation on IHG Hotels & Resorts. It is not only rich in variety but also easy to operate.
Main Features
Frame Group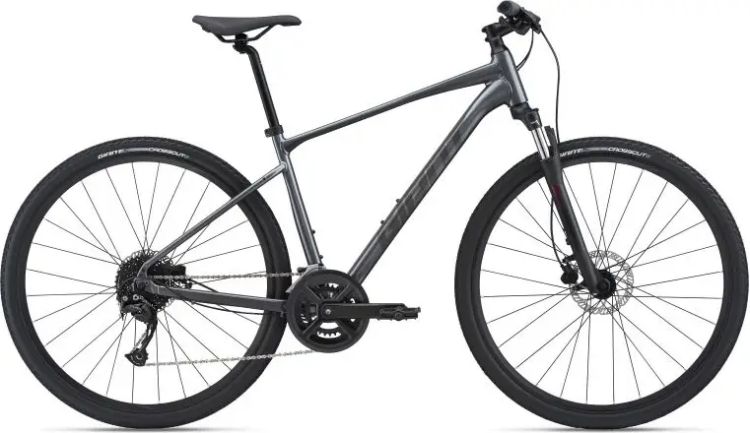 The ALUXX-Grade Aluminum with the optimized strength-to-weight ratio is very reliable as a frame and has a lighter mass while ensuring a strong body.
In terms of design, Giant's aesthetic has also been in line with the public, and there are hidden internal alignments that make the bike look very clean and high-end.
At the same time, both the Black and the Phoenix Fire can complement the handsome look of the Roam Disc 2. Especially the Phoenix Fire is very beautiful and eye-catching, making the bike a gorgeous appearance.
To its credit, the integrated downtube mudguard at the bottom of the downtube not only neatly accommodates the cables to ensure cleanliness but also saves on tubing and reduces the weight of the bike.
Of course, the Giant Sport series of stem, handlebar, saddle, and D-Fuse seatpost these bits and pieces of details. Yes, these are Roam Disc 2 can win the favor of the majority of users and can not be ignored as one of the factors.
Geometry
If you look closely at the geometry of the Giant Roam Disc 2, you can't help but love this comfortable bike.
First, the M size 620 mm stack gives the rider a more upright sitting position, allowing the user to stretch their neck and lower back. The 410 mm reach of the M size does not bind the rider's shoulders to the maneuver.
At the same time, this combination also gives the bike a Stack/Reach Ratio of 1.51, so the rider will feel very comfortable.
Secondly, the combination of a more relaxed 73.0° seat tube angle and a steep 70.5° head tube angle makes the Roam Disc 2 not lose the agility of a road bike, but retain the adventurous spirit of a mountain bike.
Finally, the 1098mm wheelbase (M size) and 450mm chainstay length make the bike agile without losing stability.
Components and Specifications
Shimano Alivio Acera 2×9 Drivetrain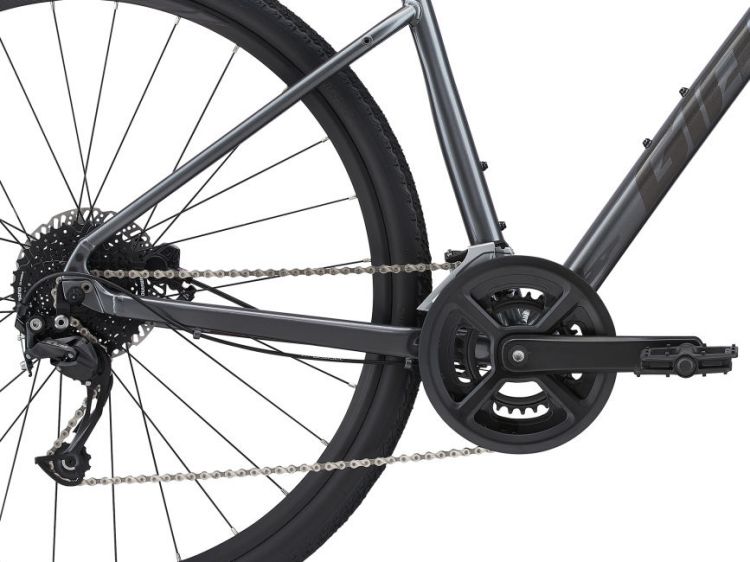 The Shimano Alivio Rear Derailleur, powered by Shadow RD technology, will be protected from off-road obstacles.
Meanwhile, the Shimano Acera Front Derailleur with a "Top Swing" design enables aggressive shifting action. Also, the dual pull cable alignment makes shifting smoother and easier.
In addition, the Shimano Altus 9-speed Shifters are very useful.
First of all, the user-friendly, numbered gear display under the handlebar is very user-friendly and the gear information is visible.
Secondly, the RAPIDFIRE PLUS technology, which supports quick shifting, makes shifting faster and silkier as the rider downshifts three gears at a time.
Finally, Shimano's special OPTISLICK cables are extremely durable, not only improving cable routing efficiency but also resisting corrosion, making them easier to maintain for the rider.
Tektro TKD-143 Hydraulic Brake
As with all hydraulic discs, the Tektro TKD-143 hydraulic is the kind of assistance that is not picky about weather and terrain.
It's not high-end, but the Tektro TKD-143 has excellent braking performance, whether in wet rain or snow or on harsh gravel trails. A toggle of the brake lever brings it to a steady stop whenever its owner needs it.
In addition, it is also very quiet. Because it uses low-noise resin pads, it makes the emergency braking process without harsh squealing.
Giant CrossCut Tires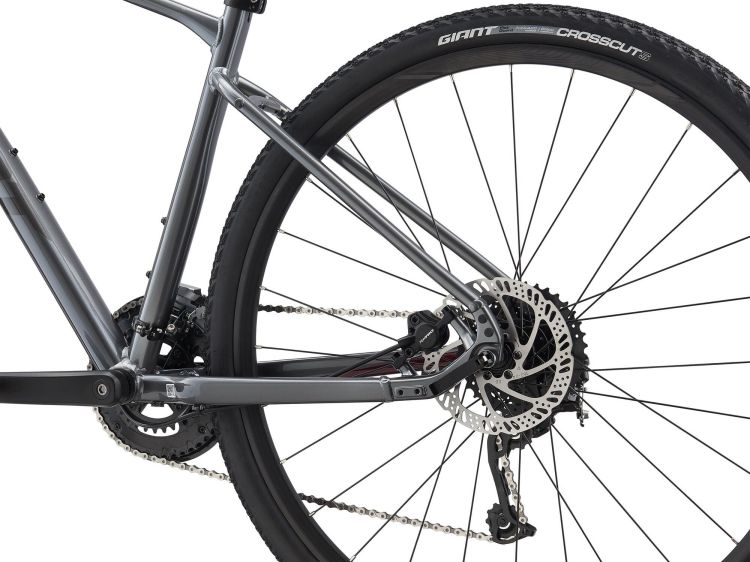 Although Giant's homemade CrossCut is not at an industry-leading level, its rolling performance is still very impressive.
First of all, the wide design of the tire 700×42c contains the diameter of a normal road bike but also inherits the roughness of a mountain bike. Thus making it have good rolling efficiency as well as cushioning performance on both road and gravel roads. After all, the larger contact area with the ground can also effectively absorb vibrations.
Secondly, the smooth tread centerline not only allows the tire to achieve fast rolling on flat roads but also superb traction when facing loose mountain roads.
At the same time, the thread pattern enables the tires to roll quickly in fast turns or on rough roads with a certain amount of grip to ensure safety.
Finally, Anti-Puncture provides an extra layer of protection for the tire, not only making it more durable but also saving the rider from the risk of a blowout on a fast ride.
To its credit, the Roam Disc 2 supports the installation of tires up to 53mm wide, which certainly increases its range of applicability.
Therefore, if the rider has off-road needs, may wish to replace the wider tires, to obtain greater passability as well as comfort.
Other versions of Giant Roam Disc
The Giant Roam Disc 2 is a great performer, but it's only an intermediate version in the Giant Roam Disc hybrid bike series.
Because it has not only its more advanced "brother", the 2023 Giant Roam Disc 1 but also its slightly inferior "brothers", the 2023 Giant Roam Disc 3 and Disc 4. -2023 Giant Roam Disc 3 and Disc 4.
However, the main difference between them is the grade of the groupset and the components that affect the comfort level. In the case of the Roam Disc 1, it is suitable for riders who are on a budget and are looking for a more comfortable shock experience, as well as a superior operating system.
Although it also has a 63mm fork, Giant chose the Suntour NCX-D LO 700C Air with better shock absorption. at the same time, the Giant Contact series has a higher-end stem and handlebar.
In addition, the Shimano Deore's 10-speed drivetrain, both climbing performance, and operating feel better.
Therefore, the riders can greatly according to their budget and need to buy.
If you are interested in the other bikes mentioned above, remember to follow us. We will keep updating more bikes with actual reviews.
What we like about it
Comfortable and versatile hybrid bike, stronger than a classic fitness bike and smaller than a traditional mountain bike design making it more like an SUV.
The lightweight and comfortable aluminum frame look great wrapped in either Black or Phoenix Fire colors.
The SR Suntour NEX HLO 700C fork with a locking mechanism has an adjustable front end to avoid leaks in the crawl or on road rides.
Giant Sport series accessories with D-Fuse Seatpost ride become very comfortable and fun.
The easy-to-operate Shimano 2×9 speed power unit with Tektro TKD-143 hydraulic braking system works seamlessly together.
Not only is the uphill speed fast, but the downhill or sprint speed also deserves praise.
The setting that supports the installation of wider tires makes it much more applicable.
What we don't like about it
The 63mm fork is a bit short, and the shock effect is compromised.
FAQs
What are the tire sizes for the 2022 Giant Roam Disc 4?
Its tire size is 700x42c, but it can support the installation of tires up to 53mm wide. If you want your off-road conditions to be more comfortable, it is recommended that you change to wider tires.
Is the bike equipped with the necessary parts that require additional equipment?
No need, whether it's Pedals or Grips, Giant has you covered, right out of the box.
How much does the bike weigh?
I weighed the bike just after it was assembled and it was about 14.0 kg, which is very light. However, even the same model may have different total masses due to different sizes, finishes, hardware, etc., so my figures can only be used as a reference.
What is the size chart for the 2023 Giant Roam Disc 2 and what size should I buy?
This is the size chart I found on the official website, you can refer. I purchased the M in 5'10" and I feel the size is just right. I suggest you go to your local Giant-authorized store for a test ride.
| | | |
| --- | --- | --- |
| Rider Height (cm) | Rider Height (in) | Frame Size |
| 155cm – 165cm | 5'1″ – 5'5″ | XS |
| 160cm – 170cm | 5'3″ – 5'7″ | S |
| 170cm – 180cm | 5'7″ -5'11" | M |
| 180cm – 190cm | 5'11"-6'3″ | L |
| 190cm – 200cm | 6'3″ – 6'7″ | XL |
2023 Giant Roam Disc 3 Specs
Build
| | |
| --- | --- |
| Frame | ALUXX-Grade Aluminum, disc BB Standard: BSA, Threaded Colors: Black; Phoenix Fire |
| Fork | SR Suntour NEX HLO 700C, 63mm |
| Rear Shock | N/A |
| Bottom Bracket | threaded |
| Stem | Giant Sport, 8-degree S:60mm, M:70mm, L:80mm, XL:90mm |
| Handlebar | Giant Sport XC, 31.8mm S:64cm, M:68cm, L:68cm, XL:68cm |
| Saddle | Giant Sport |
| Seatpost | Giant D-Fuse, alloy, 350mm |
| Pedals | platform |
| Grips | ErgoContact |
Wheels
| | |
| --- | --- |
| Rims | Giant double wall aluminum |
| Spokes | stainless, 14g |
| Front Hub | alloy, 28h |
| Rear Hub | alloy, 28h |
| Tires | Giant CrossCut, anti-puncture, 700x42c |
Groupset
| | |
| --- | --- |
| Rear Derailleur | Shimano Alivio |
| Front Derailleur | Shimano Acera |
| Crank | forged alloy, 30/46 S:170mm, M:170mm, L:175mm, XL:175mm |
| Shifters | Shimano Altus, 2×9 |
| Cassette | Shimano HG200, 11×36 |
| Chain | KMC X9 with Missing Link |
| Brakes | Tektro TKD-143 hydraulic, [F]160mm, [R]160mm rotors |
| Brake Levers | Tektro TKD-143 |
Video
Comparison Table
2022 Marin San Anselmo DS2 vs 2023 Giant Roam Disc 2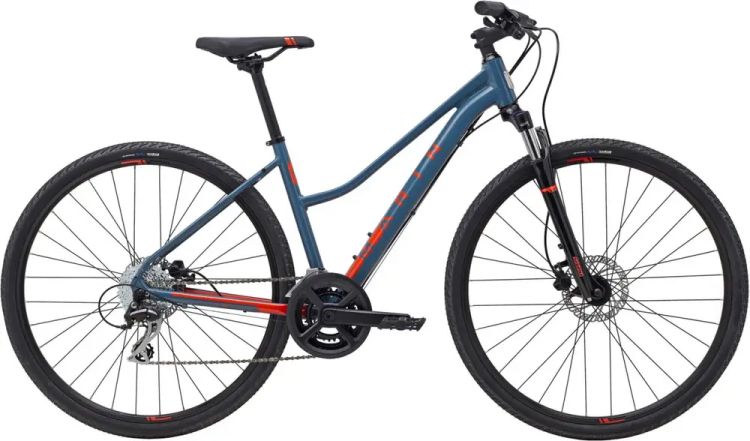 The 2022 Marin San Anselmo DS2 looks more like it's made for women riders, both in terms of component design and shape. Because Step Through Design and Marin Women's Fitness Plush Saddle is more convenient for ladies.
Of course, that's not to say that the Giant Roam Disc 2 isn't for women. For taller female riders or those who don't mind its taller top tube, the Roam Disc 2 is happy to oblige you.
Because its 42c tires have higher passability and greater shock absorption, the 9-speed drivetrain makes for a smoother ride.
Learn More: 2023 Marin San Anselmo DS2 Review- Unconventional Hybrid Bike
2022 Co-op CTY 2.1 vs 2023 Giant Roam Disc 2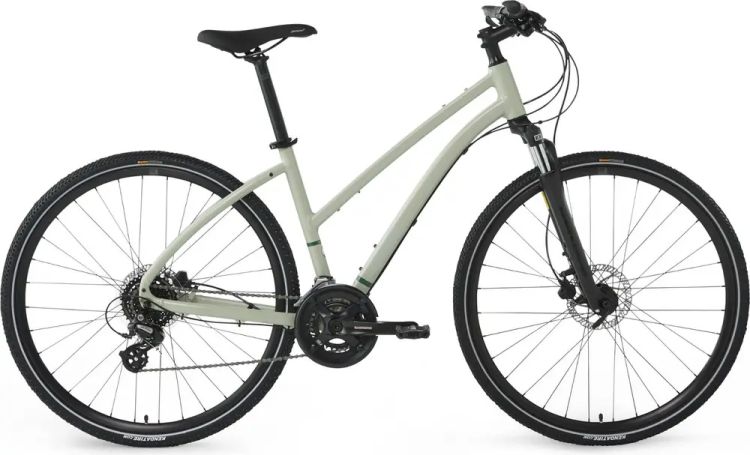 When it comes to bikes that combine speed and comfort, the 2022 Co-op CTY 2.1 is also noteworthy for its performance. The soothing geometry and 2×8 shifting system make it a very competitive bike in its price range.
But compared to the Giant Roam Disc 2, the Co-op CTY 2.1 is not as bright in some ways.
First, the lighter mass saves more physical effort when riding the Roam Disc 2.
Secondly, the higher-end 2×9 speed power unit facilitates the rider's riding. Especially in the climbing movement, which gives them more help.
Finally, many small details such as the control system's stem, handlebar and grips, and seatpost are designed to make the Roam Disc 2 a more refined riding experience.
Admittedly, the 2022 Co-op CTY 2.1 is great if your budget is not that big. But if you have enough money, Giant Roam Disc 2 is better.
2022 Polygon HEIST X7 vs 2023 Giant Roam Disc 2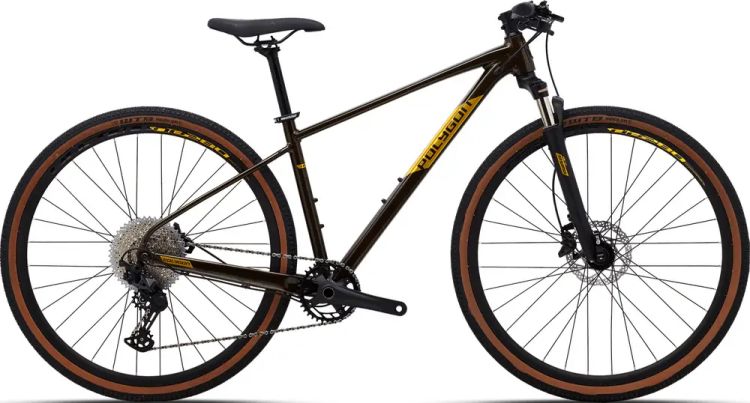 The most disappointing thing about the 2022 Polygon HEIST X7 as a hybrid bike is not only its uncompetitive speed but also its bulky mass.
To know that the extra weight of at least 6 kg compared to its counterpart is very deadly because the mass of the bike itself requires the rider to consume extra horsepower.
Of course, its geometry is always criticized, if not only for its speed and weight. The Stack/Reach Ratio of 1.43 for the standard size also speaks volumes.
Overall, I don't think the Polygon HEIST X7 is worth the $1,139 ticket price. While its SHIMANO DEORE SL-5100 1×11 SPEED powerplant is certainly appealing, its overall performance is also really disappointing.
As a result, the Giant Roam Disc 2, with its lightweight frame, comfortable geometry, and excellent speed, stands out even more.
2022 Kona Splice vs 2023 Giant Roam Disc 2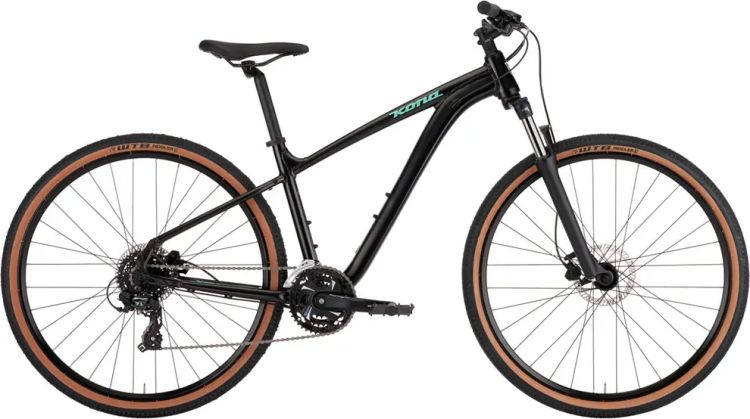 If you disregard the somewhat aggressive geometry and average speed performance of the 2022 Kona Splice, it is indeed a very good bike.
Because, its 80 mm fork, 3×8 speed power unit, and wide 700×45c tires are quite appealing.
If you're good at enjoying bent-over riding positions and like the challenge of climbing, the 2022 Kona Splice is still very good.
Of course, if you're a rider looking for an upright seating position as well as speed, the Giant Roam Disc 2's relaxed geometry, and 2×9 shifting system will please you.
Learn more : Is Kona Mahuna Worth Buying? – [2023 Kona Mahuna Review]