We use affiliate links and may receive a small commission on purchases.
Giant Cypress 2 Review
MSRP: $770
Frame: Aluminum
Fork: SR Suntour NEX, 63mm travel
Tires: 700 x 45c, maximum compatible with 55mm wide tires
Drivetrain: 1×9
Brakes: Hydraulic Disc
What we like about it: The rider will have fun maneuvering it to more places in a comfortable and relaxed position with flexibility.
What we don't like about it: Speed is not its greatest pursuit, but it's certainly not as slow as you might think.
Rating (4.75/5)
It is designed for comfort, and not just in the loose geometry.
Whether it's a groupset or a seemingly insignificant accessory, it's all been carefully designed. And all this is only to let every Giant Cypress 2 users experience the ultimate comfort.
However, Giant's sincerity goes beyond that step. Too comfortable a riding experience, it is often easy for riders to overlook its flexibility – very conducive to handling.
If you are looking for a comfortable and agile hardtail bike to experience the joy of riding, take a few minutes to read through this article. Because I'd also like to know if the Giant Cypress 2 has the honor of being your new partner.
Here we break down the ride, key features, components, and specifications of the 2022 Giant Cypress 2, as well as other versions.
If you are interested in comfort bikes, please remember to follow us. We will keep updating more real bike reviews.
Giant Cypress 2 Off-road Riding
Before setting off, I booked accommodation through IHG Hotels & Resorts to give myself ample space to rest and prepare. Although the 63mm travel fork does not look impressive, the wide 700×45c tires give the Giant Cypress 2 more off-road possibilities.
So I'm happy to take the Giant Cypress 2 on mountain trail rides when I'm on vacation.
When you hit a gravel trail, the fork is an interesting part that compresses or stretches up and down. Thus, outside of the fun ride, the bumps are gone.
At the same time, the SR Suntour NEX (fork) reached its maximum compression. I could feel it approaching its limit, but my arm didn't feel discomfort.
Because most of the shock is eliminated by it, the ergonomic Giant Ergo Grips are also effective in relieving the shock.
You must be wondering, without the rear shock my butt must suffer, right? The saddle, along with the built-in spring mechanism suspended from the seatpost, cleverly protects my hips when encountering such a big shock. So I just felt comfortable and had fun.
Later on, when I came out of the forest road, I encountered an extremely narrow single-track trail, and I was ready to fall. But the nimble Giant Cypress 2 didn't give me that chance. Together with my meticulous handling, I passed easily.
You must be wondering why I don't say how it rides in a comfortable or aggressive riding position. Sorry, the too-upright riding position was so pleased that I didn't feel like I was doing a riding activity that I neglected the topic.
Giant Cypress 2 Commuter Riding
It would be a shame for the comfortable Giant Cypress 2 to be used only for going to the mountains or playing on gravel trails. Seeing its integrated mudguard, water bottle cage, and rear rack mounting holes, I can't help but want to make use of it.
So, after installing the fenders and rear rack, the Giant Cypress 2 immediately became my newest commuter.
My commute was mostly city roads, but there were plenty of steep hills.
The microSHIFT Advent 9-speed powerplant, which has a small but very reliable range of gears, comes into its own. The shifting was silky smooth, and the lowest gear made the climb easier with its fun "click" sound. So, I didn't deliberately accelerate the pedal, but the bike continued to rise steadily.
Also, the Tektro TKD143 hydraulic disc gives me quite a bit of confidence when going downhill, as it always brings me to a quick and steady stop.
Therefore, I always used to tread as usual to enjoy the feeling of a bigger wind blowing past my cheeks, which was very refreshing.
It is worth mentioning that the alloy, mid-rise Handlebar is very clever. It's not a very long type, but the adjustable design is great. I experimented a few times to find a more comfortable riding angle and since then the ride has been smoother and I can control the bike with confidence.
Main Features
Frame Group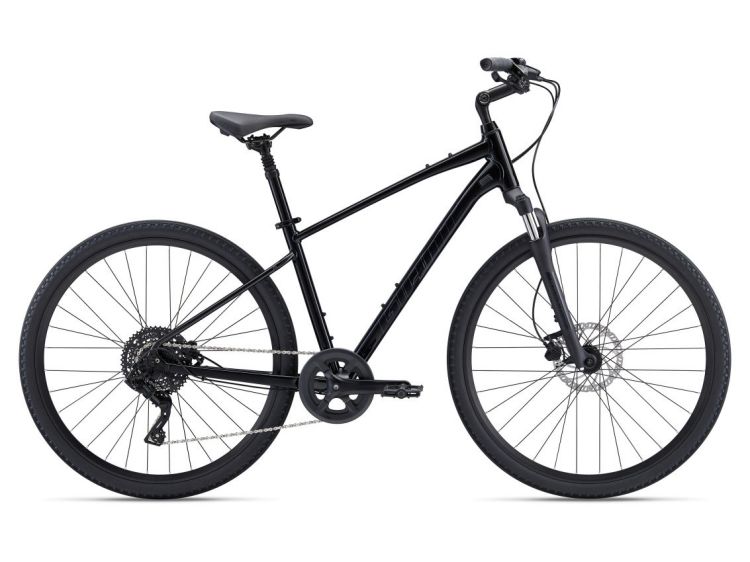 Lightweight and durable ALUXX aluminum frame, and then use within the alignment of the design, both Black or Garnet style is very gorgeous, beautiful.
It is worth mentioning that the frame with 6061 alloy and single pair of tubes is very strong and light, so it can adapt to riders of all riding styles. The classic setup – the design of moving the rear upper fork down – also makes the bike more shock absorbent. As a result, it will then give the rider more comfort, and both the hips and the back feel more relaxed.
The suspension seatpost and cushioned saddle and adjustable stem with a comfortable handlebar, and Giant Ergo Grips, are telling us that the main focus is moderate Giant Cypress in the details of the more thoughtful.
Because they exist, the rider feels less vibration and bumps, and more comfort and enjoyment come with them. The rider can start each journey with more confidence.
Geometry
The comfortable geometry of the Giant Cypress 2 is also one of the reasons why most users are willing to pay for it.
As we all know, the most straightforward way to judge a bike's comfort level is by its Stack/Reach Ratio, and the Giant Cypress 2 wins the ticket to the comfort bike category with a superb 1.62 Ratio.
In addition, the 83.8MM trail and 465mm chainstay length combined with the 1121mm wheelbase confirm that not only does it have flexible steering, but it is also quite good at stabilizing speed.
The 72.5° seat tube angle combined with the 70.5° head tube angle is also a very common angle for comfort bikes. This combination makes the bike stable while not lacking in responsive steering.
Of course, what can testify to the comfort and flexibility of Giant Cypress 2 includes but is not limited to the above-mentioned data. Because every one of its designs is to make the rider have a better riding experience.
Components and Specifications
MicroSHIFT Advent 1×9 Drivetrain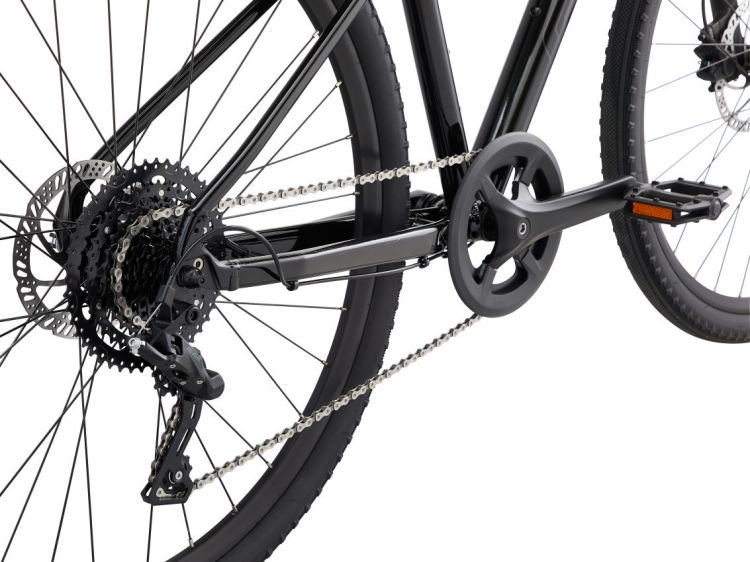 The simple and convenient microSHIFT Advent 9-speed drivetrain doesn't have a fancy shift range, but its rugged Clutch makes it smooth and quick to shift even in the face of rough terrain.
In addition, Advent is designed with an innovative ratchet and pawl tension assembly, making it quite easy to maintain.
To its credit, the microSHIFT advent rear derailleur is designed with the rider in mind, with not only a wide range of gears to support trail riding, but also a quick response to shifting needs, allowing the rider to focus more on riding than shifting.
Because of its ergonomic shifter, it feels great in your hand and has a separate index finger and thumb trigger structure, making it very easy to use. Also, the "click" sound when shifting is very sensual, making the shifting operation more ritualistic.
Tektro TKD143 Hydraulic Brake
Unlike the usual comfort bikes that opt for rim brakes, the Giant Cypress 2 specifically uses Tektro TKD143 hydraulic disc brakes. This is a sign of Giant's sincerity, as it means that the businessman has to pay more for the cost price.
As a result, Cypress 2 users can enjoy high-speed riding rides without fear of weather or terrain. Because of the disc brakes, the brakes are always effective whenever the rider wants to stop.
Of course, the Tektro TKD143 hydraulic also means that its owner has to maintain it more carefully, despite its good quality.
Innova Multi Purpose Hybrid Tire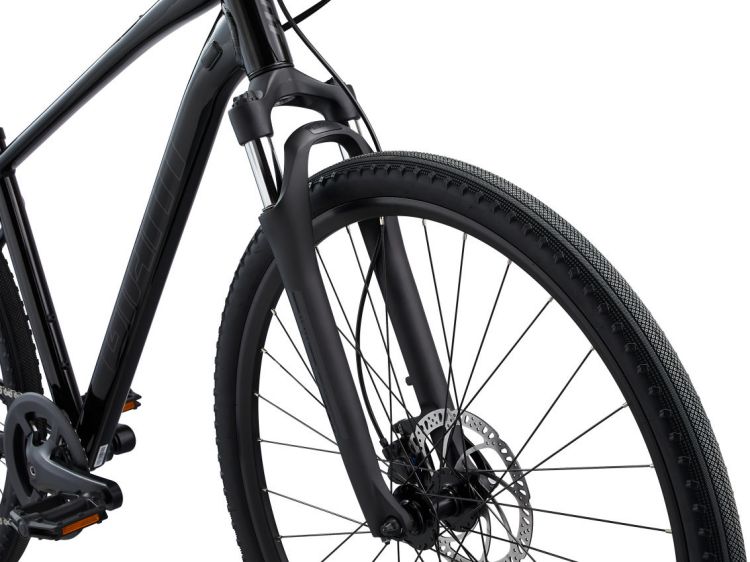 To make the ride more comfortable for Giant Cypress 2 users, Giant has also adopted the wide, bump-absorbing Innova Multi Purpose Hybrid tires.
As a special tire for hybrid bikes, it has a very unique design.
First, the centerline of the tread visible to the naked eye allows the bike to roll quickly on asphalt or gravel roads.
Secondly, the diamond file tread and deeper shoulder tread give the tire more bite on looser surfaces.
Finally, the Sport Guard puncture protection makes it rugged enough to support the rider on any demanding ground adventure.
In addition, the Giant double-wall aluminum rims and alloy hubs are an excellent complement. They are very strong and provide efficient drive rates, allowing the tires to roll quickly.
Other versions of Giant Cypress
It has always been the developer's style to use different groupsets or paint colors for the same bike to correspond to users with different budgets or riding styles. Giant is no exception.
However, out of trust in microSHIFT, the 2022 Giant Cypress series has only been modified in terms of gearing. For example, the Cypress 1 has a 10-speed gear, while the Cypress 3 has an 8-speed gear.
In addition, the lower budget Cypress 3 also gave up the fork with travel but used Steel material instead.
To be honest, the Cypress 3 and Cypress 2, although only $100 difference in price, the comfort, and means of shifting are greatly reduced. Therefore, I think Cypress 2 is more cost-effective.
Of course, if you're flush with cash and expect a more comfortable climbing experience, the Cypress 1's microSHIFT Advent 10-speed gearing won't disappoint.
If you are interested in the other bikes mentioned above, remember to follow us and we will keep updating more actual bike reviews.
What we like about it
Many details such as the adjustable stem and suspension seatpost make the bike much more comfortable and the rider can enjoy the ride.
The strong, lightweight, and durable aluminum frame looks great with the internal alignment design.
The SR Suntour NEX, 63mm travel and wide, grippy tires give the rider plenty of confidence to tackle gravel trails and forest trails.
Many details such as the adjustable stem and suspension seatpost make the bike much more comfortable and the rider can enjoy the ride.
The 1×9 speed powerplant and the rare hydraulic disc brakes on comfort bikes all allow for a more confident riding style with a rider.
The near-erect riding position makes it easier for the rider to ride with both shoulders and neck.
The reserved rack, fenders and water bottle cage mounting holes give the bike the right for city commuting or holiday leisure travel.
The out-of-the-box set is a delight to riders.
What we don't like about it
Although fast, it does not dominate in the race.
FAQs
What are the tire sizes for the 2022 Giant Cypress 2?
Its tire size is 700x45c, but it can insist on mounting a maximum of 55mm wide tires. So it can meet your various riding needs.
Does the bike support the installation of an adjustable kickstand?
Yes. You can install them if you need to, to ensure that you don't have to put the bike down when riding in the countryside, thus protecting the handlebar and pedals.
How do I buy the 2022 Giant Cypress 2?
The Giant official website is to support pre-orders, of course, you can also go to the local authorized dealers.
What size of the 2022 Giant Cypress 2 should I get?
This is the size chart provided by Giant's official website, you can refer to it.
| | | |
| --- | --- | --- |
| Rider Height (cm) | Rider Height (in) | Frame Size |
| 160cm – 170cm | 5'3″ – 5'7″ | S |
| 170cm – 180cm | 5'7″ -5'11" | M |
| 180cm – 190cm | 5'11"-6'3″ | L |
| 190cm – 200cm | 6'3″ – 6'7″ | XL |
2022 Giant Cypress 2 Specs
Build
| | |
| --- | --- |
| Frame | ALUXX-Grade Aluminum Colors: Black; Garnet |
| Fork | SR Suntour NEX, 63mm travel |
| Rear Shock | N/A |
| Bottom Bracket | sealed cartridge |
| Stem | alloy, quill, 40-degree, 25.4mm S:85mm, M:85m, L:105mm, XL:105mm |
| Handlebar | alloy, mid-rise, 31.8mm S:64cm, M:64cm, L:68cm, XL:68cm |
| Saddle | Selle Royal Vivo Comfort, reflective |
| Seatpost | alloy suspension, 30.9mm S:300mm, M:300mm, L:350mm, XL:350mm |
| Pedals | fitness platform |
| Grips | Giant Ergo |
Wheels
| | |
| --- | --- |
| Rims | Giant double-wall aluminum |
| Spokes | stainless, 14g |
| Front Hub | alloy, 32h |
| Rear Hub | alloy, 32h |
| Tires | Innova Multi Purpose Hybrid, anti puncture, 700x45c |
Groupset
| | |
| --- | --- |
| Rear Derailleur | microSHIFT Advent |
| Front Derailleur | N/A |
| Crank | forged alloy, 40t S:170mm, M:170mm, L:175mm, XL:175mm |
| Shifters | microSHIFT Advent, 1×9 |
| Cassette | microSHIFT Advent, 11×46 |
| Chain | KMC X9 |
| Brakes | Tektro hydraulic [F]160mm, [R]160mm rotors |
| Brake Levers | Tektro TKD143 |
Video
Comparison Table
2022 Fuji Crosstown 1.3 vs 2022 Giant Cypress 2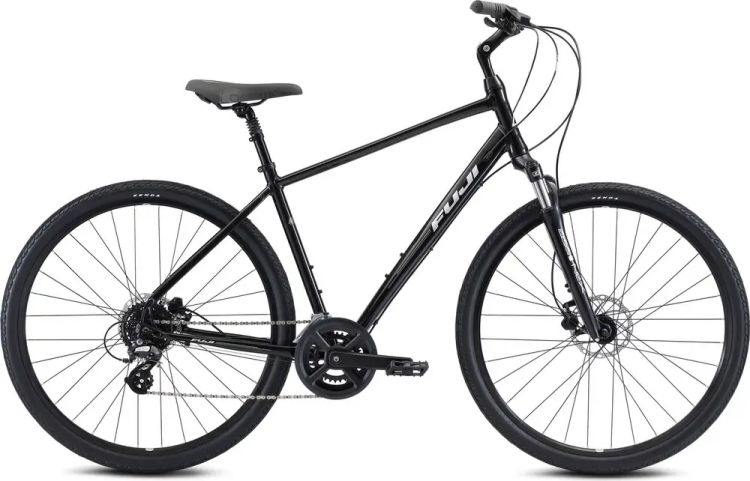 I have to admit that the 2022 Fuji Crosstown 1.3 is quite good in both geometry pose and speed. However, on the groupset, Giant Cypress 2 is even more outstanding.
While the 2×8 speed gear ratio looks more attractive, when climbing you realize that the Giant Cypress 2 microSHIFT Advent 9-speed shifting system will give you a more relaxed and comfortable stance.
Moreover, as far as real riding experience tells me, Giant Cypress 2 has a more comfortable experience than the 2022 Fuji Crosstown 1.3 both on the road and mountain. This is because Giant has handled the details of the handlebar, grips, and saddle (including the seatpost) in a way that equals direct human contact.
Learn more : Is Liv Rove 4 Disc A Good Bike? [2023 Liv Rove 4 Disc Review]
2022 Jamis CITIZEN 2 vs 2022 Giant Cypress 2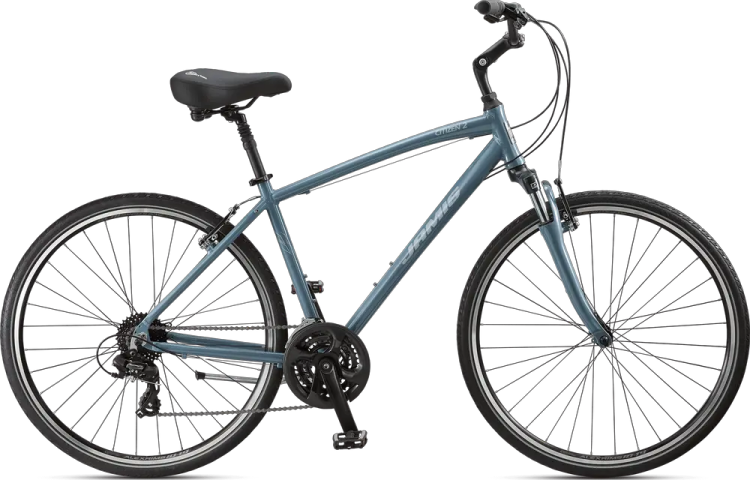 The biggest thing that struck me about the 2022 Jamis CITIZEN 2 is that it is lighter than similar bikes in this price range.
Although it also has a 60mm fork, the 38c tires make the Jamis CITIZEN 2 not very good at mountain trails. Even on gravel trails, it doesn't have much passability.
Therefore, Jamis CITIZEN 2 is better at supporting users on the general road and getting a good riding experience.
If your touring routes are not limited to flat roads and you want the bike to excel in the countryside, then the Giant Cypress 2 is more your speed.
Learn more : Is Jamis CITIZEN Worth Buying?-[Jamis CITIZEN Review]
2022 Liv Flourish FS 2 vs 2022 Giant Cypress 2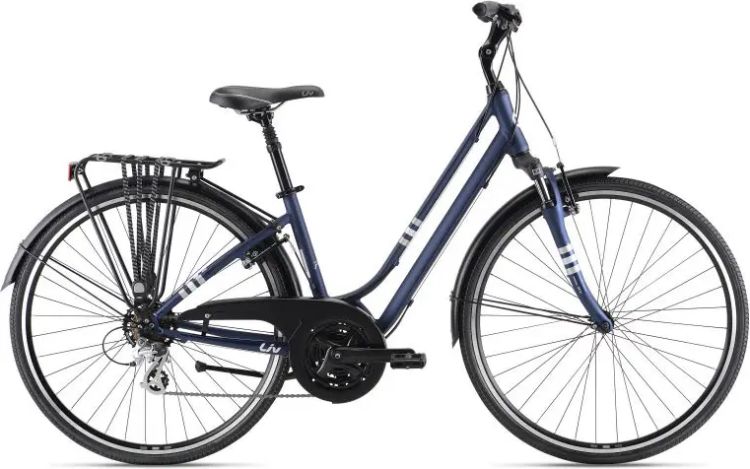 Known as the "female version of Giant", Liv's design features are more in line with women's riding needs. As a result, I've become accustomed to their stepped-up ground tube design.
However, the Liv Flourish FS is also most appreciated for its speed. This is because it is very competitive in terms of speed, both in its category and in other types of bikes.
The only regret is the 40mm fork and the 38c tires, which make it lose more off-road challenges.
If you want a comfortable and fast city commuting bike, the Liv Flourish FS 2 is certainly a good choice. Because it also comes with integrated mudguards and a rear rack.
2022 CUBE TOWN vs 2022 Giant Cypress 2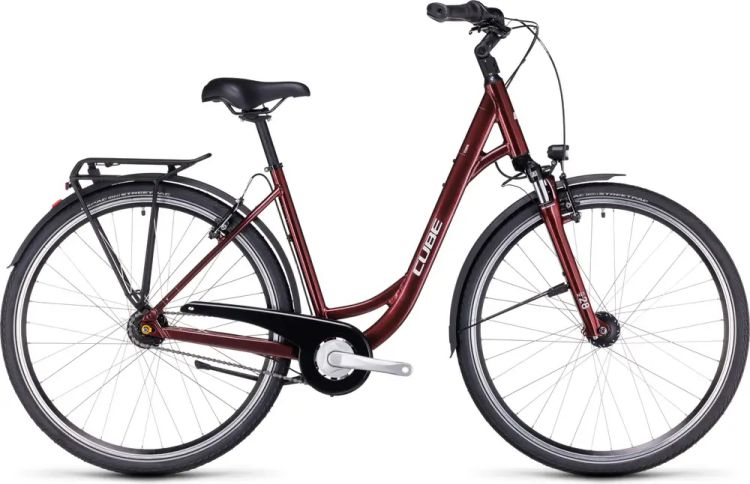 2022 CUBE TOWN gives me the biggest feeling of low-cost performance.
First of all, it is a bit heavy compared to similar bikes.
Second, its seatpost is Rigid, making it not very good at eliminating bumps from vibrations.
Finally, the single-speed design makes it impossible for 2022 CUBE TOWN users to face either climbing or descending with a more comfortable pedaling gear ratio.
Therefore, these performances make me think it's not worth the $622 I paid for it.
Thus, it seems that the 2022 Giant Cypress 2 is indeed more comfortable and cost-effective.