We use affiliate links and may receive a small commission on purchases.
2023 Kona Mahuna Review
Price: $1199
Frame: Aluminum
Wheels: 29″
Gear: 1×11
What we like about it: Lightweight aluminum frame, great component configuration, comfortable ride.
What we don't like about it: It's not the fastest player in terms of speed.
Rating: (4.7/5)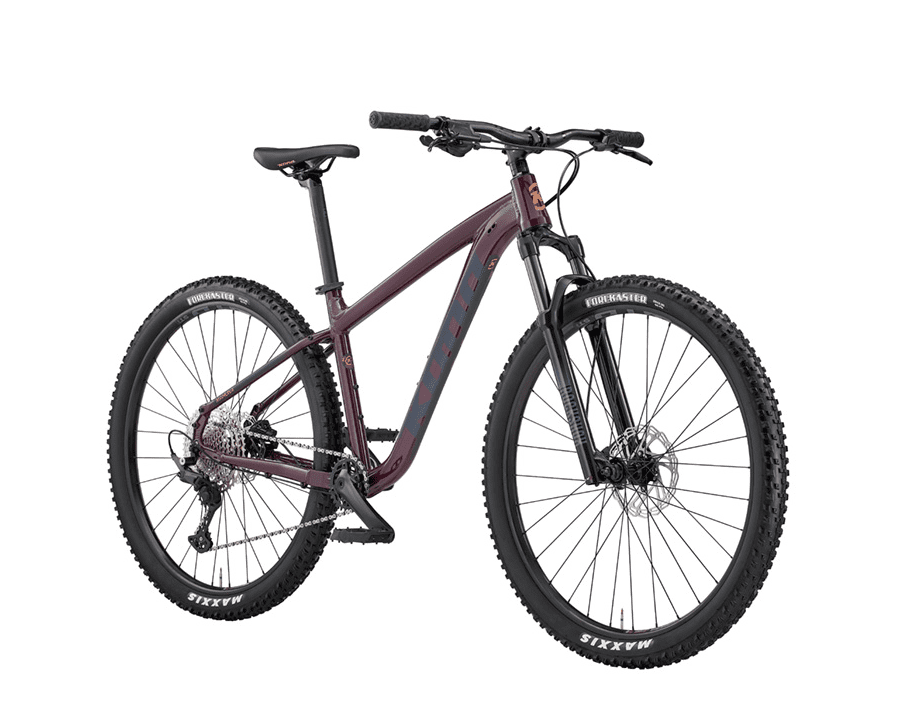 Kona is a US-based bicycle company that was founded in 1988 and has offices in Ferndale, Washington, and Vancouver, British Columbia. It is a brand dedicated to creating high-performance mountain bikes, road bikes, and city bikes.
Kona bicycles are known for their outstanding design and manufacturing craftsmanship, high-quality products, and excellent reputation, and perform exceptionally well in various types of riding.
The Kona Mahuna we're about to introduce is a hardtail mountain bike designed for off-road riding. Whether you're an experienced rider or a beginner, this bike has everything you need. With outstanding performance and agility, it has won our affection.
Below, we'll analyze the riding experience, specifications, and other versions of the Kona Mahuna. If you want to learn more about bike reviews, follow us.
Riding Experience
The fun of riding is being able to explore different scenery. Especially when I ride a hardtail bike and go through sections of singletrack trails, feeling the speed and freedom is so much fun.
And this time, my conquest target is the Nevada Mountains near my home in California, and I'm looking forward to its performance.
By the way, it's essential to book accommodation in advance. And for this trip, I booked through Skyscanner again because I'm familiar with it and it gives me peace of mind.
Climbing
My friend and I arrived at the foot of the Nevada Mountains early on a weekend morning, and the climb on this mountain road was even more difficult than we imagined.
At the beginning of the road was a steep fire road, which presented us with a big challenge. But likewise, the Kona Mahuna also gave me a pleasant surprise. Thanks to its excellent flexibility, it made my uphill climb easier.
I loved the use of the Shimano Deore 11-speed drivetrain, which was more responsive and silky fast than I expected, and helped my climbing quite a bit.
After driving through this difficult section of road, it soon turned into a technical singletrack, and this is where the Kona Mahuna is at home. The ground was loose rocks and there were many twists and turns, which tested the rider's skills.
When I started climbing, I immediately noticed how light and agile the Kona Mahuna felt. This bike is responsive and fast, allowing me to easily pass through narrow turns and technical sections.
The 100mm front suspension system helps absorb bumps and vibrations, making the uphill climb smoother and more comfortable than I expected.
As we continued riding, the terrain became more challenging, with rocks and tree roots highlighting from various angles, but the Kona Mahuna easily handled it all. Its outstanding stability allowed me to maintain my momentum and exert myself on steep slopes.
Although the climb was difficult, when I pushed myself and the bike to the limit, I felt a sense of excitement and thrill.
Descending
After we experienced this challenging climb, we took a brief rest and started a new journey. The descent on this mountain road was just as challenging as the climb, with steep drops and tight turns requiring quick reactions and precise handling.
However, the Kona Mahuna once again proved its abilities. The stable 29-inch wheels had excellent traction on the bumpy road, and the Shimano MT201 Hydraulic provided me with sufficient control and stopping power.
I have absolute confidence in my riding skills, and the excellent performance of this bike made me even more confident, allowing me to easily complete the downhill section.
As I started to accelerate, I could feel the adrenaline rushing and the trees rushing past me. The wind kept slapping my face, but it only made me more excited.
When faced with sharp turns, the excellent braking effect effectively reduced my speed, and I lowered my center of gravity and smoothly rode through the bends.
Riding the Kona Mahuna on this challenging mountain road was a truly unforgettable experience that gave me excitement and a sense of accomplishment.
This is an excellent hardtail mountain bike that performs well in both climbing and descending. The fun ride was truly unforgettable.
However, it's worth noting that it doesn't have an absolute advantage in speed, but considering that it's an entry-level hardtail bike, it's really hard to ask for more.
Specification
As a hardtail mountain bike designed for off-road riding, it features a lightweight aluminum frame with relaxed geometry that provides comfortable and stable riding even on rough terrain.
The internal cable routing design effectively protects the cables from damage and looks cleaner and more aesthetically pleasing.
In terms of components, it is equipped with Shimano Deore 1×11 speed drivetrain providing a wide range of gearing options for climbing steep hills, while the silky smooth shifting performance reduces inconvenience when riding.
It's also equipped with a RockShox Judy Silver TK Solo Air 100mm front fork that provides effective cushioning when facing bumps and impacts on the mountain road.
In addition, its locking feature allows you to easily switch between a fully locked climbing position and a more open downhill position.
Shimano MT201 Hydraulic is known for its stable performance and easy maintenance, which means you can easily control your speed and stop when needed.
The 29-inch wheels provide smooth riding on rugged terrain and the Maxxis Forekaster tires provide excellent traction and grip, making it the best choice for off-road riding.
What do we like about it?
Kona 6061 Aluminum: The lightweight aluminum frame is designed to make it easier to handle.
Reliable Drivetrain: Shimano Deore 1×11-speed drivetrain provides reliable and smooth gear changes for a more relaxed ride.
Comfortable ride: The loose geometry means more comfort, even in the face of rough roads, ensuring maximum comfort.
Maxxis Forekaster Tires: The larger 29-inch tires offer better compatibility and provide excellent traction and durability
RockShox Judy Silver TK Solo Air 100mm fork: Excellent suspension system to absorb the bumps on the road and bring a smoother ride
What don't we like about it?
Speed: Not the fastest climber.
FAQs
Can Kona Mahuna handle the technical terrain?
Of course, with its excellent components and performance, it can handle all kinds of terrain, including technical and rough roads.
Is Kona Mahuna suitable for beginners?
Yes, this is a bike for beginners. Even if you are a rider with a lot of riding experience, you can use it too. It is the perfect choice for those who want to explore trail riding.
How to choose the right size?
Here we have provided you with a size chart. Of course, it doesn't have to be according to this standard, and the best way to find the most suitable size is to test ride.
| | |
| --- | --- |
| Rider height | SIZE |
| 5'0″ – 5'8″ | SM |
| 5'2″ – 6'1″ | MD |
| 5'9″ – 6'6″ | LG |
| 5'10" – 6'6″ | XL |
Specs
Build
| | |
| --- | --- |
| Frame | Kona 6061 Aluminum ButtedColor: Gloss Plum w/ Matte Ink & Metallic Bronze Decals |
| Fork | RockShox Judy Silver TK Solo Air 100mm |
| Rear Shock | n/a |
| Bottom Bracket | Feimin or FSA BB7420 73mm |
| Headset | Feimen HP-H868B or FSA No.57B-1 |
| Stem | Kona XC |
| Handlebar | Kona XC/BC Riser |
| Saddle | Kona XC |
| Seatpost | Kona Thumb 31.6mm |
| Pedals | Kona JS2 |
| Grips | Kona Key Grip Slip on |
Groupset
| | |
| --- | --- |
| Rear Derailleur | Shimano Deore |
| Front Derailleur | n/a |
| Crank | Prowheel 11spd, 28t |
| Shifters | Shimano Deore |
| Cassette | Shimano Deore or Sunrace 11-51t 11spd |
| Chain | KMC X11 |
| Chain Guide | n/a |
| Brakes | Alhonga HT472 or Shimano MT201 Hydraulic |
| Brake Levers | Alhonga HT472 or Shimano MT201 Hydraulic |
Wheels
| | |
| --- | --- |
| Rims | WTB ST i27 TCS 2.0 |
| Spokes | Stainless Black 14g |
| Front Hub | Formula 100x9mm (centerlock) |
| Rear Hub | Shimano 135x10mm (centerlock) |
| Tires | Maxxis Forekaster 29×2.35″ |
| Disk Rotors | Alhonga or Shimano RT10 180mm (centerlock) |
Video
Comparison Table
| | | | | |
| --- | --- | --- | --- | --- |
| Bicycles | Click View | Drivetrain | Frame material | Groupset |
| 2023 Cannondale Trail 8 | Click View | 2 × 7 | Aluminum | Shimano Deore, Praxis |
| 2023 Trek X-Caliber 8 | Click View | 1 × 12 | Aluminum | SRAM GX Eagle, NX Eagle |
| Giant XTC Advanced 29 3 | Click View | 1 × 12 | Aluminum | SRAM GX Eagle |
| Specialized Chisel Comp | Click View | 1 × 12 | Aluminum | Shimano Deore |
Kona Mahuna vs 2023 Cannondale Trail 8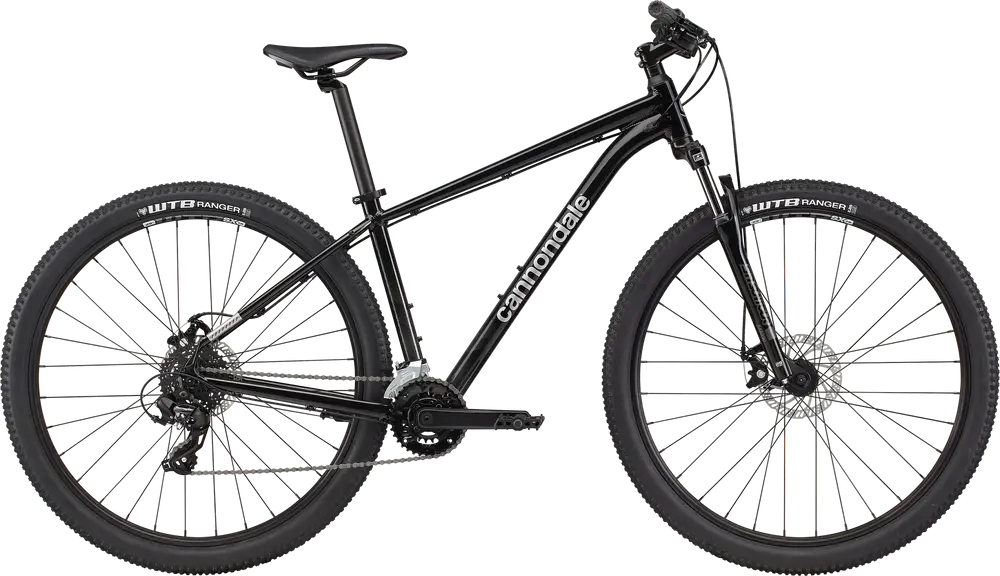 As an entry-level hardtail mountain bike, the 2023 Cannondale Trail 8 highlights its characteristics designed specifically for beginners from top to bottom.
Although it also features an aluminum frame with good control and comfortable geometry design, its microSHIFT, 7-speed drivetrain falls a bit short.
However, it's hard to ask for more considering its relatively cheap price, which means its target audience is newbies who have just started off-road riding.
On the other hand, the Kona Mahuna, also designed for beginners, offers more options. The Shimano Deore drivetrain system is smooth and reliable, with 11 speeds providing enough gear choices to tackle more complex terrain.
Similarly, the RockShox Recon RL Solo Air 100mm front fork can effectively absorb shocks from the road. This not only suits beginners but also applies to riders with rich riding experience.
Learn More: Is Cannondale Trail 8 Worth Buying? [2022 Cannondale Trail 8 Review]
Kona Mahuna vs 2023 Trek X-Caliber 8
Trek has always had a unique understanding of its bikes, and the 2023 Trek X-Caliber 8 is a high-performance hardtail mountain bike they have introduced. Whether it's component matching or geometry design, it shows that it is designed for high-performance riding.
Its more aggressive geometry is optimized for speed and control, and the Shimano Deore M6100 12-speed drivetrain is more competitive, providing smooth shifting.
It is the best choice for riders who want to challenge themselves and handle more technical trails.
In contrast, the Kona Mahuna has a different focus. They both feature Shimano drivetrain systems, but the Kona Mahuna uses an 11-speed drivetrain.
Although it falls slightly behind in terms of gear choices, its more relaxed geometry design provides a comfortable ride on various terrains. The 29-inch wheels offer excellent traction and stability, making it a good choice for those who enjoy easy riding.
Learn More: Is The Trek X-Caliber 8 Worth Buying? [Trek X-Caliber 8 Review]
Kona Mahuna vs Giant XTC Advanced 29 3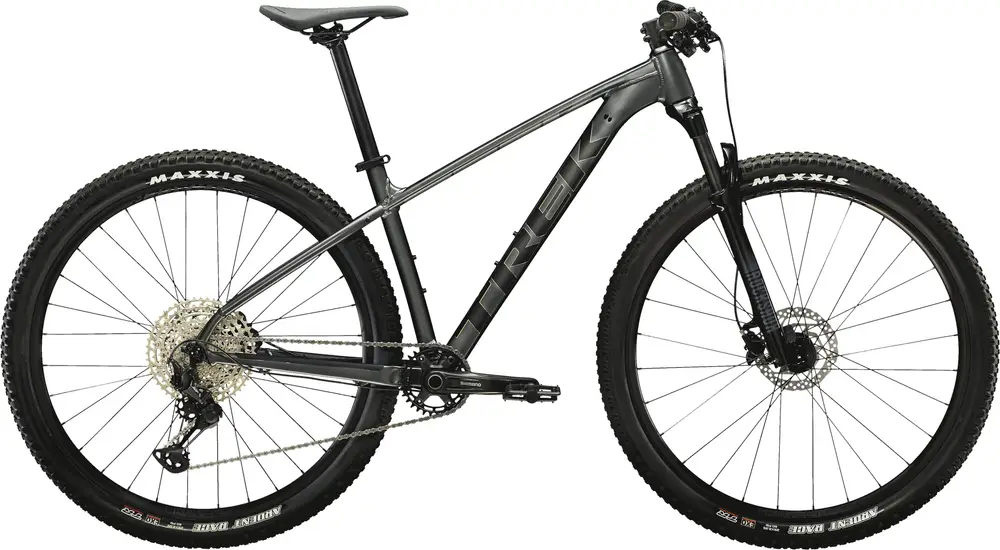 In recent years, Giant has made great strides in hardtail mountain bikes. I like the design of this Giant XTC Advanced 29 3, the blue and black paint job is so cool.
Of course, it's not just the appearance that attracts me, its performance is also outstanding. It features a Giant Crest 34 RRL T100 15X110 front fork with remote lockout, and 100mm of travel that performs well on rough roads.
To be honest, it's hard for me to tell you which bike is better, the Giant XTC or Kona Mahuna. It's a tough call.
I rode both bikes carefully and after consideration, I still prefer the feeling that the Kona Mahuna gives me. It's not about performance or components, it just makes me feel more comfortable and enjoyable.
Learn More: Is Giant XTC Advanced 29 3 Worth Buying? [2022 Giant XTC Advanced 29 3 Review]
Kona Mahuna vs Specialized Chisel Comp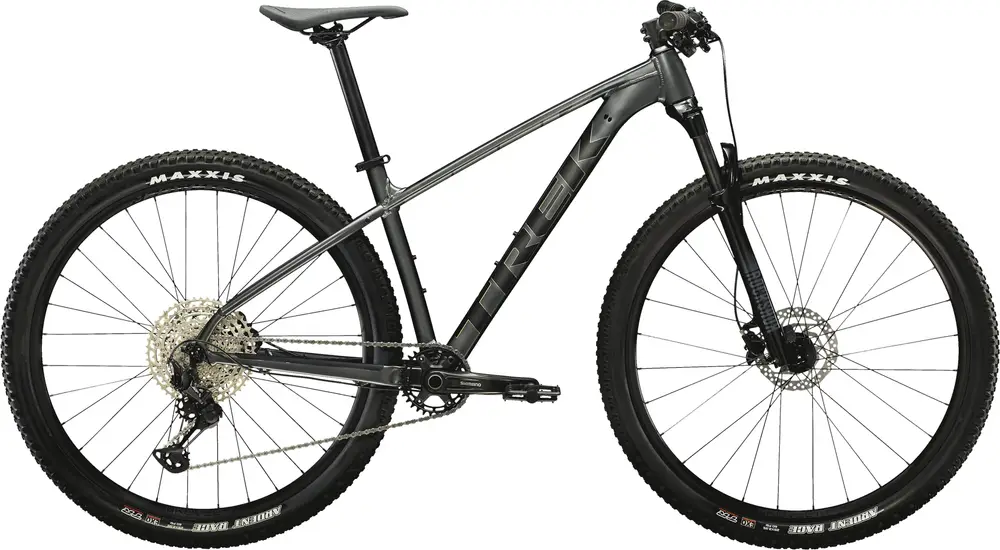 Brand-wise, the Specialized seems to be the more competitive bike, but we'll be objective in our assessment. The Specialized Chisel Comp uses an SRAM NX Eagle 12-speed drivetrain, which gives it an advantage in handling climbs.
However, better performance often means a higher price. If you don't have a high budget, consider the Kona Mahuna.
As a hardtail mountain bike, it also has an excellent ability to handle complex terrain. I like its excellent braking performance, which performs well in technical terrain and sharp turns. If you are like me, you may want to try the Kona Mahuna for a different experience.
Learn More: Is the Specialized Chisel Comp worth buying? [Specialized Chisel Comp Reviews]
Summary
The Kona Mahuna has proven to be a successful entry-level hardtail bike, with excellent performance that can greatly assist beginners. Even if you are not a novice rider, it is still suitable.
It can be said that it achieves a perfect balance between mountain bikes and all-around fun equipment.
Trust me, it will bring you a different experience. If you are interested in trying higher-end hardtail bikes, please check out our related tests.
Finally, if you like our content, please share it with your friends. If our content is helpful to you, you can click the subscription button below. Thank you for your support!