We use affiliate links and may receive a small commission on purchases.
Giant Roam Disc 4 Review
MSRP: $585
Frame: Aluminum
Fork: SR Suntour NEX HLO 700C, 63mm
Tires: 700x42c, compatible with a maximum tire size of 53mm
Drivetrain: 2×7
What we like about it: The versatility of the setting gives it more functionality.
What we don't like about it: The lack of speed on the downhill or sprint is its flaw.
Rating (4.7/5)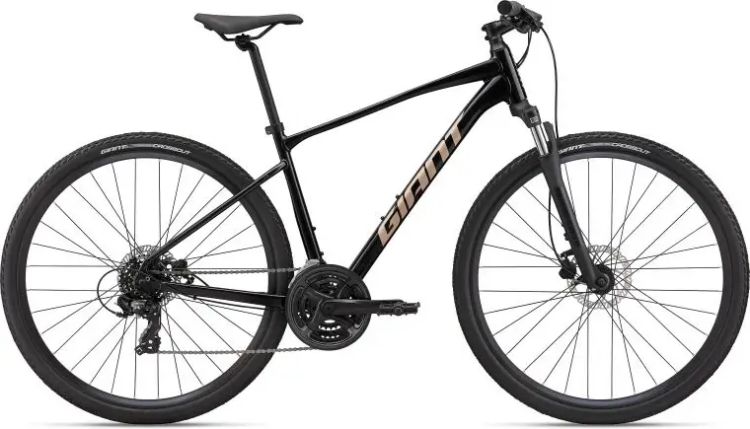 As one of the world's top bike manufacturers, Giant's skill in building bikes has always been unquestionable. The new 2022 Giant Roam Disc 4, is a friendly price that gives hope to many riders who desire a versatile bike.
On the one hand, the flat aluminum frame is paired with excellent geometry. Thus it guarantees the rider a comfortable enough stance for every road ride.
On the other hand, the D-Fuse seat post combined with the shock front fork double damping device gives the rider full comfort. Combined with the wide enough Giant CrossCu tires, the high passability gives the rider the confidence to venture into the rugged mountains.
Such a dual sport style hybrid bike – the Roam Disc 4 is happy to be a fitness tool on the road. And as an entry-level mountain bike, it's also happy to spread out on gravel trails. Here's a breakdown of the 2022 Giant Roam Disc 4's ride, key features, components, and specs, as well as other versions.
If you are interested in bikes, please remember to follow us. We will keep updating more real bike reviews.
Giant Roam Disc 4 Off-road Riding
Seeing the handsome front shock of the Roam Disc 4, I can't help but take it to the country roads around town to enjoy some leisure time.
This entry-level fork, although the travel only 63mm in gravel trails, is enough to comfort me.
The SR Suntour NEX HLO 700C is always bouncing up and down as the tires roll over gravel trails. As it compresses or stretches, the vibrations from those bumps dissipate.
Although it was a bit lackluster when encountering huge potholes, most of the time, my hands felt no soreness.
In addition, Giant's proud D-Fuse seatpost makes me feel secure. And the D-shape design allows the seatpost to flex backward during the ride for me, making the road shock softened as well.
I also took advantage of its detachable feature and adjusted the cushion to an angle that was comfortable for me.
I have to say that the geometry of the Roam Disc 4 is comfortable and I can sit on the Saddle in a more upright position. Also, the larger field of view gives a great view of both sides of the road.
My favorite thing about the Giant Sport XC Handlebar is that it is ergonomically designed, with a slight upward curve to give me a more comfortable seating position. Plus the Giant Connect Ergo Grips are non-slip and keep my hands firmly in control.
When the bike turns into a dirt road, I get off and lock the forks to reduce the amount of letdown.
As I pedal, I can feel the Giant CrossCut tires are firm with a touch of softness. Because it is always inexplicably comfortable in contact with the dirt.
Finally, I made full use of the water bottle holder reserved by Giant as well. The two bottles of water refill gave me plenty of energy to play outside for a long time.
Giant Roam Disc 4 Road Fitness Riding
The versatile Roam Disc 4 is also a wise choice for fitness, and I occasionally ride it on city roads to work out.
While the 700x42c doesn't seem to be well suited for road travel, its smooth centerline design allows it to fly on the road. As a result, I didn't feel tired of pedaling it.
At the same time, its wide body makes me feel very comfortable. I remember that when I rode a normal road bike over speed bumps, my hands would always suffer from the stinging sensation caused by vibration, but the Roam Disc 4 made me quite satisfied.
To its credit, the Giant Sport Saddle is perfect for fitness workouts. Mainly, the medium-width design gives ample contact space for the hips and also gives more pedaling power to the legs.
In addition, its 2×7-speed drivetrain system gives me plenty of confidence to tackle all kinds of slopes. With the end of the shifting action, the bike also becomes more relaxed and the uphill process is not too strenuous.
Also, Tektro's disc brakes are a great help. When I wanted to slow down, I would gradually increase my grip and the bike would slow to a stop, which was very stable. By the way, if you want to go riding in well-known terrain or special terrain, you can book your accommodation on IHG Hotels & Resorts. It is not only rich in variety but also easy to operate.
Main Features
Frame Group
Like Giant's other aluminum bikes, the Roam Disc 4 uses ALUXX-Grade Aluminum for its frame. And, wrapped in either Sapphire or Black paint, the body looks very clean and gorgeous.
It is worth mentioning that the flat-bar frame design allows the weight of the body to be reduced while strength and rigidity are also guaranteed. The top and bottom forks are not directly connected to the top tube, so the downward design also gives more comfort to the rider.
In addition to the nice frame, the Giant D-Fuse Seatpost with excellent shock absorption and the mounting holes for the rear rack of the fender is not to be overlooked. They all exist to give the rider a more comfortable riding experience.
In addition, the design of the internal alignment also makes the journey minus the risk of cable entanglement, and riding safety is guaranteed.
Geometry
It is believed that most Giant Roam Disc users, commenting on its geometry, are relaxed and comfortable.
First of all, the super high Stack/Reach Ratio (LG) of 1.52 and the slim Top Tube Length of 610 mm in LG size are proof that the Roam Disc 4 has a more upright riding position.
Secondly, the typical 73.0° Seat Tube Angle is paired with a moderate 70.5° Head Tube Angle. This ensures that the Roam Disc has responsive steering on the road, but also ensures that it can effectively handle technical singletrack trails at low speeds in the off-road mountains.
Finally, the 85mm Trail with 42mm Rake makes the Roam Disc user, with its flexible maneuverability, have a stable speed at the same time.
Components and Specifications
Shimano Tourney Altus 2×7 Drivetrain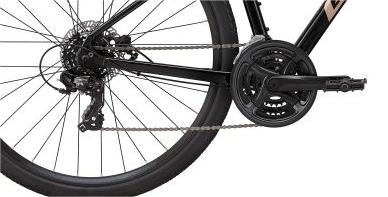 Similar to most entry-level hybrids, the giant features a Shimano Tourney 7-speed Rear Derailleur.
At the same time, considering the 3-speed Front Derailleur structure, the gearing was too complicated as well as too heavy. To solve this problem, a 2-speed Front Derailleur was adopted to guarantee the rider sufficient gear ratios to cope with climbs or descents.
In addition, the Shifters from Shimano Altus have a simple means of shifting. Needless to say, the design of three gears in one downshift allows the rider to achieve quick shifting operations. It is very friendly to novice cyclists as well as beginner mountain bikers.
Tektro TKB-172 Mechanical Brake
Some may be dismissive of the Tektro TKB-172 mechanical than the shiny shifting system. In fact, at this price point, mechanical braking is the norm.
First, the Tektro TKB-172 disc brake uses a traditional cable single-pull design. This suggests that with a flick of your hand, you can pull the lever action that causes the caliper to bite tightly into the disc, thus slowing the bike down.
Admittedly, its braking effect is not as pronounced as that of hydraulic discs. But yet, it is much more reliable than the v-brakes that are common on bikes in this price range. At least in wet conditions, your braking will seem quicker, more direct, and more ready.
Giant Wheelset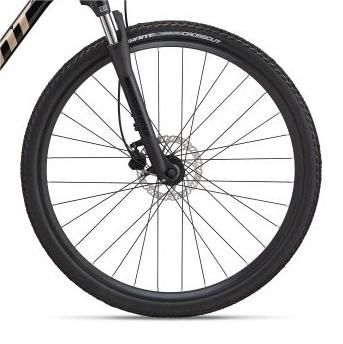 In recognition of its craftsmanship, Giant has also made use of its own Giant double-wall aluminum rims and Alloy hubs to complement the Roam Disc 4's Giant CrossCut tires.
They are very strong and reliable, not only light but also fast to drive the front and rear tires.
The CrossCut tire is also a design that I am very happy with. Because of its smooth centerline, it provides extremely fast-rolling speed.
At the same time, the special knob design on the side provides extreme grip, while it ensures sufficient traction when dealing with off-road surfaces such as gravel.
What's more interesting is that the design does not easily get mud. Therefore, the tread can always keep a clean and tidy posture.
In addition, the 700 x 42c design gives it a large enough touchdown area. So both roads and gravel and roots can be easily run over, making the Roam Disc 4 not limited to city roads.
Other versions of Giant Roam Disc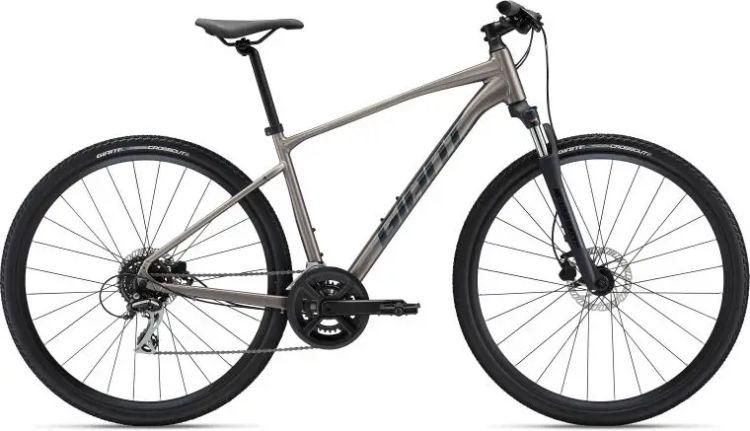 The Giant Roam Disc 4 is not the only bike in the 2022 Giant Roam range, it is only available as an entry-level bike. So its "siblings" have a higher price tag than it.
There is no doubt that the 2022 Giant Roam Disc versions 0 to 3 have been upgraded on the groupset. They have a higher configuration drivetrain and the more popular hydraulic disc brakes.
Take the 2022 Giant Roam Disc 3, a 2×8-speed Shimano more advanced drivetrain. Not only does it make climbing easier for the rider, but it also makes the bike faster in riding performance. In addition, the Tektro TKD-143 hydraulic's brake discs also give Roam Disc 3 users more confidence to pick up speed, as they can stop at any time.
With the higher price tag, the 2022 Giant Roam Disc series of bikes also give riders a better quality riding experience.
If you have the budget, you can purchase the even better 2022 Giant Roam Disc.
If you are interested in the other bikes mentioned above, remember to follow us. We will keep updating more bikes with actual reviews.
What we like about it
Super cost-effective hybrid bike for both road fitness and mountain cross-country.
The time-tested aluminum frame with a 63mm travel fork carries shock absorption comfort to the end.
D-fuse Seatpost and Giant Sport Saddle complement each other to make comfortable riding feel carried out.
Gorgeous Sapphire or Black color, with hidden internal alignment design, the bike looks low-key and beautiful.
The 2×7 speed drivetrain allows the rider to fearlessly climb or sprint all kinds of hills.
The wide 700×40c tires can easily crush both flat roads and gravel trails.
Integrated racks, fenders, and water bottle cage mounting holes allow for a diverse riding style.
The out-of-the-box set makes it easy for riders to get on the road without having to pay extra expenses.
What we don't like about it
Downhill or sprinting is not its strong point.
Mechanical discs are not as fast as hydraulic disc brakes.
FAQs
How much is the bike selling for now?
I bought it when it was $650, but now Giant's website shows a price of $585, a great deal.
What are the tire sizes for the 2022 Giant Roam Disc 4?
It has a tire size of 700x42c. It can pass efficiently on both gravel roads and highways. In addition, it is compatible with tires up to 53mm in size, so you can change them yourself if you need to.
Does the bike come with Pedals and Grips?
Yes. Out of the box is Giant's usual style, you don't need to buy additional rider essential equipment.
How to buy the 2022 Giant Roam Disc 4?
I previously pre-ordered directly from Giant's website via the internet. Of course, you can also go to a local authorized dealer.
What size 2022 Giant Roam Disc 4 should I get?
| | | |
| --- | --- | --- |
| Rider Height (cm) | Rider Height (in) | Frame Size |
| 160cm – 170cm | 5'3″ – 5'7″ | S |
| 170cm – 180cm | 5'7″ -5'11" | M |
| 180cm – 190cm | 5'11"-6'3″ | L |
| 190cm – 200cm | 6'3″ – 6'7″ | XL |
2022 Giant Roam Disc 4 Specs
Build
| | |
| --- | --- |
| Frame | ALUXX-Grade Aluminum, disc BB Standard: BSA, Threaded Colors: Sapphire; Black |
| Fork | SR Suntour NEX HLO 700C, 63mm |
| Rear Shock | N/A |
| Bottom Bracket | threaded |
| Stem | Giant Sport, 15-degree S:60mm, M:70mm, L:80mm, XL:90mm |
| Handlebar | Giant Sport XC, 25.4mm S:64cm, M:68cm, L:68cm, XL:68cm |
| Saddle | Giant Sport |
| Seatpost | Giant D-Fuse, alloy, 350mm |
| Pedals | platform |
| Grips | Giant Connect Ergo |
Wheels
| | |
| --- | --- |
| Rims | Giant double wall aluminum |
| Spokes | stainless, 14g |
| Front Hub | alloy, 32h |
| Rear Hub | alloy, 32h |
| Tires | Giant CrossCut, anti-puncture, 700x42c |
Groupset
| | |
| --- | --- |
| Rear Derailleur | Shimano Tourney |
| Front Derailleur | Shimano Tourney |
| Crank | forged alloy, 30/46 S:170mm, M:170mm, L:175mm, XL:175mm |
| Shifters | Shimano Altus, 2×7 |
| Cassette | Shimano MF-TZ500, 14×34 |
| Chain | KMC Z7 |
| Brakes | Tektro TKB-172 mechanical, [F]160mm, [R]160mm rotors |
| Brake Levers | Tektro TKB-172 |
Video
Comparison Table
2022 Kona Splice vs 2022 Giant Roam Disc 4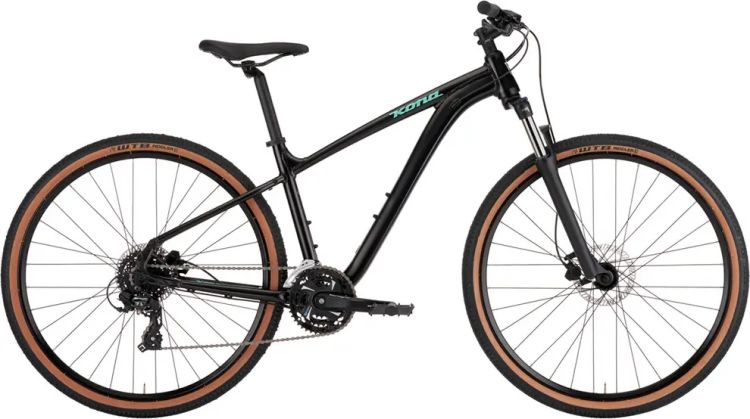 Although the 2022 Kona Splice has hydraulic discs on the braking system, which I was very excited about. But its geometry position is not as comfortable as the Roam Disc 4 and that dissuaded me.
After all, most of my trips are long. Bending over too much makes me tired, while an upright position gives me more energy for pedaling.
If you are also a rider who likes to sit upright, the Giant Roam Disc 4 is a better fit for you than the 2022 Kona Splice. Of course, only if you accept its mechanical discs.
2022 Liv Rove 2 Disc vs 2022 Giant Roam Disc 4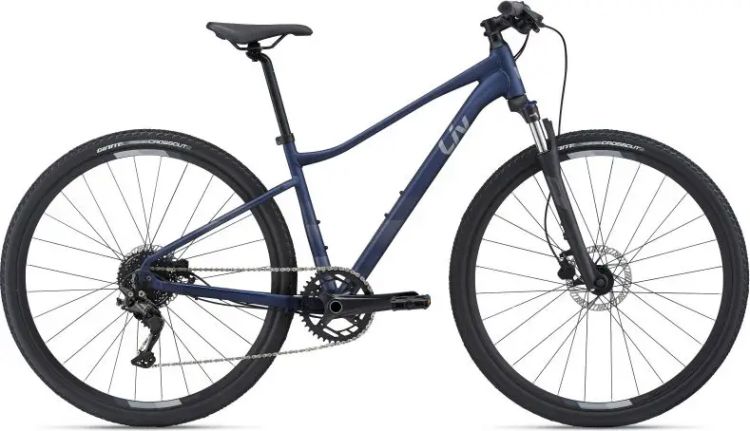 Liv, known as the female version of Giant, also inherits the craftsmanship and technology of its predecessor. Because the 2022 Liv Rove 2 Disc is extremely similar to the Giant Roam Disc 4, both in geometry and in components.
However, the hydraulic disc configuration makes the Liv Rove 2 Disc braking operation easy. Also, the bent top tube design makes it easier for the rider to get on and off the bike.
In addition, Liv Rove 2 Disc users have an advantage over Roam Disc 4 in terms of speed.
Therefore, the Liv Rove 2 Disc is also the equivalent of the Giant giving riders more options.
Learn More: Liv Rove 4 Disc Review [2022]- Do You Want To Experience The Fun Of Hybrid Riding?
2022 Fuji Traverse 1.3 vs 2022 Giant Roam Disc 4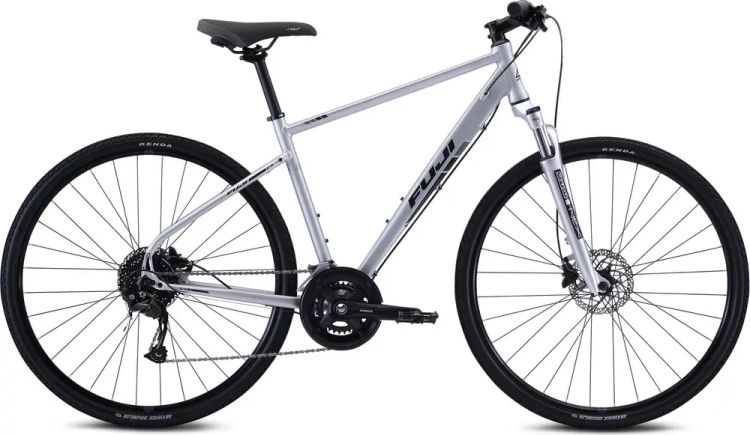 The 2022 Fuji Traverse 1.3, which has the same shock absorbers as the Roam Disc 4, is fast, but its narrower tires make it a bit helpless when facing gravel trails. It's a little less effective in both passing and damping.
So the Roam Disc 4, which combines passability and more pronounced damping, gives me a better bang for my buck. Of course, I wouldn't mind if it upped the speed a bit more.
2022 CUBE KATHMANDU PRO Trapeze vs 2022 Giant Roam Disc 4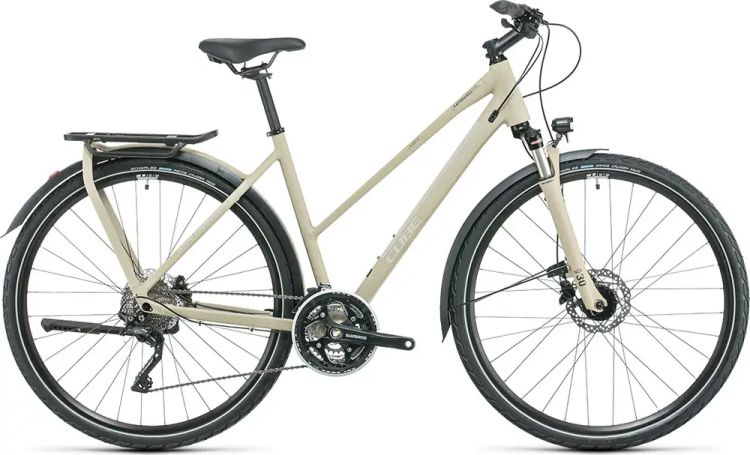 I have to admit, the 2022 CUBE KATHMANDU PRO Trapeze step-up top tube design is very friendly to women or riders who don't like to put their legs across the bike.
Secondly, its speed is also really enviable. Because most of the time it can lead to similar bikes.
Unfortunately, its official website shows that it seems to have been discontinued.
The reason for comparing the two is that I hope the Giant can learn from the strengths of its counterpart. That is, allows the bike to go faster while maintaining a comfortable geometry.