We use affiliate links and may receive a small commission on purchases.
Trek Roscoe 9
Price: $2799
Category: Hardtail off-road
Frame: Aluminum alloy
Gear: 1×12
Tires: 29×2.60"
What we like about it: The 4-piston brake setup gives you confidence on flowing, winding trails.
What we don't like about it: The more sparse color choices.
Rating:(4.6/5)
Introduction
Do you want to experience a surprise and exciting gravel descent?
Enjoy a thrilling adventure as you ride down from the top of the rocky mountain and enjoy the fierce collision between the car and the rocks.
If your answer is yes, then don't miss our main character today – Only 28.95 lbs Trek Roscoe 9!
The 140 mm FOX Rhythm 36 fork, powerful 4-piston brakes, and fast-gripping wheel and tire combination provide excellent functionality, whether you're jumping on gravel roads or navigating through rugged rock gardens.
The Shimano SLX / XT 1×12 drivetrain with a variety of climbing gears for silky-smooth shifting on rough roads.
We have had two months of experience measuring the 2023 Trek Roscoe 9. And to make the results more informative for you, we'll elaborate on the 2023 Trek Roscoe 9's performance while riding, key features, components, and specifications.
As well as other versions of the series. If you'd like to see more versions, please refer to our review.
Learn More: Is Trek Roscoe 7 Worth Buying? [Trek Roscoe 7 Review]
Climbing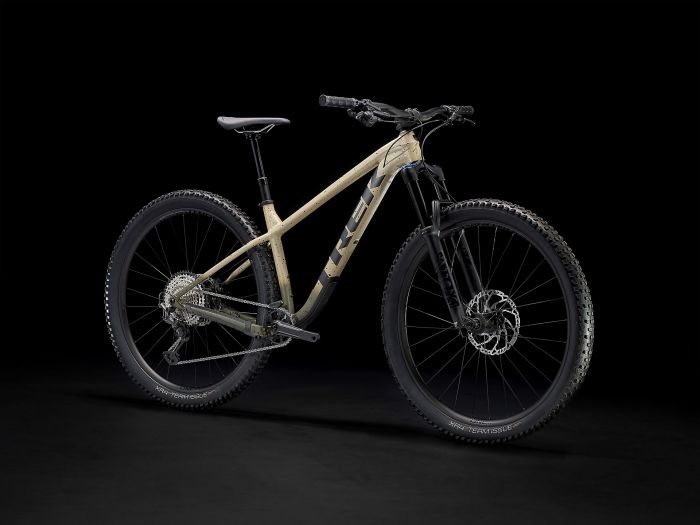 I have to admit that the trek roscoe 9 is the best product in the series, and that's the most impressive feeling in terms of these two months of riding. The lightweight aluminum body creates a particularly light shell that is ready for your "flight".
Our test site was still a 1.2km road bike course in Stromlo Forest Park. The FOX Rhythm 36 fork is an upgrade from the previous version, and I had to slow down as I accelerated up the ramp, and was able to get back to the start position more quickly with a continuous jolt.
Even on gravel-filled roads, the up-and-down movement eliminates the extreme vibration and tingling. And the larger, stiffer FOX Rhythm doesn't flex as much in the process, so I can push the bike harder and more precisely.
The Trek Roscoe 9 offers more than that. The seat tube angle of 74.7° is a more compact presence. And the combination of long, slack head angle, steep seat angle, and shorter chain allowed me to maintain a good forward leaning position as I ascended, better distributing my full body force evenly across the surface.
Of course, the dropper under the seat tube played a crucial role in this process, maintaining a comfortable seating position for my ascent by cushioning movement. I could hear the rustle of the rocks against the tires under the final sprint, and I knew that was the final charge song.
Users without actual experience will always want to know if this Roscoe 9 has a dropper post, my answer is yes and it is TranzX JD-YSP18 dropper post with 100mm of travel. This will allow you to sit in the right position to have a freer riding experience whether you are facing big bumps or on gentle mountain roads.
Descending
We returned the same way, and the steepness and unease of the previous ascent turned into the thrill and excitement of the current descent. But it was clear that the Shimano SLX / XT 1×12 drivetrain did not disappoint me. 1x is the current mainstream trend and one of the factors I consider in a bike.
Special thick and thin gears interlocking to provide enough tension for the sprockets to turn, and I didn't feel too much resistance or backlash during the ride. On the contrary, when shifting from one gear to another, it is silky smooth, smooth, and almost instantaneous.
Some people may hate the thumping of rocks against the body during the descent, and that was one of my concerns. But the Trek Roscoe 9's bottom tube protection eliminated my worries. The double chain guard is durable enough, the rubberized leather shell wrapped around the aluminum exterior, and the down tube and internal cable guide are both effectively protected while eliminating crash noise, helping to keep your ride quiet even on rough trails.
For mountain shuttling, stones, and dead branches obstruction, trek roscoe 9 ground gives a very simple and brutal approach. The Bontrager XR4 is its secret weapon, with 29×2.6120 tpi tires that allow the wheels to turn fast while also showing the ultimate in stability and safety.
And the Trek is still designed with tubeless tires for better traction and lighter weight, as well as longer service life. You don't have to worry about the overly wide tires putting too much pressure on the steering, and the 1181mm wheelbase length allows you to maintain smooth steering in sharp, winding corners.
Main Features
Frame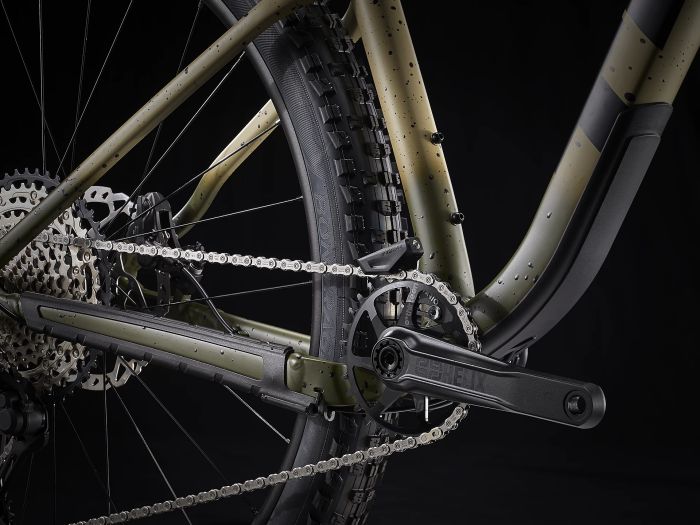 In terms of the choice of frame, Trek Roscoe 9 did not choose the carbon fiber material prevalent in the market. Perhaps considering the cost-effectiveness of the overall body, the more favorable Alfa aluminum alloy was chosen instead.
It can remain strong and tough at the same time, and is your most loyal companion on the descent. But my suggestion for Trek Roscoe 9 must be its rarer color options, currently on sale only / Matte Quicksand to Olive Fade / Black.
If I can add my favorite flame red and sky blue, I believe trek roscoe 9 sales will be better. And I do not mind spending a little more money in this area.
Of course, you can also choose whether to install fenders and a water bottle holder according to your needs, but that's another price.
Geometry
The geometry of the Trek Roscoe 9 is bold and rigorous. 32.15cm of bottom bracket height makes it easy to straddle the body and maintain a comfortable riding position. knowing that a good body flex can maintain a more comfortable posture.
The 74.7° seat tube angle is designed to maintain great confidence when ascending, so you can maintain an even mass distribution when ascending.
At the same time, the Trek Roscoe 9 is equipped with a shorter rear fork length to compensate for the wider tire size that can hinder your steering in the mountains and forests, so it can maintain nimble and efficient steering.
Component and Specifications
Shimano SLX M7100, 12-speed Drivetrain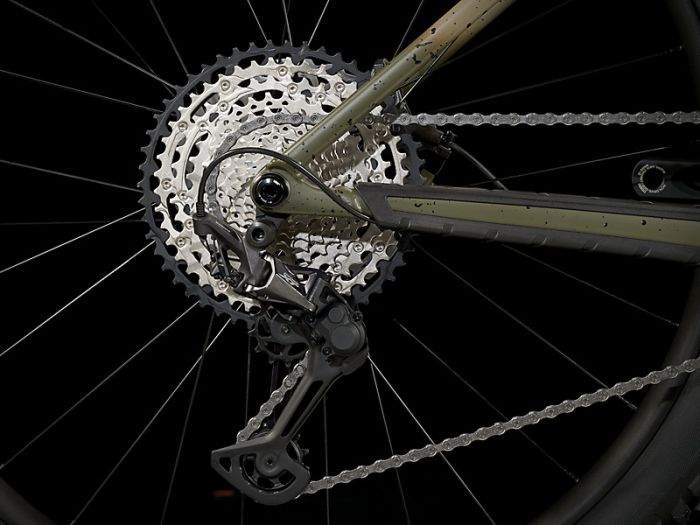 The impact of the power drivetrain system between different models on your ride is there for all to see. The 1x system is a popular trend on the market and is the choice of many mountain bikes.
That's why you'll often find this setup on mountain bikes or other bikes that spend a lot of time off-road. It has a simple paddle and you easily adjust the entire dark box with a flick of your finger, a process that is very easy.
In actual riding, I often encountered mud obstructed road surfaces, of course, this is as mountain riding often encountered road conditions.
In this case, I was able to complete a sequential and agile shift operation by pressing the paddles, and I have absolute confidence in the Shimano system.
Fox Rhythm 36 Fork
The Fox Rhythm 36 Trek is a big experiment in shock absorption. A lightweight bolt-on floating axle with a bolt clamped on one side by a sleeveless bolt and increased torsional stiffness.
It counteracts a lot of vibration between one up and one down, and of course, I can't deny that the 140mm of travel count makes for a great deal of vibration elimination. It's designed to reduce weight by 20 grams, while adding CSU steerer tube overlap to provide ample mid-stroke low-speed compression for enhanced smoothness
Of course, it is also second to none in terms of durability setup. After half a year of use process, it is still intact as before.
Bontrager XR4 Tires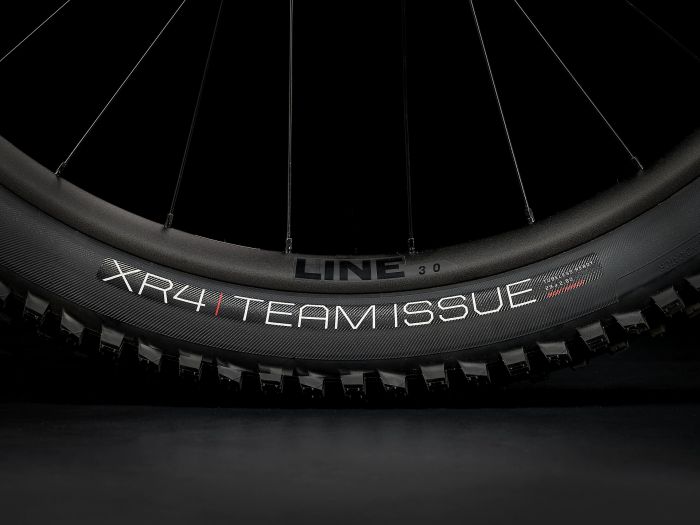 As the core aspect of a bike, the importance of tires cannot be overstated. And as an outstanding high-performance off-road tire, the Bontrager CX3 Team Issue tires have an innate talent for gravel and muddy surfaces.
We have trained the Bontrager XR4 for a long enough time. It has a new and improved tread pattern and a 120 TPI casing, giving it a long life, and a specially manufactured puncture prevention system that makes it resistant to punctures from rocks and dead branches.
Tire maintenance is also included in the cost of the bike. My previous tires were really overwhelming for the endless repair costs, but the Bontrager XR4 saved me a lot of worries.
Shimano M6120 4-piston Hydraulic Disc Brake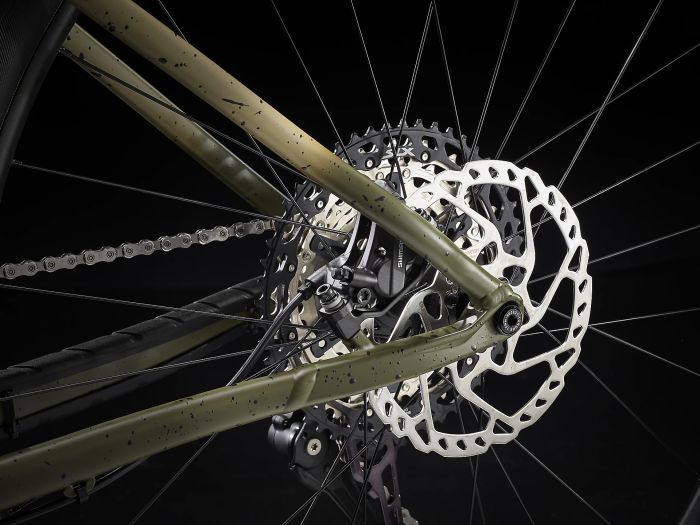 Shimano DEORE M6120 calipers deliver consistent braking performance and reliable braking power in all conditions. And the 4-piston braking will give you great braking power on the move. Whether it's a thorny gravel single-track trail or a slippery, mossy road, the Shimano M6120 4-piston hydraulic disc will give you the confidence to brake with urgency the moment you pull the cable.
But also realize that Shimano M6120 4-piston hydraulic disc its repair costs are also annoying, so I will do my best to maintain it in daily use.
Other Versions of Trek Roscoe 9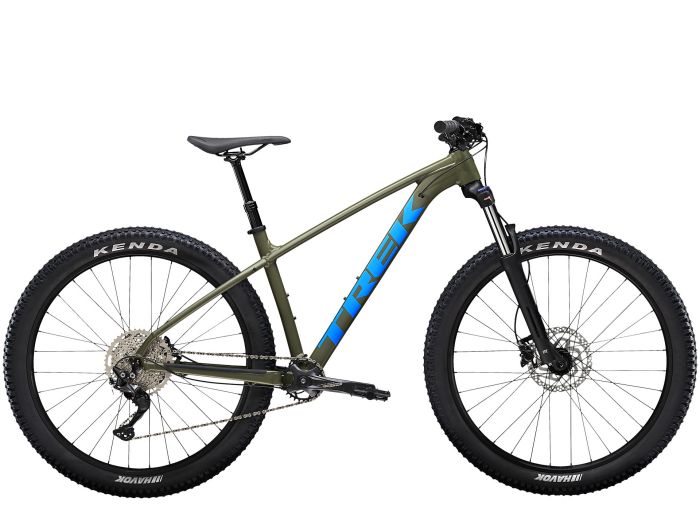 In order to give you more options, we have tested other models of the Trek Roscoe 9 series for a certain period of time, including the Trek Roscoe 6.
In order to be objective and fair, the Trek Roscoe9 is a significant change from the Trek Roscoe6. The Trek Roscoe9 is a much lighter shell that we measured at 13.1kg, making it easy to lift even over impassable roadblocks. Shimano 1×12 system gives you a huge boost in the drivetrain, giving you the most stable sprinting ability on both slippery rain and thorny mountain roads.
At the same time, the Trek Roscoe9 will have an extremely bright performance in terms of speed, being the fastest model in the same series. The Trek Roscoe9 reaching 42km/h in our actual measurements on the same road.
FAQs
What is the price of Trek Roscoe 9?
The Trek Roscoe 9 is priced at $2,799.
What is the body frame of Trek Roscoe 9?
Aluminum alloy.
What is the tire size of Trek Roscoe 9?
The Trek Roscoe 9 has a tire size of 29×2.60".
What is the trek Roscoe good for?
More suitable for beginners.
What do we like about it?
1. Shimano SLX M7100, 12 speed gives your bike enough power to move forward
2. The Fox Rhythm 36 fork reduces most of the impact of hill and rock crashes
3. The Bontrager XR4 T gives you the freedom from debris and dead tree branches
4. More favorable aluminum frame construction
What we don't like about it?
1. More expensive prices
2. Rarer color options
Specs
Frameset
| | |
| --- | --- |
| Frame | Alpha Gold Aluminum, tapered head tube, internal derailleur & dropper post routing, ISCG 05, threaded BB, Boost148, 12mm thru axle |
| Fork | Fox Rhythm 36, Float EVOL air spring, GRIP damper, tapered steerer, 44mm offset, Boost110, 15mm Kabolt axle, 140mm travel |
| Max compatible fork travel | 150mm |
Wheels
| | |
| --- | --- |
| Hub front | Bontrager alloy, sealed bearing, alloy axle, 6-bolt, Boost110, 15mm thru axle |
| Hub rear | Bontrager alloy, sealed bearing, 6-bolt, Rapid Drive 108, Shimano MicroSpline freehub, Boost148, 12mm thru axle |
| Skewer rear | Bontrager Switch thru axle, removable lever |
| Rim | Bontrager Line Comp 30, Tubeless Ready, 28-hole, presta valve |
| Tire | Bontrager XR4 Team Issue, Tubeless Ready, Inner Strength sidewalls, aramid bead, 120 tpi, 29×2.60" |
| Tire part | Bontrager TLR sealant, 6oz |
| Rim strip | Bontrager TLR |
| Max tire size | Frame: 29×2.60″ (XS – 27.5×2.60″) Fork: see manufacturer |
Drivetrain
Shifter
Shimano SLX M7100, 12 speed
Rear derailleur
Shimano XT M8100, long cage
*Crank
Size: S, M, M/L, L
E*thirteen Helix, 30T steel ring, 73mm spindle length, 52mm chainline, 170mm length
Size: XL
E*thirteen Helix, 30T steel ring, 73mm spindle length, 52mm chainline, 175mm length
Bottom bracket
Shimano SM-BB52, 73mm, threaded external bearing
Cassette
Shimano SLX M7100, 10-51, 12 speed
Chain
Shimano Deore M6100, 12 speed
Max chainring size
52mm chainline: 32T, 55mm chainline: 34T
Components
Saddle
Bontrager Arvada, hollow chromoly rails, 138mm width
*Seatpost
Size: S
TranzX JD-YSP18, 100mm travel, internal routing, 31.6mm, 361mm length
Size: M
TranzX JD-YSP18, 130mm travel, internal routing, 31.6mm, 425mm length
Size: M/L, L, XL
TranzX JD-YSP18, 150mm travel, internal routing, 31.6mm, 470mm length
*Handlebar
Size: S
Bontrager Line, alloy, 35mm, 27.5mm rise, 750mm width
Size: M, M/L, L, XL
Bontrager Line, alloy, 35mm, 27.5mm rise, 780mm width
Grips
Bontrager XR Trail Comp, nylon lock-on
*Stem
Size: S
Bontrager Elite, 35mm, 0 degree, 35mm length
Size: M, M/L, L, XL
Bontrager Elite, 35mm, 0 degree, 45mm length
Headset
FSA IS-2, 1-1/8" top, 1.5" bottom
*Brake
Size: S, M, M/L, L, XL
Shimano M6120 4-piston hydraulic disc
Size: S, M, M/L, L, XL
Shimano 4-piston hydraulic disc, M6100 lever, M6120 caliper
*Brake rotor
Size: S, M, M/L, L, XL
Shimano RT66, 6-bolt, 180mm
Size: S, M, M/L, L, XL
Shimano RT66, 6-bolt, 203mm
Weight
| | |
| --- | --- |
| Weight | M – 13.13 kg / 28.95 lbs (with TLR sealant, no tubes) |
| Weight limit | This bike has a maximum total weight limit (combined weight of bicycle, rider, and cargo) of 300 pounds (136 kg). |
Video
Comparison Table
Trek Roscoe 9 vs 2023 Marin Team Marin 2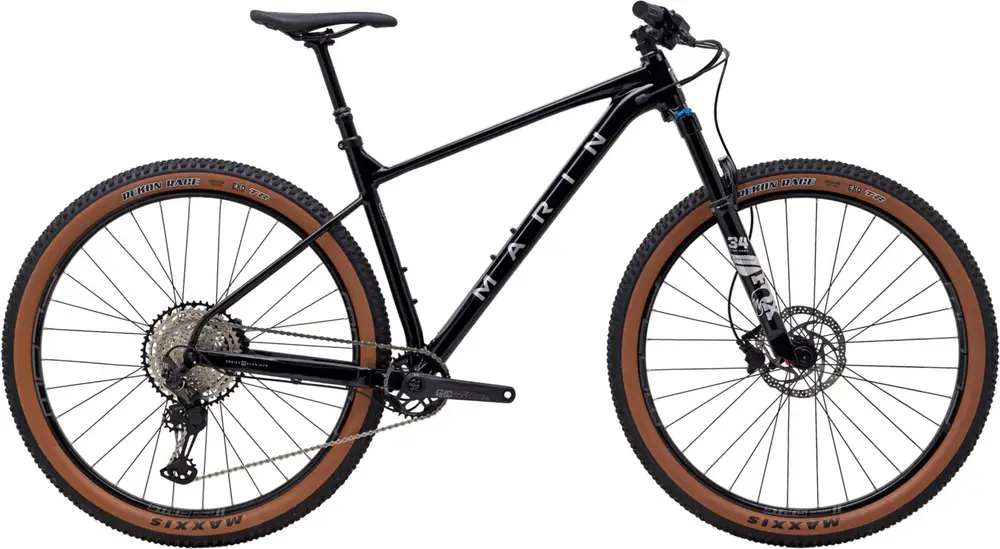 Also, a 29″ frame hardtail trail bike, the Trek Roscoe 9 and 2023 Marin Team Marin 2 have a similar setup. The same aluminum frame means that you can not only maintain a relatively light stance on your ride, but also save you a lot of trouble on your ride.
In terms of fork, the Fox Rhythm Float 36 and the Fox Float 34 have similar performance. But the former has a higher travel, with 140mm of travel to counteract the kinetic energy of the crash in the mountains.
Of course, if you choose to go to the next off-road race, the Trek Roscoe 9 will be more helpful, as it is also the best in terms of speed.
Learn more : Is MARIN SAN QUENTIN 2 Worth Buying? [MARIN SAN QUENTIN 2 Review]
Trek Roscoe 9 vs Orange Crush 29 Pro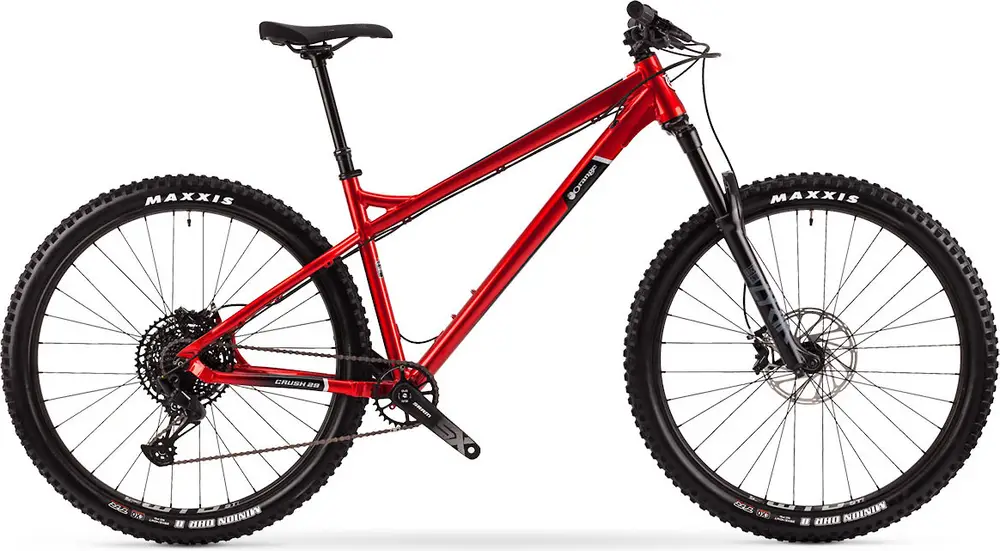 Orange Crush 29 Pro's ability for shock absorption is evident to all, after all, RockShox Lyrik Select is recognized as a quality fork brand in the industry. It is made of a new lightweight 35mm chassis with new Charger 3 RC dampers and the inspiring new DebonAir + air spring, both up or descending for perfectly damped activity.
And of course, SX Eagle drivetrain is also standard on mountain bikes, and you get silky smooth shifting operation without extra handling.
If you are determined to have a hard time choosing a mountain bike, then you might want to try the Orange Crush 29 Pro.
Trek Roscoe 9 vs Santa Cruz CHAMELEON R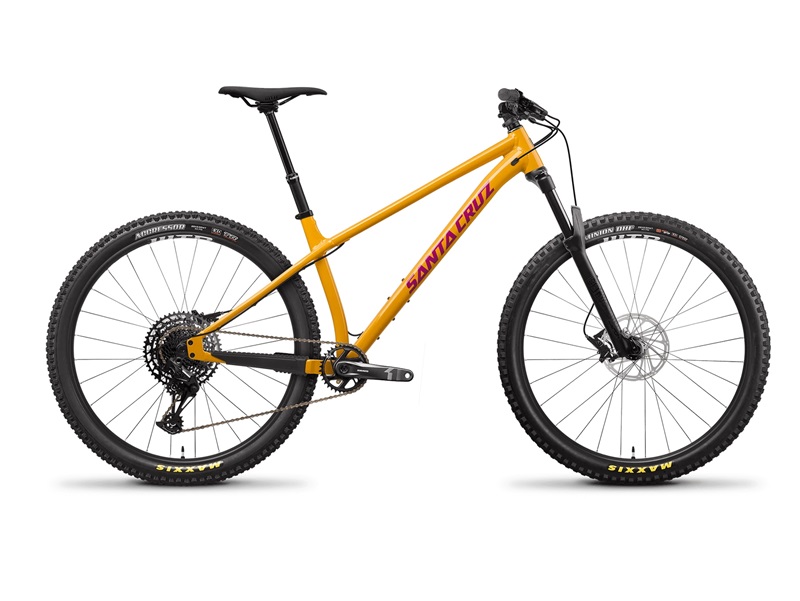 The aluminum Fox Rhythm Float 34 is extremely lightweight, which means you can sling it over your shoulder for the second half of the ride when you encounter some difficult obstacles in the mountains. And what is still pleasing is the freedom of choice of tires on the Santa Cruz CHAMELEON R.
If you have complaints about the steering on the 29er tires, don't worry, you can still choose the smaller 27.5″ tire size to ensure you can get good steering on sharp corners.
In addition, there may be concerns that the NX Eagle, Truvativ Descendant may not be anything more impressive, but I was impressed by the smooth, fast and agile performance it gave me on the actual ride.
Learn More: 2022 Santa Cruz CHAMELEON Review-Just A Climbing Lord?
Trek Roscoe 9 vs Niner SIR 9 2-STAR SRAM
The Niner SIR 9 2-STAR SRAM SX EAGLE is equipped with the SX Eagle, X1, which is a dedicated drivetrain made for mountain trails.
It has an extremely light construction weight, stainless steel hardware, and a full alloy pulley cage for extra durability, so it won't put a damper on your ascent or descent. The lightweight components are a great help for your cross-country racing.
Learn more : Is Niner SIR 9 3-STAR SRAM GX EAGLE Splendid? – [Niner SIR 9 3-STAR SRAM GX EAGLE Review]
In case, the above comments are helpful to you, please remember to share the subscription. Have a great day!