We use affiliate links and may receive a small commission on purchases.
2022 Bianchi Sprint – 105 Di2 Review
Price: $3399
Frame: Carbon
Tires: 700*28c
Gear: 2×12
What we like about it: Amazing speed experience, elegant and refined paint job.
What we don't like about it: The tires need to be upgraded.
Rating (4.8/5)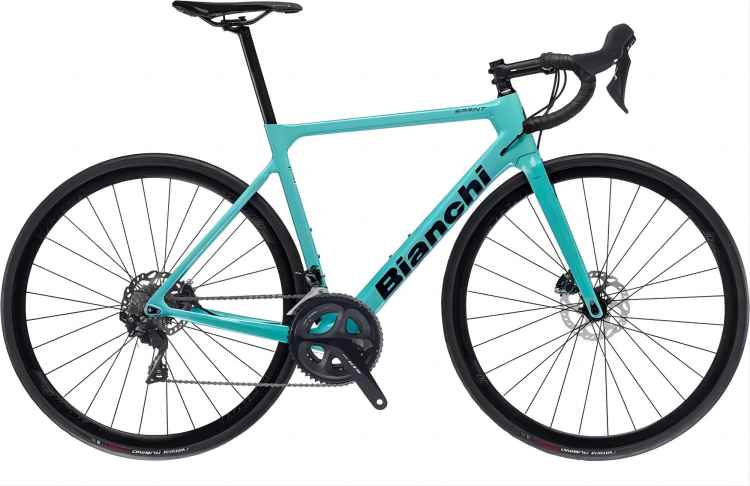 Sprint, it's a name rekindled by Bianchi. The Sprinters name gives it an aggressive geometry, and there is no one better suited to charging. The aggressive low ride position encourages speedy behavior when you get aboard", says the Bianchi tagline. Indeed, the aerodynamic beauty of the design is evident throughout.
But if you think it bursts in like a fierce lion, you're wrong! The style of all parts of the car is very sweet, and the characteristic blue-green color of Bianchi adds a touch of elegance to it. I prefer to liken it to a light and swift deer.
Below we break down the Bianchi Sprint – 105 Di2 regarding road riding, sprint performance, key features, components, and specifications as well as other versions.
If you want to know more about bike reviews, you can follow us.
Bianchi Sprint – 105 Di2 Road Riding Review
Before riding it, I thought it was no different from a normal race road bike, with a comprehensive but not outstanding performance. But in real-life experience, it was beyond my expectation. Our team decided to do this test in Boston, where the 40-mile route would be a good test of its performance.
Riding along the beach at Harborwalk, the Bianchi Sprint – 105 Di2 was comfortable to ride at first. It has a low angle of travel, but the design makes me think it may not be suitable for longer distances than 200km. However, it is the right choice for normal road riding.
After riding for a while I found that the Velomann 1285 URN saddle felt better than I thought it would, it sat like a certain saddle made by Fizik.
It has the same swoopy shape as it but is softer overall. The reason for this may be that it was designed with integrated riding in mind, rather than just for sprinting. It sits more comfortably and the soft padding allows it to ride longer.
As expected, the Bianchi Sprint – 105 Di2 does have good all-around performance. Whether it's cruising around 35km/h or some road climbs and descents, it can handle them all with ease, thanks to its disc construction. It is neither a standard disc nor a compression disc, but a combination of both. With a (50/34) cassette, it can handle both flat roads, uphill, and sprint.
Overall it's a well-balanced road bike, but it seems to have a unique advantage when it comes to sprinting.
Bianchi Sprint – 105 Di2 Sprint Performance
As its name implies, this is a road bike designed for sprinting as I mentioned repeatedly in the article. I often compete with my partners on uncrowded roads, and the sprint advantage can be well demonstrated at this time.
As stated in the introduction, the aggressive riding position allowed me to get on the bike for a quick start and to have a smaller gear ratio. My start was out of the ordinary and I found I was already a long way ahead of the other guys when the start command was just given. And I could feel it had excellent launch speed, and the stiff frame made me feel like I was getting 100% feedback on every pedal stroke.
Something to brag about is that I shifted the teeth into a big gear and hooked up the smallest cassette when I got up to speed. This sent me off like a deer in headlights, and its launch performance as well as sprint speed was a big plus.
Although many people feel that this ratio is a bit small for a sprint road bike, it seems to me to be adequate. My riding habits are to keep the pedaling frequency high, and an oversized cassette would put more pressure on me instead.
If your habit is to use the form of a large gear ratio with low pedal frequency, you can also change the disc to achieve, after all, the stiff frame in the sprint advantage as well as obvious enough.
Main Features
Frame Group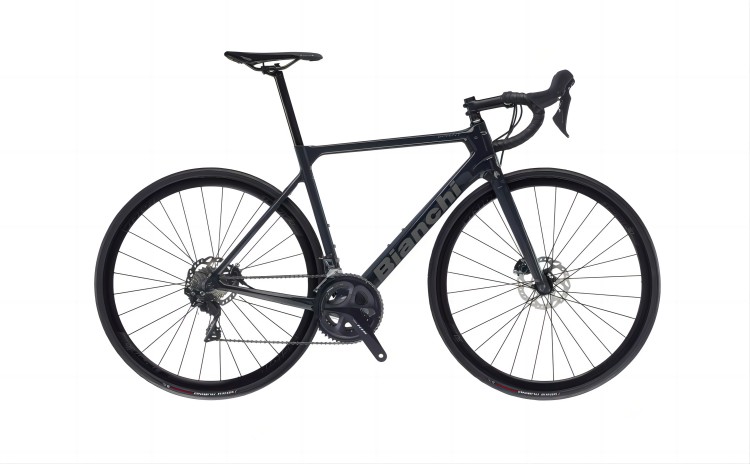 The frame is all carbon and the rear fork has been moved down to provide a stiffer launch effect. This was especially noticeable when I was doing short sprints. I felt like the whole bike was one piece, allowing me to crank it to the finish line.
At the same time, the internal alignment design also makes the whole car very simple, and with Bianchi's unique blue-green color, the car looks fresh and dynamic.
An integrated flip-flop clip and a Press-Fit 86 bottom bracket on top of the frame's top tube, with all cables running through the inside of the frame, give the bike a clean and modern look. The frame can accommodate up to 32C outer tires and has a modern mounting with barrel axles and flush-mounted disc brakes.
Geometry
There is no doubt that the name already gives it an aggressive geometry. I rode the Bianchi Sprint – 105 Di2 at 57 yards. I felt I could pedal very hard and keep it revving while riding. In addition, the very steep seat tube angle (73.5°) and the equally steep head tube angle (73°) both made me feel better about powering up.
At the same time, I felt as if I was sprinting on my back in my car, which is very aerodynamic. And the shorter wheelbase (996mm), the 561mm stack, and the large 393mm front reach all urged me to pick up speed and punch through the air.
Components and Specifications
Shimano 105 Di2 2×11 Shifting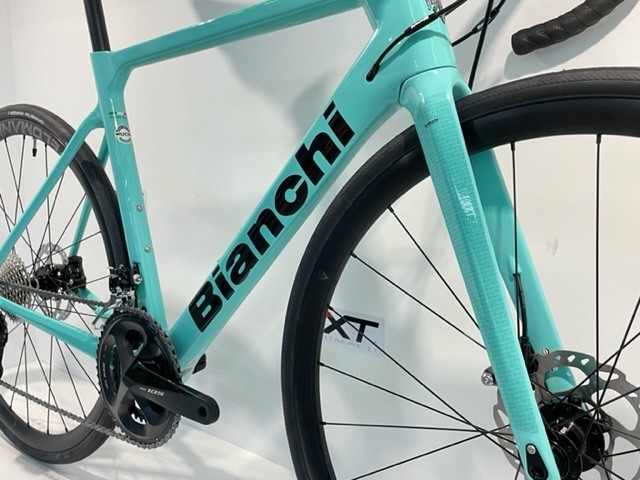 Unlike other versions of this model, this version uses a more economical 105-stage electronic gearing, and the lower price is intended to be affordable to more civilian riders.
But that doesn't mean it's bad. Because 105-step electronic shifting is not common at this price point, electronic shifting has advantages in feel that mechanical shifting can't compare to. Secondly, the main thing that struck me about the Sprint model was the larger gear ratio. Most models are not good at climbing hills, but Shimano offers a wide range of gear ratios on this bike (50/34, 11-32). This means I can do some hill climbing, which makes me look like an all-rounder.
Shimano BR-R7170 Hydraulic Disc Brake
The integrated brake and shifting system makes the overall look more simple. Shimano's braking and shifting system is nothing to worry about, it is very solid. That's why I'm always attracted to Shimano's kits when I buy road bikes.
Even if it has any minor problems, you can have it repaired at any store around. That's the beauty of Shimano.
However, I never seemed to see any problems with it. During my testing, it always maintained strong braking power allowing me to sprint with confidence. With proper adjustments, it allows you to ride to your maximum speed without worrying about how to stop.
Vittoria Rubino IV 700×28 Tires
As a sprint road bike, I prefer to change the tires to smaller 25c or even 23c to get faster acceleration in the sprint.
But in actual riding, I think the 28c is also a good choice, it provides me with better stability. After all, no one is in a sprint all the time. When I'm racing a race, I prefer to have a good experience on the long-front and mid-range rides. Because the only way to get a final win in the final sprint is to gain a degree of advantage in the front stretch.
Other versions of Bianchi Sprint
The 2022 Bianchi Sprint – 105 Di2 is a comprehensive road bike with good sprinting ability, as we can see from our series of tests.
I like its shape and its balanced enough performance. For this reason, we also identified a similar version of it – the 2022 Bianchi Sprint -Ultegra. In addition to the cost-saving 105-component version, Bianchi also offers the use of a full 11-speed Shimano Ultegra 8000 drivetrain, as well as hydraulic brakes and mechanical shifting. The 2022 Bianchi Sprint offers a range of gearing suitable for climbing via a (50-34) compact crank mated to an 11-32 cassette.
What we like about it
Aerodynamic design for the ultimate pursuit of speed, radical geometry
Stiff and lightweight frame for strong conduction efficiency
Composite ability is stronger compared to other sprint cars, and also has the good climbing ability
Beautiful colors and painting, so that it looks like a carefully carved crafts
What we don't like about it
Mid-weight tires can pull down overall performance and are a bit heavy
There are only two colors to choose from, but it must be said that this is one of the features of the Bianchi brand.
FAQ
1. What type of rider is the Bianchi Sprint – 105 Di2 suitable for?
The Bianchi Sprint – 105 Di2 is more suited to competition riders, and if you have a particular preference for sprinting while being balanced, then this bike is perfect for you.
2、 What kind of tires does the Bianchi Sprint – 105 Di2 use?
Vittoria Rubino IV 700×28 is used and only supports open tires.
3、 Bianchi Sprint – 105 Di2 is suitable for which height people?
The size chart for Bianchi Sprint – 105 Di2 is as follows.
(These sizes are just a general guide, the real right size may vary from person to person, and the easiest way to find your size is the best way to go for a test ride.)
| | |
| --- | --- |
| Rider height | SIZE |
| 157cm – 164cm | 47 |
| 165cm – 172cm | 50 |
| 173cm – 180cm | 53 |
| 180cm – 187cm | 55 |
| 187cm – 194cm | 57 |
| 194cm – 201cm | 59 |
| 201cm – 206cm | 61 |
2022 Bianchi Sprint – 105 Di2 Specs
Build
| | |
| --- | --- |
| Frame | Sprint Disc carbon monocoque, mechanical/electronic shifting compatible, PressFit 86,5x41mm, 1.1/4″-1.1/8″ HT, integrated seat clamp, full carbon dropout, flat mount, thru axle12x142mm, 32mm tires compatible, sizes 47-50-53-55-57-59-61cm BB Standard: BB86/BB92, Press Fit Colors: 1d – Celeste Ck16; Sw – Black / Graphite Full Glossy |
| Fork | Bianchi Full Carbon Disc 1.1/4″>1.1/8″, thru axle 12x100mm |
| Bottom Bracket | Shimano SM-BB71-41B, PressFit |
| Headset | Fsa Orbit C-33, NO.44E, 1.1/8″>1.1/4″ |
| Stem | Velomann Alloy 6061, rise +/ – 7°, height 38mm, Oversize, 1.1/8″, Ext: 70mm-44cm, 90mm-47/50cm, 100mm-53cm, 110mm-55/57cm, 120mm-59/61cm |
| Handlebar | Velomann Compact, Flat Top, alloy 6061 diam. 31,8mm, reach 80mm, drop 130mm, Size: 400mm-44/53cm, 420mm-55/59cm, 440mm-61cm |
| Saddle | Velomann 1285 URN, steel rails, length/wide 278x144mm |
| Seatpost | Velomann Alloy shaft AL6061, alloy head, 15mm offset, 27,2mm, Length: 300mm-44cm, 350mm-47/61cm |
| Grips | Cork w/ Bianchi logo |
Groupset
| | |
| --- | --- |
| Rear Derailleur | Shimano 105 Di2 |
| Front Derailleur | Shimano 105, top gear 50-52T |
| Crank | Shimano 105, Ultegra hollowtech 2, 170-172,5-175mm, 50x34T, Crank Length: 170mm-47/53cm, 172.5mm-55/59cm, 175-61cm |
| Shifters | Shimano 105 Di2 hydraulic disc brake for road |
| Cassette | Shimano 105 Di2 |
| Chain | Shimano 105 Di2 |
| Brakes | Shimano BR-R7170 Hydraulic disc brake, included in the shifter |
| Brake Levers | Included w/shifters |
Wheels
| | |
| --- | --- |
| Rims | Velomann VR30 alloy, 622x19C disc brake, clincher |
| Tires | Vittoria Rubino IV 700×28, 60TPI, G2.0 Graphene |
| Disk Rotors | Shimano SM-RT70, diam. 160mm |
Video
Comparison Table
2022 Bianchi Sprint – 105 Di2 vs 2023 Canyon Ultimate CF SL 7 Di2
The two bikes are not far apart in price, and both are also sprinters in an integrated frame, the Bianchi Sprint – 105 Di2 has a more aggressive geometry. But the two have different ideas on the design philosophy of sprint geometry. In a real sprint experience, the slightest difference in geometry is noticeable. In addition, the Bianchi Sprint – 105 Di2 features a steep seat tube angle (73.5°) and an equally steep head tube angle (73°), while the Canyon Ultimate CF SL 7 Di2 features a shorter head tube length. This also allows for a more forward position for the rider, enhancing the experience in the sprint as well as during acceleration.
In terms of configuration, the Bianchi Sprint – 105 Di2 is missing the cassette with the power meter and the exposed handlebar alignment, which is dictated by the large price difference. It is however equipped with a better Ultegra cassette, which improves the actual configuration of the cassette despite the lack of power data. Thus, it can be seen that the Bianchi Sprint – 105 Di2 is our cost-effective choice in this comparison.
learn more:Canyon Ultimate CF SL 8 Aero Review [2023]- A Bike That Combines Road-Climbing And Racing
2022 Bianchi Sprint – 105 Di2 vs 2022 Trek Emonda SL 6 Disc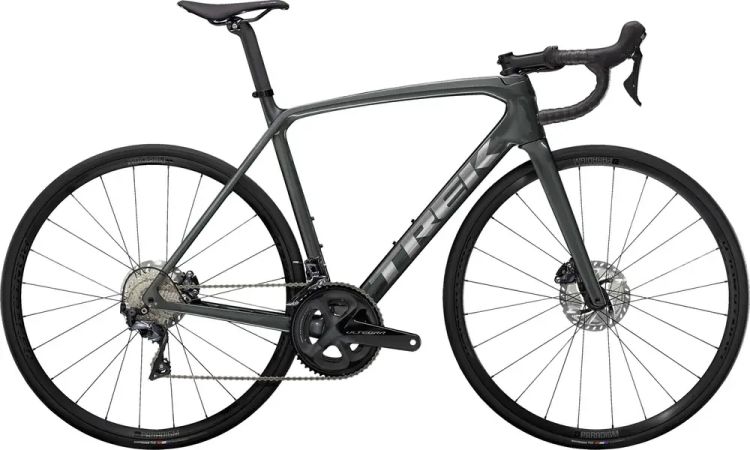 In practice, the Trek Emonda SL 6 Disc is a comprehensive performance bike. Unlike the Bianchi Sprint – 105 Di2, the Trek Emonda SL 6 Disc does not feature electronic shifting and has a rear cassette with only eleven speeds. This can lead to a big gap in a race for sure.
In this regard, the Trek Emonda SL 6 Disc uses a full internal alignment design including the handlebars. This design greatly reduces wind resistance and has great improvement in riding efficiency.
But in my test rides, I think wind resistance was something I had trouble feeling on the ride. But the feel of electronic shifting is irreplaceable to mechanical shifting. I would prefer the downgraded but converted electronic shifting 105 kits over the higher-end Ultegea kit.
learn more:Trek Emonda ALR 5 Review [2022]–Is This The Road Bike You Want?
2022 Bianchi Sprint – 105 Di2 vs 2022 Specialized Tarmac SL6 Sport
In my opinion, the Specialized Tarmac SL6 Sport has gained a lot of buzz with its excellent geometry and its widely acclaimed name. But in this comparison, I don't think so.
First of all, the price difference is not much, and the same level of components. The difference is that the Bianchi Sprint – 105 Di2 has electronic shifting, while the Specialized Tarmac SL6 Sport has the same class of traditional mechanical shifting. And the latter lacks one more in the choice of speed.
Secondly, the Specialized Tarmac SL6 Sport has narrower tires. I think thinner tires do provide better acceleration and less drag on the ground during a ride. But in a road race, I think a slightly wider tire helps the rider ride longer – after all, the sprint is only a very short part of the race. So I would go with the wider tires of the Bianchi Sprint – 105 Di2.
Of course, if you don't mind the more expensive Specialized Tarmac SL6 Sport, you can also race it by changing the outer tire. But probably no one will want to change the outer tire on a bike they just bought.
Learn more :Top 8 Best Road Bikes Under $3000 [2023]
2022 Bianchi Sprint – 105 Di2 vs 2022 BMC Teammachine SLR FIVE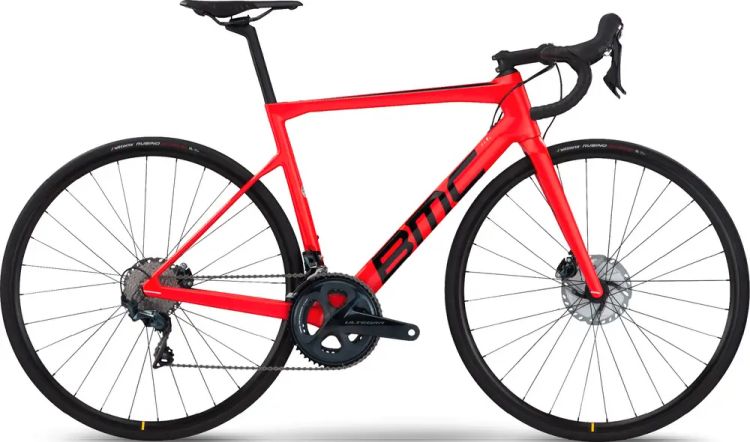 Again, the BMC Teammachine SLR FIVE does not feature electronic shifting. Personally, regardless of its component level, electronic shifting is always my preference. It's just a few grams of added weight to get the smooth feel of electronic shifting. And the frame doesn't have the hassle of alignment, which means you don't have to maintain cables.
But looking closer at the data I noticed that the BMC Teammachine SLR FIVE has a larger cassette and thinner tires this time. This means that it is a model that focuses more on sprinting and less on the overall experience. The choice is up to you.
If you are more focused on the sprinting experience, the BMC Teammachine SLR FIVE is indeed a good choice. Even though it's $500 more expensive, I'm more focused on the overall race feel and I'd go with the Bianchi Sprint – 105 Di2.
In case, the above comments are helpful to you, please remember to share the subscription. Have a great day!
learn more:BMC Teammachine SLR ONE Review [2022]- A Very Professional Road Bike