We use affiliate links and may receive a small commission on purchases.
2023 BMC Twostroke AL 24 Review
Price: $949
Frame: Aluminum alloy
Tires: 24×2.4″
Gear: 1×8
What we like about it: Lightweight frame, rich gear ratios.
What we don't like about it: No fork cushioning is provided.
Rating (4.5/5)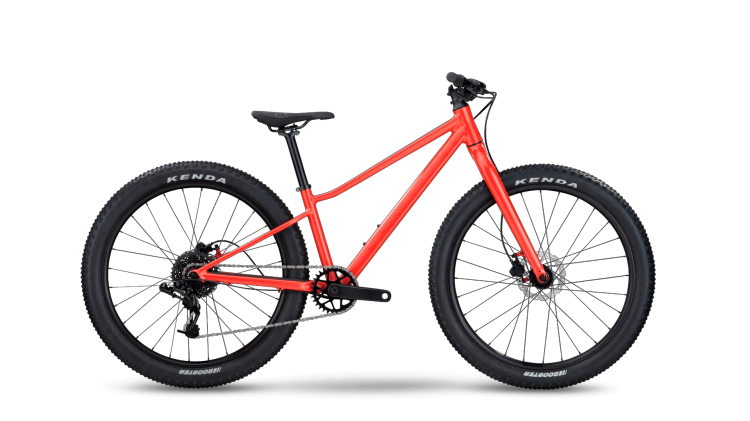 For young kids, a fat-tire dirt bike will allow them to experience enough off-road fun with stout tires to give them a stable riding experience.
This frame is designed entirely for young riders, with geometry referencing the adult version of the BMC Twostroke, with special geometry improvements for younger riders, and a variety of colors to add to the fun of riding.
The wider tires and specially designed handlebar make it an important safeguard for young riders to experience the fun of adventure while riding safely.
Below we break down the 2023 BMC Twostroke AL 24 regarding learning to ride, light trail, key features, components and specs, and other versions.
If you want to know more about bike reviews, you can follow us.
Learning To Ride
Most of the children who buy this bike don't have much riding experience, and some of them have never even touched a bike. So a safe and suitable product for learning is very important.
My kid George is just 7 years old, and it's hard for George to ride ordinary bikes on the market. So, I looked hard at major websites to find a bike that would fit George, and the BMC Twostroke AL 24 was a good choice, and it even comes in a smaller 20″ version.
I bought it immediately, and the first moment I got it in my hands I realized that it has good quality. First, the strong welds of the aluminum frame gave me peace of mind that George would be riding it. Secondly, the wide and toothed outer tire also makes the whole bike look as stable as a tank.
What is not easy to notice is that the bike has a shorter handlebar and a flat handlebar, which is perfect for beginners to ride, and this makes the ride more flexible.
Cycling Practice
When learning to start George could never get the balance right and I needed to grab his saddle to get him to ride forward.
George said the bike was very stable and the wide tires made him feel more at ease than on his last bike. Although George still fell over a few times on it, the bike wasn't heavy and George could lift it easily. After an hour or so of practice, I was happy to see that George could start riding alone.
You know, before George could not detach the two auxiliary tires beside the rear tire to ride in any way.
What also surprised me was that at this price it was equipped with caliper brakes front and rear. These features are all for the safety of the child, and I think this should help George learn to ride faster.
In fact, after just two weeks of riding, George was riding great. He could make turns well and control up and down hills, which is a credit to the 2023 BMC Twostroke AL 24, with its wide tires and responsive brakes that didn't fall much.
Mild Off-Road
This week, I decided to take George to a nearby mountain bike park to give him a taste of riding on bumpy dirt roads and some uphill and downhill sections, which George was very interested in.
When faced with a long uphill, I taught him to use the drivetrain to achieve the best gear ratio for the uphill. 8 speed is a very large range for this bike, allowing him to easily conquer those hills that suit him. Because hills that are too steep are too dangerous for him.
When going downhill, I made George always remember to control the brakes. I believe the wide tires allow it to run steadily and even be ignored in the face of some small bumps. And the good braking system gave it no small amount of confidence.
Interestingly, some of the rocks were too big for George to ride over, which forced him to stop and move the bike over. George told me that the bike was very light, even lighter than his last smaller size, so he could easily lift it over stairs, boulders, and sections he couldn't ride over.
At the end of this exercise, George told me that the bike was very stable everywhere and that it looked like it was riding on the road even on bumpy-looking trails. I was shocked to learn that this was a bike without a shock system front and rear, which I think is probably due to its wide, big tires.
Main Features
Frame
The bike is based on its adult version, an equivalently scaled-down frame, which is perfect for mountain riding.
It also has a full internal alignment design, which is very rare for a bike in this price range. This design not only makes the whole bike look more simple in appearance but also makes the bike easier to maintain. It also reduces the possibility of damage caused by exposed cables.
One more thing, the frame provides a water bottle holder mounting hole that can provide hydration during the ride.
Geometry
Compared to the adult version, the BMC Twostroke AL 24 is designed with a smaller stand-up height for the frame. This also takes into account the height proportions of younger riders and makes it easier to stop and start.
The frame is also designed with a smaller seat tube angle, which makes the rider's position more comfortable. And the overall riding position is more upright, which is important for the young rider in terms of riding pleasure. My kids tell me the only discomfort they experience on their daily rides is just leg soreness, which I think is very appropriate.
Since there is no cushioning structure, BMC cleverly used a shaped top tube that is slightly curved to provide some shock absorption to the vehicle. It may not be noticeable, but for the terrain, the kids ride on, it's more than enough.
Components and Specifications
SRAM X4 1×8 Drivetrain System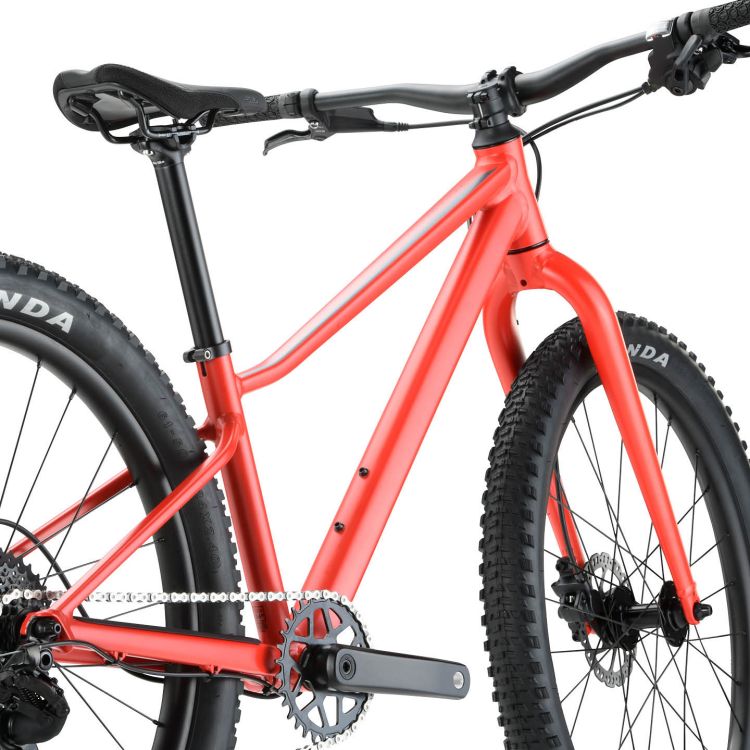 The whole bike uses the SRAM X4 shifting system. That's right, just using the rear derailleur allows kids to get up to speed and react quickly when riding. And the 8-speed shifting allows them to climb uphill enough and have a safe speed on the flat.
Secondly, the visualization of the gearshift paddle allows kids to clearly understand the gear they are in, allowing for more precise shifting.
TEKTRO HD-M286 Hydraulic Disc Brake
It's not often that we see disc brakes on kids' bikes, but this one, it's fully equipped.
I feel very important about this. Because whenever I see my kid going down a long downhill, I'm always worried that he's going to lose the brakes and I'm not going to be able to help him. But in fact, he rode the bike and braked steadily every time.
In my opinion, safety is of utmost importance for a young rider's bike. And with brakes being another component on a bike designed entirely for safety, hydraulic brake discs give me a great reason to buy them.
Kenda Booster 24×2.4″ Tires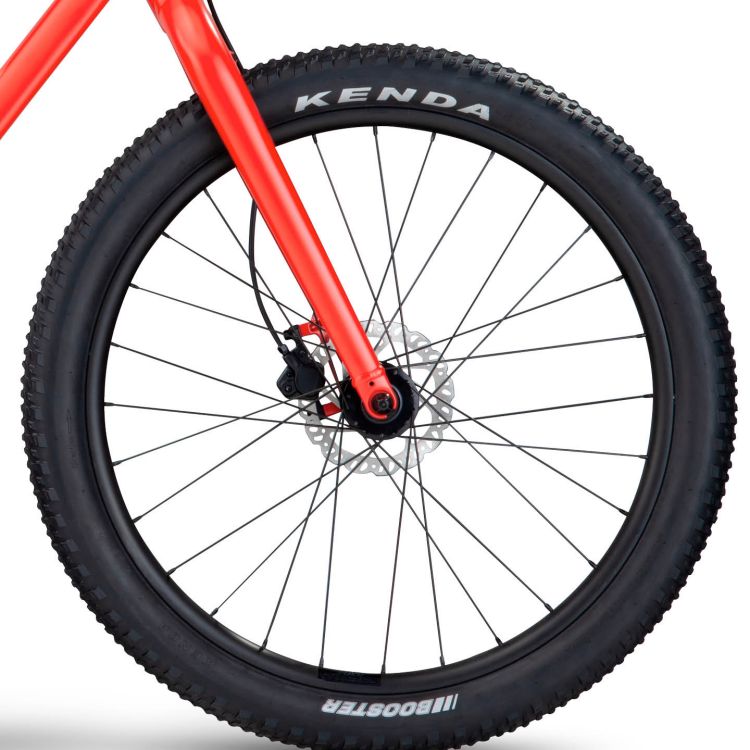 It's a small mountain bike tire, but it doesn't lose much weight for that, so it appears wide and thick.
For adults, such tire width will affect speed. But for children, this will not only increase their stability when riding, so that they are less likely to fall. And it also keeps them from riding too fast and having dangerous situations. During the kids' rides, I think such a tire configuration is perfect for them and allows them to ride steadily on the road.
Other versions of BMC Twostroke AL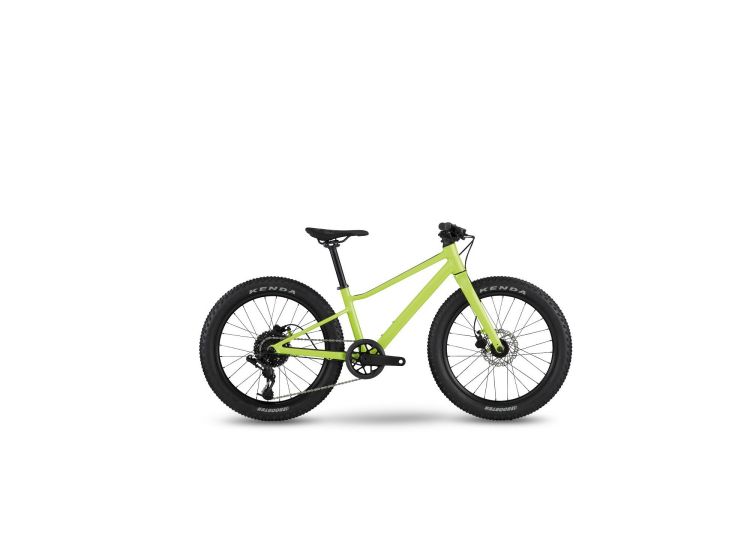 We are reviewing the BMC Twostroke AL 24, which is perfect for kids to go for a ride. Whether it's learning to ride, or getting around on the road as well as in the mountains, this is a great youth bike. Its goal is to make riding fun for even young enthusiasts, and we can see from the various details that this is a bike designed with kids' safety in mind.
I have to say that BMC has thought it through. Together with the BMC Twostroke AL 24, the 2022 BMC Twostroke AL 20 is also available, which is a smaller version for smaller-height kids to ride. It can be said that BMC has taken care of all height-riding enthusiasts.
What we like about it
The lighter weight makes it easy for kids to move it around too.
Geometric shape designed for children, as well as flexible steering and wide tires.
Safe and efficient braking system, higher-end caliper brakes in the same price range.
A wide selection of gear ratios to support kids' light off-road trips up and down hills.
Presenting stickers to design bikes according to the preferences of young riders.
What we don't like about it
No fork cushioning provided
Limited range of applicable heights
FAQ
What size tires does the BMC Twostroke AL 24 use?
The BMC Twostroke AL 24 uses 29″ tires.
My young and only 100cm high children can ride it?
This bike is a bit too tall, you can choose a smaller version BMC Twostroke AL 20
3. What size of the BMC Twostroke AL 24 should I buy?
After measuring your height, use the sizing chart below to find a typical BMC Twostroke AL 24 size that fits your height. Keep in mind that these sizes are a general guide and bike sizes may vary from rider to rider and bike to bike. The best way to find your size is to go for a test ride.
The 24-inch frame is suitable for riders of 120-145cm, for which we also offer a 20-inch version.
2023 BMC Twostroke AL 24 Specs
Build
Frame

Twostroke AL 24″ Lightweight Aluminium with Powder Coat Finish, 1 1/8″ Head Tube, BSA Threaded Bottom Bracket, 160mm Post Mount, 9X135mm QR
BB Standard: BSA, Threaded
Color: Gunmetal / Black
Fork
Twostroke AL 24″ Lightweight Aluminium with Powder Coat Finish, 140mm Post Mount, 9X100mm QR
Bottom Bracket
BSA, threaded
Stem
BMC 35 mm Length – ± 6 Angle
Handlebar
SDG Slater Handlebar 650mm Wide 20mm Rise 19mm Bar Ends 31.8mm Clamp.
Saddle
SDG Fly Jr
Seatpost
Alloy 27.2mm
Groupset
| | |
| --- | --- |
| Rear Derailleur | SRAM X4 Medium Cage |
| Crank | Lightweight Forged Alloy Cranks 32T 1x Specific Narrow Wide Chainring 140mm |
| Shifters | SRAM X4 8Spd Trigger |
| Cassette | SUNRACE 11-34T |
| Chain | SRAM 8spd |
| Brakes | TEKTRO HD-M286 Short Reach Levers 140mm Rotors |
Wheels
| | |
| --- | --- |
| Rims | DD32 |
| Front Hub | CNC Machined Alloy Hub Body Sealed Bearings Quick Release |
| Rear Hub | CNC Machined Alloy Hub Body Sealed Bearings Quick Release |
| Tires | Kenda Booster 24×2.4″ |
Video
Comparison Table
| | | | | | |
| --- | --- | --- | --- | --- | --- |
| Bicycles | Price | Drivetrain | Brakes | Tires | Click view |
| 2023 Trek Roscoe 24 | $569 | 1×8 | Tektro MD-M280 Mechanical disc | Chen-Shin, 24×2.80" | Click View |
| 2023 Marin Bayview Trail 24″ | $529 | 1×7 | Shimano Altus Mechanical disc | Vee Tire Crown Gem, 24 x2.25″ | Click View |
| 2022 Canyon Grand Canyon Young Hero | $649 | 1×11 | Shimano MT200 Mechanical disc | Schwalbe Rapid Rob 27.5 x 2.25" | Click View |
| 2022 Vitus Nucleus 24 Youth Hardtail | $899 | 1×8 | Tektro HD-M276 Mechanical disc | Maxxis Snyper, 24 x 2.0" | Click View |
2023 BMC Twostroke AL 24 VS 2023 Trek Roscoe 24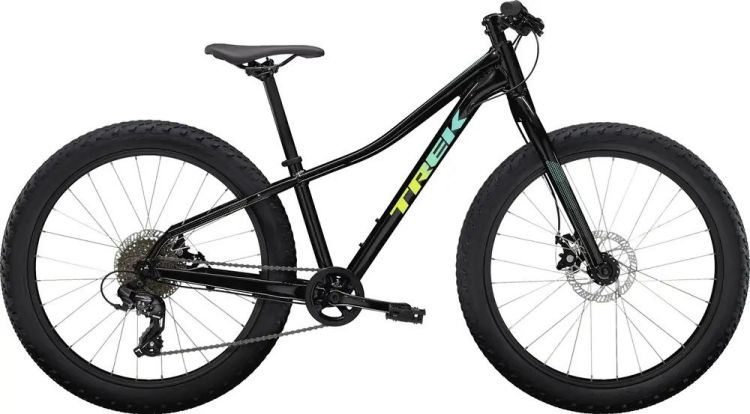 Relatively speaking, both bikes are convincingly branded and have a similar weight.
The difference is that the BMC Twostroke AL 24 uses SRAM shifting, while the 2023 Trek Roscoe 24 uses Shimano shifting. Both are good, but SRAM is supposed to be better in terms of feel and quality of entry shifting. And Shimano uses smaller discs with shrouds, which is probably safer for kids.
It is worth mentioning that the BMC Twostroke AL 24 has a powder coating on the frame, which makes the frame look more textured while greatly improving the wear resistance of the frame.
This is very kid-friendly, after all, they are not always able to protect their bikes. I prefer to buy my kids a bike with a stronger and more wearable frame, kids always get the bike old and don't like it anymore. And a powder-coated frame makes the paint less likely to come off, making it look like new. Therefore, the BMC Twostroke AL 24 was my final choice.
Learn More: Trek Roscoe 24 Review – A Colorful Childhood, Trek To Decorate It For You
2023 BMC Twostroke AL 24 vs 2023 Marin Bayview Trail 24″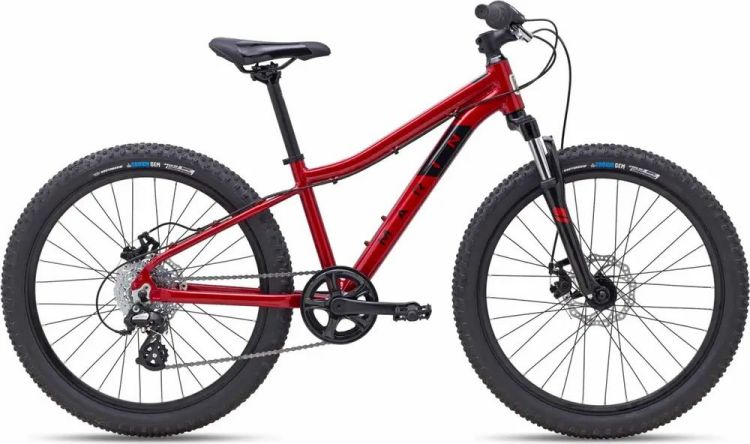 The two bikes look quite different. First of all, the 2023 Marin Bayview Trail 24″ provides the bike with shock absorption in the front fork. This is nice for kids and takes a lot of pressure off their arms. I think all kids' bikes should be equipped with a shock absorption system, at least on the front of the bike.
Secondly, the 2023 Marin Bayview Trail 24″ only offers us 7 speeds. I think that's too few, and riding with the wrong gear ratios could hurt my kids' knees, so I'd prefer to buy a bike with more gear. The BMC Twostroke AL 24 8-speed gear range I think is very suitable.
Finally, in terms of the braking system, the BMC Twostroke AL 24 is undoubtedly excellent. It is equipped with hydraulic brakes and I always look for brake quality, especially on a bike designed for kids where speed is not the first pursuit.
2023 BMC Twostroke AL 24 vs 2022 Canyon Grand Canyon Young Hero
When I saw the 2022 Canyon Grand Canyon Young Hero, I couldn't help but marvel: "At this price, it's too good to look like a kid's bike". It also has up to 100mm of cushioning travel, a hollow one-piece cassette, a full internal alignment design, hydraulic brake discs, and up to 11 speeds of shifting. These are all features you'd expect to see on an adult bike.
Disappointingly, after a test ride, I realized that it was just too big for a kid's bike it was more like a bike designed for smaller adults. And as I found out on the kid's test ride, it has no control over the up to 11-speed shifting system, and the 100mm cushioning is overkill.
The BMC Twostroke AL 24 has a variety of geometry as well as parts customized for kids, so you can see that BMC is more focused on making bikes for kids. Maybe when my kid grows taller, I will consider buying him the Canyon Grand Canyon Young Hero.
2023 BMC Twostroke AL 24 VS 2022 Vitus Nucleus 24 Youth Hardtail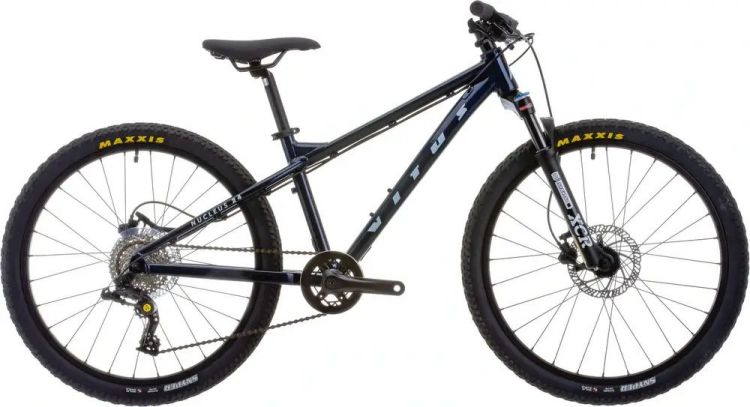 In comparison, the 2022 Vitus Nucleus 24 Youth Hardtail has an excellent cushioning setup and has just the right amount of travel for kids. The drivetrain is also relatively good, and it has the right range of shifting, so you can see that Vitus has put in the effort to design the bike for kids.
It's worth mentioning that the Vitus frame doesn't look as good as it should. Because it uses an all-external alignment frame and is very long overall, this makes it potentially a bit bulky when riding. All of this makes it look unworthy of its components. However, the compact body of the BMC Twostroke AL 24 will be much easier for kids to handle.
I have to say that the Vitus Nucleus 24 Youth Hardtail is way too expensive. Kids grow very fast at that age and I may need to get a new bike for it in just a few years. This is not cost-effective.
In case, the above comments are helpful to you, please remember to share the subscription. Have a great day!
Learn more : Is Vitus Nucleus 27 VRS Mountain Splendid – [Vitus Nucleus 27 VRS Mountain Review]