We use affiliate links and may receive a small commission on purchases.
Trek FX2 Disc or Trek FX2 Disc Stagger
Price: $779.99
Frame: Aluminum
Gears: 2 x 9
Tires: 700c x 35c
What we like about it: The combination of lightweight body and disc brakes gives me more freedom on tree-lined trails and commuter roads. Excellent build quality and well-constructed bodywork, along with a sporty design, make you more willing to travel.
What we don't like about it: The seat material is a little stiff for most people, making it unsuitable for rough trails and long rides. Without adequate shock absorbers, prolonged gravel rides can make your arms sore.
Rating: (4.8/5)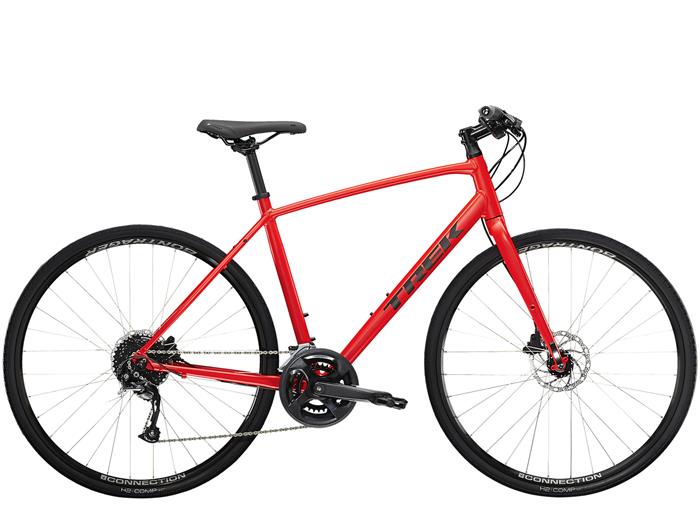 The Trek FX2 Disc aluminum alloy material makes the body lighter. A minimalist, sporty design that performs well in everyday fitness and commuting.
Our testers were amazed at how well the Trek FX 2 performed on road and gravel during a month-long ride, and we did a long 40-mile ride. Whether it's the body design or the mix of components, it's a great value hybrid bike.
We love riding on the greenways, it makes it easy to forget about our worries and enjoy more fun and relaxing ride. Below we break down the Trek FX 2 for road riding and commuting, key features, components, and specs, as well as other versions in the range.
Related Reading:
Trek FX 3 Disc Reviews
Is Trek Verve 3 Disc Worth Buying? [Review]
Road Riding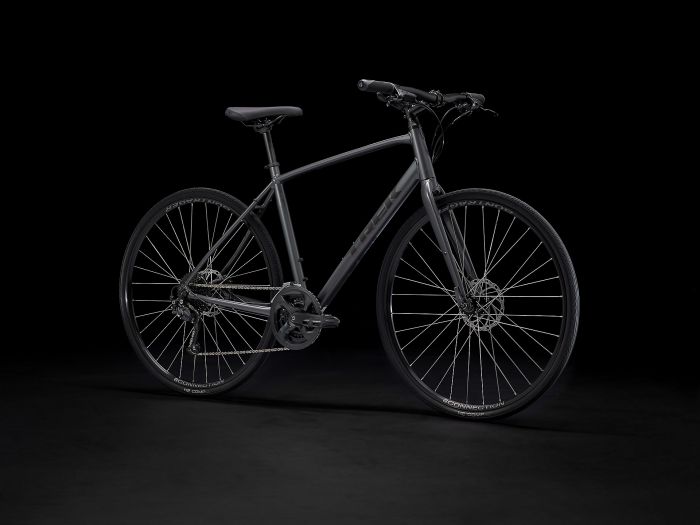 Of the many hybrid bikes, we have high marks for the comfort of the Trek fx2 2023.
It's no secret that road bikes are best for road riding, but the Trek FX 2 Disc is a hybrid bike that's close to a road bike. While not quite as fast as similarly priced road bikes, its comfortable ride always fascinated our testers.
The slack head angle (71.5°), 2X9 drivetrain, and soft 35c tires allowed our testers to ride great distances on the road with ease.
Impact on road riding: The Trek FX 2 Disc's looser head angle allowed more possibilities during our testing, and the 74.5 seat angle allowed our testers to stay upright for a relatively comfortable ride experience.
The 35c tire width accommodates the challenges of a variety of terrains. Although we didn't have the thrilling speed experience that the slender tires of road bikes bring us, the soft 35c tires are smoother, and we can enjoy the scenery and sweep away fatigue on short trips.
On the road, our testers put the Trek FX 2 Disc to the test in 18 shifts. The shifting performance when going downhill and cornering is smooth, and the shifting can be determined according to the road conditions, but during the shifting process, the riding speed needs to be slowed down. But on fast rides, the front and rear derailleurs do the job of shifting perfectly.
Because the weight of the body is very light, compared to the heavy body, we can ride more distance with the same physical strength.
In the hands of fitness-loving riders, the Trek FX 2 Disc is a rare piece of fitness equipment that showcases its versatility on any road.
Commuting
The Trek FX 2 Disc has proven to be a favorite among commuter riders, and it's not just about its high level of comfort. Otherwise, the aluminum body weighs just 25.87 pounds (M).
The 2X9 drive system allows me to ride fast or slow on the surrounding streets. Even at top speeds, the disc brakes on the front and rear helped me stop faster.
The fine gravel of the boulevard trail didn't make much of a difference to the testers at this point. This is also due to the fact that the Trek FX 2 uses low-pressure tires and has some puncture resistance, but this makes me have some concerns about its wear resistance.
When we tested it on ordinary commuter roads, we also specially installed a rear bracket, which can easily carry two packages without affecting the comfort of riding. So we are very satisfied with the performance of the Trek FX 2 on the commuter road.
The question "Can the trek fx2 ride gravel?" is a bit redundant in my opinion (and may make some people angry), knowing that the maximum tire width the Trek FX 2 Disc can use is 38mm, which will get you through gravel easily, and the 700c wheel diameter has a faster rolling speed, so at this price point, it is an easy and affordable choice.
Main Feature
Frame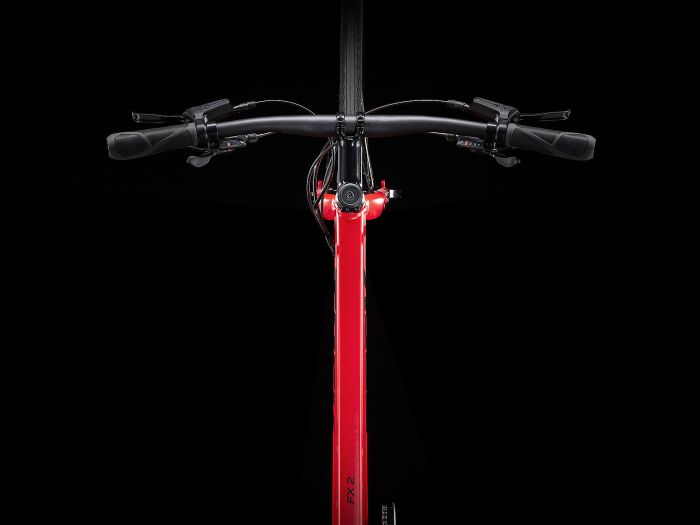 When the Trek FX 2 Disc was released, I personally felt it was too monotonous for the only two colors it had. But when the Trek FX 2 Disc appeared on our test site, what caught my eye was its lithium-grey torso, glowing in the sunlight, and the relatively low price showed enough nobility. Lightweight aluminum frame, light enough, simple and elegant frame design, to meet the current trend, let us reap the fun in daily commuting and recreational riding.
Trek FX 2 Disc built-in mounts made it easier for us to add racks and fenders, even for girls. Even on muddy trails, the fenders protected our legs from the mud and sand.
The Trek FX 2 Disc runs the shift and brake cables through the frame, which makes the whole frame simpler and less prone to contamination during use, and the overall look is simply fantastic!
While most models of hybrid bikes are geared toward commuter and recreational riding, the Trek FX 2 Disc wishes it had more. DuoTrap S can also be installed on the rear fork of the frame, which can track the riding track and mileage through smart devices, making your fitness more fulfilling.
It's worth noting that the FX2 has water bottle mounting holes in the seatpost and downtube, which allowed our testers to stay hydrated over longer distances.
FX2 provides the design of the mounting holes of the rear bracket, which can carry more weight. If we want to go on a short camping trip, it can carry more packages. Of course, after our test, when the weight reaches 30 pounds, it will affect its climbing speed due to the increase in weight, but I think this is in our There is no harm in enjoying a short trip.
Geometry
For a hybrid bike with a comfortable ride at its core, most of the geometry is relatively fixed, so the Trek FX2 hasn't changed much from previous versions. This is also an important factor in its wide acclaim.
The comfortable, slack 71.5° head tube angle is a bit too slack for riders looking to ride fast, but given its focus on commuter and recreational riders, this angle is perfectly appropriate.
We don't expect it to outperform a road bike in road races, but it's more of a pleasure to ride in a comfortable environment for fitness and leisure.
Based on the seat tube angle of the Trek FX 2 Disc (74.0°), we can maintain a standing riding position at any time, which can fully relax the muscles of the body and will not keep your spine tense.
Our testers tested the M-size FX 2, which is a great fit for a 5'7″ rider. We also found some riders who bought the smaller model couldn't maintain a comfortable riding position.
So when we pay attention to a bicycle, we not only pay attention to its component composition, but also need to consider whether the body can fit the corresponding size.
Components and Specifications
Shimano Drivetrain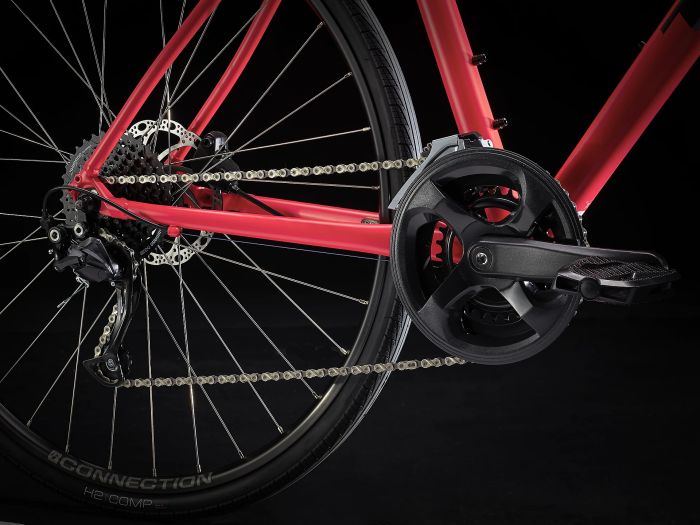 Although Shimano Altus is used on most hybrid bikes in the same price range, the Trek FX 2 Disc uses a 2X drivetrain and the front derailleur uses a Shimano Acera T3000, which is a relatively inexpensive derailleur. It wasn't noticeable during our actual rides whether the two derailleurs were of the same quality or not.
Of course, there are those who think the Shimano Altus' drivetrain has some low end, and considering its price, we think it's the best option.
2X drivetrains are currently only found on bikes priced under $1000; however, this drivetrain saves enough budget for other components, enhancing the quality of the rest of the bike.
The derailleur can be easily controlled by the thumb, and the clear digital display also allows the fitness rider to understand the specific gear training method. And the silky-smooth shifting experience doesn't spoil the ride.
Having said that, we wish the Trek FX 2 Disc had some drivetrain upgrades.
Tektro HD-R280 Hydraulic Disc Brake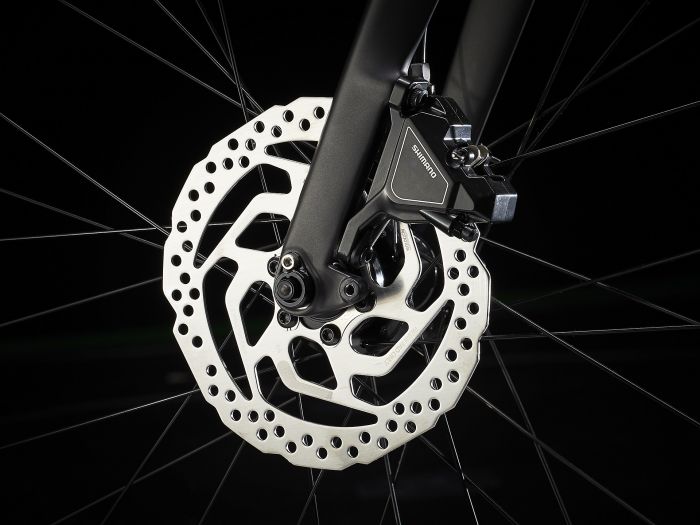 Most hybrid bikes under $800 have cable or mechanical disc brakes, but the Trek FX 2 Disc uses Tektro HD-R280 hydraulic disc brakes.
In our tests, it didn't get in the way of riding, even when it rained. Even on a downhill road, the Tektro HD-R280 hydraulic disc brake can give full play to its braking advantages, and can still ensure sufficient stopping power in the process, which greatly reduces our concerns when riding in the rain. For riders who love being close to nature and value cost-effectiveness, the Tektro HD-R280 is enough.
Some people think that the Tektro HD-R280 is a relatively cheap hydraulic brake. From the actual riding, we have not found anything wrong. Of course, the components of the brake can be upgraded.
Tires and Wheels
These tires are fast on the road and stable on loose terrain.
It's worth noting that the tires used on the 2023 Trek FX2 Disc are Bontrager H2 Comps, as it's a tubeless, heavier tire, and some have doubts about its steering performance. But after testing, it actually has a tread that rolls smoothly during the ride and provides good steering traction. So it is more suitable for streets, trails, and light rail routes.
Of course, the 30kpi Bontrager H2 Comp tires make it relatively soft, so it is more durable and has a longer tread life. For riders who prefer to disassemble and replace wheels themselves, another feature that will delight you is its quick release.
Speaking of speed, a road bike has to be mentioned, its slender tires give it excellent forward speed on the road, the trek fX2 disc's Bontrager H2 Comp may be slightly less fast on smooth roads, but the FX2 tires Traits that make it stable on loose terrain.
Other Versions of Trek FX 2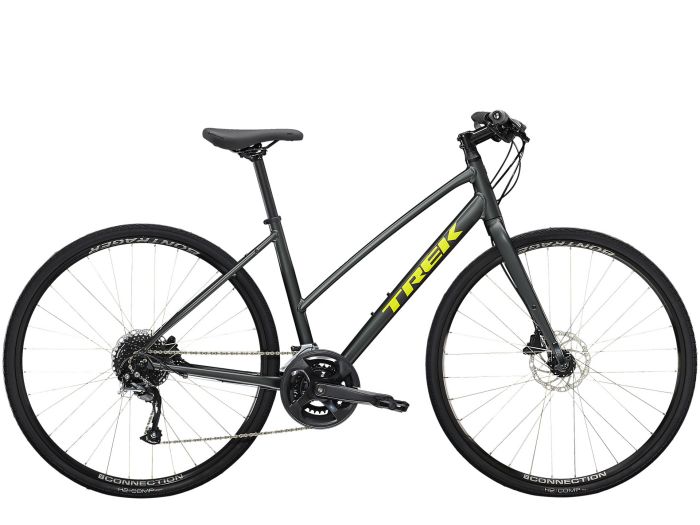 For this review, we tested the Trek FX2 Disc model, which features an aluminum frame, Shimano Altus M2010 9-speed drivetrain, and Tektro HD-R280 hydraulic disc brakes.
It's a bike that combines fitness and commuting in one, and there's nothing wrong with the $799 price tag. While it compromises a lot of components in my opinion, the value for money is still a popular hybrid bike.
In the Trek FX2 model, there is also a version of the Trek FX 2 Stagger Disc, and if you see a bike girl on the coast, it's probably me, riding my FX2 for a leisurely jaunt.
Compared to previous trek fX2 disc versions, we found that in terms of body color, I like the Satin Lithium Grey of the Trek FX2 Disc even more.
In terms of the trek fx2 price, it has gone up $190 from the 2019 version to the latest 2023 version now. But in terms of performance, there is not much difference, of course in the overall weight is getting lighter, so if you like a lighter riding experience, the latest 2023 version of the trek fx2 would be a good choice.
In addition, the new version of Trek FX2 abandoned the previous 3X transmission system and adopted a more advanced 2X transmission system. FX2 is Shimano Altus M2010, and 9-speed is Shimano Altus M310 compared to trek fx2 2020, 8-speed, has a wider speed range, like me, I like to experience different speeds to have a more colorful experience.
Compared to the 2019 and 2018 Trek FX2 Discs, we prefer the new version of the Trek FX2, which improves comfort enough.
Speaking of the Trek FX2 Disc, also check out its 2020 edition. The FX 2 2020 version is only available in Alpine Blue, but the FX2 version is available in Satin Lithium Grey and Satin Viper Red. Whether it is a high-profile and cool you, or a low-key and generous you, there is a range to choose from.
What do we like about it?
With the Trek FX2 Disc, you'll have a hybrid bike that's better suited for looser terrain and shorter routes.
There are two mounting holes on the upper and lower tubes, which can give you timely hydration during riding.
The Bontrager H2 Comp's tires provide good steering traction, and at 30kpi it's softer, more durable, and has a longer tread life.
The looser seat tube angle allows you to ride upright for a long time and ride more comfortably.
What do we not like about it?
For a road bike on smooth roads, one might argue that the FX2 is a little underwhelming, although I think it's perfectly adequate.
Unlike the front fork-equipped models, the bike does not absorb vibration when driving on gravel or sand roads.
FAQ
How many speeds Trek fx2?
18 speeds.
How heavy is the trek fx2?
25.87 lbs.
Is the Trek FX 2 comfortable?
Yes.It will make you love to ride.
2023 Trek FX2 Disc Specs
Frameset
| | |
| --- | --- |
| Frame | Alpha Gold Aluminum, DuoTrap S compatible, internal cable routing, flat mount disc, rack & fender mounts, 135x5mm QR |
| Fork | FX Alloy, flat mount disc, rack mounts, 405mm axle-to-crown, ThruSkew 5mm QR |
Wheels
| | |
| --- | --- |
| Hub front | Formula DC-20, alloy, 6-bolt, 5x100mm QR |
| Hub rear | Formula DC-22, alloy, 6-bolt, Shimano 8/9/10 freehub, 135x5mm QR |
| Rim | Bontrager Connection, double-wall, 32-hole, 20 mm width, Schrader valve |
| Tire | Bontrager H2 Comp, wire bead, 30tpi, 700x35c |
| Max tire size | 38c without fenders, 35c with fenders |
Drivetrain
*Shifter
Size: XS, S, M, L, XL, XXL
Shimano Altus M2010, 9 speed
Size: XS, S, M, L, XL, XXL
Shimano Altus M2010, 2 speed
Front Derailleur
Shimano Acera T3000, 34.9mm clamp, top swing, dual pull
Rear Derailleur
Shimano Altus M2000, long cage
Crank
Forged alloy, 46/30, chainguard, 170mm length
Bottom bracket
Sealed cartridge, 68mm
Cassette
Shimano HG200, 11-36, 9 speed
Chain
KMC X9
Pedal
Bontrager City pedals
Max chainring size
1x: 42T, 2x/3x: 48T
Components
Saddle
Bontrager Sport
Seatpost
Bontrager alloy, 27.2mm, 12mm offset, 330mm length
*Handlebar
Size: XS, S, M
Bontrager alloy, 31.8mm, 15mm rise, 600mm width
Size: L, XL, XXL
Bontrager alloy, 31.8mm, 15mm rise, 660mm width
Grips
Bontrager Satellite
*Stem
Size: XS, S, M
Bontrager alloy, 31.8mm, Blendr compatible, 7 degree, 90mm length
Size: L, XL, XXL
Bontrager alloy, 31.8mm, Blendr compatible, 7 degree, 100mm length
Headset
1 1/8" steel threadless
Brake
Tektro HD-R280 hydraulic disc, flat mount, 160mm rotor
Rotor size
Max brake rotor size: 160mm
Weight
| | |
| --- | --- |
| Weight | M – 11.73 kg / 25.87 lbs |
| Weight limit | This bike has a maximum total weight limit (combined weight of bicycle, rider, and cargo) of 300 pounds (136 kg). |
Comparison Chart
Schwinn Discover VS Trek FX 2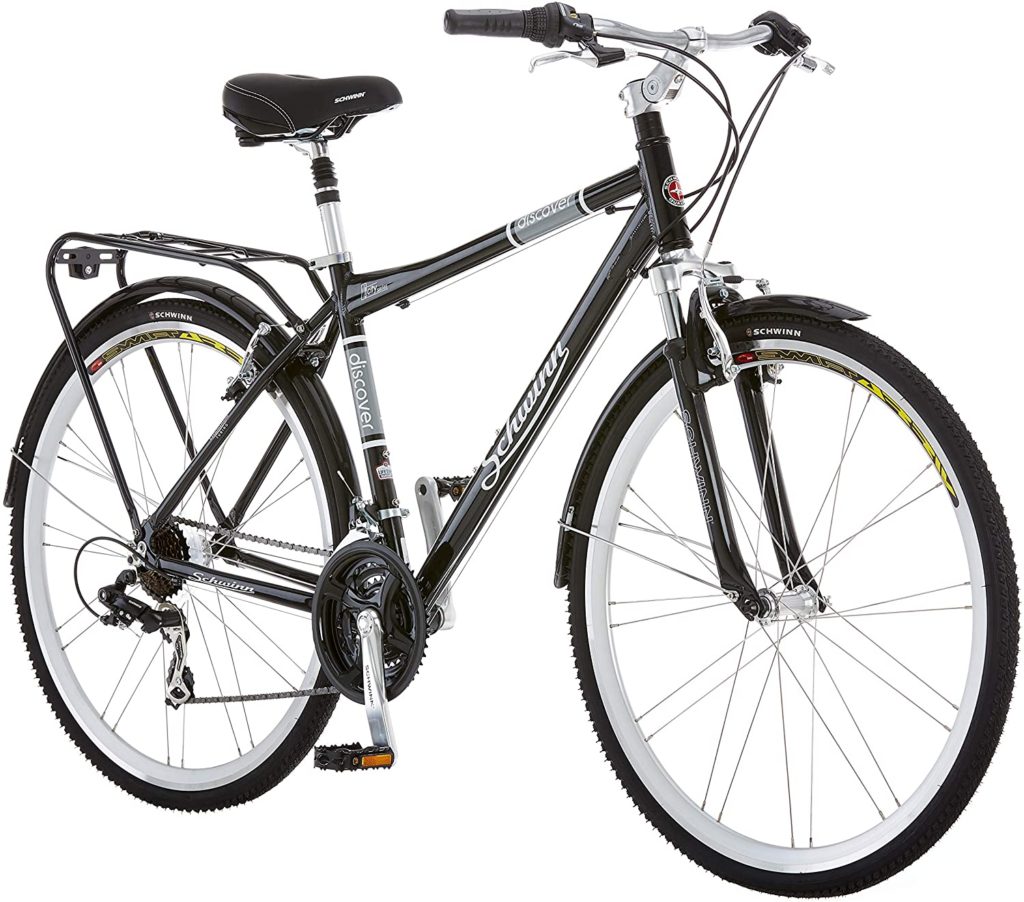 The Schwinn Discover is the hottest hybrid bike right now, and the most affordable bike in our comparison.
With its shorter travel fork, the Schwinn Discover can be ridden on slightly rougher mountain roads.
Of course, in our review, the Trek FX 2 performed unexpectedly on rough trails and loose terrain, exceeding our testers' expectations. This is because the FX2 35" tires are a little more grippy.
Let's take a closer look. Schwinn Discover's Shimano Alfine Rapidfire, a 3×8 drivetrain, is less expensive. Compared to the FX2 Shimano Altus M2010 2×9 drivetrain, the FX2 is superior, and the shifting is smoother.
Equally important is the braking system. The Schwinn Discover uses alloy linear brakes. Compared with the FX2's hydraulic disc brakes, you will have a safer and smoother braking experience in heavy rain.
Of course, the price of Schwinn Discover is lower, although the price of FX2 is slightly higher, but the components and experience of FX2 are excellent value for money. The richness of different versions of FX2 also gives you more options.
Learn more: 2022 Schwinn Discover Hybrid Bike Review – Best 21-Speed Hybrid Bike
Cannondale Treadwell 3 Ltd VS Trek FX 2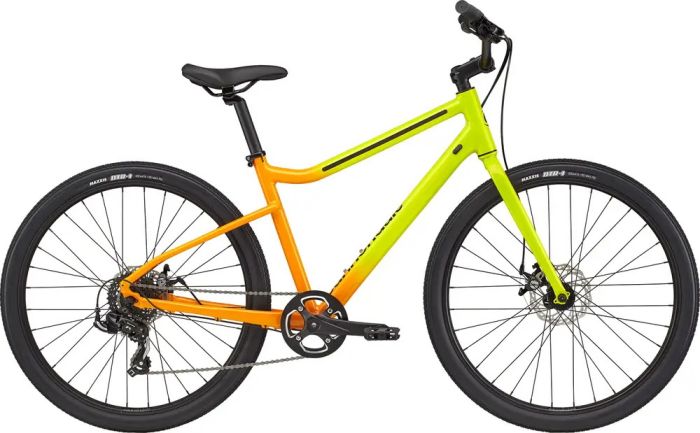 The Cannondale Treadwell 3 Limited might be of interest to you if the Trek FX2's commuting and fitness features piqued your interest. Priced at $850, it comes with 650b x 40c tires and no suspension design, which may be more of a test for riders in descending order.
Cannondale Treadwell 3 Ltd's Promax mechanical disc, FX2's performance is a bit more prominent than the FX2's hydraulic disc.
The tire width of the Treadwell 3 Ltd 40c may be a little underwhelming at smooth highway speeds, but the climbing ability we can expect. The looser seat tube angle will give you a more comfortable and leisurely riding experience. Of course, the FX2's performance is not to be outdone in this regard, the 35c tires are also very suitable for smooth roads in comparison, and the climbing ability is also worthy of praise (our test results).
Seeing this, if the price difference is not that much, it still depends on your main needs and buys on demand.
Learn more:Top 12 Best Hybrid Bikes Under $500 For Men And Women
Cannondale Bad Boy 1 VS Trek FX 2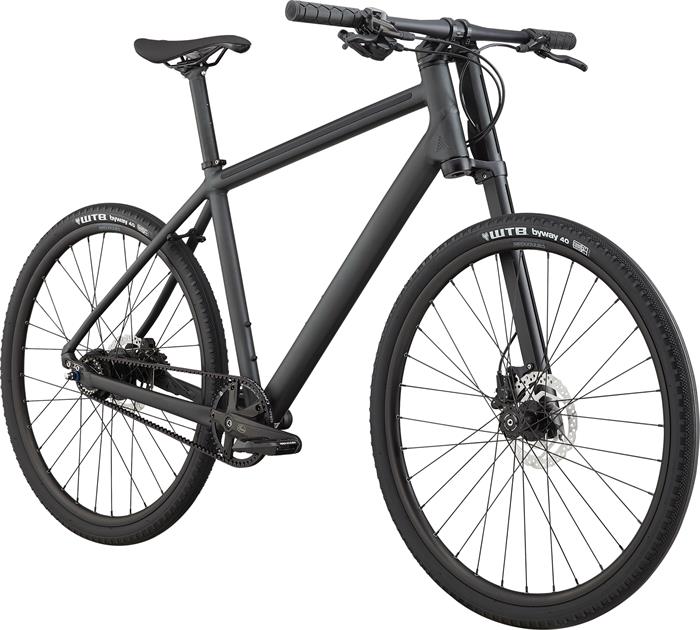 In my personal opinion, the Trek FX2 is a stylish and versatile hybrid bike that stands out among the best in its class.
Of course, when we saw the Cannondale Bad Boy1, we were no doubt attracted by its distinctive appearance. If you ride in the city, it will definitely be a traffic killer. The Cannondale Bad Boy1 uses a Gates belt drive that will let your ears enjoy the music of nature (instead of the sound of chains turning) if you're riding in a quiet park. My biggest complaint about it is the high price.
So, compared to the Cannondale Bad Boy1 whose price puts me off, I might prefer the Trek FX2 Disc, which excels at commuting and fitness.
Learn More: Is Cannondale Bad Boy 1 Worth Buying? [Cannondale Bad Boy Series Review]
Specialized Crossroads 3.0 VS Trek FX 2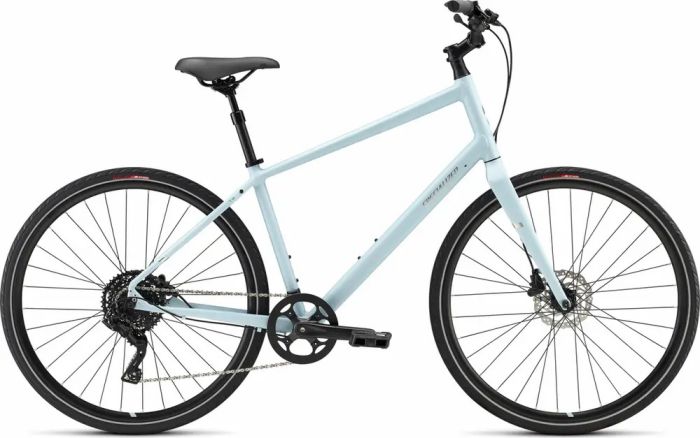 Let's turn our attention to the Specialized Crossroads 3.0, which is only available in SATIN ARCTIC BLUE. Looking back at the FX2, it has more choices in color, and it also takes into account buyers of more body types in size.
Speaking of the transmission system Specialized Crossroad 3.0 uses microSHIFT Advent, 1×9, while Trek FX2's Shimano Altus M2010 2×9, the Specialized Crossroad 3.0 will be smoother, but the FX2 has a wider range of speed options. Some people might think that smoother shifting would be one of the reasons why they would be willing to pay more, but in our testing, the FX2's shifting performance was solid, and it was a good value for this relatively low price.
All in all, if you want a stylish bike for commuting and fitness for less, you can check out the FX2.
Learn more: Is Cannondale Treadwell 2 Worth Buying? [2022 Cannondale Treadwell 2 Review]