We use affiliate links and may receive a small commission on purchases.
In this review, we examine the Trek FX 3 Disc utility hybrid bike.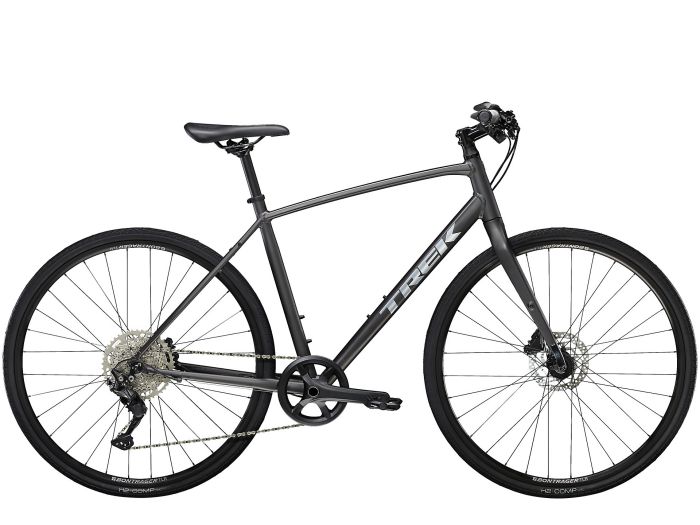 Trek FX 3 Disc
Trek FX3 Price: $1,049.99
Frame: Aluminum
Gear: 1×10
Tires: 700c×32c
What we like:
1. Versatile hybrid bikes built for performance, and comfort. Great quality bike for long distances on commuter roads, sidewalks or rail trails.
2. Easy and convenient shifting, not only for commuter riding, but also the perfect fitness companion on sidewalks and railroad trails.
3. Multifunctional Hybrid Bike.
4. Designed for performance, comfort, and practicality.
5. Great-looking, versatile, comfortable bikes built with quality parts to work on longer rides.
What we don't like about it: 1. The 32c tire size is a bit of a hindrance for beginners to ride, but if you have the skills to ride it, it will go faster. 2. I found the saddle to be a bit stiff, the middle gap was missing, and the ventilation was poor.
Rating (4.7/5)
The newly upgraded Trek FX 3 Disc is one of the top choices for fitness enthusiasts and not just for commuter riders.
Despite the hybrid bike's purpose of perimeter riding, we have tested it in rough terrain for 2 months and are always surprised at the results.
The Trek FX 3, which focuses on commuting performance, has a wider range of uses in terms of body weight and reasonable geometric design. Of course, my favorite is the 32c tire, which has been improved in terms of riding stability and comfort. Perfect balance.
Below is our detailed review of the 2023 Trek FX 3 Disc's key road-riding and gravel features, components, and specs, as well as other editions in the range.
If you're interested in the Trek FX series, we've also prepared a Trek FX 2 review for you.
Road Riding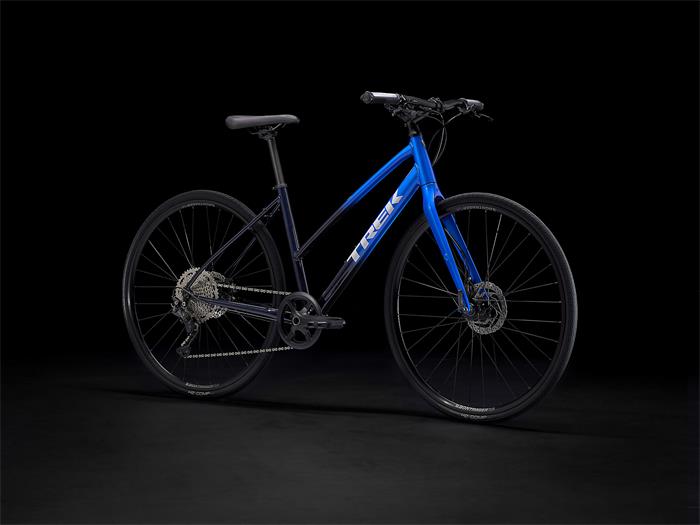 If you're looking for a mixed-terrain bike and really enjoy riding in the seat, check out our review of the FX3. Our testers reviewed the FX3 by riding it on the road, pavement, and more.
According to our review, the FX3's steeper seat tube angle (74°) keeps you upright and more comfortable when you're riding.
If there is one downside that must be found, it is the lack of a dropper post, which can lead to more noticeable bumps in the face of rough roads with potholes, but at the same time, the 6.8Trail will make your steering more stable.
Let's take a look at the FX3 tires, the 32c slender tires, what kind of experience will it bring to you?
During the two months of testing, I felt the wind brushing my ears. Of course, this has a lot to do with its lightweight body, but its 32c tires also play a role that cannot be ignored.
Although there is a certain gap with professional road bikes in terms of speed, its speed in the same type (such as FX2) will satisfy me.
Based on the interest of many cycling enthusiasts, we also specially went to the wet and muddy road for testing during the riding test. We thought it would be a great challenge.
Unexpectedly, the hydraulic disc of FX3 played its role to the extreme. Great effect, showing extremely stable characteristics in braking.
As we all know, in fast riding, shifting is an issue we have to consider. The 1×10 transmission system of the FX3 means more functions and easier shifting, which allows us to have a more concise shifting experience during riding.
In conclusion, on smooth and less technical roads, we think the Trek FX3 is adequate.
Gravel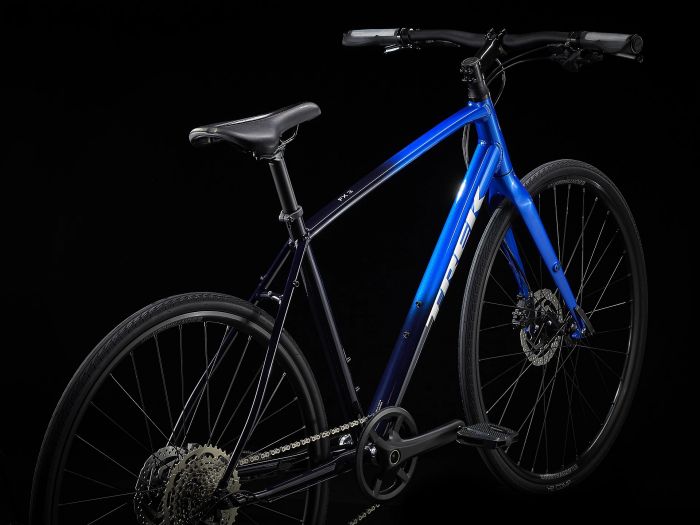 In this review, we came to the relatively flat gravel trails, and the gravel of the road surface made us a little worried about the various performances of the FX3. Surprisingly, the FX3's overall light body gave our testers great control over some big obstacles.
If you want to show off your riding skills in such terrain, the FX3's tight chainstay length allows you to lift the front half of it with ease (our testers also experimented with it).
Although I live in a remote place, because I love cycling, even though the road has a very difficult country trail for me at the beginning, I still ride my bike to work (after all, it is very environmentally friendly) .
As soon as I started trying to get into the saddle and start up, I experienced that it wasn't too slow, and the FX3 Shimano RT26's hydraulic disc brakes were steady and fast on those slippery muddy trails Open your mouth wide.
But when facing the lip of the road, I expected too much from it (because of previous performance), in fact, I should have thought about it, the compact body, and the thinner tires may not be very good in this regard good at.
Based on my own personal experience and testing, the FX3's solid performance on flat gravel and country trails, and its ability to adapt, we applaud the car.
Main Feature
Frame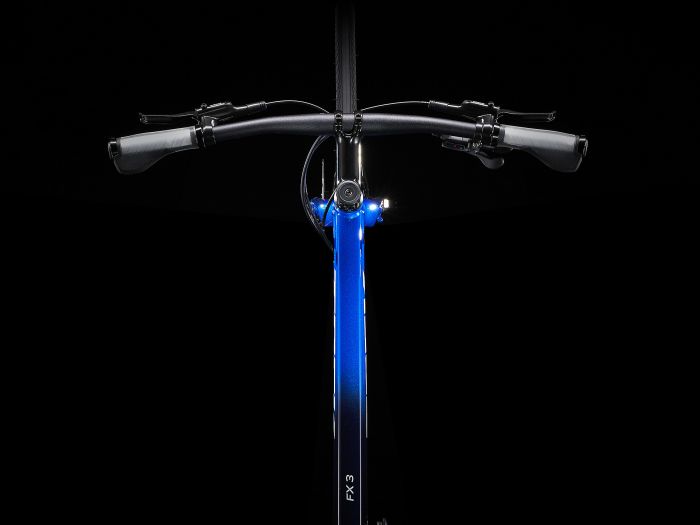 At the beginning of the test, I even had an illusion that the FX3 and FX2 have more similarities, so during the road test, I just felt that the comfort has improved a little, and I feel that it is not worth it for his submitted price.
But once we got into the gravel roads, we were more impressed by the Trek FX 3's geometry and lighter frame.
Speaking of the FX3, I have an oolong and I almost mistook the FX3 for the FX2 because the frames are all aluminum and they have a more or less streamlined design.
In terms of color, the FX3 has a Matte Dnister Black. Some people think that Matte Dnister Black looks dark gray in the official picture, but it may actually be pitch black.
The black branding blends in with the background so much that the Trek letters are unrecognizable, and the overall look is a bit bland. In fact, FX3 also has the color Alpine Blue to Deep Dark Blue Fade.
Personally, I prefer to choose Alpine Blue to Deep Dark Blue Fade, because the gradient color makes it look more mysterious.
Let's take a closer look. The FX3 has a built-in mount. If you need to travel, you must bring your camping equipment. This user-friendly design brings you convenience.
In addition, it has two water bottle mounting holes, so that you will not be interrupted by lack of moisture during the ride.
The overall FX3's internal cabling design gives us the impression it's clean and tidy, and it's easier to keep it clean.
Geometry
The FX3 is a hybrid bike built for comfort and utility, so its geometry is relatively fixed among comfort-focused bikes. However, the Fork used by the FX3 is the FX Carbon, which is lighter in weight.
Jumping up to the FX3's head angle (71.5°), I also had my own experience that this steeper head angle made my ride on flat terrain feel sharper (probably my illusion).
If you are a rider who is more concerned with riding comfortably.
We found that the FX3's Effective top tub, the relatively compact Effective top tub, can flex the arms for riders with longer arms, which is not good for long rides.
So look carefully at the size chart when choosing an FX3 to choose a bike that fits your body.
Not only that, the looser seat tube angle allows our testers to easily maintain an upright ride while riding, which appeals to me.
In addition, we also measured the length of the Chainstay length of the FX3, the compact Chainstay length of the FX3 (45cm), this does not have much effect on short uphill, but the long uphill road will cause some obstacles, of course, in my opinion, More than 90% of commuter roads do not have such troubles.
Trek FX3 Components and Specifications
Shimano Deore Drivetrain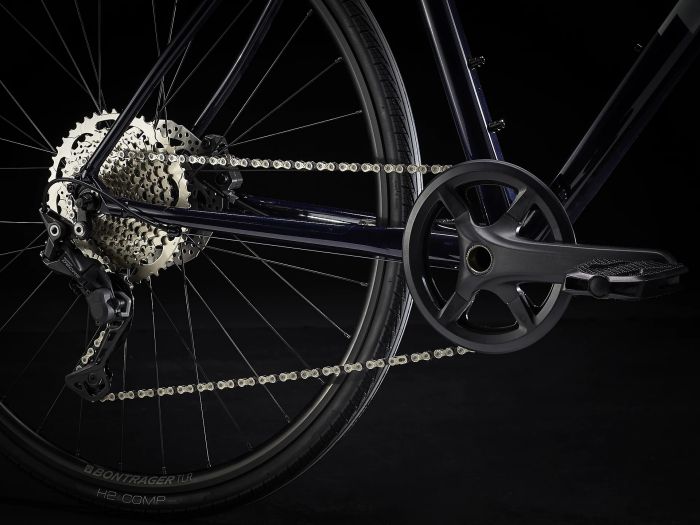 When we look at the Shimano Deore 1×10 drivetrain, one might think it doesn't have the wide speed range of the FX2, but we have to mention that it reduces messy shifting by ditching the front derailleur, allowing the FX3 Shifting is easier to operate.
I personally think it's a laudable improvement for those who use it for commuting and fitness.
Compared with the 1X11 drivetrain, the Trek FX2's 1X10 drivetrain, with a maximum sprocket of 46 teeth, has some impact on the transmission efficiency, so in the eyes of the rider who wants the hybrid bike to ride faster, this is a component that needs to be lifted.
The daily commuter rider didn't mind the 1X10 drivetrain and thought it was a very reasonable drivetrain configuration. Of course, given its intended use, we also consider it an excellent component for the price of the Trek FX2.
While one might think the 11-46 cassette would be a bit difficult for long climbs, on a daily commute it probably won't be that much, so I guess it's irrelevant.
While I'm happy with the FX3 drivetrain, it would have been better if it could be increased to 1×11, or a little more.
Shimano RT26 Hydraulic Disc Brake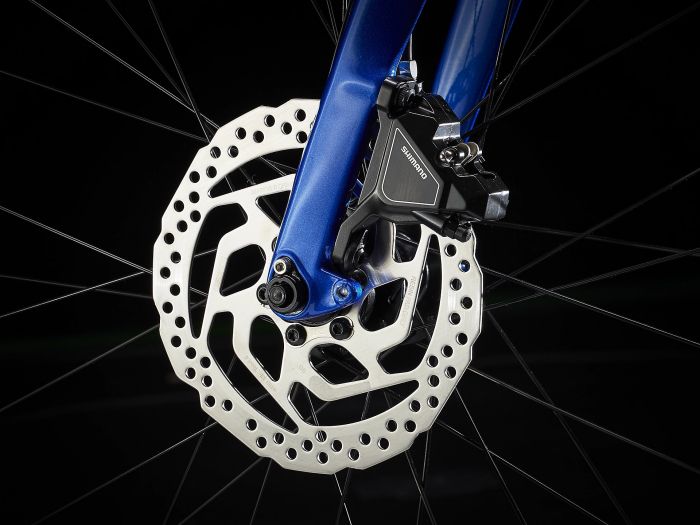 Equally important is the bike's braking equipment, this FX3 uses Shimano RT26 hydraulic disc brakes. It may not seem advanced now, but at this price, the Shimano RT26 is second to none.
We spent at least two days testing the effectiveness of Shimano RT26 hydraulic disc brakes, because in our opinion, good brakes guarantee adequate stopping power in any situation.
As the more advanced hydraulic brakes out there, the Trek FX 3 2023 uses a Shimano RT26, which isn't a very good component. But since it's on a $1,000 budget, it's an option you can't go wrong with.
On a slippery rainy day, when the speed increased to 35Km/h, the road braking distance was only extended by 40%, and we were satisfied with the result.
Of course, the most difficult thing is that under full load, due to gravity, it can also provide sufficient braking force, which undoubtedly makes us believe that it can be a touring bike.
The difficulty of adjustment is also very low. We check the manual of the bicycle and simply turn the adjustment screw, which is not a very difficult task.
Therefore, in terms of braking, the FX3 is not only sensitive in braking response, but also extremely simple in operation. We think it is a bike of the same type and with similar price braking that is more prominent.
Tires and Wheels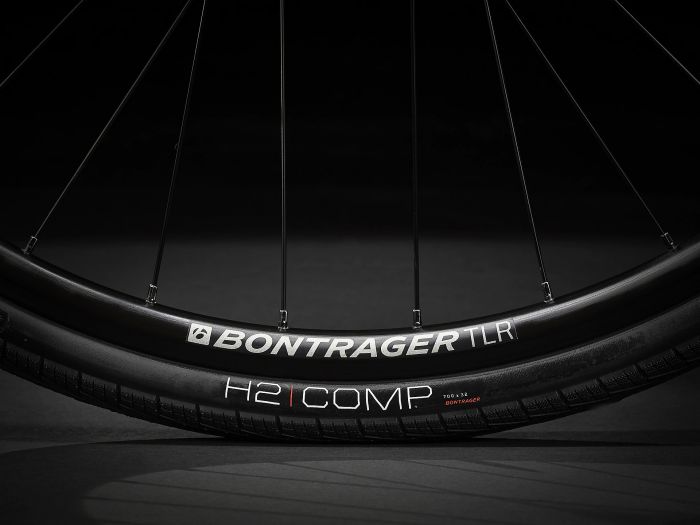 The 700c×32c tires on this FX3 bike are fast on the pavement and are also great for long or short rides on city trails and light gravel.
It's worth noting that the FX3 uses a Bontrager H2 Comp, which is a tubeless tire. So it is relatively heavy. But its 30tpi makes it softer in character, which will make up for the shock of not having a dropper post.
At the same time, because it is a wire bead, it has puncture protection and good wear resistance, and the updated tread design provides confident traction for smooth rolling.
If you are a fan of changing tires, then the quick-release function of FX3 is absolutely suitable for you. Its quick-release function will make it easier and more convenient for you to change to the right tire.
At the same time, the 32c tire width will allow you to experience wind-like speeds in smooth road riding.
However, on steep and gravel roads, it may have difficulty for beginners. However, this is a commuter and fitness-focused hybrid bike, and I think you'll be riding it on the road by the coast, blowing the sea breeze, looking at the ocean for aerobics, imagine a scenario like this, I might It will ignore the problem.
Other versions of Trek FX 3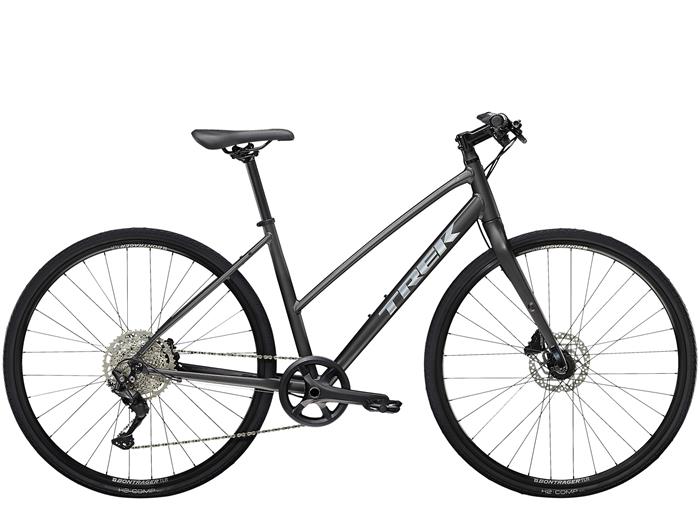 For this review, we tested the Trek FX3 Disc model, which features an aluminum frame, FX Carbon fork, Shimano Deore 1×10 drivetrain, and Shimano RT26 hydraulic disc brakes.
It's a hybrid bike that combines fitness and commuting. At $1,049.99, it's a good value bike, in my opinion, relative to its component upgrades.
Of course, in the 2023 Trek FX3 model, there is also a version of the FX 3 Disc Stagger. The FX 3 Disc Stagger is a versatile hybrid bike that adds a design touch to the exterior that is attractive.
What do we like about it?
The Trek FX3 Disc is a hybrid bike better suited for pavement and flatter gravel roads.
Built-in mounting holes make it easy to install shelves and carry more luggage, and two water bottle mounting holes can carry plenty of water.
A looser seat tube allows you to ride comfortably upright.
Carbon fiber front fork, allowing you to experience a lighter body
What do we not like about it?
For long climbs, some beginners may have some difficulty, although I think its main core is commuting and fitness, which can be ignored.
No dropper post-shock, bumps may be felt on extremely rough gravel roads (soft tires will give some absorption)
FAQs
What is the body weight of the Trek FX 3 Disc 2023?
The M model of the Trek FX 3 Disc is 25.09 lbs / 11.38 kg.
What is the size of the largest tire on the Trek FX 3 Disc?
38c without fenders, 35c with fenders.
Does the Trek FX 3 2023 have original pedals?
Trek FX 3 Disc features Bontrager City pedals.
How many speeds Trek FX3?
1×10 drivetrain, 10-speed.
Trek FX 3 Disc Size Chart
Size
Rider Height
Inseam
XS
147 – 155 cm
4'9.9″ – 5'1.0″
69 – 73 cm
27.2″ – 28.7″
S
155 – 165 cm
5'1.0″ – 5'5.0″
72 – 78 cm
28.3″ – 30.7″
M
165 – 175 cm
5'5.0″ – 5'8.9″
77 – 83 cm
30.3″ – 32.7″
L
175 – 186 cm
5'8.9″ – 6'1.2″
82 – 88 cm
32.3″ – 34.6″
XL
186 – 197 cm
6'1.2″ – 6'5.6″
87 – 93 cm
34.3″ – 36.6″
2XL
197 – 203 cm
6'5.6″ – 6'7.9″
92 – 95 cm
36.2″ – 37.4″
Specs
| | |
| --- | --- |
| Frame | Alpha Gold Aluminum, DuoTrap S compatible, internal cable routing, flat mount disc, rack & fender mounts, 135x5mm QR |
| Fork | FX Carbon, rack and fender mounts, flat mount disc, 405mm axle-to-crown, ThruSkew 5mm QR |
Wheels
| | |
| --- | --- |
| Hub front | Formula DC-20, alloy, 6-bolt, 5x100mm QR |
| Hub rear | Formula DC-22, alloy, 6-bolt, Shimano 8/9/10 freehub, 135x5mm QR |
| Rim | Bontrager Tubeless Ready Disc, 32-hole, Presta valve |
| Tire | Bontrager H2 Comp, wire bead, 30tpi, 700x32c |
| Max tire size | 38c without fenders, 35c with fenders |
Drivetrain
Shifter
Shimano Deore M4100, 10 speed
Rear Derailleur
Shimano Deore M5120, long cage
Crank
Size: XS, S, M
Prowheel alloy, 40T narrow-wide ring, 170mm length
Size: L, XL, XXL
Prowheel alloy, 40T narrow-wide ring, 175mm length
Cassette
Shimano Deore M4100, 11-46, 10 speed
Chain
KMC X10, 10 speed
Pedal
Bontrager City pedals
Max chainring size
1x: 42T, 2x/3x: 48T
Components
Saddle
Bontrager H1
Seatpost
Bontrager alloy, 27.2mm, 12mm offset, 330mm length
Handlebar
Size: XS, S, M
Bontrager Satellite Plus IsoZone, alloy, 31.8mm, 15mm rise, 600mm width
Size: L, XL, XXL
Bontrager Satellite Plus IsoZone, alloy, 31.8mm, 15mm rise, 660mm width
Grips
Bontrager Satellite IsoZone Plus, lock-on, ergonomic
Stem
Size: XS, S
Bontrager alloy, 31.8mm, Blendr compatible, 7 degree, 90mm length
Size: M, L, XL, XXL
Bontrager alloy, 31.8mm, Blendr compatible, 7 degree, 100mm length
Headset
1-1/8" threadless, sealed cartridge bearings
Brake
Size: XS, S, M, L, XL, XXL
Shimano hydraulic disc, MT201 lever, UR300 caliper
Size: XS, S, M, L, XL, XXL
Shimano MT201 hydraulic disc, flat mount, 160mm rotor
Brake rotor
Shimano RT26, 6-bolt,160mm
Rotor size
Max brake rotor size: 160mm
Weight
| | |
| --- | --- |
| Weight | M – 11.38 kg / 25.09 lbs |
| Weight limit | This bike has a maximum total weight limit (combined weight of bicycle, rider, and cargo) of 300 pounds (136 kg). |
Comparison Chart
Trek FX3 Dsic VS Trek FX2 Disc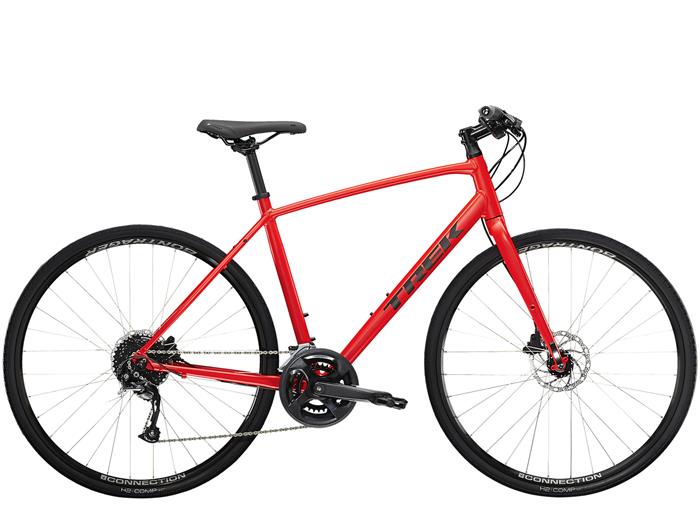 If we don't test, just look at FX3 and FX2 with our own eyes, except for the change of color appearance, other changes are not big.
Through the test, we can get that the FX3 32c tires make it faster than the FX2 when riding on the road. Some people may think that the stability of the 32c tires may be lacking, but in our test, there is no problem.
From the perspective of the transmission system, the FX2 2×9 transmission system makes the speed selection range wider.
While the FX3 may be a bit inferior in terms of the speed range, the FX3 1×10 shifts are easier to maneuver and will give you a smoother feel for commuting and fitness riding.
Of course, the price of the FX2 will be relatively low, but for just a little more money, you can get better components (eg: carbon fiber forks). If you want a more advanced component experience, you can give it a try.
Related Reading: Is The Trek FX1 Worth Buying? [Trek FX1 Review]
Trek FX 3 Disc VS 2022 Bulls Sharptail Street 26"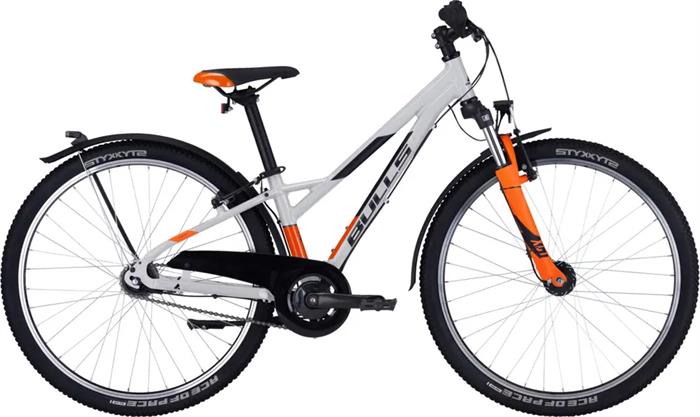 2022 Bulls Sharptail Street 26" cool colors, and 26" tires will be suitable for youth riding.
I really like the Trek FX3 Disc's disc brakes. When we tested the 2022 Bulls Sharptail Street 26", it braked a little too slowly when facing downhills, cornering, or requiring hard braking.
The FX3's disc brakes were a bit slow in this situation. , it gives me peace of mind, fast and easy braking, even in the rain, I don't have to doubt its braking too much.
But the Bulls Sharptail Street 26 has good grip tires, in the face of rough and variable On the road, its performance is also stable.
Now that I'm at this point I have to say that one complaint I have with the FX3 is that its saddle hurts my hips on long rides, it's too stiff for me.
All in all, we think both bikes are good options for different riding needs, but I personally prefer the FX3 for better braking. Of course, the choice is up to you.
Trek FX3 Dsic VS Fuji Traverse 1.3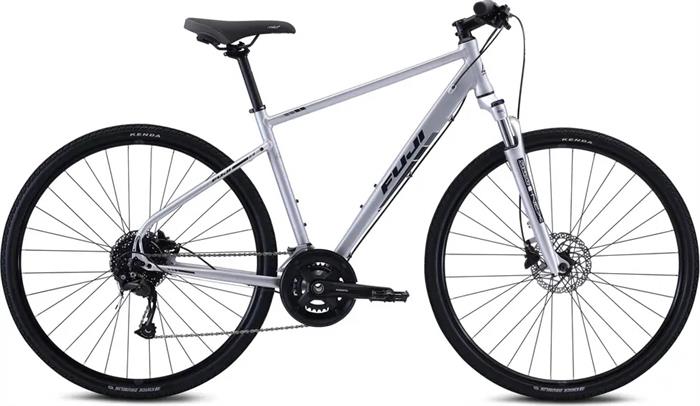 The Trek FX3 is a hybrid bike for fitness and commuting, and it has some component upgrades from the previous series to give it more skills. (a bit repeated above)
Fuji Traverse 1.3 is also a bike that integrates sports and commuting. At the same time, its gear allows it to take into account the function of climbing, and its front fork and 63mm of front travel allow it to face more bumpy roads. better absorption capacity.
The FX3 also performs better on smooth gravel roads and on dual track.
If you're a rider who likes a little more paint options, then maybe the FX 3 would be a better fit, as the Fuji Traverse 1.3 only comes in one color.
Fuji Traverse 1.3 is made of Fuji A2-SL custom-butted alloy, which is a material that reduces low-stress areas and is a lightweight frame that is extremely durable.
Of course, the aluminum frame of the FX3 is also very good, and the carbon fiber fork of the FX3 also reduces the weight of the bike, making it lighter.
The transmission system of FX3 Shimano Deore 1×10 will give you a smoother and easier shifting experience, but the speed selection of Fuji Traverse 1.3 2×9 will be wider, and it may be difficult for beginners to shift relatively.
In short, if you are near a relatively smooth gravel path, and more for commuting and seaside fitness and leisure, it is recommended that you choose FX3.
If you are near a large gravel path with relatively more climbing, it is recommended that you experience Fuji Traverse 1.3.
Trek FX3 Dsic VS 2022 Liv Rove 2 Disc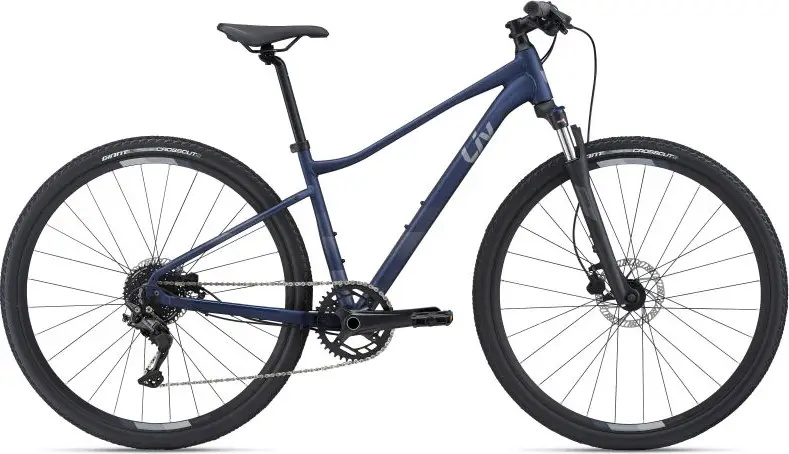 The Trek FX3 comes in two colors and six sizes to choose from, there's always one that fits your needs. In this regard, the 2022 Liv Rove 2 Disc is too monochromatic (only one color) and has relatively few sizes to choose from.
The 2022 Liv Rove 2 Disc, though, is a hybrid bike with a hardtail that's better suited for longer touring. You might think that its hardtail design would not have great shock absorption, but it has 63mm of front travel and a fork design, which is nothing to worry about, and it has a good cushioning effect downhill.
This is somewhat similar to our Fuji Traverse 1.3 above.
Of course, the FX3's aluminum frame will make the body lighter, and while driving on smooth roads, the FX3 32c tires perform better than the 2022 Liv Rove 2 Disc 42c tires. Under the same conditions, the 2022 Liv Rove 2 Disc will fall short of the FX3.
The 2022 Liv Rove 2 Disc features a women's-specific saddle and handlebars, and an approachable mid-step frame makes getting on and off easily. If you are a smaller rider, I recommend you to try the 2022 Liv Rove 2 Disc; if you are a rider who likes to go faster, I recommend you to go for the FX3.
All in all, we recommend that you can choose a bike that is more suitable for you based on your habits and body type. If you want to see more reviews, you can follow our other reviews.
Learn more :Is Liv Rove 4 Disc A Good Bike? [2022 Liv Rove 4 Disc Review]
Summary
Its versatility and value for money always impress in our reviews. With the majority of those who buy it being commuter riders as well as fitness riders, the Trek FX3 Disc is a worthwhile hybrid bike if you're looking for a proper exercise bike.
Learn more:Top 12 Best Hybrid Bikes Under $500 For Men And Women